WooCommerce Review: Does Woo Still Rule the e-Commerce World?
When you buy something through one of the links on our site, we may earn an affiliate commission.
There has never been an easier time in the history of mankind to make money online. I bet you already knew that…but did you know that WooCommerce is #1 most-used software tool in the world to sell things on the Internet? Well in this WooCommerce review, you'll learn why.
It's safe to say that eCommerce is booming. Multi-Billion dollar booming, in fact. And one of the main reasons is that the tools you need to sell online are becoming cheaper, smarter, and more user-friendly.
In this WooCommerce review, I'll break down the pros and cons. Then I'll give you some examples of how everyday people like you and me are using this tool to make money with their online stores. And if you decide that Woo isn't right for you, I'll give you some alternatives that might be a better fit to grow your eCommerce empire (and you may be interested in some Shopify alternatives).
Try WooCommerce Free Right Here
Free WooCommerce Download Here
---
WooCommerce Review
Ease of Use -

95

Stability -

90

Customer Service -

85

Price -

90
Summary
WooCommerce is the #1 eCommerce platform in the world. Super-powerful extensions allow for nearly infinite customizations to your online store, checkout process, and follow-up communication.
It's a no-brainer choice for those of you that have an established WordPress site or ❤ WordPress so much that you have zero interest learning a new platform.
Pros
#1 eCommerce platform in the world
Very SEO-friendly
Powerful extensions
Professional themes
Great documentation
Cons
Too many extensions = slow (lost sales) & expensive
A big responsibility: responsible for WordPress, hosting, security, updates, themes & plugin conflicts
What is WooCommerce?
WooCommerce is the #1 most-used eCommerce platform in the world. It is a plugin (addon) for WordPress online stores. In other words, WooCommerce is the tool that makes it easier to sell stuff on your WordPress website.
Released in 2011, WooCommerce is the oldest, most polished, and most popular way (5+ million active installs) to add an online store to a WordPress website.
WooCommerce was acquired by Automattic (the people behind WordPress) in 2015. There's something comforting about the #1 CMS in the world being "all-in" with the #1 eCommerce platform in the world.
What is the Difference Between eCommerce and WooCommerce?
I threw some jargon around in my definition above, so I need to clarify eCommerce vs. WooCommerce.
First, they are not the same thing. One helps you make the other happen. Specifically:
eCommerce is a buy/sell monetary transaction that happens online.
WooCommerce is a tool that allows you to sell things on your WordPress website.
So putting it all together:
WooCommerce is the easiest way to add eCommerce to a WordPress website.
How Does WooCommerce Work?
WooCommerce can only be installed on websites running WordPress. You install the core Woo plugin through the WordPress plugin directory.
The WooCommerce core plugin itself is very limited but can be customized through a vast library of extensions.
Extensions are one of the core principles of the WooCommerce development team. Extensions are developed outside of the core plugin because they believe that each store owner should begin with a blank slate and add the features that are most important to their success.
What are Some Sites Using WooCommerce?
One of the reasons I love WooCommerce is that it's trusted enough to run on important sites like Texas.gov and Washington State Department of Commerce.
Powerful enough for BookRiot.com and TravelClick.com.
…yet approachable enough for complete eCommerce newbies.
Other notable sites using WooCommerce:
blog.Nextdoor.com
InfoWars.com
LAMag.com
AndroidAuthority.com
Who is WooCommerce Best for?
Let me just start with this eCommerce quote from Statista:
"In 2019, e-retail sales accounted for 14.1 percent of all retail sales worldwide. This figure is expected to reach 22 percent in 2023."
For you visual learners:
Translation: eCommerce isn't going anywhere anytime soon. Actually, it IS going somewhere…up and to the right. 🙂
So now that we've established that everyone and their dog should (and will) be selling online, let's find out if WooCommerce is the best platform for you.
WooCommerce is a no-brainer if you already have a successful WordPress blog, an e-mail list of raving fans, and want to start selling physical or digital products through your site in just a few clicks.
But don't be discouraged if you don't have that setup. In fact, don't be discouraged if you're starting from zero! Here's why…
Start an eCommerce Dropshipping Business With WooCommerce
Niche Pursuits had the pleasure of doing a podcast with Joe and Mike Brusca, who are bringing in $30K profit every month by dropshipping products from their eCommerce stores.
$30K!
Every. Single. Month…Profit!
And where do they recommend you start?
"What we recommend to people who are completely new to online business is that you should be getting started with a business that can bring you cash flow immediately. You need money to reinvest and scale, if you don't have cash flow, then, you can't really do that. Which is why we recommend doing the ecommerce stuff first which provides the quickest return on your time and on your investment by far." – Joe Brusca
I don't know about you, but when someone who is making that much money gives me advice…I take note!
Do yourself a favor, click the link above, and listen to the podcast. They're offering a free training on how to start a dropshipping business. After you learn how to dropship, come back and set up your WooCommerce (or Shopify) store to fulfill orders.
Selling physical products isn't for everyone. We get that. And so does WooCommerce – that's why they offer extensions that allow you to sell anything and everything you can dream up.
If dropshipping isn't for you, jump down to the extensions section where we give you more ways to make money using WooCommerce.
WooCommerce Requirements
If this is your first time using the WooCommerce extension, you'll need to knock down a few dominos before setting up your online store:
*Web hosting that meets the following requirements:
A WordPress installation. It's super simple with this step-by-step guide on how to start a blog.
A payment gateway. Most payment gateways require an SSL certificate to process payments.
* I recommend Bluehost web hosting because it exceeds these requirements. If you use that link, they give you a free domain, free SSL certificate, 1-click WordPress install, and WooCommerce install. (No-brainer)
One WooCommerce requirement that many people overlook is the upkeep of running your store. Because Woo runs on WordPress, your responsibilities don't end once your store is up and running. Instead of focusing solely on marketing and making sales, you're responsible for:
WordPress updates
Providing a secure environment for your customers
Hosting (speed, renewals, downtime, etc.)
Making sure your WordPress plugins don't conflict with each other
WooCommerce Pricing
WooCommerce is a free plugin that you download from the WordPress plugin directory. Unlike many software products today, WooCommerce doesn't offer a free limited-feature plugin and a paid full-featured version.
"YES! A free software that will help me make money!" – You, probably
Not so fast…
Alas, there are costs associated with running an online store using the "free" WooCommerce plugin.
So how much does WooCommerce really cost?
Well, WooCommerce lauds itself on having flexible pricing. And by "flexible pricing", they're really giving the dreaded answer:
It depends.
They say it best on their pricing page:
"If you're on a really tight budget, you can create a high-functioning WooCommerce site for as little as $662 or $55 per month. With a bit of customization, you're probably looking at about $1,000." – WooCommerce pricing page
A bit of customization refers to:
Where you are in your website journey: do you have WordPress up and running with hosting already?
How many bells and whistles (themes and extensions) you want your eCommerce site to have.
Cost Consideration #1: WooCommerce Hosting (Required)
The term "WooCommerce hosting" can be misleading because it implies that you need a particular type of hosting to run WooCommerce.
Not true. (for the most part)
You simply need good website hosting that is compatible with WordPress websites.
I recommend Bluehost for WooCommerce hosting.
Cost Consideration #2: WooCommerce Themes (Optional)
You do not have to pay for a theme because there are free WooCommerce themes out there.
In fact, you don't even have to use a so-called "WooCommerce theme". You can use almost any WordPress theme.
Misleading again, right? Let me explain.
The WordPress theme market is extremely competitive, and because everyone wants to monetize their blog, it's expected that most WordPress themes and page builders are "WooCommerce-ready".
How much do WooCommerce themes cost?
Premium themes designed for WooCommerce stores will cost you somewhere in the $40 – $80 range. Dig deep, and you can find some really well-designed Woo themes for under $20 bucks.
Most premium WordPress themes (the ones that support WooCommerce, but aren't specifically designed for it) will cost you $40 – $60.
The two main sites for buying WooCommerce themes are the WooCommerce Theme Store and ThemeForest by Envato (and don't miss our review of Envato Elements). Interestingly, they use different pricing models for selling themes:
Purchasing a theme through the WooCommerce store entitles you to 1 year of theme updates and support. You are charged annually for continued updates and theme support.
ThemeForest, on the other hand, charges a one-time-fee, meaning you pay once and you have lifetime access to theme updates. Purchase price also includes 6 months of theme support. You have to pay for ongoing theme support if you require it longer than 6 months.
Check out this section on WooCommerce themes to learn if it's best to use a regular old WordPress theme or a theme specifically designed for Woo.
Cost Consideration #3: WooCommerce Extensions (Optional)
WooCommerce Extensions are really powerful because they allow you to customize your online store and checkout process almost any way you want. Customizations like:
Booking
Subscriptions
Memberships
But these bells and whistles come at a cost. Literally.
You see, WooCommerce extensions are purchased à la carte. Hint: it adds up fast.
Worse yet, most extensions are not a one-time fee. Instead, you must pay a yearly fee for the latest version and ongoing support. Hint: it adds up fast!
You can expect to pay anywhere from $30 – $250 per year, per WooCommerce plugin.
More about WooCommerce extensions.
WooCommerce Review: Is WooCommerce Easy to Use?
Do you already know WordPress? If so, you probably know how to install plugins, create posts, and fine-tune settings, right?
WooCommerce will be easy for you to use.
Don't already know WordPress?
No sweat. WordPress powers 34.5% of all websites on the world wide web.
Now let me ask you a question:
Do you think that 34.5% of all websites on the Internet choose WordPress because it's not easy to use?
Nope! People use WordPress because it's easy to use! And the same people that developed WordPress are now responsible for making WooCommerce easy to use as well.
Try WooCommerce Free Right Here
Free WooCommerce Download Here
How to Setup WooCommerce (in 6 Simple Steps)
The setup process of installing WooCommerce is as easy as adding a new plugin to your WordPress site.
Plugins > Add New > Search "WooCommerce" > Install Now > Activate
Activating WooCommerce immediately navigates you to a 6-step setup wizard that helps you "configure your store and get you started quickly". The setup wizard looks like this:
Because you're automatically navigated to this screen after activating WooCommerce, one option that I really appreciate is "Not right now".
You can also go back to any step in the wizard just by clicking on it.
Step 1 – Store Setup
The first step in the setup wizard is super easy:
Simply fill in your country, address, currency, and what type of products you plan to sell in your new store (physical, digital, or both).
Hit the Continue button and move on.
Step 2 – WooCommerce Payments
If you want to get paid for the things you're selling (hint: you do), you need to connect a payment gateway to your WooCommerce store.
WooCommerce is not a payment gateway, so you will need to sign up with one of 100+ payment gateways that the plugin integrates with.
Here's what the step 2 payment setup screen looks like:
Even though Woo integrates with 100+ payment gateways, you can see that it defaults to Stripe, and PayPal is the 2nd most popular option of the rest of the payment options.
Note that choosing the Stripe gateway will automatically install the WooCommerce Stripe Gateway plugin for you. This is really helpful because you don't have to remember (or take the extra time) to remember to go back and install that plugin.
You can accept payments from multiple payment gateways. Stripe and PayPal, for example. One thing to keep an eye on here is you need 1 plugin for each payment gateway you want to use. This is important because (as a general rule) more plugins = slower site.
You can also accept offline payments like checks, bank transfers, and cash on delivery using WooCommerce payments.
Payment gateways can be overwhelming when you're first starting out with your ecommerce store, so we suggest starting small and simple.
Step 3 – Shipping
Shipping options are the 3rd step in setting up your WooCommerce store.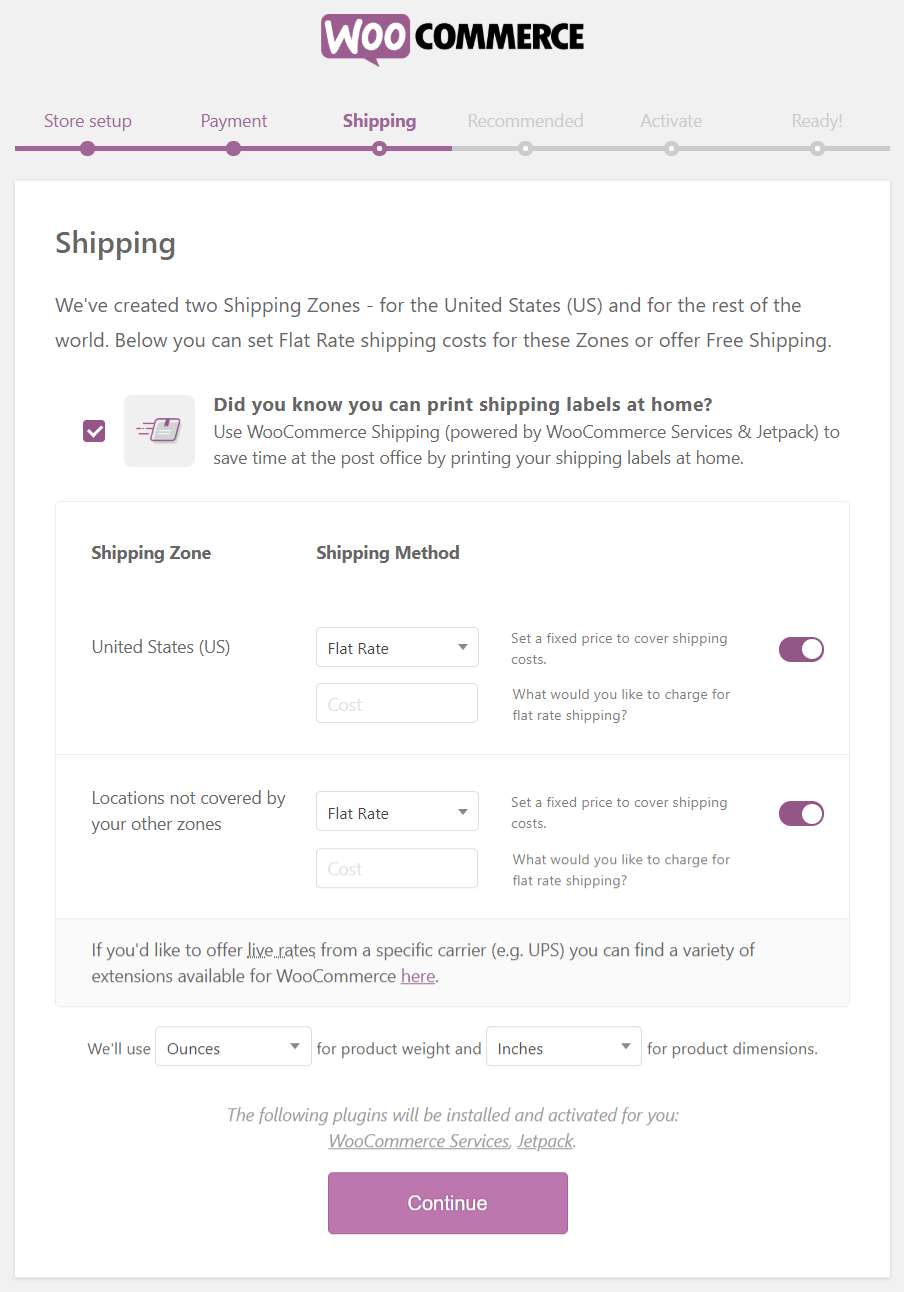 You can offer free shipping, flat rate shipping, and live rate shipping through WooCommerce. Free shipping and flat-rate shipping are the easiest.
Live rate shipping gives you the most accurate shipping rates because it connects to shipping providers via API. Real-time shipping rates are vital to some eCommerce stores.
If you choose free or flat rate shipping, 2 additional plugins are installed on this step: WooCommerce Services and JetPack. If you choose live rate shipping, you will need those 2 plugins plus the specific carrier(s) plugin.
Step 4 – Recommended Features
You're nearing the end of setting up your WooCommerce website – just a few clicks more!
Before you reach the finish line, WooCommerce recommends the following (free) enhancements:
Storefront Theme
Automated Taxes
WooCommerce Admin
Mailchimp
Facebook
I generally recommend going with the default installation, then adding/removing as you become more familiar with your store setup.
The wizard gives you the option of skipping this step.
3 more plugins are added if you choose to install all recommendations.
Step 5 – Connect to Jetpack
Another step you can skip (I wouldn't) is connecting to Jetpack.
Jetpack is a plugin by the same author that makes it possible to do some really cool stuff, like automated taxes and discounted shipping labels.
Step 6 – Congrats! You Now Have a WooCommerce Store
So is WooCommerce easy to use?
WooCommerce is easy to use if you're already familiar with WordPress. If not, learning the ins and outs of WordPress (and all that comes with it) at the same time as getting your online store up and running can be challenging.
The setup wizard really makes WooCommerce easy to set up. It took under 10 minutes to go through all 6 steps.
The trickiest part is connecting to a payment gateway. Maybe tricky isn't the best word, but it is an entirely different signup process that eats up time and takes your focus away from setting up your store.
Creating products is just like creating blog posts. Except easier. That's because Woo uses a guided wizard for that, too:
I could walk you through setting up products, but WooCommerce provides very detailed documentation that does it better than I ever could…so I'll let them take you the rest of the way. 😉
And if any of this sounds daunting or too time-consuming, did you know that Bluehost has a WooCommerce Auto-Install option? Skip the hassle of installing and configuring WooCommerce yourself. They install it for you so you can start building faster!
WooCommerce Themes
A WooCommerce theme is the look and feel of your website as seen by your customers.
Client-facing design is more important than most of us will ever understand. There is so much that goes into a purchasing decision that you almost need a psychology degree to sell something!
Luckily for you and me, theme designers "borrow" from insanely popular eCommerce sites and other top-selling themes.
Simply put: the more professional your website looks, the more likely your customer is to purchase.
In the pricing section above, you learned that (like WordPress) there are free WooCommerce themes available to you.
In fact, WooCommerce.com itself was built using their free "Storefront" theme:
Storefront is a solid choice because it was designed and developed by WooCommerce core developers.
Try WooCommerce Free Right Here
Free WooCommerce Download Here
Already Have a WordPress Theme? It's (Probably) Compatible with WooCommerce
Friendly reminder:  You aren't required to use a theme specifically created for WooCommerce.
For example, Avada is the "#1 Selling Theme of All Time" on ThemeForest. It is NOT a WooCommerce theme, but a WordPress theme. Here's a look at some of the features boasted on their sales page:
All the major players like Elegant Themes, Thrive Themes, and Beaver Builder are WooCommerce-ready. Elementor even has a WooCommerce builder.
That being said, you can achieve some REALLY sleek, professional online stores with the help of a WooCommerce theme.
And by choosing a WooCommerce theme (like our Shoptimizer review), you can expect that customer support is solely focused on WooCommerce and not everything else that comes with a multi-purpose theme.
Best Place to Buy WooCommerce Themes?
There are 2:
ThemeForest
Official WooCommerce Theme Store
ThemeForest is far and away the best place to get WooCommerce themes because they offer 1,300+ of them.
They offer a ton of helpful filters to help you make a decision. Filters like:
Store Type (i.e., fashion, furniture, etc.)
Bestsellers
Price
Rating
New Releases
If, however, you're prone to analysis paralysis, check out the WooCommerce Theme Store. They offer only about 20 WooCommerce Themes.
But what they lack in quantity, they make up for in quality!
Because the core developers are the same, any decisions made for their WooCommerce themes are made with the WC plugin in mind (and vice versa).
WooCommerce Review: Extensions
WooCommerce extensions are additional WordPress plugins that "extend" the functionality of the core WooCommerce plugin.
Extensions showcase the real power of WooCommerce, because they allow you to customize your online store.
How much can you really customize an online store, you ask?
Well, with around 2,000 Woo extensions, I'd say you can do almost anything you want to your store.
Popular WooCommerce extension categories and subcategories include:
Product Type
Store Management

Admin and Notifications
Customer Service
Point of Sale (POS)
Tax
Accounting

Marketing

Email
Multi-Channel
Promotions
Social
Reporting

Payments

Fraud
In-Person Payments
Pre-Orders

Enhancements

Cart and Checkout Features
International
Product Page Features
Search & Navigation

Shipping

Carriers
Delivery & Shipping Options
Inventory & Fulfillment

Subscriptions
…and those are just the categories!
Because extensions are so powerful, they can become addictive.
"Ooooh, I want my store to do that!" "Ooooh, I can't live without that feature!"
And before you know it, you've slid down the slippery slope and driven your costs up, while slowing your site (and sales) down.
AKA diminishing returns.
Again, WooCommerce says it best on their pricing page:
"It's possible to 'overdo it' with WooCommerce by adding too many bells and whistles. Loading up your website with extensions might slow down your website, which is worth keeping an eye on; even the smallest of delays might cost you a sale." – WooCommerce pricing page
…hey, at least they're open about it!
Best Place to Buy WooCommerce Extensions?
Much like purchasing themes, you have a few great options to buy extensions. Your options are "Developed by Woo" and "Developed by everyone else".
CodeCanyon by Envato (1,600+ extensions)
Official WooCommerce Extension Store (~300 extensions)
YIThemes, the "#1 Independent Seller of WooCommerce Plugins" (100+ extensions)
Here's How Can You Make Money with WooCommerce Extensions
Enough of the boring stuff already, let's get to the fun stuff…making money with WooCommerce!
1. Sell A Course
Sell your knowledge! Online courses are so hot right now.
The best part about selling info products is you don't have to mess with physical products, inventory, fulfillment, or any of that crap.
You'll need to connect WooCommerce to your Learning Management System (LMS) of choice in order to proceed.
And wouldn't ya know it…WooCommerce has their very own LMS, called Sensei LMS. Because Woo is the author of both plugins, I would expect Sensei to be the best-supported and most tightly integrated LMS.
But there are other LMS + WooCommerce options out there. Here's are a few to look into:
WP Courseware
LifterLMS
LearnDash
2. Sell Your Time
WooCommerce Bookings can transform your website from your worst employee into your best salesperson.
Your website before the Bookings extension: Here's our hours, call us at this outdated number, spend some time on hold, and you'll maybe (or maybe not) book an appointment.
Your website after the Bookings extension: Shows real-time availability, books open slots, and takes payments in minutes.
Bookings are perfect for brick-and-mortar stores, like hair salons, beauty and health spas, personal trainers, or bed and breakfasts.
Or maybe you're a financial coach who meets with clients over the phone or Google Hangouts.
Perfect!
Your customers can now easily book times, pay, then receive an automatic email with the appointment reminder and Google Hangout link.
3. Sell Subscriptions
Do you know what is considered the "holy grail" of online businesses?
Recurring income!
And subscriptions are the key to unlocking recurring income. Collecting your money each month is a breeze with Woo Subscriptions. This extension even allows you to offer free trials.
Here are some popular subscription service ideas that you can start making money with today:
Software As A Service (SAAS)
Subscription Boxes (Coffee, Beef Jerky, Beauty Products)
Piano Lessons
4. Sell Members-Only Stuff
If you want to offer your followers membership perks (and don't want to use Facebook groups), the WooCommerce Memberships extension is the way to go.
You wouldn't believe how much people are charging for access to their "Mastermind" groups these days. Woo can't make you a mastermind…but it can make it easy to handle mastermind logistics.
5. Sell More to Existing Visitors
If you already have an eCommerce store, one of the easiest ways to make more money isn't by getting new customers. No, it's by making more money from the customers who are already visiting your store.
Here's how you can improve CRO (Conversion Rate Optimization) with WooCommerce extensions:
Smart Coupons: 99% of the people who visit your site will window shop and leave without even saying goodbye. You are left with nothing to show for it except a high bounce rate. So catch them before they go with a popup and offer a coupon that is applied directly to their cart, or send the coupon to their inbox in exchange for their email address.
Live Chat: Customer service is huge when making a purchase decision. And real-time customer service? Even more huge. Adding live chat option to your online store can improve sales by as much as 31%!
Multi-Step Checkout: Cart abandonment is rampant: people are all hot on your product, add it to their cart, then bail before buying. It's an unfortunate fact of human nature…we're wishy-washy! That's why you need to capture would-be customer e-mail addresses on step 1! That way, if they jump ship, you can follow up asking what happened (and maybe offer a smart coupon).
E-Mail Followups: Speaking of abandoned carts and existing customers, WooCommerce makes it super easy to connect with them with e-mail followup sequences. The best part? There's an integration for whatever email marketing platform you use, like ConvertKit.
Try WooCommerce Free Right Here
Free WooCommerce Download Here
WooCommerce SEO
As any good salesperson knows, you can't sell stuff if you don't have customers to sell to. One way to get customers is through Search Engine Optimization, or SEO.
Meaning: bring customers to your sales pages from search engines (Google, Bing, etc.).
And WooCommerce is one of the best eCommerce platforms for SEO.
Why?
Because it piggybacks off of the world's most popular Content Management System (CMS), WordPress.
And the best CMS for SEO…is none other than WordPress!
I guess you could say that WooCommerce is guilty by association.
Speaking of association, you've heard of the Yoast SEO plugin, right? You know…the one that pops up first when you type "SEO" into plugin search?
Anyway, they have a premium eCommerce plugin, too. And the Yoast WooCommerce SEO plugin is fantastic. It's jam-packed with everything you've come to expect from Yoast, PLUS it takes care of all the boring technical stuff (schema markup, ) so you can focus on selling!
And check out Brian Dean at Backlinko if you want free strategies to take your WooCommerce SEO to the next level.
WooCommerce Payment Gateways
A payment gateway is the service of processing your customer's credit card when they purchase something from your online store. Payment gateways charge you a fee (usually a % of sale) for every transaction.
There are a ton of providers that offer this service. In fact, WooCommerce gives you the choice of 100+ payment gateways to choose from.
Stripe is the most popular and Woo-recommended gateway. Other popular choices include PayPal, Square, Braintree, Authorize.net, Amazon Pay.
There are many factors in choosing a payment gateway (what you sell, who you sell to, etc.), but the most important usually comes down to the almighty dollar:  payment gateway fees.
This decision depends wholly on your situation, so read the fine print. And here are the most important things to consider when choosing a payment gateway.
You can install as many payment gateways as you want. For example, sometimes it makes sense to offer PayPal (it is the most widely accepted payment method, after all) in addition to other methods.
But before you decide to use all 100+ payment gateways, just remember that this would require 1 plugin install for every gateway.
Our recommendation?
Don't overthink it. Make it easy on yourself and choose Stripe and/or PayPal. Adjust if it doesn't fulfill your needs.
WooCommerce Security: Is WooCommerce Safe and Stable?
Speaking of payments and sensitive data…is WooCommerce secure?
So here's the deal: if you're selling online, you're handling sensitive data. People are extremely protective of their name, contact information, and payment details.
And rightly so, with all the horror stories of identity theft.
So it's your job to make them feel safe enough to trade you those in exchange for money.
SSL
You absolutely need to have an SSL (Secure Sockets Layer) certificate on your website in this day in age. I don't care if you run a mommy blog or a site with 2 pages on it.
Just SSL it already!
* steps off soapbox *
If you need more convincing:
Google started punishing insecure (non-SSL) sites back in 2018
Most? All? Payment gateways require an SSL certificate before approving your account with them
Most hosting companies offer a free SSL certificate…so you have no excuse!
PCI-DSS Compliance
Whoa, whoa, whoa, PCI-what?? Cool it with the gobbledygook already!
Sorry to freak you out like that! It may sound like a scary acronym that the technical support nerd down the hall throws around, but it's actually not that complicated.
PCI-DSS = Payment Card Industry Data Security Standard, a set of standards (rules) put in place to stop credit card fraud…and make the Internet a more trustworthy place. 🙂
And if you plan to process credit card transactions on your website, you must be PCI-DSS compliant.
The main thing you need to know is that WooCommerce isn't automatically PCI-DSS compliant. Here's how to make sure your WooCommerce is PCI-DSS compliant.
WooCommerce Alternatives
It wouldn't be a proper WooCoomerce review without providing alternative eCommerce options! According to BuiltWith, of all websites using eCommerce technologies, the top 5 are using:
WooCommerce Checkout
Shopify
Magento
OpenCart
BigCommerce
And for you visual learners:
And because statistics change like the wind, you can check the most up-to-date distribution for websites using eCommerce technologies stats.
Shopify: The Only Real WooCommerce Alternative
Shopify is a scary growth animal in the eCommerce space. As The Street puts it:
"By making it simpler, faster and more efficient for all parties involved, Shopify's high growth is unlikely to slow down anytime soon." – The Street
Let's compare WooCommerce vs. Shopify using the same 4 criteria that we judged Woo above:
Ease of Use
The easiest to use platform is the one you're most familiar with.
If you know WordPress, then WooCommerce is easier to use. Shopify guru? Then Shopify is easiest to use.
If you don't know either, Shopify gets the win because it's a hosted platform.
Meaning:
You only need to become familiar with Shopify. With your WooCommerce website, you're responsible for everything that comes with getting (and keeping) WordPress up and running (hosting, security, updates, themes, plugin conflicts, and so forth).
The positive for the WooCommerce experience here is that the customization options are nearly endless for your new store. This can be a good or bad thing, depending on your needs and how tech-savvy you are.
If you're familiar with both of these popular platforms for your online stores, you're the real expert here! Leave a comment below and weigh in on the Shopify ease of use vs. WooCommerce ease of use.
Shopify is easier to use than WooCommerce, but you can more easily customize Woo than Shopify.
Stability
I love that WooCommerce is maintained by the same developers as WordPress. You can't ask for a more dreamy scenario.
But…
If you've been playing the WordPress game for very long, you know that the most common troubleshooting advice excuse is:
"It's probably a plugin conflict. Please disable every plugin, one by one, until you find the conflicting plugin."
WooCommerce is no different:
This isn't necessarily Woo's fault, but if you use it, you have to contend with everything else you have installed on your WordPress site.
And for that reason, Shopify is more stable than WooCommerce.
Customer Service
As mentioned, WooCommerce has fantastic documentation. They also have a solid FAQ page, and their support page says that the "best" way to get help with your WooCommerce store is by opening a support request ticket.
Hmmm…what's missing?
A phone number!
Shopify takes customer service to a whole new level. Taken from their website: "The Shopify support team is available 24/7 by email, live chat, and phone."
Shopify provides 24/7 customer service. WooCommerce does not.
Price
The WooCommerce base plugin is free, but that isn't the true cost.
Shopify has 3 pricing tiers:
$29/month for the Basic package
$79/month for the Shopify package
$299/month for the Advanced package
But those monthly fees aren't the true cost.
So what are the real costs for each platform?
Each uses payment gateways that charge a per-transaction fee. That's standard, and rates will be the same for each platform, assuming the same payment gateway.
But…
If you choose any payment gateway other than Shopify Payments, they charge you a 0.5% – 2.0% (depending on your monthly package) fee on top of the payment gateway's fee.
This is equivalent to your bank charging you a fee on top of the fee that the ATM already charged you to withdraw your own money. Which we all hate, right?!
Both Woo and Shopify have an app store that allow you to customize your store on your WordPress site. Both offer free extensions and paid extensions. Paid WooCommerce extensions are typically an annual subscription, while most Shopify apps are charged monthly.
At first glance, it seems like Shopify pricing is more clear because of the 3 monthly packages they offer. But I'm not buying it. They have nearly as many paid extensions as WooCommerce, plus you can expect your transaction fees to be higher.
I like WooCommerce pricing better than Shopify pricing.
WooCommerce vs. Shopify: Who Wins?
Since it's not an apples-to-apples comparison, your choice in the Shopify vs. WooCommerce battle is simple:
Just starting out? Choose Shopify because it's an all-in-one eCommerce solution that was built to be simpler, faster, and more efficient.
Have an established WordPress website? Choose WooCommerce to add an online store to your site.
If you find yourself in the Shopify boat, here's an offer to dip your toes in the water, free of charge:
Try Shopify for 14 Days Free Right Here
Try WooCommerce Free Right Here
Free WooCommerce Download Here
Want to learn step-by-step how I built my Niche Site Empire up to a full-time income?
Yes! I Love to Learn
Learn How I Built My Niche Site Empire to a Full-time Income
How to Pick the Right Keywords at the START, and avoid the losers
How to Scale and Outsource 90% of the Work, Allowing Your Empire to GROW Without You
How to Build a Site That Gets REAL TRAFFIC FROM GOOGLE (every. single. day.)
Subscribe to the Niche Pursuits Newsletter delivered with value 3X per week