19 Of The Best Dropshipping Courses: Learn How to Make Money Dropshipping
When you buy something through one of the links on our site, we may earn an affiliate commission.
Looking for the best dropshipping courses is a smart move if you're just starting out or thinking about getting into it. And learning how to establish a dropshipping business is an excellent entry into the world of entrepreneurship.
Dropshipping is one of the most lucrative forms of passive income. You simply find popular items on the net and sell them to customers all around the world. In other words, you set up and manage the point of sale. Suppliers stock the items and dispatch orders to your clients. That means you don't need to maintain storage space.
Yes, there are stories all over the net about dropshippers making millions super-fast. Plenty of courses promise overnight millions. But try not to get tempted by the hype. Most entrepreneurs have had several failed businesses before discovering the perfect one. It can easily take six months to a year to earn a profit. Then you can assess whether your store is a viable long-term investment.
What Will You Learn In A Dropshipping Course And Why do You Need One?
Dropshipping is a popular low-risk business idea, so there's tons of information about it online. YouTube videos, forums, blogs, and personal websites can provide a good overview. But, determining whether sources are reliable might be difficult. You can even get contradicting advice.
Online dropshipping courses are the way to go if you want more practical, step-by-step guidance created by expert teachers. And if you're serious about dropshipping, they're absolutely worth it. You'll save tons of time, so you'll progress faster and avoid some of the big mistakes many newbies make.
Our List Of 19 Best Dropshipping Courses
Here's our complete, curated list of great dropshipping courses for you to learn from!
Build a Dropshipping Empire From Scratch
Build a Dropshipping Empire From Scratch is by Theo McArthur available on Udemy. It shows you how to build an empire without investing loads of money. And there are some pretty bold claims here. They say that you'll learn how to make thousands of dollars, all without building an email list or spending all your time in front of a computer.
That may be the case once you've made your millions, but any successful entrepreneur puts in plenty of time to succeed.
A fantastic website is one of the most important aspects of a successful business. And this course will teach you how to optimize your website to produce a large number of clients and sales. You can learn how to choose the best things to sell and locate the best suppliers. Included in the course are 87 lectures, demonstrations, videos, and downloadable resources.
Highlights:
Learn how to find the best vendors
Learn effective tactics for transforming your company into a sales machine
Using superb resources, create a dropshipping empire
Price: $21.99
If you only have a few dollars and want to start a business, this program is for you. And, if you don't enjoy the course, you can get your money back within 30 days of purchasing it.
---
The Complete Shopify Aliexpress Dropship Course
In this Shopify Aliexpress Dropship course, you'll learn how to create a highly profitable e-commerce store from the ground up. To join the course, you don't need any prior expertise or experience with dropshipping. All you'll need is a computer and a decent internet connection to get started!
Tim Sharp, a successful online entrepreneur since 2004, teaches the course. He has established several profitable enterprises over the years. These include eCommerce, affiliate marketing, WordPress, and database development. Tim Sharp's techniques can be extremely beneficial because he has real-world expertise and considerable experience.
Highlights:
Learn all you need to know to start a thriving internet business.
Learn the necessary skills for a successful dropshipping business.
Discover how to spot profitable markets and hot selling products.
Find out how to discover your ideal targets and how to attract customers to your store.
Price: $21.99
The step-by-step course takes you through the entire dropshipping process. It is intended for novices, but if you already operate a business, you will discover tons of tips and tricks to help you. Also, you will learn how to earn $100,000 per year and more by the end of the course (or so they claim).
---
Amazon Dropshipping 2022 By David Mack
This is an Udemy course about dropshipping on the Amazon marketplace. The course's instructor, David Mack, has over ten years of experience selling on Amazon. Using this experience, he has designed one of the best dropshipping courses. This is where you'll learn all about his highly effective strategies.
The course covers opening an account and how to select items plus making listings and building your company. It also covers delivering products and much more. Amazon Dropshipping 2022 teaches each stage in-depth including setting up an Amazon account, how to deal with refunds, spying on your competitors, and so on.
Highlights:
Step-by-step practical teaching method
Amazon account creation
Chrome add-ons and mandatory tools
Product research on account health
Items with low vs. high ticket prices
Cost: $13.99
Perhaps the one negative is that Amazon dropshippers face so much competition. It's much more difficult to work in this space, and you'll likely need a tool like Jungle Scout to do well.
While the course is really good, Amazon Dropshipping 2022 is designed solely for Amazon dropshipping. You may want to think about a different course for another platform.
---
Auto-DS eBay Dropshipping Course
One of the top dropshipping training courses is the AutoDS eBay Dropshipping Course. You get step-by-step instructions for getting started with dropshipping on the eBay marketplace. And it's good for beginners as well as advanced dropshippers.
Teacher Lior Pozin is an eBay dropshipping expert with many successful eBay companies. He's a true industry leader with hands-on knowledge in this field. So far, he has served as a mentor to hundreds of dropshippers and he's helped many of them to achieve their business objectives.
Because the course is tailored for the eBay platform, you will only learn how to dropship on eBay. And how to expand your eBay business by raising your selling limits. You'll also learn about using automation for efficiency and flexibility.
Highlights:
Step-by-step practical teaching method
Setting up and customizing an eBay account
Choosing a specialization
Methods for locating products
How to list your items and optimize them
Order completion
Providing client service
Price: Free
AutoDS eBay Dropshipping Course is very instructive training. You won't go wrong with this one.
---
AutoDS Shopify Dropshipping 101
Liran Zablo, a seasoned dropshipper, will show you how to create and maintain a Shopify shop. AutoDS is a comprehensive dropshipping course. It uses a step-by-step practical teaching method. Furthermore, it's designed for novices and dropshippers of all skill levels.
AutoDS Shopify Dropshipping 101 will save you time, money, and stress. This course provides excellent advice and tips. As a result, it helps you avoid the mistakes that most brand-new dropshippers tend to make.
Highlights
How to source the best dropshipping products
How to set up your Shopify store
What to do to market your online store
How to create and launch Facebook ads
How to manage your business
Price: free
It is a full Shopify dropshipping course that includes all relevant knowledge. That includes product research, marketing, Facebook advertisements, and much more. The course is a step-by-step video on the primary topic. In addition, each main topic includes many relevant subtopics.
---
Drop Ship Lifestyle by Anton Kraly
Anton Kraly teaches the Dropship Lifestyle course. He saw how hard it was to create and grow eCommerce companies without a good plan, so he created a 7-step blueprint. You'll learn traffic generation and supplier approval. Outsourcing, automation, and how to use organic material for market research are also covered as well as many other topics.
The paid course offers one-on-one coaching and it also links you with online networks. They even host annual retreats to help people in becoming successful entrepreneurs. It is a detailed yet straightforward step-by-step procedure.
Anton regularly updates the course. He offers extra tips, tactics, and techniques when he learns anything new. After all, business isn't the same as it was five years ago. It isn't wise to put your faith in a strategy that doesn't grow with the times.
Highlights:
One-on-one tutoring
7 modules with action tasks that keep you moving forward
Learn fundamental skills, including specialty research and market analysis
Google ads training
Training for increasing revenue
Price: Very basic course - free
Price: Premium - $2,997
And Ultimate - $4,997
Here is a full Dropship Lifestyle review that goes into much more detail on the course.
The biggest negative of the Dropship Lifestyle course is its high cost. The free course doesn't offer you much and it's really just a sales pitch to get you to buy the Premium or Ultimate. The price has already jumped by 100% due to increased demand (Kraly knows how to make money!). While we see the value of dropshipping training, it should not be so expensive.
---
Dropship Blueprint By StoreCoach
The Hermansen Brothers devised and launched Dropship Blueprint by Store Coach. It is one of the market's most popular dropshipping courses.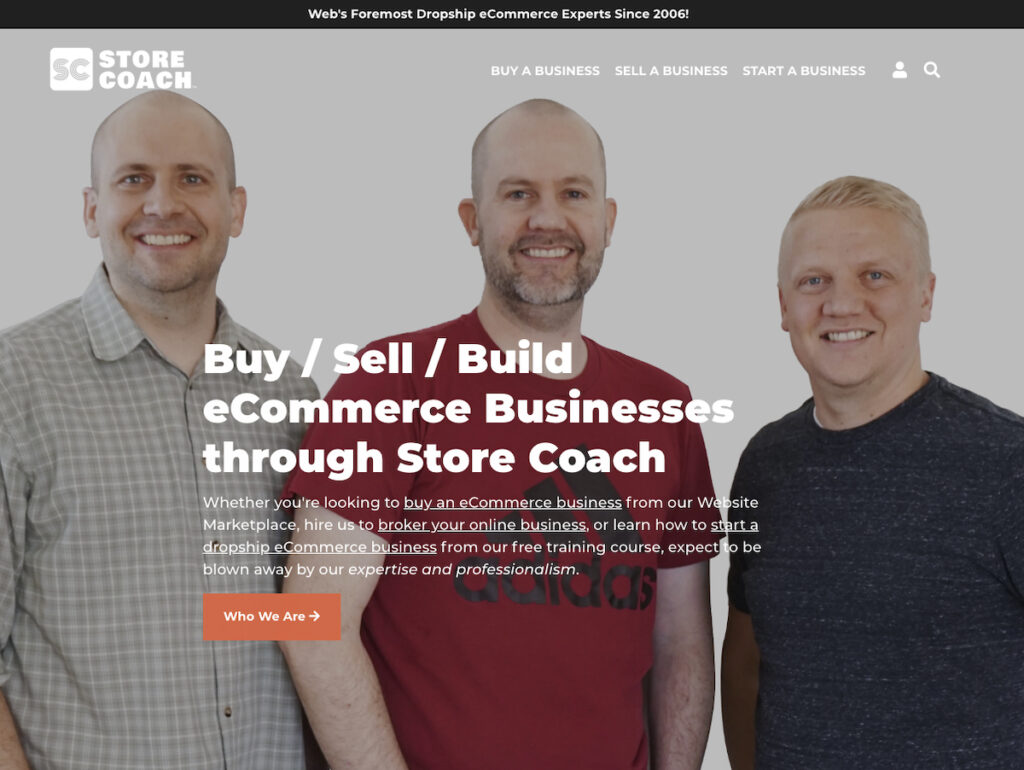 The training is structured around a seven-stage process. It starts with design and planning. Then, it progresses through constructing, growing, and advertising your business and generating a "constant and predictable income" from anywhere in the world.
Highlights:
How to find a specialty
Conducting market research
Establishing your business
Marketing
Maximizing earnings
Price: Lifetime Acess to Pro Membership for $497
Much of the training is free and open to the public, but you really don't get very much. The free training is yet another very clever sales pitch to upgrade. You can buy the paid upgrade to a "Pro Membership," which will give you the full course and all its benefits.
---
Dropshipping 101
Dropshipping 101 is another wonderful course if you are just starting with dropshipping. Jessica Guzik will teach you all sorts of techniques, methods, and tactics that you'll need to overcome your competitors and stay on top.
Jessia Guzik is one of the most brilliant brains in the dropshipping business. And you get direct instruction from her in this course. You'll learn to calculate your target demographic and find the most successful dropshipping items. You'll also learn how to develop a brand, how to use Facebook promotions to your advantage, and much more.
Highlights:
Learn how to create a brand from the beginning
Best ad optimization tips
Finding reliable vendors on AliExpress for dropshipping
Price: Free
The biggest negative of this course is that it only provides an overview. It covers the many aspects of running a dropshipping company, but there's not much detailed information in this course so you'll probably have to sign up for another one.
---
eBay Dropshipping Titans by Paul Joseph
Paul Joseph is a dropshipping expert who sells video courses based on the retail arbitrage model. He is solely concerned with the technical "know-how" of eBay dropshipping.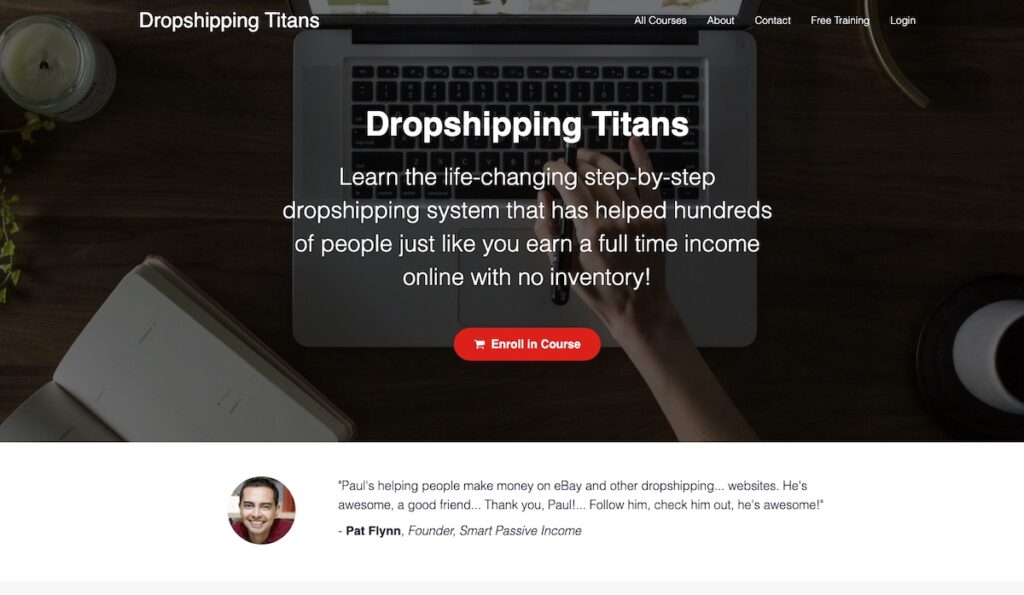 The videos walk you through the process of getting listings up on eBay. It goes step by step, resulting in a lot of boring material. You'll struggle quite a bit if you don't enjoy a lot of technical intricacies.
Paul strongly recommends using the DSM Tool (Drop Shipping Management Platform) to do all the heavy lifting. It searches Amazon for top-selling items and makes it easy to buy them.
You can still use the DSM Tool to produce listings if you use other markets.
Highlights:
There aren't many courses available on eBay dropshipping strategies, making it useful
Provides fantastic material for novices on how to set up from the beginning
Contains information on picking the best items and how to make money through rapid sales
Teaches you how to understand the customer service process
Over 70 training videos
30-day money-back guarantee
Price: $297 (one-off payment) or three payments of $127
But, Paul doesn't say that this course is not suitable for international markets. His marketing material should at least have a disclaimer about that. His sales pitch also raises questions. He keeps preaching about his riches, but he refuses to reveal his secrets or techniques.
---
eCom Elites by Franklin Hatchett
One of the best dropshipping courses on a budget is eCom Elites. It is a step-by-step entrepreneurship masterclass. There are ten separate modules taught by Franklin Hatchett. These classes will show you how to create your own store. In addition, you'll learn how to choose the right items, and generate traffic from various social media networks and search engines.
This course covers different techniques and ways of drawing an audience for Facebook, Instagram, email, chatbots, and other platforms. They've also added videos that have never been viewed online before in the final package. These will give you a definite edge over your competitors.
Highlights:
A low-cost way to learn the fundamentals
Covers how to get organic traffic from Instagram, Facebook, and Google Search
Price: $297
eCom Elites provides tutorial videos that walk you through each process step-by-step. When you buy the course, you have lifelong access to the videos - you can watch them anytime and anywhere you choose. You also become a member of an inner circle and get access to the course's top students. You can target your questions to the coach and the pupils.
---
Marketplace Titans By Paul J. Lipsky
Because Facebook Marketplace is a relatively new dropshipping platform, there are very few courses on the subject. Marketplace Titans is one of the few courses that fully explains how to dropship on Facebook Marketplace.
Note: Unfortunately it is currently closed while a new version of the course is being prepared. But it is nevertheless worth considering here.
Marketplace Titans is not your average course since it is fully comprehensive. The training covers fast-creating Facebook Marketplace accounts. You learn all about researching winning products and maximizing customer support.
Paul explains various strategies for streamlining your operations when dropshipping on Facebook Marketplace. These approaches entail organizing, creating a business, working with virtual assistants, etc.
There are also group coaching sessions where you can learn alongside other dropshippers.
Highlights:
Step-by-step practical teaching method
Creating Facebook Marketplace accounts
Finding, listing, and selling successful items
Customer support and tracking numbers
Mini-course on using virtual assistants
Price: $497
Marketplace Titans' only negative is that Paul wants to make sure everyone gets personal attention in group coaching conversations. So there's limited space available. As a result, if you want to get into his course, you'll have to wait.
---
Performance Dropshipping by Hayden Bowles
Hayden Bowles' Performance Dropshipping will teach you to expand your Shopify dropshipping shop with TikTok and Facebook marketing. You'll even discover how to go beyond just having a business and become a well-known brand in the industry.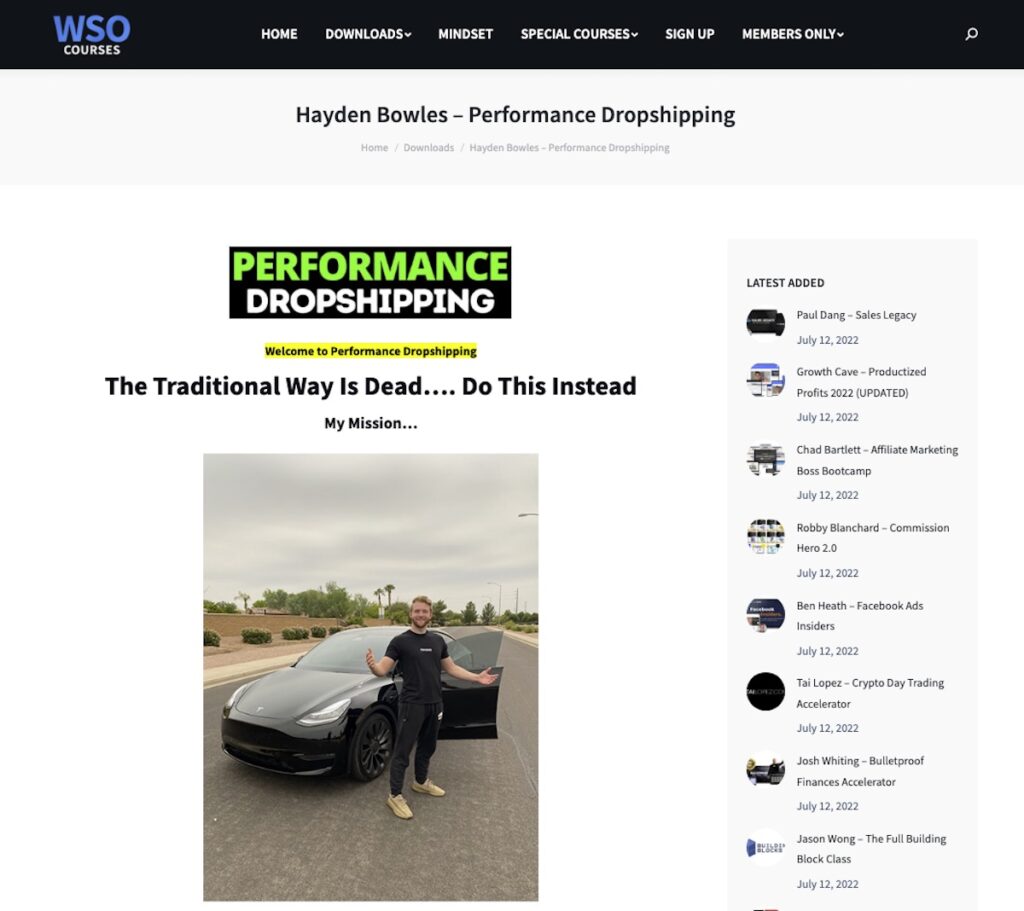 Hayden's emphasis in this course is on scaling. Also, he offers his sourcing sites and agents to assist you in getting an advantage over your competition. They are the same people that helped him expand his businesses and make millions of dollars.
Highlights:
How you should set up your eCommerce store, and which tools you should use
Samples of cheap and high-ticket items
How to conduct extensive product research
Ad forms and the significance of ad copy
Paid traffic through Facebook adverts
How to create and launch TikTok ads (not as crowded as Facebook, which is why Hayden succeeds and teaches it)
Proven tactics that have helped him scale his business
How to convert your store to a brand and the long-term consequences
How to manage your financial flow, credit cards, and taxes
Sixteen extra videos covering subjects ranging from how to plan for the Chinese New Year to checking what your rivals are doing
In-depth price testing
A deeper look into TikTok advertisements (targeting, ad details, and native advertisements)
Price: $500
Hayden Bowles is a 7-figure, skilled Shopify seller. But, he went bankrupt several times before he saw a return on investment. It took him eight months to finally see a profit from his shop. Hayden has assisted hundreds of students in making money by selling products online. And he continues to add value to his YouTube channel. His sources of income include real estate, affiliate marketing, YouTube, and others.
---
Product Winner Blueprint
The Product Winner Blueprint course focuses pretty heavily on teaching you how to locate and handle the correct products.
This course emphasizes using Facebook. So, if you want to use Shopify or another platform, you should take a different course.
The course is divided into ten modules, each of which is meant to be easily understood. This is one of the easiest and best dropshipping courses. You can see why so many individuals became successful after purchasing and going through it properly.
Highlights:
Product research
Store setup
Facebook ad targeting
Facebook Pixel
Testing Facebook ads
Scaling Facebook ads
Facebook retargeting
Growing AOV (average order value)
Team building and automation
Price: $297
The training is really useful, especially for beginners. Experienced dropshippers who still struggle with digital marketing get the most from the Facebook Ads Scaling sections. However, this course doesn't provide enough marketing guidance. This is a definite negative because it's such an important part of running a successful eCommerce business.
---
Shopify Ninja Masterclass
Kevin David knows what he's talking about and the Shopify Ninja Masterclass is great. This guy is a serial entrepreneur who "annihilates" practically every Ecommerce area including Facebook ad management and Instagram advertisements, FBA, print on demand, and dropshipping.
I totally recommend this course. It's one of the best dropshipping courses. It's short, direct, and very actionable, making it simple to follow and useful for getting stuff done.
He's also a YouTube sensation with a ton of additional courses. You'll find stuff on Shopify, dropshipping, Facebook marketing, eCommerce, and other online topics. You can't search "how to make money online as a flat-broke beginner" without seeing his face plastered everywhere.
His Shopify dropshipping course, Shopify Ninjas Masterclass, is like his YouTube persona - over the top but packed with useful information for starting a successful online company.
Highlights:
Kevin is one of the world's top product pickers and he'll guide you through his niche/product selection process.
Optimizing your Shopify store: 15 videos on optimizing your dropshipping shop including installing Google Analytics, setting up countdown timers, and creating opt-in email forms
His 97% rule which all six and seven-figure dropshippers adhere to
Membership in his Facebook Mastermind group
A plan for scaling and expanding
Using Google Analytics to increase your dropshipping sales
Enhancing client service
Employing virtual helpers
Mastery of Facebook Ads
Price - $1,000
Kevin's class is also great on Facebook ad expertise, niche/product selection, and Shopify shop optimization. And it gives enormous value for developing your dropshipping business above the $1,000 per month threshold.
But be warned: there are a lot of affiliate links in his content, and it may come across as a little too "used-car-salesman-ish" at times. Plus, the price is exorbitant.
---
Supreme Ecom Blueprint 2.0
Supreme Ecom Blueprint 2.0 is also one of the best dropshipping courses. In this course, AC Hampton shows you how to use some crucial tools to start and expand your Shopify dropshipping eCommerce shop from the ground up.
Highlights:
Back End Shopify Setup: ensuring you can navigate the Shopify backend and set up your store.
Creating a Facebook profile, configuring Ads Manager
Learning how to use product research tools to find winning items
Calculating the break-even point
Learn how to make and test video advertisements
Launching your first video ad
Gaining the trust of potential customers
Building bespoke audiences/look-alike audiences, and reading your data
Learn how to execute retargeting advertisements using the retargeting funnel
How to scale your winning advertising to earn more money
Automate your store: how to delegate some of the lesser jobs to save time
Important bank requirements: opening business bank accounts
Price: $597
This course was revised in 2022 with the most current strategies, and the information is more accurate. AC teaches you to get traffic to your Shopify store and merchandise through Facebook advertisements. The course also includes over 30 training videos plus a list of 950 outstanding product ideas to assist you in saving time during the product research process.
---
The Ecomm Clubhouse by Sarah Chrisp/Wholesale Ted
Ecomm Clubhouse's dropshipping course teaches you how to create an online business using print-on-demand and dropshipping. In this course, you will learn all you need to know to start your own dropshipping business from the ground up. It gives you information about Shopify, free traffic, product sourcing, Facebook advertisements, and SEO.
Ecomm Clubhouse has nearly ten hours of video. Plus, it's one of the few Shopify Approved online courses which means it's been vetted by Shopify for quality, accuracy, and trust. Shopify confirms that the individual instructing has demonstrated success with Shopify and that their course testimonials are genuine. Any Shopify-approved course must go through a thorough verification procedure to confirm its legitimacy.
Highlights:
Choose a niche
Find products
Create your shop
Create a sales system
Increase traffic to your store
Covers every step of the process of establishing an eCommerce business
Price: $67 per month
Ecomm Clubhouse is ideal for people who are new to eCommerce or dropshipping. The course walks you through every stage of creating an eCommerce business - from product selection to visitor generation.
Those hoping for more complex methods will find Ecomm Clubhouse wanting. While it does provide advice on organic SEO, anyone expecting more complicated topics like split testing may be disappointed. This is a surface-level course suitable only for beginners.
---
Start a Print On Demand Business For Beginners
Printful is a dropshipping provider that offers custom printing on various items as a print-on-demand company. Printful's comprehensive Start a Print On Demand course is the best free dropshipping training in this area. The course is aimed at both beginners and expert students.
Highlights:
Using Printful to create personalized items
How to Integrate Printful's eCommerce platform
Adding items to your store, creating billing, and arranging shipping
Marketing using social media and word-of-mouth
How to produce your first products
How to setup payment and delivery
Because Printful's training focuses on print-on-demand enterprises, it is ideal for dropshipping with this unique model. In addition, the course teaches Print-on-Demand dropshipping on several e-commerce platforms like Shopify, Ecwid, Magento, and others (but don't miss our Low Hanging System review for more ideas).
---
Project Verum: Ecom Foundations
Project Verum: Ecom Foundations course walks you through how to create a successful one-product dropshipping shop and expand it. It's also one of the best dropshipping courses. And it's jam-packed with customer service and systems development information.
The course is hosted on Kajabi, and the course information is easily accessible through mobile. (Kajabi is an online software platform that offers users and course designers a simple way to create and market online goods.)
You will get 12+ hours of information divided into seven courses. And access to the exclusive Verum Ecom Facebook community, as well as continuing updates when you buy this course. There are no hidden fees, upsells, or recurrent costs, which is reassuring.
Highlights:
How to choose a product for dropshipping (receive a video on free and paid product research tactics)
Setting up your Shopify store, linking Oberlo, adding themes, etc.
Extensive training in email marketing
Why Facebook ads are the best option, how they operate, an overview of Facebook Advertising Manager, and other information
Facebook advertising techniques
Scaling, retargeting, and more techniques to ensure the success of your ad campaigns
The backend of your Shopify store with order fulfillment, interacting with private suppliers, customer care, and outsourcing tasks
Instagram and influencer marketing: how to advertise your items by reaching out to many Instagram accounts
Price: $99.99
According to the main guy John Yoon, Project Verum: Ecom Foundations, is a full dropshipping blueprint. It's based on over $10 million in Facebook Ad spend plus three years of eCommerce expertise, and methodologies tested across 50+ shops.
---
Wix Ecommerce School
Wix eCommerce school offers two courses. The first covers how to construct an online store. Meanwhile, the second teaches you how to advertise your online business.
As mentioned, the first Wix eCommerce course teaches you how to build an online store. Also, it teaches you to manage complicated procedures such as order fulfillment. The second course teaches the basics of marketing methods to help the online shop expand and be able to sell more products.
The training is free and delivers a lot of value if you are really committed to the Modalyst system. Modalyst is a dropshipping automation platform for businesses and eCommerce websites.
Highlights:
Designing and creating eCommerce websites
Creating product pages
How to encourage repeat purchases
How multichannel sales can help businesses grow
Price: Free
The primary disadvantage is that, although it offers complete training, it is only meant for dropshipping on Wix's platform. If your business is not created on Wix, you may not be able to fully use the information you get from this course.
---
Final Thoughts On The Best Dropshipping Courses
The days of launching a Shopify dropshipping business and generating thousands of dollars every day while sipping cocktails by the pool are over. The rules of the game have completely changed. Now, if you want to succeed, you must be really sharp.
Dropshipping may still be a profitable business strategy - if done correctly. But if you choose the wrong course or don't bother with one at all, you could go out of business fast. Or you'll be unable to compete with Amazon dropshipping or other dropshippers. Find the right dropshipping course that leads you through niche research and supplier identification. Also, learn about conversion optimization, advertisements, and automation - and you'll succeed.
For some valuable tips: find out how to start a dropshipping business with no money.
Want to learn step-by-step how I built my Niche Site Empire up to a full-time income?
Yes! I Love to Learn
Learn How I Built My Niche Site Empire to a Full-time Income
How to Pick the Right Keywords at the START, and avoid the losers
How to Scale and Outsource 90% of the Work, Allowing Your Empire to GROW Without You
How to Build a Site That Gets REAL TRAFFIC FROM GOOGLE (every. single. day.)
Subscribe to the Niche Pursuits Newsletter delivered with value 3X per week