AliExpress Dropshipping: Your Complete Guide To Getting Started
When you buy something through one of the links on our site, we may earn an affiliate commission.
AliExpress dropshipping allows sellers to choose from millions of products. As the largest eCommerce store in the world, you can find just about anything.
However, it can be tricky knowing what to order and how reliable the merchants you are working with are. To help you avoid getting burned, we'll go in-depth on exactly how to dropship from AliExpress.
What Is AliExpress?
AliExpress is the business-to-consumer side of operations for Aligroup, a Chinese technology company that began with Alibaba. It is the largest eCommerce platform globally by product size, trailing slightly behind Amazon's number of customers. 
While Alibaba is focused on helping manufacturers sell wholesale to businesses worldwide, AliExpress is more similar to Amazon. They sell individual consumer items and ship to individuals worldwide.
AliExpress became a popular platform for people to source products for dropshipping. With the expansion of the ePacket service, this became even cheaper as the average shipping cost went down and shipping times became somewhat more reliable and faster.
Is AliExpress Safe and Reliable?
The people behind AliExpress have done a lot over the years to improve the service's reliability and safety. While this doesn't completely prevent scams on the platform, it has become easier to avoid them.
One of the main things that AliExpress has done is create rating systems for both merchants and the products they sell. This is similar to how Amazon or eBay tracks its sellers to keep them in line.
You can use these ratings, along with reviews of AliExpress products, to better gauge how reliable an individual supplier will be. It's also advisable to always order product samples to see your customers' experience.
Does AliExpress Permit ?
AliExpress not only permits dropshipping but is, in fact, one of the largest dropshipping providers in the world (but don't miss our tips in our 'Is AliExpress legit' article to avoid problems). With over 100 million products spread across thousands of categories, it's easy for dropshippers to find viable products to offer customers.
Many tools have also been created that make dropshipping from AliExpress more convenient with one-click product importing and stock management. 
Not all of the merchants on AliExpress are dropshippers. Make sure to verify with the supplier before placing orders, so you know they won't add anything like fliers or requests for review in the packaging when shipping the product.
Using

AliExpress For
AliExpress is one of the top sources for dropshippers for a reason. With so many products available and merchants set up expressly to cater to dropshippers, it can be a consistent place to source products for your dropshipping store.
The important thing is that you understand how to find products and separate good merchants from potentially bad ones.
Find The Right Products
Not all products are suitable for dropshipping. Items that can easily break or have many moving parts aren't the best. Try and stick to lightweight products that are easy to ship and won't break during delivery. You should also avoid electronics due to the high failure rate.
Look For Suppliers With Over 200 Reviews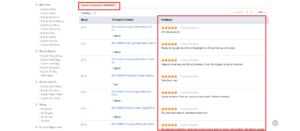 Like Amazon and eBay, sellers on AliExpress receive ratings and reviews from buyers. While sellers can post fake reviews, these are generally easy to spot. AliExpress has also taken steps to minimize fake reviews over the years.
A good rule to follow is that a supplier should have at least two hundred reviews to establish their credibility. 
It's easy for a newer supplier to get a few genuine reviews by selling to friends or family. However, getting a few hundred positive reviews from friends is more challenging. To spot fake reviews, look for patterns in the reviews or tons of reviews with no comments.
At Least a 90% Positive Rating or Higher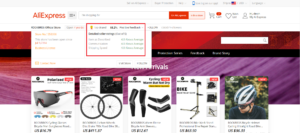 Just as you want a supplier with over 200 reviews, you also want one that has at least a 90% rating or more. 
Remember to check the number and quality of the reviews first. A 95% rating doesn't mean much if it's from fake reviews. A seller with hundreds or even thousands of reviews can get them through illegitimate means, so start with the quality of the rating first.
Also, pay attention to what the bad reviews are for. Pay particular attention to bad reviews for long shipping times or mentions of returned products. These are factors that can negatively reflect the experience your customers have.
Offers Plenty of
Photos

Photos are a huge trust factor for eCommerce stores. There are two ways that you can get photos, but the easiest method, in the beginning, will be from the AliExpress seller. 

Look for sellers that offer high-quality photos detailing all aspects of a product. Remember that you can have around ten photos with platforms like eBay and Amazon. So, the more you can get from the seller, the better.

The other method of getting photos is ordering samples and taking your own. This is a better option in the long term as you can use different backgrounds to differentiate your products from other dropshippers.
Look For High Margins
Remember that you are here to make money and maximize your profits. This is only possible if the margins for your products cover all fixed and variable costs. 
https://www.youtube.com/watch?v=BJCX2B5cSkg
Assess your specific costs and then factor those into how much you need to make on each product. This will establish a baseline for what you need to markup each product. From this point, it's a matter of searching for products that provide you with the best margins.
There will likely be many people selling the same product. This is because many suppliers on AliExpress are buying wholesale and then relisting on the platform. 
Payment Options Available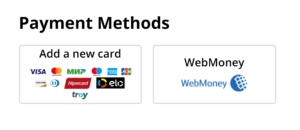 There are numerous payment options on the AliExpress website, catering to the international customers that use the platform. Some of the primary payment options include:
Visa

Mastercard

MIR Payment System (Russia)

Maestro Debit Card

American Express

JCB (Japan)

Discover

Hipercard (Brazil)

ELO (Brazil)

Troy (Turkey)

WebMoney
Some other options include PayPal and AliPay. These methods will differ from seller to seller and may not be available for all purchases.
Add Products To Your
You should start with at least ten products throughout each category you plan to sell in. Don't go crazy, but you don't want an empty-looking store either. 
It's highly recommended that you target a specific niche when first starting out. This will make it easier to brand your store. After finding products, use the following steps to add them to your store.
Write Unique Headlines and
Descriptions

Tight copywriting is essential for creating a dropshipping store or other eCommerce stores. You want your headlines to catch people's attention. The product description should also be thorough and sell the benefits, not the product's features. 

People buy things to solve problems, so focus on the issues your product will solve, even if it's just boredom. Highlight each product attribute in a clear, concise, and easy to skim way.

Whatever you do, though, absolutely do not just copy and paste AliExpress product descriptions. On top of probably being Google Translated, many others will be doing this, and your products will seem unoriginal. 

If you don't have any copywriting experience already, there are tons of free and premium resources to help including courses and books on copywriting.
Be Upfront and Clear About Shipping Times
Shipping from China can take a while. It can take up to a month for customers to receive their products in some cases. Don't lie about this to try and get a sale, as people will leave you bad reviews. 
Instead, you can find sellers that ship from the United States or just be honest with people. In the end, most people will be less angry that a product will take a while to ship than they will be if you promised it would take five days and instead it takes thirty.
Use Clear and Original Photos
When first starting your dropshipping business, most people will simply copy the photos from the AliExpress seller. This is not the worst thing in the world. Good sellers will have lots of pictures so that dropshippers can better sell their products.
The question is, do you want to look like every other dropshipper on Amazon, eBay, or average eCommerce Website? Of course, you don't, as most dropshippers aren't making the money they'd like.
A better option is to order samples of each product you plan to list in your store. This has the double benefit of letting you test the supplier, check the product's quality, and get better photos customized for your brand. Below is an example of higher quality photography from the Warmly Decor dropshipping store.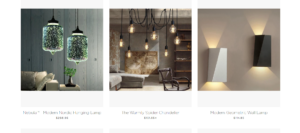 Price Each
Appropriately

You need to make sure that you've customized the product price to cover all of your fixed and variable costs. Failure to appropriately price each product can lead to a profit loss in the long term.

Don't just slap 5% or 20% on each product and call it good. Instead, take the time to sit down and learn some pricing strategies and markup methods. This will not only help you become a better eCommerce store owner, but it will also ensure you don't lose money.
Focus On Branding
Branding is what's going to set you apart from every other dropshipper selling the same imported products as you. It's what makes the difference between a Ralph Lauren polo shirt selling for $60 and the same polo shirt selling for $19 at a discount retailer. 
You have no control over the products you sell in terms of manufacturing. However, you have every bit of control over how people perceive the quality and status of your products. Focus on giving people value through things like content marketing and social media.
Take the opportunity to position your store as superior to your competition. How well does this work? It's made companies billions of dollars and been the go-to strategy of firms everywhere when trying to launch a product similar to others. 
Advertise Your Products
Advertising and brand building are where the money's at when it comes to a dropshipping business. It's a long-term strategy that will allow you to build a high revenue store that can be sold for many multiples beyond the average.  
Some of the best ways to advertise eCommerce stores include the following:
Paid Traffic
When referring to the online world, paid traffic usually refers to pay-per-click advertising (PPC). You can choose to advertise on many platforms, but the most prominent are Google Ads and Facebook Ads. 
Facebook can be a particularly attractive place for eCommerce stores to advertise due to the platform's visual nature. Because you can also use video and text, there are many layers that you can put into your ads to drive results.
I recommend working with a professional if you aren't comfortable setting up and maintaining your ads. This will help to preserve your budget as PPC professionals will know the correct audience to target for optimal results.
Organic Traffic
Organic traffic almost always refers to traffic from search engines such as Google. This is a massive source of traffic for most businesses, whether blogger, eCommerce stores, authority sites, or niche sites. 
The thing to know about organic traffic is that it can take a lot of time and/or money to get started. You need to allocate significant time to content development or pay for a professional to get it done.
However, this presents a phenomenal opportunity for you to provide value to your customers through information surrounding your products. An example of this might be a women's beauty store where the owner creates regular articles and videos covering deep-diving into beauty trends.
Social Media
Social media is an area where eCommerce stores can really rock it. People are on social media to discover new things, share awesome stuff, and connect with the latest trends. If you've followed the above advice about branding and market positioning, you will hit all of these areas.
The key here is to focus on the platforms where your target audience is most likely to hang out. It amazes me how often I see brands putting tons of effort into social media accounts where their customers will never find them. 
An example of this would be a car speaker eCommerce shop putting a lot of effort into Facebook or Pinterest when Instagram or Youtube would be much better due to the visual nature. Focus your efforts where they will make the most difference. Some tools that can help you with this include:
Hootsuite

Buffer

Tailwind (Pinterest)
Handling Orders
You've set up your store, marketed your products, and now you are beginning to get orders. If you don't have a method to manage the orders you receive, you're going to flounder quickly.
Pick a time to go through and manage all of your orders during the day. Preferably, you'll want to handle everything in the morning so you can place all of the orders you received the previous day. This will need to be laid out clearly in your selling policy. 
With AliExpress dropship, placing orders can be a bit time-consuming as you will need to manually go in and pay for each order individually and set the shipping address. 
The alternative is to use a dropshipping tool like DSM Tool to manage everything automatically. This and similar tools will allow you to accept orders from a Shopify store or platform like eBay and manage everything with one-click order deployment. 
Alternatively, you can hire a virtual assistant and outsource all of this. However, this will be more expensive and require you to manage other people.
Shipping Products
If you've done your homework on each seller, you'll already know what the delivery time will be and how products will be shipped. This is also why it's crucial to order samples for each product to verify the expected shipping time.
You will want to order with a tracking code whenever possible to follow orders. This will also help if orders are late to let customers know. 
Make sure to send out a confirmation email whenever orders ship so that customers aren't left in the dark. You can create a simple template to send out for each order.
Handling Returns and Refunds
You need to have a straightforward returns and refunds policy to avoid issues later. If a customer is unsatisfied with their order, they will need to return the product to you unused and in the same condition as it arrived.
I don't recommend trying to get a refund from the AliExpress seller. Most will have a refund and returns policy, so it is possible. However, I've found that a better option is to keep the product on hand for the next time it is ordered.
You can ship the order from your location to the next customer cutting out the time to deal with the AliExpress seller. The customer will also appreciate this as their order will arrive faster than if it had come from the dropship supplier.
Tips For
While all of the above information will get you started with AliExpress dropshipping, the below tips will help you stand out from the competition. 
Remember that you compete with tens of thousands of other dropshippers, all trying to sell the same product. Many of them are on the same platforms. Utilize every advantage available to you to differentiate yourself and get a better deal.
Ask The Not To Include Packaging Slip, Invoice, or Samples
This is critical and, while it may seem common sense if you're ordering as a dropshipper, some suppliers will need to be reminded. Packaging slips, invoices, and samples of other products that aren't in your store are dead giveaways that you are dropshipping. 
Other things that suppliers have been known to include are requests to leave reviews on their stores. All this needs to be excluded from orders as they have nothing to do with your brand and eCommerce site.
It may seem overkill, but to be on the safe side, you should send a reminder to every new AliExpress supplier you work with. 
Avoid Branded or Counterfit Products
This one is massive and cannot be understated. Do not ever get involved with selling, importing, or dealing with counterfeit items from other brands. 
Anything that must be licensed to sell will land you in potential legal trouble if you are caught. You can almost always guarantee that AliExpress sellers don't have rights for branded products.
Some common types of branded and trademark goods include:
Branded clothing (Nike, Addidas, Ralph Lauren, etc.)

Toys from movies and comic books

Sports jerseys and memorabilia (college and professional)

Logos from significant companies (Ferrari, Porsche, etc.)
These are just a few examples. To be on the safe side, you should avoid any type of branded product. Remember, this is an issue that can cost you a lot of money in fines and legal costs. 
Work With Responsive Suppliers
Before you do any business with a new seller, send them a message to see how fast they respond. Ask them about their products and see how much they know about them. These are all signs of a good or bad seller.
The last thing that you want is a customer asking a question you don't have an answer to and then not getting in touch with the supplier. Or, even worse, an order gets lost or delayed, and the seller takes a week to get back to you.
Doing your due diligence early on for suppliers will help make your AliExpress dropshipping experience more positive. 
Pay Attention To Shipping Options
The ideal shipping option takes the least time and provides you with a tracking code. However, this isn't going to be the case with all sellers. Different sellers will have different shipping policies and even different timeframes.
Take a look at a few of the different sellers for products you are interested in. Pay close attention to their shipping policies for each country you plan on shipping to. Only settle on the seller that offers tracking and the best-expected shipping times. 
Avoid Best Selling Products
Best selling is usually a good sign, but when it comes to dropshipping, it means there will be a lot of competition. Try and avoid products listed on the homepage or in any other bestseller lists on AliExpress.
If you've followed the advice on branding, this will not be as much of an issue. However, if you only sell on platforms like Amazon or eBay, bestselling products should be avoided. You can guarantee you will be competing with hundreds of other dropshippers listing identical products from the same seller. 
Avoid Your Money or Your Life Products
You want to avoid products that deal with people's money, immediate health, or anything that could impact their lives. Examples of this would include supplements for major and life-threatening illnesses, self-defense products, or anything related.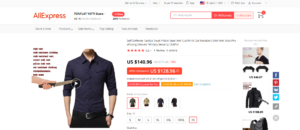 Not only are these products likely to get you banned on Amazon and eBay, but they will also be much more difficult to advertise. Facebook and similar platforms will not let you advertise these types of products. 
Lastly, you are opening yourself for potential civil suits if people use your product and don't get the desired result. Avoid these types of products at all costs. 
What Are The Benefits Of ?
There are quite a few benefits to using AliExpress dropshipping. Many of these upsides revolve around the large product inventory found on the website. However, there are a few other benefits to sourcing your products from AliExpress for dropshipping, including:
Easy Set Up For
Many of the suppliers on the eCommerce platform are already set up for dropshipping. This means they use blank packaging and don't include requests for reviews or other notes in their shipments.
The last thing you want is for customers to figure out the products they ordered are coming from AliExpress. You are likely to get bad reviews when people figure out they paid a premium for something they could have gotten themselves. 
Working with manufacturers and suppliers who understand dropshipping and already have the setup will make things easier for you.
Wide Selection Of Products
Millions of products from tens of thousands of suppliers that regularly handle dropshipping orders benefit you. You can try your hand at being a general seller on platforms like eBay or Amazon or niche down and try to create a branded online store.
The important thing is that you are choosing products from reliable suppliers. Remember that many of the merchants on AliExpress are wholesalers, so you will likely find the same product being sold by many different sellers. Choose the seller that has the best rating and offers the highest margins.
Minimal Risk
While you can get ripped off or scammed through AliExpres, your odds aren't any worse than with other platforms. AliExpress has done a lot to keep bad sellers off their platform and ensure a reliable process.
So long as you are sticking to the rule of at least 200 reviews and a 90% or higher rating, you shouldn't have any issues. You don't have to worry about getting stuck with lots of inventory which is another benefit to using a platform like AliExpress for dropshipping.
No Minimum Order Requirements
Finally, there are no minimum order requirements through AliExpress. With Alibaba, you are ordering from manufacturers and dealing with wholesale orders. 
For some products, this could be minimum orders in the thousands. Not only is this not an optimal solution for dropshipping, but also not practical for the seller to sell individual items.
With AliExpress, items are being sold individually, making it a better option for dropshippers and sellers alike. Many of these sellers purchase products wholesale from Alibaba and then sell them on AliExpress. 
What Are The Cons Of ?
Despite the ease of use and robust product selection, AliExpress dropshipping isn't without its drawbacks. Along with longer shipping times, there is always the chance of sellers sending out counterfeit or fake goods. 
Paying attention to the reviews is an excellent way to avoid these issues but isn't guaranteed. Some other drawbacks to AliExpress include:
Lot's Of Low-Quality Products
With millions of products to choose from, you are guaranteed to find high-quality products that will satisfy your customers. There are, however, just as many poor-quality products that you want to avoid.
The only guaranteed way to separate high and low-quality items is by ordering samples. This is something you should get into the habit of doing anywise, but it can be expensive initially. 
Looking at reviews and doing a product analysis can give you a good idea of the quality of the product, but is no guarantee. Pictures also can be deceptive, making lower-quality products look better than they are. 
Can't Bundle Items
When customers order multiple items from your online store, there is an expectation that they will arrive together or at least within a similar time frame. However, there is no way to bundle items dropshipped from AliExpress.
Because products are likely coming from different sellers, these sellers may mail your orders on different days. These orders will likely arrive in different packaging and at different times, which is a giveaway that products were dropshipped and not sold from you directly.
Unfortunately, there is no getting around this. The only thing you can do is list multiple products from the same seller. This will be easier if you operate in a specific niche, as many sellers on AliExpress have similar products in their stores.
Potentially Long Shipping Times
Shipping products from China to the United States can take a while, even under the best of circumstances. You will likely find that the average order takes a minimum of ten days or more to ship. That's if you are lucky.
Worst-case scenarios can lead to orders taking thirty days and even longer for orders to arrive. The solution to this used to be ePacket shipping, but due to a combination of regulatory changes and pandemic-related supply chain issues, this isn't a reliable option anymore. 
The best thing you can do is be honest with your customers about how long it could take for orders to arrive. Have a clear shipping policy giving up to thirty days for shipping.
Potential To Get Fake Or Counterfeit Goods
Just as there is a risk of low-quality goods on AliExpress, there is also the chance that a dropshipping supplier might ship counterfeit or fake goods.
This poses an issue in terms of client satisfaction and a legal problem. In many countries worldwide, selling or importing counterfeit products is a crime.
A good way to avoid having this problem is by avoiding any trademarked or name-brand products. This means no clothing with Nike logos anything of the like. Also, avoid sports teams and products with imagery or tie-ins to movies or TV shows.
Common Questions About
To help you even further with AliExpress dropshipping, here are answers to a few of the most commonly asked questions on the topic.
Is

Using AliExpress

Dead?
Dropshipping using AliExpress is not dead. However, the days of making easy money are long gone. Sellers used to list random products on Amazon and eBay and make high incomes. However, dropshippers now need to be more selective of what they are selling and focus more on brand building.
What Is The ?
Also known as the AliExpress Booster Program, the AliExpress Dropshipping Center is a tool launched by the company to help dropshippers more easily find products. The tool is free and can be used even if you aren't dropshipping with AliExpress.
Why Is AliExpress So Cheap?
AliExpress is cheap because products are being sold either by the original manufacturer or wholesalers. This means there are fewer middlemen and retail markups between you and the source of the product. 
Will Customers Know Products Are From AliExpress?
Customers will not necessarily know that products are from AliExpress. However, some suppliers can add information into the package, such as a request for a review. It's essential to work with suppliers familiar with dropshipping to avoid your customers finding out where products come from. 
Where Does AliExpress Ship From?
Most of the products on AliExpress ship from mainland China or Hong Kong. However, some larger suppliers have fulfillment centers in the United States and throughout different countries in Europe to make shipping times much faster. To find these suppliers, you will have to search manually on the platform.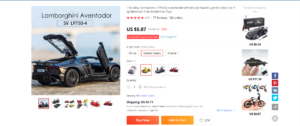 Can You Dropship From AliExpress To Amazon and eBay?
You can dropship from AliExpress to Amazon and eBay. However, this isn't recommended as you have less control over the process. The best way to dropship is by creating your online store on a platform such as Shopify or a WooCommerce store, where you have more control over branding and marketing. 
Why Should Someone Buy From Me If They Can Buy the Same From AliExpress Cheaper?
Many people don't know that AliExpress exists or what dropshipping is. For many people, what's more important is branding and convenience. This is how name-brand fashion labels can charge such high markups. Creating your brand and offering additional value can help to justify higher prices. 
Final Thoughts On

From AliExpress
While AliExpress isn't as easy to dropship from as it once was, there is still a lot of money to make as demand for online products increases. There is significantly more competition as more people have become aware of the dropshipping business model. This also means that more people are using AliExpress to source products.
For long-term success, the best thing you can do is focus on building your store and creating a brand. Providing extra value using things like content marketing will help you attract more customers and enhance the value of what you are selling. 
Want to learn step-by-step how I built my Niche Site Empire up to a full-time income?
Yes! I Love to Learn
Learn How I Built My Niche Site Empire to a Full-time Income
How to Pick the Right Keywords at the START, and avoid the losers
How to Scale and Outsource 90% of the Work, Allowing Your Empire to GROW Without You
How to Build a Site That Gets REAL TRAFFIC FROM GOOGLE (every. single. day.)
Subscribe to the Niche Pursuits Newsletter delivered with value 3X per week