Ecomhunt: The Best and Easiest Way to Find Lucrative Products To Sell Online?
When you buy something through one of the links on our site, we may earn an affiliate commission.
If you're looking for a comprehensive e-commerce tool to help take your business to the next level, consider Ecomhunt. This platform offers tons of features and benefits that can help increase sales and improve productivity, but is it worth the price?
This article will explore Ecomhunt's features, pricing plans, and pros and cons.
We'll also compare it to some of its top competitors to give you a better idea of what's available on the market.
---
Ecomhunt Review
Features

Ease of Use

Customer Service

Value For Money
Summary
Ecomhunt is a dropshipping tool that helps you find high-converting products to sell in your online store. It also provides data and insights (targeting, benefits, winning ads) to help market the product. Get started with Ecomhunt today!
Pros
Beginner-friendly
Find trending products
Uncover benefits, angles, and targeting
Pinpoint and deconstruct winning stores
Cons
Targeting is limited to FB ads
Not a magic-bullet solution
Not a replacement for real marketing skills
What is Ecomhunt? An Overview
First off, what exactly is Ecomhunt? It is a tool that helps e-commerce sellers find hot-selling products on marketplaces like Amazon and AliExpress.
It also offers search filters to narrow down your results, in-depth product analysis data, and even a Chrome extension for easier use.
The Importance of Product Research
Your product is the foundation of your e-commerce business. With so many choices available to consumers, you need to offer something truly unique and worth their hard-earned money.
Studies show that every purchase is motivated by a desire to improve our lives somehow. As marketers, we can tap into these intrinsic human needs to encourage people to buy our products.
Why Do Customers Buy?
Customers buy because they want to:
Improve their confidence
Save time
Improve their quality of life
Enhance their security
Improve health or wellbeing
These desires are often deeply rooted in our evolutionary history. For example, the need to feel secure is likely a holdover from our days as hunter-gatherers, when dangers lurked around every corner.
In order to make sales, you must have all the other pieces of the marketing jigsaw (marketing, landing page, offer, targeting) for your campaign to succeed, but finding the right product is where it all starts.
How Does Ecomhunt Help You Find Winning Products?
That's where Ecomhunt comes in. It's a tool that helps you find products that satisfy the following:
Satisfy most or all critical buying criteria above
In high demand (people are actively searching)
Low competition
High-profit margins (Sale price minus cost of goods sold)
It also provides valuable insights into trends and customer behavior.
Ecomhunt Classic - General Product Research
Ecomhunt Classic curates winning products for you to sell online (along with the data to market them). This includes the product's Facebook ad creatives and winning stores selling the product so you can stay ahead of the game.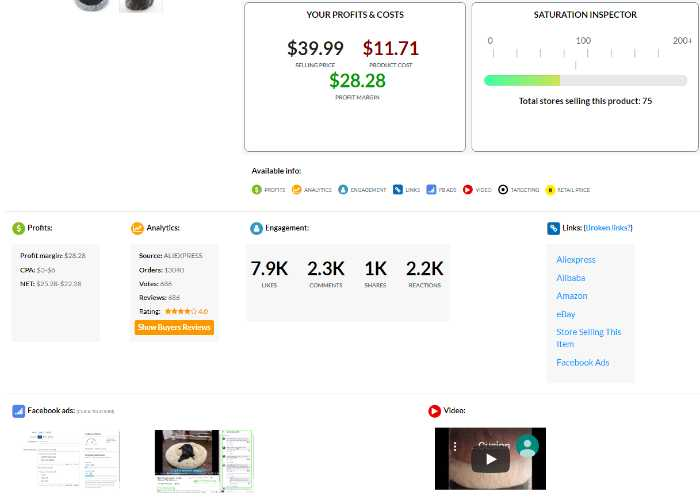 Marketing Angles and Benefits
Whether you're selling a product or a service, creating a winning marketing angle is essential to success. Ecomhunt will give you winning angles to use for your products and product benefits that will help you understand your audience and what makes them tick.
Pro tips:
Do not simply copy + paste.
Use these angles as inspiration and improve upon them.
Leverage examples of what worked in the past and insert your creativity to improve them!
Let's say Ecomhunt suggests a Japanese Herbal Teeth Whitening product.
You might appeal to someone who is looking for love. For example, you could position your product as a way for a young woman to look her best when meeting the partner of her dreams. You could highlight that teeth whitening can help boost confidence and make a great first impression.
It's all about finding the right angle to resonate with your target customer.
Ad Targeting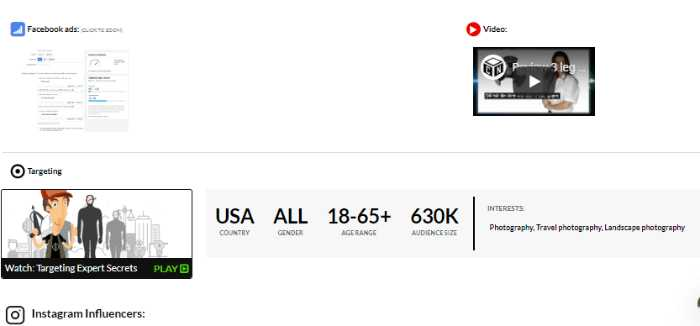 Targeting is essential to running a successful ad campaign. Without targeting, your ads will be shown to a broad audience that is unlikely to be interested in what you're selling. That's why it's so important to understand your competitor's ad targeting.
Ecomhunt allows you to see what ad targeting your competitors use so that you can improve or replicate their success.
First, you can use it to find new audience segments that you may have yet to consider.
Second, you can use it to refine your targeting criteria to make sure you're reaching the people who are most likely to convert.
Competitor Store Examples
One of the biggest challenges in dropshipping is standing out among the competition. Ecomhunt helps you do this by providing competitor store examples so you can see how others are selling similar products and adjust your strategies accordingly.
Make sure to be savvy about how you're using this information; remember, it's about improving upon what already exists and not just copying it. You don't want Shopify to hit you with a DMCA notice.
Spy Ad Creative (Image, Slideshow, Or Video)
Ecomhunt also helps find your competitor's winning ad creative! By understanding what makes a successful ad, you can create campaigns more likely to resonate with your target audience.

When you see that an ad has many views or likes, it indicates that it resonates with customers. Ask yourself why this might be the case. What is it about the ad that is so appealing?
Is it the "scroll-stopper" in the ad?
How about the copy in the ad?
Why is this ad unique?
What feeling does this ad evoke?
What is the offer?
How can I replicate the success of this ad in my own dropshipping business?
Instagram Influencer Suggestions
Influencer marketing is a great way to reach a targeted audience and increase brand awareness.
Ecomhunt helps you find top-performing Instagram influencers in your niche, so you can partner with them to promote your products.
Before reaching out to an influencer, ensure their followers align with the demographic of your target customer. Remember, it's not just about the number of followers. Quality followers are more important than quantity.
If you think that you might want to use influencer marketing, here are the top influencer networks to consider.
Product Costs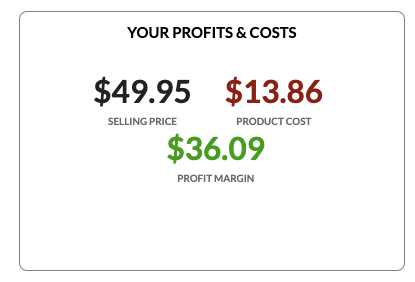 Ecomhunt provides insight into your dropshipping business's product costs and profit margins. This information lets you make informed decisions about what products to sell and helps ensure you maximize your profits. It's helpful to see this alongside competitor pricing, so you can stay competitive and protect your margins and potential profits accurately.
As a rule of thumb, you'll want to give yourself at least a $20 to $30 margin to pay for advertising.
You might think it's easier to sell a cheaper product (say $10, for example), but this leaves no margin for advertising. In the long run, it's better to sell a higher-priced product that allows for enough margin to invest in ad campaigns and increase sales.
Ecomhunt Live - Finding The Top Trending Products in Real Time
The Ecomhunt Live product feature is an excellent tool for dropshippers who want to stay on top of the latest trends.
With Ecomhunt Live, you can quickly and easily discover the trending products from over 4,000 selections.
You can also see each product's full 30 days of engagement history to gauge its popularity. Plus, you can see where the product is selling best geographically, so you can target your ads accordingly.
The Importance of Following Trends
The importance of following trends in dropshipping cannot be understated. One of the great things about dropshipping is that you can be something other than an innovator to succeed. Instead, you can ride the wave of existing trends and tap into a ready market.
This is often much easier and less risky than launching a new product or service.
And because dropshipping allows you to test different products and niche markets quickly and cheaply, it's the perfect platform for following trends. To find out what's hot right now, you must research with Ecomhunt Live.
Pro Tips:
Offer trending products as an upsell.
Promote products in the same niche through email marketing.
Leverage influencers or other traffic sources to push trending products. (Personally, I like Google Search and Shopping Ads.)
By being agile and responsive, you'll be able to capitalize on trends and ride them to the top. By riding the wave of a trend, you can quickly and easily increase your sales and profits.
The only downside of following a trend is that you are never ahead!
On the other hand, the trend can saturate and atrophy quickly, so constantly being on the lookout for the next big thing is important.
Ecomhunt Tracker
The Ecomhunt Tracker is a great way to stay on top of the latest trends in e-commerce. Adding products to your watchlist lets you see if a trend develops and get ahead of the competition.
This is especially useful for products that are new to the market or are not yet widely available. By tracking these products, you can be among the first to test them and find your honey-holes.
In addition, the Ecomhunt Tracker can help you keep an eye on your competitors. You can learn from their successes and avoid mistakes by monitoring their activity.
Ultimately, the Ecomhunt Tracker is an invaluable tool for anyone who wants to stay ahead of the curve in e-commerce. Thanks to this feature, you can always be on the lookout for new opportunities.
Ecomhunt Get Lucky - Find Winning Products Using Criteria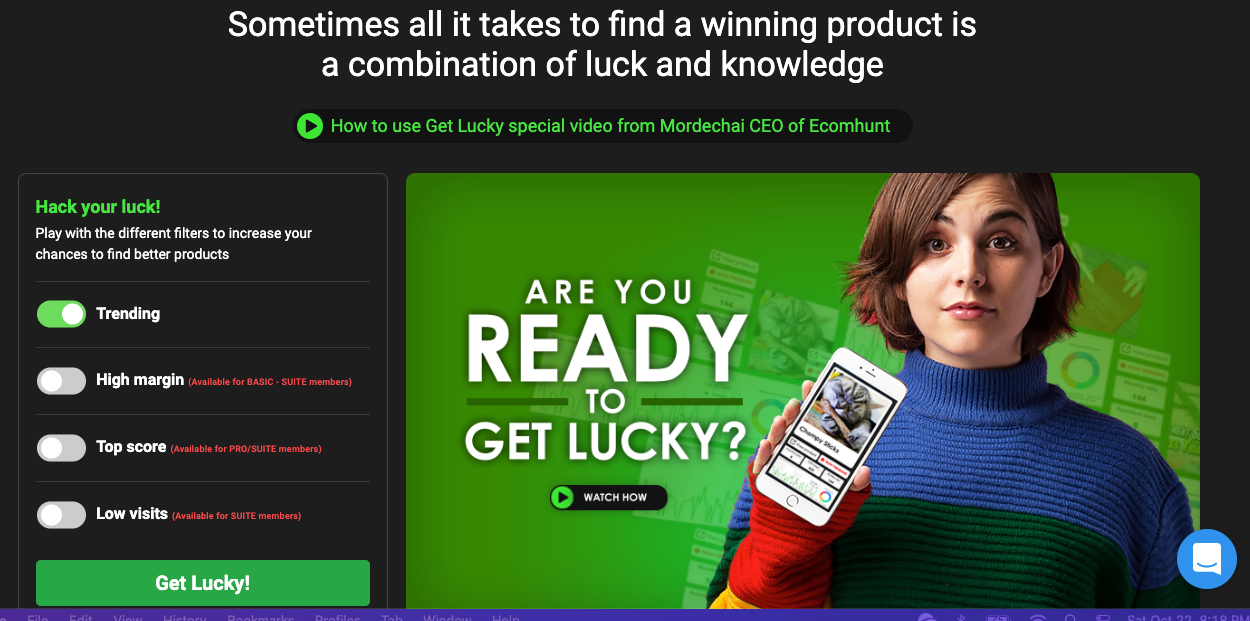 Ecomhunt's Get Lucky feature is a product discovery tool that helps you find profitable products to sell in your store. The way it works is simple: you select the criteria for your search (e.g., price, category, etc.), and the algorithm delivers a list of products that match your criteria. In addition, you can adjust the following filters:
Trending (Google Trends)
High Margin
Top Score
Low Visits (Diamonds in the rough)
For example, you can select criteria such as "high demand" and "low AliExpress interest." This ensures that you're getting products that are in high demand but that aren't being saturated by other sellers.
It almost reminds me of swiping on your favorite dating app. You can quickly scroll through products and see which ones meet your criteria.
It's possible this can help you find a diamond in the rough, but don't use it as a crutch to building real, valuable product research skills.
Ecomhunt Adam - Aliexpress Product Virtual Assistant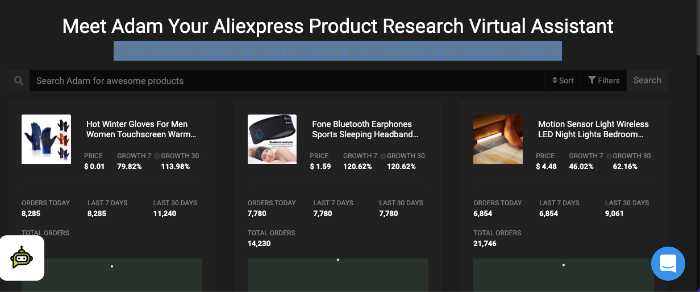 If you're looking for a virtual assistant to help you with your AliExpress product research, Ecomhunt Adam is a great option. Adam updates you daily with new hot products you can check out.
It's going to show you the following:
Aliexpress order volume
Seven-day percentage growth
30-day percentage growth
Links directly to Aliexpress suppliers
This makes researching products on AliExpress a bit less manual and can help you to find diamonds in the rough. However, it requires you to do a bit more heavy lifting. If you decide to test one of these products, you'll have to come up with your product description, angles, targeting, etc.
On the positive side, fewer dropshippers are doing this research, so there's always more opportunity if you can find the right product.
You might encounter more failures in the product testing phase, but on the plus side, it's a blue ocean if you get something to work!
This tool is a great option for those willing to do extra work to find hidden gems on AliExpress.
Ecomhunt Extension
Ecomhunt's extension has two main functions: to one-click inspect your competitors' stores and clean your newsfeed. The first function lets you see what products your competitor sells and how they sell them. The second function cleans your newsfeed so you can see only the active competitor ads running on your Facebook home feed.
It gives you all of Ecomhunt's functionality outside of the dashboard!
Ecomhunt Educational Resources
Youtube Channel
The Ecomhunt Youtube channel has a great mix of content, covering everything from niches to conversion rates to trending products. Plus, their advice is always very practical and actionable. I especially appreciated their focus on preparing for Q4, as that's always such a busy time for e-commerce businesses.
But my favorite thing about the channel is the breadth of expert advice they have. They've got Nick Peroni, Peter Pru, Chris Wayne, Ricky Hayes, and Harry Coleman, all sharing their amazing wealth of knowledge and experience.
Blog
If you want a more in-depth dive into e-commerce, Ecomhunt's blog is the place to go. They cover everything from how to start a dropshipping store to scaling your business and beyond.
They update frequently, so you're always getting new information and insights from their team of experts. If you prefer to read, I recommend checking out the Ecomhunt blog for all your e-commerce education needs.
If you're running an e-commerce business, or you're just thinking about starting one, definitely check out the Ecomhunt educational resources. You won't be disappointed.
Ecomhunt Support
Overall, the support capabilities are average to above average. It's clear that the company spends more of its resources on marketing and sales than on support, but the support team is still knowledgeable and helpful.
Help Center
The help center had a handful of well-written articles that provided useful information.
For example, if you need help getting started, a helpful guide walks you through the A-Z of how to use Ecomhunt. They still figure out a way to sprinkle in an upsell, but it's not too overbearing. Even with this, the information is still useful.
It's a self-service help center, so you have to be a little more proactive in getting help, but that's not necessarily bad.
Although it feels a bit barren, it's a useful resource for users who need assistance getting started or troubleshooting issues.
Live Chat

Ecomhunt's Live Chat, or Jack Kaching, is a great way to get instant feedback on your e-commerce business. Do you need help with market research? Need a second opinion on Facebook ad creative? Just want to bounce some ideas off of someone in the e-commerce world? Jack Kaching can help with all of that.
On a positive note, the live chat seemingly makes up for anything missing from the self-service side. Plus, it's much more convenient than emailing or calling customer support.
What Other Users are Saying
There are a few areas of improvement, such as the lack of an option to cancel your subscription yourself (you have to email support), but overall the support experience was positive.
Plans and Pricing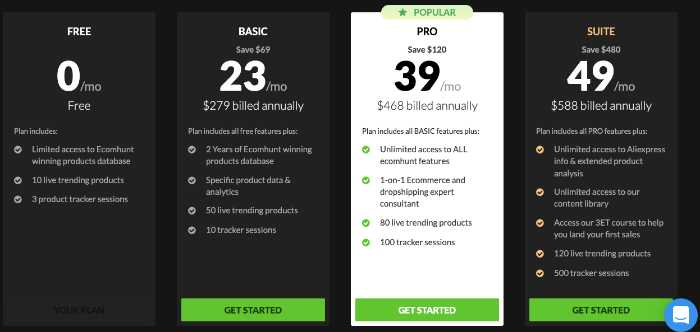 Ecomhunt has four pricing plans: Free, Basic, Pro, and Suite.
Free: The Free plan is very limited, with a product database limit and restricted features like ad targeting and product descriptions.
Basic: The Basic plan is more full-featured, with an increased product database limit and access to other features like ad targeting and product descriptions.
Pro: The Pro plan includes access to the one-on-one e-commerce expert consultant and more credits for live trending products and tracking sessions.
Suite: Finally, the Suite plan gives you special access to the e-learning course and more credits for live trending products and tracking sessions.
The Pro plan seems to be the best value, offering the most features for the money.
For a detailed description of what's included in each plan, please reference the table below: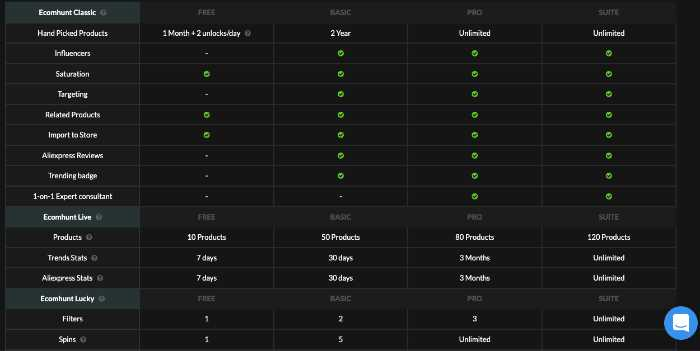 Pros and Cons
Provides an excellent starting point for beginners to find winning products.
Can easily find trending products (all backed up by data).
In addition to finding winning products, you can find winning stores. By following winning stores you can learn a lot and find even more winning products.
Provides all data necessary to market the winning product.
The blog and the Youtube channel have a ton of valuable information.
One-on-one consultant support.
It's not a magic bullet solution.
You still need marketing and dropshipping skills.
Email support if you want to cancel. You can't just cancel on your own (which is a slight inconvenience). It's not a huge negative, but it's worth mentioning.
Getting Started With Ecomhunt

Getting started with Ecomhunt is as simple as inserting your name and email. After you sign up, you receive a thorough welcome email directing you to all support resources available.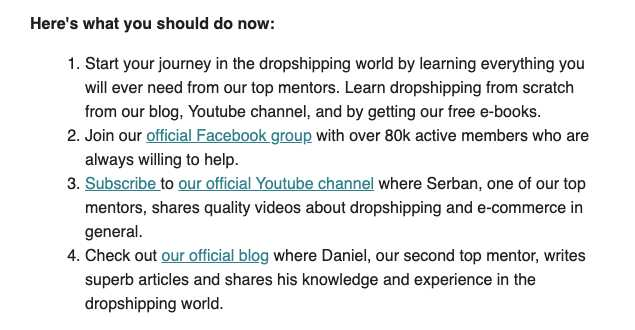 Next you'll get access to the dashboard.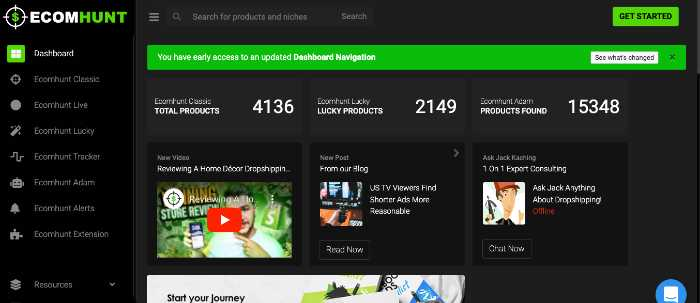 The new Ecomhunt dashboard is designed to give users easy access to all the features and tools.
The left-side navigation gives users quick access to the main features, while the top search bar allows users to search for products across all apps and features.
The new dashboard includes several new features, such as the ability to save products to tracker lists and a new product finder tool. The dashboard is quite intuitive, and there are adequate support resources that explain how to use the tool, so you shouldn't have any trouble getting up to speed.
Also, there are a few value bombs in the blog section about taking your product research deeper!
Best Ecomhunt Alternatives
Niche Scraper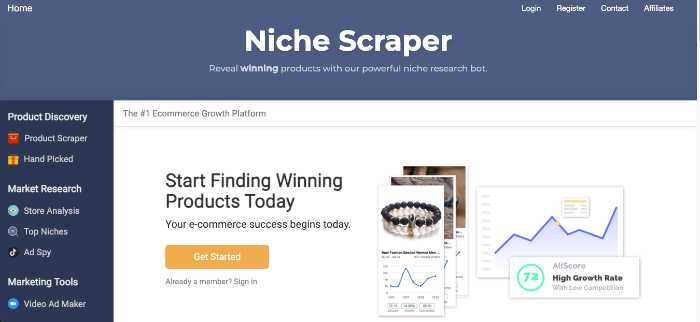 There are a lot of dropshipping and product research tools out there. So, what makes Niche Scraper different?
Well, for starters, it's one of the only tools that offer TikTok ad spy. This unique feature allows you to see which TikTok ads are converting so you can create your own videos that are more likely to generate sales.
But TikTok isn't the only platform NicheScraper supports - it also includes Facebook ad spy. Most other research tools focus on Facebook Ads, but FB Ads can be unreliable, complicated, and expensive to test.
NicheScraper includes all of the features you need to get reliable data from multiple platforms so you can make informed decisions about your dropshipping business.
---
Sell The Trend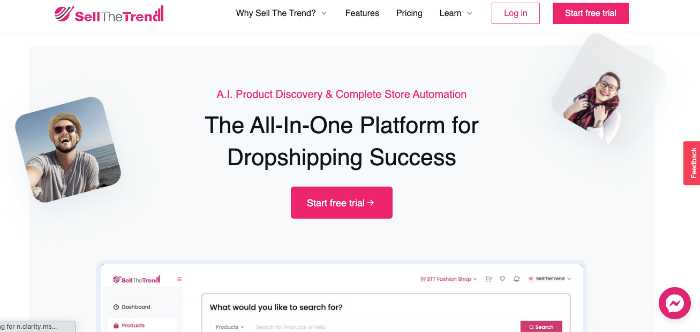 The Sell The Trend dropshipping app is an all-in-one solution for those looking to get into the dropshipping business. With Nexus research center and robust AI, it provides users with winning products that are sure to sell. Product import and one-click order fulfillment make it easy to get started, while the ability to explore winning stores and track their activity gives users the insights they need to be successful.
Sell The Trend goes above and beyond the capabilities of Ecomhunt. They even have a store builder and a video ads creator. Also, you can fulfill your orders directly within the application!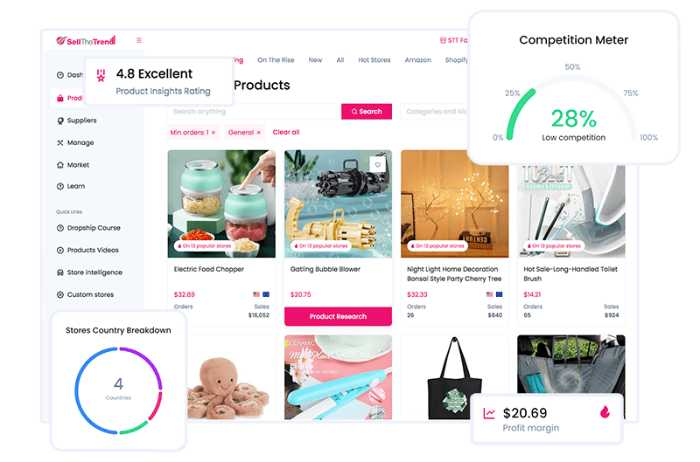 ---
DropshipSpy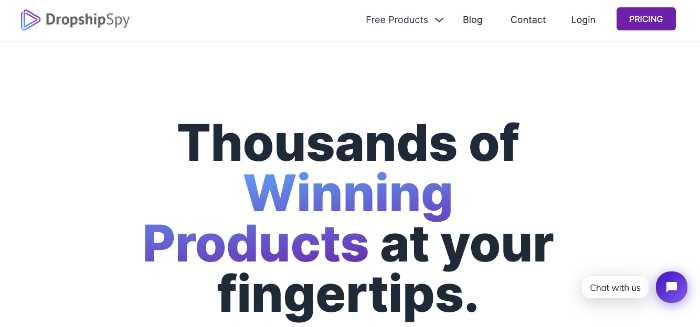 DropshipSpy is an app that allows you to see what winning products are, where they come from, and the social proof ads for them with engagement scores. You can also see video ads and trending data. You unlock access to thousands of products with over 1,500 new ones every year.
It also provides sales trends and key indicators. You can find suppliers, Facebook audiences, and influencers. This app has many of the same capabilities as Ecomhunt, except it also shows TikTok and Instagram data. The pricing is comparable to Ecomhunt, although there are fewer options since they only offer one paid plan.
---
Ecomhunt: In Conclusion
It's important to understand the fundamental principles of finding a killer product and use this tool as an additional resource. Remember, finding a product here is just a starting point! First, you must revamp what is already working in the marketplace. This involves crafting a unique offer and angle - you won't find that on any dropshipping spy tool.
As long as you realize that Ecomhunt is not a magic solution and success ultimately relies on your marketing skills, you can definitely gain value from this tool. We hope this review armed you with enough information to decide for yourself.
For related reading, check out:
Want to learn step-by-step how I built my Niche Site Empire up to a full-time income?
Yes! I Love to Learn
Learn How I Built My Niche Site Empire to a Full-time Income
How to Pick the Right Keywords at the START, and avoid the losers
How to Scale and Outsource 90% of the Work, Allowing Your Empire to GROW Without You
How to Build a Site That Gets REAL TRAFFIC FROM GOOGLE (every. single. day.)
Subscribe to the Niche Pursuits Newsletter delivered with value 3X per week