What Is Dropshipping? Your Complete Guide For Getting Started
When you buy something through one of the links on our site, we may earn an affiliate commission.
Traditional eCommerce can leave you balancing inventory and looking for new trends to avoid getting stuck with backstock. Dropshipping can be an alternative for site owners to avoid the traditional pitfalls of the online business. But, what is dropshipping?
What Is Dropshipping?
The technical definition of dropshipping, as defined by Merriam-Webster, is:
"to ship (goods) from a manufacturer or wholesaler directly to a customer instead of to the retailer who took the order."
In simplified terms, a dropshipper acts as a middleman and takes orders from a customer before sending that order to a wholesaler or manufacturer for order fulfillment.
The Dropshipping Process
To better answer what is dropshipping, let's break down the steps in the traditional dropshipping process:
Customer visits website and places order for new product
Dropshipper takes the order and sends it to a wholesaler or manufacturer for order fulfillment
Wholesaler or manufacturer ships the order directly to the customer
If the customer wants an exchange or refund, they work with the dropshipper
Benefits of The Dropshipping Business Model
There are both upsides and downsides to the dropshipping model. You must understand both if you want to run a successful business. The most commonly cited benefit to dropshipping is eliminating stock and a lower barrier to entry in terms of experience and costs.
Some of the other benefits include the following:
Less Capital Required
Because you are not required to order inventory upfront, you need significantly less capital to start a dropshipping business.
It should be noted that you can certainly get away with starting a dropshipping business with no capital, but you will be fighting an uphill battle. Some capital should be allocated at the beginning for things like marketing and building a website.
Easier to Get Started
Traditional retail and eCommerce models often require agents and intermediaries to source products. Depending on how much inventory you start with, you might need warehousing space.
With dropshipping, you simply need to find suppliers for the products you want to sell and then determine which platforms you will sell on. 
Lower Overhead
As a benefit of not carrying inventory, you can avoid many expenses associated with a traditional online retailer and eCommerce stores. The result is you can operate a leaner business with fewer fixed expenses and variable costs as well as lower overall overhead cost.
Location Independent
Another benefit to not carrying inventory is that you can operate your business virtually anywhere in the world.
You will need a stable internet connection for everyday tasks such as confirming orders. With that said, most countries meet that criteria, leaving you with many options for travel and living.
Large Variety of Niches To Work In
Dropshipping lets you switch between niches without worrying about getting rid of inventory. The benefit here is that you are not confined to a single niche if things aren't working out.
It is advisable to niche down in the long run as you will likely find more success than trying to be a general seller. However, dropshipping makes it easier to try out different niches until you hit on one that works.
Easier To Test New Products
In the same way that you can switch between niches, you can easily add and remove products.
This makes it easy to switch between suppliers or swap out products quickly when new trends arise. You can avoid carrying unsold inventory for products that don't quite resonate with your target market. 
Easier To Scale
Unlike traditional retail and eCommerce, you don't need loads of capital for expansion. Once you find some success, you can more easily scale by doubling down on the products working for you.
With that said, even with dropshipping, money will help you to scale faster through advertising and increased organic campaigns.
Downsides of The Dropshipping Model
Dropshipping isn't without its own set of unique challenges despite all of the upsides. While not having to carry inventory is great, it does remove much of the control you would usually have over the supply chain. 
Other issues include:
Lower Margins
Dropshipping usually gives you lower margins than purchasing wholesale on the financial side of things. 
This isn't always the case, and you can usually make more money than through affiliate marketing. However, it is one disadvantage to consider. 
It should be noted that some dropshipping suppliers will offer better margins for dropshippers that bring in a high volume of sales each month, even providing wholesale pricing. 
Highly Competitive
As with any other business that provides a lower barrier to entry, competition among dropshippers can be intense. This is especially true for more attractive niches where it's possible to make more money.
One workaround is setting up a branded store versus being a general seller on Amazon or eBay. Branding allows you to attract a niche following and potentially charge more for products as you aren't competing on price anymore. 
Inventory Tracking Difficulties
Not carrying inventory means you rely on the dropship provider to keep inventory numbers updated. Working with a dropship supplier that fails to update inventory regularly means you risk selling products that are no longer in stock. 
There is software that dropshippers and suppliers can use for inventory management. Working with a reliable supplier can also go a long way towards mitigating these issues. 
Complex Shipping Process
Traditional retail models mean you're shipping ordered products directly to the end customer. Dropshipping instead puts you as the middleman, fielding orders between the end consumer and the supplier.
Add to this the fact you will usually be required to handle all returns or exchanges, and you have a potentially complex shipping process. This is magnified as you work with multiple suppliers.
Third-Party Supplier Problems
Along with potential shipping issues, problems with your supplier can ruin your business. If your supplier goes down or fails to keep inventory updated, you risk unsatisfied customers.
Working with a reliable supplier is the answer to this problem, but finding reliable suppliers takes time and is often easier said than done.
Limited Product and Packaging Customization
Most dropshipping products are sent as-is. Aside from things like T-shirts, hoodies, and similar items, there is usually very little in the way of branding and customization options.
It is possible to find white label producers of supplements, phone cases, and the like. These companies will let you attach your branding and labels to items. However, this is not possible with all things. 
Lack Of Control Over Potential Customer Experience
Along with little control over the shipping process, you also lack much of the control you would usually have over your customer's experience. This ranges from shipping and returns to packaging in many cases.
Working with a reliable supplier can help to mitigate this issue. However, it will not guarantee customers can avoid a bad experience due to something entirely out of your control. 
Potential Legal Liability Issues
There is always the chance that a dropshipping supplier can do something that leaves you legally liable.
Because you are the seller, and the supplier may be in another country, you will be legally liable for everything. One more reason to thoroughly vet and ensure you are only working with reliable and experienced dropshipping suppliers. 
How To Select A Dropshipping Supplier
As with almost any other business, always work with suppliers and manufacturers that have reviews from trusted sources or extensive experience. 
Platforms such as Alibaba or AliExpress will have ratings for merchants and list how many successful orders they have fulfilled. Pay close attention to the reviews and watch out for too many good reviews that follow a similar pattern or sound the same as these may be fake.
When establishing relationships directly with manufacturers, try and look for how legitimate the business is. This can include listings in official trade directories such as Thomas Net. Also, check that the company is a legal entity such as an LLC.
Popular Platforms For Sourcing Dropshipping Products
There are numerous places for dropshippers to source products (check out our Ecomhunt review). One good rule of thumb is that the easier it is to find a product or supplier, the more likely hundreds to thousands of other dropshippers will use them.
The best way to increase the value of your products, even if tons of other people are already selling them, is to create a branded store.
Alibaba
Alibaba is a Chinese tech company and one of the largest eCommerce websites in the world. The site is focused primarily on wholesale products and was popularized as a way for Chinese manufacturers and wholesalers to connect with retailers worldwide.
Many dropshippers use Alibaba due to the five thousand plus different product categories. Many suppliers are also dropshipper friendly and especially receptive to working with dropshippers looking for private label products and who work with high volume sales.
One thing to note is that Alibaba is primarily focused on business-to-business sales, and suppliers generally focus more on wholesale pricing. If you are just getting started and plan on dealing with small order quantities, AliExpress may be a better option. 
AliExpress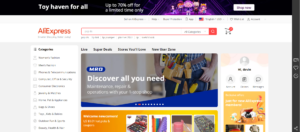 AliExpress is the business to consumer side of the Alibaba Group. The platform has an estimated 100 million products across thousands of categories for sale. It has long been known as a place for dropshippers to source products owing to the dropshipping friendly nature of the platform and suppliers.
It's important to note that competition for products can be fierce because the platform is so popular with dropshippers. Likely, the products you choose are already being sold on sites like Amazon and eBay.
You can get around this by having your own branded store in a specific niche so that users are more attracted to your products.
Banggood
Banggood is a Chinese eCommerce platform similar to Amazon. The company was founded in 2006 and has since grown to offer more than 500,000 different products. 
One of the upsides to using Banggood is that they are dropshipping friendly with a special portal for dropshippers. Once customers order products from your store, Banggood makes it easy to ship them.
The downside to Banggood is they don't offer as many products as platforms like AliExpress. With that said, it can be a good option for filling in the gaps in your product offerings. 
Direct From The Manufacturer
The final option for sourcing dropshipping products is probably the most difficult to get going (unless you check out our SaleHoo review). However, it is the best option in the long run if you want to run a more profitable store in a specific niche.
Many manufacturers offer dropshipping programs. They may have information on their website about the program, or you may have to email the company directly.
This can be a fantastic option for finding products in your own country that will ship faster and make handling returns easier. It's also likely you will find higher product quality and white-label support.
Where Do People Sell Dropshipped Products
There are various places that dropshippers can list their products. Regardless of where you choose to sell, it's always advisable to have your website.
Having a website presents you with the opportunity to create a branded store. This will separate you from general sellers who list the same products as you with the same product descriptions. It also allows you to charge more for products and, potentially, white-label products for a higher profit margin.
WordPress/WooCommerce
WordPress is the most popular content management system globally, with around 40% of all active websites using it. WooCommerce is one of the more popular eCommerce solutions for WordPress due to its flexibility.
Using WordPress and WooCommerce, you can set up your own branded store to sell products. It's always recommended that you have your own online shop even if you plan to sell on Amazon and similar platforms.
For non-tech savvy individuals, WordPress can present a higher learning curve than some other options. 
Shopify
Shopify is one of the largest and most popular eCommerce solutions worldwide. Over 32% of eCommerce websites are built using Shopify in the United States alone.
The platform allows you to list products and integrates with many other platforms such as eBay and Amazon. You can also use integrations such as Oberlo to source products from AliExpress, making it easier to get started.
Amazon
Amazon is one of the largest eCommerce marketplaces worldwide, with over 300 million active users. It's a no-brainer that selling on the platform can lead to a nice and steady income stream once you build it up.
The downside to using Amazon is competition is extreme. There are tons of dropshippers operating on the platform, and products you want to sell are likely already listed.
Here, the workaround is to sell white-label products and operate from a specific niche. White-labeling allows you to differentiate your products from others. Selling within a particular niche increases the chance of repeat sales and cross-promotion of products.
eBay
eBay is another of the most popular eCommerce platforms, with over 182 million users worldwide. The platform started as an auction site but has become a larger platform for more general eCommerce.
Dropshipping on the platform is very competitive, and it's essential to remain in compliance with the company's terms of service. You will be responsible for shipping times and customer satisfaction. Sourcing from reputable dropshippers can help with this.
Dropshipping and White Labeling
While we've already covered what dropshipping is, the term white label has also been brought up a few times.
Also known as private labeling, the term white label refers to having your branding and labels applied to a product manufactured by another company. This allows you to sell products as if you were the manufacturer and is excellent for building your brand.
White labeling is a great strategy once you have a profitable dropshipping store. You can find your best-selling products and begin to swap them out for white-labeled products from your brand.
Tips For Starting a Dropshipping Business
Entire books have been written on dropshipping strategies. While this isn't going to take you from zero to a million dollars, the below tips for starting a dropshipping business can help you develop a solid foundation.
Start With Affiliate Marketing First
While it may seem counterintuitive to recommend affiliate marketing to dropshippers, it can be an excellent way to get some experience. You don't have to worry about handling returns, shipping, or customer service with affiliate marketing.
Starting with affiliate marketing can help you build up a stream of income and substantial traffic to a website. Once you have a good foundation to work from, you can begin replacing your more successful affiliate offers with dropshipped items for higher profit margins. 
Ensure A Good User Experience On Your Site
While you don't have much control over products after the order has been placed, everything leading up to that point is well under your control. 
You want to set up your eCommerce store with a good user experience in mind. This means it should be easy for customers to navigate your store and find the products they want. 
You should also ensure customers can find support with ease, whether through live chat or an easy-to-find contact form. Always respond to requests within 24 hours if possible and ensure product stock stays updated to avoid over-ordering. 
Focus On Quality Products and Suppliers
Never work with manufacturers or suppliers that don't have a good reputation. Be very wary of suppliers that promise you unusually high margins as these are likely scammers. 
Manufacturers and suppliers that are unreliable can leave you in trouble with customers. Your customers may get orders late or damaged or get something other than what they expected. 
Do your due diligence when sourcing products. If possible, order samples so you know the experience your customers will be getting. 
Focus On Branding and Building A Trusted Business
In the long run, your business will be much more profitable if you take the time to build a brand rather than just selling a bunch of products on platforms like Amazon. Your customers will trust you more, and you can charge more money for the same products.
Building a brand takes time and requires you to be trustworthy and provide a consistent experience. It's also important to focus on a specific niche and offer more than just eCommerce items. This usually means creating content surrounding the products to provide value to your customers beyond the dropshipping products. 
Putting effort into your store initially will provide you with an actual business later down the road that delivers consistent income and can be sold for higher multiples. 
Dropshipping Scams To Watch Out For
Common dropshipping scams can include excess fees charged to you for processing or bulk ordering. You may also run into intermediaries posing as a manufacturer but charging a markup.
Always do your due diligence to check on suppliers and only work with reputable manufacturers or dropship suppliers. Avoid suppliers that charge extra fees and never work with someone you can't contact directly. 
Common Questions About Dropshipping
For further help, here are answers to some of the most common questions about dropshipping and getting your business started the right way.
How Much Does It Cost To Start Dropshipping?
It costs very little to start dropshipping. You need a computer and a stable internet connection. You may also need to pay for website hosting to build your eCommerce store.
Other optional expenses include advertising such as PPC, professional website design, content creation, and professional branding. However, these are not required to get started dropshipping.
Is Dropshipping a Legitimate Business?
Dropshipping is a legitimate business model utilized by some of the largest retailers around the world. 
Companies like Wal-Mart use dropshipping for lesser ordered items to reduce inventory and improve product offerings on their eCommerce stores.
Individuals can earn healthy incomes through dropshipping when done right.
Is Dropshipping Illegal?
Dropshipping is not illegal so long as you are not misrepresenting yourself or acting fraudulently.
It's also essential to avoid copyright and trademark violations or dropshipping counterfeit goods. Make sure you are working with a reliable dropshipper to lessen the chances of copyright or trademark issues.
Is Dropshipping Profitable?
Dropshipping is profitable for business owners who can successfully manage orders and understand how to market their store. 
To increase chances of success, it is essential to understand the basics of inbound marketing and how to get traffic to your product listings. Working with reliable suppliers can also increase profitability. 
Do Dropshippers Ship Internationally? 
Dropshippers will often ship internationally as long as shipping costs are covered. Because many manufacturers and dropshipping suppliers are in Asia, it is common to ship worldwide.
Always make sure customers are fully aware of shipping times to avoid receiving complaints, especially if you are selling on a platform such as eBay or Amazon.
Is Dropshipping Allowed On Amazon?
Dropshipping is allowed on Amazon as long as you comply with the company's terms of service.
Monitoring stock levels is vital to avoid overselling items. You should also ensure orders ship on time to avoid late arrivals. Working with reputable dropshipping suppliers can help you avoid issues with Amazon.
Is Dropshipping Allowed On eBay?
Dropshipping is allowed on eBay if your order fulfillment is from a wholesale supplier. You cannot just markup a product on another eCommerce site like Amazon and sell it on eBay. 
You will also be responsible for the safe delivery of orders and ensuring the product is delivered within the given timeframe.
Is Dropshipping Still Worth It?
You bet it is. Not only is dropshipping still a profitable business, but it is one that is growing each year. While there are certainly some challenges you face as a new dropshipper, it's nothing that can't be overcome with a bit of consistency and effort.  Learn how to start a dropshipping business here.
The main thing to remember is that you want to create a branded store and focus on long-term quality and consistent customer service. 
Dropshipping isn't a business model that will make you rich overnight, but it can provide a consistent income stream over the years with the proper work. 
Want to learn step-by-step how I built my Niche Site Empire up to a full-time income?
Yes! I Love to Learn
Learn How I Built My Niche Site Empire to a Full-time Income
How to Pick the Right Keywords at the START, and avoid the losers
How to Scale and Outsource 90% of the Work, Allowing Your Empire to GROW Without You
How to Build a Site That Gets REAL TRAFFIC FROM GOOGLE (every. single. day.)
Subscribe to the Niche Pursuits Newsletter delivered with value 3X per week