How to Make Money Writing: A Beginner's Guide to Taking Your Words to the Bank
When you buy something through one of the links on our site, we may earn an affiliate commission.
In the age of the internet, there have never been so many opportunities to make money writing. However, not every opportunity is going to be the same level of quality. The hardest part for many beginners is just getting started. It's one thing to talk about making money through writing, but how do you actually start when you don't have any knowledge or experience?
The good news is that you can get started today.
This is the best in-depth guide to making money writing today and beyond that you will need. Want to find a way to write full-time? We'll go over that. Want to become a digital nomad combining freelance writing with passive income? We'll go over that, too. Just want a side hustle that earns you an extra $100 or $200 a week from home? That is definitely doable.
The demand for good wordsmiths is high and going the route of freelance writing is one of the best ways to make money online. Let's dive into teaching you how to get your share!
How to Make Money Writing
Whether looking for more conventional options for writing jobs or looking to see if you can turn online writing into a solid digital nomad income (and lifestyle), there are many opportunities to get paid to write. You don't need to be an English major, a top-notch 1% writer, or have a lot of connections to start.
All of those things help, but that being said, writing is one of those areas that is wide open. Learning to create the type of content that is needed by bloggers, companies, and publications can be done relatively quickly and pay off in a big way. There have never been so many opportunities to make money writing. Freelance writing is in high demand and if you want to write for money you have plenty of options available.
This guide will teach you what you need to know when it comes to turning a writing hobby into some serious side income or even full-time income.
Conventional Corporate Writing Job
We won't spend too much time on this option but it's definitely worth knowing. Companies need writers. Whether they need content because they build small business websites or they have another small business idea needing to create a website and blog to get out there, writing is a high-demand skill.
While a college degree is definitely a plus when it comes to breaking into these types of formal writing jobs (and there are lots of easy degrees that pay well), they are not mandatory. The best way to set yourself apart early on for these types of jobs is to have writing samples up. This goes for both on a personal blog and taking advantage of the content feature on LinkedIn.
Power of LinkedIn
Don't underestimate the power of LinkedIn. This is a platform where the resume hasn't done much, but the ability to create content and show my blogging chops has paid off. In fact, my second corporate writing job came when they contacted me because of seeing the blog on my profile. This has also led to some high paying freelance gigs and even one interview for a major local SEO company.
Admittedly, I don't invest nearly as much into my LinkedIn profile as I should, but my focus is elsewhere at this point. Gary Vaynerchuk loves LinkedIn for content creation, and Elna Cain's blog post talks about getting work off of LinkedIn as a freelancer. Make sure your email address is easy to find and post to your LinkedIn blog consistently to see the results you want.
While a little perseverance and good samples go a long way towards landing a conventional corporate writing job, there are many good reasons why you should still consider the freelance or online routes.
Start a Blog
Starting a blog is a good idea for any freelance writer to capture higher paying gigs. In fact, that step should be a given when marketing yourself and building your brand. However, this section is focusing on the many different ways that a blog not only helps bring in clients but also earning money directly.
Interested in started a blog?  You can read our step by step tutorial right here.
Affiliate marketing
There can often be very good opportunities to sell "affiliate products" on even a professional blog. Did you create a book? Have you recommended books on marketing or writing? Why not make that Amazon link an affiliate link and get a cut of the sale?
Going broader, niche sites are still very much alive and well. Every year there are many people who cry the sky is falling and that the "golden era" of affiliate marketing online has passed. Don't listen to that noise. Every single year thousands of brand new websites are started around hobbies, interests, or just well-researched keywords and start earning money for their owners.
This could be a few bucks for placing a handful of affiliate links or it could end up being five or six figures, and either way it is going to require a lot of effort and putting in the actual time. As a long-term way to earn money writing online, placing affiliate links and collecting a slice of the sales is still one of the best ways out there for anyone willing to do the research and dedicate themselves to getting it done.
This is a great way to get paid for links you would post anyway or items you would review.
Package Services
This is a strategy I actually used quite a bit during the 2008-2010 years to drum up business when the freelance markets were the tightest I've ever seen them in 15 years of making a living as a writer. However, there are several writers I know who absolutely love this strategy and have made it the mainstay strategy of their professional writing business.
This involves offering pre-paid "packages" of articles on your blog that clients can order. This was how I first broke the $20 a page mark, saying my new rates were at $25 a page and that the pre-payment for packages of 25, 50, or 100 pages up-front resulted in a discount down to $20 a page.
If you have past clients, e-mail all of them to let them know this sale is taking place. Some will have projects coming up soon, others won't for months but just want to get a deal on those future pages they will need down the line.
Give a PDF upon delivery of the number of pages ordered to go with the PayPal receipt and make sure to thank the client and see what type of information you can get on any upcoming projects.
PRO TIP: Make sure you state explicitly that while you'll always try to provide quality content as quickly as possible, getting a heads up is important because it is first come first serve for the order you'll do jobs in. This helps prevent five clients hitting you up two weeks before Christmas with an e-book idea.
This can be a great way to bring in a surge of cash into your savings account (though keep in mind the work will have to be done at some point). For those of you who started with content mills or auction-based bidding sites and struggle to charge more, this can be a great way to push yourself into that by setting the higher per page prices you know you're worth.
General or Specialist?
This is a major question that every writer needs to answer at some point. Truth is, there's no definite right way to go. If you have years of experience dealing with grants or analyzing businesses, then grant writing and white papers make sense as niche specialties.
(Want to set yourself apart by getting into grant writing? This Udemy grant writing course is fantastic because it is written by a long-time grant writer who has actually worked securing grants, and learned to teach what he knows.)
A writer who is very good in one specific style of writing can be in high demand. This is obvious with copywriting, but it also applies to good SEO writing, grants, white papers, technical writing, translating, and more. There are even many niches where having a strong knowledge of that area will allow you to charge more when pitching those types of businesses for your article creation services.
Depending on how good a writer you are, and what other skills you have, you may even look at creating your own course or e-book that you can sell on your blog. These are all viable options for making good money by writing.
Writing Job Sites
There are tons of options for how to make money typing. But one of the most common ways beginners find work writing for money is to jump on your computer and find online writing job sites where they can apply. There are a couple different types of sites that fall under that umbrella. This section looks at online job boards and auction based bidding sites.
The four big ones you're likely to find for writers include:
Upwork (formerly Elance)
ProBlogger Job Board
Freelancer.com
Guru.com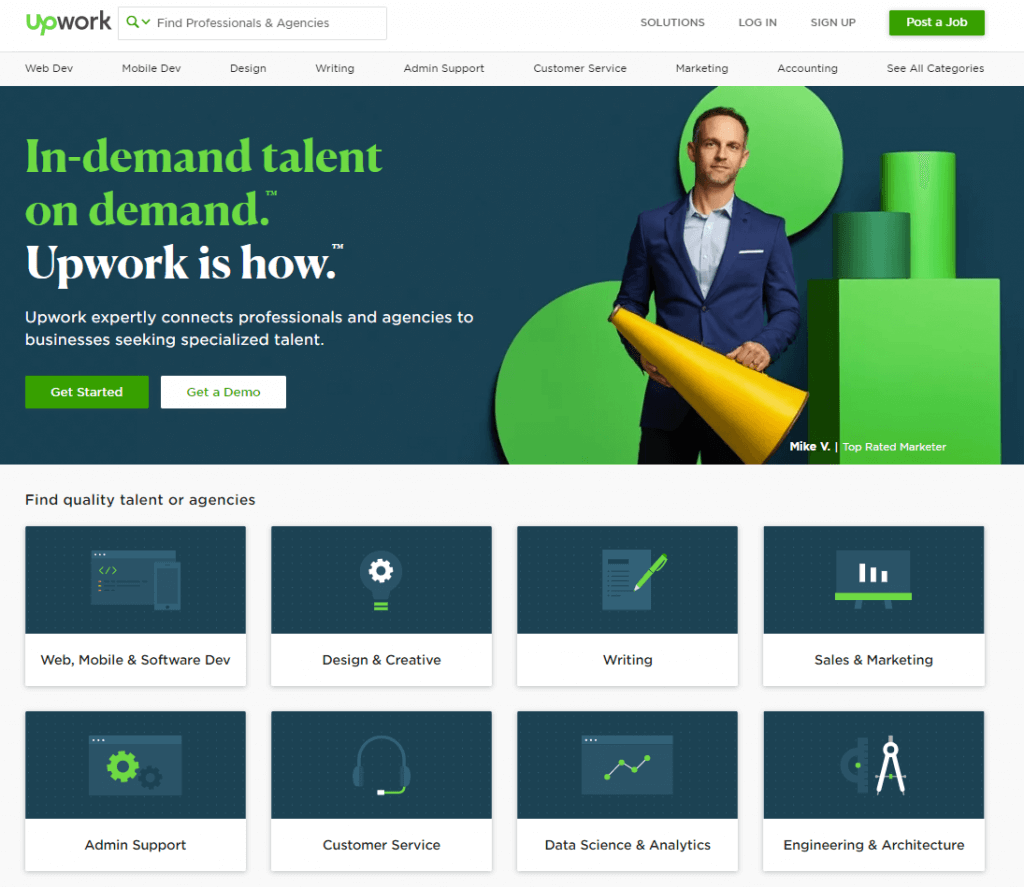 Right now Upwork is the largest site where freelancers meet companies or individuals looking to hire. There are thousands upon thousands of jobs posted here each month. Many of the jobs will clearly be asking for really unreasonable rates (1000 words for $10 or less) and even if you're a true beginner at how to make money writing you should avoid those types of jobs like the plague.
There are many more jobs that are lower budget but reasonable terms, and there are many good paying jobs, as well. You pay for a monthly membership that gives you a number of bids you get to use on a monthly basis. Pitch away and when you do land a job, do your best to go above and beyond to get that five-star rating. It makes a big difference over time in helping you not only land more gigs, but being able to land the higher paying jobs, as well.
Guru.com is based around the same concept. In my opinion it's much better organized and I like the freelancer tools better however there are less good content creation jobs to find and a lot less traffic than Upwork.
ProBlogger tends to be a slightly more upscale version that contains more moderate and high paying jobs (and also check out our list of low-stress, high-paying jobs). A paid subscription isn't necessary to look through the ProBlogger job board which is a definite bonus.
Freelancer.com can be a bit of a crap shoot for writers, but that's not necessarily a bad thing. There have been times where I skimmed and didn't see anything I liked and there have been times where very lucrative and reasonable job postings were up.
Building a great freelance writer reputation at one or more of these sites won't only help sharpen your pitching skills and build a solid portfolio, but there are many examples of freelancers picking up full time remote writing jobs or even full time in-person jobs with companies based on great writing they did on these sites.
In fact, that's how I landed my first full-time corporate writing gig out of graduate school. An employer I did two e-book jobs for liked the finished products so much he flew me down to Texas from Alaska, interviewed me, and hired me.
Don't underestimate the potential of this route.
While some people have carved out surprising success writing on Fiverr or picking up writing jobs on Craigslist, these are not places I recommend for online writing work. The chances of getting paid too low wages, finding junk clients, or not getting paid at all is just far too high.
List Writing
Listicle sites tend to fall somewhere in between creative writing and online freelance writing. These are sites dedicated to top 10, top 15, or even top 20 lists on a wide variety of different topics. While there are dozens of these sites constantly looking for fresh content, the top one to look at is Listverse.
They pay $100 an article as of this writing.
Listicles can also be a good way to practice good formatting of online articles. Add in the fact that list based articles tend to sell in article marketplaces like Constant-Content.
Content Mills: Pros & Cons
If you talk to a lot of online freelance writers, they absolutely hate content mills. I'm not fond of most of them, either, but they can be a great stepping stone for writers. If you're looking for just a little bit of side income here or there, they can even be a more practical way to meet your goals, especially if you're going to be a bit more erratic in pursuing your paid writing career.
This makes the topic of content mills a bit of a mixed bag. If you need to make money tomorrow and in the next two weeks to make rent, they can be a life-saver. If you only want to write to make a little bit of money writing on the side, then content mills can be an easy way to start as a content writer. At least in the beginning.
The quality of these types of sites can vary greatly. A short list of some of the major ones out there include:
Textbroker
Constant-Content
The Content Authority
iNeedarticles
Zerys
iWriter
These are going to have different degrees of expectations for writers and the payment per word can vary wildly. Most have a star system.
The more really great work you do, the more stars you earn, the higher the payout. If you can maintain 5 stars at Textbroker there's plenty of 5 cents a word work available, but you have to do a lot of penny per word work to get there.
Constant-Content is a hybrid site as it started out as a marketplace where you can write quality articles, it gets approved by an editor, and you can set a price. They took a hefty fee (north of 30%) but many writers found even after the fee they could charge (and make) way more than conventional writing websites.
They have plenty of assignments that can be applied for now, but many are low paying. Writing what you want and setting your own prices in the marketplace section can be appealing but there's no guarantee of income. Those posted articles might sell or they might not.
You will want to read the terms of each site, as well. While you get paid to write on these sites, you might get paid per week, every two weeks, or even on a once per month basis. While making money online by writing for these sites is possible you honestly have a relatively low ceiling in most cases.
If you're looking for a decent full time writing income you are not going to find it in content mills. However, if you only want a few extra bucks a month or need some income now, they can be a great way to get started.
Copywriting
Copywriting is a skill that is always going to be in demand. If you can write to sell, your words are valuable. That's true whether it's for yourself or for a client. Copywriting can refer to snappy little product descriptions that encourage web surfers to click or long-form sales letters looking to sell a large four figure course (and now you can even leverage AI with product description generator tools to speed up the process).
Copywriting is an excellent skill every writer who wants to make serious money writing should pursue. Not only will the demand always be there but it also goes hand-in-hand with skills every writer should hone to improve their earnings: pitching, selling, marketing, and self-promotion.
Learning these skills while improving your writing skills will help you be a better overall writer. You will also be much better at selling the quality of your services and that means higher pay for less writing work.
Can Creative Writers Get Paid?
Getting paid as a creative writer is much more difficult, but it's not impossible. For clarification we're referring to creative writing as fiction, poetry, or creative non-fiction (memoir or written documentary style).
The short answer is yes, creative writers do have options for getting paid. That being said, it is much harder and there are fewer options. Getting steady paying work as a creative writer is difficult, but there are some tools out there that can help.
There are plenty of magazines, book collections, and even online publications that will pay for poetry, fictional short stories, or creative non-fiction. The markets tend to be a bit limited, especially if you only stick with one genre, but there are options.
The best tool is a paid monthly subscription to Duotrope.com. I discovered this site all the way back in 2004 and to this day it remains the single best in-depth current list of literally thousands of paying markets for fiction, poetry, and non-fiction. No matter how much research you do, you will never find the sheer number of publications that they have.
This will cost a monthly subscription fee but if you're sticking to building up a creative writing portfolio then this is a must have resource.
Your other option goes the route of self-publishing, kindle publishing, and requires the type of long-term marketing and self-promotion there are entire books written on.
Writing E-books on Kindle
This strategy can be effective for fiction and non-fiction and for some writers. This Forbes story is about a fiction writer who hit six figures writing mysteries on Kindle, while there are many skilled individuals and marketers who have used non-fiction Kindle e-books to create a good writing income stream, as well.
This can be a great writing income stream but it will take time to develop and there is the risk that in some cases what you write simply won't take off. High risk, high reward, probably best as a long-term side hustle project if you are really serious about building a full-time writing income.
Here's our guide to self-publishing on Amazon Kindle.
Online Writing: Side Hustle or Career?
We've touched on this briefly, but it is something you'll need to think about. If $25-50 a week is more than enough and you don't want to spend endless hours pitching jobs and never getting a response back, then the content mills might work for you. If you hope for a major writing income to supplement a full-time job, then you need to consider investing in your skills and spending more time cold pitching for work.
On the other hand if the goal is becoming a digital nomad because you have an outstanding writing income you can earn anywhere with a Wi-Fi signal then you will have to have a long-term business plan for growing your client list. This is in addition to making sure you attract top-notch clients.
How to Get Paid More Writing Online
Getting paid a little bit for writing is easy. How do you make serious money writing? That can be a bit more complicated.
There are several exact routes on how to get there. How quickly you can scale from part-time side hustle to full time writer will depend on the types of writing you're best at, your ability to sell yourself, and a variety of other factors.
That said, there are certain steps everyone can take to scale up earnings from their writing.
Treat Your Writing Like a Business
There's no question the most financially successful writers are the ones who treat it like a business. You need to look at per hour earnings and not just total cash payment. Sometimes scaling up means dropping low-paying but easy going clients and pitching higher rates than you're comfortable with pitching.
When you're just beginning, by all means enjoy the small victories. There's something about that first $1 or that first $100. But if you're looking to make serious money writing then you need to treat writing like an improvable skill (it is) and yourself as a business, not just a freelancer.
You need to treat your writing like a business, and yourself as your brand. Good social media, blogging presence across multiple channels, and a professional website are good pieces to this puzzle.  Ask around for opportunities to write guest posts for high traffic blogs in your niche for early exposure. If you get traffic to your main website build an email list so you have clients ready to content during slow times.
Steadily creating blog posts on places like LinkedIn or Medium.com are other options.
Another nice benefit of Medium aside from its giant audience: you can join their partner program and earn income off of those articles. Not a bad way to go.
Get Better Fast
Usually one of two main reasons is behind a writer's struggles with being able to scale up their income. Assuming the work is being put in it comes down to:
– Failure to market themselves
– They're just not good (skilled) enough yet for a higher rate
Getting better is something that can be done far faster than you might believe. The first step is realizing what type of writing you want to most focus on.
Will you be creating affiliate friendly content for your blog or a client's blog? Do you want to learn how to write hard sales copy? In-depth articles that are optimized for Google SEO?
All of these require a different set of skills and practices. These are all styles of writing that can also be learned, trained, and honed. You can get better. One of the best ways of getting better is getting mentoring from successful writers who have already done what you now want to do.
Thanks to technology, the best way to do this is getting a course from an expert in the field. While you can build up plenty of skills from free information and tutorials over time, if you have someone with years of stunning success offering a highly rated course for a few hundred dollars – that's a steal when you think about the thousands of hours of work you would need to put in to learn the same things.
Even then there's no guarantee you would do it as well even after all those potentially years of first-hand experience.
Where to Learn More About Blogging, Affiliate Marketing and Niche Sites?
Want to learn to write to build your own affiliate sites? Start with incredible free resources found on this blog like How to Build a Profitable Niche Site or Spencer's recent Niche Site Project 4. You can learn all you need there.
If you feel like you thrive in a structured course environment with forum support, sort of like the old college days (and some of us do thrive in that setting, no shame) then take a look at the paid course and online community of Income School's Project 24.
In addition, there is the Authority Site System here, which is a also a great course for teaching niche sites and affiliate marketing.
These are pretty much the only resources outside of the Niche Pursuits blog I go back to frequently as I build my own passive income niche sites on the side.
There are countless free and paid courses for people with no experience at all who want to get in and turn their words into cash from the comfort of their own home. Learning from the experiences of others is a great way to super-charge your earnings. This is also how you scale your freelance writing income without burying yourself in hours of extra work.
The Power of Phone & E-mail
If you're going the route of making serious full-time writing money don't underestimate the power of a phone call or e-mail. While building an online brand is great, doing so in a bubble is just making it harder on yourself. Personalized (NOT template) e-mails sent asking if there is work available or if they are looking for a reliable high-quality content provider.
Find the right e-mail address to send a question to, send enough of these e-mails, and you would be surprised how much of a leg up just showing that much initiative can give you.
If they respond but decline, don't beg. Send a follow-up e-mail genuinely thanking them for their time and asking to pass your e-mail address on to anyone else they might know who are looking for a content creator. It only takes one good reference to turn things around or take you up to the next level.
Even more effective can be the phone call. Always make it brief, be prepared, and call at traditionally non-busy hours. You don't want to tie up the lines but even a quick polite talk with a secretary or office manager can sometimes lead directly to talking to someone who can offer you work.
If the conversation is curt, take the signal and move on to the next number. If the conversation went well but there was no need for hiring a freelance writer, then that's a good time to ask if they know of anyone who might need your services. When you ask people to help, most people want to see what they can do.
Finally, use e-mail to keep in touch with clients you work for. Even if it was a good one-time job in the spring, a thank you e-mail at the end of the month and having them on a Christmas e-mail list keeps you in their minds when new projects or even remote work positions come up in the future.
A Few Words of Warning to New Writers
Forget the generic "How I became a six figure freelance writer" articles that often re-hash the same generic pieces of advice. A little bit of inspiration and good advice can go a long way, but dig for those first-hand accounts where the person has done it recently, and not 10 or 15 years ago. This freelance writer's post is a great example showing a genuine understanding of the process and how to charge through the hardest obstacles. Making money online through freelance writing is great, but it's not easy.
Finally, when in doubt stop studying and just take massive action. Even if you write tons of content mill articles for too long before improving your skills as a writer, you're still getting paid. Sharpening your skills is important but nothing can ever take the place of massive action.
Post to your blog and LinkedIn multiple times per month, pursue those high-attention guest posts, build that email list, and keep reaching out. If you do this you will get paid to write and be able to call yourself a professional freelance writer.
In Conclusion
Whether looking for some side money, a legitimate side hustle, or even a full-time income, getting paid to write has never been so available as an option. If you want to earn money getting paid to write there is no better time to learn about content writing and really exploring all of the options that are out there. There are many ways to make money on the Internet and many different paths to get paid to write.
There are incredible opportunities out there and in an online world that always needs more content, that's not likely to change any time soon. While hitting six figures a year as a writer can be very challenging, it's possible. There are countless ways to make a part time income writing online, and this writing guide will help you get there.
For more ideas on how to make money writing and more, check out our list of the best small scale business ideas.
Want to learn step-by-step how I built my Niche Site Empire up to a full-time income?
Yes! I Love to Learn
Learn How I Built My Niche Site Empire to a Full-time Income
How to Pick the Right Keywords at the START, and avoid the losers
How to Scale and Outsource 90% of the Work, Allowing Your Empire to GROW Without You
How to Build a Site That Gets REAL TRAFFIC FROM GOOGLE (every. single. day.)
Subscribe to the Niche Pursuits Newsletter delivered with value 3X per week