How to Make Money Typing: 13 Amazing Ways to Earn Online
When you buy something through one of the links on our site, we may earn an affiliate commission.
If you can bang out more than 40 words per minute (wpm) on a keyboard, you might be wondering how to make money typing. The great news is if you've got a computer at home and a steady internet connection, the world is your oyster.
Some of the most popular ways to earn money typing include:
Blogging
Data Entry
Transcription
Captioning
Freelance
And you can find roles for any of these working from home! Here are some helpful tips on how to make money typing by finding jobs online. 
What Do I Need to Make Money Typing?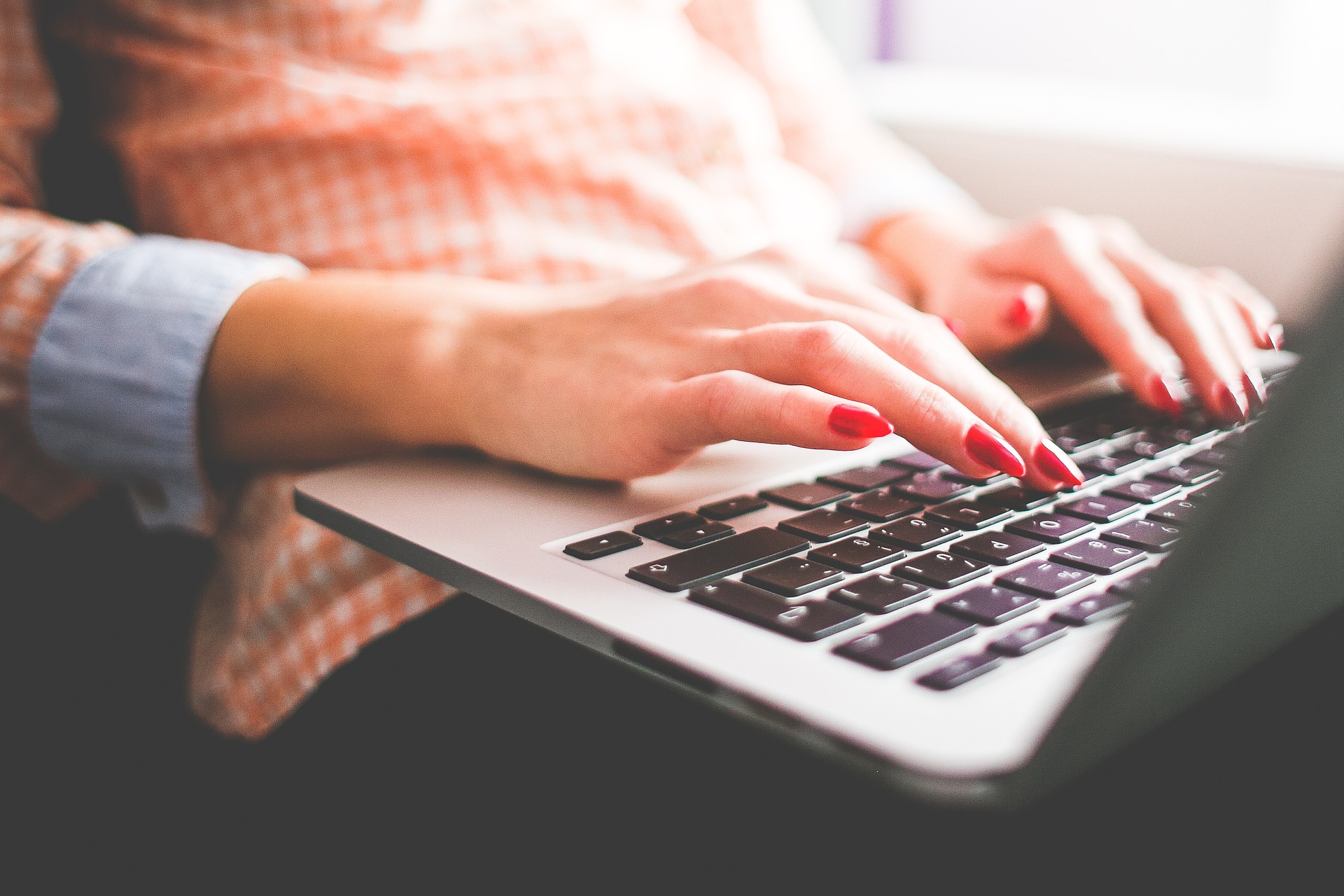 Really all you need to get started is a computer, yourself, and a comfortable workspace. But extra equipment can help you get the job done faster or to a better standard. 
If you're serious about finding out how to make money typing, here are some of the things to invest in:
Anything with basic word processing power can get the job done. However, you'll likely want to opt for something that can handle running multiple programs at once and has a comfortable keyboard.
If you already have a computer but aren't happy with the keyboard, you do have the option of buying an external ergonomic keyboard.
That said, a lot of people that earn money online appreciate the ability to be more mobile in life. Carrying an external keyboard on top of your laptop can be annoying. If you're buying new, definitely take the time to choose an option that's comfortable to type on. 
Steady internet connection. 
Since most remote typing jobs are online, you'll want to make sure you have a stable internet connection. This means decent bandwidth and good security. 
A good pair of headphones is optional if you're looking for how to make money typing something like a blog, but essential for people going into transcription or captioning.
Opt for something that cancels out background noise so you can clearly hear the audio you are working with (check out our Krisp review for a great option). 
A foot pedal basically allows you to stop and start audio with your foot so your hands can focus on typing. This is another extra bit of equipment that is optional but a good investment for captioners and transcriptionists. 
Blogging
I feel like to a certain extent there's this idea that blogging is dead. Blogging has certainly changed over the years, but thanks to online ads and things like affiliate marketing,
If you're wondering "should I start a blog?" it may be helpful to know that it has become more profitable than ever.
It's a great way to earn extra money online by writing about things you're passionate about. 
1. Start Your Own Blog
Starting your own blog can be a bit daunting. If you don't have any experience building a website, the whole idea can seem overwhelming.
But getting started is actually really easy. All you need to do is find a good web host provider (I'd recommend Bluehost), download WordPress, and start blogging. 
Check Out Bluehost
Once you've got WordPress installed you can spend some time customizing your site or jump straight into creating content.
Consider the types of blogs that make money and find a topic that you are passionate about. As soon as you start to get traffic to your website, you can look for ways to monetize your blog. 
2. Write Guest Posts For a Big Blog
If you're not quite ready to take the plunge and start your own blog, you can focus on building your reputation by writing guest posts for other blogs.
Writing for someone else's blog can be a good way to try out blogging without taking on the commitment of creating regular blog posts. 
Consider what you want to write about and then look for a blog that is in that niche. Find out if they are open to submissions, or check out our list of blogs that accept guest posts.
Data Entry
If you're looking for how to make money typing with no previous experience, data entry is a good entry-level gig to get you started. The most important skill to have to do well in a data entry job is attention to detail.
Data entry work usually entails one or more of the following tasks:
Conversion: typing up paper documents into digital files, or converting data from one form to another (i.e. from a PDF into a Microsoft Word document).
Scrubbing: quality-checking data for any errors and updating existing databases with new information.
Word Processing: typing up documents.
Here are some great sites to check for data entry work to earn money online.
3. FlexJobs
FlexJobs posts data entry positions in the U.S. and abroad, most with earning potentials of $15+/hr.
You can view jobs posted here for free, but there is a membership fee to apply directly from the site.
However, being able to view all possible work leads in one place instead of scouring multiple job boards makes the fee worth it. 
4. Amazon Mechanical Turk
Unfortunately, legitimate data entry jobs can sometimes be hard to spot among online scams. Working for a trusted brand like Amazon can give you more confidence that there won't be any issues with your payment. 
Earning potential on Amazon's crowdsourcing platform is not as high as you might find elsewhere but you'll find lots of opportunities to gain experience and it's free to request a worker profile. 
In addition to typical data entry work, you'll also find a range of human intelligence tasks (HIT) listed here. If you're only looking to earn a little extra money on the side, it's a good place to start. 
3. Virtual Vocations
Similar to FlexJobs, Virtual Vocations is a great job board to look for data entry jobs online. The main difference between the two is that you can actually join Virtual Vocations for free.
The only drawback is that your free membership will only provide you with access to a limited number of daily postings. 
If you opt for a paid membership you can benefit from additional online training to maximize your earning potential.
Transcription
Another great work-from-home opportunity that allows you to make money typing online is transcription (see our full list of work-from-home transcription jobs here). A transcriptionist listens to an audio recording and types what they hear. Typically, transcription work will fall into one of three categories:
General transcription
Medical transcription
Legal transcription
Depending on your background and expertise, you could earn extra money by providing medical or legal transcription services. 
Transcription work usually pays per minute of audio, so improving your typing speed could increase your earning potential.
4. Rev
One of the most popular sites to find legit transcription work is Rev. They boast more than 170,000 clients worldwide, with some big names like Microsoft, BBC, and PBS using their service. 
To get started with Rev you have to first pass a quiz to prove you are fluent in English and have a good grasp of basic grammar.
Next, you'll be asked to provide a sample of your work by completing a short transcription task. Once your sample has been reviewed, you can take on as many jobs as you want!
Transcriptionists on Rev can expect to be paid between $0.30-$1.10 per minute of audio. 
5. TranscribeMe
Offering rates of $15-$22 per hour of audio, TranscribeMe is a great place to look for transcription jobs. They provide pretty unlimited work which means you have the possibility of making as much money online as you want. 
Registering is easy, but you will have to complete a training course and English exam before your application can be accepted.
TranscribeMe is also known for providing on-the-job training and promoting from within, so there are lots of opportunities to progress in your career.
6. Happy Scribe
Available worldwide, Happy Scribe is a global community of transcriptionists, captioners, and subtitlers. All you have to do to start earning is fill out an application and proofread a sample transcription based on their style guide.
If you pass the test, you can start accepting general transcription jobs. 
The amount you can earn with Happy Scribe depends on your chosen language, amount of available jobs, and how much time you put into working. Some of Happy Scribe's more active employees earn up to $3,000 a month!
You can choose what language you want to work in on HappyScribe. French and German transcription services pay the highest, while English is one of the languages with the lowest pay. 
Captioning
Captioning is an often overlooked way of how to make money typing online. Captioners are similar to transcribers in that they are responsible for transcribing audio to text, but can be a little more complicated. There are two primary kinds of caption work:
Closed Caption: Use pre-recorded audio/video to create audio-synced captions for people that are hard of hearing. 
Live/Real-Time Caption: Create real-time captions for live events.
While the basis of captioning is the same as transcription, captioning jobs require a little bit extra. In most cases, you will have to demonstrate some experience in the industry as well as:
Attention to detail
Complete accuracy
Ability to type very fast
Understanding of time codes (for offline captioning)
Stenographic skills (for live captioning)
Real-time captioners have to go to school and be trained to do their job well. The flip side of that is that they can work from home and earn upwards of $100k a year working full-time.
In comparison, you can find jobs for offline captioners that make it easy to earn money online but they pay significantly less, about $10-$30/hr on average. 
7. CrowdSurf
For the crowd, by the crowd
With the goal of making online media more accessible to the deaf, hard of hearing, and second language users, CrowdSurf provides on-demand transcription and caption services. 
You can sign up for their USA/Canada platform or apply as an international freelancer. In both cases, you will have to fill out a brief application and then complete an assessment to prove your skill. 
The company provides plenty of training and also makes it easy to move up the ladder. 
Work on CrowdSurf ranges from 5 to 30-second audio clips at a rate of $0.03-$0.20 per audio minute. 
8. VITAC
If you've ever watched something on Food Network with the captions on, chances are it was someone at VITAC writing the captions behind the scenes. Big names like BBC America, CNBC, CNN, Fox, and Discovery Channel all use VITAC's closed captioning services. 
The company provides live, offline, closed, and open caption services as well as translation work. They are one of the largest companies in North America making media more accessible to all.  Being such a notable name, there is no shortage of work if you can secure a position at VITAC. 
Check out open positions at VITAC
Freelance
While signing up on multiple different websites to earn money online is great, it can also be time-consuming and inefficient. If you want to know how to make money typing online, your best option is probably to freelance. 
Freelancers create a profile of their skills and either bid for jobs they think they'd be good at or wait for clients to seek them out for their particular skill set. 
11. Upwork
One of the most prominent freelance sites is Upwork. Once you sign up, you create a profile that details your skills. If you can type a crazy amount of words per minute, then highlight that and look for miscellaneous jobs that require a lot of typing in a short amount of time. 
You can also be more defined in your job search and set your profile up specifically for data entry, or transcription jobs. 
On Upwork, you are given a limited amount of credits per month. Submitting a bid for each job requires a certain amount of credits.
Therefore, you can only apply for a set number of jobs which limits how much money you can potentially earn. However, you can buy additional credits to apply for additional jobs.
Upwork deducts fees from any work you get paid for. However, the good news is that you get to set how much you think you're worth.
So, rather than applying to jobs offering a low wage, you can bid for a job and request how much you want to be paid, then explain why you think you're worth that amount. 
Check Out Upwork
12. Fiverr
The main difference between Fiverr and Upwork is that while on Upwork you have to do all the legwork chasing down possible jobs, on Fiverr you wait for clients to come to you.
As part of setting up your profile, you can create "gigs" which are basically jobs you're willing to do and then set a price for each of them.
These can be simple things like "I will type up handwritten documents into a Microsoft Word file" or more skilled tasks like "I will translate and type French subtitles for your short film."
Both Fiverr and Upwork are great platforms to help you manage your freelancing career, but they each have their pros and cons. You can check out our Fiverr vs Upwork comparison review for more details.
In all honesty, I can't recommend one over the other because it really depends on your skillset. What I would recommend is signing up for both and taking your money wherever you can get it. 
Check Out Fiverr
13. Freelancer
If you're looking to take advantage of more than just your typing skills, Freelancer is a good place to start. You can find everything from software development jobs to virtual assistant work. 
The platform is free to sign up and like Upwork, you bid for work that you want to do and name your price. 
Keep in mind that lots of people hire freelancers based on the lowest bid. For that reason, bidding for jobs is a great way to build up your portfolio as you are more likely to get hired even if you have minimal experience. 
Freelance Writing Jobs for Beginners
How Much Money Can You Earn Typing?
As you might have noticed, the amount you can earn from typing ranges significantly from as little as $0.03/per minute to $100k/year. 
It all really depends on how much time you want to dedicate to it and what other skills you have to supplement your typing. 
For example, if you're a great typist and also happen to have a legal or medical background, you can earn more money performing transcription services than someone working in general transcription.
The quality of work you produce will also play a role in dictating how much you can get paid. Take advantage of tools like Grammarly to ensure your finished work is polished to a high standard.
If you've considered how to make money typing and feel like writing is your best option, there are also lots of great ways to maximize your earning potential. 
Try out one of the best online writing courses that will help you discover how to land lucrative writing jobs to help you earn money from home typing. 
Earn More Money Writing
Get Started!
With this list of how to make money typing, you can see that with just a keyboard and your fingers, you can bring in some extra income or even build a lucrative career. 
All it takes to get started is a little ambition. 
Keep in mind that your earnings might be slow at first, but once you're able to build a portfolio for yourself you can start to charge more for your skills.
The key is to be patient and focus on upskilling on top of typing by researching what else is required for the kinds of jobs you're interested in. 
Want to learn step-by-step how I built my Niche Site Empire up to a full-time income?
Yes! I Love to Learn
Learn How I Built My Niche Site Empire to a Full-time Income
How to Pick the Right Keywords at the START, and avoid the losers
How to Scale and Outsource 90% of the Work, Allowing Your Empire to GROW Without You
How to Build a Site That Gets REAL TRAFFIC FROM GOOGLE (every. single. day.)
Subscribe to the Niche Pursuits Newsletter delivered with value 3X per week