The 10 Best Proofreading Services To Help You Achieve Writing Excellence
When you buy something through one of the links on our site, we may earn an affiliate commission.
The best proofreading services can take your content to the next level by catching errors and improving overall quality. It polishes your writing and gives you the best chance of creating a lasting impression.
So, investing in professional proofreading services can give you a competitive edge. But with so many options available, how do you choose the right proofreading service for your needs?
Whether you are a student, blogger, or business professional, we've compiled 10 proofreading services to help you achieve writing excellence.
Each option offers unique features and specializes in different types of content so that you can find the perfect fit for your specific needs.
10 Best Proofreading Services for Professionals To Consider
These 10 services offer vetted proofreaders, fair policies, and quick turnarounds for all of your content needs:
1. Scribendi: Best Value Proofreading Service
While proofreading can polish our writing, it can be expensive, especially for beginners. Scribendi provides some of the best proofreading services at a reasonable price for a variety of content needs, with managed services for when your budget increases.
Ideal for authors, academics, and business professionals alike, Scribendi offers:
Speedy turnaround times (as little as 2 hours for 1,000 words)
ISO-certified quality assurance
A global team of native English speakers, many with advanced degrees
Managed online proofreading services for growth and scaling
Whether you're refining ad copies, academic writing, or legal documents, Scribendi's rigorous editing process ensures your work shines.
Scribendi has over 25 years of industry experience and has their proofreading service perfected to a science. From fast turnarounds on quick writing to long-term projects, Scribendi's team can take on projects of all sizes.
---
2. PaperTrue: Best for Job Seekers
Established in 2014, PaperTrue is a comprehensive editing and proofreading service that goes beyond basic proofreading to provide advanced editing services for professionals who need to put their best foot forward in the job market.
It advertises resume, cover letter, and LinkedIn profile proofreading services, making it ideal for job seekers.
It's also ideal for businesses, authors, and academic researchers. Their services include:
Fast 12-hour turnaround period for documents up to 6,000 words
Hand-picked, qualified editors that ensure quality
Robust three-step checking process
A global customer support team available by phone, email, and chat
With a strong average customer rating and native English speakers on board, they've successfully served over 52,000 clients globally.
Each proofreader is tested on their writing skills and goes through a rigorous targeted training process.This way, you know you're working with premium editing professionals and getting the most out of your investment.
---
3. Wordvice: Best for Academic Writers
Elevate your academic writing with Wordvice, our top recommendation for academic proofreading services. Perfect for graduate students and researchers, Wordvice provides:
Detailed editing and proofreading of academic papers, dissertations, and assignments
Specialized admissions editing for application essays, personal statements, and recommendation letters
Essential citation tools, including MLA and APA generators and a plagiarism checker
Since its inception in 2013, Wordvice has served more than 570 universities and research institutions, proofreading over 335 million words.
Their high customer loyalty attests to the superior quality of their services, which includes scientific and substantive editing.
While the pricing might be on the higher end for students, first-time users can avail of substantial discounts. Trust Wordvice to refine your academic work, save you time, and enhance your scholarly pursuits.
---
4. Enago: Best For Publication Support
Enago is more than an academic proofreading service; it's a comprehensive solution for those seeking publication support.
Ideal for academics and researchers looking to get helpful feedback, Enago offers:
Expert Master's/PhD editors with an average of 19.4 years of experience
Two-editor model ensuring your academic documents are free from language errors
End-to-end publication support services, including pre-submission peer review and journal selection
With a remarkable client satisfaction rate of 99.4%, Enago's professional editors, who are native English speakers, make your manuscripts publication-ready. Their services extend to the global research community, working with over 125 countries.
With a starting 24-hour turnaround time for 1,000 words, they offer quality assurance with unlimited edits and even a money-back guarantee for rejected manuscripts due to language issues.
Enago can help to improve your writing style, save time, and successfully publish your academic articles with ease.
---
5. Editor World: Best Long-Standing Proofreading Service
Looking for a well-established editing and proofreading company? Editor World's proofreading and editing services have been in operation since 2010.
As a business professional, academic, or publisher, you get access to a panel of native English proofreaders from the US, UK, and Canada, available 24/7, 365 days a year.
You can expect:
A quick six-step transaction process
Direct communication with your chosen proofreader
Secure payment options
Notification upon completion of editing
This editing service helps improve your academic documents or other written content by eliminating errors and improving clarity.
The proofreading service ensures your work is polished and professional, saving you time and enhancing your business reputation.
---
6. ProofreadingPal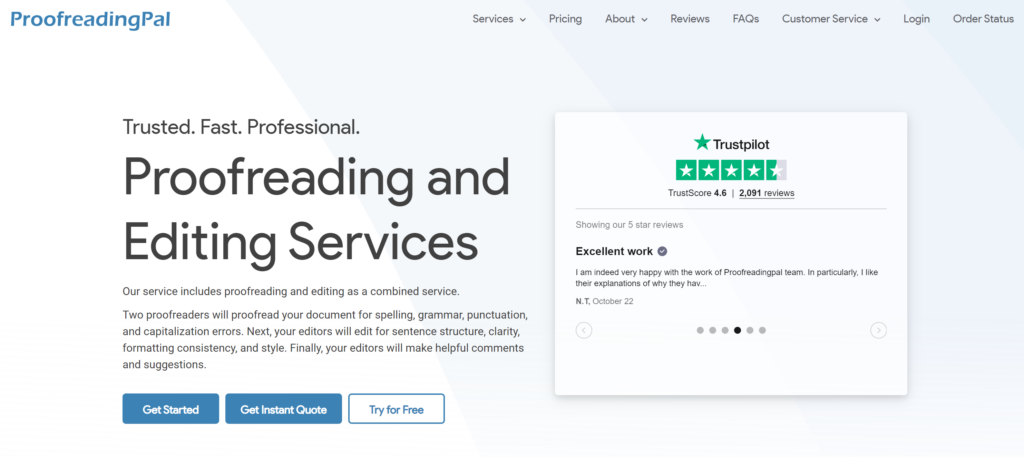 Consider trying out ProofreadingPal, a unique proofreading and editing service employing a two-proofreader model. This service is perfect for students, professionals, and authors looking to refine their research papers.
It also offers support for companies seeking business reports and marketing materials to be proofread.
This is one of the best proofreading services for:
24/7 service with average turnaround times from 30 minutes to 7 days
Immediate email alerts and courtesy calls upon order completion
Live customer service via phone, email, and chat
ProofreadingPal's team scrutinizes your Word document for spelling, grammar, punctuation, sentence structure, clarity, and style.
They also provide constructive comments and suggestions. Their services cater to various academic styles, including APA, Chicago, MLA, and CSE.
They even offer a free sample edit for up to 400 words. With a 100% satisfaction guarantee, ProofreadingPal ensures your content is polished, professional, and impactful.
---
7. Editage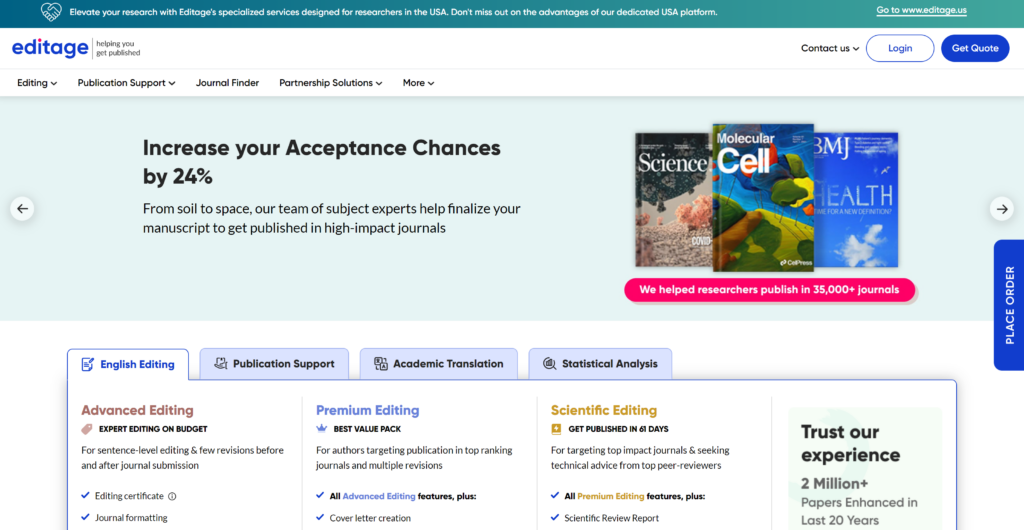 As a researcher, you're meticulous. Every detail matters. And with Editage, an online proofreading and academic editing service, you're in control.
Designed to assure the publication success of scholars, students, and researchers, Editage offers:
Expert matching to over 2,000 native English editors
Fast turnaround period as short as eight hours
A two-step revision process for quality assurance
With Editage, line editing becomes a collaborative process. You can select your expert, deadline, and style, and even engage in Q&A with your editor. Plus, their translation services help you reach a global audience.
After publication, boost your paper's Altmetric scores with their Impact Booster service, enhancing shareability with research graphics and videos.
This makes Editage one of the best choices for those looking for an all-inclusive service with plenty of optimization options.
Did you know that Grammarly can help you proofread your documents for free? Check out our complete Grammarly review for more details.
---
8. Scribbr
In the world of academic writing, Scribbr stands out as a dual-force tool, combining the sharpness of AI with the finesse of human expertise. This service is tailored for academics seeking superior editing and proofreading.
Scribbr's workforce comprises an elite 5% of applicants who are:
Native English speakers
University graduates
Specialists in academic writing
Proficient in diverse study fields
Their AI Proofreader, specifically trained in academic text, fine-tunes your word choice while their human experts provide insightful feedback.
Bonus services include:
Structure Check
Clarity Check
Formatting Citation Editing
Add to this affordable prices, a free plagiarism check, and an assurance that your references remain untouched, Scribbr proves itself an invaluable partner in your academic journey.
---
9. Cambridge Proofreading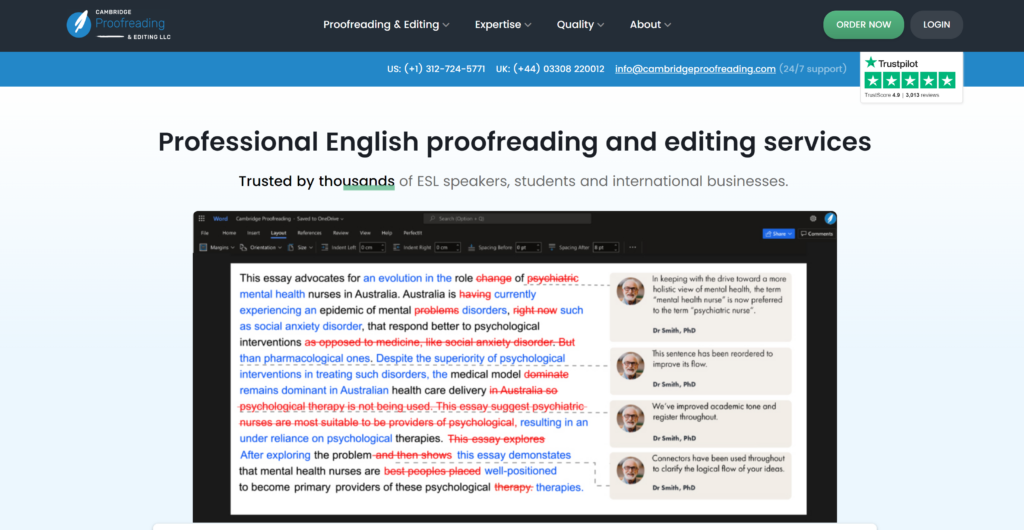 Cambridge Proofreading is a standout service for college students and business owners alike, offering an unmatched blend of subject-matter expertise in proofreading.
Their team, comprising 300+ editors from diverse academic backgrounds, ensures your work is not only error-free but also enriched with field-specific nuances.
Cambridge Proofreading is an ideal online proofreading service because of its:
Trusted reputation with over 77,000 clients
Secure and confidential data handling
Subject-matter expertise across academic disciplines
Competitive pricing with quality assurance
The ability to work with two editors for an additional fee
This service is perfect for those seeking to elevate their business texts, as well as academic and research institutions.
Your documents are securely deleted post-service, and the entire process is protected by DigiCert 256-bit encryption.
This makes it one of the best academic proofreading services for those in need of security and privacy due to sensitive studies or projects.
---
10. Proofed
Proofed editing and proofreading services, based in South Africa, can offer one of the best proofreading services for a diverse range of needs.
It's perfect for business professionals, academics, researchers, and authors. They offer meticulous editing in a short turnaround time.
With Proofed, you get:
Over 750 professional editors working round the clock
Grammar, spelling, and punctuation correction
Sentence flow improvement
Vocabulary adaptation
Repetition removal and concision editing
Inconsistency fixing and citation checks
Their dedicated team ensures your work is paired with the perfect editor for the job. Plus, their Next-Day Guarantee promises the return of any document up to 8,000 words within 24 hours.
Best Practices For Hiring the Best Proofreading Services
Now that you're familiar with some of the best proofreading services on the market, here's how to discern which option is best for your needs:
Identify Your Needs: Define what you're looking for in a proofreading service. Do you need basic spelling and grammar checks, or do you require more in-depth editing and feedback?
Check Qualifications: Ensure the service employs qualified proofreaders who are native English speakers and possess expertise in your field of writing.
Examine Turnaround Times: Review the service's turnaround times. Ensure they can deliver quality work within your deadlines.
Consider Costs: Compare prices among various services. Remember, the cheapest service may not provide the highest quality work.
Read Testimonials and Reviews: Look at reviews and testimonials from previous clients to gauge the quality of the service.
Check for Secure and Confidential Handling: Make sure the service guarantees the security and confidentiality of your documents, especially if they contain sensitive information.
It's pretty challenging to find a perfect proofreading service, but with these tips and the above recommendations, you're sure to find a reliable partner for all your editing needs.
The Difference Between Proofreading and Editing
As you may have noticed, many of the above companies use the term "proofreading and editing" interchangeably. While they are similar, there are some distinct differences between the two:
Proofreading
Proofreading involves a final check for typos, spelling errors, grammatical mistakes, punctuation errors, and formatting issues. It's the last step in the writing process before publication.
This means it tends to be a quicker and more straightforward process compared to editing.
Editing
Editing, on the other hand, goes beyond proofreading. It involves a thorough review of the text for clarity, consistency, flow, and structure.
Editors also provide suggestions for improving word choice and sentence construction. You may choose to get your work edited before proofreading if you need more substantial changes and feedback.
Which Should I Choose?
Ultimately, the level of editing you need will depend on your goals and preferences. If you're confident about the structure and content of your writing, proofreading may be sufficient.
However, if you want more feedback and improvements to your writing style, opting for an editing service would be a better choice.
Make sure to clarify with the service what their process entails and exactly what services are included in their proofreading or editing package.
Final Thoughts: Achieve Writing Excellence with the 10 Best Proofreading Services
These 10 best proofreading services offer more than just grammatical correction. They provide you with a team of experts who understand your unique needs and strive to enhance the quality and impact of your writing.
With their services, you can confidently submit error-free work that meets high academic and professional standards.
And if you're looking for an additional source of income, here are several proofreading jobs from home that you can get started with as well.
By working with these proofreading services, you can improve your writing skills and learn from the experts while earning some extra cash.
Want to learn step-by-step how I built my Niche Site Empire up to a full-time income?
Yes! I Love to Learn
Learn How I Built My Niche Site Empire to a Full-time Income
How to Pick the Right Keywords at the START, and avoid the losers
How to Scale and Outsource 90% of the Work, Allowing Your Empire to GROW Without You
How to Build a Site That Gets REAL TRAFFIC FROM GOOGLE (every. single. day.)
Subscribe to the Niche Pursuits Newsletter delivered with value 3X per week