Textbroker Review: Is it worth your time or is it a hard pass?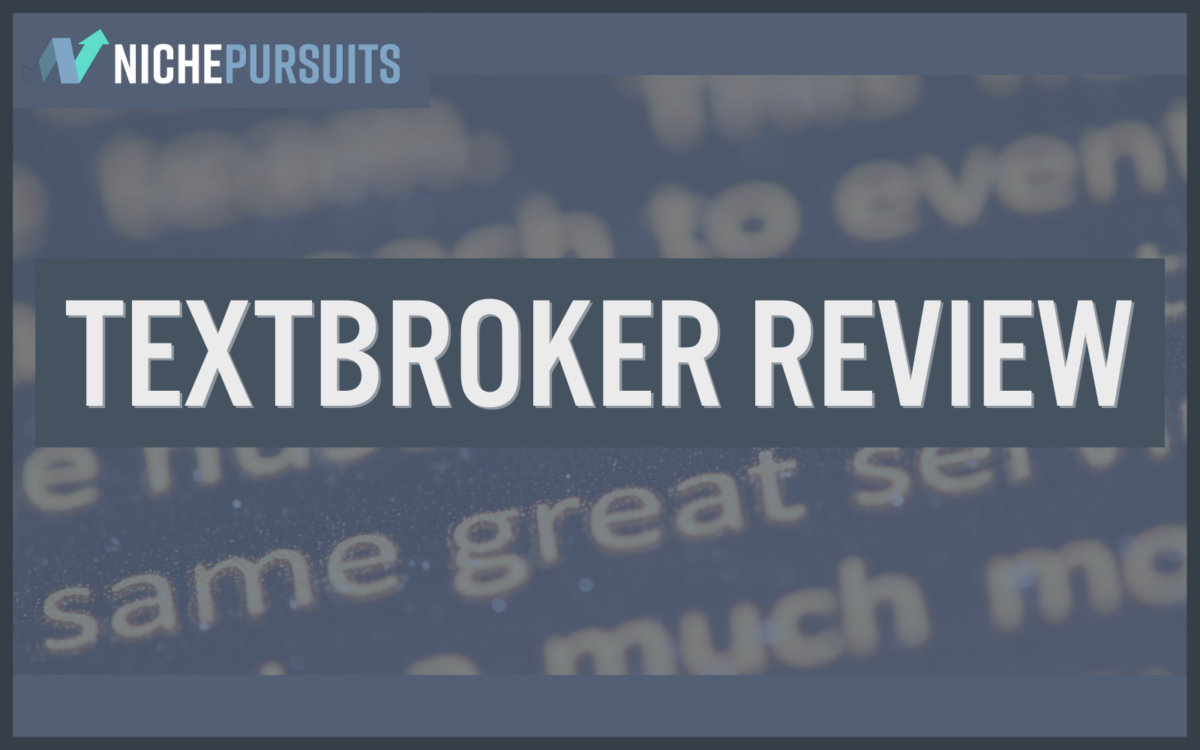 In the modern age, more people than ever before are searching for work-from-home positions, and freelance writing is a top career choice for many. Freelancing sites such as Textbroker are rising in popularity in response to the demand for more remote work options.
If you have been wondering whether Textbroker is worth your time, fear not. In this Textbroker review, we will cover everything you need to know about the platform before you turn over your personal information and take your first open order.
Is Textbroker going to be the right fit for you to join the ranks of professionals who work from home?
Let's learn more about what to expect in this Textbroker review.
Sign Up for Textbroker
---
Textbroker Review
Ease of Use -

100

Stability -

95

Customer Service -

75

Price -

60
Summary
Textbroker is an online content mill for freelancer writers to secure work-from-home gigs. Earnings are based on a star-rating system and can vary. Sign up for Textbroker here!
Pros
Easy-to-use interface
Flexible work schedule
Cons
Wait for approval
Low payouts for freelance writers
Requires personal information to get paid
Only allows for writing jobs
What is Textbroker?
At its very core, Textbroker is a content mill platform that many people rely on for their content strategy. Their platform makes it easy for clients to find freelancers who can write blog posts, product descriptions, social media posts, technical articles, copy for new advertisements, web copy, and more.
Many freelancers turn to Textbroker because it provides them with a flexible work schedule that allows them to work remotely from home or as digital nomads traveling the globe.
Of course, they don't allow just anyone to work for this great service. You must be a U.S. author who has some amount of experience in writing search engine-optimized (SEO) content. The pay rate you receive and the amount of work you can complete are dictated by your ability to adhere to these guidelines.
Any Textbroker review would be remiss if it didn't mention the payment system worked out by the platform.
Writers are given a star rating (three through five) based on their grammar and SEO knowledge.
Most new writers to the platform will be granted a three-star rating, to begin with, but it is up to you to maintain this standard or advance through the ranks.
If you want to make the most as a professional writer, you will want to strive to earn your five-star status.
You will do this by writing ten articles and maintaining a four-star rating from your clients. A tough proofreading test to prove your merit is also required for elite five-star status.
Is Textbroker Legitimate?
Many would-be freelancers are hesitant to sign up for Textbroker because they worry whether it is a legitimate work-from-home opportunity or a scam.
This is an understandable concern, but you shouldn't worry about their legitimacy. Textbroker is a legitimate company, and you can earn real money by providing quality services to clients who request content creation through the platform.
Textbroker has been in business since 2007, securing thousands of jobs for freelancers just like you. Even if you have limited experience with writing, a bit of natural talent and a desire to learn more about your craft can go a long way in this business.
In 2013, a Textbroker review was conducted, and they were named to the Inc. 5000 for the first time. They earned the same honor for the following two years, which should give you some peace of mind about the legitimacy of their site.
Textbroker also has an A+ rating with the Better Business Bureau.
Who Can Write for Textbroker?
No matter where you live in the world, you may find yourself wondering whether you can earn extra money as a website content writer.
Textbroker offers work in a variety of languages, and they only accept authors from the target countries. Content may be written in all languages listed below:
English (both U.S. and UK versions)
German
French
Spanish
Italian
Dutch
Polish
Portuguese
Finnish
Danish
Norwegian
Russian
If you want to write for U.S.-based English, you will need to provide proof of citizenship.
You must also pass a basic sample of your writing to assess your command of the English language and show you are a good writer. Registration on the platform is completely free, so there are very few risks to getting your feet wet and applying to write content for clients on Textbroker.
Textbroker has sister sites for writers in other countries, such as the UK or New Zealand.
Based on the sample of your writing, Textbroker will award you with a rating. If you are really lucky and have some experience with professional freelance writing, you may be able to score a four-star rating right from the beginning.
Receiving the highest score possible is essential to making money on Textbroker, so put some time and effort into the writing sample you submit.
From there, you can start writing for the content mill. Accept your first open order from thousands of available options based on the quality level that you are rated at and can produce content for.
How Much Does Textbroker Pay?
No Textbroker review would be complete without discussing how much a writer can expect to make from the platform.
Most payments are made on a per-word basis which is quite common in the content mill industry. However, their rates will vary depending on the star rating that you have and the type of order you are working on.
Textbroker has three types of orders with varying levels of pay for authors:
Open Orders
Direct Orders
Team Orders
Open Orders are the most common type of jobs found on the platform, and you can expect to be paid based on your rating:
3-star rating: 1.1 cents per word
4-star rating: 1.6 cents per word
5-star rating 5.5 cents per word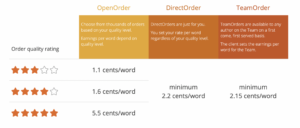 As you can see, achieving that status of 5-stars is definitely worth it when it comes to the money you could earn from the platform.
It is more than triple the low pay that a 4-star freelance writer gets, so passing that proofreading test and earning excellent reviews should be a priority for those who are serious about earning a full-time income on Textbroker – otherwise you're likely to be making less money writing than minimum wage.
Direct Orders are jobs that are set up specifically for you. Direct orders allow you to set your own rate per word which is very in line with how other freelance platforms function. Textbroker has a minimum per-word price of 2.2 cents for Direct Orders regardless of rating.
If you are lucky enough to work on a Team, you can still earn more than you would with Open Orders. The client sets the earnings per word for their team, but the minimum is 2.15 cents per word.
Payments with Textbroker
One of the biggest questions to answer in a Textbroker review is how payments are handled.
When can you expect to receive the money in your bank account?
It is worth noting that payments through Textbroker are a bit more convoluted than some of its competitors. They do not offer direct deposit, wire transfer, or check payouts. Instead, all of the processes are handled via Payoneer.
You must have a balance of $10 or more in your Textbroker account if you want to submit for payout.
Any freelance writer can request payout by 11:59 PM (PT) on Sundays and Wednesdays for them to process on the next business day (Mondays and Thursdays).
Unfortunately, Textbroker doesn't necessarily guarantee when you will receive those funds in your account. They estimate that it may take one to two business days to see your funds show up in your account.
Keep in mind that it is free to select a once-weekly payment, but they do charge a small $1 fee if you want to be paid on both Mondays and Thursdays. Considering how little they pay, this can eat up a lot of your earnings if you aren't careful.
Documents Required to Get Paid
If you want to get paid from your earnings, you will need to set up a Payoneer account directly through the Textbroker platform. While it is not difficult to set up one of these accounts, you will need to have some important documents handy:
Bank account information for a U.S.-based bank
Tax form information
Textbroker also utilizes Payoneer to ensure that their freelance writers are United States citizens. It is another way for them to check that you have the right credentials to complete work on the platform while they work on verifying your writing sample and citizenship documents.
How Textbroker Works
Our Textbroker review will break down all of the steps you need to follow to get your first paid assignment on the platform.
Fortunately, the process is fairly straightforward and intuitive with an easy-to-use interface.
1. Fill Out an Application
If you are interested in making money online, you will start by selecting the application designed for authors.
This will redirect you to the application where you can enter most of your professional details and start creating a profile for yourself. You will be asked about:
Your profession or field of study
The referral sources that directed you to Textbroker
Your expertise
Login information (email address and password)
In later steps, you may be required to provide documentation proving your U.S. citizenship.
2. Select an Open Order
Once your account has been approved, you will be free to browse through the open orders for work that interests you. Projects are sorted by categories in alphabetical order with popular options including:
Animals
Business
Fashion
Marketing
Education
Click on the topic that you are most interested in or familiar with for your first article.
This will redirect you to a new screen with all of the orders for that category.
Skim through the list to find a topic that you are familiar with for your very first Textbroker order.
3. Look Over Assignment Details
When you open it up, a timer activates to give you an opportunity to look over the requirements for the order and the client instructions. You will see the required keywords and keyword density, as well as any additional guidelines for completing the article.
Once you decide that you want to write the article, click the green "I want to write this article" button at the bottom of the screen. Most orders will have a 24-hour deadline, but you should strive to complete the article a few hours ahead of this deadline to avoid losing the order.
4. Write the Article
On the following order screen, you will see all of the order details and the submission box for your article. You can choose to write the document directly in the submission box, but the best solution is to write in a word processing software (Microsoft Word or Google Docs) to make sure that you do not lose your work.
5. Submit the Article
When finished, click the green "preview and submit" button. If satisfied with the work, you can select "release text" and it will submit it to the client.
Textbroker Review: Pros and Cons
In any Textbroker review, you would want to know what the advantages and disadvantages of the platform are. Is this one platform that you could use to make a full-time income or is write for Textbroker, better suited for you as a side hustle?
Let's take a closer look at the pros and cons of Textbroker.
Pros
Flexible Work Schedule
One of the only benefits to working for a content mill is the flexible work-from-anywhere ability that it grants to freelancers.
If you are tired of being chained to your desk from 9 to 5 and long to work in the hours when you are most productive, Textbroker might be a great fit for you.
Break the chains of the traditional office job and consider what it would be like to work at your own pace – as long as you can submit your Open Orders on time!
Cons
Waiting for Approval
There seems to be some debate about how long it really takes to be approved by Textbroker and given your initial rating.
Some freelancers claim that they have waited months to hear their status on the platform after submitting their writing samples. Others claim that they received notification of their accepted status within hours of hitting submit.
There seems to be very little consistency from the platform regarding the timeline during which you could reasonably expect to start working and earning money on Textbroker.
Low Payment Rates
The rates that are set out by Textbroker may not be the lowest in the industry, but they are pretty close. It would be challenging to make a full-time income from this content writing platform with what Textbroker pay.
Compare how much authors are paid with how much clients are charged for a written article, and you will quickly notice a disparity between the two.
For a five-star quality article, clients are charged 9 cents per word. However, the writer is only paid 5.5 cents per word.
They take about 40 percent in fees which is higher than other freelancing sites, as you can read more about in our Upwork vs. Fiverr review.
According to research, 46 percent of businesses stated that they want to increase their spending on content creation in the upcoming year.
This proves that content creation and freelance writing are in hot demand at the moment. You could be commanding top rates making money writing, especially if you have experience in the field.
Instead of relying on Textbroker to set the rates for you, freelancers could set their own rates on Upwork and Fiverr based on the cost of living in their area and their field of expertise.
Even platforms like FlexJobs offer an opportunity for better pay than the business model proposed by Textbroker.
Requires Personal Information for Payment
This is one area where you may feel a little uncomfortable at first. You have to provide lots of documentation proving that you can work in the United States.
From citizenship documents to bank account information to tax information, they require a lot from their freelance writers even before they earn their first dime.
It's not without good reason though. The IRS requires Textbroker to send 1099s to every freelancer who earns more than $600 in a given tax year. This is a way of making sure that they are legitimately conducting business, but it can put some people off at first.
Only Allows for Writing Jobs
If freelance writing is your niche, then you are in luck with this Textbroker review. Unlike some of the other leading platforms, you may find that you want to dabble in other service areas that are related to writing such as editing or translation.
Other popular freelancing platforms allow for this, along with other popular categories such as:
Graphic design and other creative pursuits
Software development
Administrative work
Data entry
Voiceover work
If you want to expand your offerings beyond freelance writing, it is important to note that you will have to join more than one platform if you intend to use Textbroker.
Alternatives to Textbroker
We've already mentioned it several times, but there are other alternatives that you may want to consider when weighing the pros and cons of this Textbroker review.
These other platforms have the potential to pay more and allow you to find work in other categories if your side hustle game is strong.
Upwork
Upwork is one of the leading platforms for freelancers with employers spending a collective total of more than $2.52 billion annually. They have more than 145.4k active clients who spend more than $5,000 on freelancing services throughout the year.
There is no shortage of jobs on this site.
One of the things that sets Upwork apart from sites like Textbroker is that freelancers have the right to charge what they deem is necessary to complete a job so it's possible to earn more money on this platform. The process works like this:
A client posts a job on the platform.
A freelancer finds the job posting, submits a cover letter, and sets a price for the job.
The client has the opportunity to interview the freelancer and negotiate the rate.
Create the contract, and the job begins.
You do have to pay an Upwork service fee for orders completed through the platform. Transaction fees are a sliding scale based on the dollar amount of the job you completed:
Up to $500: 20%
Orders over $500.01 – $10,000: 10%
Orders over $10,000.01: 5%
However, it is completely free to get started on the platform and start bidding on jobs in many categories, including writing, translation, design, voiceover, software development, and more.
Sign Up for Upwork
Fiverr
Fiverr is another popular freelancing platform that allows you to post a gig or a service that you offer to your clients. Freelancers will list their services, and buyers can select a gig that meets their needs, paying in advance for the work completed.
You get to set your own rates regarding what you want to earn for each job. This ensures that you are working for a fair wage that can actually help you to pay your bills or save up money from your new side hustle.
Remember that it is free to get started on Fiverr, but you will have to pay a service fee similar to that charged by Upwork for completed work.
Factor this into the rates you charge to make sure you are being paid appropriately. Freelancers will earn 80 percent of the price.
The platform is not exclusively for writers. It works for almost any creative field.
Sign Up for Fiverr Here
FlexJobs
FlexJobs is a bit different than both Fiverr and Upwork, but it is great for people who are looking for remote work or work-from-home positions.
Using their advanced search function, skim through all of the available jobs posted by employers.
Each post gets screened by the FlexJobs team to ensure that it isn't a scam.
One thing it does have in common with the other Textbroker alternatives is that is great for freelancers in just about every field and is not exclusively used for writing.
You can peruse listings in more than 50 categories, including:
Customer service
Computer services
Marketing
Administrative work
Health and medical
FlexJobs does require a subscription fee to view full details on a job and to apply for the position. You can sign up for one week ($9.95), one month ($24.95), three months ($39.95), or one year ($59.95).
However, you can feel free to peruse the listings. This ensures that there are a few jobs that spark your interest before paying the subscription fee to accept the gigs and earn money.
Sign Up for FlexJobs Here
Bonus
Hands Off Publishing is a content writing agency that has in-house writers that can take care of everything for you. It's not quite like Textbroker but is absolutely worth checking out. You can find out more in our Hands Off Publishing review.
Textbroker Review: Is This Platform Worth Your Time?
We've come to the end of our review of Textbroker and it's time to determine whether to write for Textbroker is really worth your time. While it is relatively easy to use, the rates that authors get paid for their work are pretty low compared to what you could earn on other freelance websites.
If this is just a side hustle for you instead of a full-time job, then Textbroker is a great option to give you easy work and a few extra dollars in your bank account as you gain experience.
For those who want to get started writing and make freelance writing their full-time gig, then you may want to consider joining some of the alternatives listed here, such as Upwork or Fiverr.
Better yet, join a few of the recommended sites to maximize your earning potential and gain access to a greater scope of new projects.
Is Textbroker worth your time? We would argue that Textbroker is worth your time if you don't mind doing quick work for minimal pay.
Want to learn step-by-step how I built my Niche Site Empire up to a full-time income?
Yes! I Love to Learn
Learn How I Built My Niche Site Empire to a Full-time Income
How to Pick the Right Keywords at the START, and avoid the losers
How to Scale and Outsource 90% of the Work, Allowing Your Empire to GROW Without You
How to Build a Site That Gets REAL TRAFFIC FROM GOOGLE (every. single. day.)
Subscribe to the Niche Pursuits Newsletter delivered with value 3X per week