14 Ways To Increase The Pageviews Of Your Website Or Blog
When you buy something through one of the links on our site, we may earn an affiliate commission.
Whether you're brand new to blogging or a seasoned pro, pageviews are probably one of the metrics that you check regularly in Google Analytics.
In this article, I'm going to be looking at how to increase pageviews of a website or blog, so that you can start getting those numbers up and growing your blog.
There's no upper limit when it comes to increasing your pageviews. Whether you have one hundred pageviews per month, or one million, more pageviews will likely result in greater earnings, and who doesn't want that, right?
Why are pageviews important?
There are a few reasons you should be monitoring your pageviews and trying to increase them:
Pageviews are a good indication of how engaged your users are with your content. If they view more than one page per visit, it's a sure sign that they are interested in what you have to say.
If you monetize your blog with display ads (such as Ezoic) then you will know that every time someone views a page on your blog, it's money in your pocket. Pageviews correlate directly with ad revenue, so it makes sense to get your pageviews as high as possible.
The more people you have viewing your blog, the more likely you are to increase your earnings from other sources such as affiliate marketing, dropshipping, sponsored content, and so on.
Basically, more pageviews equal higher earnings!
In this next section, we're going to be taking a look at some things you can start doing right away to increase the number of overall pageviews AND the pageviews per visit on your blog.
Social media is a goldmine when it comes to getting your content out in front of the world and increasing your blog traffic.
You can promote your content on your own social media channels, as well as in any relevant groups you are a member of – if their rules allow for it. 
Promoting your content on social media will enable you to reach a wider audience as users share, retweet, or repost content they like. Some of the best social media channels for content marketing include:
Facebook 
Twitter
Pinterest 
LinkedIn
YouTube
Snapchat
TikTok
If you're not used to posting on social media regularly, you might want to consider using a social media scheduling tool like Meet Edgar. This means you only have to spend a few hours each month scheduling content. It will cut down the time you spend on social media, while still ensuring your content is published regularly.
And, if you want to learn how to grow your social following in order to get traffic to your website, Jon Dykstra's course bundle is one option that teaches how to do it. 
Write click-worthy headlines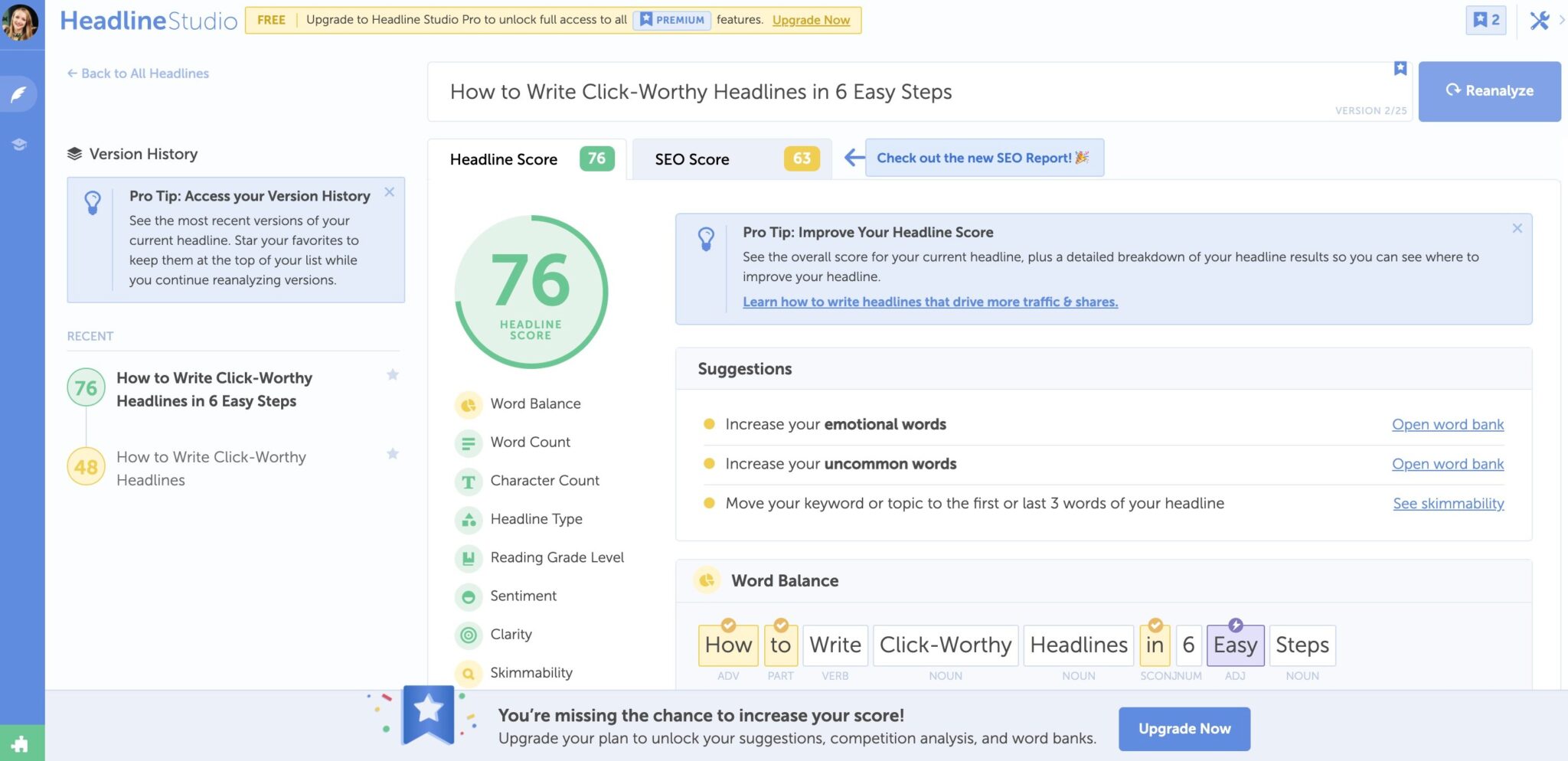 Creating compelling headlines doesn't always come easily, but it's worth taking the time to get it right. The perfect 'click-worthy' headline has the power to entice people to read your content, which will help to increase your site traffic.
If you're not sure where to start, a great resource you can use is HeadlineStudio by CoSchedule. It's super easy to use, and there's a completely free version too.
Simply enter your headline into the analyzer bar, and HeadlineStudio will analyze your headline. Your headline will be given a score out of 100 – the higher the better!
It will also provide you with actionable tips on how to improve your headline and get the score as high as possible. 
Internal links to other relevant blog posts
Internal linking is when you link to other blog posts you have published from within the article you are currently writing on your blog.
For example, let's say you are writing an article about how to care for Golden Retriever dogs. You might want to link to other articles you have written that would also be useful to the reader, such as an article on the best shampoo for Golden Retrievers.
Internal linking is not only great for your SEO, but it will also help reduce your bounce rate. It's one of the easiest ways to increase your page views per visit, as it makes it easy for visitors to find other content they want to read. 
Manually building internal links can be frustrating and time-consuming, which is exactly why Spencer created Link Whisper. Link Whisper is a WordPress plugin powered by AI that automatically suggests relevant content to link to within the WordPress editor.
This can save you hours of time each month, as well as giving the posts you link to a much-needed SEO boost. 
Try Link Whisper Right Here
Make your content easy to read
Readability is one of the most important factors when it comes to keeping a website visitor browsing on your blog. People are impatient, and if users can't find what they are looking for because your content is difficult to read, they will simply go somewhere else.
Here are some tips for making sure your content is reader (and search engine) friendly:
Use subheadings to break up your content
Avoid long sentences
Use short, easy to read words
Aim for 8th-9th grade readability, so that anyone can understand your content
If you're a WordPress user, you can use a plugin like Yoast SEO which will give your content an SEO and readability score within the WordPress editor.
Once your content has been given a green light on Yoast, you can publish it knowing for sure that it is SEO-friendly and easy to read. 
Optimize your content
Using content optimization tools like MarketMuse or ClearScope can help to increase your pageviews, and make your content more search engine friendly.
Content that has been fully optimized will not only be more readable but will contain all the information that your audience is looking for. In turn, since your optimized content will contain all the right keywords, you will find it easier to rank in the search engines, bringing more organic traffic. 
Although content optimization tools might seem pricey at first, they are worth every cent for the right person. They will take all of the guesswork out of creating awesome content that ranks.
Target long-tail keywords
Targeting long-tail keywords is one of the best ways for new bloggers to rank their content. Long-tail keywords are more specific keywords containing two or more words – 'keyword phrases' is sometimes a better way of putting it.
For example, the keyword 'shoes' gets 2,740,000 searches per month.
If you get more specific by looking at longer keywords such as "best running shoes for men", or "hiking shoes", that although the search volume is lower, the keyword score and therefore competition level is also much lower. 
Because these keywords are longer and more specific, there is usually less competition for them, giving smaller or newer bloggers the chance to compete.
Although long-tail keywords may have a lower search volume, your chances of ranking will be much higher, resulting in more website traffic overall. People searching for long-tail keywords are also more likely to be further along in the buying cycle, and more likely to click your affiliate links or buy what you're selling.
This helps increase the pageviews on your website or blog, by bringing high-quality organic traffic straight to you.
Build an email list
Building an email list is one of the most valuable things you can do as a blogger.
Thanks to better privacy and GDPR regulations, you can now be sure that everyone who subscribes to your email list actually wants to hear from you.
Every time you send out an email to your subscribers linking to your content, you will be sure to see an increase in pageviews on your site. So sending out regular emails with links to your latest content could give you thousands of extra pageviews per month.
If you don't already have an email list, now's the time to get started!
ConvertKit is a great option. Their service is easy to use, and powerful enough for new and established bloggers alike. They also have a completely free plan for your first 1,000 subscribers, so you can try them out before committing to a paid plan.
Make sure your site is fast and mobile-friendly
Did you know that your website speed has a direct correlation with your bounce rate, and therefore your pageviews? If your site is slow to load, people will just give up and go somewhere else. 
In fact, as your page load speed drops from 1 second to 5 seconds, the probability of bounce will increase up to 90%. Ouch!
That's definitely going to hurt your conversion rate.
An ideal page loading speed is under two seconds. Basically, the faster the better. Here are a few things you can do to optimize your site speed.
There are many other things you can do to improve your site speed. Your first step could be to use Google PageSpeed Insights to find out your average page load time. Once you have done this, it will give you suggestions on what you can do to improve it.
Build a community
Building a community around your website is a great way to increase traffic and pageviews to your blog.
Facebook is one of the best places to build a community as most people have a Facebook account, and it's completely free.
As well as starting a Facebook page for your business, you might also want to consider creating a private Facebook group. Private Facebook groups will allow your audience to speak openly, as their friends and family won't be able to see what is posted in the group. This makes many people feel more comfortable and fosters a sense of community.
Niche Pursuits has a private Facebook group where members can chat, swap tips, ask questions, and get exclusive updates. It's free to join, and a great way to engage with like-minded people in the niche site space. No matter what niche you are in, you can build a community. 
Let's say for example, that you have an RV niche site. You can create a private community where people can share stories, van conversion tips, campfire recipes, and more. When you have a new article live on your blog, you will have an engaged community of people who will want to read your content.
Monitor your analytics
Monitoring your analytics is an important part of managing your website. Having access to this data will enable you to see exactly how many pageviews your site is currently getting, so you can keep track of your progress.
Google Analytics is the best tool for the job. It's free and easy to install Google Analytics on your WordPress website. All you need to do is install the GA plugin, or paste a snippet of code into the header of your blog.
Once Google Analytics is live, you will be able to see in real-time how many people are viewing your website or blog at any time. 
Google Analytics will also enable you to see which pages are getting the most views in a set period of time (check out which kinds of hits does Google Analytics track). This will enable you to work out which type of content generates the most pageviews, and work to create more of that.
Conduct Competitor Analysis
Conducting competitor analysis can allow you to see which types of content are generating the most pageviews for your competitors. This will give you an insight into the type of content your target audience loves most.
You can use tools like SEMrush or KeySearch to conduct competitor analysis.
SEMrush is one of the best tools around when it comes to competitor analysis. KeySearch is also a great option for anyone on a budget.
I've personally been using KeySearch for a while now for my own blogs, and I can honestly say it's been great! Check out my KeySearch review here.
Get 20% OFF KeySearch here with the code KSDISC.
It might sound daunting, but competitor analysis is actually super easy to do. Hit the competitor analysis button on KeySearch (or whichever keyword research tool you use) and select 'organic keywords'. 
Next, enter your competitor's URL into the search bar, and hit search. 
You can click on the Traffic column to view the results in order of which keywords are driving the most traffic. On the right, you can also view the URLs where the traffic is coming from.
Now that you have this information, you can target these high-traffic keywords by creating great content for your own blog. Once you start to rank you will see more traffic coming to your blog and an increase in pageviews.
Create evergreen content
Evergreen content is essentially content that will never go out of date. It will remain relevant for years to come, bringing you a steady stream of organic traffic and increasing the pageviews on your site. 
Because evergreen content is always relevant, it is also far more backlink-friendly than other types of content and is likely to naturally attract links over time. This, in turn, will help you rank for more keywords. That's why creating high-quality evergreen content is definitely worth the investment.
Some examples of evergreen content include:
How-to guides – for example, How to Sell Alibaba Products on Amazon
Recipes – for example, Pasta Bake Recipes
Industry resources for your niche – for example, Business Tools I Use
Answers to questions – for example, Pageviews vs Unique Pageviews – What's the difference?
Listicles – for example, 7 Best Pinterest Tools to Gow and Automate Your Account (and don't miss our listicle examples for even more inspiration)
All of these types of content will just as relevant in two years time as they are today.
Now, let's take a look at some types of content that are NOT evergreen:
Holiday related content
News articles
Fashion trends
Fads
Statistics that will go out of date quickly
By focusing on evergreen content that is relevant to your niche, you can be sure that the content you create will continue to bring you traffic for years to come.
Don't forget to promote older content
If you're not updating and promoting the older content on your website or blog, you're missing out. Promoting older content is a great way to increase the pageviews on your blog. 
If your older content is out of date, have a quick scan through and update the parts you need to, to make sure the articles are evergreen.
You can also change the 'published' date in WordPress to the current year, or remove it altogether to stop readers from being put off by an old published date.
You can schedule older posts to be promoted in your social media scheduling tool. This 'set it and forget it' approach will mean you only have to do it once, and you can sit back and relax knowing your older content isn't going to waste.
The end of each blog post is a great place to post links to other relevant blog content that your audience might enjoy. After all, if they enjoyed your post enough to read it to the end, they might want more – why not make it easy for them?
This is an easy way to increase your page views per visit, as well as improve your bounce rate.
Another great place to promote evergreen posts is in the sidebar of your blog. You can have a 'popular post' section which will enable your readers to easily find other posts that they might like.
For example, I recently wrote a related post on the difference between pageviews and unique pageviews. That would be the perfect post to link to at the end of this one, if I hadn't already done so here!
How to increase pageviews of website
Increasing pageviews of a website or blog is an important part of growing your online business. More pageviews may mean more money in your pocket, so this should be an ongoing task to keep your business growing.
All of the points listed in this article will go a long way towards helping you increase your page views. Start working your way through this list as soon as you have time, and soon you will start to see those numbers going up.
Now that you know how to increase your website's pageviews, find out how to increase your Amazon affiliate earnings here!
Want to learn step-by-step how I built my Niche Site Empire up to a full-time income?
Yes! I Love to Learn
Learn How I Built My Niche Site Empire to a Full-time Income
How to Pick the Right Keywords at the START, and avoid the losers
How to Scale and Outsource 90% of the Work, Allowing Your Empire to GROW Without You
How to Build a Site That Gets REAL TRAFFIC FROM GOOGLE (every. single. day.)
Subscribe to the Niche Pursuits Newsletter delivered with value 3X per week