33 Smart & Effective Ways to Increase Blog Traffic
When you buy something through one of the links on our site, we may earn an affiliate commission.
Do you want to increase blog traffic for more leads, sales, affiliate, or ad revenue?
Well, look no further.
Because in this post, I'm diving into 33 ways to get more traffic to your blog.
When you apply these tips, you'll benefit from:
Consistent traffic that improves over time
Growing your audience
More leads and sales
And more
So, if you're ready, let's dive right in.
33 Smart Ways to Increase Blog Traffic in 2022
Whatever your niche, there are millions of potential customers out there wanting to do business with you.
And you know that getting more traffic to your blog is your best chance of success.
Here are 33 incredibly smart ways to increase blog traffic and grow your business.
1. Know your audience
You know a blog has huge potential for the growth and success of your business.
But, do you know your audience?
If you spend your precious time publishing valuable content on your blog, but it doesn't gel with the reader, then it's time wasted.
You need to define a specific problem your niche market struggles with and address it directly.
It's too much for any business owner to help everyone on the planet, so focus on an individual person.
Because what is personal to an individual is usually most general.
Getting inside the heads of your audience will help you understand them.
Join communities, forums, and groups and start a conversation with people to understand what they truly need.
It will make all the difference when your traffic pours in.
---
2. Optimize for SEO
If you want consistent traffic growth for your blog, aim to increase organic traffic.
This is traffic you receive from organic search results in search engines.
If you're going to publish blog posts anyway, you may as well optimize them for a better chance of ranking.
It only requires a few steps to optimize your articles for SEO.
Here's how to do it.
Step 1: Do keyword research
Find keywords that people are already searching for and focus your articles on these terms.
Include the keyword in the title, subheading, and body of the content.
Step 2: Create epic content
Look at the top 10 results in Google for your chosen keyword and aim to improve your article by providing more value.
More on this later.
Step 3: Format your articles for readability
Keep people on the page longer and help search engines understand your content with proper formatting.
Use subheadings, bold text, images, quotes, and videos where possible. No one likes to read huge blocks of text.
Step 4: Interlink between your articles
Build relevancy by linking to other articles on your blog.
Each article should answer the readers' query, but expand on it by linking to other related content you publish.
---
3. Run Ads on Social Media
Do you have a budget to run ads?
That's great!
Because running ads can be the fastest way to increase blog traffic, grow your email list, and make more money.
Simply choose a social media site where you can buy ads, such as Facebook.
You'll need a Facebook page for your blog and a business account to run ads.
Then you can create ads that drive traffic to your articles.
My article on the best Udemy courses mentions a course that might help with this.
It's a Facebook ads course that teaches you everything you need to know to run Facebook ads effectively.
---
4. Optimize Your Site for Conversions
Increasing blog traffic has its benefits, but it's the right traffic that's makes the difference.
You could have thousands of visitors, but if you're targeting the wrong people with your content, they will never convert.
That's why it's wise to optimize for conversions, not just traffic.
Here are a few pointers to get you started:
Use effective copywriting for blogs: Using sales copy in your blog posts provides structure to your articles. It also influences readers to do what you want them to do.
Offer a great UX (User Experience): From the design of your blog to the way you serve your audience, your user experience speaks a thousand words.
Always leave a CTA (Call to Action): Don't leave your readers in the dark. If they don't know what you offer, they won't look. Use a clear CTA to improve conversions.
Track everything: Add Google Analytics or other tracking so that you know how well your blog is performing.
---
5. Retarget Visitors on Other Platforms
Stop losing out on visitors leaving your blog and never returning. Instead, set up retargeting ads to increase your rate of return visitors.
There are many benefits of retargeting your blog traffic.
It develops brand awareness
Reminds previous visitors to continue where they left off
Adds opportunity to capture leads
Maintains a steady flow of traffic that would otherwise be lost
To retarget your blog traffic on Facebook, go to your ad manager account and create a new custom audience.
You can then target people who visited specific pages, i.e. your blog posts.
Then, with your ad, bring people back to the specific blog posts they viewed or a landing page to capture their email address.
---
6. Grow a Twitter following
Twitter.com is the 9th most visited website globally and the world's 7th favorite social networking site, according to Hootsuite.
It has also seen a surge of growth since 2020 and is expected to reach 335 million active users by 2024.
Growing a following on any social network has its benefits, but each offers different methods of interacting with its users.
What makes Twitter unique is the real-time communication and the users' interest in learning.
Unlike some social media sites, Twitter's user base is growth-oriented and connects well with accounts that educate and offer valuable information (and if your Twitter account ever gets suspended we have a guide to recover it).
They have recently introduced a new feature, currently being tested with select accounts. It's the ability to publish long form posts, called Notes.
This creates an entirely new dynamic of interacting with your audience, growing an account, and generating blog traffic.
---
7. Only Create High-Quality Content
Gone are the days where you could post 500-word articles about your personal life and grow organically.
Because of the sheer amount of high-quality blog posts being published every day, your content must be world-class to stand out.
In addition, the evolution of technology has changed the way people consume information, which adds distractibility and the need for instant gratification.
Therefore, the articles you publish need to be engaging, informative, and of high value. Subpar won't cut it.
Just remember that perfection isn't the goal. Done is better than perfect. The luxury with blog content is that you can always make improvements in the future.
---
8. Use IFTTT to Automate Social Media Sharing
I love automation, and technology has made it incredibly easy for us to reap its benefits.
For example, IFTTT is a free automation tool that lets you connect to almost any website or social network together, and there are other great IFTTT alternatives as well.
It stands for If This Then That, which means you can make something happen on one website when another thing happens on a different website.
Specifically, when you publish a new blog post, you can broadcast it to your social media accounts automatically.
Here's how.
Create an IFTTT account and launch a new automation with the WordPress applet.
Select Any new post and connect your WordPress blog:
Click on Create Trigger and you'll be directed to select "Then That" step:
Then search for Twitter and choose "Post a tweet":
Connect your Twitter account and click create action:
Now, whenever you publish a new blog post, it'll automatically post a tweet to your Twitter followers.
---
It turns out there are psychological and scientific reasons content goes viral.
And you can up your chances of viral traffic when you understand why.
First, neuroscience tells us that people share content that is entertaining, inspiring, and useful, not just for ourselves, but for other people.
Evidence shows that a specific region in the brain lights up, suggesting we're on the lookout for information interesting enough to share.
Second, psychology suggests we share content that expresses who we are.
If an article portrays the version of ourselves we want to become, we are more likely to share it.
And another reason people share content is to nurture our relationships and feel connected.
This is apparent in a study undertaken by The New York Times Customer Insight Group. The results show that 78% of respondents said "it let them stay connected to people they may not otherwise stay in touch with."
And a further 73% of them said they shared information because it allowed them to connect with others who shared their interests.
So try to add blog content proven to get shares and you'll more likely increase blog traffic.
---
10. Develop a Pinterest Strategy
Pinterest has over 433 million active users and is considered the 4th most popular social networking site.
It's also not just a social network, but a search engine.
That means it works in a similar way to Google and YouTube when displaying search results.
The Pinterest algorithm analyzes accounts and their content based on four sets of criteria:
Domain quality
Pin quality
Pinner quality
Topic relevance
If you develop a strategy that adheres to the algorithm and post consistently, you can explode your traffic with Pinterest.
---
Want people to share your blog posts on their social media accounts?
Then add social share buttons.
When you give readers the opportunity to share your content, it can do a few things:
Build credibility by displaying the share count
Send positive signals for your brand
Grow your social media following
And give you a bump in blog traffic
It's super easy to set up. Here's how:
In WordPress, head over to your plugins library and search for "social buttons".
You'll see a ton of plugins to choose from. Choose one you like and install it.
I'm using Simple Social Media Share Buttons by WPBrigade.
Once you've experimented with the settings, you'll see the buttons appear on your articles.
---
12. Track Keyword Rankings
Want to get the most from your SEO efforts?
To know your top-performing articles, you'll need to know where they rank. Monitoring traffic isn't enough.
That's because you'll only see traffic from search engines when your articles show up on page one.
Using a rank tracking tool gives you insights into how well your on-page optimization is taking shape.
The screenshot above is the rank tracker SerpRobot, which offers some valuable insights.
It's also a very affordable way to see a complete overview of all your search ranking positions.
Here's how it works:
Create an account here. You get a free 14-day trial.
Sign into your account and add a project. Fill out the details of your website and add the keywords you are trying to rank for:
The SerpRobot bots will get to work, searching Google to see where your blog posts or pages show up.
Once it's done, you can view your ranking positions in this table view:
The table shows the keyword, ranking position, keyword volume, and the URL.
When you know which articles are performing best on your blog, you can focus more of your attention on this type of content.
Try SerpRobot Here
---
13. Post content on Medium
Medium is a publishing platform who calls themselves "the YouTube for writers," and receives around 143 million monthly visits.
That's a lot of traffic. And we can take a slice of this to increase blog traffic.
To be successful on Medium, you'll need to commit to the long game.
Like other platforms, such as Twitter, Pinterest, YouTube, or Facebook, posting a few pieces of content and abandoning ship won't be enough.
You must be consistent.
That being said, there are several actionable tips you can follow to improve your chances.
Here are just a few:
Publishing on a Saturday morning can increase your chances of standing out
Include images to make your stories more engaging
Add tags to your articles
400 words and up are usually the most popular
Don't forget to link to the articles you publish on your own blog to get a steady steam of traffic.
---
14. Create a YouTube Channel
Want to take advantage of YouTube's 14.3 billion visits per month?
Then why not create a YouTube channel?
All you need to do is turn your blog posts into videos and upload them to the platform.
You can get a decent amount of blog traffic and potentially grow an additional income stream.
That's right. If you grow your channel to 1000+ subscribers and 4000 watch hours, you can monetize your channel with ads.
To make the most of your video creation skills, follow these simple guidelines to grow your channel fast:
Replicate what already works
Find channels in the same niche as you and view their top videos:
Recreate these videos in your own unique way and you'll show up in the suggested videos section:
Use keywords that people search for
Use a tool like vidIQ to see which keywords people are searching for:
Then target these keywords in your video title, description, and tags.
Add links to your blog
When you publish new videos, you can add links in several places.
Mainly in the description and the comments. And you can pin the comment so it stays at the top.
And, don't forget to add a link to your profile header:
Ask people to subscribe
Asking people to subscribe is like adding a call to action button on a landing page.
Sometime, if you don't ask, you don't get.
Mention other videos to keep people watching
When recording a video, mention previous videos you've already published and add a card for people to click on.
It will make people want to subscribe to your channel because of your valuable content.
---
15. Start a Podcast
The more places you publish content, the more opportunities you'll have for driving blog traffic.
And a podcast is one of those opportunities.
Podcast experts tell us that starting a podcast is one of the easiest and most affordable ways to grow an online business.
All you need is a laptop or mobile device and a mic, which you might already have. And unlike writing and publishing articles, podcast episodes can be faster to produce.
You just have to find some topics to talk about by looking at the top-performing podcast episodes in your niche.
Then share your unique perspective on the topic.
Here's an excellent video by Pat Flynn with a detailed tutorial:
---
16. Get Interviewed on Other Podcasts
Starting your own podcast might be a smart way to drive more traffic to your site, but being a guest on other podcasts takes it to another level.
When you're invited for an interview on others' podcasts, you are potentially being exposed to a wider audience.
That's because many podcasters have already built up a following. And you'll almost always gain a backlink from their website.
That not only gives you a traffic boost but also a domain authority boost, which will improve your SEO positions.
To get interviewed on podcasts, follow these simple steps:
Find relevant podcasts by browsing iTunes or doing a Google search with the keywords, "best [your niche] podcasts."
Choose the podcasts to reach out to. Make sure they regularly have guests and a big audience. You can gauge this by their number of reviews.
Find the podcast owners' contact details using Hunter.io (or one of the great Hunter IO alternatives) and send them a pitch.
Make your pitch high-quality and respect the podcasters' time.
The more they resonate with your story (make it brief), and think you're right for their audience, you'll get a higher response rate and more invites.
---
17. Repurpose Your Content
Creating content and only posting it in one place is a huge waste of potential.
Instead, repurpose your content on multiple channels in a variety of ways. This will give you the biggest return on the time and effort it takes to create content.
Here's a bulletproof strategy to follow:
Write a Medium article that covers a broad range of topics you write about on your blog. Then link to multiple articles on your blog from the Medium post.
Then turn those articles you published on your blog into YouTube videos.
And you could even take the audio from the YouTube videos and publish them as a podcast.
Next, take some ideas you shared in the articles and add them to a Tweet Deck for automatic publishing to your Twitter account.
Last, take the YouTube videos and turn them into a free Udemy course.
More on getting traffic with a Udemy course later.
---
18. Automate Internal Links Between Your Articles
Internal linking might be the least-used marketing strategy available, yet yield significant results.
That's because content marketing is so effective at building trust, improving conversions, and generating more traffic to your blog.
But when you have tons of published blog posts that don't link to each other, you're preventing search engines from recognizing their value.
What you need to do is insert 2-5 links from each of your articles to your other articles. But, it can take some time if you have a lot of articles.
To speed up this process, use a plugin such as Link Whisper to do the heavy lifting for you.
Once installed, it searches through your articles and makes internal linking suggestions.
Instead of sifting through articles to find a relevant keyword to interlink to the right blog post, it automates the whole process for you.
Try Link Whisper
---
19. Host a Contest or Giveaway
Everybody loves a giveaway. The chance of winning an epic prize for little effort is appealing to most of us.
And you, as a blogger can use them to get tons of traffic.
Here's how it works.
Using a plugin called RafflePress, you embed the contest sign-up widget to a blog post announcing your giveaway.
People enter the contest by entering their email, but that's not all. They also have the option to enter multiple times for extra entries.
They do this in a variety of ways, including:
Following you on social media
Subscribing to your YouTube channel
Sharing the contest on social media
Emailing the content with others with a special link
You can define how many entries they get for each action they take.
The best way for them to get entries is referring it to their friends. This is what can make your contest go viral.
Your contest will have more success if the prize is something valuable and relevant to your audience.
Get RafflePress Here
20. Add Your Two Cents on Reddit
Marketing on Reddit is something only the bravest marketers attempt.
That's because everyone knows how much Reddit users hate marketers.
Still, it doesn't stop us from sharing our words of wisdom from time to time.
The fact is, Reddit is the 9th most used social media platform in the U.S. and has 430 million monthly active users.
Join the site and create some educational posts, ask questions, and give your two cents build some traction.
---
21. Post on Other People's Blogs
Also known as "Guest blogging," this has been a strategy growing a blog since the beginning of time, it seems.
The process is simple:
Find blogs in your niche that already have a following and traffic
Reach out to them and pitch your guest post idea
When accepted, write the post and send it over
That's it!
To make this work, you'll need to reach out to a lot of bloggers and study the right type of content their audience would love.
You'll get more accepted guest posts and a higher percentage of traffic.
---
22. Create Content for Google Discover
Google Discover content is the suggestions made on Google and Android devices, based on the users' search behavior.
It's a tool for helping people keep up to date with content they would be interested in.
And the best part?
As long as your website is optimized well, there's nothing you need to do to show up in the Google Discover feed.
If you want to learn more, then check out our article, How To Optimize For Google Discover.
---
23. Track Website Performance
Applying all these tactics won't matter if you don't know which one is working.
That's why you must track your performance.
You can do that with Google Analytics and reading my other article, Google Analytics for blogs.
In summary, you create a GA4 account, add a Google analytics plugin, and you're good to go.
When you implement a strategy, you'll know whether to keep at it or try something different.
---
24. Start a Newsletter
It's a well-known fact that more than 70% of your traffic will never return to your website.
But capture their email with a free lead magnet or irresistible newsletter and you're onto a winner.
That's because you can keep on engaging with your email list, a bit like you would on your social media channels.
The difference?
Email marketing almost always outperforms social media marketing by a longshot.
According to a Derek Halpern, after performing a test between Twitter, Google+ and his email list, the results were staggering.
In the space of one hour, he received 50 clicks from Twitter, 75 clicks from Google Plus, and 1200 clicks from his email list.
The bottom line is that email is a powerful and effective way of sending targeted traffic to your blog.
---
25. Answer Questions on Quora
Did you know Quora has over 300 million active users?
You know what that means?
Millions of people are actively using the platform:
To get their questions answered
To learn something new
Or for entertainment
And you could be one of those experts who answers their questions and provides them with what they're looking for.
Here's how it works.
Search for a topic you specialize in and choose a question to answer:
Click on the Answer button and start writing: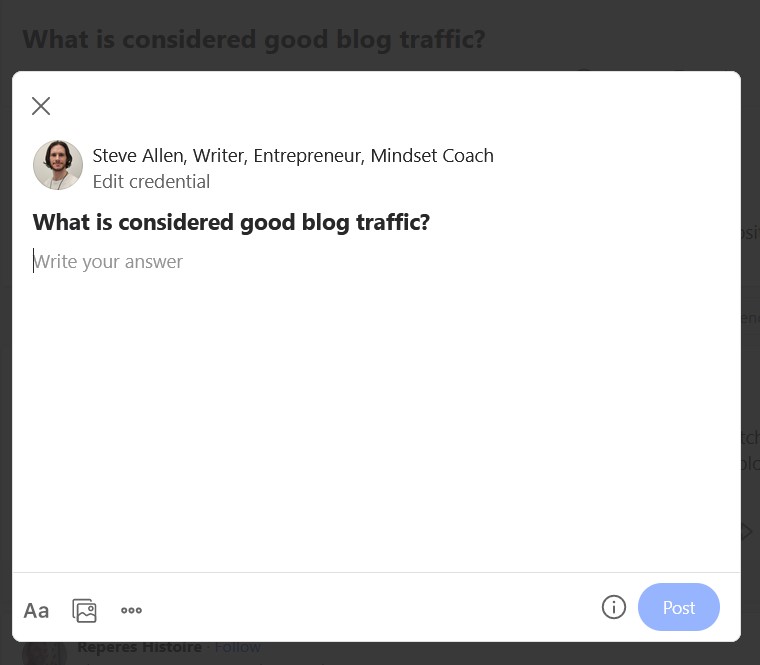 The key with Quora, like any form of marketing, is to provide value (check out our guide on how to earn from Quora). And for best results, answer questions every day.
You also want to format your answers like you would with a blog post, using bullets points, images, bold text, and quotes (learn how to create an optimal blog writing format here).
And, don't forget to add links to your blog. You'll start gaining traction after a few weeks of consistent publishing.
---
26. Add Push Notifications to Your Site
Push notifications are those popups you see on some websites, asking if you want to be notified of new posts.
If you already get a sizable number of visitors, this could be an opportunity to bring some of them back when you post new content.
All you need to do is add a WordPress plugin. The most popular one is called OneSignal.
Once it's installed, you'll need to create a free account. Then, it'll connect your API key to the plugin and you can switch on the popup for your readers.
Now, when people show up on your blog, they will be able to opt-in to Push notifications in their browser every time you publish an article.
---
Make the most out of your old blog posts by sharing them with your social accounts.
The best about this tip is that the content is already written.
And you can even automate the process with a clever plugin.
Revive Old Posts is a free and premium WordPress plugin that does exactly what the name suggests; revives old post.
Doing so can give you a boost in blog traffic, without you lifting a finger.
Get Revive Old Posts Here
---
28. Take part in Online Forums
There are thousands (maybe even millions) of forums online. And using them to your advantage could bring that extra needed traffic.
Not to mention, find more people to grow your audience.
Some of the most popular forums are Quora and Quora alternatives, but they are quite broad.
A better forum to drive some traffic is a niche forum.
Forums that specialize in a niche will have more engaging members. Even if they have fewer members, you can still get decent results.
To find your own niche forum, search Google for "[niche] + forum" or "best forums for [niche]."
For example, if your niche is yoga, you would type *best yoga forums*, sign up, and start contributing.
---
29. Create a Facebook Group
Facebook groups are a great way to provide support for your audience and to build a thriving community.
It's also an excellent way to drive additional traffic to your blog.
Growing a thriving Facebook group is no small feat, but to keep your members happy, here are a few guidelines to follow:
Avoid only posting the articles you publish
Provide value and offer support
Try to be active in the group every day
Share content created by other bloggers and creators
Avoid turning your group into a place dedicated to promoting yourself
When you use your Facebook group for help and support, your members will be more engaged when you share your blog posts.
---
30. Hijack Someone Else's Newsletter
I recently heard a strategy being used by Chris Von Wilpert of Content Mavericks, where he promotes his lead magnet in other people's newsletters.
It's like guest posts, only better.
It works by partnering with other bloggers in your niche and promoting each others' lead magnet.
It's kind of genius really, because once you have people on your list, you can share your blog content and market your offerings.
To pull this off, you need to have already built an audience yourself, otherwise there won't be any incentive for people to partner with you.
Then, it's all about getting your pitch right. Do this step well and you're off to a great start.
---
31. Self-Publish a Kindle Book
Want to write your own book?
Well, this is possible for anyone these days thanks to Amazon Kindle Direct Publishing (KDP).
And if you give your readers an incentive to go to your blog, this will certainly increase your traffic.
You can offer anything from another book to a discount on your products or services.
---
31. Use Paid Search
The most popular way to advertise with paid search traffic is through Google Ads.
As long as you understand how to run paid search ads, there's no faster way of driving traffic.
The only downfall is that it costs money, but it doesn't need to be hundreds or thousands.
The trick is to find low competition keywords that have a high amount of searches.
Set yourself a daily budget and see your traffic pouring in.
---
33. Launch a Free Course on Udemy
Udemy is one of the largest online course platforms on the internet.
The platform has over 40 million active users and 70,000 instructors (learnopoly.com) teaching anything from web development and marketing to personal development and yoga.
Apart from using Udemy as an additional revenue source, you can launch a free course to build brand awareness and drive traffic back to your website.
If you market your course well on other platforms and provide substantial value, it will also help you gain trust and credibility for your brand.
To get traffic to your blog from Udemy, you can create an instructor's profile and add a to link to your website.
Following their guidelines, you may promote other links in your last course lecture, which need to include the word "bonus".
This link can be anything you link. You blog, a landing page to capture leads, or to promote a paid course you offer.
Here's a great example by instructor Vanessa Van Edwards who offers this free course called, "7 Scientifically Proven Steps to Increase Your Influence".
It has over 300,000 enrolled students and 25,000+ reviews. If only 1% of her students were to visit her blog or website, that would be more than 3,000 visitors.
Conclusion: How to Increase Blog Traffic
Phew! That's a lot of ways to increase blog traffic. Of course, you may not need to try all of them, because 2-3 decent traffic sources could be enough.
Which ones will you try?
Don't forget, traffic isn't everything. Conversions are also important, as is your ability to play the long game by developing a strategy and sticking to it.
The bottom line; try one thing at a time, go all in for a few months and monitor your results. Then rinse and repeat until you find what works best for you.
Want to learn step-by-step how I built my Niche Site Empire up to a full-time income?
Yes! I Love to Learn
Learn How I Built My Niche Site Empire to a Full-time Income
How to Pick the Right Keywords at the START, and avoid the losers
How to Scale and Outsource 90% of the Work, Allowing Your Empire to GROW Without You
How to Build a Site That Gets REAL TRAFFIC FROM GOOGLE (every. single. day.)
Subscribe to the Niche Pursuits Newsletter delivered with value 3X per week