8 Best Amazon Alternative Marketplaces to List Your Products On Today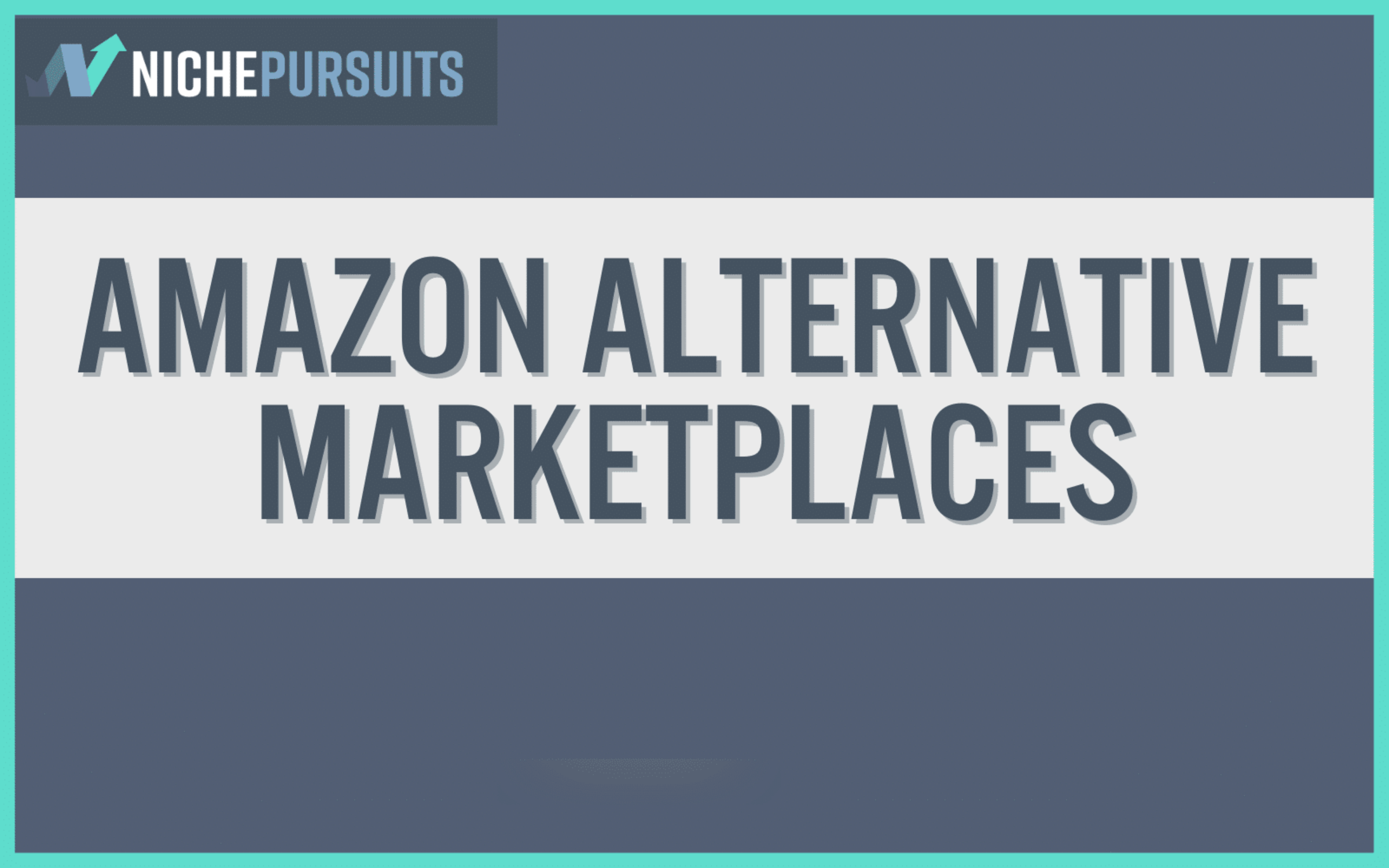 When you buy something through one of the links on our site, we may earn an affiliate commission.
As the world's biggest marketplace, Amazon is often the first choice for many small businesses and online sellers. There's no arguing that Amazon dominates the eCommerce industry, so why would you want to consider Amazon alternative marketplaces? 
Well, for one, finding the best site to sell your products is related to understanding your market and the behavior of your consumers.
With the headlines about Amazon's environmental impact and its poor employer rating, more and more buyers are interested in looking for alternatives to support.
Depending on your business, there are lots of reasons why Amazon just doesn't make sense. It's often viewed as a one-size-fits-all eCommerce marketplace.
But the truth is, there is a wide range of Amazon alternatives that could be better suited to your brand. Check out our list below!

Why You Should Consider Selling on an Amazon Alternative
If you've been looking into how to make money on Amazon (or you already have been), one reason why you may be looking for an Amazon alternative is to diversify.
That's totally fine. You can be an Amazon seller (and make lots of money) and still choose to also sell somewhere else.
In fact, you're probably better off listing your products in more than one place.
It's not unheard of for a seller to have their Amazon account blocked, or for other issues to occur. Having your products listed in more than one place means you're not missing out on all of your potential customers while you clear up any issues. 
However, there are also a few key reasons why you might choose to list with a cheaper or more ethical alternative instead of Amazon. 
1. Better For the Environment
It's no secret that Jeff Bezos and his Amazon empire is a major blow to the environment. The environmental cost of Amazon Prime benefits (such as expedited shipping) is staggering.
The negative environmental impact of the company is one of the leading reasons why consumers are shifting away from the eCommerce platform in favor of more sustainable options. 
If you're a small business selling sustainable or eco-friendly products, selling on Amazon is an oxymoron. To resonate with your potential customers, you're much better off listing your products on an eco-friendly marketplace. 
2. Less Competition
One of the bonuses of Amazon for the buyer is the sheer quantity of products available. Unfortunately, this is actually a negative for the sellers.
With over 9 million sellers worldwide, you're looking at some intense competition no matter what you're selling.
Since Amazon is a global company, you need to consider how global markets influence your ability to sell on the platform. 
3. Greater Flexibility
While Amazon limits how you can set up your storefront, plenty of online alternatives give you more freedom in designing what your customers see. Different marketplace platforms will also allow you to create custom fields in your product posting.
In addition, being an Amazon seller means you are subject to the whims of their policy updates. You have little to no control over the terms of your sale or your listing and any breach in the terms could see your Amazon account banned. 
4. Lower Fees
Amazon's fee structure has evolved since its inception, much to the frustration of many Amazon merchants.
An Amazon seller needs to be prepared for subscription fees, referral fees, listing fees, and more, which add up quickly.
For small businesses just starting out, these can be pretty hefty. Additionally, if you're selling low-value items, the fees can be a significant amount of your profits. 
With so many additional fees, Amazon is one of the most expensive online marketplaces to list your products.
5. Payout Options
Any Amazon seller will tell you that payouts from Amazon are made via ACH (electronic funds transfer) bi-weekly and can take as long as five days to clear.
For a small business that needs to balance its funds, waiting for that payout can cause problems.
Alternative marketplaces can offer more support for different payment methods and better payout schemes. 

What to Consider When Choosing an Amazon Alternative
When deciding what to sell online to make money and where to sell it, you need to consider what will work best for you and your business.
To that end, here are some of the factors to keep in mind when choosing the best alternative marketplace.
One of the most important aspects of the platform you should consider is how easy it is to use. Consider this from your perspective as the seller, but also keep in mind how easy things are for the buyer.
You'll want to make sure you understand how to create listings and that they aren't too time-consuming.
Also, the site should be easy to navigate and the processes for adding items to the cart and checking out should be straightforward. 
One of the benefits of Amazon is that it is fairly straightforward for new users. With integrated tools like Amazon SES (Simple Email Service) and FBA (Fulfillment by Amazon), you don't need to manage a bunch of different accounts to conduct your business.
For that reason, looking for a viable alternative that offers many of the same features as Amazon for a fraction of the cost can be a major advantage for your business. 
Some alternative marketplaces offer better analytic dashboards for you to gauge how well your business is doing. For sellers that are just starting out, this can be really helpful in understanding your market and the future of your business. 
You need to weigh the costs of different Amazon alternatives to find which platform works the best for you. You should calculate the total amount it will cost you to list your products against potential profit. 
As mentioned, Amazon sellers are subject to a host of fees (plus one of the best Chrome extensions for Amazon seller). For example, a professional selling plan starts at $39.99/month with extra fees on top of that.
However, perks like Amazon FBA services mean you can save money on things like storage. 
As always, it's important to consider your market to decide what platform will reach your target audience best.
Part of this is understanding consumer habits. Make sure you understand what demographic you're targeting and do some research to find out which Amazon alternative is most suitable for them. 
For example, buyers looking for handmade or vintage goods are more likely to search Etsy than Amazon.
The Best Amazon Alternatives For Sellers

Marketed as the place to "find everything but the ordinary," Bonanza is a seller-centric online marketplace. Though they don't boast as many users as big names like Amazon or eBay, Bonanza is up and coming as a great space for budding entrepreneurs to build their brand. 
In comparison to Amazon, Bonanza is a platform more focused on helping sellers build their brand by creating repeat buyers.
To that end, they offer more flexibility and customization options when it comes to setting up your storefront.
In addition, they offer a powerful custom marketing tool that allows you to store and filter data about your buyers and how best to remarket to them.
Pro Tip: The seller dashboard also includes insight into the performance of your products so you can project future business.
Benefits
No transaction fees
Great marketing tools
Customize storefront theme
Google integration
Synchronize with Amazon, eBay, and Shopify
First-class customer service
To clear up any confusion, Alibaba and AliExpress are sister sites run by the same owner, Alibaba Group.
Alibaba focuses more on business-to-business (B2B) wholesale whereas AliExpress is better suited for business-to-consumer (B2C) sales. 
Both Alibaba and AliExpress offer different perks for your business. Do some research to find out which platform is better suited for what you're selling and who you're selling it to. 
Alibaba vs. AliExpress
AliExpress is the Amazon alternative of the East, operating in much the same way. In fact, AliExpress is perhaps the platform most likely to compete with Amazon in the eCommerce world. 
One major drawback of AliExpress is the substantial set-up fee. However, in exchange, AliExpress offers low commission and low annual service fees once you reach a certain amount of sales. 
Benefits
AliExpress shipping plus a variety of different shipping options
AliExpress Dropshipping similar to Amazon FBA
Ability to customize storefronts
Lower fees
Pro Tip: Just like on Amazon, dropshipping from AliExpress is easy. If you want to find out more about how to build your dropshipping business on AliExpress, check out our complete guide.
AliExpress Dropshipping
Known as the go-to marketplace for vintage and handcrafted goods, Etsy needs little to no introduction. It's a great Amazon alternative for sellers with niche products and offers low fees plus greater opportunities for customer interaction.
Unfortunately, Etsy is only suitable for products that meet their strict product specifications. For that reason, it's not a viable option for anyone selling mass-produced products or looking to go down the dropshipping route. 
On the flip side, the platform is the most affordable option of the Amazon alternatives.
Basic fees start at just $0.20 a listing and premium benefits like Etsy Plus are only $10 a month. While there is an art to knowing how to make money on Etsy, the low fees mean your potential profits could be higher.
Benefits
5% commission and low listing fee
Customer list allows for more personal interaction
Great option for beginners and niche sellers
Ability to design your own storefront
Pro Tip: Etsy uses your product title, description, and tags to rank your listing. Using appropriate tags can make a big difference in terms of visibility and sales. To make sure you get the most out of selling on Etsy, I recommend you use a tag generator when creating your listing. 
Etsy Tag Generator
Probably the obvious Amazon alternative, eBay has been around since 1995 and boasts upwards of 159 million buyers in one quarter.
While it may have started out catering to the collectibles market, eBay has grown substantially since its inception and is now many people's go-to site for a great bargain. 
However, businesses that still deal in collectible or unique items will have an advantage on eBay compared to other marketplace alternatives thanks to the auction feature. In some cases, being able to list your product for auction can help drive up potential profits.
Additionally, since eBay is already an established marketplace, you have the benefit of a pre-existing built-in audience when listing your products.
Benefits
24/7 customer service
Multiple payment options including PayPal, Apple Pay, Google Pay, and credit/debit card or local collection
Low listing fees
Worldwide shipping options
In the last ten years, Newegg has gained a lot of traction as the top marketplace for tech products. However, the platform does handle a wide range of categories including apparel, home decor, and lifestyle sections. 
That said, businesses looking to attract a tech-savvy audience may do best on this Amazon alternative.
In addition, Newegg offers a dedicated customer service team that specializes in handling tech queries and discussing specifications. 
Pro Tip: Similar to Amazon FBA services, Newegg offers a multi-channel fulfillment option. This means you can save on storage and the stress of distribution by using Newegg centers to manage your orders.
Benefits
Useful for both B2B and B2C
Specialized customer service
Customizable marketing options
Capped commission rates
A relatively new eCommerce platform, Walmart has branched out from its chain of retail stores to bring you a third-party seller online marketplace.
Though still ironing out some kinks in the process, Walmart experienced massive growth of 74% in sales during the pandemic, indicating that they are well on their way to matching Amazon in the eCommerce world. 
The biggest appeal to selling on Walmart's marketplace is not only the massive built-in audience but the free seller account and competitive referral fees.
However, on the downside, you can register your interest in selling on Walmart Marketplace but will need to go through their process of approval before receiving an invitation to join their group of sellers. 
Benefits
Free 2-day shipping
Fulfillment services
Competitive fee structure

If you're looking for an ethical alternative to Amazon, Package Free Shop is the most comparable option.
Responsible, sustainable, and eco-friendly businesses have to consider where they can best reach their target demographic. Package Free Shop offers an online marketplace dedicated to zero-waste products. 
However, unlike Amazon or eBay, you don't list your products independently on their site. Instead, Package Free Shop will buy the stock that they want from you at wholesale and list the products themselves.
Benefits
Eco-conscious consumer base
No need to handle invoicing and shipping to individual customers
Environmentally-friendly
8. Create Your Own Online Store
If you're looking for an Amazon alternative that is more customizable to your brand, your best alternative might be to create something yourself.
Amazon can be appealing because it doesn't take much time or tech know-how to get started and you have the benefit of pre-existing site traffic. 
However, having your own eCommerce store is important for scaling your business. It is the only platform where you will have complete control over what you sell, how you sell it, and how much you sell it for.
In addition, selling via your own online store can be:
More affordable
Offer better branding
Better for building relationships with customers
If you're ready to set up a custom eCommerce site, you have two main options. You can either use a website builder, like Shopify, or code your own site using WordPress and an eCommerce plug-in.

Using a website builder like Shopify is the fastest way to get your own eCommerce site set up.
Additionally, Shopify is one of the most robust eCommerce platforms available for beginners, as we outlined in our Shopify review. 
Offering a ton of built-in features and marketing tools, Shopify can help you build and scale your business in ways that an online marketplace like Amazon can't. If you're interested in this route, check out our post on how to make money on Shopify.
With Shopify, you get the benefit of powerful inventory and marketing tools combined with an easy-to-use editor to customize your site.
What's more is you can use your Shopify account to synchronize selling across multiple platforms such as Facebook, Instagram, Amazon, and eBay. 
They offer all-inclusive plans for as low as $9/month and more expensive options for bigger businesses looking for more features. 
Pro Tip: Shopify offers a 14-day risk-free trial for new users so you can see if the platform works well for your needs before committing to any costs. 
Check Out Shopify

WordPress + WooCommerce
The other option is to create your own custom site using WordPress plus an eCommerce plugin, like WooCommerce. We have more information on that in our WooCommerce review.
You can even create your very own online marketplace on WordPress if you think you can create the next Amazon alternative to rival Jeff Bezos. For a how-to guide on that, check out how to start a marketplace website using WordPress.
Setting up on WordPress will require a little bit more user knowledge than a website builder like Shopify. However, the benefit of using WordPress is that you have ultimate control over the entire site and can scale accordingly with your business. 

Sell on Social Media
If you don't want to put the time in to set up a dedicated eCommerce site, you can opt to market and sell your product through your social media accounts.
Both Facebook and Instagram offer options for brands to sell their products through their platforms. You can even plug your products from Twitter, Snapchat, Pinterest, TikTok, and YouTube. 
These days, consumers rely on social media for information about new brands. In addition, people are more likely to buy from a brand that they've seen recommended on social platforms.
Combined with the element of convenience for shoppers because they don't have to leave the webpage/app, social selling offers free access to a massive market.  
Finally, the increased engagement that social media offers allows you to build a better relationship with your customers. It also means you can build brand awareness and visibility even without selling. 
Pro Tip: Platforms like WooCommerce and Shopify can offer seamless integration with your social media shops.

Use Google Shopping to Promote Your Products
No matter where you plan to sell your products, consider using Google Shopping to help market your items. In fact, Google comes second only to Amazon when it comes to product searching but even then, it offers a better conversion rate. 
Google Shopping is one of the best ways to get your brand in front of your target demographic.
It's the product subsidiary of the Google search network so it reaches millions of people every day. While it used to only be for sellers that had Google Ad accounts, it's now open to anyone.
To get started, set up a Google Merchant Center (GMC) account and you can sync products either from your marketplace storefront or dedicated eCommerce website. 
Get Selling!
Amazon is one of the most reliable platforms for sellers to start out on. However, their complicated fee structure and lack of customization options mean it isn't always the best choice for your small business. Plus, not everyone wants to support Jeff Bezos and I get that. 
There are plenty of Amazon alternative online marketplaces for you to consider that offer competitive pricing and helpful reporting tools to help you grow your business. Other options can also help you scale your business better and interact with your customers on a closer level.
Want to learn step-by-step how I built my Niche Site Empire up to a full-time income?
Yes! I Love to Learn
Learn How I Built My Niche Site Empire to a Full-time Income
How to Pick the Right Keywords at the START, and avoid the losers
How to Scale and Outsource 90% of the Work, Allowing Your Empire to GROW Without You
How to Build a Site That Gets REAL TRAFFIC FROM GOOGLE (every. single. day.)
Subscribe to the Niche Pursuits Newsletter delivered with value 3X per week