101 Ideas of What to Sell Online to Make Money Fast: The Ultimate Guide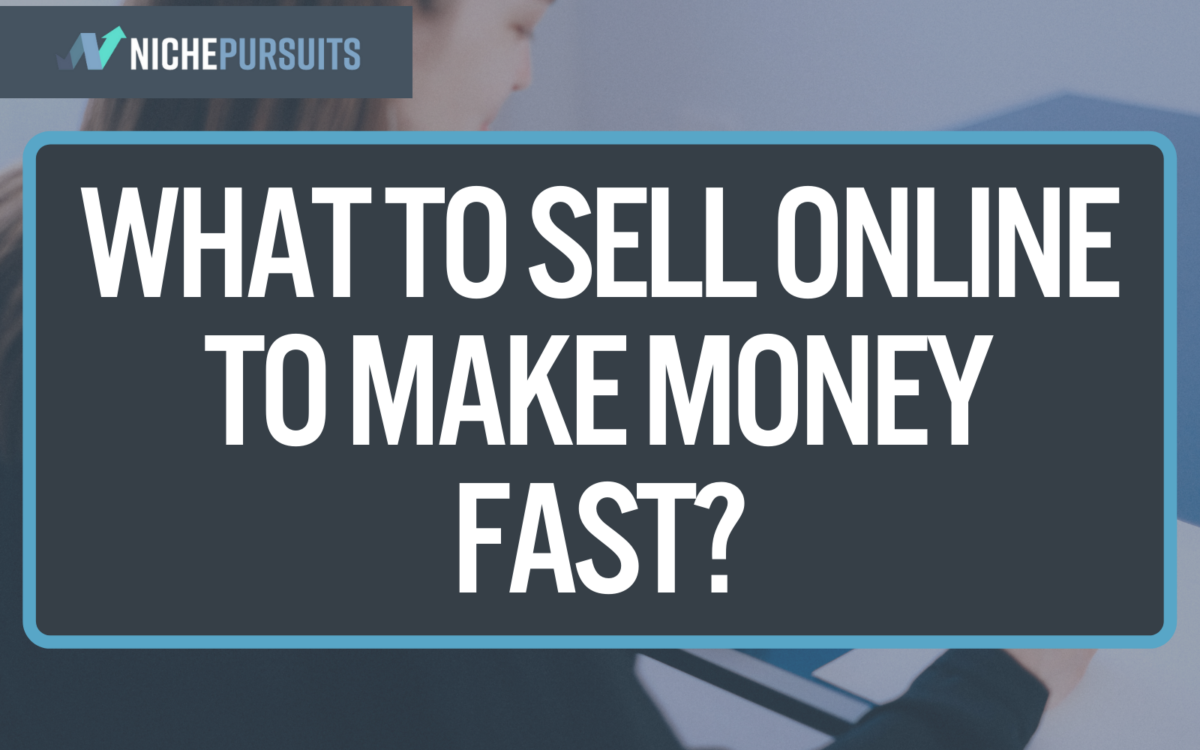 When you buy something through one of the links on our site, we may earn an affiliate commission.
Being an entrepreneur is an attractive proposition. Not only do you get to set your own hours, but you get to dictate what you sell and how much money you make. 
With that in mind, it's no wonder why nearly a quarter of Americans want to be their own boss. 
But you don't need several million dollars to start a franchise; the next billion dollar idea may be hanging in your closet. Or in your kitchen. Or in your garage. The only thing you have to do is find it.
Do you know what to sell online to make money fast? These 100+ ideas will help get your creativity going. 
Can I Sell Things From Home?
With the rise of e-commerce platforms, it may surprise many of us to think that selling items from home isn't a new proposition. 
For centuries, shop owners lived in the back part of their stores, selling their wares "from home." And when they did leave, they usually took their items to a common area, such as a market.
Today, the "market" can be anywhere you want it to be. A number of third-party platforms allow you to sell on their site, including popular outlets like Amazon, Etsy, or Ebay, or you can open up your own store. Shopify, Woocommerce, Square — all of them allow you the flexibility to build your own brand.
Knowing where to sell online is just half the battle, however. Knowing what to sell online to make money from home is where the real challenge begins.
Nearly all of the items below can be sourced with zero to minimal upfront costs. You may have to buy some supplies, but you shouldn't have to head to the bank for a business loan. 
Look through the list and find ones that you think you will enjoy the most. This can clue you into what to sell online to make money. 
Services
Instead of selling items, why not sell your time and expertise? Chances are, you're more proficient in a few of these than you think and can offer others valuable skillsets. 
Technology may be changing, but one thing remains the name: the need for content. 
Scheduling
From Tik Tok to Linkedin, social media is changing the world. People will hire you to help them be a part of it.
Virtual Assistant
Who doesn't need someone to help them with scheduling and everyday tasks? Usually the people that need this skill are willing to pay well for it too (and you may be interested in our list of other high income skills as well).
Website Creation
It's no longer about HTML and Javascript; website design is about SEO and usability. Master that and you'll never run out of work.
Email Writing
Think email is dead? Think again. Email marketing has one of the highest ROI's of all available channels — nearly $36 for every $1 spent.
Calligraphy
I have terrible handwriting, but if you don't, you should charge for it. Wedding invitations and holiday letters are just two things people will pay for.
Tutoring
It's hard to put a price on one-on-one education, but most tutors charge  anywhere from $25-50 an hour.
Translation
The world is becoming more connected, and businesses need to take their message global. Those who can translate the message — instead of just the words — stand to profit.
Transcription
Part of content writing is taking interviews and putting them in written form, but there's lots more transcription opportunities to choose from.
Graphic Design
Becoming decent at design is hard enough, but it takes years to become an expert. Leverage that skillset as a freelancer to help startups and other entrepreneurs.
Personal Coaching
Tony Robbins is worth $600 million. Still think personal coaching isn't a viable service you can offer?
Editing and Proofreading
Self-publishing is taking off, and it's not just writers who are benefitting. Those who can edit and proofread their books will be along for the ride too.
Consulting
Every business needs an outside eye, especially from a trained professional. Can you help?
Your Opinion
From surveys to usability studies, market research firms are always looking for valid opinions from potential users.
Child Care
This is literally the definition of work from home. Open up your home to busy parents and marry your love for children with your entrepreneurial dreams.
Your Solutions
Can you solve riddles? Do you love tackling complex challenges? If so, platforms like Innocentive will pay you thousands.
Research Assistant
If poring over old files and scouring the internet for facts seems like a dream job, you might have a future as a research assistant. Everyone needs stats like that, but most don't want to put in the time to look it up themselves.
Remote Interior Design
Not only is this service valuable, but it's accessible with services like Skype and Zoom. You can offer remote planning sessions and even furniture shopping as services.
DIY
Are you handy in the garage? Handmade items can fetch a premium price, even if you're able to create a process that minimizes the time it takes to make them.
Keychains
These days, keychains aren't just decorative. They're also useful. You can create safety keychains with whistles, glass breaks, and even self-defense weapons. 
Soap
You don't need to start a fight club to make soap. All you need are a few everyday ingredients and some elbow grease.
Candles
Candles are a $3.14 billion dollar business, much of which comes from specialty shops. Even a slice of that could make you a rich person.
Bath Bombs
Looking to relax? Create a single, amazing bath bomb, or a line of them to sell from home. Find a good bomb, and you'll have repeat customers for life.
3D Printed Items
Several years ago, 3D printers cost a lot of money. Now, you can buy one for a few hundred dollars. Once you have the design and supplies, it's like printing money.
Wood Carvings
No matter how advanced the world becomes, wood never goes out of style. You can make picture frames, toys, and statues — whatever tickles your fancy. There are tons of wood items you can consider when learning what to sell online to make money from home with your talents. 
Jewelry
Whether it's bead-based or lab-grown diamonds, jewelry can sell for several times more than its cost.
Holiday Decorations
Christmas is the obvious choice here, but why not sell items related to the Fourth of July and St. Patrick's day too? 
Candy
Take grandma's secret cookie recipe and make millions!
Bike Saddles
It's not as hard as you may think, but custom designs and patterns can serve a very passionate niche.
Bookcases
People who collect books often put a lot a thought into how to display them as well. 
Personalized Spoons
These make great gifts or display pieces. If you don't have the materials to do it, outsource it and ship direct.
Dog Treats
Dog owners are a unique breed (no pun intended). They love to spoil their furry friends, and that means ample business opportunities for you.
Enamel Pins
Easy to make, easy to ship, easy to sell for several multiples. Offer customization options and watch the money pour in.
Natural Cosmetics
Skin care is one of the hardest industries to break into, but it's also one of the most lucrative. Take your homemade concoctions and carve out a brand for yourself.
Gift Baskets
Whether it's an executive level treat or a basket representative of your hometown, gift baskets fill a need. You can even charge a premium on convenience, such as rushed shipping and personalized notes. If you need to know what to sell online to make money, gift baskets allow you to sample several different products all at the same time. 
Picture Frames
With thousands of different sizes, colors, and matting options, customized picture frames are worth their weight in gold.
Rental 
You don't have to actually sell anything to make money online; sometimes you only need to rent it. Fortunately, there are a lot of options that you may not have thought of before.
Storage Space
For the right person, even just a few extra square feet in your garage may be enough to store a bike or spare totes.
Guesthouse
If Aunt Edna hasn't been around in a while, why not turn her guesthouse into a revenue-generator? Sites like Airbnb make it super easy to rent out extra space for top dollar.
Your Car
Uber and Lyft are popular ride-sharing services, but you can't really do that "from home." Turo, on the other hand, acts like Airbnb, but for your car. Visitors can rent it for a day or more, which is not bad if it's sitting idle anyways.
Sporting Goods
Old sports gear that you want to keep can be rented out to parents looking to outfit their kids on a budget. Online marketplaces make it easy to rent golf clubs, water skis, or tents for part-time enthusiasts.
Your Money
Warren Buffet has made close to $100 billion from his investments, but that's not the only way to put your money to good use. Peer-to-peer lending services like Prosper allow you to generate healthy annual returns on minimal work. 
Musical instruments
Did you know that a new French Horn can cost upwards of $3,000? That's a lot for a beginner who may or may not stay with it. It's much cheaper to rent instruments instead, which is significantly less expensive.
Parking Space
People who live or work in crowded downtown areas are always on the lookout for parking spots. If you have a spare spot, you can rent it for $100 or more a month.
Advertising Space on Car
Depending on where you live, you can rent out the unused space and get paid to advertise on your car. It's surprisingly lucrative; some people make $300-600 a month.
Truck
If you've ever been that friend that has to help everyone move because you're the only one with a pickup, you know the pain. Rent it out instead and save yourself the backache.
Boat
Boats are amazing, but they're also expensive and difficult to maintain. An easy way to offset that cost is by renting it out to weekend sailors who just want a few hours of fun in the sun.
Bicycle
Cyclists are passionate about their sport, but those who are looking to dip their toes in the sport may not be ready to buy just yet. Renting your ride to more casual riders is a fun way to introduce others to the sport.
Bounce Houses
What's a kid's party without a bounce house? It'll take a bit of startup capital, but you can charge a few hundred dollars per hour once you've got the initial investment.
Clothes
Baby clothes, teenage clothes, pregnancy clothes — you name it, people need it. And if it's only for a few months, it's cheaper to rent than buy. Take advantage of the market and sell your old clothes online.
Baby Gear
New moms spend an average of $12,500 per year on a child. You can recoup some of those costs by selling items that your own children don't need anymore.
Your Backyard
Whether it's a tent or a full-on rental unit, all that space in your backyard can be rented out. As long as you don't mind the foot traffic, that is.
Camper
Like boats, RVs are expensive. Rent out yours in between trips to bring in some extra money.
Print on Demand
Print on Demand (POD) services are a gamechanger for e-commerce. While you're responsible for the website, product selection, and design, the manufacturing can be taken care of off-site. Since that's usually the most expensive part of a physical goods store, you can start an online business for peanuts, by comparison.
Below is a list of some of the most popular POD items. Platforms like Shopify allow for integrations with Printful and Teelaunch to allow for a seamless product purchase experience. Since it's automated, it also gives you a genuine source of passive income.
For best results, choose a few awesome designs and put them across all these products in your store. Upsell complementary designs and items, and focus on the marketing. 
Don't forget about the customer service, too. The manufacturing may be offloaded, but any mixups or errors are still your responsibility.
T-Shirts

Coffee Mugs

Notebooks

Coasters

Phone Cases

Laptop Skins

Doormat

Subscription Boxes

Stickers

Posters

Hoodies

Tote Bags

Yoga Pants

Pillow Cases
Digital
If you truly want to streamline your expenses, focus on creating and selling a digital product instead. When combined with POD services, you can charge several times for similar items, multiplying your income.
Platforms like Amazon FBA and Etsy are starting to offer digital services too, which allows you to leverage their brand for your sales. The only startup expense is your time.
Courses
These days, it seems like everyone is selling a course. But if you have expertise, you can make a course worth several thousand dollars. The more specific the niche and actionable advice, the more money you can make.
Planners
Everyone wants to be more organized, but the price of boutique planners is skyrocketing. Instead, let them buy the planner format and bind it however they want for much cheaper.
Bookmarks
Book lovers love bookmarks. The more creative and wacky, it seems, the better.
Recipe Books
Recipe books are a favorite heirloom for many families, which gives you the opportunity to create a premium product at a premium price. Fill it with recipes from around the world, or leave it blank for them to fill in on their own.
Art
Those photos you took on your recent cross-country ski trip are worth more than just memories. Scenic photos on canva backdrops are huge sellers. Or upload them to commission sites like Shutterstock and receive a royalty whenever someone buys it.
Ebooks
Are you the next J.K. Rowling? If not, you can still upload a manuscript to Kindle or Kobo and sell it for a few bucks apiece.
Membership Sites
People will pay to be a part of an exclusive club. Don't believe me? Check out this membership site on orchids, where people pay $5 a month to receive to receive orchid tips and methods. What tribe will you build?
Video or Animation
Youtube is the single largest social network, and marketers are beginning to take notice. If you can develop a captivating animation or video, you can sell that as a service to others. Alternatively, you can create your own video and hope it goes viral.
App Creation
To date, Candy Crush has brought in more than $5 billion in revenue. Build an equally addictive or useful app, and you can do the same.
Wedding Invitations
Wedding invites these days are more art than anything else, which makes your design skills very attractive. Leverage that expertise, create a portfolio, and watch the dollars roll in as people buy it for their own big day.
Party Games
Bingo, Yahtzee, Clue — all of these require game sheets. Make them generic (stay wary of copyright issues), and people can buy and print as many as they want. Even better, invent your own game and create a digital download for it instead!
Budget Sheets
Budgets are highly personal. The more designs you can make, the more money you'll make. This digital product is one quick way to learn what to sell online to make money fast. 
Calendars
Cat of the month, dessert of the month, joke of the month — we've seen them all. If you have a catchy idea for a calendar, you can design it and sell it. Best of all, you'll have to create a new one every year which means recurring revenue!
Music
It's easier than ever now to get your music career started. Simply upload your original song to iTunes and promote it to your fans.
Font Templates
Not everyone likes Arial or Times New Roman (like me), so we rely on unique fonts that can take our presentation to the next level.
PowerPoint Backgrounds
Effective presentation is a skill, one that requires visual storytelling from time to time. If you're a PowerPoint ninja, create a few decks and list them on digital marketplaces for those who can use them.
Audiobooks
Aside from self-publishing, audiobook creation is its own revenue beast. Audiobook sales rose 12% in 2020, and the trend is only expected to continue.
Arbitrage

Buying things that are undervalued and then selling them at a profit is a practice as old as time. But what most people don't realize is that you don't need to purchase these items. Most of them are probably in your closet or on your shelves; you just don't know how valuable they are.
One of the best places to flip items is Amazon, but you can also open your own Ebay profile or Etsy shop. Alternatively, smaller platforms like Poshmark or Mercari have been successful too. And if you want to stay local, Craigslist and Facebook Marketplace are options as well.
Old Clothes
Seasonal items and unique finds are great sellers, but so are higher ticket items like suits and vintage jeans. Check online shops to determine their value.
Books
A lot of books find their way into bookshops, but some can be worth thousands (or millions). Look for first editions, mistake printing, and rare print runs.
Old Phones
If you are able to fix electronics, you can probably make a living buying old, "broken" phones and flipping them. Just offer more than an online store would pay them and you'll have a business.
Furniture
People are always looking to offload furniture, especially if it's heavy. By reupholstering and fixing broken items, you can make hundreds or even thousands on the resale.
Dishes
Vintage dishes — especially those that are part of a collection — can sell for a lot of money. Time to clean grandma's shed!
Collections
Everything from Air Jordans to Zippo lighters and Pez Dispensers can be collector's items to the right audience. These products are almost always in high demand, so wait for the right price.
Shoes
A shoe doesn't have to be popular to be valuable. Sites like GOAT serve as an exchange for sneaker heads to trade their hard-to-find styles.
Gym Equipment
The absolute best time to sell gym equipment is right before New Years. The worst time? January 19. I'll let you  figure out why.
Gift Cards
Got a gift card for a place you'll never use? Trade it for one you will!
Textbooks
The price of textbooks is outrageous, and most students never see that money again. Hang around bookstores at the end of the semester and you can net some very expensive books for next to nothing.
Electronics
Computers, stereos, old TVs — if you can fix it, you can flip it. You would be surprised how many people just give these away for free. These are great if you want to figure out what to sell online to make money. 
Toys and Games
Rare toys are a no-brainer, but even everyday toys you can pick up at a garage sale are worth checking into.
Video Games
Gamestop might not give you much money for your old video game, but someone might, especially if you have one of these titles.
School Supplies
Instead of flipping a pencil for a few pennies, create sets of school supplies and sell those to first-time school goers.
Bedding
Gently used bedding that can be cleaned is worth quite a bit, if you find the right market.
Tools
Power tools can cost a fortune, but vintage tools can still get the job done. New homeowners that need to outfit their house are your prime audience here.
Watches
Thrift stores usually have great watches at rock bottom prices. If you can snag a few gems here, you can make several hundred dollars worth of quick cash. Best of all? You can shop some of these stores online. 
Coupons
You'll have to check the fine print on individual coupons, but if it's legal to do so, it's free money.
Unwanted Gifts
You know what else is free money? Gifts that you don't want. It's free to you, and everything you make is pure profit. Just be careful to not let the gift giver find out.
How to Sell From Home
Once you have the right items, selling online is a piece of cake (well, mostly).
The key here is marketing and inventory management. If you're hoping to make a living by selling these items, you'll need to find reliable suppliers. You'll also need a way to make your items stand out from everyone else's. 
Have a Website
The first thing you'll need is a website. Wix, Squarespace, WordPress — all of these are great DIY options that give you a ton of flexibility and minimize the fees. If you decide to go with WordPress, you will need a hosting service like Bluehost. 
If you want a more out-of-the-box solution, Shopify provides a lot of features you'll need to get up and running.
And if you truly want to eliminate the technological overhead once you figure out what to sell online to make money, Amazon, Etsy, and Ebay are where you want to be.
Build Up an Audience
Whether it's through brand recognition or a Facebook ad, word of mouth through forums and organic traffic, or sales, you need an audience. Find out where they are and set yourself apart from the crowd.
Don't be afraid to make quick sales in the beginning, by the way. You'll want that initial momentum to get up and running.
Sell To Your List
Email lists are still the main revenue source for a lot of businesses. Focus on building one, and then every time you need to sell to it, you can send out a note.
Conclusion
If you look hard enough, you'll most likely find a lot of items that you can sell online — handmade or otherwise. Knowing what to sell online to make money fast and from home doesn't have to be overly complex. 
Grow fast enough, and you'll move out of your home office and into your garage. Then, you'll move from the garage to an office space. 
From there? The sky's the limit.
Want to learn step-by-step how I built my Niche Site Empire up to a full-time income?
Yes! I Love to Learn
Learn How I Built My Niche Site Empire to a Full-time Income
How to Pick the Right Keywords at the START, and avoid the losers
How to Scale and Outsource 90% of the Work, Allowing Your Empire to GROW Without You
How to Build a Site That Gets REAL TRAFFIC FROM GOOGLE (every. single. day.)
Subscribe to the Niche Pursuits Newsletter delivered with value 3X per week