Shopify Review: Worthy of Its Reputation as the Leading eCommerce Platform?
When you buy something through one of the links on our site, we may earn an affiliate commission.
Welcome to our Shopify review. If you've had any kind of exposure to online businesses and eCommerce, chances are you've heard of Shopify.  Shopify is an all-in-one web-based software that gives users the tools to build, run, and grow an online store.  It's also one of the biggest eCommerce platforms in the world.
The reputation of a leading eCommerce software comes with a lot of hype.  In this article, I'll go through many of the key features of Shopify and show you what it's like behind the curtain with a real-life example.
Hopefully this article will help you determine if Shopify is the right eCommerce platform for you a little better than if you only read through their marketing materials.
Just to disclose – I've used Shopify successfully in the past for some of my projects – I created an eCommerce sales channel with Shopify for an Amazon FBA business I was running. I don't currently use Shopify though.  I've also used other web management software (WordPress, Square, Squarespace, and Wix) before so I have a few different reference points as a basis for comparison.
All things considered Shopify is a great web management platform for entrepreneurs, particularly if you use dropshipping and print on demand business models.
Try a 14 Day Free Trial with Shopify Right Here
Try Shopify Free for 14 Days
---
Shopify Review
Ease of Use -

100

Stability -

95

Customer Service -

90

Price -

90
Summary
All things considered; Shopify is a great eCommerce platform.  It's incredibly user friendly for beginners but also has enough depth to support a healthy eCommerce setup for advanced users.  A wide library of 3rd party integrations give Shopify the horsepower to support most needs you could have as an eCommerce store owner.  Start Your 14 Day Free Trial with Shopify Here.
Pros
Clean, intuitive dashboard.
Free templates look great.
Lots of 3rd party integrations.
Extensive point of sale support with Shopify POS.
Great for dropshipping and print on demand models.
Accept payments in 10 currencies.
Cons
A few key functionalities are doable but overcomplicated.
Customization is limited to what is supported by the platform and its themes.
Custom reporting is only available on higher priced plans.
What Does Shopify Do?
Shopify is an eCommerce software designed to be an all in one solution for entrepreneurs.  They exist to help business owners scale their businesses by allowing them to manage every aspect of their online store in one place.  Shopify lets you, as a store owner, scale your business on your own terms.
Sometimes growing a business is as simple as taking action.  Shopify is designed to make monotonous actions (like product listings and managing fulfillment) easy by being the central platform for your business.
For example, if you wanted to try to scale up my business by selling on Amazon, eBay, Instagram, and Facebook, you might not ever get around to it because creating 5 identical product listings is super time consuming.
With Shopify, you only have to create a product listing one time on your Shopify website.  After that, boom, you can leverage Shopify's platform integrations to automatically create that same product listing on every other sales channel.
A Brief History of Shopify
Shopify was founded in 2004 by three entrepreneurs who were attempting to open an online store to sell snowboarding equipment.
At the time it was slim pickings when it came to eCommerce software, and the founders were unpleased with the available options.  One of the founders, Tobias Lütke, was a programmer and decided he could build a better platform on his own.
He used an open source framework and after a couple of months of development, they launched their snowboarding equipment online store called Snowdevil.  Eventually, they launched the platform itself in 2006 – and named it Shopify.
From there, improvements to the platform happened at a steady pace.  In 2009, Shopify launched their API which allowed developers to create applications and sell them in the Shopify App store.
2010 saw the release of a free mobile app that allowed store owners to manage their businesses on mobile devices.  Three years later Shopify Payments was launched, which allowed owners to accept credit cards without using third party gateways.
Over the years since then, Shopify has continued to add integrations and features to their platform.  It's now one of the most robust eCommerce software options on the market and has powered over 800,000 stores at the time of this writing.
Pros of Shopify
Ease of Use: There are quite a few things that Shopify does well, but the one aspect of Shopify that really makes it stand out is how easy it is to use.  You don't need any prior coding experience to create a beautiful eCommerce website on their platform.  Your store dashboard is clean and intuitive in design.  All key features and functions are super easy to access with a few clicks.
Extensive Support: If you ever come across a situation where you can't figure out how to get a certain task done in Shopify, help is readily available.  Shopify has an extensive support team but aside from that, you are using the same platform as over 800,000 other stores.
Odds are high that multiple people have come across the same issue as you.  Odds are also high that somebody has posted in the Shopify forums or created a YouTube video with a step by step tutorial to solve your problem.
Multi-Channel Integration:  One of the most powerful features of Shopify is the ability their platform gives you to manage multiple sales channels in one place.  Inventory, product management, fulfillment, and many other tasks can be managed across all platforms in your Shopify interface.
Free Templates:  Shopify has 10 free, responsive templates that give your store a professional look from the get-go.
Mobile App:  Shopify's Android and iOS apps let you easily manage your store from your phone.  You have the ability to process orders, manage products, run marketing campaigns, create discounts, and much more on the mobile app.
Abandoned Cart Recovery: It's included on all Shopify plans (even the $9 per month one), which is an expensive add on for basically every other eCommerce software on the market.
Shopify Lite:  At only $9 per month, Shopify Lite is one of the cheapest ways to sell online.  The Lite plan gives you access to Shopify Buy Button, which integrates with other platforms like WordPress, Squarespace, Wix, and many others.
Free Trial:  Shopify offers a 14 day free trial of their platform – and they don't even make you put your credit card information in to begin your trial.
Try Shopify Free for 14 Days
Cons of Shopify
Premium Applications are Often Necessary: Many important functionalities aren't available without purchasing a plugin or 3rd party application.  Top of mind examples include layered shipping rules, selling digital products, and adding custom text fields.
Product Images: Shopify does not automatically crop product images with different aspect ratios.  Make sure you use a photo editing software to get consistent aspect ratios on your photos before you upload to Shopify.  Otherwise the differently shaped images can be jarring and negatively impact the design of your site.
Mailchimp No Longer Supported:  As of March 2019, a Mailchimp integration is no longer supported.  Workarounds are available if Mailchimp is your email service provider, but it's not as easy of a process as it used to be.
Customization Has Its Limits:  While customization capabilities for your Shopify website are generally good, it's limited to what's supported by the platform and your chosen theme.  In particular, if you are used to the blogging capability you'd have in WordPress, for example, you may find your blog capabilities (or lack thereof) in Shopify frustrating.
How to Use Shopify – Beginner's Guide
I thought it might be effective to show how the process works by building a store from scratch.  It's entirely possible to get a fully functional store off of the ground in only a few hours. I'll also walk everybody through the steps as I go.
So, to show how easy it is to start an eCommerce store with Shopify, I'm going to build a fully functional, Niche Pursuits-themed online merch store! The store will lean on an integration with a print-on-demand company to fulfill orders.
I bought the domain nichepursuitsswag.com from GoDaddy, but you can use any registrar for your domain name.  You can also buy a domain through Shopify if you'd like.  With every web store, they also provide a free myshopify.com domain name for you to use as well.
P.S. – you can actually buy some merch on nichepursuitsswag.com!  The site will probably remain fully functional for about 14 days from the time of this post (which is the length of the free trial).  Unless Spencer decides he wants to keep it 🙂
Try Shopify Free for 14 Days
Shopify Interface
The Shopify dashboard and interface is about as simple and straightforward as it gets:
From here, you can manage every aspect of your store once you have set up your Shopify account.  All of the customization, analytics, and product management tools can be accessed on the left-hand side of your dashboard.
This is also where you can add and manage what Shopify calls Sales Channels.  We'll dive into these a bit later, but I just wanted to point out that this is where you'd manage any multi-channel integrations.
There are a few things that we need to get done before our store is ready to rock and roll.  Right now, our site looks like this:
We've got some work to do!  You'll notice the address in the browser is niche-pursuits-swag.myshopify.com.  That's fine, but it would look a little more professional to have a domain name without all of the myshopify.com business in there.
How to Connect a Third-Party Domain to Shopify
There are a couple of things we need to do in our Shopify website dashboard to make sure people are directed to our store when they put nichepursuitsswag.com in their browser.
To do this I'm going to click Online Store under sales channels in my dashboard.  From there I'll click Domains.
Next you should click Connect existing domain and enter the domain you want to point to your store.  In our case that's nichepursuitsswag.com, which I have already purchased.
Click Next.
Shopify recognizes, in this case, that it's a GoDaddy domain (and they will recognize most registrars) and gives us the option to connect automatically.  Click the Connect Automatically button next.
A pop-up from your domain registrar will then come up.  Follow the instructions from there with your registrar.
In the case of GoDaddy, I click one box then my domain is pointing to my Shopify store after about five seconds!  It's not uncommon for it to take about 24 hours before all of the changes to propagate.
In other words, if you immediately typed your newly connected domain name into the browser, there's a chance it won't be connected yet.
And after we close, we get back into our Shopify dashboard:
One task down!  Next, we're going to build out a suite of merch products to sell.
A print-on-demand business model is great because you don't have to deal with the headache of managing and storing inventory.  If I want to sell some shirts, I can sync to a print-on-demand service and have them fulfilled only when an order is made.
That sure beats having to order a bunch of different products from suppliers up front, who will likely have a minimum order quantity.
My print-on-demand company of choice for this example is Printful mostly because I've used them before and can attest firsthand that they make quality products and ship on time.
Shopify also has an integration with Printful!  This powerful integration will make things pretty easy for us to get some products up for sale.
How to Connect Shopify to a Third-Party Integration
Any third-party integration is going to begin in the Shopify app store, which can be accessed from your dashboard.
From there, I searched for Printful – and the app I want is the first one in the search results:
Click on the application you want then the Add App button.
You should be redirected to your Shopify store admin prompting you to confirm the installation one last time.  Click Install App.
Next, you'll be asked to enter your login credentials for the third-party integration – if you don't have credentials yet that's no biggie.  You can create a login now.
After logging in, we are ready to start creating some products to sell!
You can actually work in Printful within your Shopify store dashboard, but it's a little easier to just work on Printful's site.  So I'm going to click on Open Full Site.
Even though this is a Shopify review, we're going to spend just a moment in our Printful account to illustrate how powerful and simple Shopify integrations can be.
From our Printful dashboard we're going to click on Stores, and we should see our Niche Pursuits Swag Shopify store listed.
Our next step is to click the Add box to start creating products to sell.
Printful has an extensive product offering but for this first example, I'm going to stick with something simple and go with Niche Pursuits jogger sweat pants.
You can try out Printful right here.
After choosing a product, you can configure the design.  I want to offer the sweat pants in black, navy, and gray.  You can make these selections and upload a logo or some art easily from the Configure Design screen.
After you're happy with your selections, follow instructions to have mockups made, modify the product description as needed and select your pricing.  Then you can click the Submit to Store button.
Now when we go back to our Shopify store, we can see our joggers under the products section of our dashboard.
Managing Products in Shopify
If you click on the product, you'll be able to see all of the product information and sizing charts that Printful loaded in.  We can easily modify and edit the product description here.
Also note on the right-hand side, the joggers are currently only available on our online store.  If you wanted to add sales channels for the sweats to appear on, you'd click Manage and select which channels you'd want to use.  Shopify will automatically integrate the product listing to any selected channels.
*Note* If you want to manually add products, all you have to do is click the Add product button at the top right of your Product dashboard screen and enter all relevant fields.
I went ahead and added a few more products in Printful to give the store a more legitimate look.  Here's what our Shopify store products section looks like now: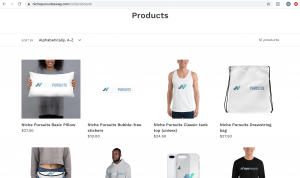 Looking pretty legit!  Now it's time to make a few tweaks to the home page, namely I'm going to add some light branding and "about us" copy to give the site a more trustworthy look.
I'm purposefully going light on branding and website content for this example.  If this were a "legit" eCommerce store I was trying to build, I'd be doing the same process but just spending a lot more time adding content to the store.
How to Customize Your Shopify Store
From your dashboard, all you need to do is click on Online Store -> Themes under your Sales Channels.  From there, you can click Customize to begin editing the look of your store.
I'm using the default theme, which I actually think is pretty good.  There are 9 other free themes and a premium theme store for you to also choose from.
Shopify's visual editor is quite good.  Similar to your dashboard, clutter is nonexistent and working your way through everything is intuitive.  You can use a dashboard on the left-hand side or click directly into the visual editor to begin making changes.
On the home page, I made edits to add some logos, a little bit of ad copy, and I made sure all of our products are front and center.
Notice how simple and clean the theme editor looks like on the inside:
How to Add New Pages with Shopify
In your main dashboard, click Pages under your Online Store Sales Channel.  Then click the Add Page button.
I'm going to just create a quick Contact Us page in case one of our customers wants to hear more about our little project.  Here's what the Add Page interface looks like from your dashboard – really straightforward:
Conveniently, Shopify has a pre-made contact us page template that you can select.  I just chose to use that for time's sake, although you can integrate other 3rd party opt ins for more customization if you'd like.  Here's what their pre-made template looks like live:
The last thing I'm going to do is add a link to that page to our header menu.
As you might imagine, this step is really simple.  All you have to do is click Navigation under your Online Store dashboard, select your main menu, then click Add Menu Item.  From there you just select the newly made about us page – that's it!
I think we're at a good stopping point now for nichepursuitsswag.com.
Just to recap, after a couple of hours of total work, we have a fully functional print on demand eCommerce store.  I'm now able to sell 10 different products with over 90 size and color variants to my Shopify store.  My site is clean and aesthetically pleasing and is supported by the infrastructure of the Shopify platform.
When somebody purchases something, Printful will make the product and ship it directly to the customer.  I won't even see the products!
I hope this example illustrated just how easy to use Shopify can be, and how powerful their core features are.  You can try all of this yourself with the 14 Day Free Trial Shopify Offers.
Try Shopify Free for 14 Days
Shopify for Dropshipping
In addition to print on demand, Shopify is also a great platform for dropshipping businesses.  The Shopify app store has an extensive collection of apps which allow you to source and dropship a wide selection of suppliers' products.
I personally don't have experience using Shopify for dropshipping, but I know quite a few people have success with it.
If you're interested in how the Shopify platform can be leveraged for dropshipping, check out Spencer's conversation with Joe and Mike Brusca right here from BuildAssetsOnline.com.  They've built a really nice business for themselves ($30k per month net profit) by utilizing a Shopify store for dropshipping.
They also have a full training course where they give detailed, step by step guidelines on how to build a dropshipping business on Shopify.  If you are serious about starting a dropshipping business, I highly recommend you give their training course a look.
Shopify Themes
We touched on this a bit already, but users are provided with 10 free Shopify theme options to all subscription tiers.  All the free Shopify themes are clean and pretty easy to use. If you need a theme with more customization options, there's a Shopify theme store offering premium themes.
I personally have never needed to use anything other than one of the free Shopify themes, but the Shopify theme store has options that are designed for specific kinds of businesses.
For example, there are 7 paid Shopify theme options with design elements geared specifically toward art and photography businesses.  If you're in the art and photography business, chances are a premium theme could be a better fit for your store than an "out of the box" theme.
Blogging with Shopify
Shopify has a blogging functionality that allows you to add a blog component to your online store.  It's no secret that blog posts can be a great way to boost your site's traffic, especially if you are optimized to convert that traffic into sales.
While Shopify's blogging capabilities are generally ok, you aren't going to have the flexibility and features you would have blogging on a WordPress site.  You can't even create categories for your blog posts, which is a pretty basic way to structure your blog.  Additionally, there aren't a lot of great Shopify plugins to support blogging activity.
All of that said, it's still a viable way to add content to your store and the functionality is good enough that you could definitely leverage it to acquire more traffic.  You'll just be at a natural disadvantage compared to other platforms with better blogging infrastructure.
Selling Digital Products on Shopify
Many online entrepreneurs have some sort of digital or informational product.  While it's not a completely straightforward process to sell digital products with Shopify, it can certainly be done.
In order to sell files on Shopify, you'll need to download and install the Digital Downloads App from Shopify's App Store.  This app is free to download and comes with all of the basic features you'd need to sell a digital product.
There is a limit on file sizes for your product.  You can only sell files up to 5 GB in size – anything higher than that will require a paid third-party app which can host your files.
The Digital Downloads app is pretty user friendly.  It allows you to automate many aspects of the sale – for example you can set it up so that a download link is given to your customer automatically upon receipt of payment.
Shopify Pricing
The Shopify pricing plan is pretty straight forward.  They have a few main subscription tiers:
Shopify Lite is $9/month
Basic Shopify is $29/month
Shopify is $79/month
Advanced Shopify is $299/month
Try any of these plans for free on a 14 day trial basis.
Try Shopify Free for 14 Days
There's also an even higher tier called Shopify Plus for enterprise level eCommerce operations.  Pricing for Shopify Plus is only available upon request.
Shopify will offer a discount for all 3 of these tiers if you are comfortable prepaying for their service.  Any plans prepaid for 1 year get a 10% discount and any plans prepaid for 2 years get 20% savings.
There are a few pretty important differences in features across plan tiers.  Basic Shopify includes:
An online store
Unlimited products
2 staff accountants
24/7 support
Multiple sales channels
Manual order creation
Discount codes
Free SSL certificate
Abandoned cart recovery
Shipping discount up to 64% from USPS, UPS, or DHL Express
Print shipping labels
Fraud analysis
Shopify POS app
Hardware peripheral support
Third-party POS apps
The Shopify tier will get you everything above along with:
Gift cards
Professional reports
Shipping discount up to 72% from USPS, UPS, or DHL Express
USPS Priority Mail Cubicâ pricing
Register shifts
Unlimited Shopify POS staff PINs
And Advanced Shopify will get you everything above plus:
Advanced report builder
Third-party calculated shipping rates at checkout
Shipping discount up to 74% from USPS, UPS, or DHL Express
Reports
One gripe I have with Shopify is that most of their best reporting features are only available on their more expensive plans (Shopify, Advanced Shopify, or Shopify Plus).  Basic Shopify users only have access to extremely basic, high level reports.
Shopify's advanced report builder – which allows you to create your own reports – is only available on Advanced Shopify and Shopify Plus plans.  You are looking at a minimum of $299 per month to be on either of those plans.
All of that said, here is a list of reports you have on any plan that costs $79 per month or more:
Marketing reports (how you acquired customers who visited your site, added products to cart, and made a purchase)
Abandoned cart reports
Sales and tax reports
Customer reports (new vs returning customers, how much they spent, when they were active)
Search data reports
Shopify Payments
Here is the Shopify Payments fee schedule for payment processing:
That's a pretty steep fee for using 3rd party payment processing – and a justifiable turn-off for some.  Now, I did get some clarification from Shopify on this issue with Shopify Payments.  At the time of this writing, as long as you have Shopify Payments installed in your store, you can accept 3rd party payment processing (like Paypal) without the additional fee.
Shopify Payments is included with all 3 of the main pricing tiers we've gone over, and installation isn't difficult.
Shopify Payments also allows you to get paid in multiple currencies.  You can also collect payment in any of the supported currencies while getting paid out in your home country's currency via Shopify Payments.
I live in the US, but if my store had a significant Australian audience, Shopify Payments means I could accept payments in Australian dollars from customers and get paid out in US Dollars.
Here is a list of the currencies supported by Shopify Payments:
Shopify Lite Review
The cheapest eCommerce plan Shopify offers is Shopify Lite – coming in at only $9 per month.  For the price, it actually has more than enough features supported to create a basic online store.  I wouldn't normally recommend for somebody looking to start an eCommerce store to rely exclusively on Shopify Lite.  In certain situations though, it can make a lot of sense.
The main downside of Shopify Lite is that you don't get a full online store with a shopping cart.  That may not sound like a big deal – but a shopping cart is actually a crucial component to a healthy, scalable eCommerce setup if you use any form of Pay Per Click marketing.
That's because PPC advertising algorithms want to be able to track how users behave on your website via pixels. The Add to Cart and Purchase actions are perhaps the most important pieces of data for these algorithms to track.
This is because they refine to an audience that is similar to previous website visitors who have visited your site and performed Add to Cart or Purchase actions. PPC algorithms will also retarget visitors who have added to cart but never made a final purchase.
The algorithms want to know exactly where potential customers are "falling off" in your funnel, so they can refine and over time direct more qualified traffic to your store.  None of that will happen properly only using Shopify Lite.
There's the case against Shopify Lite.  Now let's look at what can be great for:
Shopify Buy Button for Previously Built Websites
One of the main features that comes with a Lite plan is the Shopify Buy Button.  It's basically a widget that you can add to existing websites (hosted on WordPress, for example) which will display your products for sale.
If you are in a situation where you already have a branded website and are happy with your current host, the trouble of migrating your entire site to Shopify may not be worth it.
That's where just simply adding Buy Buttons to your site can be a big value add.  They give you the ability to sell on different platforms, just without the add to cart and purchase event tracking you'd like to see in a robust eCommerce setup.
Here's an example of what a buy button would look like for the Niche Pursuits Swag phone case we made earlier:
As you can see, the buy buttons are extremely clean.
P.S. – I know the button says "Add to cart".  This is a design feature to give the customer a purchasing procedure they are familiar with.  When you complete a purchase through a buy button it doesn't actually go through a "normal" add to cart process in a way that pixels can track.
Selling on Facebook with Shopify Lite
The only other situation where Shopify Lite might make sense for you is if you plan to sell exclusively on Facebook.  With a Shopify Lite plan, you get a fully integrated Facebook store to reach customers.  You can advertise on Facebook and ultimately close sales on the Facebook platform while managing your product offerings through your Shopify interface.
Anytime you sell online, you want to have as few steps as possible required for a customer to make a purchase.  Each additional step is another opportunity to lose sales.  What makes selling on Facebook with Shopify Lite so great is how simple the process is.
The checkout interface in Facebook looks really good and provides a secure means to collect payment information.  Your customer can buy right there on Facebook and doesn't have to take the extra step of going to another website to complete a purchase.
After the purchase is made, a handy Facebook Messenger integration which will send out shipping updates, tracking codes, and a View Order button to your customers.  That's an incredibly powerful feature to be able to leverage on a $9 per month plan.
Try all of the features of Shopify Lite on a 14 days free trial right here.
Try Shopify Free for 14 Days
Shopify Multi-Channel Integration
One of Shopify's best features is the ability they give you to connect your store to a bunch of different sales channels.  You can integrate your Shopify store with all of the major online channels like Amazon, eBay, Facebook Store, Instagram Shop, and Etsy.
I can't even begin to explain how much time you can save with Shopify Multi Channel Integration.
For example – with our nichepursuitsswag.com project, all I'd have to do to expand is add eBay, a Facebook Store, and an Instagram shop as sales channels in my dashboard.  Then I link my accounts which is a few clicks on the Shopify interface.
From there all of my products (including photos and copy), are almost instantly uploaded to my accounts across all of the channels.  And going forward, I could manage any new products and update existing ones from one central location in my Shopify store.
Of course, that's not where the work ends with becoming profitable on those platforms.  But it goes without saying how much of a time save the integration is compared to a manual process across every platform.  You can also manage other tasks like fulfillment across all sales channels in your Shopify store.
Shopify Integrations – Applications and Plugins
There's an extensive library of apps and plugins to enhance your eCommerce store.  We've already gone over an example using one of these integrations with Printful, but here are some other popular integrations:
Shopify Point-of-Sale
A Point-of-Sale (POS) system may not be at the top of the wish list for entrepreneurs with a purely online-based ecommerce business, but it's one of Shopify's strongest features.  If your business has any sort of physical presence, Shopify POS could be reason enough to choose Shopify over its peers.
On the most basic level, Shopify Point of Sale will work with an app downloaded to your smartphone or tablet along with a free credit card reader.  From there, additional hardware (cash drawer, receipt printer, barcode scanner, and more) is available for purchase if you want a more complete POS setup.
Even if your business doesn't have a traditional brick-and-mortar presence, Shopify POS tools can be very useful.  It's becoming increasingly popular for any stores that sell physical goods (even if it's primarily online) to sell in pop-up shops or at live events.  Any sales you make in-person automatically track to your inventory count.
It's important for you to consider how much your business may need to rely on a POS system.  Even if there is a minimal to moderate reliance on POS for your business, it's nice to know that POS hardware and support are a priority for Shopify in case you need it.
All Shopify paid plans include Shopify POS Lite.
Customer Support
Shopify support is generally quite good.  They make themselves available 24/7 via email, live chat, or phone.  Most issues I've ever come across personally were resolvable by chat, but it's nice to have the option to call if you need to.  The ability to call somebody alone makes Shopify's support more comprehensive than competitors like Squarespace.
If your support issue is technical, you likely won't be able to get the help you need from their traditional support team.  You should either try to find an answer in the forums or be prepared to wait for somebody in the technical support department to get back to you, which could take a couple of days.
For example, I once was trying to integrate a Facebook PPC advertising pixel onto a WordPress site that was utilizing Shopify buy boxes.  I wanted to see if it was possible to setup the pixel to recognize when add to carts and purchases were made.
I contacted the regular support team and who took a while to get back to me and finally forwarded my question to the technical support team.  They got back to me 48 hours later just to tell me that what I was trying to do isn't possible.
That might sound nitpicky, but technical issues come up more often than we all would like in eCommerce.  It would be nice to have Shopify technical support that was quicker and more available to help resolve those issues.
Shopify Review FAQ
How easy is Shopify for beginners?
As far as eCommerce platforms go, Shopify is a great choice for beginners.  The interface is easy to use and not overwhelming, and you don't need any coding experience to build a beautiful website.  The Shopify community is big enough that you'll have access to extensive support for any problems you run into.
Does Shopify include Web Hosting?
Yes.  Shopify is designed to be an all in one eCommerce solution, and part of that is web hosting.  You can also register a domain name through your Shopify account.
If you prefer though, you can point domains from third party registrars to your Shopify store (like we did in the nichepursuitsswag.com example above).
Is Shopify worth it?
Generally speaking, I think Shopify is definitely a worthwhile investment as an eCommerce solution.  But the answer to that question largely depends on the needs of your business, and it's not going to be the right choice for everyone.
I will say though, the Basic Shopify plan has enough features to satisfy the essentials of an eCommerce store – especially for print on demand and dropshipping.  Ultimately, you'll have to compare the cost and features of Shopify to other eCommerce platforms and decide for yourself.
Can I upgrade or downgrade my Shopify plan?
Yes, you can upgrade, downgrade, or cancel your plan at any time.  An upgrade or downgrade will start a new billing cycle and any prepaid funds will be credited back to your account.
Can I use Shopify on my phone?
Yes.  Shopify has a mobile app for Android and iOS that allows you to manage your store and accept payments from your phone.
Can I import and export my data?
Yes, Shopify supports various data import and export functionalities.  You can import bulk product data from a CSV file – whether it's adding new products or migrating from another eCommerce platform.
You can also export product data to a CSV file easily through your store dashboard.
How long are Shopify's contracts?
Shopify plans are billed monthly. If you sign up for an annual or biannual plan, they offer you a discount.  They offer a 10% discount on annual plans and a 20% discount on biennial plans if they are prepaid.
Summary/Wrap Up
All things considered, Shopify is a robust eCommerce platform that has an extensive list of features and integrations.  It's a great option for anybody who is serious about selling online, and it's my platform of choice specifically for dropshipping and print on demand businesses.
At the end of the day, you'd be working with a company that has a huge amount of resources and constantly looks for ways to improve their product.  Shopify has a history of innovating and improving their platform over time.
The good news for you is that you can begin a 14 day free trial – with no credit card required – so you can see for yourself what a Shopify store looks like from a store owner's perspective.
Try Shopify Free for 14 Days
Have any questions or comments?  Please let us know in the comments section below!
Want to learn step-by-step how I built my Niche Site Empire up to a full-time income?
Yes! I Love to Learn
Learn How I Built My Niche Site Empire to a Full-time Income
How to Pick the Right Keywords at the START, and avoid the losers
How to Scale and Outsource 90% of the Work, Allowing Your Empire to GROW Without You
How to Build a Site That Gets REAL TRAFFIC FROM GOOGLE (every. single. day.)
Subscribe to the Niche Pursuits Newsletter delivered with value 3X per week