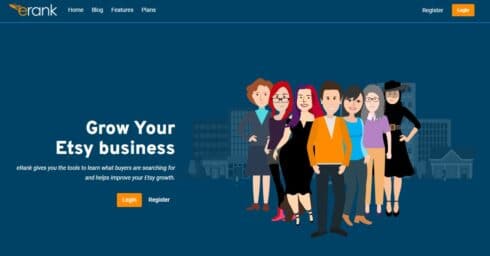 The importance of using the right keywords in your Etsy shop cannot be overstated. Luckily there are plenty of Etsy keyword tools to help you out with that.
Alongside the product title and description, keywords are the primary way Etsy decides where to rank your listing in search. While you can manually come up with keywords and tags off the top of your head, it's better to take the guesswork out of it by using Etsy keyword tools.
A good Etsy keyword tool will enable you to apply the best tags to each particular listing as an Etsy seller, allowing you the most opportunities to make sales.
But first, what are Etsy keywords all about?
Etsy Keywords/Tags
Many Etsy sellers do not do any Etsy keyword research or SEO at all. This means there are plenty of opportunities to rise to the top of Etsy search if you learn how to do it correctly.
Each listing created on Etsy has a number of important elements, including:
Keyword tags
Product title
Category selection
Description
Attributes (eg. product color, occasion, holiday)
The keyword tags are really important. They are one of the primary ways the Etsy algorithm decides where to rank your product listing in search.
Of course, there are other important listing factors, such as your image selection, sales history, and reviews, but the keyword tags are a major determiner of where you will initially be placed in Etsy search.
Etsy Tag (Keyword) Rules
It's funny, given what a small amount of space is dedicated to adding tags when setting up a new listing, you'd be forgiven for thinking they weren't that important!
Each Etsy listing is allowed up to 13 keyword tags, and as a serious Etsy seller, it's best to use them all. You should not leave any remaining as these are just missed opportunities.
Each of the 13 tags can be up to 20 characters in length and can include multiple words.
For example, 'leather purse' can be a single keyword tag. In fact, using multiple words per tag is one of the best strategies for ranking in Etsy search. These are often called long-tail keywords. The alternative, one-word tags, are generally too broad and competitive to rank for and are another lost opportunity.
Visitors to your Etsy shop do not see the tags which you have added to your individual listings, they are purely there for Etsy's ranking purposes.
Tags are added while you are creating a new listing, and once live can be edited at any time in the Shop Manager part of your store.
How To Choose The Best Etsy Tags
Think about the answers to some of the following questions when deciding what keyword phrases to use for your Etsy listings:
Who is your product for?
What method did you use to make it?
What age group is your product for?
Who is your target audience?
What style is it?
What is it made from?
Is it for a particular occasion?
What is its purpose?
Using the example of a leather purse again, it's easy to come up with some good ideas: 'teen's leather purse', 'brown leather purse', 'minimalist evening purse', and so on.
A few other helpful tips for creating good keyword tags:
Research your competitor's keyword tags (must use keyword tools)
Avoid using one-word tags (ultra-competitive)
Use more unique tags (less-competitive)
Always avoid irrelevant keywords
Don't use spammy tactics to get your listings seen
Use synonyms and spelling variations
However, the best way to find the perfect tags for your listings is to use an Etsy keyword tool to help you generate keywords from existing search data.
Etsy Keyword Generators
Etsy Keyword Generators are keyword tools that will help you to choose the best tags for your Etsy listings. The best ones work by analyzing real-time Etsy search results and store sales.
A good Etsy keyword tool will not only show you the search tags with the highest volume and click-through-rate, but they will also reveal the least competitive tags and those with a lower cost-per-click when advertising.
There's no point trying to rank for a term like 'purse' even if it has 100,000 searches per month – you will likely be buried on page 200 of the search results. You want to find unique keywords that describe your product more specifically.
Discovering that the tag 'black day purse' has a high search volume but isn't being used as often by other Etsy sellers will give you the advantage of getting in front of buyers.
Keep in mind, most of the tools we are going to list here are not solely Etsy keyword tools. They perform a number of other advanced tasks to help you rank better in Etsy search.
Let's take a look!
eRank
eRank is one of the best (if not the best) Etsy keyword tools out there.
This software will help you do Etsy keyword research and select the best keywords to optimize your Etsy listings. It also has a full suite of other advanced SEO tools to help you get the most out of Etsy search.
eRank is very affordable. They offer a Free Plan (with limited functionality), a Basic Plan for $5.99 per month, and a Pro Plan for $9.99 per month. The latter is well worth the price and gives you full access to all features.
The Etsy tag generator and Etsy keyword research features are what makes this a standout tool.
For example, see the keyword tag suggestions for 'purse'.

The one-word keyword 'purse' has a high number of monthly searches and a high rate of clicks. However, it is not something you would want to try and rank for because:
it has the highest possible Etsy competition rating, over 50,000, meaning there are that many shops using the tag
it has the highest possible Google competition rating, 1.0, meaning you will pay a lot for ads against this term
But we can look slightly further down the list and see that 'beaded coin purse' is an infrequently used tag. It also has a very low competition rate with a high number of searches. If this term accurately described your product it would be the one to use!
You can also see how this Etsy keyword research and SEO tool can help you to decide what products to initially create and offer. Don't just make what you think people want, find out what they're looking for first!
Other Helpful eRank Features:
listing audits that check your tags, images, and overall visibility in Etsy
keyword tracking/monitoring
attributes suggestions
daily bestseller lists
competitor analysis
It will take a few hours to become familiar with this Etsy keyword tool, but you will find that time to have been a good investment. None of the other tag generators include the same amount of data and analysis to help you choose the best keywords.
eRank also has a good community built around it. There is a large Facebook support group for those on the paid plans, endless hours of free tutorials and advice on YouTube, and a support service inside the platform.
Sale Samurai
Sale Samurai is an excellent Etsy keyword tool.
This Etsy keyword research and SEO tool will help you find the most searched terms to optimize your listing.
Sale Samurai has a wealth of data that gives insight into why current listings are doing well. This allows you to mimic what already works rather than simply guessing at what might work.
With this tool, you can also learn more about underperforming Etsy listings. They may only need a few minor keyword tweaks to start ranking well in organic Etsy search.
Other notable features of Sale Samurai:
Advanced keyword filtering
Find products that sell well
Discover the best longtail keywords
Advanced shop analytics
Business automation features
At only $10 per month, or less on a yearly plan, this Etsy SEO tool will more than pay for itself.
Sale Samurai is offering our readers a FREE 3-day trial!
Try it out risk-free and see the results for yourself.
CLAIM YOUR FREE TRIAL NOW!
Marmalead
Marmalead is another popular and effective Etsy keyword tool.
This program does not have a free tier or trial period, but rather you will need to sign up for their $19 per month Entrepreneur's plan.
Once registered, you can brainstorm product ideas and keyword tags based on what is trending on Etsy, analyze actual search data, view buyer engagement, and see product seasonality. There is a wealth of data that will allow you to make the best listing possible.
Once you have optimized your Etsy tags you can then compare and track them to ensure they stay relevant and effective at bringing in sales!
Like eRank, Marmalade has a faithful following which means there are plenty of YouTube videos to teach you how to best use the platform.
Merch Titans
Merch Titans is up next. This is a simple tool for 'quickly generating top Etsy tags.'
While this is one of the free Etsy keyword tools, you do need to create an account and confirm your email address to begin using it.
Once registered, you can enter a seed keyword, 'purse', for example, and it will then generate 100+ tags and the number of occurrences in current listings.
This is a very simple tool. There is no other data given such as search volume, ranking difficulty, or CPC, so it's really only of limited use.
Printful's Keyword Scout
Printful is a print-on-demand drop-shipping platform that integrates with Etsy.
If you are using Printful in tandem with Etsy, their Etsy keyword tool, called Keyword Scout For Etsy, will likely be the best for you to use. However, after the free trial period, this tool does cost upwards of $60 per month.
Keyword Scout promises to boost your Etsy listings by improving your store's visibility and SEO strategy. It will teach you how to identify the best tags and fix any Etsy SEO mistakes you are making.
Try Printful's Keyword Scout Here
Keyword Tool Dominator
Etsy Keyword Tool Dominator allows you to complete 2 free keyword searches per day.
Enter your seed keyword into the search box and it will generate hundreds of Etsy tags for your store listing. It ranks the results by relevancy and search volume but does not give an indication of keyword competitiveness.
The downside is that Keyword Tool Dominator isn't focused on Etsy. They create a bunch of free tools and only put a certain amount of effort into making each one just valuable enough.
For those with a limited (or no) budget, it's a good way to start learning about keyword phrases!
Try Etsy Keyword Tool Dominator Here
KeySearch
KeySearch is another Etsy keyword tool and tag generator. 
However, first impressions of this company were not great. While they proclaim a 'Free Trial' all over the site, once you hand over your email address you learn there is no free trial due to 'popularity'.
Instead, they offered a 20% discount coupon instead. You will need to sign up for the Starter Plan for around $15 per month.
Nevertheless, KeySearch does have a higher level of data than some of the other tag generators. They will help you to find relevant, low competition Etsy tags to improve your sales.
Try Keysearch Here
The Etsy Search Bar
Lastly, you can use Etsy itself as an Etsy tag generator!
When you are just starting out with your first Etsy store, this might be the best way to find the first tags for your early listings. Simply enter your seed keyword into the search bar, and voila… keyword phrases are instantly generated!
We can assume that the ideas that pop up are among the most searched for and popular items on the platform.
Remember, when using these methods to find tags for Etsy, only use those that actually relate to your product listing. Inappropriate tags will lead to a decrease in your conversion rates, which will only harm your Etsy shop in the long run.
The Best Etsy Keyword Tools
Those are 7 of the best Etsy keyword tools that you can use to find keywords that will help you rank in Etsy search.
The premium tools, such as eRank and Marmalead, also let you track changes to your listings and rankings.
For example, if you change some of the tags on one of your listings, you can then watch and see what effect it has. This is a really useful feature that lets you know if you're on the right track!
Whatever tool you choose to generate Etsy tags, we hope this has helped you to understand this ranking factor better!  
If you are looking for other Etsy content be sure to read our guide on how to make money with Etsy here.  
And if you would like to get more online business strategies, tips, and motivation be sure to join the Niche Pursuits newsletter right here.
---