SpyFu Review: How to Get a Real Advantage and Dominate Your Competition
This SpyFu review will discuss how you can use the features of this rather vast tool full of data to gain the upper hand on your competition.
In a hurry? You can sign up for SpyFu right here!
Anyone who runs a business online knows that SEO can be extremely tricky, but what if you could use a tool that would show you exactly what your competitors are doing to rank? Well, that is precisely what SpyFu allows you to do.
There is a lot of talk by SEO professionals about SpyFu, but not many people know how to use it. In this SpyFu review, I will show you how SpyFu presents all the information to help you take the guesswork out of SEO.
Then you will hopefully understand how your competitors win the online digital marketing battle.
In this SpyFu review, we'll discuss:
What SpyFu is
SpuFu's features
Plans and pricing
Pros and cons
SpyFu alternatives
After reading this review, you should be in a position to decide if SpyFu is the right tool for you.
SpyFu Review
Value for Money -

95

Ease of Use -

80

Features -

90

Customer Support -

75

Likely to Recommend -

80
Summary
As its name suggests, SpyFu lets you "spy" on your competition. It is excellent for domain, keyword, and backlink analysis. With SpyFu, you can access backlink strategies, ranking history, and SEO analysis. With all this information, you can develop strategies that will help you to beat your competition. Try SpyFu here!
Pros
Spyfu is affordable
Strong competition analysis
Extensive keyword research
Reports are unlimited
Cons
The volume of data can be overwhelming
Data from a limited number of countries
Metrics accuracy needs improvement
Tutorials are disorganized
No Academy available for beginners
Not all niches are covered
Support during office hours only
SpyFu Review: The Best SpyFu Alternatives
No time to read the whole article? SpyFu is a great tool, but there are alternatives.
Here is our list of the best SpyFu alternatives when it comes to competitor analysis.
Want to know more? Please read on to find out all about SpyFu and its alternatives.
What Is SpyFu? An Overview
SpyFu is an SEO tool that allows you to "spy" on your competition. It's excellent for domain and keyword analysis, and it's also a powerful backlink analysis tool. With SpyFu, you can instantly access backlink strategies, ranking history, and SEO analysis.
After you are done spying and collecting the information, the only question is how to use this information to attack and beat your competitors. Did you map your attack?
Are you going to use:
The PPC research?
Ranking history?
Related Keywords?
Social media?
Google Adwords?
Backlink strategy?
Or will your strategy be based on:
A Specific keyword?
Market research?
A gap found by the keyword research tool?
With all the options presented by SpyFu, it is time to start the Kombat!
I believe the SpyFu tool is excellent at giving you enormous amounts of information, but if you are a beginner, you may find it overwhelming. So, in this SpyFu review, we'll take a deeper look at the tool.
SpyFu Review: Tool Features
The SpyFu main menu divides into the following eight tabs, which I see as the main features.
Domain Overview
SEO Research
PPC Research
Keyword Research
Backlinks
List Builder
Tracking
Reports
Domain Overview
Let's go back to the landing page, where you have the choice to select a domain or a keyword. If you choose Domain, you are taken to Domain Overview; if you enter a Keyword, you are taken to Keyword Research.
SpyFu's Domain Overview Page will allow you to see a company's domain history and its current progress. With this information, you can learn from their successes and mistakes to improve your campaigns.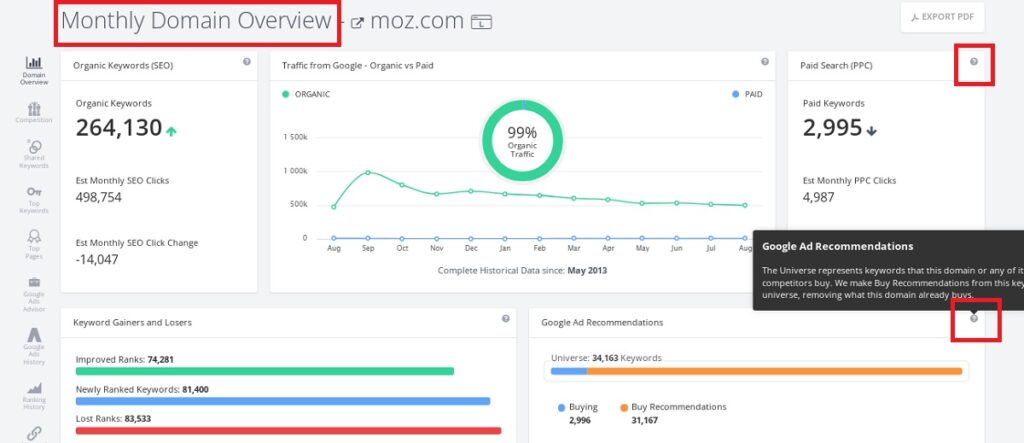 At the top, you will find the essential information. On the left, you will see the summary of the SEO campaign, organic keywords, SEO clicks, and the estimated monthly SEO click change.
The PPC campaign, keywords clicks, and monthly Google Ads budget are on the right. The center circle shows how much this domain relies on Organic SEO compared to running PPC ads on Google.
Competition
If you scroll down, you will find the top competitors for this domain in terms of SEO and PPC paid advertising website traffic.
Next, keywords this domain shares with its two biggest competitors are displayed in a Venn diagram called 'Kombat' by SpyFu.
Top Keywords and Top Pages
Scroll below the diagrams to see a domain's best-performing keywords in both SEO and PPC.
Top keywords are followed by a list of the site's best-performing pages.
Google Ads
Here you get a list of Top Google Ads Buy Recommendations.
Below that, you'll see any ads the domain is running. You can scroll back in time to see the company's first ads. When you click "screenshot," it will take you to the actual SERP, where you'll see the ad.
Newly Ranked Keywords
Further down the page, we can see their top SEO keywords and how they've been moving in the ranks over the last few years.
Inbound Links

Finally, you find backlinks that are driving traffic to this website. If you reach out to some of these sites, you might be able to get a similar backlink for your website.
At any stage, if you find something you're interested in, go ahead and click on it to learn more. You can always come back to the overview page later.
All the above information will help you implement SEO and PPC strategies to promote your site on Google SERPs.
Accuracy
As this is a SpyFu review, let's look at information accuracy against other tools. The SpyFu tool tells us, for example, that the keyword "MOZ" has search results of 24k (don't forget that they claim to have data from additional sources, not only Google), the Google volume is 14.8k, Ubersuggest 14.8k, Moz 6.1k, Semrush 12.1, and Ahrefs 14k.
FYI in research done by AuthorityHacker, they concluded that Ahrefs could be considered the closest to reality.
Keyword Research Tool
Any SEO campaign first requires finding and grouping keywords by doing intensive keyword research, and that is where SpyFu comes in to help. You provide the tool with specific data, and Spyfu will return search results that best assist your campaign.
You have different options to choose from for keyword research. For example, you can generate keyword ideas based on search volume, click-through rates, or SEO difficulty.
Additionally, you can investigate advertisers who bid on similar keywords as those you are considering for your SEO campaign.
Finally, you can analyze your current keywords to see your highly profitable ones within the same niche.
Some of the important tools on the keyword research dashboard are:
Keyword overview – displays keyword ranking, volume, difficulty, related keywords, and a few more metrics you may find valuable.
Profitable keywords - enter your competitor's URL, and you will see a list of keywords with a validated track record of success.
Backlinks - the number of backlinks you need to rank for your keywords varies depending on the competition. Generally, you will need more links than your average competitor to rank in the top ten. This section will help you determine how many links you need to get a top-ten ranking for your targeted keywords.
Keyword grouping – here, you can group terms according to a specific keyword.
Search in the SpyFu Blog, and you will find many articles on how to benefit from Keyword research.
SEO Research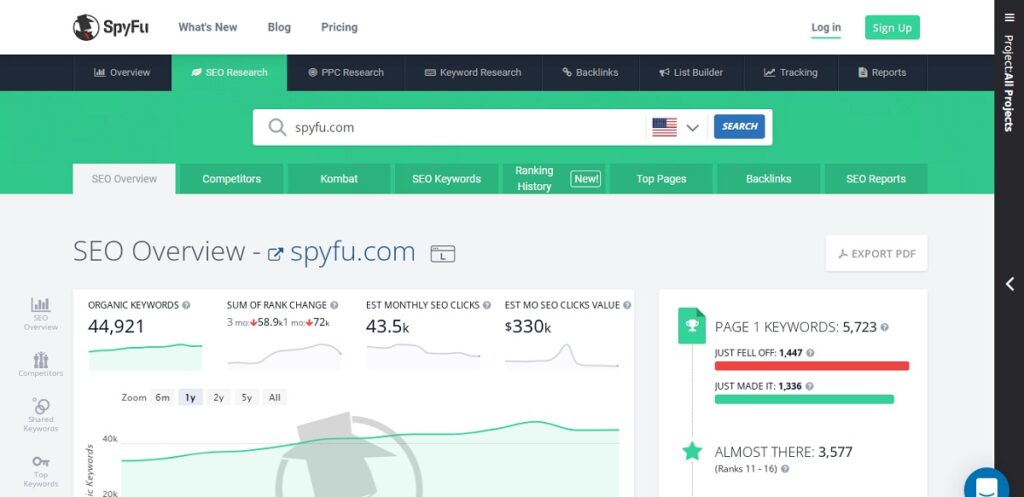 What is SEO research (otherwise called keyword research)? Search engine optimization uses keyword research to find terms related to what users search for regarding products, services, or general information. This process can help find out what keywords are most commonly used and are related to queries so that your website can easily be found by users looking for what you offer.
Spyfu executes comprehensive SEO research of a website, an in-depth analysis of the organic keywords the domain ranks for, and compares the domain to its main competitors.
Here is only part of the information you will find
The total number of organic keywords ranking in the first 50 positions for the domain.
Estimated monthly SEO clicks and their value.
The number of keywords ranking on page one.
Shared organic keywords with main competitors and missing keywords that the domain does not rank for, but its competitors do.
Most valuable keywords.
Keywords in the top 10, plus those that are nearly there and those that fell off page one.
Backlinks.
Top pages.
Some of the above information is divided into subcategories.
I will give you an example of using the above information.
Content marketing campaigns should always aim to further your SEO and marketing goals. To do this effectively, you need to start with in-depth keyword research.
This will help you understand where your website ranks currently and what keywords you need to attract the right kind of customers or increase those rankings.
As you build your keyword list, consider which keywords would be most valuable for each campaign.
SpyFu's Keyword Research tool lets you target various long- and short-tail keywords for your campaigns. You can also use the tool to group keywords together so you can keep track of which ones are most important for each campaign.
PPC Research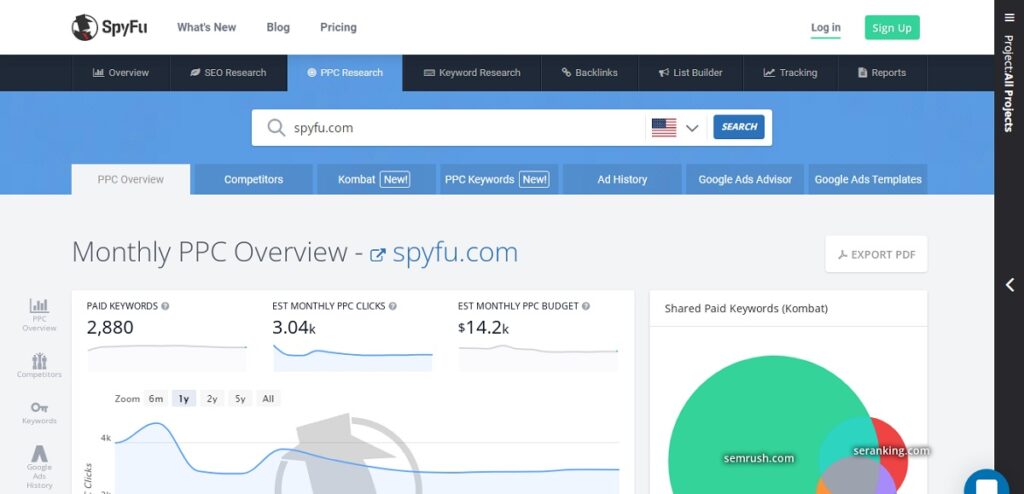 PPC strategies are designed to help a brand expand its reach, pull in more clicks, and generate awareness of its offerings. The most common PPC platforms used by businesses today include Facebook Ads, Bing Ads, and Google Ads.
Paid ad campaigns have a lot of benefits. For example, they help brands gain more visibility in search engine results. As a digital marketing strategist, one of your key responsibilities is to decide which web pages your target audience will see. You can base this decision on demographic, behavioral, and geographic targeting options. By doing this, you can ensure that your audience sees the most relevant and valuable information.
The most effective plans invest in solid points along the digital marketing funnel to help increase conversion rates. Traffic generated through PPC campaigns converts 50% better on average than organic traffic. Also, for every $1 invested, brands can create an average of $2 in revenue. In addition, an effective plan helps brands increase their visibility and stand out from the competition.
SpyFu is a powerful tool for competitive research
You can look up specific competitors, see all the keywords they're buying on Google Ads, and then track how well those ads perform.
With this data, you can easily see what has worked for others in the past and propose similar solutions to your own company's challenges. Additionally, you can also take note of what hasn't worked to avoid any costly mistakes.

You can also see the number of clicks they're getting for their keywords, track bidding on competitor keywords you're interested in, and see the changes in your ad spend over time. Additionally, PPC data allows you to pinpoint keywords your competitors are not already bidding on, so you can get a competitive edge by taking them and making them your own.
SpyFu's AdWords visualization tools are good. They help you understand which keyword groups are working and which aren't so that you can make informed decisions in which direction you want to lead your project. In addition, they also let you see how your ads perform on the most important keywords for your business.
Ranktracking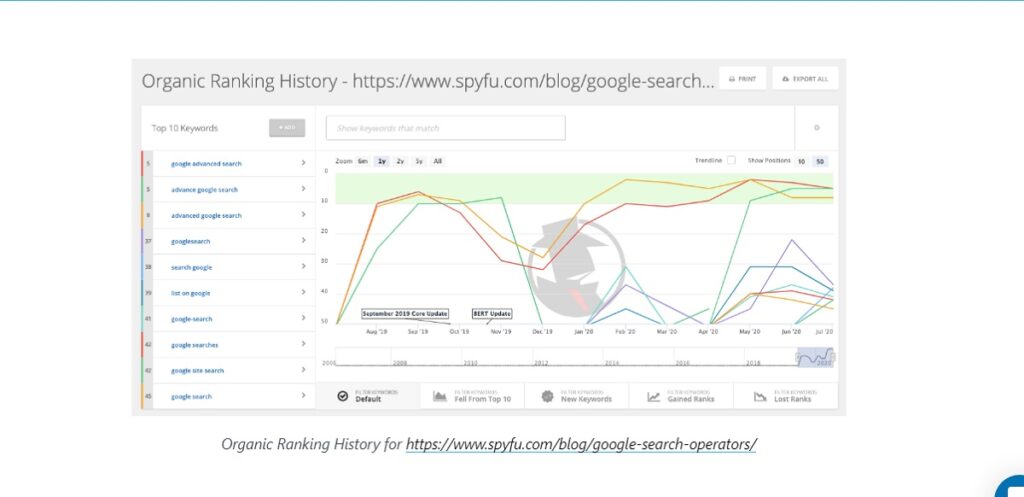 SpyFu's Ranking History report is a valuable tool for competitive analysis. It shows how well your competitors have ranked over time, so you can gain insight into which ones are taking their SEO strategy seriously. Competitors with improving rankings are the ones to watch out for, as they may be gaining ground on you.
The report also shows how major algorithm updates affected competitor rankings, so you can see exactly where a website's ranking took a turn.
SpyFu has years of data available, making it a valuable resource for rank-tracking websites over time. Of course, you can filter reports differently; for example, get only keywords that gained ranking.
Backlinks
Our SpyFu review would not be complete without discussing backlinks.
The SpyFu backlink checker is a great way to see who is linking to your site and who you are linking to. To use it, type your domain into the search bar and choose to view the backlinks. This will display a complete list of websites that you link to and which link to you.
Projects
The Projects are where you keep all of your information about your topic. This way, you'll be able to keep track of everything and organize your different campaigns or clients. You can share projects with other team members, and you can customize each with particular keywords and contact details.
You don't have to use projects if you don't want to, but if you share your group with others or have a lot of information to keep track of, they can help you.
These are some of the cases where you can use the project manager:
Use the project manager to find contacts for your content.
You may use different projects in keyword research for multiple clients.
Projects can store ideas for potential link partners.
List Builder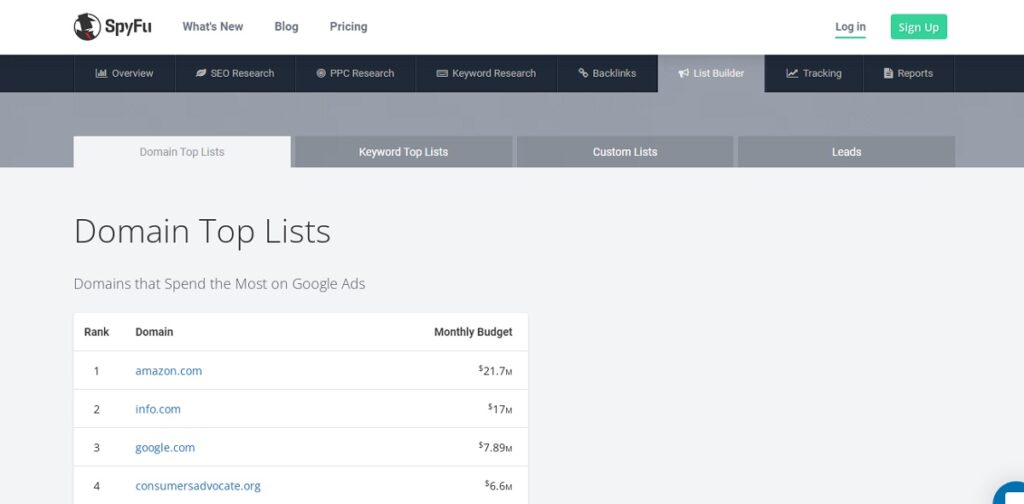 With the List Builder tool, you can quickly obtain a list of top domains in various categories, such as:
Domains that spend the most on ads
Websites that have the most organic traffic
Domains that have the most organic traffic and have Twitter accounts (check out some of the "best" Twitter accounts)
Keywords with the most clicks
Expensive keywords
Most expensive keywords by niche
Business leads and contacts
You can ask SpyFu to generate other custom lists you may require.
Documentation, Learn, Tutorials
Don't look for documentation; it does not exist.
SpyFu lacks an "Academy," similar to the Moz Academy, SEMRrush Academy, or Ahrefs Academy.
If you look for Tutorials, you will find the Blog on the landing page.
In the Blog, you will find Tutorials.

Some of the tutorials in the Blog are "SpyFew" videos (mini tutorials).
If you are a novice and want to learn how to find your way around Spyfu, you will have to do some deep digging. Eventually, you will find a "Getting Started with SpyFu" video.
If you have a query, use the search option to present you with a list of articles. Probably one of them will be the correct answer to your "intent".
Finding the right information is not as easy as I would expect. In my opinion, it is an inferior organization of tutorials!
SpyFu Review: Ease of Use
SpyFu's UI has eight tabs at the top, allowing users quick access to keywords, SEO tools, PPC research, tracking, and reports.
The UI makes it easy to visualize keyword performance, pay-per-click costs, which keywords are ranking on the first page, and the overall success of your SEO campaign based on organic vs. paid clicks.
The search bar in the dashboard's center makes it easy to initiate keyword research so that you can begin your research within minutes.
Spyfu is altogether an easy-to-use application.
SpyFu Review: Support
Nowhere on the Spyfu landing page will you find information on what support you can expect. They do have a Bot for online chat, which operates Mon to Fri 8:30 am - 4:30 pm Central, so try to avoid having a problem during a weekend, or you may try the Facebook group.
SpyFu has many tutorials, step-by-step guides (if you read them, you will discover that most are not adequate step-by-step guides), and videos. All that said, Spyfu needs some logic in the organization of the tutorials and, most importantly, a "SpyFu Academy."
SpyFu Pricing and Plans
The SpyFu Basic plan is $39/month and offers unlimited access to search results. The Basic plan includes:
10k row search results
10k row data exports
100 domain overview PDF's
6 months historical data
250 sales leads & domain contacts.
5k weekly tracked keyword rankings.
The Professional plan costs $79/month and includes all the features from the Basic Plan, along with API access and custom branding for reporting.
Unlimited search results
Unlimited data exports
Unlimited domain overview PDF's
10+ years historical data
500 sales leads & domain contacts
15k weekly tracked keyword rankings
API access
Custom branded reporting.
The most expensive package, the Team plan at $299/month, provides up to five user logins and a significant increase in the number of keywords that can be tracked. Currently, sizable discounts are available for users who sign up for an annual plan.
Pros and Cons
Affordable price

Good Competition analysis

Good Keyword research

Unlimited reports

Many tutorials
UI is overwhelming for novice users

Data is only from a limited number of countries, but they are working on increasing them.

Metrics data accuracy can improve

Disorganized tutorials

No Academy for beginners

Data does not cover all niches 

Support only during office hours
SpyFu Review: Alternatives
Let's keep in mind since Spyfu concentrates on competitor analysis, that we should mainly look at Spyfu alternatives from this point of view.
SEMRush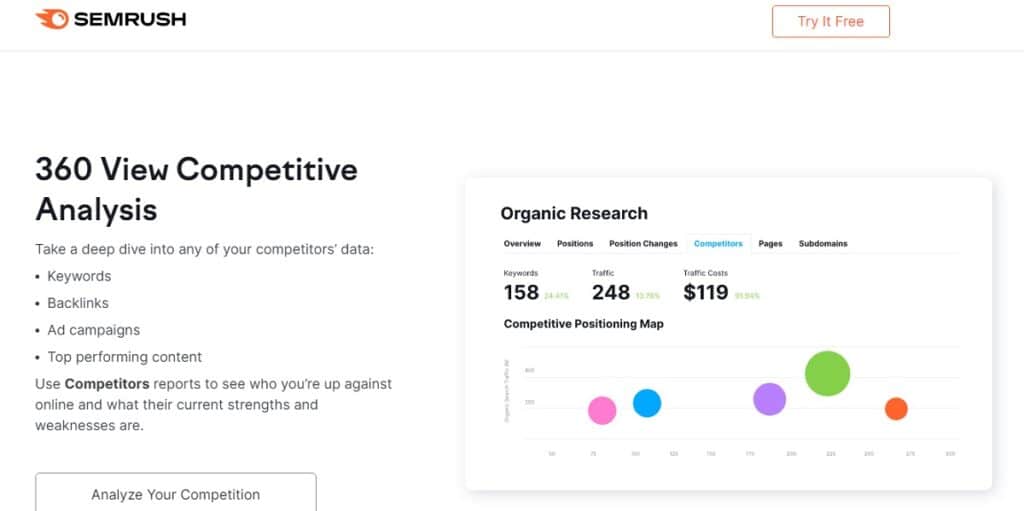 SEMRush is a "true" all-in-one platform. It comes with dozens of different tools to help with all areas of your online marketing campaigns - many of which SpyFu lacks, as SpyFu mainly focuses on competitor analysis.
SEMRush comes with all the SEO tools you need to analyze your competitors' marketing strategies and uncover insights to inform your SEO and PPC campaigns and social media marketing tools. SpyFu doesn't currently offer a similar social media feature.
Likewise, SEMRush also includes its strong Site Audit tool, which scans your website for over 130 SEO factors. SpyFu doesn't offer an Audit tool.
It's clear that SEMRush has a lot to offer, but SEMRush is considerably more expensive than SpyFu. However, it's worth the extra expense if you can afford it.
Pricing starts at $99.95/month (billed annually), and a free trial is available
Read this SEMRush review and tutorial to get to know the tool better.
---
RankIQ
If you take your first steps in blogging, you will have to concentrate on writing content. While you learn the ins and outs of SEO and PPC strategies and realize who your competitors are, use RankIQ. RankIQ is your safe bet; it will let you concentrate on content writing.
During this period, try to learn from SpyFu tutorials, Ahrefs, and SEMRush Academies. If and when you will feel you are ready to take on another facet of SEO, you can revisit your options again and decide on SpyFu or SEMRush. You may even surprise yourself and decide to carry on concentrating on content by using RankIQ at a price of $49/mo.
Find out more in the RankIQ review.
---
Ahrefs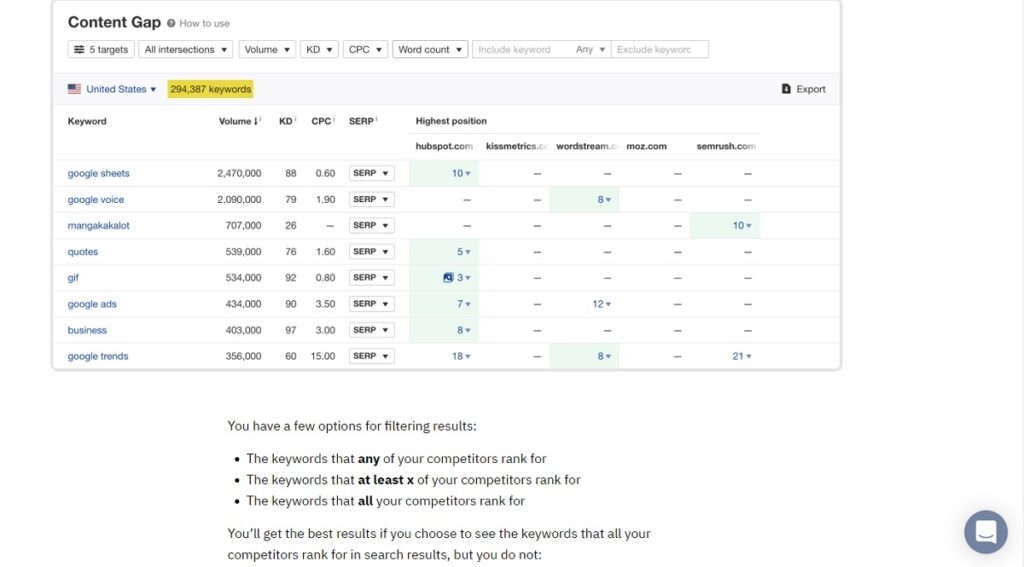 There is no question that Ahrefs is one of the best SEO platforms.
And here's how its features can help you with competitor analysis:
Content Gap: There are a few methods to discover which keywords your competitors are ranking for that your website doesn't. One way is to take a competitor's keywords and substruct keywords that you rank for, and the result will be a list of keywords you should target. Ahref's Content Gap tool allows you to do this with multiple competitors simultaneously and provides you with an extensive list of potential target keywords.
Competing domains, Competing pages, Link intersect, Site Explorer, and Traffic checker can also contribute to achieving a good competitor analysis.
Price: One user Lite Plan is just $99/month. As your team or project goals grow, Agency plans are $999/month and can accommodate a more significant number of users and projects. You save even more when you sign up for an annual plan.
Read this Ahrefs review to find out if it is the best tool for you.
---
MOZ
Moz Pro's "Competitor Analysis" is an excellent SEO tool, making it a great SpyFu alternative. The Domain Authority and Page Authority metrics were created by Moz: two critical measurements for successfully analyzing competing sites.
With a backlink database of 35.5 trillion links, it's easy to analyze your competitor's backlink strategy and find ways to beat them at this game. While not as extensive as Ahrefs or SEMRush, the backlink analysis tool Link Intersect provides plenty of data to get started with an in-depth review of your competitor's backlink strategy.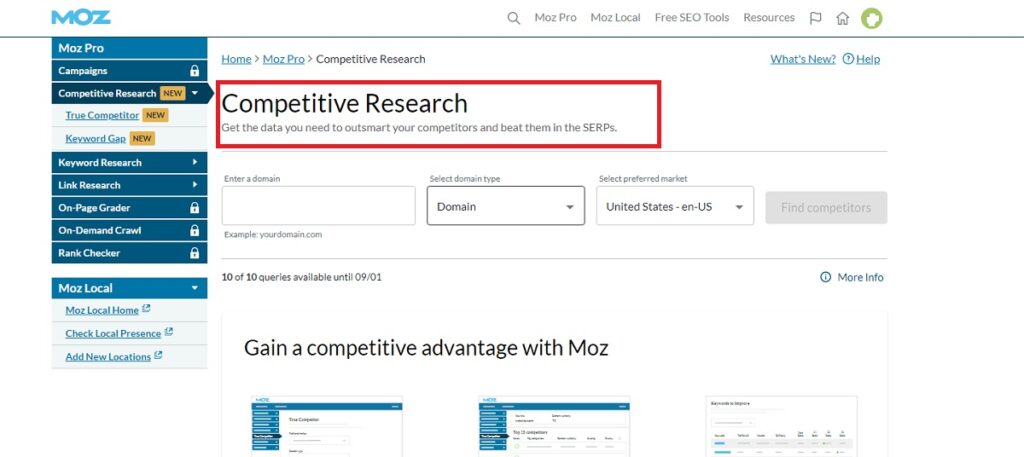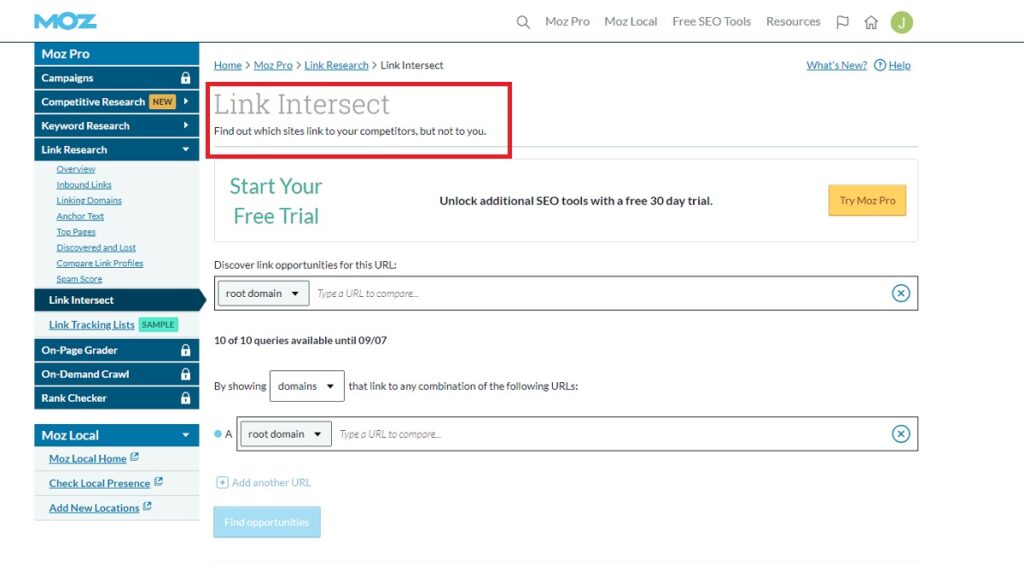 Finally, we should not forget their handy extension for Chrome which will show you DA, PA, and the number of links to a site in any Google search.
Prices for the Standard plan begin at $99/month, with other, more comprehensive options running up to $599/month for the Premium plan.
---
Majestic
Majestic is a popular SEO backlink checker and link-building toolkit. It includes a Site Explorer to analyze any domain URL or search phrase, Keyword Generator (helpful for finding new content ideas), and Discover link opportunities by looking at your competitors' websites.
It can also help you find reciprocal links between any two websites, and the links database can go back to 2006.
Majestic's ability to generate informative, in-depth information about any site is undoubtedly attractive, and the simple metrics are certainly of value.
Majestic users get access to two site indexes: a "Historical Index" and a "Fresh Index." The Historic Index lets you see how a site's SEO performance has changed over time, while the Fresh Index is based on latent information, together providing significant insights into your competitor strategies over a long time.
---
Ubersuggest
Ubersuggest has become one of the best value SEO tools you can get today. It has a decent keyword database, the link data is usable, and competitor research with it is quite good.
SEO requires tools that can help one discover competitive opportunities, gather link data, execute rank tracking of competitive domains, and analyze the competitive landscape of a market. Ubersuggest is a good tool for any SEO.
Ubersuggest can be used to help any marketer but is especially useful for those interested in link building or keyword research. Its ability to allow one to view many of the links that a given domain has earned is a delightful feature. Never again will you wonder where a specific domain has earned links.
You can do an SEO audit at the click of a button. Ubersuggest Site Audit will give you many helpful insights, like the keywords you rank for and where you get backlinks from.
Ubersuggest is cheap when compared to other SEO tools. It's perfect for small and medium websites.
The Individual plan costs only $12/month, the Business $20/month, and the Enterprise/Agency costs $40/month. There is also a very attractive Lifetime deal available on all packages.
Read all about the tool in this Ubersuggest review.
---
SpyFu Review: In Conclusion
As a tool for PPC and SEO competitor research, SpyFu definitely delivers. It's not just limited to this one aspect either. With SpyFu, you can also manage the SEO for your website and use it to attract new customers.
If you're used to doing PPC competitor research, SpyFu can be a real lifesaver.
SpyFu is a great investment for anyone looking for a complete SEO solution.
SpyFu's main ability still resides in domain analysis, but it falls short compared to Ahrefs or SEMRush in link analysis.
SpyFu doesn't have the content marketing or technical SEO tools that would make me recommend it as a one-stop solution.
SpyFu provides enough data and exclusive metrics to make it a valuable tool for any SEO professional, but I do not recommend it for a beginner.
SpyFu Alternatives
Let's take a last look at the alternatives included in this SpyFu review:
SEMRush has a huge SEO toolkit. You will find all the tools you need to analyze your competitors' marketing strategies. And you will be able to gain insights you can use to inform your SEO, PPC, and social media marketing campaigns.
RankIQ is a lovely, inexpensive tool for beginners spending most of their efforts building content while learning SEO strategies.
Ahrefs is one of the very best SEO tools. For extensive competitor analysis, you can use the Content Gap tool, Competing domains, Competing pages, Link intersect, Site Explorer, and Traffic checker.
Moz created the well-known Domain Authority and Page Authority metrics for successfully analyzing competing sites. Use Link Intersect to analyze your competitors' backlink strategies in-depth.
Majestic is popular for its SEO backlink checker and link-building toolkit. Majestic also has a Site Explorer where you can analyze any domain or search phrase, a Keyword Generator, and the Discover tool to find link opportunities from your competitors' websites.
Ubersuggest offers great value for money. Discover competitive opportunities, find link data, run rank tracking of competitive domains, and analyze the competitive landscape of a niche.
Want to learn step-by-step how I built my Niche Site Empire up to a full-time income?
Yes! I Love to Learn
Learn How I Built My Niche Site Empire to a Full-time Income
How to Pick the Right Keywords at the START, and avoid the losers
How to Scale and Outsource 90% of the Work, Allowing Your Empire to GROW Without You
How to Build a Site That Gets REAL TRAFFIC FROM GOOGLE (every. single. day.)
Subscribe to the Niche Pursuits Newsletter delivered with value 3X per week