The 7 Best Search Engine Positioning Tools To Help You Rank Higher
When you buy something through one of the links on our site, we may earn an affiliate commission.
Sites that rank high in search engines can turn a hobby into a business. You can benefit from a consistent flow of high-quality traffic and convert them with affiliate offers and advertising opportunities. The only way to achieve this success is by leveraging the power of search engine positioning tools.
With the help of these tools, you can easily find out where you stand in terms of search engine ranking and what steps you need to take to improve your position. Learn more about search engine positioning below and what tools can help make the process easier.
In a rush?
Google Search Console is our favorite free positioning tool but for the full optimization and marketing package we recommend Semrush. With 50+ tools and reports, you get everything you need to rank and bank!
What Is Search Engine Positioning?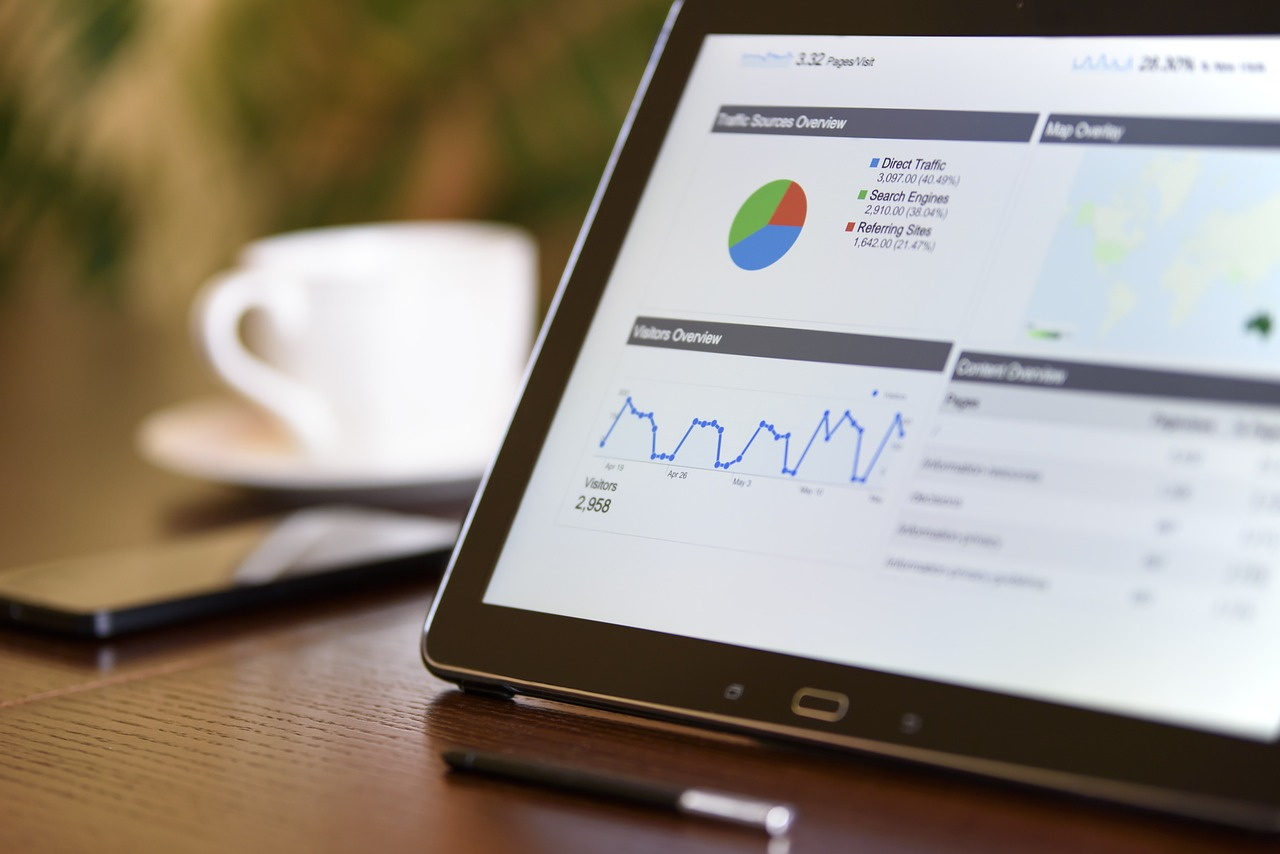 Search engine positioning is more of a process than a single action. It involves constantly optimizing a webpage to improve its overall ranking in search engines for specific keywords.
Website owners want webpages to rank high in search engines to bring more organic traffic to the site. More traffic presents an opportunity to convert on:
Affiliate marketing offers
Services
Products
Advertising
Ranking higher in search results requires SEO optimization for webpages like on-page and off-page SEO. Adding in more secondary keywords, optimizing alt text, including external and internal links, and obtaining backlinks are all actions that need to be taken for a webpage to rank higher in search engine results.
As website owners continue to work on the factors that improve search rankings, they ultimately contribute to their search engine positioning. Understanding how search engine positioning contributes to your website's success is key to formulating a long-term strategy.
Benefits of Using Search Engine Positioning
According to BrightEdge, 68% of all online experiences begin with a search engine. That means that over half of all the interactions people have with the internet begin by opening Google, Bing or Yahoo. It is no secret that organic traffic has big implications for your business if it can be successfully corralled to your website.
Getting more traffic to your site is only one benefit your website will receive from search engine positioning. Here are all the reasons your business should focus on improving web page rankings.
Better Quality Traffic
Agencies and website owners have a variety of ways to get traffic to their site. Paid advertising is the quickest way to get eyes on your web pages, but the traffic quality is not ideal.
Paying money to appear higher in search engines or social media platforms might bring more visitors, but they won't be as interested in the content on your web pages as you may have hoped for.
That's why organic traffic is often a better solution to getting high-quality traffic to your website from search engine results pages.
Organic traffic happens, well, organically. People are searching for how to fix a problem in their life or business, and if your web page pops up, people will click on your site to find a solution.
Depending on how good the solution is, people will begin to trust your brand and consider your product or service.
High-quality traffic ultimately results from high-quality content matching a searcher's intent. The more helpful your site is for specific keywords, the more traffic you will get that is relevant to your business. Although the process might take longer, it's easier to convert organic traffic than cold calling or cold emailing.
Increased Brand Awareness
You aren't just building more traffic to your site with search engine positioning, but you're also increasing brand awareness when your website appears on the first search engine results page.
When you view a list of web pages on Google or Bing, how often do you scroll to the second page? Chances are it is rare, and you'll settle with what's on the first page. That's why it's important to rank as high as possible on the front page, or your website will be overlooked.
Working to optimize your site and get it ranking in high positions for multiple keywords gets your brand name out there. Even if people don't click on your site, they will see your brand name and associate it with the problems they want to solve.
Through increased brand awareness, you can slowly build a relationship of trust and loyalty with your target audience.
People will become more familiar with your website and services the more they are exposed to it. In the long run, this will result in more conversions and sales for your business.
Better Analytics
When you are working on search engine positioning for your site it's more helpful to have a larger sample size of data than it is to have a small one. Having one keyword that ranks highly won't allow you to make the same decisions for your SEO strategy as having 10 keywords that rank highly.
More traffic through search engine positioning allows your business to receive more analytics on what people are searching for and how they interact with your site.
The increased data size will also help your site make long-term decisions that benefit your business down the road. Data gives a clear picture of how your actions are performing and allow you to make adjustments that benefit your process.
The 7 Best Search Engine Positioning Tools
Now you understand how data can help your site make better decisions, increase awareness of the brand, and bring in higher-quality traffic. To make it all happen, you'll need the right search engine optimization tool to help you get there.
Hundreds of SEO agencies and website owners have tested and reviewed the tools below. Each tool gives you everything you need to track progress and make better decisions for your business.
Google Search Console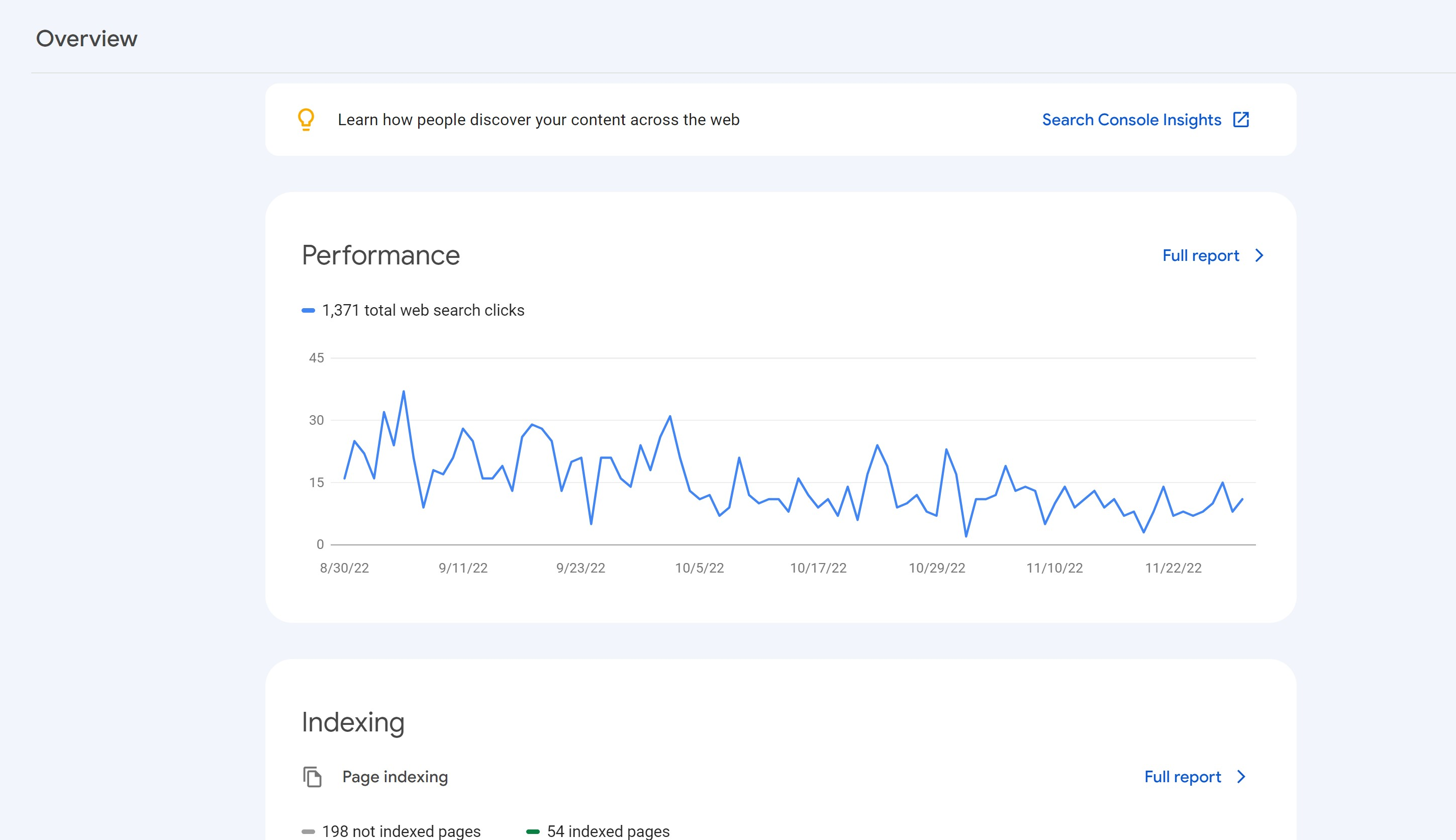 The most official and trusted platform on this list is the Google Search Console. You won't find a better platform than one that directly connects to Google analytics. It's also one of the best free SEO tools you'll find.
The Google Search Console tracks how your website performs on the search engine. You can see crucial data like:
Keywords you rank for
The kind of traffic you're getting
Queries people use
Impressions and clicks (plus the ability to compare performance with previous time periods)
Google Search console also allows you to track any errors or issues with your site and fix them quickly. That way, you're sure not to miss any important changes to your website. Website owners who want a free SEO tool to track progress should focus on the console first.
SEMRush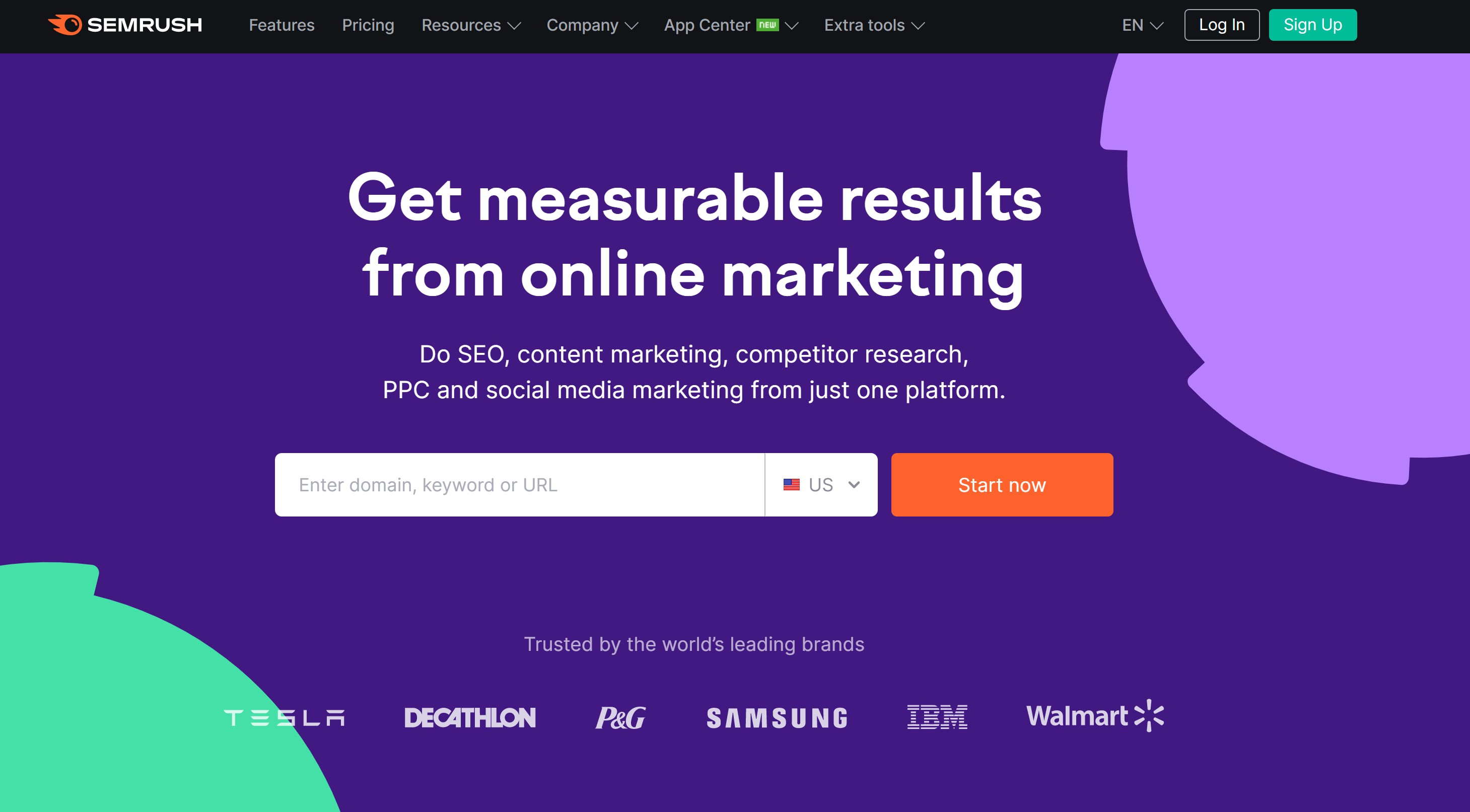 SEMRush is one of the biggest SEO platforms available and has a range of features that can exhaust even the biggest SEO agencies. The tool is massive and provides you with every bit of data you need for optimizing web pages and making better business decisions.
The tool tracks numerous key metrics that help with search engine positioning including:
Competitor websites
Competitor keywords
Top pages
Backlinks
It also has keyword research tracking capabilities that can help you identify which terms to target and how to go about optimizing them.
If this is your first time working on search engine positioning, SEMRush may be an overwhelming amount of data to work with. You are better off using the free search console and tracking progress with a simpler tool until you get more experience. Then revert back to Semrush when you're ready!
Price: Pro – $119.95/mo, Guru – $229.95/mo, Business – $449.95/mo
Ahrefs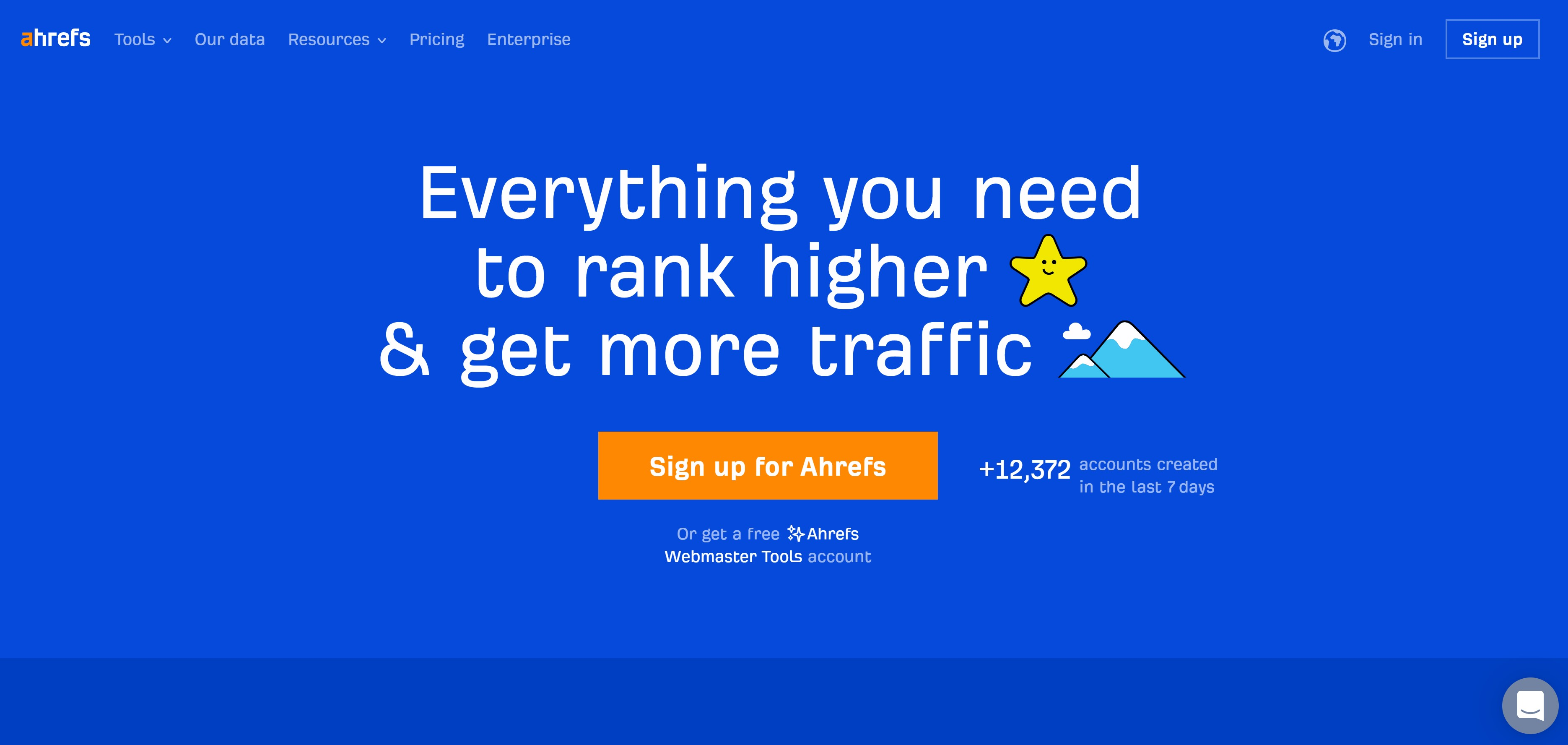 One of the top competitors to SEMRush and another tool with seemingly unlimited features is Ahrefs. The tool has everything you need including:
Organic keywords
Competition comparison
Top pages
Rank changes
Like SEMRush, you'll need a bit of experience to understand all the ins and outs of the platform, but once you get the hang of it, there is practically nothing you can't do. Due to all the features included, you'll pay a higher price tag to use the platform, so it helps to know what you're doing before you pay for a plan.
Search engine positioning is child's play with Ahrefs since you'll be able to include all the keywords you are trying to rank for and track their progress over time. It's a straightforward way of seeing how your actions affect rankings and what you need to do to optimize your pages.
Pricing: Lite – $99/mo, Standard – $199/mo, Advanced – $399/mo
Moz Pro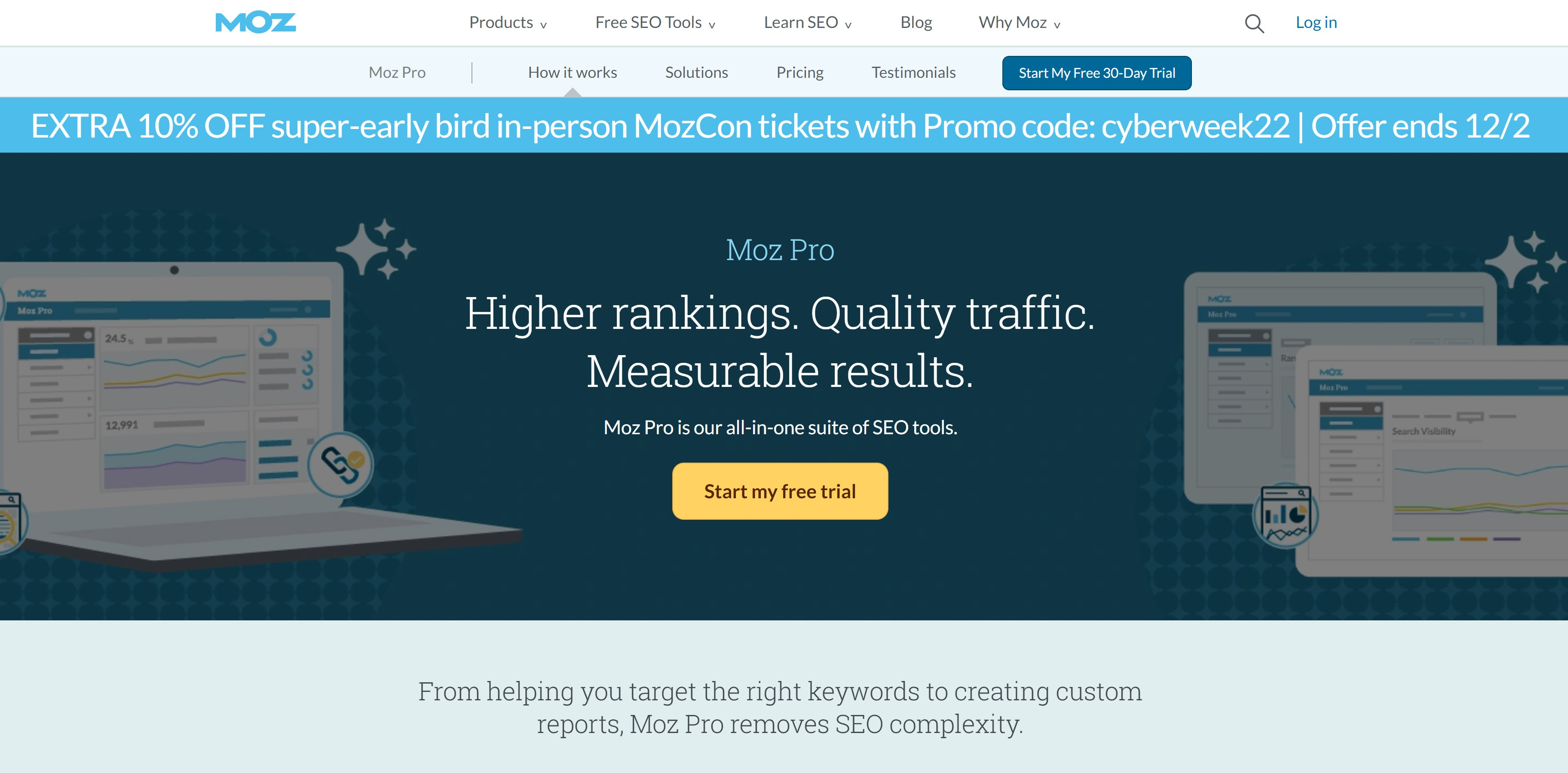 Moz Pro is better for website owners that don't have much experience but aren't intimidated by using a big platform. The tool is easy to use and provides basic analytics and insights about your website.
The best feature of Moz Pro is that it tracks backlinks for your website, which can be difficult if you're doing it by hand.
It also has keyword tracking capabilities to see how different terms are performing on the search engine.
Moz Pro pricing is on par with Ahrefs and slightly less expensive than SEMRush. The tool provides a basic overview of their website's performance in search engine rankings. You'll still get all the tools you need to track progress, but it will seem more manageable than the big two SEO platforms.
Price: Standard – $99/mo, Medium – $179/mo, Large – $299/mo, Premium – $599/mo
SurferSEO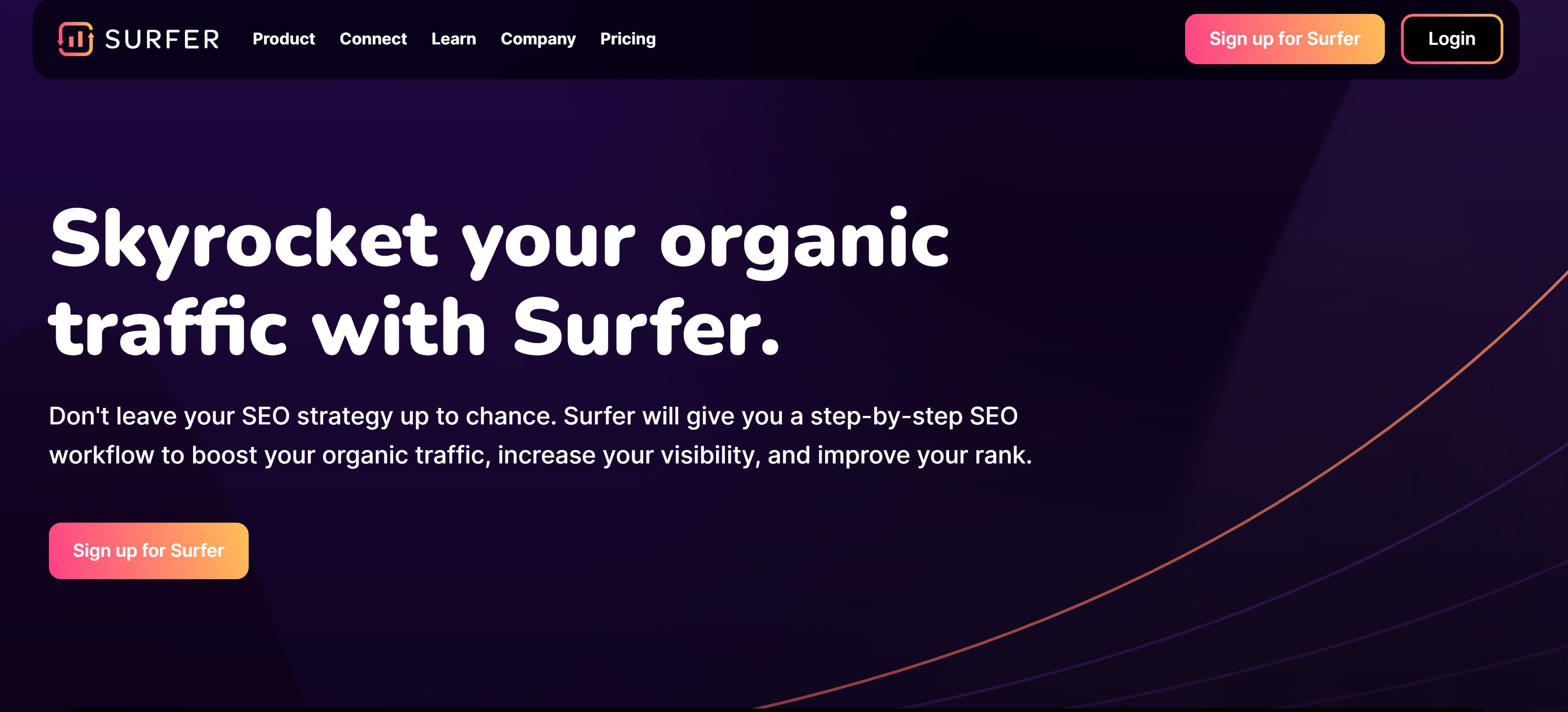 Fairly new to the SEO industry but still making big waves is SurferSEO. The tool is meant more as an on-page SEO assistant to be used while writing articles or webpages. As you write content, you are given a set of keywords that have been automatically generated using the top-ranking sites for your specific keyword.
You'll get even more aggregated data like the number of headers, how long your content should be, and questions typically used in top-ranking sites. Surfer even makes it easy by giving you a targeted score to hit from 1-100, and as you achieve averaged metrics from top sites, your score goes up.
Other features that come with all plans include:
Content editor
Keyword research
Grow flow
Audit
If you are writing lots of content or have a team of writers, SurferSEO is almost a must-have tool at this point (although you may also want to check out these Surfer SEO alternatives). It gives you the best chance to rank and takes all the guesswork out of optimization when you're writing.
Learn more in our Surfer SEO review!
Price: Free, Basic – $49/mo, Pro – $99/mo
Frase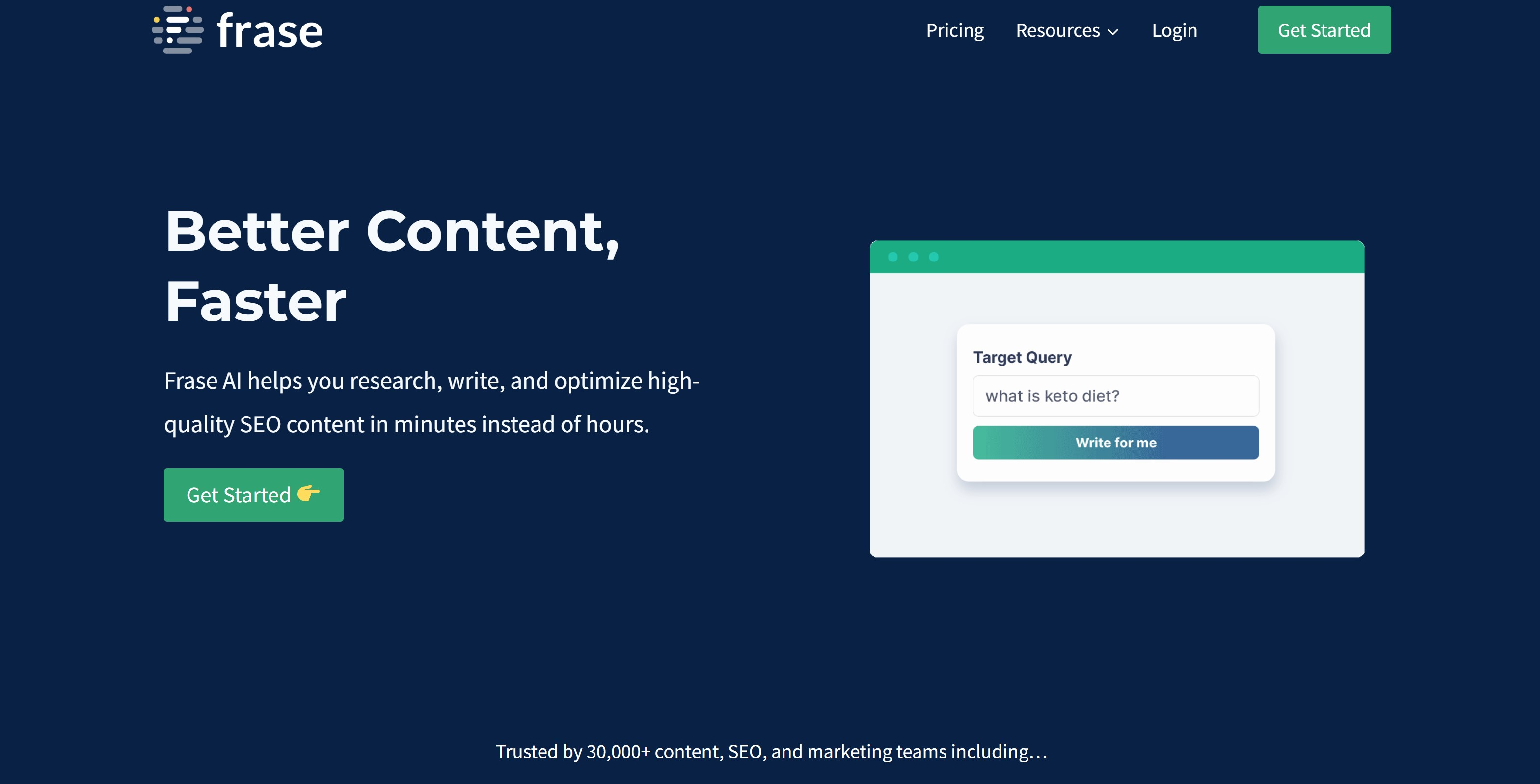 Frase takes what SurferSEO is doing and raises the bar several notches. Instead of writing all the outlines and content yourself, Frase uses cutting-edge AI technology to help write everything for you.
The tool aggregates data from the top-ranking sites based on the keyword you select and then automatically generates outlines, content titles and summaries, and more. It won't be perfect if you decide to let the AI do everything, but it can save you considerable time when writing content. And you can always manually adjust however you'd like.
Using Frase, you can save hours of your time researching and analyzing top-ranking sites. And you'll receive SEO-optimized outlines and content within seconds. It's like combining an AI writer with SurferSEO to create an all-in-one tool for optimizing your content.
Learn all about the tool in our full Frase review!
Price: Solo – $14.99/mo, Basic – $44.99/mo, Team – $114.99/mo
Accuranker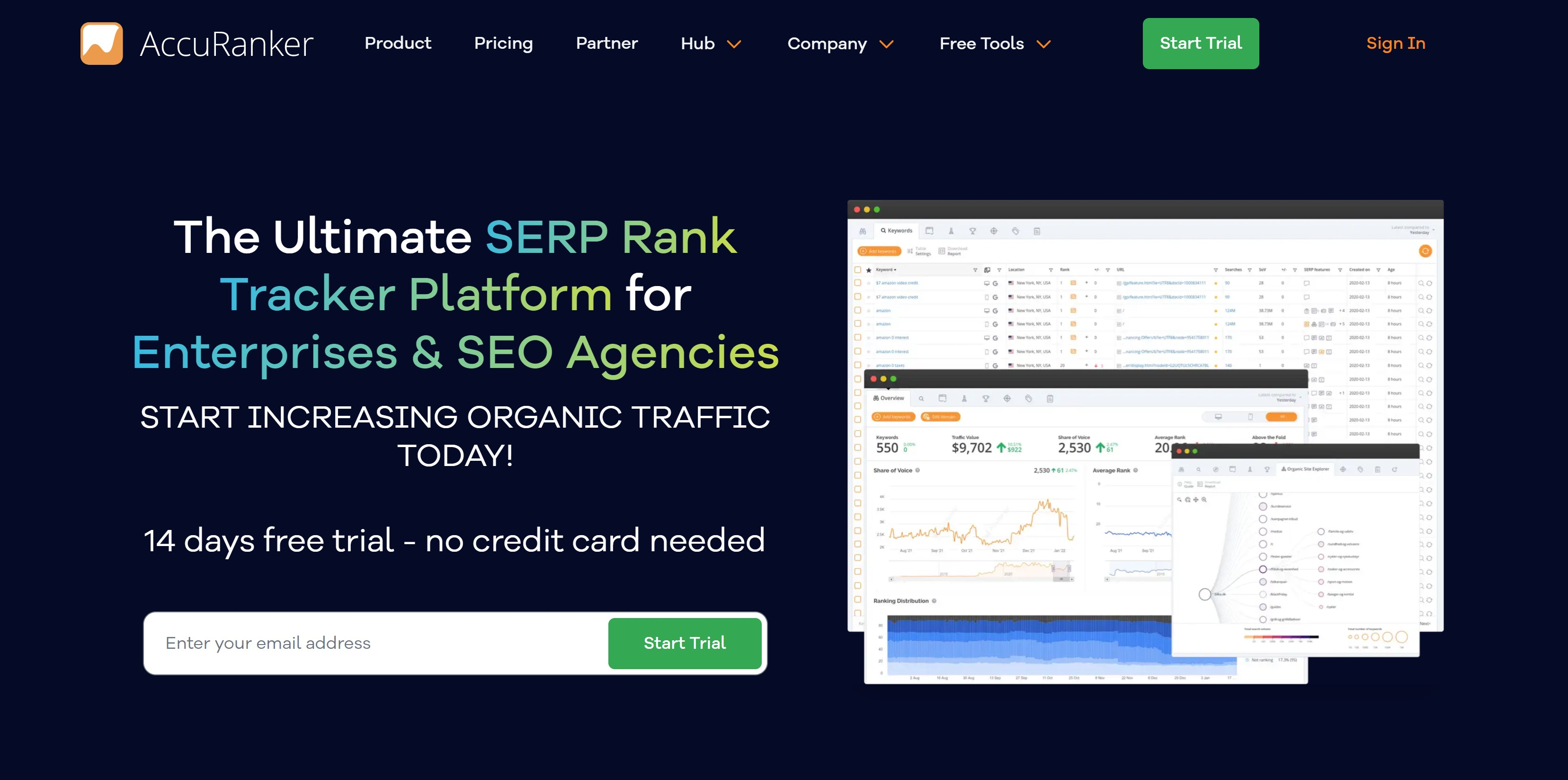 Accuranker is a more technical tool visually laid out differently than any other on this list. Targeted more towards SEO agencies, it has a range of features including:
Keyword tracking
Competitor analysis
SERP history
Segmentation filters
The tool is highly customizable, so you can see exactly what data you want to track. It also has a unique feature that shows your rankings in relation to your competitors worldwide and by region. This allows you to hone in on areas where you are losing ground and adjust accordingly.
Accuranker is a great tool for SEO agencies because they can track a lot of data manually without having to sort through it. The starting price is higher than other tools on this list, but you only have to pay for the keywords you want to track.
Price: Starting at $129/mo for 1,000 keywords
How to Choose SEO Tools
The number of features that come with some SEO tools can stop even the most experienced SEO analyst in their tracks. Choosing the right tool surpasses features and reflects your website and what you need.
Below are the most important considerations to remember when choosing your next search engine positioning platform.
Match Your Budget
Before researching different search engine positioning platforms, you'll want to create a budget. Understand how much you are willing to pay for a tool before you start your search, and you'll give yourself a range of options to follow.
Tools usually have the option to pay monthly or pay annually. If your budget allows it, you can get an entire year of one platform where you'd only be able to pay for several months with a different platform.
Giving yourself an idea of what you can afford ahead of time will make strategy easier when you're trying to make decisions in the moment. Allow your budget to be a guiding force when selecting a platform for your business. Your bottom line will thank you later.
Align Your Goals
Just as you made a budget before looking at any platforms, you should do the same with your goals. Some tools offer:
content optimization
competitor analysis
backlink tracking
progress tracking
Understand your end goal and then research different platforms to determine if they have the features you need to reach those goals. You may find some tools have more than what you are looking for or offer additional services like reporting or website audits.
Just because a tool has a ton of features doesn't mean it will be beneficial to you. The level of experience required to use a tool with a ton of features may not be useful to you if you are just starting.
Integration Capabilities
Your site may already use a handful of SEO tools that are helping you rank and track progress. The entire search engine positioning process may depend on using these tools, and removing them would significantly affect your progress.
When looking for a search engine positioning platform, you want to ensure it has the integration capabilities to work with the other tools you are already using. It wouldn't make much sense to pay for a tool that's not compatible with the other ones you're already relying on.
Suppose the platform you choose doesn't have integration capabilities from day one. In that case, it's important to understand how difficult (or easy) it will be to implement those capabilities in the future.
The longer it takes to implement a new tool and reconfigure your current process, the bigger setback you'll have to overcome when you finally get everything up and running.
Check the Source of Data
You might be surprised to learn that search engine positioning tools aren't pulling data directly from search engines. Google and other search engines protect their proprietary data and won't give it away freely to anyone. That means the platforms you are considering using other ways to track progress and keywords.
When researching different search engine positioning tools, check the source of data they're using for their information.
Some platforms will use multiple sources, and some may only have access to one source. Knowing where the data comes from will help you understand how reliable each platform is in terms of accuracy.
If the platform you are using only relies on one source of data, it may not be as accurate as another platform with access to multiple sources. The more sources a platform can pull from, the better your results will be and the more reliable those results will be in tracking.
Test Run The Platform
When you're down to your last few choices, trying out a free trial version of each platform may be beneficial. This will allow you to see what features are available, how user-friendly their interface is, and if you can easily understand how to use them.
Each search engine tool is confident that once you start using the tool and implement it into your tracking process, it will be hard to give it up. That's why they offer free trials that allow you to test the platform and get used to it in hopes that you'll continue using it after the trial ends.
You can find a range of trials from 7 to 30 days but you can also find a money-back guarantee if there is no initial trial offered.
A money-back guarantee stipulates that if you don't like the platform, you can get a refund within a certain period of time. This is a great way to determine if the SEO tool is right for your needs without any long-term commitment.
Check the Customer Service
This last point is most essential when using complicated tools that take some time to learn and understand. If you don't have much experience using an SEO tool, you will likely run into issues or have questions when trying to implement it into your existing process.
That's why it's important to make sure the platform you are considering has good customer service. Check what type of support they offer including:
The response time of your customer support team is just as important as the type of support they offer. The better their customer service, the more likely they will get help promptly if something goes wrong.
Most tools have multiple plans you can choose from that give you better access and varying customer service levels. Higher plans might even include dedicated customer service agents to your account you can reach out to without waiting in a queue.
Using Search Engine Positioning Tools
Ranking high in Google search results requires using search engine positioning tools. No other method gives you the data and the accuracy that tools like these provide. By doing your due diligence, you can find a tool that aligns with your site needs and helps you achieve your goals.
If you'd like a recommendation for a premium tool, you can't go wrong with Semrush. It gives you Everything you need to ensure your site is fully optimized to both drive organic traffic and convert more visitors into customers.
Want to learn step-by-step how I built my Niche Site Empire up to a full-time income?
Yes! I Love to Learn
Learn How I Built My Niche Site Empire to a Full-time Income
How to Pick the Right Keywords at the START, and avoid the losers
How to Scale and Outsource 90% of the Work, Allowing Your Empire to GROW Without You
How to Build a Site That Gets REAL TRAFFIC FROM GOOGLE (every. single. day.)
Subscribe to the Niche Pursuits Newsletter delivered with value 3X per week