Semrush vs Serpstat: Which SEO Tool is Best for Your Business?
When you buy something through one of the links on our site, we may earn an affiliate commission.
In this article, we're comparing Serpstat vs Semrush to see which of these all-in-one SEO toolkits is better overall.
We will be comparing the features they offer side-by-side, so you can see exactly where their differences lie and decide which one is the right choice for your business.
When launching any new venture, gaining a basic knowledge of how SEO (Search Engine Optimization) works is absolutely vital for the success of your business.
Knowing what keywords to use, how to optimize your content, and how to ride the waves of trends will make a huge difference to your traffic, your followers, and eventually the amount of income you see from your business.
If you're looking for an SEO tool that helps you to get seen online then you've probably heard of Semrush and Serpstat before.
Both of these platforms offer:
Keyword research tools
Advice on search engine optimization
Website analytics checkers, and lots more SEO tools
…that will help you rank higher in Google and ultimately get more organic traffic.
Both platforms also offer powerful competitor analysis tools that allow you to look at how your competitors are marketing their platforms, the keywords they're ranking for, and even their backlink profile, so that you can identify what's working for them and use it to get ahead.
So, what's the difference between them, and which platform is going to be better for your business? We've compared them side by side to help you decide.
Try SEMrush Here
or
Try SerpStat Here
Serpstat vs Semrush: The Bottom Line
In a rush? Here's a quick TLDR on which is best overall, along with some key differences between Serpstat vs Semrush.
Semrush includes content optimization tools, including the SEO writing assistant, which will save you money on purchasing a separate content optimization tool like MarketMuse or Clearscope. Serpstat doesn't include any content optimization tools.
Serpstat's backlink analysis tools aren't anywhere near as detailed or advanced as Semrush.
Semrush has a larger keyword database than Serpstat.
Semrush includes social media management tools including scheduling and ad management tools. Serpstat doesn't offer any SMM tools.
Serpstat vs SEMrush: Background
Semrush and Serpstat are both all-in-one SEO toolkits. However, they each differ slightly in the tools that they offer and their approach to gaining visibility online.
Semrush has been around for a while now. It launched in 2008, 5 years before Serpstat.
Semrush has become one of the most recognizable SEO research and improvement platforms on the market. It's much more established in the SEO world than its younger rival, Serpstat.
Semrush boasts a database of over:
800,000,000 domains
Over 40 trillion backlinks, and
More than 20 billion keywords over 140+ location databases.
They even won an award for Best SEO Tool in 2021, so it's fair to say that they're a popular option.
Serpstat, on the other hand, is a slightly smaller SEO improvement platform. However, they're no less dedicated to helping users grow their presence online.
Serpstat was founded in 2013 as a keyword research tool but steadily grew to an all-in-one platform. This happened gradually as the founders saw the need for different kinds of data and tools to beat the Google search algorithms.
Serpstat offers 5 core tools and has a network of over 200,000 digital marketing professionals signed up.
Serpstat has more than 5 billion keywords in their database with 25,000 keywords being updated every minute. They process more than 10 million requests per month!
They focus on making complex SEO management accessible to people with less experience and without any formal training. This ensures that the platform is easy to navigate, use, and understand.
Serpstat vs Semrush: Keyword Research
Both Serpstat and Semrush offer a keyword research tool as part of their core features. The popular digital marketing tools are designed to help you find profitable keywords that you can rank for.
Both keyword tools find related keywords relevant to your seed keyword, providing you with new keyword ideas, and enabling you to optimize and improve your existing content.
When you use the keyword research tools, you'll find the same information on both platforms. This includes search volume, keyword difficulty, and the CPC price for each keyword.
Both tools also allow you to find the best keywords for paid searches, and they offer more relevant keyword suggestions for you to target.
Although these tools are very similar to use, there are some key differences in how each tool works both behind the scenes and in terms of user experience.
Semrush's keyword research tool is called "Keyword Magic tool". The Keyword Magic Tool suggests alternative keywords to target, and this has a lot more data points and filtering options than Serpstat's keyword tool. This means you're able to be more specific and get more relevant results.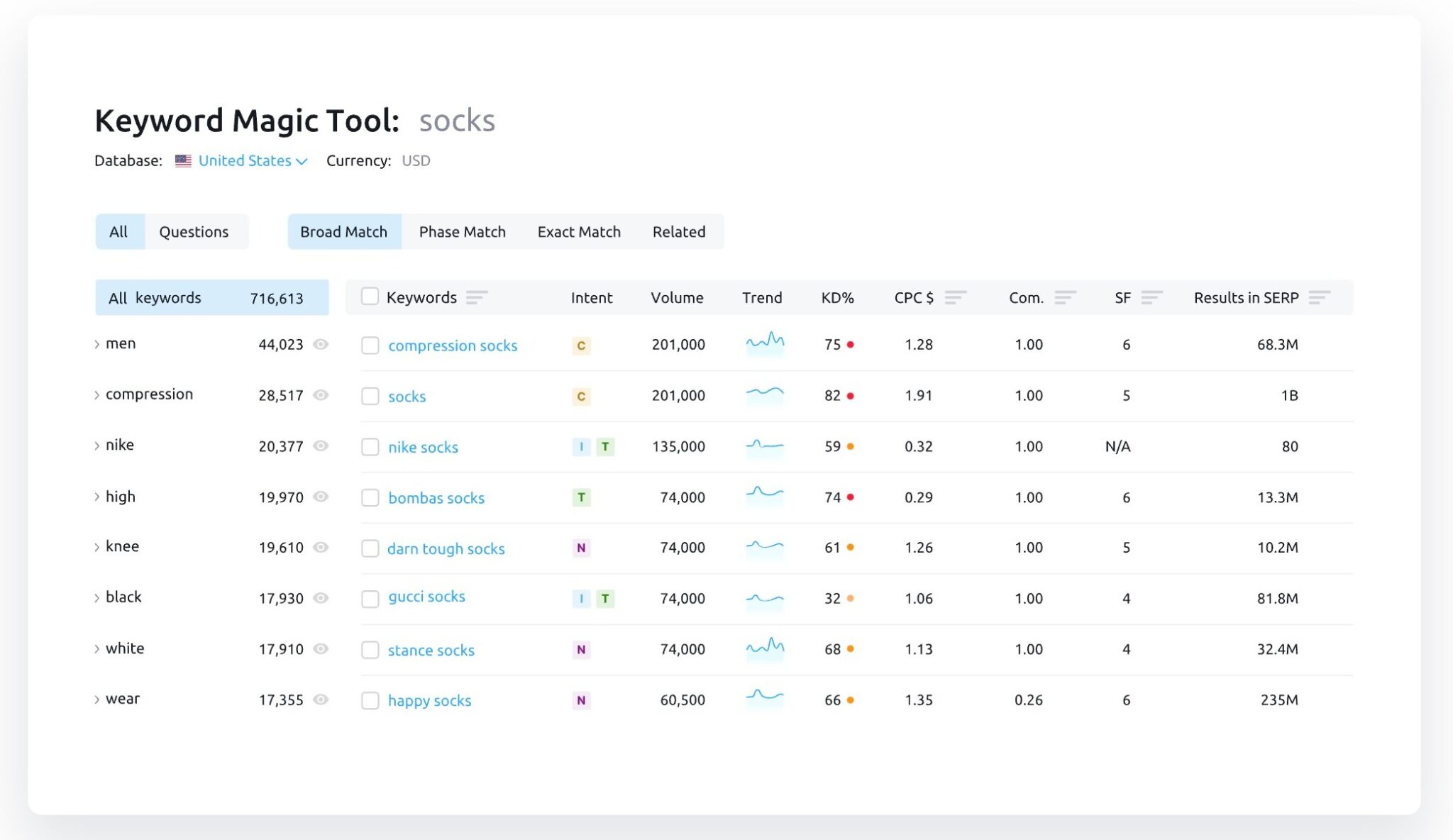 Keyword Magic Tool is a lot more intuitive to use and understand than Serpstat's keyword research tool.
And Semrush has a larger keyword database too.
If you're researching a very niche topic, then Semrush's larger database of keyword ideas could be very helpful for you.
Competitor Analysis
A big part of improving your visibility online involves competitive analysis. It's important to understand what your competitors are doing and what you can take from their strategy to improve your own.
Both Semrush and Serpstat offer a competitor analysis feature that allows you to find out who your main competitors are and provide you with insights into their paid and organic search strategies.
The tool enables you to see what related keywords your competitors are outperforming you on so you can use this to create new content or optimize your existing pages.
Both Serpstat and Semrush offer multiple ways to analyze the competition.
This includes the keyword analysis tool and a competitor backlink analysis feature. This feature allows you to see how many backlinks they have, where they're coming from, and their growth.
You can use this to reach out to the top pages in your competitor's backlink profile and pitch your content or service to them too.
Both tools offer valuable data points that you would struggle to find elsewhere, like seeing which keywords are (or aren't) working so you know which to target or avoid.
Semrush takes the edge in competition keyword analysis, just for its ease of use and advanced filter options which make it easier to drill down into the exact information you need. Having said that, Serpstat's domain comparison feature is much easier to use and understand.
Semrush also excels when researching your competitors' backlinks. Only Semrush offers a backlink gap tool. This tool shows you any backlinks that your competitor has but you don't, giving you the chance to find new websites to pitch your brand to.
It's because of this and the platform's ease of use that Semrush wins on competitor analysis.
Backlink Checker
Both Serpstat and Semrush offer a backlink checking tool. This tool allows you to look at all of the backlinks pointing to your site, alongside information about the linking website.
It enables you to keep an eye on the health of your backlinks to ensure they aren't doing any damage.
Both Serpstat and Semrush will show you your:
Page rank
Your number of backlinks (split into follow and no follow), and
Top referring domains.
However, the way they show the information and any extra information that they show varies between platforms.
Semrush is known for its powerful backlink analysis features which will show all links pointing to your domain as well as anchor text and the geolocation of the link.
They make it simple to sort through the data that you don't need with their extensive filtering options.
It's also important to mention that Semrush has a much larger backlink database. So, some links will show up on Semrush that might not appear on Serpstat.
The Serpstat backlink analysis tool shows you all of your backlinks with their anchor text, referring domains, and the Trust Rank and Page Rank of each link. This enables you to check them for quality.
The backlink checker dashboard is easy to navigate and it has all of the basics that you would need. However, it lacks some of the finer filtering options that make it easy to dig through the data.
Between the two, Semrush has the edge for its expansive filtering options and simple display.
The design of the dashboard combined with the expanded options makes it much easier to drill down into the data that you're looking for rather than having to scroll through a lot of irrelevant links that you can't filter out in Serpstat.
Rank Tracking
Serpstat and Semrush have almost identical features that allow you to monitor your performance across various keywords.
Both rank tracking tools analyze the performance of your website against your chosen keywords on an ongoing basis.
The rank tracker clearly displays information about any changes in position, top competitors, and rank distribution.
Both platforms refresh the data daily. This enables you to check your ranking in specific geographic locations and allows you to check from both mobile and desktop.
The tool will also show you the search volume of each keyword, so you can decide if it's time to look for a similar keyword to target.
While there are a lot of similarities between the two platforms, Semrush does offer a few additional features that could be useful to you.
Semrush's rank tracking tool gives you a lot more data visualizations. These include a featured snippet report and more in-depth filtering.
This allows you to see how your website is performing at a glance. It also gives you the option to drill down into the data to get more specific information about why your website is improving in the rankings (or why it's not).
Contrary to SEMrush's expanded data visualizations, Serpstat doesn't actually offer any graphs that show how your keyword rankings have changed over time.
This makes analyzing your keyword ranking trends or tracking any improvements a little trickier.
There are very few visual cues that help you to quickly check how your website is performing. You can only really get a sense of your website's performance if you take time to go through each tab of the ranking tool and apply multiple filters.
The Winner: Semrush wins again!
On-Page Audit
Both Semrush and Serpstat include an on-page audit tool. This allows you to look at your webpages in-depth to check that they're performing well and are as SEO-friendly as possible.
The website analysis tool also allows you to analyze your competitors' SEO so you can see what they're doing better. That will help you to improve.
The on-page audit tool looks at technical SEO metrics such as:
Link verifications
Robots.txt settings
Missing pages
Meta tags
Length of your titles and description
Heading tags
Duplicate content
Sitemaps, and
Any issues with images.
While both platforms offer this tool, the way the data is presented varies.
Semrush's site audit is much more visual. It gives you a site health score out of 100, displaying the number of errors and warnings with a graph that tracks them over time.
Additionally, it offers information on:
The crawl ability of pages
Site performance, and
Internal linking.
You can then click on the Issues tab to see all issues ordered by severity, and what you need to do to fix them.
Serpstat has a similar system. When you crawl your website it shows:
Your referring domains
How many keywords you rank for in each location, and
An "SDO score" (Serpstat Domain Optimization score).
The audit summary will show you the total number of errors, along with an indication of whether they are affecting your SEO.
The issues are split by priority and include a recommendation of how to fix each issue.
While the features are similar, Semrush is slightly more useful. This is thanks to the amount of detail it provides, and the detailed recommendations on how to fix errors.
The data is laid out very clearly which makes it easy to get a sense of your site health at first glance.
Reporting and Analytics
Both Semrush and Serpstat offer a number of ways to look at how your site is performing.
Each tool has its own analytics panel, and both sites have a dashboard which is the first page you see when you log in.
It shows you some basic stats that you might want to know at a glance like any movement in keywords, SEO tracking, and traffic. You can then navigate to specific tools for more information.
Overall, Semrush's dashboard is a lot more detailed (but you may be interested in seeing how Ahrefs vs Semrush compare).
When you first log in you're greeted by a panel of domain analytics which shows your traffic, organic and paid keywords, and ad traffic (if any).
Further down, you will also see position tracking with a visibility improvement percentage next to your website and an At a Glance website health box.
You can also click to go onto a separate SEO dashboard which will give a summary of information from the SEO tools.
Serpstat also has a dashboard but it's a lot less clear.
It shows:
How many keywords you're ranking for
How many referring domains and pages you have, and
A basic overview of the site audit.
Overall, Semrush's analytics and reporting are better across the board.
Every section of the site, from the dashboard to each of the tools, offers its own overview. If you want more information or you're looking for something specific, Semrush has a huge list of filters and options that enable you to create very specific reports.
You can also export all of the data from each tool or from your dashboard in multiple different file types.
Serpstat offers basic analytics and reporting but there are nowhere near the same amount of segmentation options. Plus, the data is displayed in a much more confusing way.
Serpstat vs Semrush: The Pros and Cons
As with everything, Serpstat and Semrush each have their own pros and cons. It's important to think about whether any of these are deal-breakers for you before signing up for a plan.
Serpstat Pros and Cons
Pros:
Detailed analytics at the URL level in addition to domain and page levels
Cheaper than Semrush
Free plan available
Great customer support
Clutter-free interface
One account can have unlimited users
Cons:
Serpstat doesn't offer as much backlink data as Semrush
Keyword data is sometimes inaccurate
Semrush pros and cons
Pros:
Semrush offers a lot more tools, compared to Serpstat, including the SEO writing assistant tool
Measures featured snippets
Outstanding keyword research tools
Larger database of keywords and backlinks than Serpstat
The backlink analytics tool and auditor tool is excellent and gives a lot of in-depth information on each link
Excellent competitor analysis features
Cons:
Expensive
A slight learning curve at first
Serpstat vs Semrush: Pricing
While Semrush does offer a lot more tools and enables you to access more specific data than with Serpstat, it does come at a cost.
Serpstat is generally cheaper than Semrush. However, you get fewer features and you aren't able to segment data with as much accuracy.
Serpstat Pricing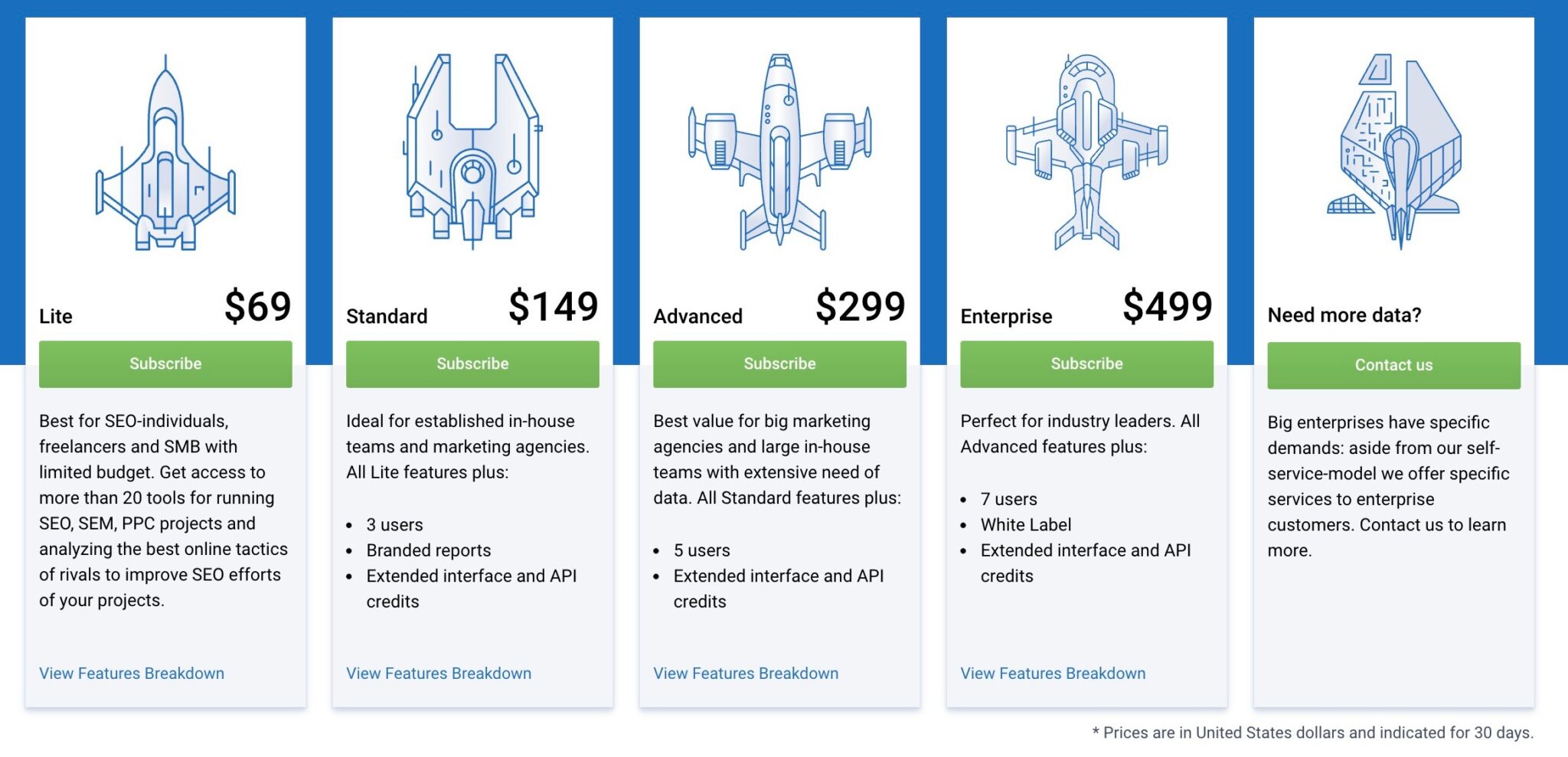 Serpstat's Lite plan comes in at $69 per month. This plan allows you to track up to 15,000 keywords.
The Lite version of Serpstat gives you access to most of their basic tools. However, you miss out on rank tracking which could be a deal-breaker.
You also miss out on white label reports. But apart from that, you get all of the same features.
The Pro plan costs $149/month. This plan gives you access to all Lite features, plus branded reports and access for up to 3 users. The advanced plan costs $299/month, and the Enterprise plan costs $499/month.
Serpstat also has a free plan available which gives you daily credits to use the platform. It also provides access to the basic features.
Semrush Pricing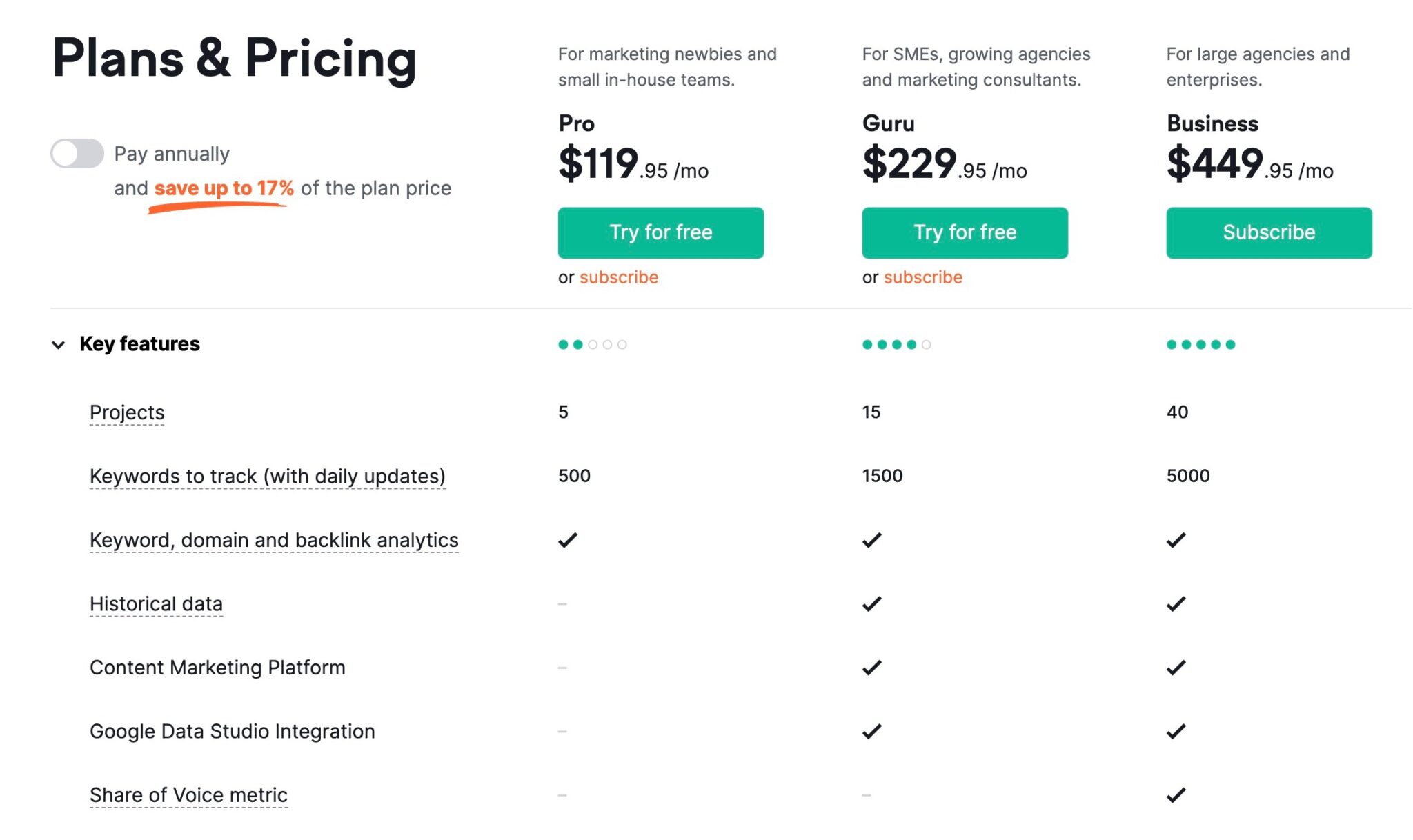 The Pro plan is Semrush's most affordable option at $199.95 per month.
For access to historical data, Google Data Studio integration, access to APIs, and some features of the domain and keyword analytics tools, you will need to upgrade to the Guru plan, which costs $229.95/month.
Semrush offers a very limited free plan. You can also take advantage of the free 7-day trial here to try out more features.
Try Semrush for Free Here
The Verdict: Serpstat vs Semrush – Which is better overall?
When it comes to Serpstat vs Semrush, which is better overall?
When deciding which platform to use, digital marketers need to think about the SEO tools that you can't live without and what you're prepared to pay in order to get access to them.
In our opinion, Semrush wins hands down. Unique features like backlink gaps in competitor analysis, paid search competitor analysis, and the overall clear layout makes Semrush the winner.
Although it's expensive, Semrush offers many tools that aren't included with Serpstat. Content optimization tools and social media management tools can be expensive when purchased separately.
With Semrush, you get everything you need in one package. If you want to know more about Semrush, check out our full Semrush review.
If you're happy to accept less detailed reporting, less access to data, and more basic features, then Serpstat could be a great option for you. The platform offers everything you need to improve your SEO at a great price.
However, you may run into issues with the accuracy of some data. Plus, the lack of segmentation options might be frustrating.
At the end of the day, both platforms offer powerful tools that give you the ability to supercharge your SEO performance without having years of formal training. It's just down to you to decide which platform offers exactly what you need.
Try Semrush for Free Here
Try Serpstat Here
Still undecided? There are some other great SEO tools out available that you can try to see if they're a good fit (you may wanna check out our RankIQ review).
SE Ranking, SEO Powersuite, Ahrefs, and MOZ pro are just some of the amazing tools we shared in our in-depth article on Semrush competitors and alternatives.
Want to learn step-by-step how I built my Niche Site Empire up to a full-time income?
Yes! I Love to Learn
Learn How I Built My Niche Site Empire to a Full-time Income
How to Pick the Right Keywords at the START, and avoid the losers
How to Scale and Outsource 90% of the Work, Allowing Your Empire to GROW Without You
How to Build a Site That Gets REAL TRAFFIC FROM GOOGLE (every. single. day.)
Subscribe to the Niche Pursuits Newsletter delivered with value 3X per week