The Semrush Keyword Magic Tool Review: How Good Is It Really?
When you buy something through one of the links on our site, we may earn an affiliate commission.
Content writing is not always an easy task. It can be difficult and frustrating to write content and monitor SEO metrics at the same time. 
To alleviate this problem, Semrush created an SEO toolkit. It helps you find the right keywords for a topic and optimize the content to make sure that it matches SEO factors. The Semrush Keyword Magic Tool performs  keyword research and forms part of the Semrush Toolkit.
The Semrush Keyword Magic Tool enables you to analyze keywords using specific insights. Measure the value and prospects of keywords using key metrics such as keyword search volume, CPC (Cost per Click as in Google ads), keyword difficulty, and much more.
Try Semrush's Keyword Magic Tool out today!
GET SEMRUSH HERE
The Importance of Keyword Research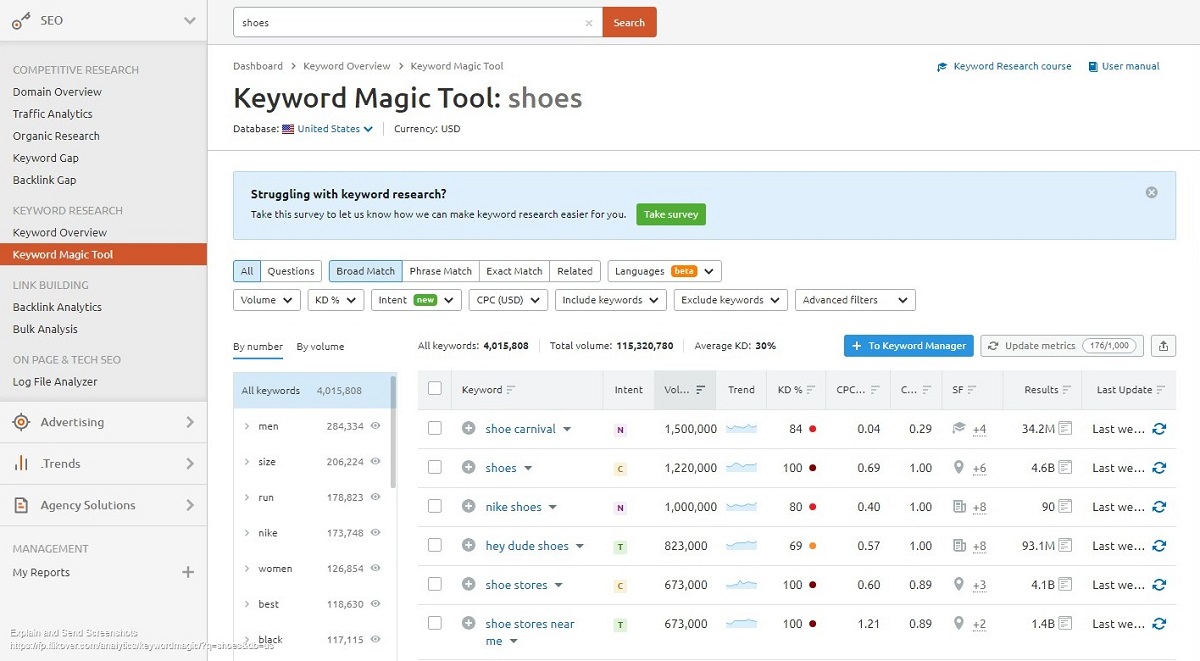 Keywords are specific terms and phrases that drive search traffic to search engine results pages. 
Content writers are looking for keywords, but Google and other search engines will also read your website's content, looking for keywords to understand what your content is about and rank you for such terms.
Keyword research starts with discovering keywords and phrases in Google queries associated with your website's products or services. 
Keyword research is a critical part of any digital marketing campaign. The key to success lies in taking time and understanding your audience and what they're looking for on search engines like Google or Bing (their search intent).
In short, keyword research is a process of identifying and analyzing common search terms, words, or phrases that people use in queries into Google. We can refer to these search terms as keywords. These keywords are then strategically added to your content so it can rank better on SERPs (Search Engine Result Pages).
Features of the Keyword Magic Tool
Two of the strong features of this keyword research tool are the enormous numbers of keywords returned upon presenting a seed keyword or root keyword and the number of filtering opinions in the Semrush Keyword Magic Tool. The filtering options allow you to dig down and find the desired keywords.
The Database
The database used by the Keyword Magic Tool is enormous. It consists of 20 billion keywords. This includes 20 million ideas for a single keyword. The database covers 142 geodatabases.
Metrix
The Semrush Keyword Magic Tool sorts keywords it finds by the following metrics:
Search Intent
What was the purpose of a customer search? Understand if a keyword has informational, navigational, commercial, or transactional intent.
Search Volume
This is the average number of monthly searches of a particular keyword over the past 12 months.
Trends
Trends reflect the level of interest in a search query over the past 12 months represented in the form of a 12 bar graph.
Cost Per Click
The CPC number is the average price an advertiser will pay for a user's click on Google ads. The higher the number, the more valuable a search item is.
Keyword Difficulty
A wide range of parameters influences estimated keyword difficulty, including keyword intent, available SERP features, and the analysis of top-ranking rivals' backlinks. A low competition keyword will have a low KD score.
SERP Features
This is the number of rich snippets that appear in SERPs for a particular seed keyword. The Keyword Magic Tool will display which SERP features the article acquired by clicking on the icon.
Results
Results are the number of URLs displayed in organic search results for the given seed keyword. 
Deep Keyword Analysis
To find specific keywords, we have to dig down into the vast numbers of keywords returned by the Keyword Magic Tool to focus on those that suit our needs. 
The subject of deep keyword analysis is broad and beyond the scope of this article, but to demonstrate the usage of different filters, modifiers, and groups presented to us by the keyword research tool, we will start with a small example.
Let's use the seed keyword "shoes." The Keyword Magic Tool returns about 4 million keywords. On the left, we see the keywords sorted into groups. If we are interested only in keywords that include "shoes" and "men," we click on men, and the result will shrink to about 290,000 keywords.
Suppose we are interested in an easy keyword which will mean a keyword difficulty (KD) of 15-29%. We select Easy in the dropdown menu of KD%, and Semrush will return about 136,000 keywords.
Now we can select the "intent" to be "transactional" with a volume of between 1,000 to 10,000 searches per month.
At this stage, we have around 750 keywords that we can sort according to CPC in descending order and select a CPC range of above $1.5, resulting in 52 keywords. 
In Advanced Filters, we can select keywords with a minimum word count of 3, giving us a result of 37 keywords. 
After all filters have been applied.
This example demonstrates the deep keyword analysis that the Semrush Magic Tool is capable of: from 4 million, we have focused down to 37 keywords.
Keyword Overview
You can click on the keyword and go to the Keyword Overview (sometimes called keyword analyzer). 
The Keyword Overview feature displays all the available information about the keyword, from global volume to questions, related keywords, and SERP analysis.
Semrush Pricing
Semrush offers a 7-day free trial. You do need to enter your credit card details to access the trial, but there are no charges levied if you cancel your subscription within the trial period. If you use our link below, the trial period is extended to 14 days! 
Semrush has four different pricing plans. The cheapest offers come with annual billing.
Pro – This plan is for limited-budget sites and freelancers. It starts at $99.95/m when billed annually.
Guru – SEO agencies and small to mid-sized businesses will find the features in this plan perfect for the day-to-day management of content sites (and Semrush is our top pick for a white label SEO tool). Guru starts at $191.62/m.
Business – This plan is ideal for eCommerce stores and agencies and opens at $374.95/m
Enterprise – If you have an extensive content strategy, reaching beyond the capacity of the other plans, then Semrush can custom fit a plan for your needs (and it's Semrush is our top choice for an SEO enterprise tool).
Conclusion
When doing keyword research, it can be hard to get good ideas for writing content and understanding what the public actually searches for. 
Semrush's Keyword Magic Tool is really good at helping to solve these problems. It gives you the potential to find new keywords and filter out any poor ones that do not fit your niche. That way, you can focus on what works best without wasting time searching through every possible option. All in all, this saves you a lot of time and effort. Combined with a helping hand from Semrush's resources and academy, you are sure to build a strong arsenal of excellent keywords to target in the future!
Take advantage of Semrush's Keyword Magic Tool to research your competition, find long-tail keywords, and understand what the public looks for. This tool helps you research keywords with ease. Once organized, use your ideas to create better content to start targeting specific audiences.
FAQs About the Keyword Magic Tool
What does the Keyword Magic Tool help you with?
The Keyword Magic Tool is extremely helpful. It reveals advanced information related to search queries that you never even knew existed. 
The Keyword Magic tool has a keyword database of over 20 billion keywords. With it, you will be able to conduct more in-depth research on-the-go using the streamlined interface.
Once you input a word or a phrase into the search bar, you will receive a responsive table indicating various characteristics of the search query, such as its statistical relevance and trend representation based on data from the past year. From here, it's easy to decide which results are worth investigating further and which ones should be put aside for later examination.
Is the Semrush Keyword Magic Tool free?
Free trial users can perform ten requests per day, but each query counts towards your daily limit of ten queries in Domain and Keyword Analytics.
Who should use the Keyword Magic Tool?
In short – anybody who wants to penetrate a niche. The Keyword Magic Tool is great for finding keywords that can help you establish authority in a narrow niche where you can target long-tail keywords with low keyword difficulty and good search volumes.
What are the best keyword research tools?
Semrush is a complete SEO tool suite to carry out keyword research and improve your SEO rankings.
AnswerThePublic is a very different kind of keyword research tool. It captures search engine queries and organizes them into a visual library that you can click through on a whim. You also have access to their API (Application Programming Interface) to integrate this tool with your own project needs.
Ubersuggest is a free keyword tool from Neil Patel. It offers search volume data, keyword suggestions, an idea of how difficult your keyword will be to rank for (keyword difficulty), and more.
Ahrefs is another excellent keyword research tool that supplies us with additional keyword suggestions. The "Keyword Ideas" tab can be found under the "Positions Explorer" option and comes in handy for getting more focused keyword ideas than what we'll find on the SERP overview report. Here, you simply have to type in a keyword, and all of the relevant data will show up!
Google's Keyword Planner is a free tool for marketers. The good thing about this tool is that you can also use it for SEO purposes. If you are looking for a Google keyword tool that includes search volume, suggested bid, and competition level, this could be the one for you.
The Moz Keyword Explorer is a great tool to use when you are looking for keywords that would suit your website or product. You can enter potential customer searches into the software and filter by metrics like competition level and monthly search volume. Moz crunches all this data together in one easy-to-understand interface.
Want to learn step-by-step how I built my Niche Site Empire up to a full-time income?
Yes! I Love to Learn
Learn How I Built My Niche Site Empire to a Full-time Income
How to Pick the Right Keywords at the START, and avoid the losers
How to Scale and Outsource 90% of the Work, Allowing Your Empire to GROW Without You
How to Build a Site That Gets REAL TRAFFIC FROM GOOGLE (every. single. day.)
Subscribe to the Niche Pursuits Newsletter delivered with value 3X per week