13 Shopify Alternatives to Help Grow Your eCommerce Business
When you buy something through one of the links on our site, we may earn an affiliate commission.
Looking for Shopify alternatives? You're in the right place!
When it comes to running an eCommerce business, it's important that you have the most efficient software supporting you and your customers. The ability to navigate your site and complete purchases easily is essential to the ongoing success of your business.
Many businesses have rightly chosen Shopify for their online stores. However, there are also some other great options out there. So here are 13 Shopify alternatives worth considering for your eCommerce business.
The Best Shopify Alternatives for eCommerce Entrepreneurs
These are some of the best Shopify alternatives available. In a rush? Don't worry, our overall favorites are:
Read on to find out more about these great alternatives to Shopify.
WooCommerce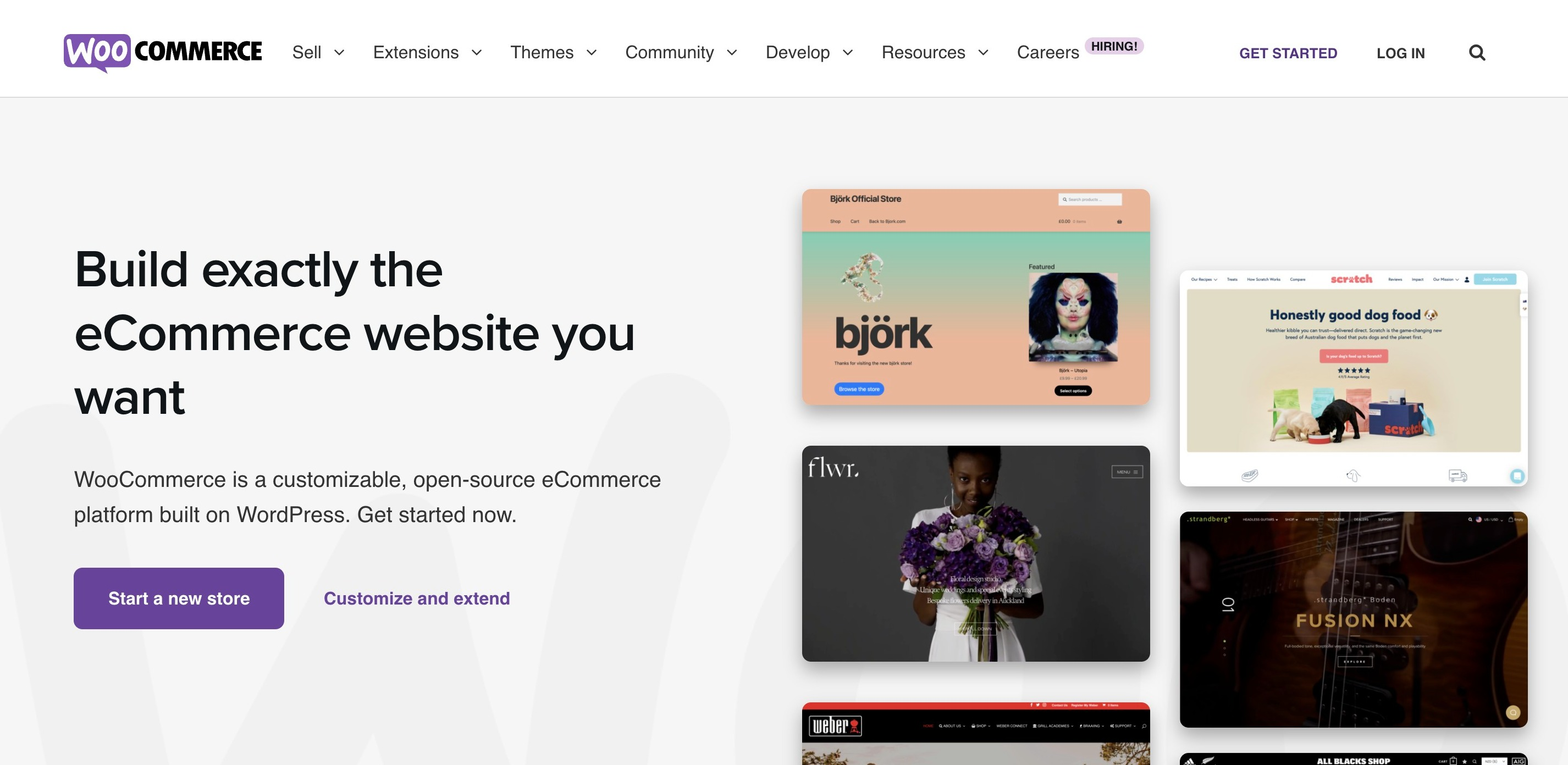 When you're looking to make money with eCommerce, WooCommerce is a place where many people start. It's a WordPress plugin that enables you to run an eCommerce store straight from your WordPress website.
It has no restrictions on the number of products you can sell. Products can be physical, digital or services offered.
WooCommerce is open-source software. This makes it a fully customizable option if you have access to a developer or the skills to be able to make the changes yourself.
However, you can still create a great-looking site without needing to code by using one of the stunning ready-made templates available. We have a WooCommerce review where you can learn even more about it.
There are loads of tutorials and guides online for most WordPress plugins and this eCommerce addition is no exception. It offers a large list of extensions and offers easy integration with WordPress plugins to add further functionality to your site.
WooCommerce works in multiple languages and is able to accept payments in different currencies using a variety of payment gateways.
One of the best things about choosing to use WooCommerce is that because it works alongside WordPress, it is great for bloggers and influencers.
Don't worry if you are not one of these, but it does mean you can take advantage of their options when it comes to SEO and content marketing.
Pricing: Just like WordPress, WooCommerce is free to download and use. This makes it one of the most affordable Shopify alternatives out there. However, you do need to provide your own domain name and web hosting. Check out Bluehost for a great budget option.
It is worth looking into hosting before you commit to using it to ensure that you are happy. You will also find that some of the plugins you require will not be free.
Get WooCommerce Here
Wix eCommerce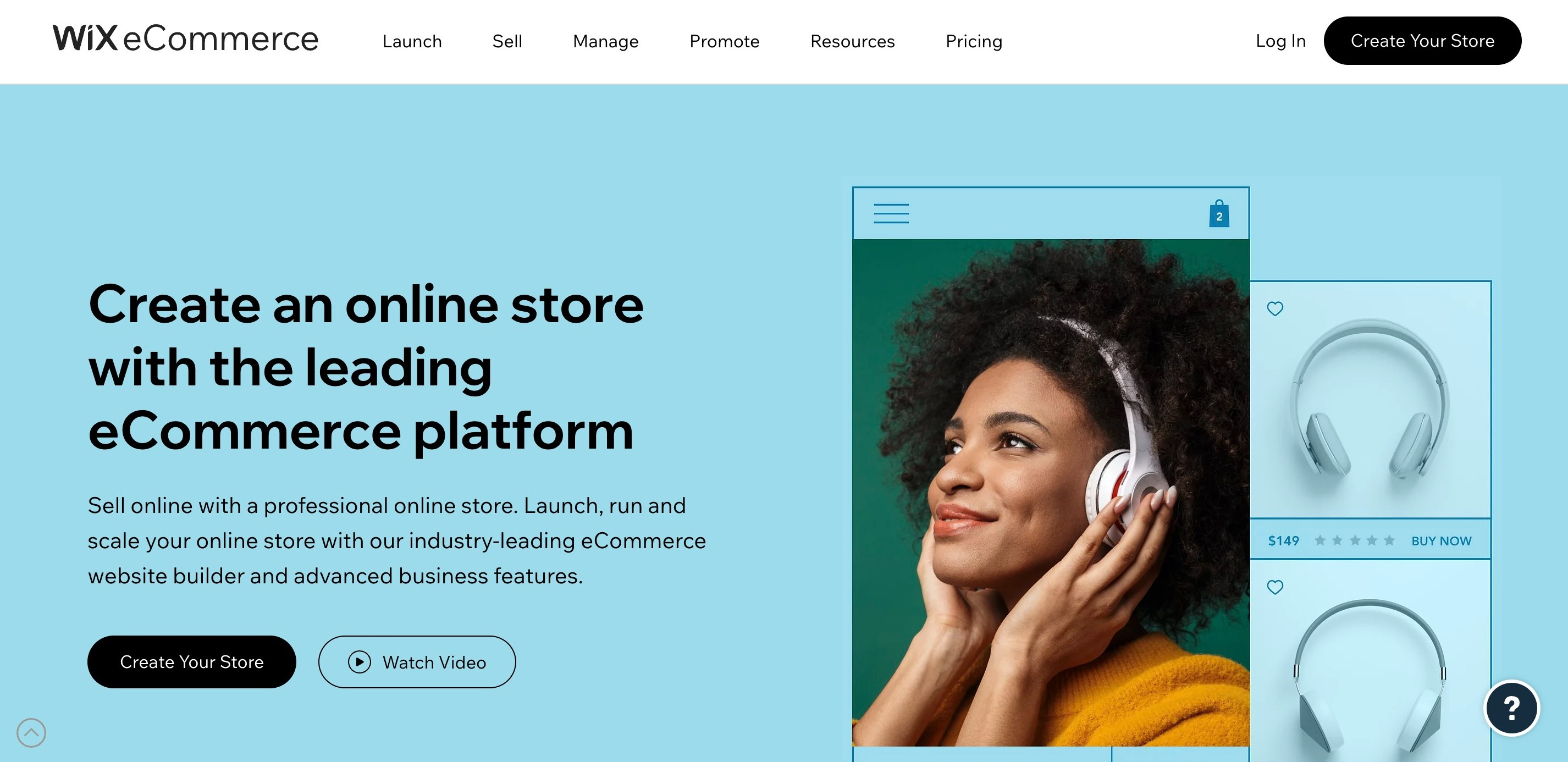 Wix eCommerce is a relatively simple-to-use eCommerce system for those getting started with selling online. The platform is possibly better known for its drag and drop style website builder. However, they have now created a competitively priced eCommerce solution.
Though Wix is a less powerful, less scalable eCommerce system than Shopify, it does offer an easy-to-understand backend. It also offers a fast setup that gets your business selling and generating income quickly. 
Wix offers support for physical products alongside the selling of services and digital products. Wix App Market provides access to add on's for specific eCommerce needs.
A quick look at the Wix dashboard will show you that it offers most of the usual features, but compared with Shopify many, are lacking.
Wix allows you to build a website for free. However, you will need to upgrade to a paid plan to sell products or services. It's super easy to build your first website or eCommerce store using Wix. Simply choose from one of their free templates and customize it using the drag and drop editing facility.
Wix websites can also be built using Artificial Design Intelligence (ADI). Wix ADI works by taking answers you provide to questions it asks. Once Wix ADI has the information it needs, it quickly builds a full site including images and content.
Wix can be set up to sell on Facebook, Instagram, eBay, and Amazon, and others are possible with the use of their Multi Orders App. There is no limit to the amount of products you can sell on your Wix site.
Use the free Avalara app provided to automatically calculate sales tax and VAT calculations. Payments can be accepted via credit card, PayPal, or cash.
Pricing: To sell on Wix eCommerce you need a paid plan. The plans start with their Business Basic plan which starts at $28 per month.
Try Wix Here
BigCommerce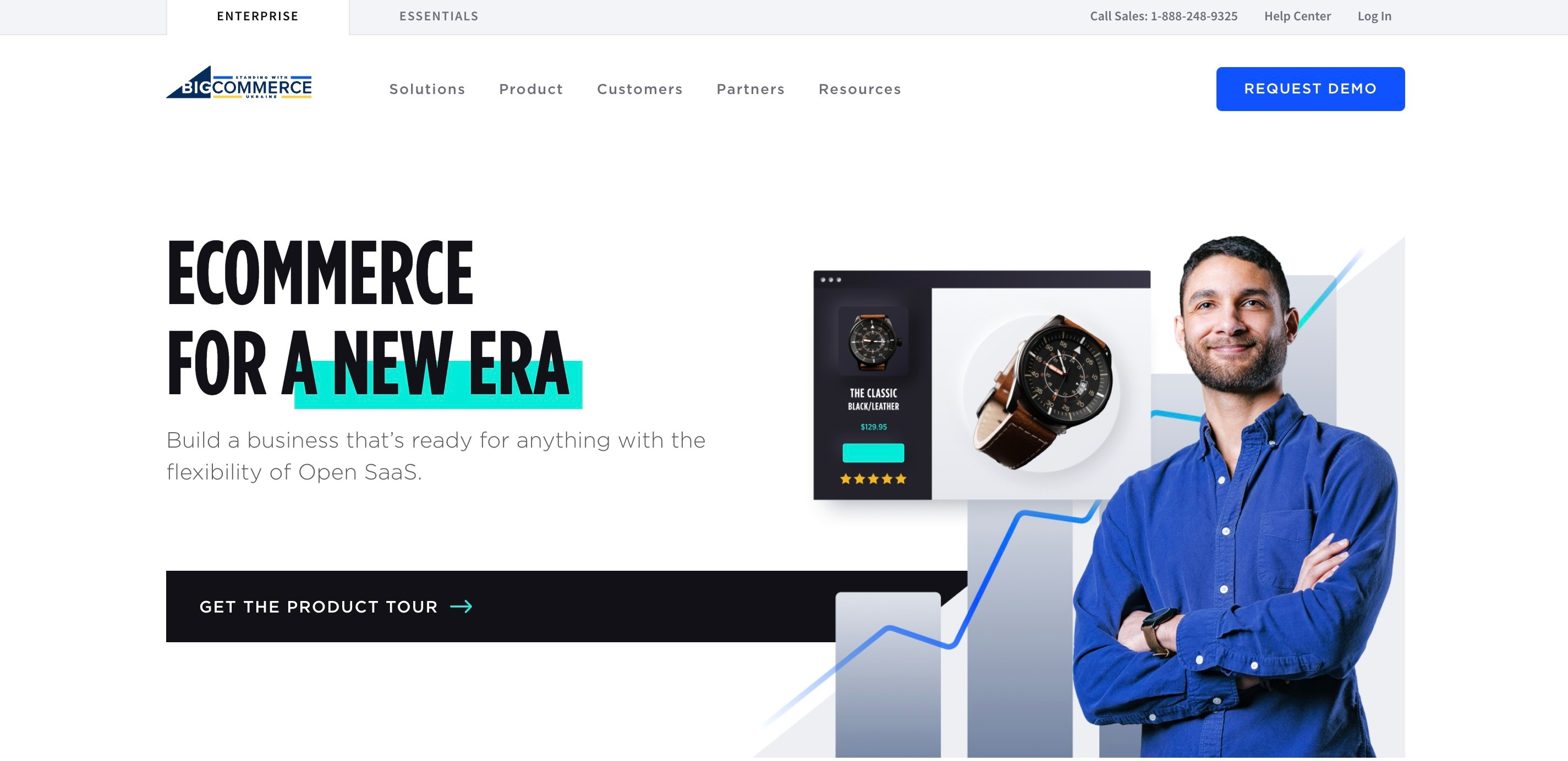 If you are looking to sell online via social platforms then it is important that you look for an eCommerce solution that supports this way of selling. BigCommerce is a free-to-use eCommerce system with easy integration for multiple marketplaces and social media.
Setting up a site is relatively straightforward if you give it some time and patience. However, there is more involved in the setup than with Shopify.
BigCommerce is an easily scaled platform that will be able to cope as your business grows. It is an ideal system for those already selling on other platforms like eBay and Facebook.
BigCommerce isn't particularly easy to use and for smaller stores it may not be the best choice. However, for businesses that hope to scale in size quickly, it can fit the requirements well.
BigCommerce has been around since 2009 which means you can feel confident it is a solution that really knows what it is talking about.
One of the things it does really well is offering out-of-the-box features on all of its plans, so you can feel confident in getting things set up quickly and easily.
When you combine this with the option to accept 55 types of payment and a built-in drag-and-drop page editor, it is easy to see that for lots of online businesses, BigCommerce ticks a lot of the boxes.
It is worth bearing in mind that some of their themes are changeable if you are looking to use their visual editor for building your website. You can learn even more about it in our BigCommerce review.
Pricing: Their plans start at $29.95 a month, with more comprehensive packages costing up to $299.95 a month. Discounts are available on all of their packages if you pay yearly.
Try BigCommerce completely free for 14 days right here:
Try BigCommerce Here
SamCart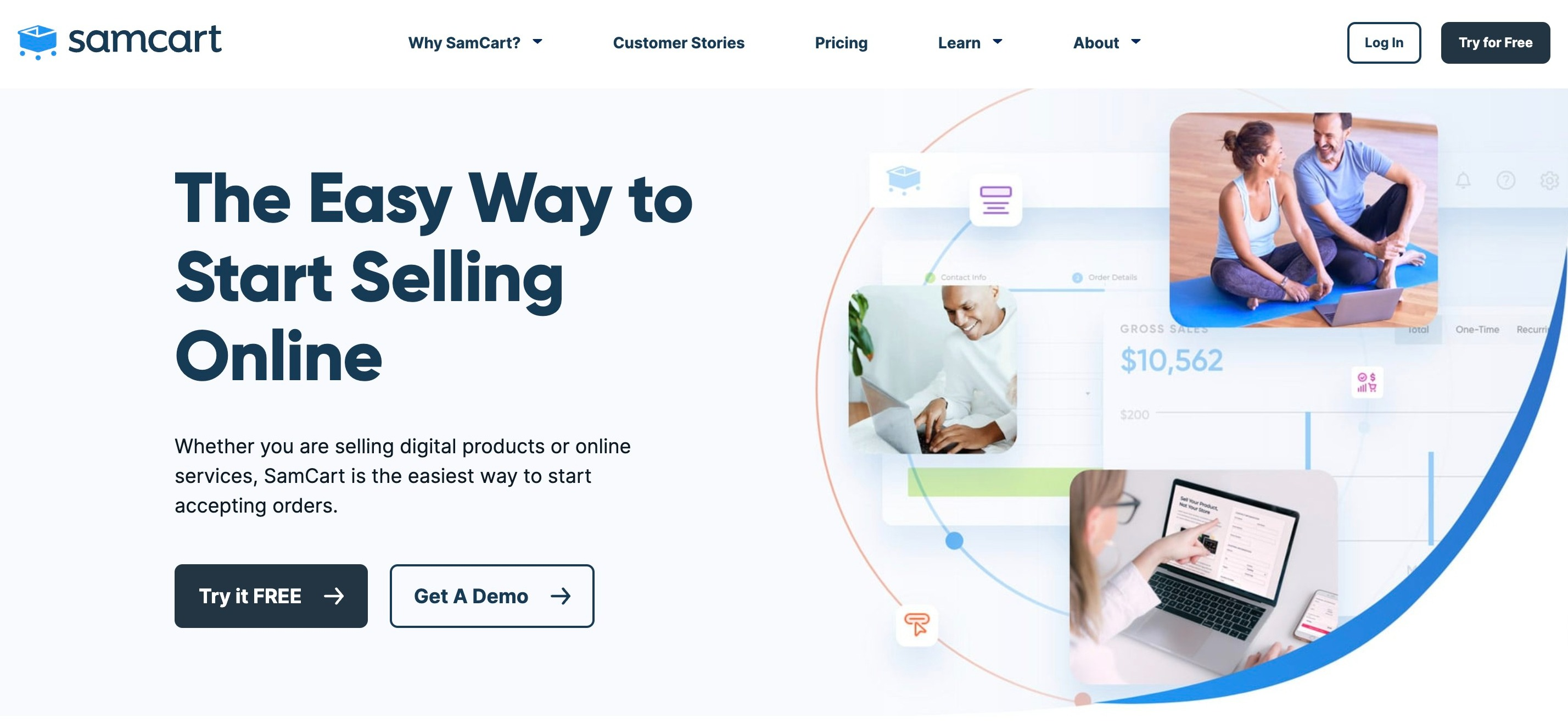 SamCart is an eCommerce checkout system primarily aimed at selling both digital and physical products. It's perfect for entrepreneurs selling:
E-books
Online Courses
Coaching
Consulting
Physical products
The great thing about SamCart is that it is designed to be super easy to use, allowing online business owners to get up and running quickly. It's definitely one of the best Shopify alternatives for digital product sellers.
SamCart has a large library of pre-designed templates for you to choose from to build your checkout pages.
The templates come in a wide variety of different layouts and designs to which you can add your own custom fields. With few restrictions, SamCart facilitates the selling of both physical and digital products from your store (see how SamCart compares to ClickFunnels).
Not only that, but all of their pages are 100% mobile responsive. This means you can feel safe in the knowledge that your customers will be able to shop with you using pretty much any device.
One thing to keep in mind is that SamCart is a dedicated eCommerce offering which means that they offer nothing but specialist shopping cart software.
This allows them to dedicate everything to offering the best shopping cart experiences. However, it can also mean that getting support on other areas of your website (such as your blog) can be trickier.
Pricing: The costs to use SamCart start at just $39 per month. If you want to test the waters before committing to a plan, you can get a free 14-day trial here.
Try SamCart Here
Squarespace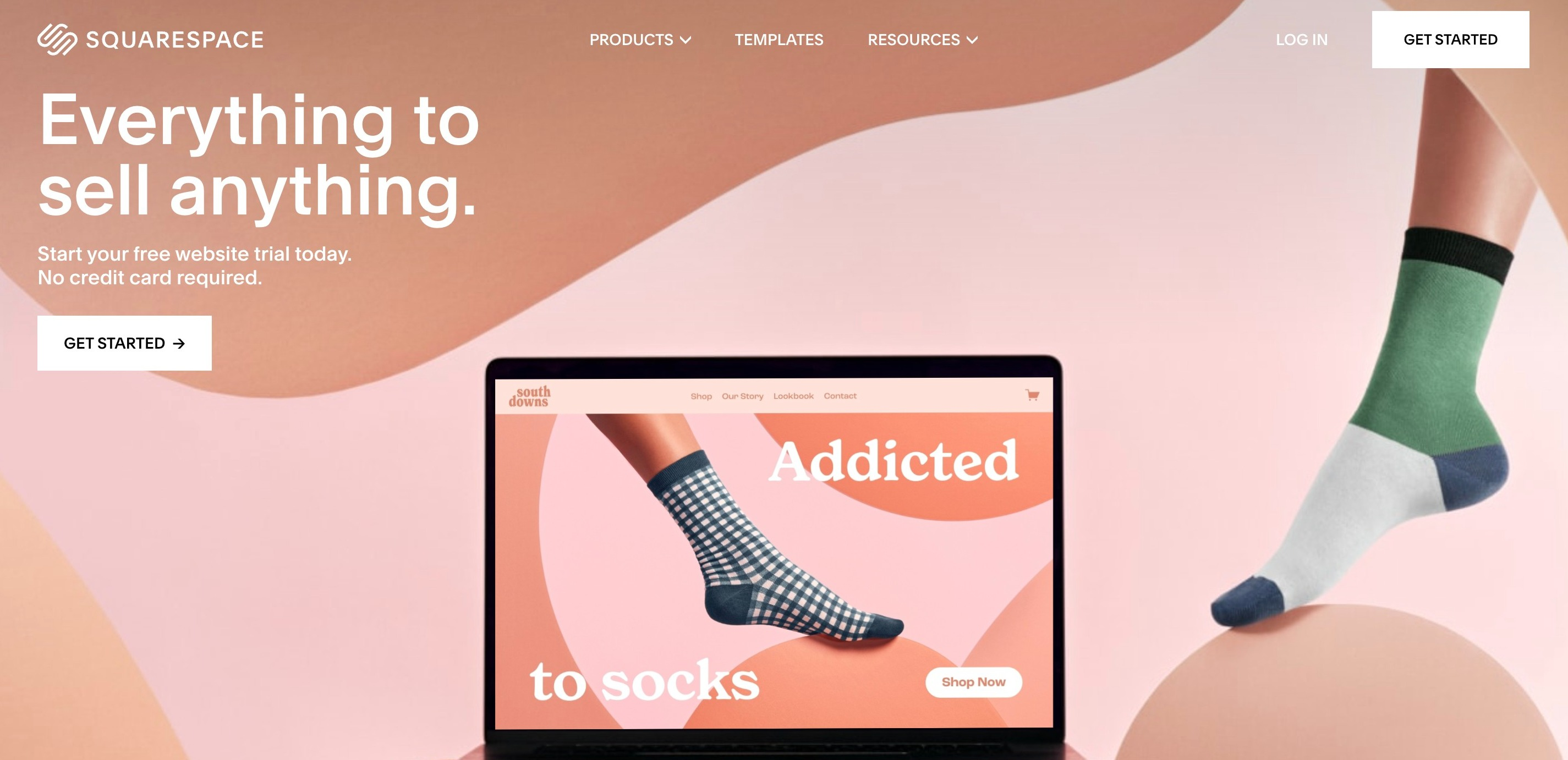 Squarespace (see Square vs Squarespace) is a website builder with eCommerce facilities, with a similar offering to its closest competitor Wix.
It is not as fully-fledged as Shopify but is a great budget-friendly option for smaller businesses to run an online store.
Squarespace offers some beautiful templates and it's refreshingly easy to set up and use. It uses a drag-and-drop interface to allow the simple customization of templates.
Squarespace caters to both physical and digital product types but is limited to only accepting payments from Stripe, Apple Pay, and PayPal.
The system offers comprehensive inventory management and the ability to list individual one-off items for sale.
Adding Email Campaigns to your selling tools gives you the ability to send 50,000 emails per month. Squarespace also offers good blogging features and comes out on top of Shopify in this respect.
Pricing: To enable all of the eCommerce features of SquareSpace you need an eCommerce plan. The lowest-cost plan that enables full eCommerce use is their Basic Commerce plan which costs $30 per month, if paid monthly, or $26 per month if paid annually.
This is ideal for those looking for a cost-effective way to build and run an eCommerce website but still have the ability to customize its appearance and functionality to suit your own needs. 
It is worth keeping in mind that customization requires the skills to use tools like JavaScript and CSS. However, much like other eCommerce solutions, there are plenty of tutorials and guides available online. These can help talk you through this part of your knowledge is limited.
Adobe Commerce (Formerly Magento)

The Adobe Commerce platform utilizes open source technology to provide a very customizable and scalable eCommerce platform with a shopping cart facility.
This customizability and scalability mean that it will require the skills of a developer to implement, or a team of developers and designers depending on the aims of the project.
The store you create will also require ongoing maintenance and updating, needing further developer skills.
Differing from Shopify, which is a hosted platform, Adobe Commerce is self-hosted. This means you will need to pay for separate web hosting and your domain, in addition to any security requirements and extensions.
Adobe Commerce Payment Integrations are provided for Amazon, PayPal, and Google Checkout among others, though some may require tailored configuration.
Using Adobe Commerce as an eCommerce operator has a high learning curve. It is a fairly comprehensive system that, once learned, can work well to manage tasks in a short time. 
Changes to your actual store will often require a developer. This can be seen as an advantage in the flexibility for customization it offers, but always at a cost.
However, if you do have the skills to code or you have someone on your team that does, then Magento can be a really useful, highly customizable way for you to be able to offer the sale of goods and services on your website.
Pricing: Magento plans start with a free version: Magento Open Source. The software is completely free to use. However, don't forget you will need to cover hosting and development costs, meaning in this case free can be quite expensive.
Magento Enterprise is also available although its cost is dependent on the individual businesses' performance. Prices start at $22,000 annually. You will also need to have the budget for the required infrastructure setup, development, and ongoing maintenance costs.
Big Cartel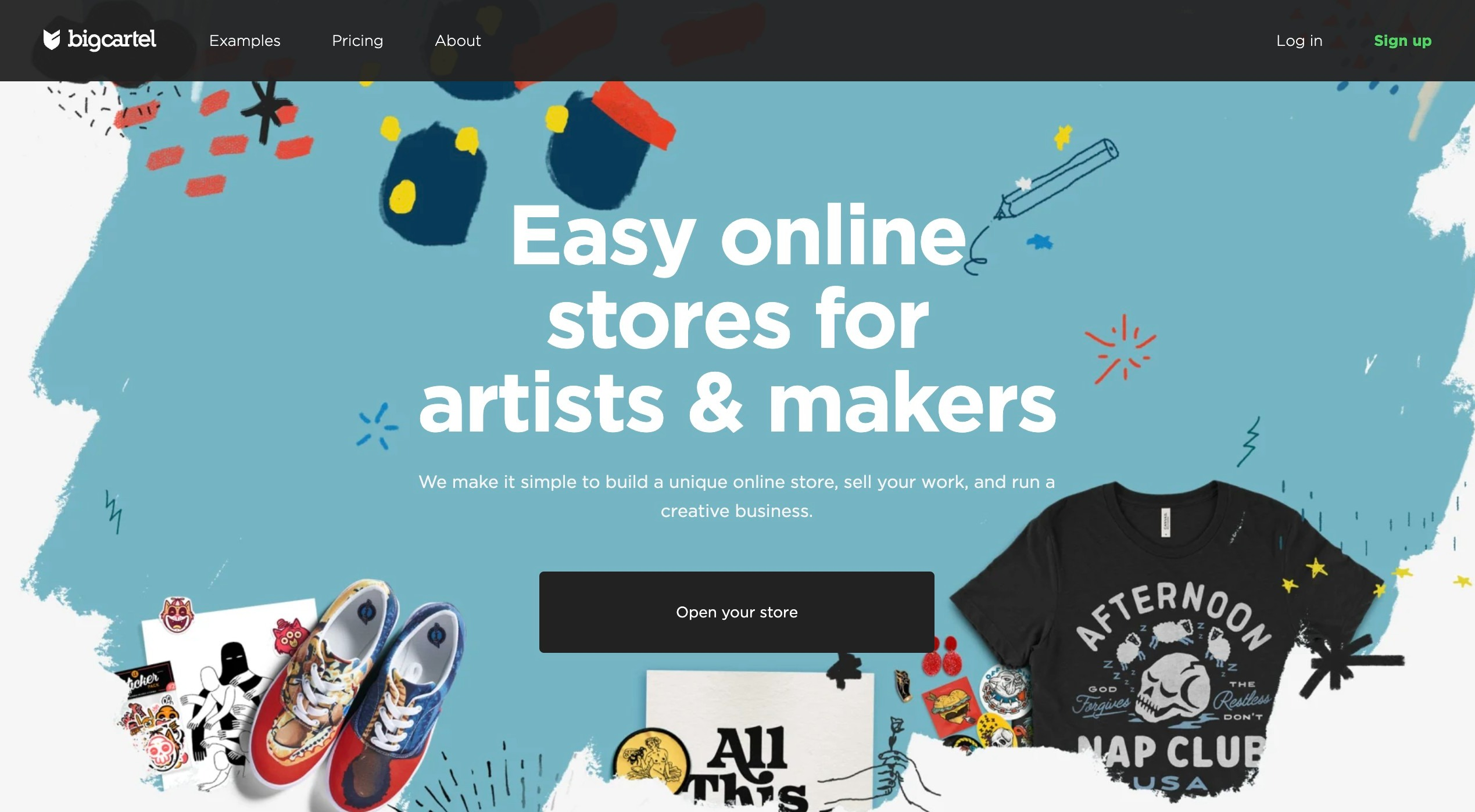 Big Cartel is aimed at independent online retailers (see Big Cartel vs Shopify). The platform gives you the ability to sell and accept payment for products or services offered through an online storefront.
The platform is free for developing and running an online store as long as you only offer 5 products or services. This free plan includes all the basic tools needed to run a small eCommerce site.
This makes it one of the best Shopify alternatives for smaller businesses and individuals wishing to sell small ranges of items or services.
Getting started on Big Cartel is straightforward. Choose from an offering of 18 free themes which let you build and personalize your eCommerce site.
The platform provides an online site editor which gives you the ability to customize the layout, add images, input text, and change settings like font and color.
You do not need any coding skills to design your store with Big Cartel, but the paid plans do offer HTML theme editing if required.
Big Cartel lets you add products up to the number permitted in your chosen plan. It also limits the number of images you can add for each product, even on the paid plans.
Big Cartel has restrictions on the payment methods that can be used by your customers. You will need either Stripe or PayPal accounts to accept payment from online credit cards. 
Payments can also be accepted in person. This is particularly useful for businesses offering local services, such as eCommerce sellers who also sell at a local market stall.
Pricing: The free 'Gold' plan allows you to sell up to 5 products. The 'Platinum' plan costs just $9.99/month and allows you to sell up to 50 products. The 'Diamond' plan costs just $19.99/month and allows you to sell up to 500 products.
Try Big Cartel Here
Shift4Shop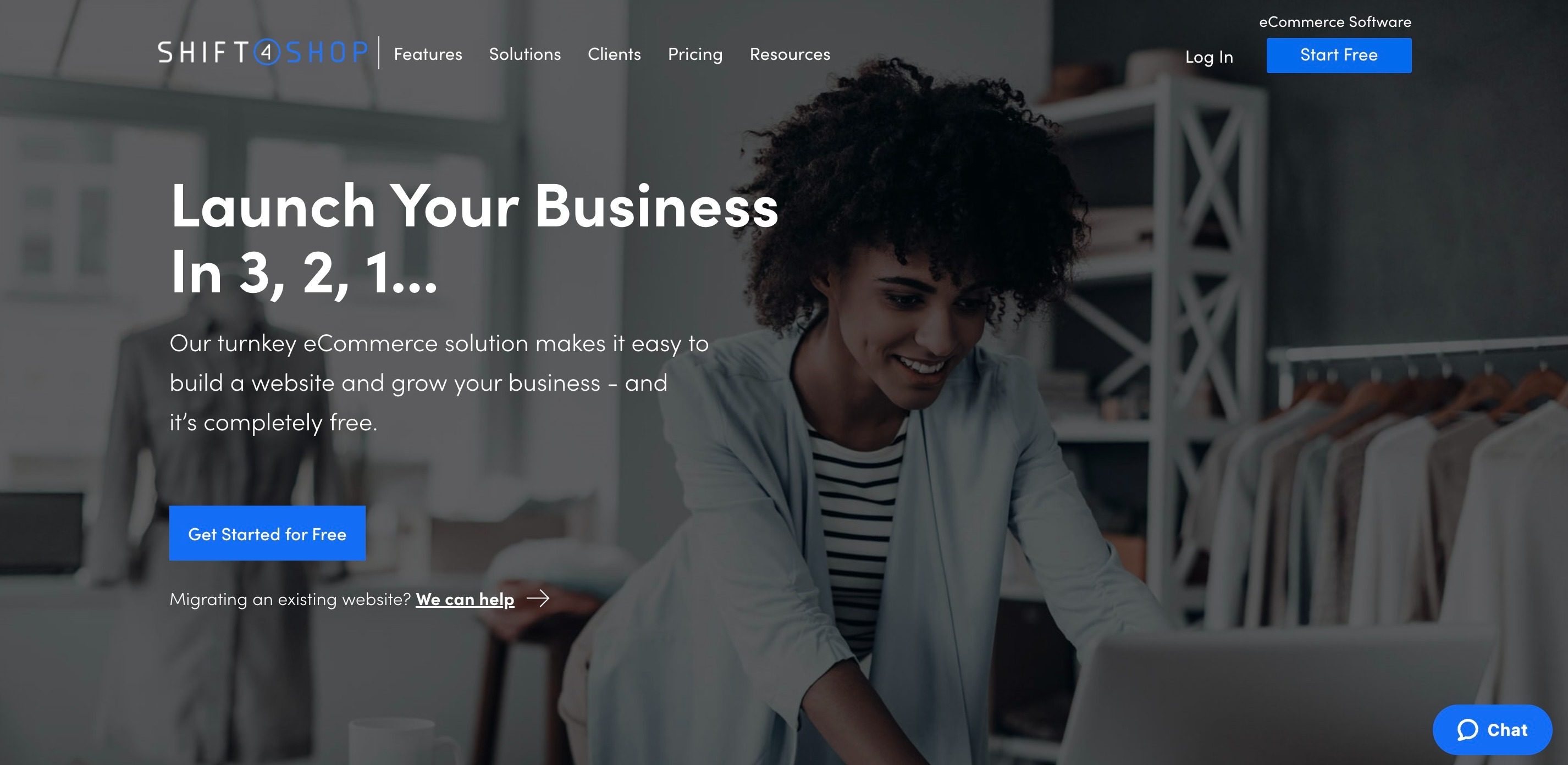 Shift4Shop is an easy-to-use web-based eCommerce platform that offers 110 stunning free themes to choose from.
The platform offers a wide range of features that are more comprehensive than Shopify. This includes a range of inventory management tools, built-in SEO support, and plenty of marketing features.
It even has the option to provide a quick checkout experience for your customers. This ensures that shopping with you ticks all the boxes when it comes to what your customers need.
Overall, it's one of the best Shopify alternatives around and is definitely worth checking out if you're looking to create an online store, especially if you're based in the U.S.
Pricing: The pricing plans start with their Basic Store at $29 per month and rise to their Pro Store product at $229 per month. The plans come with a good set of features and an option for unlimited product lines.
Unlike Shopify, Shift4Shop also offers a free plan within the U.S. only, called End-To-End eCommerce. It does require you to use Shift4 payments as the only payment solution leading to transaction fees of 2.9%+30 cents per sale made. A dedicated dropshipping plan is offered at $9.99 per month.
Try Shift4Shop Here
OpenCart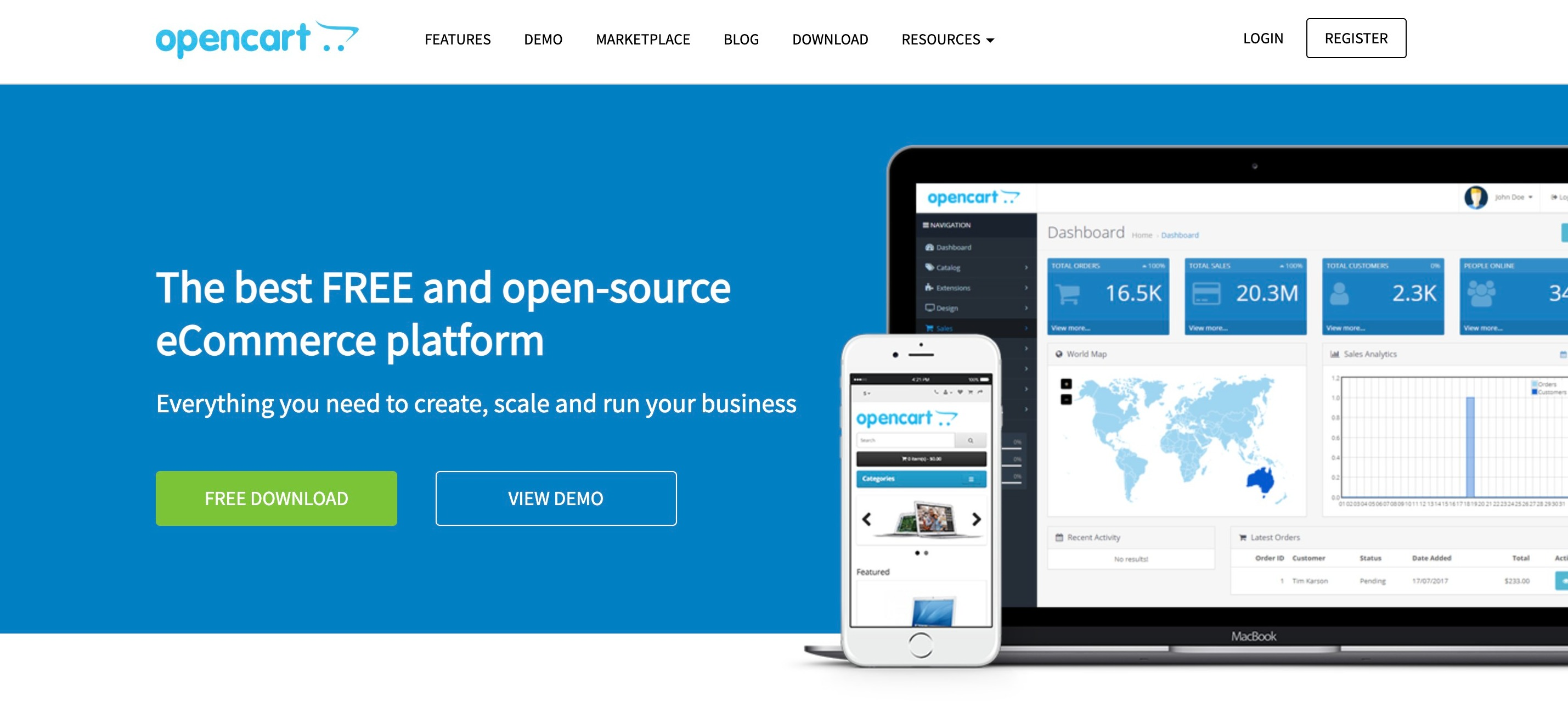 OpenCart is open-source eCommerce software that offers a customizable eCommerce platform without ongoing monthly fees.
It features an easy-to-understand dashboard that puts all the information you need in one place. OpenCart will support multiple stores from a single interface. This is useful if you run more than one store with different products.
It has an extensive range of themes and additional tools available to help you create your eCommerce website.
Being open-source, OpenCart does not include hosting or domains. This means there will always be those costs to factor in.
You will need to consider the initial development costs for integration within your website. As with all platforms, ongoing maintenance will be required, but again as this is an unhosted service this can require the skills of a developer on an as-required basis.
As a direct comparison to Shopify, it is worth noting that OpenCart does offer more themes for you to choose from. However, the admin panel on Shopify tends to offer more flexibility when it comes to these themes.
Sellfy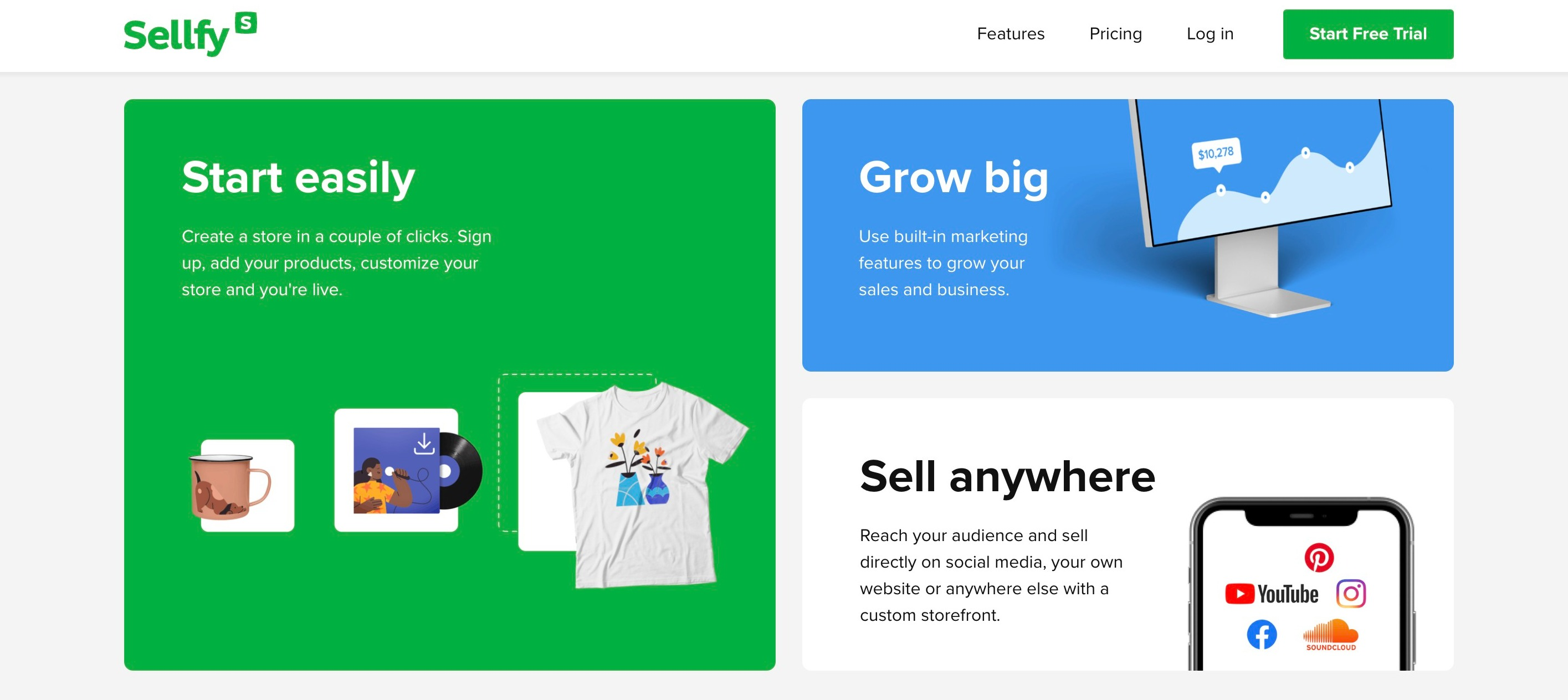 Sellfy provides an eCommerce platform on which you are able to offer both digital and physical products from the same storefront without additional plugins.
It offers support for products created especially for each order and will appeal to individuals and small businesses offering bespoke products.
Sellfy also has the ability to embed a Buy Now button into your existing website. This can be a useful feature for those with established websites who wish to incorporate eCommerce facilities.
Sellfy is fast to set up, meaning you can be selling in the quickest time with all your product offerings in one easy-to-use store. A free plan is available for testing and can be used to run a small storefront in its own right. However, this is limited to selling only 10 products.
As a fully hosted service, everything is included which reduces the time required to get your site up and running and can help control ongoing running costs.
It provides good marketing tools with the facility for marketing campaigns and also a useful abandoned cart feature.
Though the templates and designs are good, they are not unique and if you are looking to build a brand image this may be a concern.
Pricing: The free plan does not allow for selling digital products and the Sellfy branding is evident on your site until you upgrade to the business plan which costs $49 per month.
Try Sellfy Here
Square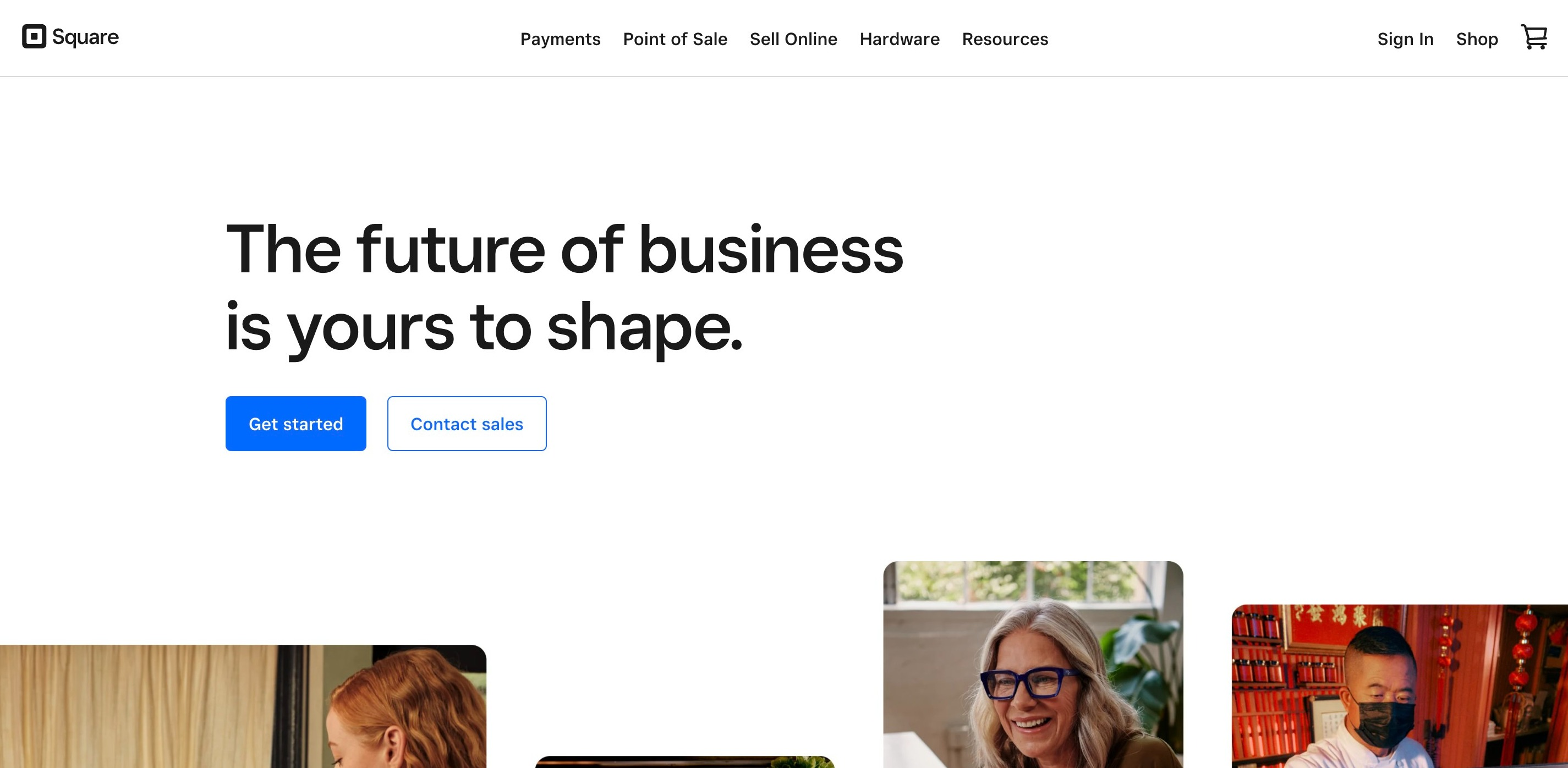 Square is an eCommerce platform that aims to offer sellers a range of services designed to keep their customers happy while scaling their business.
For example, when selling a product you are able to offer a wide range of delivery options including click and collect!
One of the best things about Square is that they offer a free plan which allows you to sell unlimited products. However, you do need to keep in mind that there will be a transaction fee for every sale that you make.
Square allows you to have a website built within their software, but many people feel that the customizable options they offer fall short of what Shopify currently offers. This is particularly true in terms of support and prompts when it comes to designing your page using their built-in builder.
Pricing: Their free package is pretty generous but they have various packages up to $70 a month so it is worth checking out their packages to see which best suits your needs.
Try Square Here
Volusion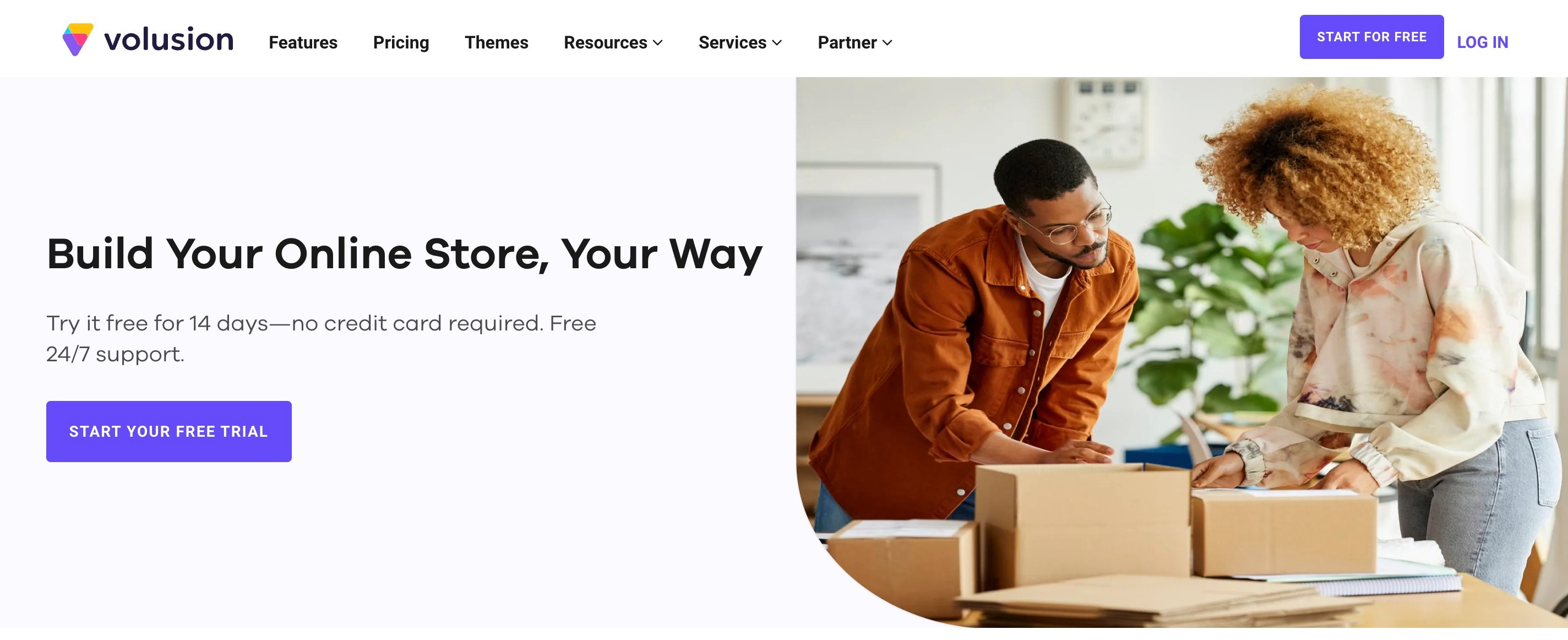 Volusion is one of the most user-friendly Shopify alternatives around. This makes it a good choice for those new to eCommerce platforms and/or selling online.
One of the first things you'll probably notice when looking into using Volusion is the price points that it offers; which is anything from $29 a month right through to $299 a month.
However, for many people, their pricey package is worth the investment because of the level of support and advanced features that this piece of eCommerce software offers.
One standout thing that Volusion offers is its Quick Wins option. This allows you to take advantage of some really handy services quickly and easily. For example, they'll give you an hour-long session on using Google Analytics.
Alternatively, you can opt to have their professional team design your homepage for you.
If you want to do more than just accept payments online, they can even do things like help you set up your Mailchimp account for sending out newsletters.
On the surface, they may not seem like one of the most affordable options. However, when you consider what you get for your money it can work out to be a really cost-effective way to smoothly run your online selling platform.
Pricing: Plans start at just $29/month. Volusion also offers a completely free 14-day trial, with no credit card required.
Try Volusion Here
Weebly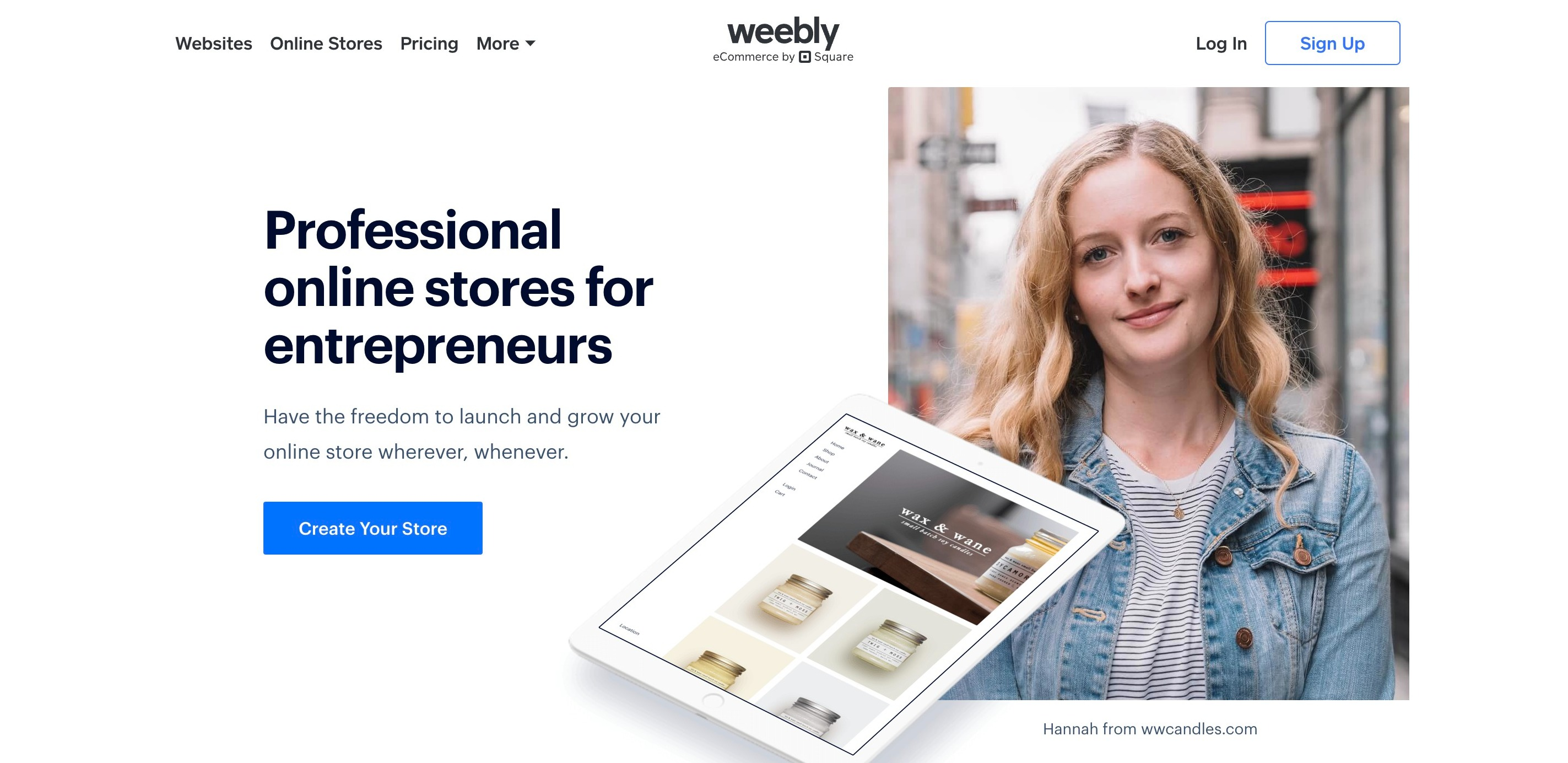 Weebly has recently expanded its offering to include the Square Online Store (mentioned above). The software began its life as an easy-to-use website builder which uses a drag and drop interface.
The addition of Square has allowed business owners to easily add an online store to their website.
As price plans go, Weebly is at the lower price point on the market. This makes them a popular choice for entrepreneurs on a budget.
One of the best things about Weebly is that the whole thing is easily customizable, which means that you can make your website look and feel exactly as you want (learn all about it in our full Weebly review). This helps to ensure that your customers are happy and have a smooth shopping experience.
However, it is worth bearing in mind that they currently only allow you to accept 3 payment methods; Square, Stripe, and PayPal. So if you want to accept payments outside of this you might want to check out one of the other Shopify alternatives.
Pricing: Prices start from $12 a month if you pay annually. However, you will need to pay extra for things like accepting discount codes and including product reviews.
Their top package is still pretty affordable at $38 a month (paid annually). This allows you to accept things like discount codes, so it's worth considering if you're likely to be offering your customers the opportunity to get discounts on products that they're purchasing from you.
Try Weebly Here
5 Reasons to Look at Shopify Alternatives
Shopify is certainly a big name when it comes to eCommerce and it's easy to see why. However, just because it is a popular choice that doesn't mean it is the only choice—there are some fantastic Shopify alternatives out there.
There are many reasons you might want to look at an alternative to Shopify, including:
Shopify is a hosted platform, which means you don't have full control over your website. If Shopify goes down, so does your website.
The transaction fees from Shopify Payments along with the monthly fees can eat into your profits. Especially if you're selling lower-priced items.
Shopify doesn't offer a lot of flexibility when it comes to customization. If you want to really change the look and feel of your store, you'll need to hire a developer.
Shopify's app store isn't as robust as some of the other platforms out there. This can limit the functionality of your store.
Although Shopify does have a lot of great features, there are some other platforms on the market that offer more built-in functionality.
There are many Shopify alternatives that allow you to have more control over the SEO of your website. If your platform relies heavily on organic search bringing traffic to your site, you might want to consider an alternative.
Of course, there is every chance that Shopify will perfectly cater to your needs too, and that's great! It's just a matter of making sure that you do the research so you know what you are signing up for.
Whichever platform you choose should tick the boxes when it comes to the needs of your business.
The Best Shopify Alternatives for Your Business
As you can see, there are many great Shopify alternatives to choose from. However, what's right for one business may be completely inappropriate for another. For this reason, we've selected a few winners for different business types.
For entrepreneurs with a small range of products for sale such as artists and independent makers, Big Cartel is an excellent choice. You can list up to 5 products completely free, and after this, the monthly plans are very affordable. It's definitely worth checking out.
WooCommerce is a great choice for anyone who is already using self-hosted WordPress for their website or blog. It integrates seamlessly and offers unlimited customization options.
For businesses with a larger inventory, Shift4Shop is undoubtedly the best Shopify alternative out there. It might even be better than Shopify. It offers excellent value and outstanding features. It's great to finally see an eCommerce platform that can really give Shopify a run for its money!
And finally, for digital product sellers, coaches, consultants, and course creators, SamCart is a great option. It's affordable, super easy to use, and it gives you everything you need to provide your customers with a great experience. Check out our SamCart review for more information.
Overall, the best thing you can do is write down exactly what you need your eCommerce software to do and how you want your website to work. Next, spend some time researching which of the current eCommerce options on the market suit you and your needs best.
The good news is that as we have seen above, there are plenty of alternatives out there, so if you're looking for an alternative to Shopify, you will definitely be able to find something to suit your needs.
Want to learn step-by-step how I built my Niche Site Empire up to a full-time income?
Yes! I Love to Learn
Learn How I Built My Niche Site Empire to a Full-time Income
How to Pick the Right Keywords at the START, and avoid the losers
How to Scale and Outsource 90% of the Work, Allowing Your Empire to GROW Without You
How to Build a Site That Gets REAL TRAFFIC FROM GOOGLE (every. single. day.)
Subscribe to the Niche Pursuits Newsletter delivered with value 3X per week