SamCart Review: Can It Stop Cart Abandonment & Help You Sell?
When you buy something through one of the links on our site, we may earn an affiliate commission.
Cart abandonment is an issue for e-commerce sites. About 70% of users abandon their carts due to a clunky and disorganized checkout process or other reasons. So in this SamCart review, we'll cover what the online shopping cart software can do and how it can help stop cart abandonment through a conversion-focused checkout system.
Sign Up for a 14-Day FREE Trial of SamCart Right Here
Try Out SamCart Here
---
SamCart Overview
Ease of Use -

95

Stability -

95

Customer Service -

85

Price -

90
Summary
SamCart is the best checkout page builder for your online business, hands down. Create checkout pages using beautiful templates, keep track of their progress, and generate more sales using upsells and funnels. Sign Up for a FREE Trial of SamCart Right Here!
Pros
Design checkout pages from 18+ templates so you don't have to design from scratch. Perfect for non-designers.
Funnel creator is a game-changer! Create drip campaigns to upsell your other products to customers and maximize your sales.
Scale the performance of your checkout pages using different metrics and variables. Improve your pages according to the provided data.
Cons
Templates can be limiting to some. Also, there's no way to create a checkout page from scratch.
Payment gateways are also limited to PayPal and Stripe. Other sellers looking for more processors may have to look for another software.
Reaching out to onboarding specialists is difficult.
SamCart Review: Key Features
SamCart is a shopping cart solution that addresses all the common issues of a web based checkout platform. Using it correctly should help you eliminate bottlenecks in the buying process and increase your sales.
The tool allows you to create a standard checkout form with custom branding. It also has many checkout page templates to help you get started in just a few clicks. Plus, you can add testimonials, encourage upsells, and more.
But what else does SamCart offer?
Sign Up for a 14-Day FREE Trial of SamCart Right Here
Order bumps
You can encourage customers to add more items to their cart while they're on the checkout page. It's a great way to squeeze in one more sale before the customer makes the payment.
1-click upsells
Samcart customers can also add an upgrade option for customers. You can promote a premier product on the checkout page to compliment the products our customer is buying. You can make three times more than the original selling price if you play your cards right.
A/B testing
Having the ability to see which landing page design works best for you is not something you should take for granted. SamCart allows split testing designs so you can figure out which one works best for you.
Payment plans
You have the option to provide customers with a payment structure.
These payment plans allow them to pay for items over time. And SamCart claims that these payment plans can help convert 17.8% more customers.
Samcart integrations For Email
Manage Samcart integrations with your customer email communications with email providers like MailChimp, ConvertKit, AWeber and Infusionsoft, and others. So it's safe to say many tools will integrate Samcart well.
Marketing automation
If you use marketing tools like Active Campaign (our favorite Infusionsoft alternative), Ontraport, or Hubspot, you can send tags and customer data when customers make key actions.
Membership
You can automatically create membership access inside WishList Member, OPMember, MemberMouse, and even Kajabi through Zapier.
Payment processing
Perhaps one of the most important features, SamCart lets you connect to Stripe so that your customers can use all major credit cards. It even allows your customers to make payments via PayPal. But unfortunately, the payment processors offered are limited.
Samcart Review: How to set It up for Your online business
SamCart works best for selling online, like site owners with digital products – an online course, e-books, and more. They want to put a stop on those high cart abandonment rates.
However, is the tool up for the task?
Let's find out together, shall we?
SamCart offers a free trial. You must choose Launch, Grow, and Scale to kickstart your trial period.
Once you've chosen, sign up with your details. Before accomplishing the form, you can also buy SamCart's "Checkout Hacks Report" at a reduced price. We'll get back to this later.
Once you complete your order, you need to create your Samcart account login details.
Then you also need to create a marketplace for your business. You can do this by signing up for a subdomain from SamCart.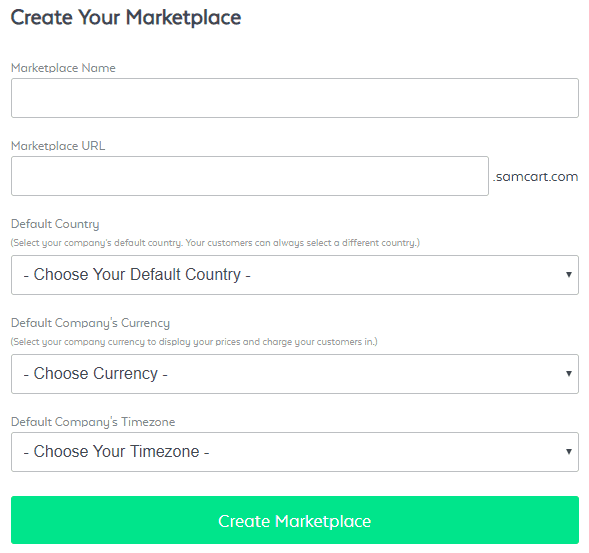 Also, upon signing up, you'll gain access to three courses to help get the most sales from your online company.
Sign Up for a 14-Day FREE Trial of SamCart Right Here
Set up your settings
Once you've signed up successfully, you must edit the details of your checkout page. Luckily the setup process is super easy.
Click on your account menu on the upper right and choose "Settings" from the drop-down menu.
General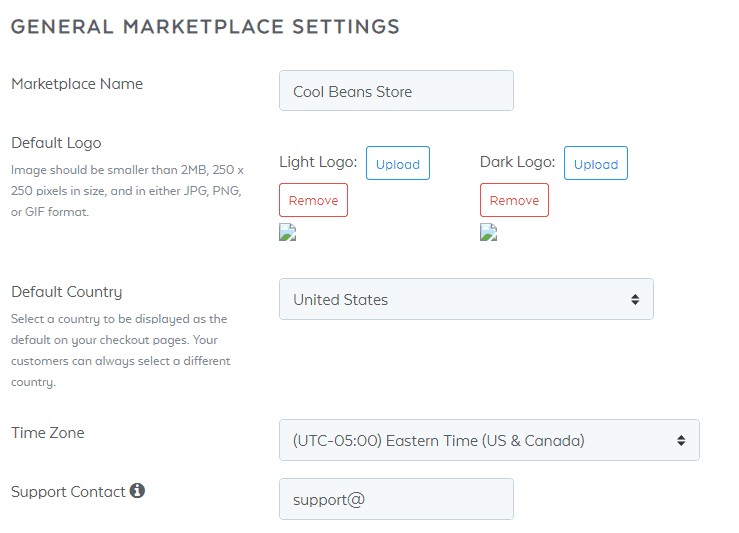 There are different settings pages to choose from on the left sidebar. For now, you'll be brought to the General Marketplace page in the meantime.
From the page, you can edit the following:
Default logo that will appear on the checkout page
Email of support contact so customers from the checkout page can reach out to you
The number of days the link to the digital product will be available. Once the set days have passed, the customer can no longer download the product
Embed custom HTML and Javascript on the page
What happens after purchase completion (Whether redirect to a product page or load custom order summary page)
Marketing analytics such as URL parameters and Google Analytics tracking
Connect to a processor
Next, you need to decide which payment processor to use for your check out page.
Samcart makes it easy for you to set up the processor for your checkout page with help from Stripe and PayPal.
PayPal is one of the most popular payment gateways in the world. Adding it as one of your processors makes a lot of sense. You simply need to enter your credentials by entering your PayPal API on the form above.
Normally, people use their credit cards to place their orders online. While PayPal accepts credit card payments, some don't want to or can't pay via this payment gateway. Either way, you need to offer another option.
Similar to PayPal, Stripe is an online payment platform ideal for e-commerce sites. You can set up Stripe on Samcart by filling out the form similar to the one below.
At the moment, only these two channels are available for processing customer payments.
Sign Up for a 14-Day FREE Trial of SamCart Right Here
Create a product
Once you've added your processors, it's time to input your products for sale on SamCart.
Go to the Products page and add your products from there.
Enter the name, price, and description of the product. You can also indicate the payment frequency (one-time, weekly, monthly, yearly, etc.).
This latter option is perfect for people running a paid membership site. They no longer have to send payment requests from members manually. SamCart will automatically gather the payment from your members.
You can enter as many products as you want in this section.
Once you've created one, it's time to edit the checkout page!
From the Details page, below are some of the things you can do:
edit the page URL
upload the product image
identify the Thank You page where to redirect the customer
create coupon codes
To set up the design of the checkout page for the page, click the Checkout Design tab.
Choose from the different high converting checkout templates so you don't have to design from scratch.
Here's an example of the Showcase template:
You can edit the content of the checkout page as you see fit. Below are the elements you can change from the checkout page:
Colors
Form fields
Title
Text
Button text
Terms and Conditions checkbox and URL
Create an upsell

As mentioned earlier, upsells can increase your sales if done right. Samcart makes it easy to add the upsells on the checkout page.

This tactic is ideal because the person is about to buy a product from your site. You can then add another product that they can add on the checkout page for higher conversion rate and average customer value!

Now, I mentioned earlier that Samcart offered a "Checkout Hacks" book on the checkout page.

[samcart upsell example.png]

This is an example of a Samcart upsell at work!

It operates on three levels:
The dotted red border of the upsell grabs the attention of the buyer
The copy hooks them into the offer
The discounted price seals the deal!
To add your SamCart upsell, click on Upsells > Upsells from the menu. The click on New Upsell to create one.
Enter the product name and description. Then choose which product where you want to feature this upsell.
Now, I mentioned that you need to play your cards right to get the most out of your upsells. You can't just add upsells at random on all your products. In other words, you need to approach this methodically.
Here are ideas on how you can increase the success of your sales pages using Samcart upsells:
Only feature the most relevant products – Make sure that the upsell is highly relevant to your initial offer. For example, the Samcart upsell is about conversion hacks for your checkout page. And you're in the process of subscribing to Samcart. So the upsell is very relevant to the initial product.
Lower prices – People want to feel that they're getting a bargain, even if they're not. It's a psychological trigger that encourages them to make decisions that result in sales. By lowering your price even a bit, you make your product more desirable for them.
Create urgency – Mention that the discount only applies for this checkout page – if they don't take the offer, then the product goes back to its original price.
Create a funnel
If you have lots of upsells and want to put SamCart to work for you, then the Funnel feature is right up your alley.
In fact, it's one of the best features of SamCart aside from being a checkout page platform.
What a funnel does is send over your other upsells to customers via email. You can send up to five offers for each funnel. You can also assign downsells if the customer declined your offer. However, SamCart will only run the funnel to maximize profits if the customer bought the upsell for one of your products.
To help you create a single checkout page, refer to the video below :
Track your progress
Now that you've been running your online shopping cart software in conjunction with your site, you need to analyze the performance of each. SamCart offers lots of relevant data to help scale your separate checkout pages and make improvements.
You can review the sales by product or date. You can also see how many customers have refunded your product.
If you're running a subscription-based business – selling services, you can get an overview of your subscribers and see their profiles.
There's also a chance that subscribers don't get to pay on time due to different reasons. That's where the Subscriber Saver (Dunning) feature comes in handy. It lets you recover failed recurring payments by customers and allows them to update their credit card info quickly.
On the flip side, if a customer has continuous payment fails and refuses to update their payment information after several emails, then Samcart automatically cancels their subscription.
As mentioned in the introduction, cart abandonment is one of the trickiest aspects that site owners must undergo. There's no way for you to find out exactly why they didn't complete their order.
With SamCart's Prospect feature, you find solutions on how to get them to clear their transaction with your site. You will get relevant details about people who left their online shopping carts out of the blue. This way, you can reach out to them via email and follow up regarding their potential purchase.
Samcart Review: Does It support physical product sales?
Yes!
Sign Up for a 14-Day FREE Trial of SamCart Right Here
When creating a product, you can choose between digital or physical products. If you choose the latter, it will expand to include this section:
You can assign a price for each country to cover shipping, handling, and other costs for your physical products. Make sure to compute the Samcart cost, too, so you can indicate the correct price for each country. This only applies if you will be delivering from an online shopping cart outside your locality.
Samcart Pricing: best In the market?
It's really difficult to answer this question point blank as there are lots of factors to consider. At the very least, SamCart provides a high-end checkout platform for online businesses at very competitive prices.
The Samcart pricing page has three SamCart subscription saver types: Launch, Grow, and Scale.
The Launch package includes all the features you need from a checkout page. The 18+ checkout page templates make selling products online easy. Aside from the above features, you get information about people who abandoned their online shopping carts. You can then follow up with their cart – maybe they just forgot or underwent technical issues.
The Scale package includes all features under the Launch and Grow plans. In addition, it gives you access to its Subscription Saver (Dunning) feature. You can also access the Affiliate signup page to join SamCart's affiliate program and promote the software for a commission of every successful payment in the affiliate center.
SamCart customer support, anyone?
Pro subscribers can check out the tool's knowledge base or chat with an onboarding specialist to help them set up their SamCart account.
For Professional subscribers, they can get dedicated training materials. They help groom their online businesses toward success using the tool.
Samcart Review: Pros and cons
Judging from how it works, SamCart's one page checkout is also Samcart legit.
But before you pull the trigger and make the purchase, below are the pros and cons of SamCart. These should help you understand the tool better and help you make a more informed decision:
Pros
A wide variety of checkout templates to choose from – Designing your high converting checkout pages won't be a problem using SamCart. Choose from the different templates and customize at will.
Easy-to-use funnel creator – Enjoy generating more sales using SamCart as it sells your upsells to your existing customers for you. Set up the funnels by assigning the right products and upsells in place.
Powerful reporting features – Keep track of your one page checkout options and see which ones are converting so you can replicate their success on your other sales pages. Also, determine pages with low conversions so you can fix them accordingly.
Cons
Rigid page editor – You can't fully edit the page as it only lets you make changes on certain elements. Also, you can't design a checkout page from scratch – you need to rely on the available checkout templates to design your page. Not really a problem, but some people may want to design with more freedom.
Limited payment processors – Stripe and PayPal might not be enough for some needing multiple payment options. Also, not all countries support Stripe, which puts your online business at a disadvantage with such limited payment models.
Clunky customer support – While the knowledge base is readily available from their menu, the same can't be said about accessing their onboarding specialists. I tried reaching out to their onboarding service but the site didn't seem to respond to my request.
What checkout process is right for your business?
As we come to end of our Samcart review, you may also want to mull over these stumpers as well:
What should a checkout page include?
Should you create separate checkout pages?
What do customers want to see?
What information do they need to know?
Too many questions, so little time!
So instead of taking in all these questions, let's cover the elements customers look for in a checkout page:
Order summary
Arguably the most important part of a checkout page. An order summary gives you and the customer a breakdown of the transaction.
It needs to be transparent and detailed so customers would learn to trust you as an online vendor.
It's common practice to add an image of what the customer is buying. This helps the customer verify his purchase much faster.
Depending on the product, you want to add details like the size of the product, the quantity ordered, and other information that might help the customer verify his purchase.
Mobile Payments
Customers spend more time on their phones than on a desktop computer. In 2018, 52.2% of website traffic was generated through mobile phones.
Your checkout page should be mobile-friendly as well. The customer experience is the priority and should never take a backseat. If the customer does not like the experience, the likelihood of that customer coming back is almost nil.
Being mobile-ready means more than a checkout page being able to load on smartphones. You also have to check for the font and font size. Are the words still legible from a respectable viewing distance?
Also, how long do images take to load? And when they do, are they large enough for customers to see?
These things and more can affect the mobile-friendliness of your checkout page.
Billing and shipping
One of the tougher asks we do to customers is to provide their billing information.
Customers hesitate filling it out the first time. Now imagine having to do it more than once. The ideal scenario is for customers to fill it in once and forget about it.
Simple layout
You want to use a simple layout. One that's clean and easy to process. The checkout page is the last barrier to finalizing that sale.
There should be no confusion beyond this point. A simple, clean layout can guarantee that customers won't be confused at this very crucial point.
Limit your questions
Why bombard your customers with so many questions before checkout? Only ask for the important details. You want their personal information (name, shipping and billing address, email, and contact number).
Then you want to ask for what payment models they'll be using. That could be COD, debit or credit card, PayPal, Stripe, or others.
SamCart review: Verdict
SamCart has cornered the checkout page platform market. There's no one like SamCart, to be frank.
Sign Up for a 14-Day FREE Trial of SamCart Right Here
Other shopping cart software includes ClickFunnels. But SamCart also has a sophisticated yet simple funnel builder to help you automate your sales. However, it may not be as complex and powerful than ClickFunnels, which isn't a knock on SamCart at all. At the heart of SamCart is its checkout page creator, which is hands down the best out there.
Put Your Checkout Pages to Work For Your Using SamCart Here
If you're a content creator and want to create funnels for your digital or physical products and upsells, then SamCart is the tool for you. It's easy to set up and has powerful reporting features to help analyze the performance of your pages.
At the very least, you must sign up for a 14-day free trial of SamCart to see what I'm talking about.
Want to learn step-by-step how I built my Niche Site Empire up to a full-time income?
Yes! I Love to Learn
Learn How I Built My Niche Site Empire to a Full-time Income
How to Pick the Right Keywords at the START, and avoid the losers
How to Scale and Outsource 90% of the Work, Allowing Your Empire to GROW Without You
How to Build a Site That Gets REAL TRAFFIC FROM GOOGLE (every. single. day.)
Subscribe to the Niche Pursuits Newsletter delivered with value 3X per week