Square vs Squarespace: Which Is The Better Platform For Bloggers and eCommerce?
When you buy something through one of the links on our site, we may earn an affiliate commission.
The good news if you're looking to start an online store is that there is no shortage of eCommerce platforms out there to help get you started. But it's easy to get a little lost choosing the best platform for your online business. Square vs Squarespace? Which one should you use?
You've likely heard of both Square—also known as SquareUp—and Squarespace when researching different options to help you build a website and start selling online. 
Both Square and Squarespace (though similar in name) offer a very different experience and set of features for the user. Building a Square online store makes sense for small business owners already operating a brick-and-mortar business that uses Square.
Square can also be a good choice for complete newbies that need to get online fast. For just about everyone else, building a Squarespace website is probably the better option. 
Overall, Squarespace offers more flexibility and customization. In my opinion, Squarespace also has a better user interface.
For bloggers, Squarespace is definitely the better website builder thanks to its advanced built-in search engine optimization tools.  For small businesses, picking between Square and Squarespace is a bit trickier.
There are instances when Square is the better option for building online stores. However, in general, I'd say you'd want to look at Squarespace if you're looking to build your own website. 
Let's get into why. 
Square vs Squarespace: Features and Flexibility
Square and Squarespace are different site builders. However, Squarespace offers a little bit more flexibility than the former. Both platforms offer small businesses looking to launch an online store an easy, affordable solution.
But Squarespace also has a lot of the tools and features that bloggers and other website owners will be looking for. 
In comparison, Square is only for business. Their website builder is focused on providing advanced commerce features so you can sell products. It's an eCommerce platform plain and simple.
So, right off the bat, Square isn't what you want to look at if you are more of a blogger/affiliate marketer. 
It is, however, an incredibly powerful site builder for an eCommerce store. For that reason, entrepreneurs looking to move into online sales should definitely consider if Square is right for you. 
Square
OK, let's get one thing straight. Square and SquareUp are the same company. But Square and Squarespace are separate companies. 
SquareUp is better known as "Square", named after the shape of the square card reader that the company was originally known for. 
Square did have a rudimentary website builder for users way back in the early 2010s. However, their site builder didn't really take off until they bought Weebly in 2018. Before that, most people knew the company as an innovative point-of-sale provider. 
Small business owners that are already using Square to process payments will find the transition to a Square online store much easier. 
The benefit of building a Square online store is that your site can then integrate seamlessly with other products that Square offers. Their point-of-sale system to accept credit card payments, inventory management tools, and booking tools can all be used in conjunction with your Square online store. 
In addition, right out-the-box with Square, you get a host of tools to make website building easy even if you aren't a web developer. 
Square boasts a free custom domain, the ability to test pages in real time, responsive site design tools, inventory management software, and detailed analytic reports. 
Squarespace
Squarespace has been around since 2004 when it was just a humble blog hosting service. Now it is a website builder used by millions around the world that also offers a host of commerce features.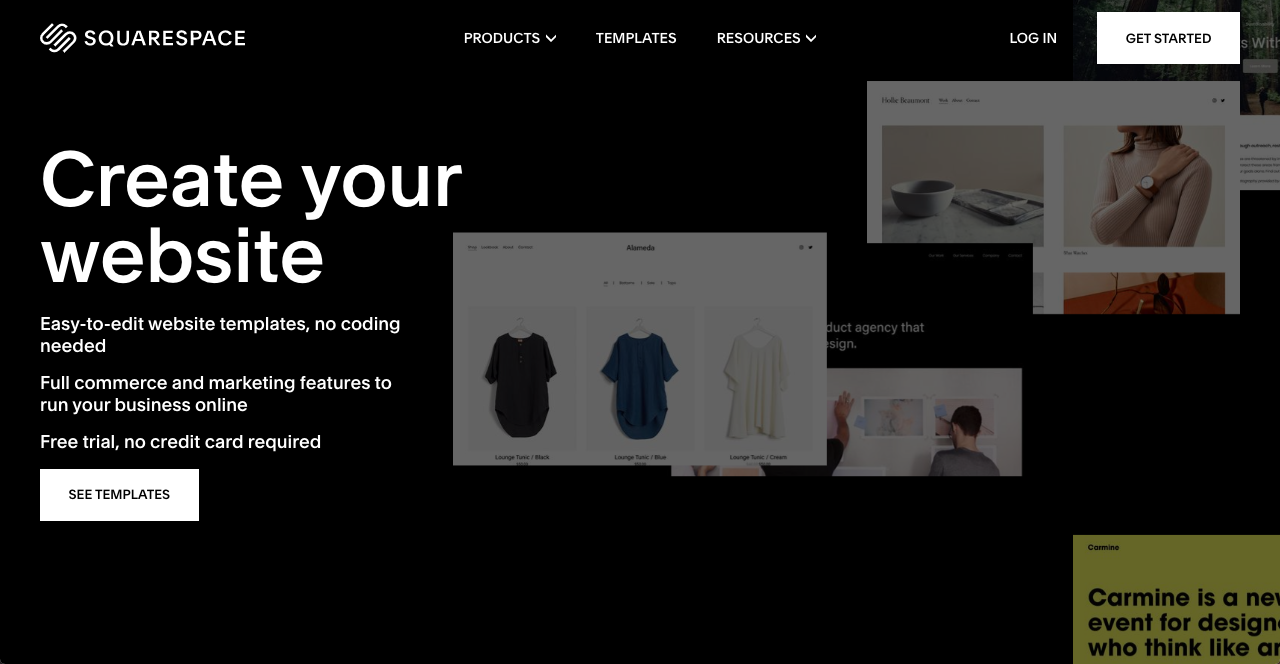 Unlike Square which is specifically marketed towards online business, Squarespace is a suitable platform for everyone. It doesn't matter what kind of site you are looking to build, Squarespace has the tools and functionality you need. 
With Squarespace you get your own domain, SSL certificate, and analytic tools, as well as powerful built-in features for SEO and marketing. 
Check Out Squarespace
Themes and Templates
Getting started with both platforms is fairly straightforward, but Squarespace definitely wins over Square when it comes to stunning pre-built templates. 
Square
When you sign up with Square you have to put in your details before you can start customizing your storefront. However, the benefit of this is that Square gives you a customized setup experience based on the needs of your business. 
You can select the industry you're in and what kind of products you sell (digital, physical, services, etc.) as well as if you're going to be shipping items or allowing pickup. You can even set up a QR code for customers. 
That said, Square's web design starts off incredibly basic. 
You are left to build your site from what is essentially a blank slate. There are some themes that you can use to get started and searching through them is easy thanks to the fact that they are categorized based on use (retail, restaurant, service, etc.) rather than design.
But their template library is small and even then there isn't much differentiating your options. 
The upshot of this is that making minor edits like color and fonts is really easy on Square.
Squarespace
Where Squarespace really shines in comparison to Square is their stunning template designs. 
The platform offers hundreds of different designs to choose from which makes it easier to find a theme that suits your brand. Plus, within each theme, you have a lot more opportunities for deep customization to help your site stand out among competitors. 
You can customize pages, layout, fonts, colors, and even fine-tune details like buttons and page margins. 
The trade-off here is that Squarespace's editor takes a little more getting used to than Square's. But we'll get into that more later. 
Take a Look at the Best Squarespace Templates
Third-Party Apps
Both Square and Squarespace offer an impressive array of useful apps developed by third parties to enhance your site. 
The biggest benefit, as we discussed already, to building a Square online store is compatibility with offline Square products.
However, Square also has a decent app marketplace where you can take advantage of third-party apps to integrate with your Square online store.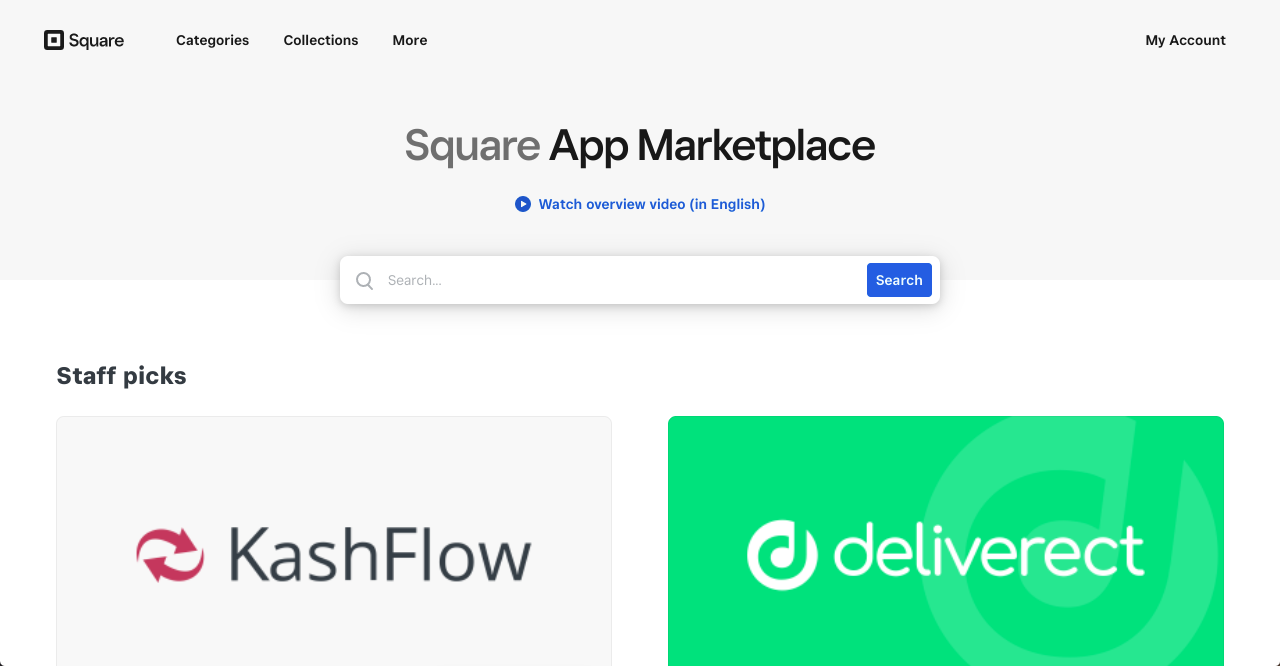 This is an area where both eCommerce platforms are well matched. Squarespace also offers a variety of extensions for you to optimize your site. 
The benefit of Squarespace is that whatever isn't offered by the platform itself is almost guaranteed to be covered by a third-party service. 
Mobile Optimization
Square and Squarespace both make it easy to design your website to be mobile-friendly. You can toggle between the desktop and mobile view when customizing your storefront. 
That said, Squarespace goes one step further by also offering a mobile app that means you can update your site on the go. The app also allows online store owners to manage stock and contact customers when they are away from their desk. 
Square vs Squarespace: User-Friendliness
Overall, Square is probably the easier platform for beginners looking to build a new site. Squarespace has a few more advanced features that can take some getting used to. 
That said, Squarespace is great for providing a lot of tutorials and step-by-step guides for new users to start building websites right away. Plus, the trade-off is that you can use Squarepace to create more unique sites. 
Let's take a closer look at ease of use.
Square
Signing up with Square takes all of two minutes. However, they do require you to fill in a little bit more information up front than Squarespace. 
You have to input full account details plus some information about your business to even get a look at what their site builder has to offer. 
If you're building an online store, Square has several helpful guides to help you get your site up and running quickly. Figuring out where to find these little blurbs though was a bit of a task. 
Once you've got your Square online store site built, you get access to their clean, straightforward dashboard. The Square dashboard makes everything from inventory management to email marketing easy to navigate. 
You can also view product details and analytics right from your dashboard. 
It's worth noting that if you have an existing website, moving it over to Square is a bit tricky. You have to do the entire process manually by downloading your site and then uploading .*csv files to your Square account. 
Squarespace
You could argue that Squarespace is less beginner (I wouldn't necessarily say user) -friendly than Square. It has some extra features that allow for better branding and SEO which can be confusing for someone new to creating a website. 
That said, Squarespace is still really intuitive and the onboarding process is helpful and easy to follow. 
As you go through setting up your site, Squarespace "Assistant" pops up with introductory videos and FAQs in case you get lost. 
The Squarespace building tool lets you see exactly what you're changing in the back-end and how it affects the front-end. This lets you ensure you create a smooth experience for site visitors. 
Just like Square, handling things like product management is also pretty easy. Plus, the Squarespace mobile app lets you do this from any device which is pretty sweet.
Best of all, anyone with an existing website can easily migrate over to Squarespace. 
Square vs Squarespace: eCommerce Features
When it comes to Square vs Squarespace in an eCommerce showdown, Square wins. No surprises there really considering Square online started as a solution to collecting purchase payments.
Nonetheless, both platforms offer a fairly impressive array of eCommerce tools and either is suitable for running an online store. 
The features that you get for both Square and Squarespace depend on the plan you choose. With Square, the free plan is pretty limited. The more you're willing to pay, the more you can expect.
For most Square online store owners, inventory management is a standout feature. Also, being able to link up with offline Square payment is helpful for those already selling.
Payment Options
Both platforms offer streamlined payment processes that make it easy to accept payments if you sell online. 
Square
Square built their reputation as an innovative point of sale system. Chances are you've probably come across merchants using Square to accept payments at pop-up shops, markets, food trucks, and other places. 
Square's card readers can be used with a mobile device like a phone or iPad instead of a traditional cash register.
If you sell online, Square is just as effective. You can use Square to accept all major credit cards plus Google or Apple Pay. 
Obviously, this is the built-in payment processor for Square online stores. However, you do also have the option of adding PayPal to your site. 
For online transactions using Square, be prepared to pay at least 2.9% + $0.30 in transaction fees. This can vary between domestic and international cards as well. 
Similarly, PayPal charges between 1.9-2.9% + $0.30 per transaction in transaction fees. 
Squarespace
Comparatively, Squarespace accepts payments primarily through Stripe or PayPal (or both). Stripe also accepts all major credit cards as well as Apple Pay. 
Stripe offers a rate of 1.4% + $0.20 per transaction for domestic cards and 2.9% + $0.20 for international cards. 
Notably, even if you decide to build your online store using Squarespace, if you also sell in person you can use Square to integrate with your online store. 
Marketing Features
Both Square and Squarespace offer built-in marketing tools to help you create:
Promotional pop-ups
Banners
Social media ads
SEO content and product descriptions
Email marketing campaigns
Comparing Square vs Squarespace in marketing comes down to price and ease of use. Most of the marketing features on these platforms are part of the paid plans.
Ultimately, Squarespace offers more advanced marketing tools including detailed analytics to help you run your business.
Overall, Squarespace also has better SEO tools which are especially important for bloggers. Plus, the extra features come at a comparable price to Square's, making it the better option for marketers. 
Square vs Squarespace: Security
When it comes to website security, both of these two sites are evenly matched. This is certainly an area where you wouldn't want to see an all-in-one solution compromise and neither of these platforms does. 
In fact, part of the reason people choose to use all-in-one website builders, rather than more bespoke solutions, is so that they don't have to worry about things like site security. 
Indeed, since Square started as a POS system, payment security in particular is at the core of everything they do. With that in mind, the company invests heavily in state-of-the-art payment and security technology. They are also ISO 27001 certified.
With that said, both Square and Squarespace also offer the following:
HSTS encryption
SSL certificate
2-Factor Authentication
PCI-DSS Compliance (for online sales)
Square and Squarespace both have secure payment processes and protect your users' data and privacy to the best of their ability. 
Square vs Squarespace: Pricing
If you're looking to set up a new store for your business, no doubt you will have some budget constraints that you need to work with until you start bringing in profit. Considering SquareUp vs Squarespace are fairly well matched, cost might be the deciding factor for you. 
It's worth noting that both Square and Squarespace give you the ability to set up your store completely free. You don't need to opt for one of their paid plans until you're ready to start selling. 
Ultimately, Square is cheaper than Squarespace, but the latter, I think, offers better value. 
Square
Square actually offers a completely free plan.
However, with Square's free site you don't get a custom domain and you'll only have access to limited commerce features. There are also extra costs per transaction and per delivery. 
Square's free option is definitely an affordable way to get started if you don't mind dealing with ads on your website. But, it's not really sustainable long-term if you're looking to build your brand and make an impact on the market. 
To make the most out of Square you'll want to subscribe to one of their annual plans:
Professional—$12/month for 12 months: The most popular Square plan gets you a custom domain, plus password-protected pages. You can also upload custom fonts but you'll still have to pay the 2.9% + $0.30 per transaction. 
Performance—$26/month for 12 months: You get everything Professional users get, plus perks to help you sell more. With Performance, you can accept PayPal payments and set up gifting options. You also get abandoned cart recovery and product reviews. Plus, you can take advantage of detailed reports. 
Premium—$72/month for 12 months: This is the only plan that charges less per transaction for Square users. With Premium, you only pay 2.6% + $0.30 per transaction (which I would still argue is a little high). You get all of Square's best features plus the low processing rate and real-time shipping. 
The Premium plan isn't worth it for a small business until you're selling a lot. If you're just starting out, I'd recommend opting for their Professional plan.
You can get away with using Square for free, but having your own domain is really important for branding and SEO, so if you can swing the extra cost I'd say do it. 
Squarespace
Squarespace offers free trials but there is no free version.
However, Squarespace does offer the flexibility to go month-to-month rather than committing to an annual contract. 
Here's a breakdown of what you get for each plan:
Personal—$14/month annual or $19 monthly: This is the best plan for bloggers that don't need any commerce features. It's worth noting you don't get a domain name included with this plan unless you opt for an annual contract. Regardless, you do get access to all of Squarespace's SEO tools plus the ability to have up to two site contributors. 
Business—$23/month annual or $33/monthly: This is Squarespace's best-selling plan. With a Business plan you get access to Squarespace's eCommerce features plus unlimited contributors, a professional email from Google, full CSS and JavaScript customization, and marketing features and analytics. On a Business plan you pay 3% in transaction fees. 
Basic Commerce—$27/month annual or $36/monthly: Not too much pricier than a Business plan, with this option you also get customer accounts, eCommerce analytics and merchandising tools, checkout on your domain, limited availability labels, and the ability to sell and sync your products with Facebook and Instagram. Plus, U.S. merchants can take advantage of an offline POS system that syncs with your online store. Best of all, you pay 0% on every transaction.
Advanced Commerce—$49/month annual or $65/monthly: The most complete solution for any business, Advanced Commerce includes pretty much anything you would need to run an online store. You get all that Basic Commerce users get plus abandoned cart recovery, advanced shipping and discounts, commerce APIs, and the ability to sell subscriptions. Subscriptions mean your customers can put in their info once and you can bill them on a recurring basis for a product or service. 
Square vs Squarespace: Support
Of course, what use is a great site builder with no support team?
Regardless of how savvy you are when it comes to web development and building your own site, it's important to make sure any service you use has someone to help you in the event of something happening. 
Both options have great customer service and support. Squarespace offers 24/7 help, but no phone support. Square has phone service but only during limited hours. 
Square
Square offers a live-chat feature on their website, but it's worth noting that this doesn't actually hook you up with a real person. The chatbot is more of a support assistant and is only useful for guiding you through Square's documentation and FAQs to help you find an answer to your query. 
If you want an answer from a real person you'll have to fill out Square's Contact Us form or connect with their customer service team via email. 
That said, Square does offer phone support which can be useful for urgent issues, as long as they occur during business hours. Square's lines are only open between 6 AM and 6 PM PST during the week and 8 AM to 5 PM on weekends. 
Luckily, if you find yourself in a bind outside of those hours there are still other places to turn. Square has a really helpful blog that is regularly updated as well as a YouTube channel with in-depth tutorials. 
Squarespace
If you prefer phone support you won't find any from Squarespace. All technical support is done through their live chat.
But at least you can expect another person on the other end instead of a chatbot. Plus, their live chat is available 24/7 so regardless of the time of day or night, there's someone there to assist you. 
You can also send concerns and issues to Squarespace via email at any time or consult their help center. 
Since Squarespace is so widely used, you do also have the option of turning to the online community for help. There are lots of Squarespace forums where people are willing to help each other out and you might even find a previous post where someone has had the same issue as you and resolved it.
So, Which Platform Should You Use?
Choosing the best platform to launch your website depends on whether you need a website for blogging or eCommerce, what your budget is, and how important branding is to you. 
Square is a great option for anyone completely new to eCommerce and looking to launch right away. Setting up your site is fast, easy, and not overwhelming. It's also the cheaper of the two options so works for those with a tight budget.
For any business owners already selling with Square's point of sale system, syncing with your online store is easy if you build with Square online. 
In comparison, Squarespace offers more advanced features and customization options (like the Squarespace testimonial slider) to help you build a stunning website. They are also better suited to bloggers but more expensive for eCommerce. 
In general, I'd recommend Squarespace for anyone looking to build their own site. It may be the pricier option but you can check out their free trial to see if you like it. Ultimately, the price is reflected in what you get, which is better value than Square. 
Try Squarespace Now
That said, Squarespace does have a slight learning curve so if you're more worried about functionality than looks, Square is a really safe and secure way to get started. 
Want to learn step-by-step how I built my Niche Site Empire up to a full-time income?
Yes! I Love to Learn
Learn How I Built My Niche Site Empire to a Full-time Income
How to Pick the Right Keywords at the START, and avoid the losers
How to Scale and Outsource 90% of the Work, Allowing Your Empire to GROW Without You
How to Build a Site That Gets REAL TRAFFIC FROM GOOGLE (every. single. day.)
Subscribe to the Niche Pursuits Newsletter delivered with value 3X per week