Clickfunnels vs Samcart: Which eCommerce Tool Converts Better?
When you buy something through one of the links on our site, we may earn an affiliate commission.
When it comes to optimizing your eCommerce efforts, deciding between Clickfunnels vs Samcart is a hair-pulling experience. Understanding which platform converts best at crucial customer touchpoints is the difference between profit and loss.
In this article, we will compare the two popular eCommerce tools to finally answer the question: which is best for your business? We will highlight the most important features relating to eCommerce and show you once and for all, which helps give you and your customers a better, more effective shopping experience.
What Is SamCart?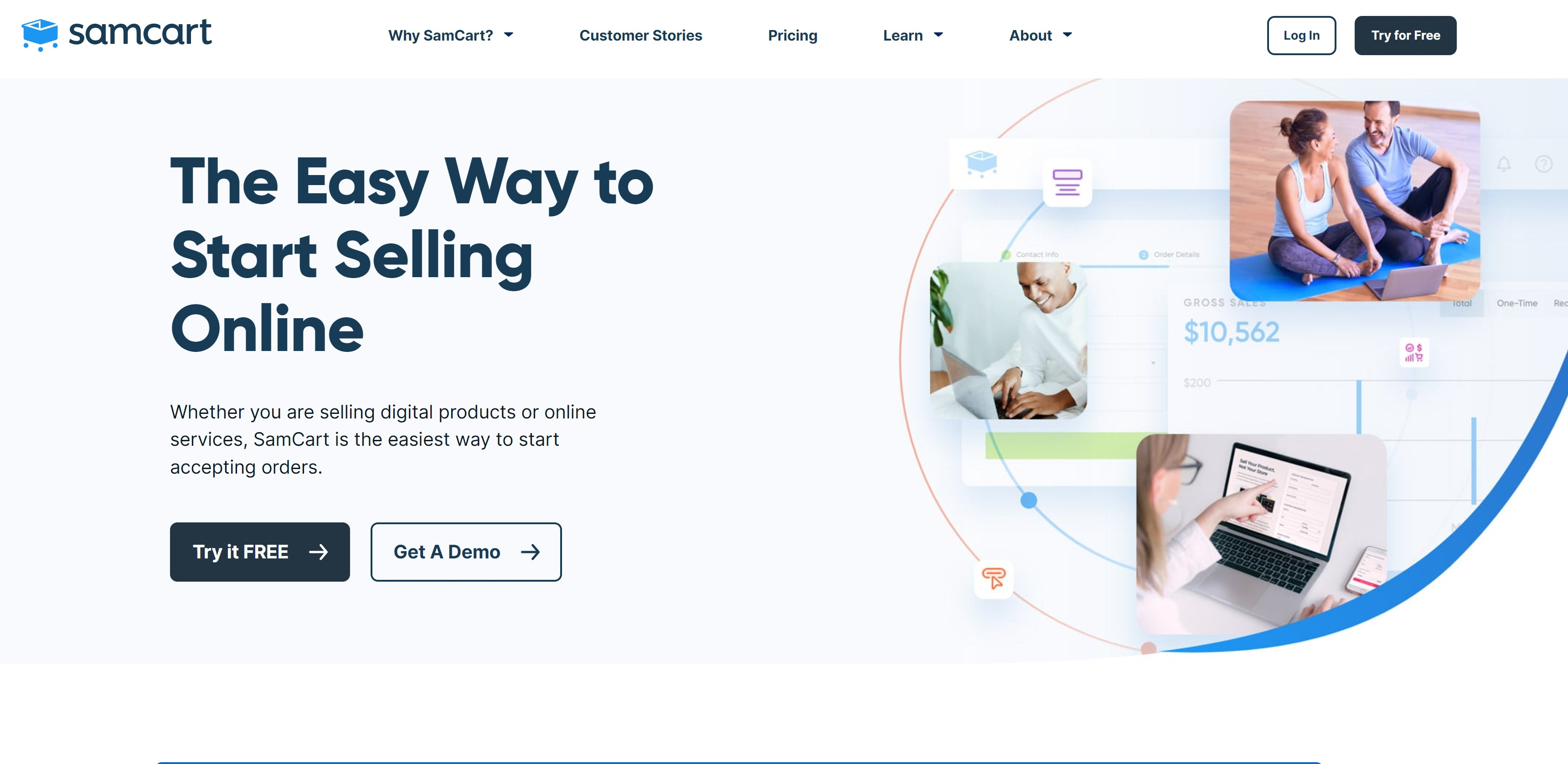 SamCart is an eCommerce platform that allows users to create beautiful, high-converting checkout pages. It integrates with a number of popular payment processors, making it easy to connect to your bank and receive payments.
SamCart includes one-click upsells and order bumps to help increase your average order value.
The platform is meant to combat the high shopping cart abandonment rates by using data collected from hundreds of online stores. You can easily develop cart pages while taking advantage of high-converting sales process elements without needing to know code.
The software also integrates with several popular email marketing platforms, allowing your company to develop high-converting sales funnels.
What Is Clickfunnels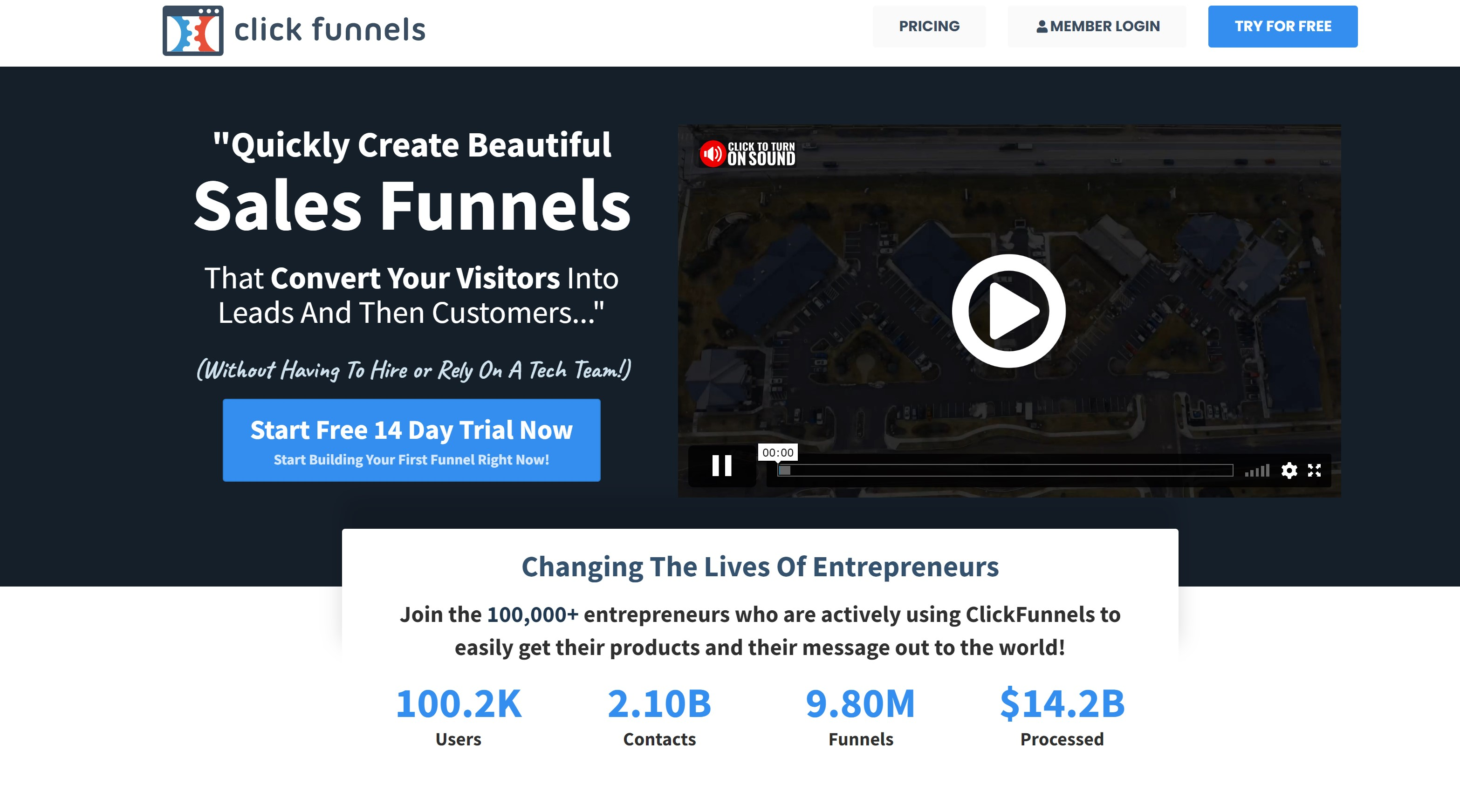 ClickFunnels was built by the famous marketer Russel Brunson and is completely focused on helping businesses increase their conversion rates online. The platform provides users with a drag-and-drop editor to create beautiful landing pages, and it also includes features such as email automation and order forms.
ClickFunnels integrates with several popular payment processors and email marketing platforms, making it easy to accept payments and develop sales funnels.
Other funnel builders are available but Clickfunnels tends to focus more on conversions.
The platform is unique from SamCart in that it offers a wide variety of features that cater to different industries and markets.
Members gain access to an affiliate program and an online course marketplace. In addition, Clickfunnels has a number of integrations that SamCart does not offer, such as membership sites and webinars.
---
Clickfunnels vs Samcart Features Comparison
Although Clickfunnels and SamCart offer similar eCommerce features, a few key differences set them apart.
Check out which features match your business goals and which ones will help increase your ROI below.
Clickfunnels Vs SamCart Checkout Pages
Most eCommerce entrepreneurs who are comparing Clickfunnels vs SamCart want to know: which one has better conversion-optimized checkout pages? After all, abandoned carts account for a majority of lost income for most online retailers.
According to Baymard Institute, The average abandoned cart rate for online shops is just below 70%.
Find out which platform helps you prevent money from being left on the table with conversion-focused checkout pages.
SamCart Checkout Pages
The answer to which platform is better for checkout pages is undoubtedly SamCart. If you think about it, the company has dedicated its entire platform to helping online business owners sell products. The end result is robust a checkout page that includes a number of tools that help customers take out their wallets.
With SamCart, you get visually stunning shopping cart pages combined with intuitive design. You don't even have to have experience creating a checkout page to find something you love. The online shopping cart pages have been pre-built for you, allowing you to focus your time and creativity on more important endeavors.
Of course, you can fully customize all templates to add your own brand mission, company photos, and brand colors throughout.
Pro Tip: Popup pages are also available which help keep your customers engaged and they work perfectly for sales or promotions.
Clickfunnels Checkout Pages
ClickFunnels, on the other hand, has a limited selection of order pages to choose from. Obviously, the platform has included checkout pages as an added feature but isn't the main focus. You will find better alternatives available, like SamCart.
Where Clickfunnels succeeds is in the nuanced details focused on conversions. The platform has multiple ways to create urgency, authority, and scarcity on a page, resulting in more customers taking action.
Users have countdown timers, progress bars, and video integrations to use at their disposal for getting more conversions on a checkout page.
Verdict
Samcart is slightly more effective for most!
---
Upsell Pages
Upsell pages are shown to a customer when attempting to buy a product before they actually make the purchase. The goal is to get the customer to buy more than they initially intended by adding related products or services.
For example, if you were selling camping tents but wanted to increase your average order value, you could offer a tent repair kit as an upsell. Ideally, your customers add both to their carts before purchasing, and you make more money per customer.
Upsells and recurring products account for 70% - 95% of your business revenue. The rest is from the initial sale.
Owners of online shops should be fairly committed to adding upsells to their sales funnel. Although both software offer easy-to-create upsell pages, one option provides more flexibility.
SamCart Upsell Pages
SamCart has a one-click upsell feature where individuals can add items to their purchases with only one click of the mouse. Customers don't even have to re-enter their billing information since it's stored from the original item.
In addition, to upsell pages, exit popups catch customers when they are trying to leave your site and are available to use. These pages help store owners add one last discount or promotion to bait customers into making a purchase.
Clickfunnels Upsell Pages
ClickFunnels has the same one click upsell ability with stored user information, but they also offer downsells and multiple upsells. Instead of only offering one upsell product, store owners can offer multiple options depending on what the customer is purchasing.
If the customer isn't enticed by the original upsell offer, you can offer a second option that still relates to the original product.
In the example from above, after offering a tent repair kit as an upsell, you can provide additional stakes that are less expensive than a kit but still raise the overall order value.
Verdict
Entrepreneurs looking for the best software for upsell pages should stick with ClickFunnels. The flexibility of upsells, downsells, and exit popups is unmatched.
---
Affiliate Management System
Affiliate marketing is the method of earning a commission by promoting other people's products. Affiliates, or publishers, find products they want to promote and share links with their audience.
Pro Tip: Store owners use this tactic to promote their own items to raise awareness and increase sales.
By setting up an affiliate management system, store owners allow content creators to promote their products in exchange for a small commission for each sold item.
Both these platforms offer an affiliate management system, but the duel between SamCart and Clickfunnels will come down to your budget.
SamCart Affiliate System
The affiliate management system in SamCart is easy to manage and use.
The interface is friendly even for those with little to no experience with affiliate marketing. Store owners will have no problem navigating the different sections and finding the necessary information.
Payouts to affiliates can be done manually or set on a schedule, allowing eCommerce owners to automate part of the process.
Affiliates will need creative elements they can add to their blogs and websites to promote products. Samcart lets you build creatives to send to your affiliates while managing the entire process from one location. You can also set customized commission rates based on each item.
Clickfunnels Affiliate System
ClickFunnels has many of the same basic funnel features as Samcart for affiliates. You can customize your commission rates and see analytics and payouts from the system.
The interface is just as easy to navigate, and even first-timers will be able to find what they need effortlessly.
Clickfunnels calls their affiliate tool "Backpack," and although it has all the features as Samcart, it's only available on the Etison Suite Plan.
Pro Tip: The affiliate system is only available on the Etison Suite Plan, which is one of their high-end plans and cost $297 a month to use it.
Of course, successful affiliate accounts will make much more than $297 a month, which is why ClickFunnels feels the need to charge more for the service.
Verdict
Entrepreneurs just starting out with affiliate digital marketing should choose SamCart to get their feet wet without putting up a large upfront investment.
---
Email Marketing Tool
Email marketing is a powerful tool when combined with your eCommerce online store.
Up to 50% of people will buy a service or product from a marketing email at least once a month.
If email marketing is going to be a big part of your customer acquisition strategy for eCommerce, then there is little decision between SamCart vs Clickfunnels.
SamCart Email Marketing
SamCart doesn't even have an email marketing tool on its platform. So owners won't be able to use email marketing unless they opt for a third-party tool like ConvertKit or Aweber.
Pro Tip: In order to create an email marketing sales funnel with SamCart, you'll need to integrate two software services together.
Integrations allow you to set up abandoned cart emails, welcome emails, order confirmation emails, and more.
The process is simple enough but will take some time to set up since it is not native to the platform. Building a seamless email marketing sales funnel for your online store in one platform will require a more powerful tool like Clickfunnels.
Clickfunnels Email Marketing
Clickfunnels has a built-in email marketing tool called Actionetics that is available on all plans. With Actionetics, you can easily create:
email sales funnel
autoresponders
broadcasts
welcome emails
abandoned cart emails
purchase confirmations
These tools are available for all stages of the customer sales process, from awareness to purchase and even post-purchase. Using email marketing, your company has the opportunity to continually market to warm leads that have already shown interest in your company.
Your email list is one of the few assets your company completely owns.
You can always export your email list from ClickFunnels or any other platform and import it into different software.
Entrepreneurs looking for long-term email marketing solutions for their eCommerce store should choose Clickfunnels over SamCart. The only problem is email marketing is part of the Etison suite plan, which is the more expensive plan from Clickfunnels.
Verdict
Considering SamCart doesn't even include an option, ClickFunnels is the obvious choice.
---
Automation Tools
Automation can reduce the time you spend on menial tasks so that you can focus on the bigger picture for your eCommerce business. Imagine the time you'd free-up not needing to manually sending shipping confirmation emails or processing customer refunds.
With marketing automation tools, you can set up your eCommerce business to function without your constant supervision. Here's a look at SamCart vs Clickfunnels and how the two compare in the marketing automation department.
SamCart Automation
While Samcart has some marketing automation features, they are very limited compared to Clickfunnels. You can set up automatic shipping, tax calculations, and other small automation features.
Overall, the automation capabilities are not very robust, leaving most of the work on your shoulders.
Pro Tip: Use the integration capabilities built into SamCart to connect third-party apps. You'll have more control over automation and decrease time spent on tasks.
Zapier is a tool that connects with SamCart to automate some of the more common tasks associated with running an eCommerce business.
You can set up:
automatic shipping confirmation emails
process refunds
track inventory levels
While this requires a third-party tool and some additional work, it's still possible to automate many of the tedious tasks of managing an online store.
Clickfunnels Automation
On the other hand, Clickfunnels comes with a full suite of automation tools that can be used to automate nearly every aspect of your eCommerce online business.
With Clickfunnels, you can set up automatic:
email responses
order fulfillment
customer service
returns and refunds
shipping
The marketing automation tools are nearly endless with Clickfunnels. You can save hours of your time each week by using automation tools to automate menial tasks in your online business.
The process is fairly straightforward, so owners with little automation experience can still figure it out.
Pro Tip: Log your hours in a spreadsheet and find out how much time you are saving using automation. Once you get used to using automation, you can use a virtual assistant to make the feature even more valuable.
Verdict
ClickFunnels all the way.
---
User-Friendly Interface
As a store owner, you have enough on your plate to worry about without having to stress over learning a brand-new software program. The longer it takes you and your team to learn an eCommerce tool, the more it takes away from time that could be spent on other tasks.
That's why it's important to choose an eCommerce platform with a user-friendly interface that is easy to use. Here's how SamCart vs Clickfunnels compares in ease-of-use for store owners.
SamCart Interface
The SamCart interface is fairly straightforward and easy to use. The dashboard is simple and gives you a good overview of available options.
There's a drop-down menu for most of the categories that make it easy to navigate and find what you need. The main screen only displays your selected selections without distracting you with other choices.
You won't need any experience with an eCommerce tool to use the product.
Pro Tip: SamCart has an entire knowledge base set up to give entrepreneurs examples of how best to use its service.
Clickfunnels Interface
The Clickfunnels interface is also easy to use, with a simple dashboard that gives you an overview of your account.
There's a main menu with all available options you'll use to navigate the platform. The Clickfunnels team has also put together extensive resources to help users get the most out of their experience.
Clickfunnels gets confusing with the sheer number of options they give you on each screen. Instead of simply displaying your chosen selection, you are bombarded with other choices that can quickly become overwhelming.
While both Samcart and Clickfunnels have user-friendly interfaces, Samcart is slightly easier to use overall.
Verdict
If you're looking for an eCommerce platform you can immediately get started with, SamCart is the better option.
---
Membership Sites
Sites that include memberships are built differently than those that don't. You need to be able to protect content, take payments, and give members access to the appropriate areas of your site.
Here's how SamCart vs Clickfunnels compares in terms of creating a membership funnel for your business.
SamCart Membership Sites
SamCart is primarily focused on building eCommerce experiences, which doesn't focus very heavily on membership-driven features. Because of this, you won't have any native tools to build memberships using the platform.
There is, however, plenty of integration possibilities that allow you to mimic the features of a membership site. You can use tools like:
Thinkific
Kajabi
MemberPress
Post Affiliate Pro
Wishlist Member
The process will be more complex and require communication between SamCart and a third party, but the process is still possible.
Clickfunnels Membership Sites
ClickFunnels, on the other hand, has everything you need to build a membership site natively within the platform. The platform doesn't have a separate feature for memberships but includes them as part of its sales funnel templates.
You can choose from various membership sales funnel templates and import them into your account. The templates are split into membership access and the membership area.
Under membership access, you build the entire membership sales funnel with drag-and-drop tools.
You can add conversion-focused elements just like you would on regular funnel pages, including:
Order bumps
Upsells
Downsells
The membership area is where you house all of your content for members. This includes:
videos
courses
articles
downloads
Customers then have the option to purchase the level of membership they want. Once they've done that, they're given access to the content you've placed in the membership area.
Verdict
Overall, ClickFunnels is the better platform for building memberships. The process is simpler and doesn't require any integrations with third-party tools.
---
Integrations
Integrations are when you connect a third-party app or tool with another app or platform. This allows the two to share data and complete tasks automatically and is required to build complex sales funnels.
Both Samcart and Clickfunnels have a wide variety of integrations available, and both will likely connect with the tools you need for sales funnels. You'll want to consider what tools your preferred platform doesn't have and what integrations make up for it.
SamCart Integrations
Here is a list of integrations that are possible with SamCart:
Zapier
Notify URL
Mailchimp
Drip
HubSpot
InfusionSoft
Kajabi
MemberPress
ShipStation
These integrations allow you to complete more tasks involved with email marketing, customer management, membership, shipping, and more.
Clickfunnels Integrations
ClickFunnels also has a large list of integrations available. The platform has more features, so integrations may not be as necessary, but they are helpful if you already use a preferred tool.
Here is a list of Clickfunnels integrations:
Mailchimp
Drip
Facebook
GetResponse
Dropbox
Google Drive
HubSpot Sales CRM
Infusionsoft CRM
Ontraport CRM
Salesforce CRM
Kajabi
ShipStation
Zapier
Verdict
ClickFunnels is primarily focused on building funnels, which include a larger list of integrations for their platform. It's a better choice if you're looking to create a tech stack for your eCommerce business.
---
Support
Customer support for new eCommerce tools is just as important as the platform's features and integrations. You'll want to consider what kind of support is available, how responsive they are, and if they have a community you can rely on for answers to your questions.
Support for SamCart
SamCart has excellent customer support when building sales funnels with a few different ways to get in touch. You can email their team or use chat support through the membership portal.
They also have a robust help center with articles, FAQs, and how-to guides. The help center is easy to search and has a lot of information on the platform and integrations.
The team is open 24 hours a day and has a demo available to learn more about the platform.
Support for Clickfunnels
Clickfunnels support team isn't as well-equipped as SamCart. They don't have a team robust enough to handle inquiries from several sources.
What they do have is a tremendous customer base that has created its own helpful resources. You'll find a large Facebook group community with hundreds of members.
The group is a great place to ask questions and get help from other users. You can also find a wealth of resources on YouTube from content creators focused on marketing.
Verdict
Although they don't have as much company support, you'll find more help and support using Clickfunnels than you would SamCart.
---
Pricing Plans
Finding a combination of great features for sales funnels with pricing that fits your budget is always the goal. You'll want to consider what each platform offers in their pricing plans and if there are any discounts or coupons available.
SamCart Pricing Plans
SamCart has three different pricing plans with a discount for paying yearly:
Launch - $59/mo
Grow - $119/mo
Scale - $299/mo
Because SamCart doesn't have any email marketing features, limited automations, and membership features, you'll want a higher price plan for the integration flexibility.
ClickFunnels Pricing Plans
Clickfunnels has just two pricing plans to choose from including:
Basic - $97/mo
Platinum - $297/mo
The Basic plan will be enough for entrepreneurs who are just starting on their eCommerce journeys. Otherwise, the Platinum option gives a full range of features that can help any online store scale.
Verdict
It really depends on your needs, but overall, ClickFunnels offers more bang for your buck.
---
Clickfunnels vs Samcart in Conclusion
For store owners who are getting customers but having trouble converting, SamCart is going to be the best tool. The focus on creating a better checkout page experience is unrivaled and should help immediately increase conversions. Owners who need a complete funnel-building experience with multiple conversion-focused features will find Clickfunnels more useful.
Want to learn step-by-step how I built my Niche Site Empire up to a full-time income?
Yes! I Love to Learn
Learn How I Built My Niche Site Empire to a Full-time Income
How to Pick the Right Keywords at the START, and avoid the losers
How to Scale and Outsource 90% of the Work, Allowing Your Empire to GROW Without You
How to Build a Site That Gets REAL TRAFFIC FROM GOOGLE (every. single. day.)
Subscribe to the Niche Pursuits Newsletter delivered with value 3X per week