Big Cartel vs Shopify: Which Is Better for Building an eCommerce Business?
When you buy something through one of the links on our site, we may earn an affiliate commission.
When it comes to Big Cartel vs Shopify, Shopify wins. However, there are many factors to consider, so reading this guide will help you to determine which one is right for your needs.
Big Cartel and Shopify both offer a wide range of advanced features that allow you to customize your online stores and tailor it to suit your needs. With both options offering great (but different) solutions, it can be hard to choose between them.
In this comparison, we will be looking at all of the features they offer, as well as the usability, pros and cons, and reviews. By the end, you will have all the necessary information to decide which is the best option for your online businesses.
Big Cartel vs Shopify – Which is Better Overall?
In a rush? Don't worry; here's a quick TLDR:
When it comes to comparing Big Cartel vs Shopify, Shopify is the clear winner. Although it's more expensive, it's incredibly powerful and offers endless integration options.
Shopify is very user-friendly, with advanced analytics features that will allow you to understand and optimize the performance of your eCommerce store.
It also offers over 100 beautifully designed themes to choose from, so even if you're not tech-savvy, you can have a professional-looking eCommerce store up and running in a matter of hours.
That being said, Big Cartel does have some good points too. Big Cartel is the better option for artists, makers, and independent creators. It is very affordable and even offers a free plan for those selling up to 5 products.
It's a great option for anyone getting started on a shoestring budget! The main downside of Big Cartel is that the customization and integration options are very limited.
The Main Differences Between Big Cartel vs Shopify
They may both be eCommerce platforms, but their offerings vary in many different ways. This is great news for those that want to offer eCommerce products online because it means that they will be able to find the perfect solution for their needs.
So, what are the differences between Big Cartel and Shopify?
Big Cartel has a maximum product limit of 500, whereas Shopify allows you to add unlimited products on all plans. If you're looking to run a bigger eCommerce website, Big Cartel may not have the features to match your needs.
Shopify is more expensive overall. However, it offers a wider range of features. The pricing can make it an expensive option for anyone who's just starting out in the world of eCommerce.
Shopify offers over 100 professionally designed themes to choose from, whereas Big Cartel only offers 18 themes.
Shopify has a much more comprehensive analytics dashboard—essential if you want to really understand and grow your business.
Big Cartel vs Shopify: Big Cartel Overview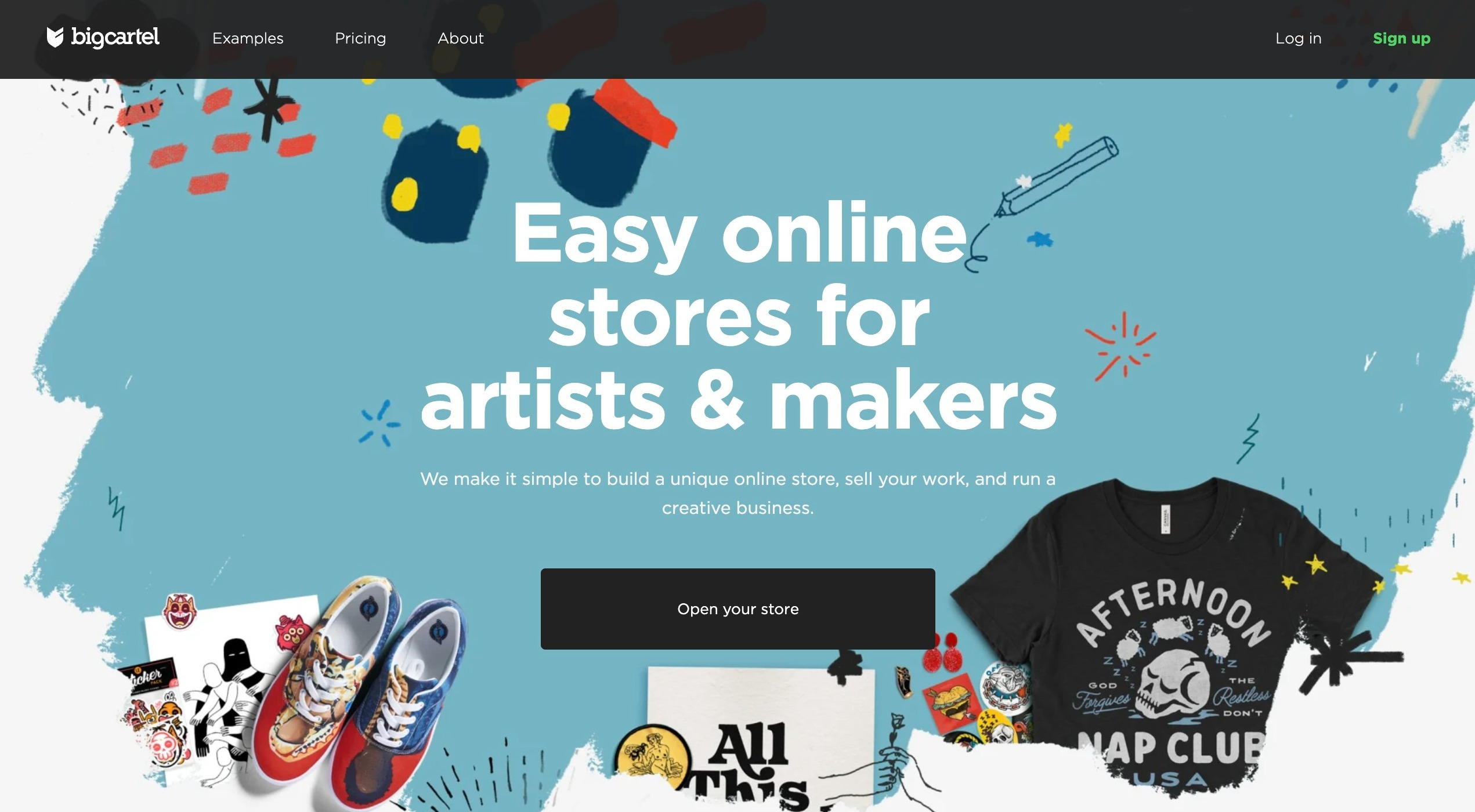 Big Cartel is a simple but functional eCommerce platform. It is designed primarily for small businesses, artists, craftspeople, musicians, and creators, offering limited product ranges.
The easy-to-use platform gives the entrepreneurial individual an online store quickly and effectively.
The online store allows you to showcase small product lines of physical items for sale. It's an ideal choice for small product ranges of physical products.
If your products are either digital products or customized individual products, additional custom nodes or other external integrations will be needed.
Main Features
Big Cartel's main offerings include:
Cost-effective options for creative and artistic sellers
Sell online or in-person
Easily add offers and discounts
Beautifully designed free themes to choose from
Affordable pricing and a free version for users selling up to 5 products
A basic range of themes is included to set up your online store easily.
Ease of Use
Big Cartel is refreshingly easy to use. Products are added to your Big Cartel store using the Add Product button found in the admin menu. Then you follow a simple setup guide to add your first products.
The number of products you can add to your website is limited by your chosen plan. In addition, there are plan-based limits on the number of images you can upload for each product listed.
The Add Product button gives you access to an area where you can enter individual descriptions for the products you are listing.
You can also choose the category of goods and the products' current stock status, the all-important price, and product name/title.
Finally, you also have the ability to hide your listing if you need to.
Once you have received an order, Big Cartel provides features to help you fulfill the sale. From the Orders section located on the Big Cartel dashboard, you can access and edit the shipping information.
There is a packing slip facility that will directly print a useful packing slip/address label. The status of the customer's order is controlled here. Here, you can mark the product as shipped and send tracking information to your customer.
Overall, Big Cartel is easy enough for anyone to use—even if you're completely new to eCommerce.
Big Cartel Themes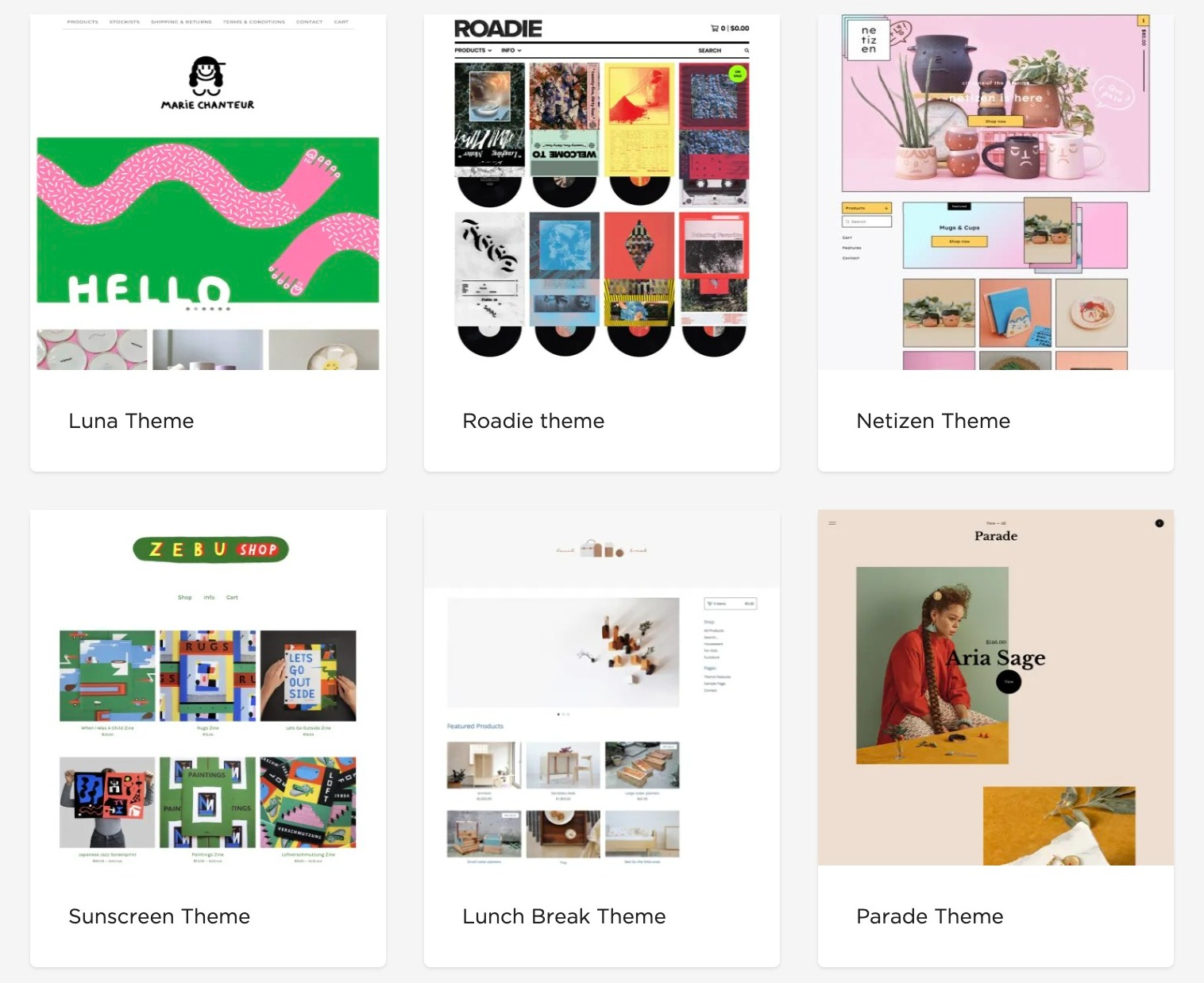 Big Cartel provides a web editor and 18 free storefront themes. The web editor is of the 'what you see is what you get' type, and is somewhat limited. You can, however, alter fonts, change colors, and adjust your preferred layouts.
So mistakes don't go live; the editor includes a useful preview facility. This allows you to get your own eCommerce website up and running with no coding required.
The paid plans offer the ability to edit in HTML, but the free version is limited in this respect to the given templates and basic visual alterations.
Payment Processing
Big Cartel's payment processing system allows you to accept payments either online or in person. This is great news for independent artists and makes who like to sell at craft shows or in a brick-and-mortar store.
Credit card payments can be accepted using either PayPal or Stripe as your payment processing company. Apple Pay is also accepted if you use Stripe.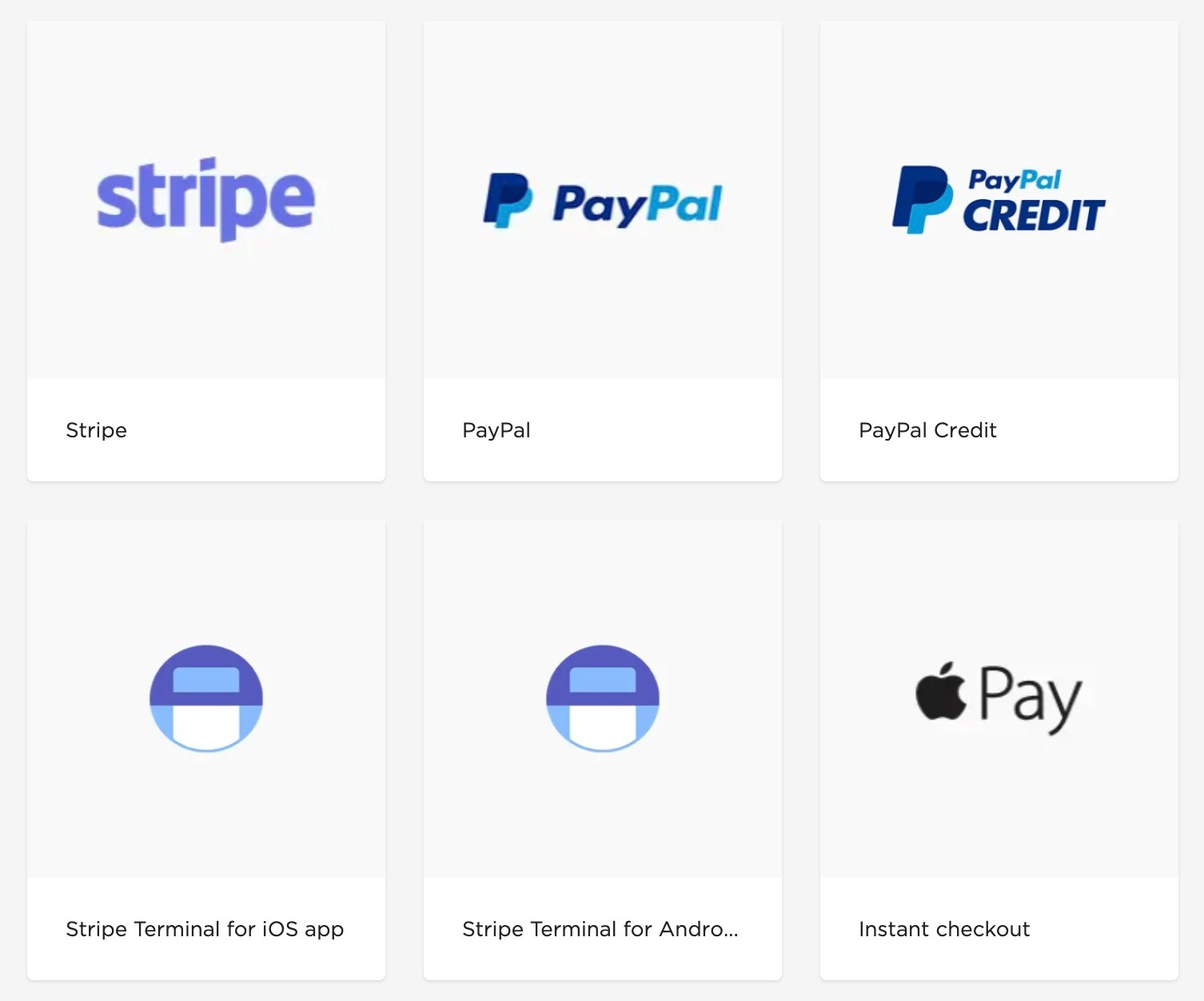 The customer then uses the instant checkout facility directly from the products page.
Paypal offers your customers the ability to pay with PayPal Credit or with Venmo (if you're curious at all, you can find out how Venmo makes money here). Utilizing both payment processors will give your customers the most possible payment options enabled by Big Cartel.
Credit card payments can be accepted in person, too, for example, if you are selling at a craft fair. This facility is accessed through Stripe via Big Cartel's own Apple/Android app. Customers also have the option to pay in person with cash.
Support
Big Cartel has a customer support team available via email Monday to Friday, 8 am to 6 pm EST. The support team is friendly and helpful and generally solves queries quickly.
The help section on their website is pretty comprehensive, too, so you can find answers to frequently asked questions about setup and use here.
Big Cartel also answers customer queries pretty quickly via social media, too. Namely, Twitter—although that isn't listed as an official support option on their website.
Customer Reviews
Customer reviews of Big Cartel are mixed, but this is largely due to the basic level of features that they offer.
It's important to understand that Big Cartel was originally set up to help creatives and artists sell their goods online. It's not designed to service large eCommerce businesses in the same way Shopify aims to do.
Big Cartel users who understand this and want to use the online store facility as it is intended generally give it good reviews. People looking for cost-effective solutions for selling up to 500 items will find that Big Cartel ticks many of their boxes & these people will generally be happy to leave a positive review.
Big Cartel receives 4.3 out of 5 stars on G2, and 10 out of 10 on TrustRadius. A great score overall!
Integrations
Big Cartel offers a number of integrations and extensions for its users. These allow the store owner to easily add on any features not already included in the monthly package.
Popular integrations include:
Instagram
Mailchimp
POWr
Elfsight apps
Zapier
Google Analytics
Stripe
PayPal
Apple Pay
It also offers integration with various shipping and fulfillment apps, including Printful, Pirate Ship, ShipStation, ShippyPro, and more.
Reporting and Analytics
The operating performance of your online store can be seen using the Big Cartel dashboard. The data is available in real-time, showing live visitor numbers, the rate at which orders are being placed, and conversion rates. This can yield valuable data about your store's performance.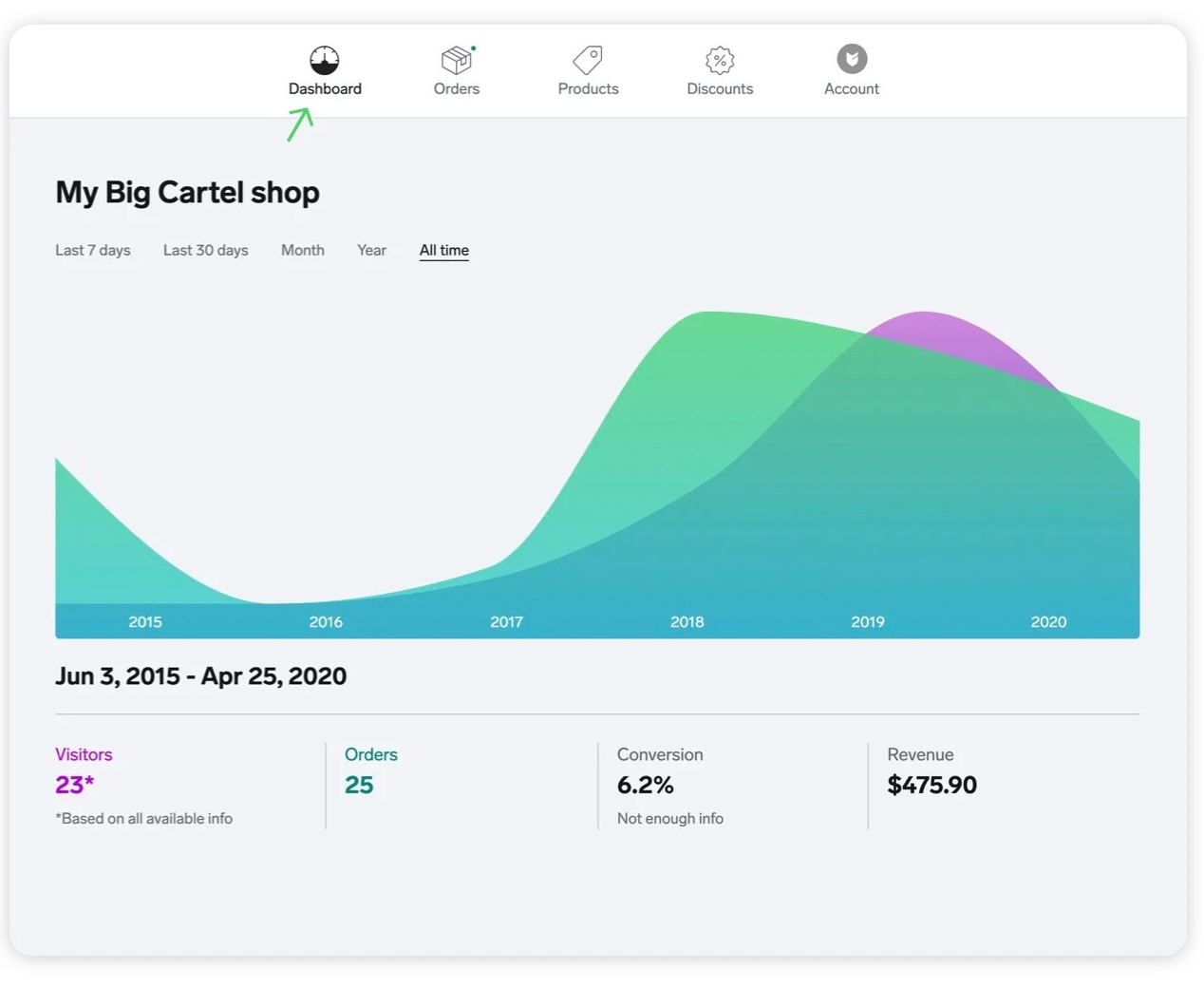 The revenue generated by your online sales can be displayed according to the time period. This enables you to forecast when orders may be high and when the quieter times are likely to be during the year.
Looking from the perspective of your individual products, data can be collated to show the popularity of each of your product lines and the revenue generated by each product, as well as how many have been sold.
Pros and Cons
Here are a few of the pros and cons of using Big Cartel software.
Pros:
Very affordable monthly plans with a free plan available
It's simple to get started and get your website ready to make online sales
Big Cartel helps with the administration side of your business. This may prove useful if this is your first venture into business.
Simple templates are included to get you up and running quickly with no coding skills
Good customer support. Support is available in the useful format of walkthroughs for various tasks hosted on Instagram
Cons:
The free version is limited. A maximum of 5 products can be listed for sale.
Big Cartel requires you to have PayPal or Stripe accounts; preferably both.
Limited payment options
Big Cartel Pricing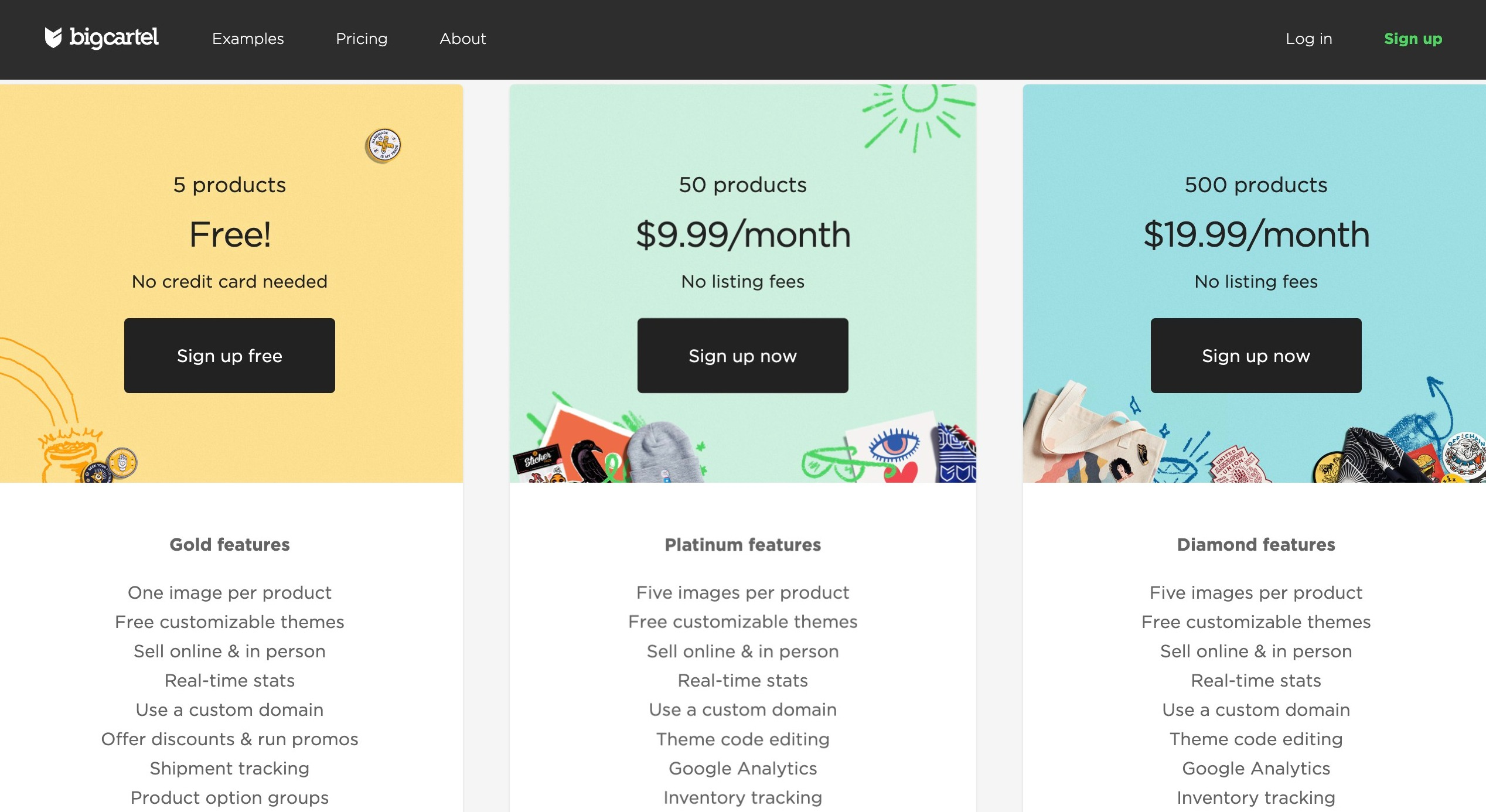 Big Cartel offers an initial free plan for very small businesses. It also offers paid plans which range from $9.99 per month to $29.99 per month.
Gold Plan – Free. Provides only a limited scope of 5 products in total with only one image per product. Although it comes with a free bigcartel.com domain, you are free to add a custom domain to your store. You can use this plan to sell on Facebook and in person too! There is a selling dashboard in real-time, and Big Cartel charges no transaction fees.
Platinum Plan – $9.99/month. This plan enables you to list up to 50 individual products, with five images permitted per product. You can use your own domain name, which is useful if you have already promoted your business to a particular web address. More flexibility is offered in the way of customizable design code. The dashboard adds Google Analytics and inventory tracking. Promotional features are added, including discount codes.
Diamond Plan – $19.99/month. This plan includes everything from the Platinum plan, with an increase in the number of products permissible to 500.
It is worth noting that although Big Cartel does not charge transaction fees, it does require prerequisites to accept online payments. You'll need to have access to either a Stripe and/or PayPal accounts, and you will be liable for the processing fees charged by them.
These costs are 2.9% plus $0.30 per transaction for payments processed by Stripe and for payments processed by PayPal. The transaction fees are 3.49% and an additional $0.49 per individual transaction.
Big Cartel vs Shopify: Shopify Overview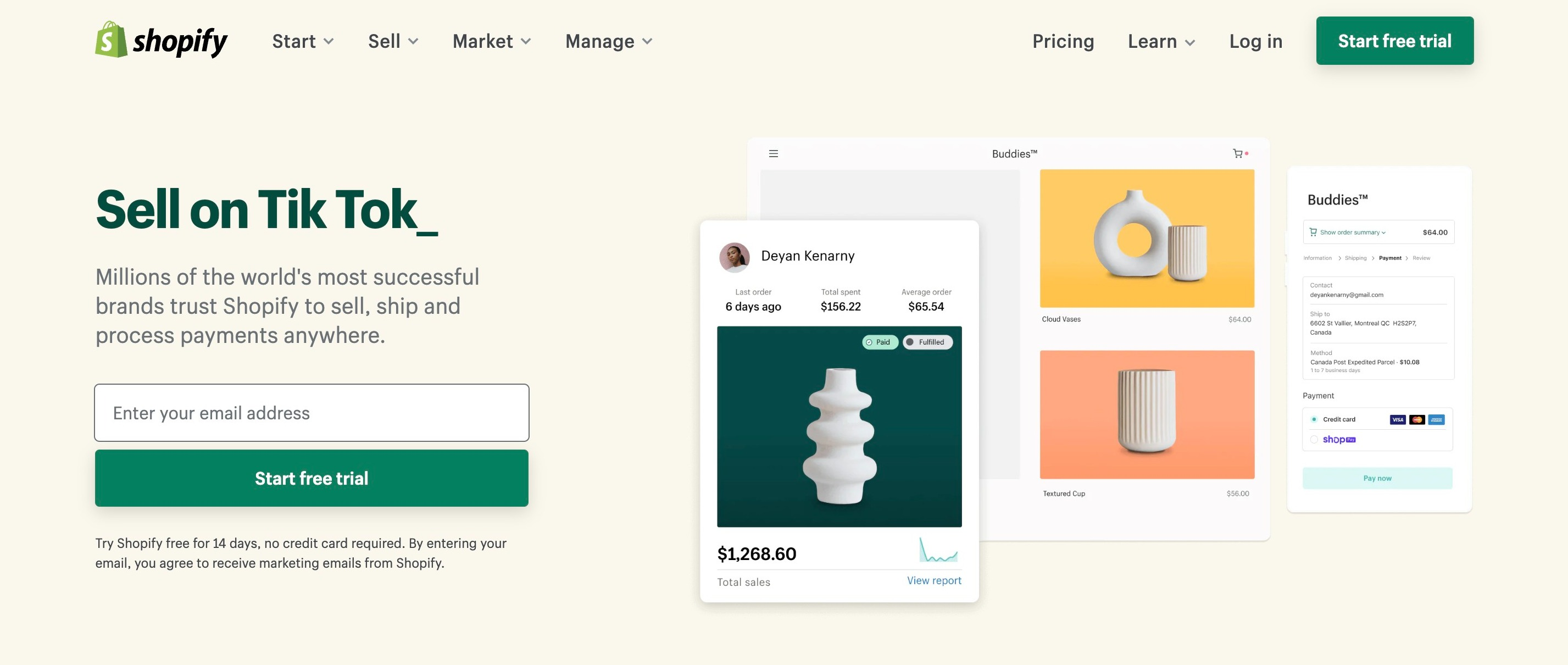 If you're running a business with an online presence and want to sell products, then you will want to make this as easy as possible for your customers.
Consumers are used to online shopping along with the processes they need to go through to complete their purchases. Make that too complicated, and they'll simply shop elsewhere.
Shopify is a leading eCommerce platform offering everything you need to start and expand your eCommerce business online.
It's easy to use, and includes a wide range of apps and professional-looking themes for your online store. It also offers plenty of support for you to set up payment processing.
With the option to sell in-person, via various online channels, and through your online store, Shopify has options to suit a range of online sellers.
If you're looking for a helping hand with your Shopify store, you can hire an expert from the Shopify Experts marketplace (and use the best Shopify page builders). Here you will find a range of developers, designers, SEO experts, and more.
These experts can take all the stress out of setting up your store and can help you on your way to creating a wildly successful business.
Main Features
One of the best things about Shopify is the range of features that it has. As the software is suitable for businesses of all sizes, it has a range of features that should suit everyone.  Popular features include:
Free and paid-for themes to help you perfect the look of your online store
Apps and Integrations – Expand what your store does by making use of their free and paid-for apps
Shopify Payments – Use their payment facilities to allow your customers to pay by credit card
Blog – Include a blog on your Shopify website to engage customers and help your SEO
Support team – A 24/7 support team is available across all of their packages
Experts – Get support from experienced sellers to set up your store, design it and even get it marketed to the right people
Shopify Lite – A great option for those that want to sell online without the need for a full store
Shopify offers various packages depending on what you are selling and how you want to sell them. It even offers solutions for those that want to sell products and accept Shopify payments in person.
Ease of Use
Although there is an initial learning curve with Shopify, it's generally very user-friendly. Once you have gotten past the initial setup and gotten used to how the eCommerce platform works, you will find it easy to use.
Much like any software type, if you haven't used eCommerce software before then, you may take a little longer to get familiar with all of the features. In general, most say it isn't too complicated to get started with.
One great thing about Shopify is that you don't need extensive knowledge to become familiar with it. Instead, everything can pretty much be done in a few clicks within their user control panel.
Of course, if you are struggling, then the fact they have a 24/7 customer support line is great too. On top of that, there are tons of reviews & tutorials online for you to follow if you need a helping hand.
Themes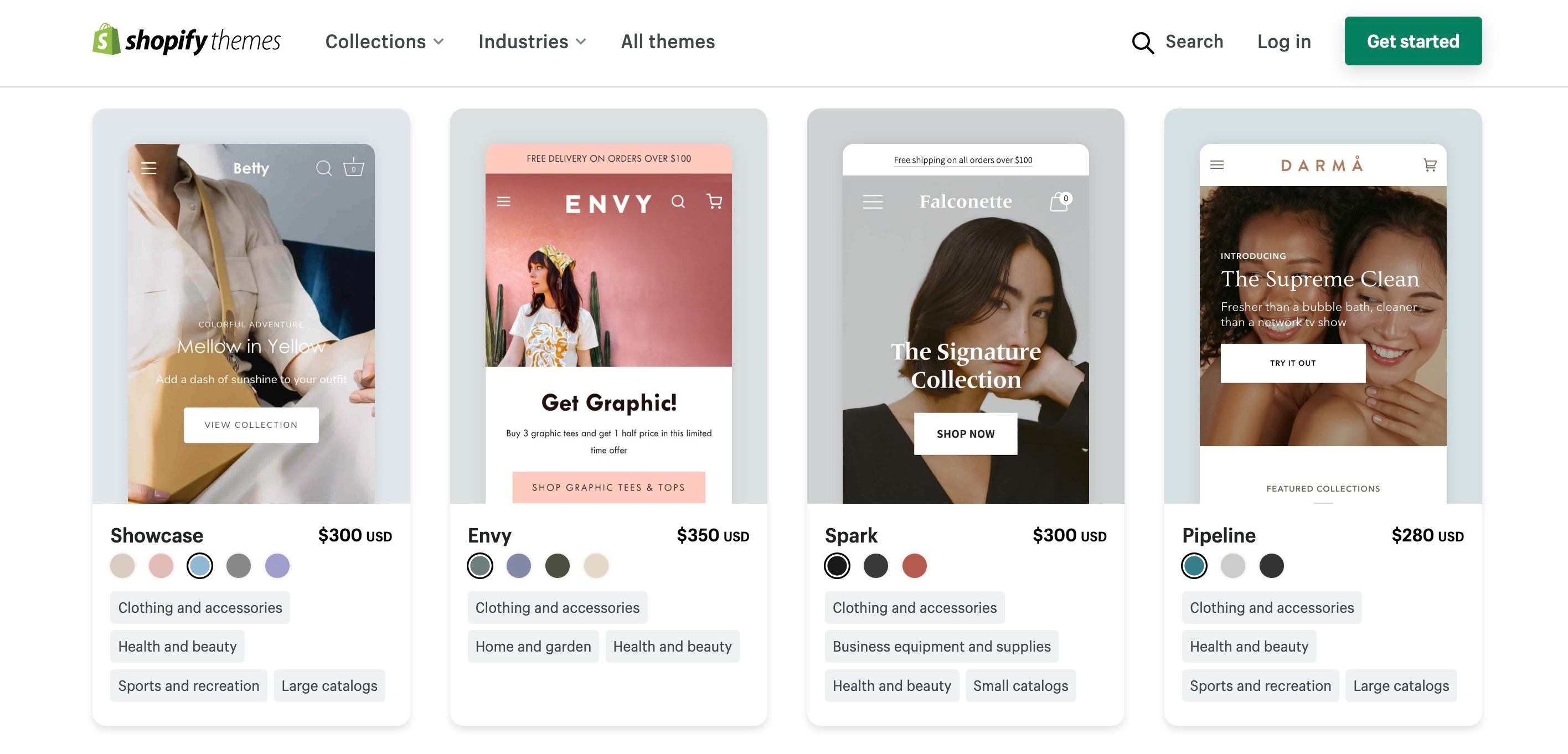 Themes within Shopify can be chosen to help you design how your store looks and how it performs for your customers.
When guiding your customers through their purchase journey with you, it's important that they feel the whole process is easy and seamless. This is why choosing the right theme is critical—it needs to be intuitive and easy to navigate.
Shopify has an extensive section on their site that helps you choose the best theme and get it installed. It also enables you to customize it if you need to.
Shopify has over 100 themes for you to choose from, and you can filter these on their website by price, industry, the size of your catalog, and even design type.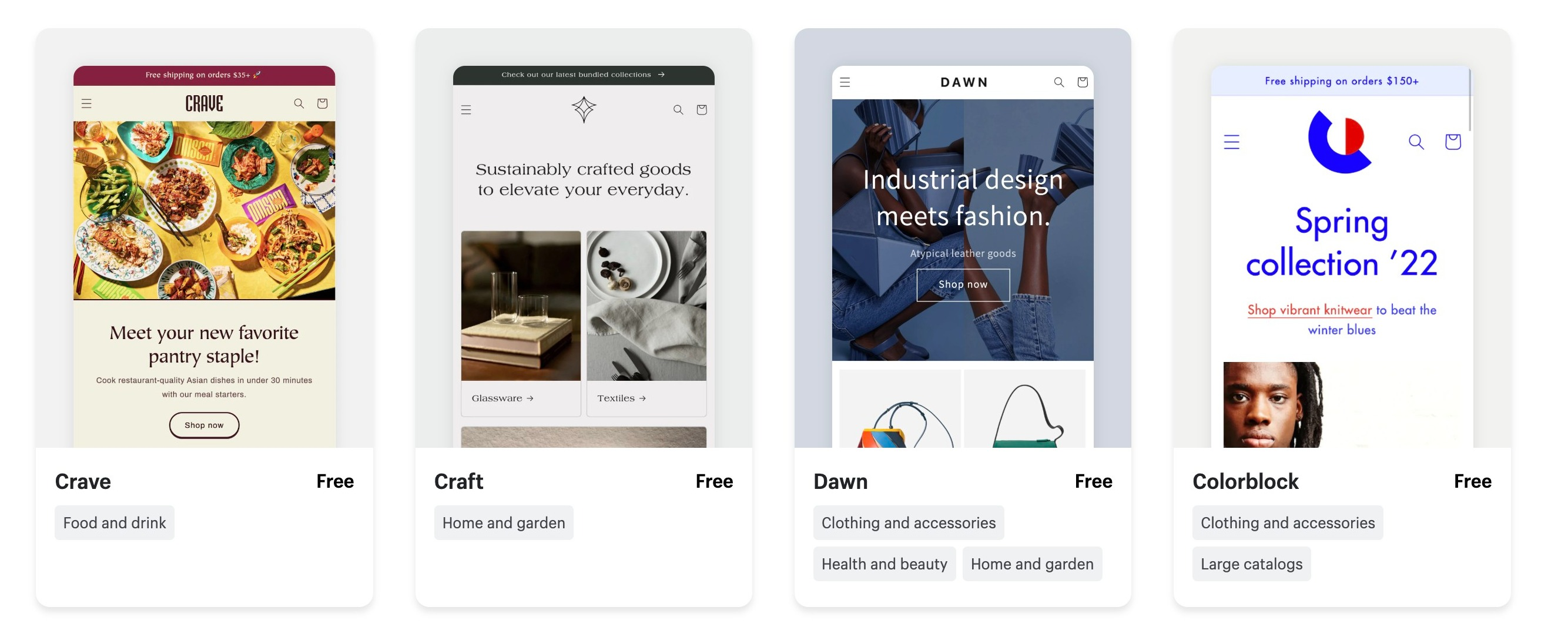 The wide range of free and paid-for themes helps to ensure that whatever your budget, you should be able to find a professional-looking theme that suits you and the needs of your business.
Payment Processing
Allowing consumers easy and convenient ways to pay is a must, and Shopify certainly recognizes this.
Shopify offers several payment platforms that it supports and integrates with. Options include:
BitPay
PayPal
UnionPay
Amazon Pay
Klarna
ClearPay
It also supports payments globally, so no matter where you are and no matter where your customer base is, you can be confident that Shopify will provide smooth, efficient payment processing.
Support
One great thing about Shopify is that they offer 24/7 customer support. This is available for all customers, no matter which pricing plan you are on.
The best way for you to contact them is via email or via their live chat facility. Both of these get positive reviews from customers in terms of how quickly they can solve customers' issues.
Depending on where you are in the world, there is also the option to call their help team directly.
Customer Reviews
As with any product or service, there will always be mixed reviews. However, Shopify generally gets a good score across the board on review websites.
Shopify scored 4.3 out of 5 on G2, and 8.8 out of 10 on TrustRadius. So, overall, the reviews are excellent.
The parts that people are most apprehensive about are the apps. Many users feel these are expensive. Another issue people mention is the fact that there isn't enough SEO integration.
Aside from this, most users love how easy it is to use. Favorite features include how Shopify offers support for a range of business types and industries and that it is possible to offer 1-click checkouts for many payment options.
Integrations
There are wide range of integrations available via the Shopify App Store. At the time of writing, there are a total of 7314 integrations available with Shopify!
These include its own Shopify's app store extensions such as Shopify Email, Shopify Point of Sale, Product Reviews, and many more. You can also easily integrate your Shopify Store with popular third-party apps such as OptinMonster, Pinterest, Facebook, Google Shopping, Klaviyo, TikTok, and more.
For example, you can choose from a number of chat apps that help customers contact you directly through platforms such as Facebook messenger and/or Instagram direct messages.
It is also possible to integrate both customer reviews and product testimonials into your website store. This allows new customers to quickly and easily see how happy previous purchasers have been with their purchases.
Print-on-demand, back-in-stock notifications, and the inclusion of special offers and deals are also possible.
Many people like how customizable Shopify is when it comes to creating the perfect online storefront for their needs, and much of this is down to what can be integrated and how easy it is to do.
Reporting and Analytics
Shopify's comprehensive analytics dashboard is available on all plans. It is easy to use and understand and provides useful insights into your business's performance.
Depending on which plan you choose, you will have access to different features and reports within the dashboard.
Shopify Lite includes the Analytics page, Finance reports, and product analytics.
The Basic Shopify plan includes everything from the Lite plan, plus Live view, acquisition reports, inventory reports, marketing reports, and behavior reports.
The standard Shopify plan includes everything from the Basic and Lite plans, plus order reports and sales reports. It also includes profit reports and customer reports which can be particularly useful.
Advanced Shopify and Shopify Plus both include all of these reports, plus the ability to create custom reports.
Pros and Cons
As with all software, Shopify has its own pros and cons. Here are some of the things to consider before making a decision on whether Shopify is right for you.
Pros:
Very easy to use
A large number of free professional-quality themes are available
Mobile-friendly and responsive theme options
Cart saving functionality on all plans
An ideal choice for dropshipping
Supports up to 20 different languages
Bulk import tool
Abandoned cart recovery
A huge range of apps and integrations allow complete flexibility
Wide range of native and 3rd party payment options
3-day free trial
Cons:
Monthly plans are expensive
Added expense for some apps and features
Payment processor Shopify Payments has limited capability
Images need to have the same aspect ratio, or they won't show evenly on the page
Shopify Pricing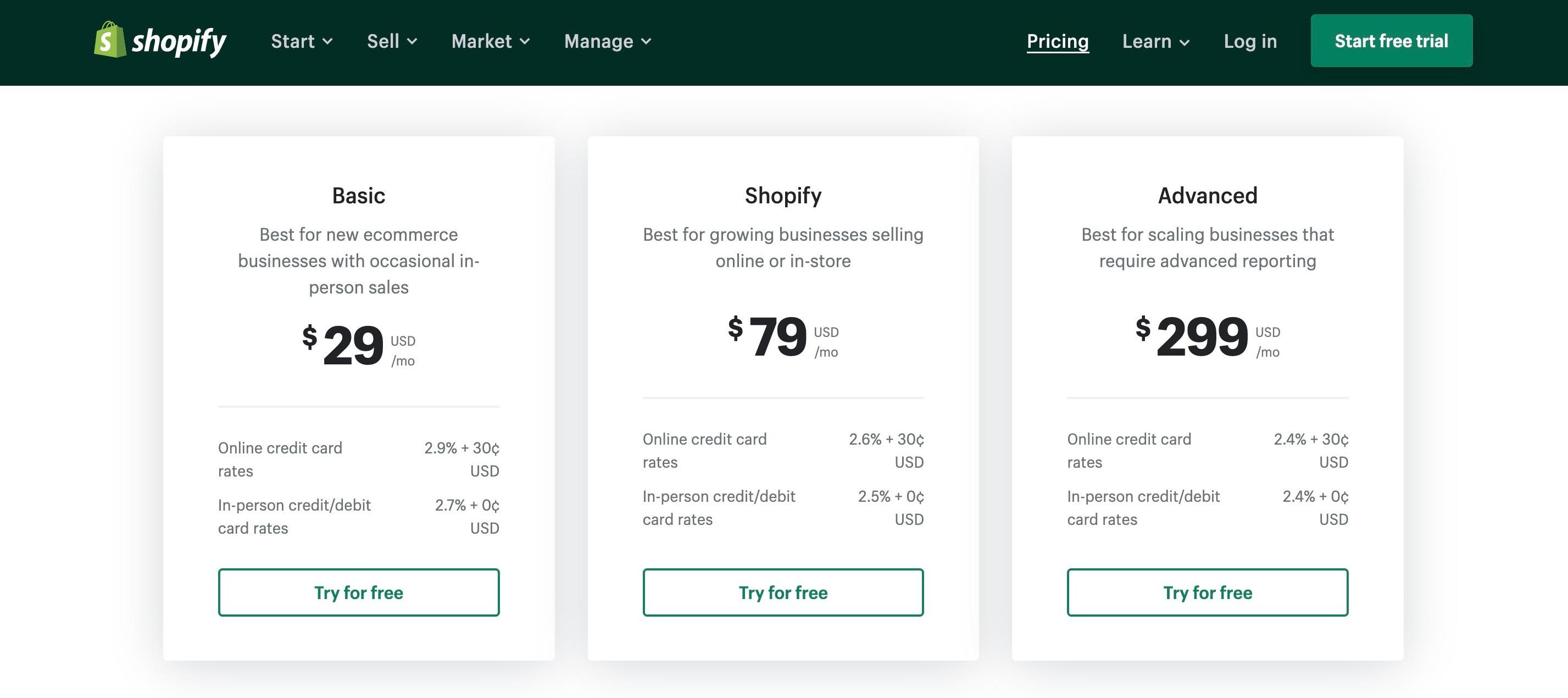 Shopify offers a completely free 3-day trial, with no credit card required.
Unlike Big Cartel, Shopify sadly doesn't offer a free plan.
There are four main plans to choose from:
Basic – $29/month. This plan works well for new/small businesses and the occasional in-person sale. It allows you to have two staff accounts and up to 4 inventory locations.
Shopify – $79/month. A great option for those that are growing and selling products online and/or in-store. This plan allows you to have five staff accounts and up to 5 inventory locations.
Advanced – $299/month. Best for businesses that are growing and want advanced reporting and analytics. Allows you to have 15 staff accounts and up to 8 inventory locations. This allows you to have customer pricing by setting specific prices for products and product variants.
Shopify Plus is also available for large businesses that don't fit into any of the above categories. You need to contact Shopify directly for a price on the Plus package.
There is also Shopify Lite at $9/month. This is perfect for those that don't want a store but do want to accept debit/credit payments on their website or blog.
Get a free 3-day trial of Shopify Here
The Verdict: Shopify vs Big Cartel – Which is Better Overall?
When you compare everything the two eCommerce platforms offer, Shopify wins, hands down. However, that doesn't mean it's the right option for everyone.
Instead, you need to do your research and look into things like fees, costs, and what add-ons you might need. This will help you decide which one is the best one for your needs and your business.
In general, Big Cartel has fewer features but also price-wise does come in lower. It also has a completely free option for those selling individual items, something which Shopify doesn't offer.
How many products you sell will make a difference to your choice of platform too. You will also need to consider the transaction fees for each sale you make.
These vary depending on the payment processor you have used and also the plan you are in with your eCommerce platform.
All in all, for a majority of people, Shopify is probably the best choice for building online stores. This is largely thanks to the extensive range of features it has. It offers endless possibilities for integrating other features and installing apps.
This allows you to fully customize your online storefront to help the shopping process be seamless for your customers.
Doing this is one of the best ways to ensure you generate as many sales and happy customers as possible.
If you do decide that Shopify is the right option for you, then be sure to read up on the different plans available and choose the right one for your business. Don't be afraid to reach out to the customer service team of either Big Cartel or Shopify eCommerce platforms with any questions before you commit to using them for your sales and order processing needs.
Get a free 3-day trial of Shopify Here
Try Big Cartel Free Here
Big Cartel vs Shopify: The Alternatives
If, after reading this comparison of Big Cartel vs Shopify, you're still undecided, there are plenty of other eCommerce platforms out there for you to look at. Click the button below to check out our favorite Shopify alternatives for some other options that might be a better fit for your business.
Shopify Alternatives
Want to learn step-by-step how I built my Niche Site Empire up to a full-time income?
Yes! I Love to Learn
Learn How I Built My Niche Site Empire to a Full-time Income
How to Pick the Right Keywords at the START, and avoid the losers
How to Scale and Outsource 90% of the Work, Allowing Your Empire to GROW Without You
How to Build a Site That Gets REAL TRAFFIC FROM GOOGLE (every. single. day.)
Subscribe to the Niche Pursuits Newsletter delivered with value 3X per week