BigCommerce Review: The Best All-in-One Ecommerce Platform?
When you buy something through one of the links on our site, we may earn an affiliate commission.
I think we all know the dream: you wake up in your bungalow in Costa Rica, stretch for a moment in the warm tropical air, and head down to the beach. You check your phone on the way, which confirms that, yes, you made a few thousand dollars while you were sleeping.
Ka-ching!
Of course, it's not always that easy in real life... Sigh.
But you COULD be on your way to that kind of lifestyle by investing in the right ecommerce solution and taking your online business to the next level with a hosted online store!
In this BigCommerce review, I'm going to talk about one of the most popular all-in-one ecommerce solutions on the market: BigCommerce. It's my hope that when you dive off of your yacht to snorkel with the dolphins in a few years, maybe you'll think back to this article as the start of your good fortunes!
Sounds good, right? Are you ready to find out how to make it big with BigCommerce, starting at just $29.95/mo?
Get your 15-Day Trial of any BigCommerce plan for FREE!
Try BigCommerce FREE for 15 Days With No Credit Card
---
BigCommerce Review
Ease of Use -

98

Stability -

95

Customer Service -

88

Price -

90
BigCommerce Review: What is BigCommerce?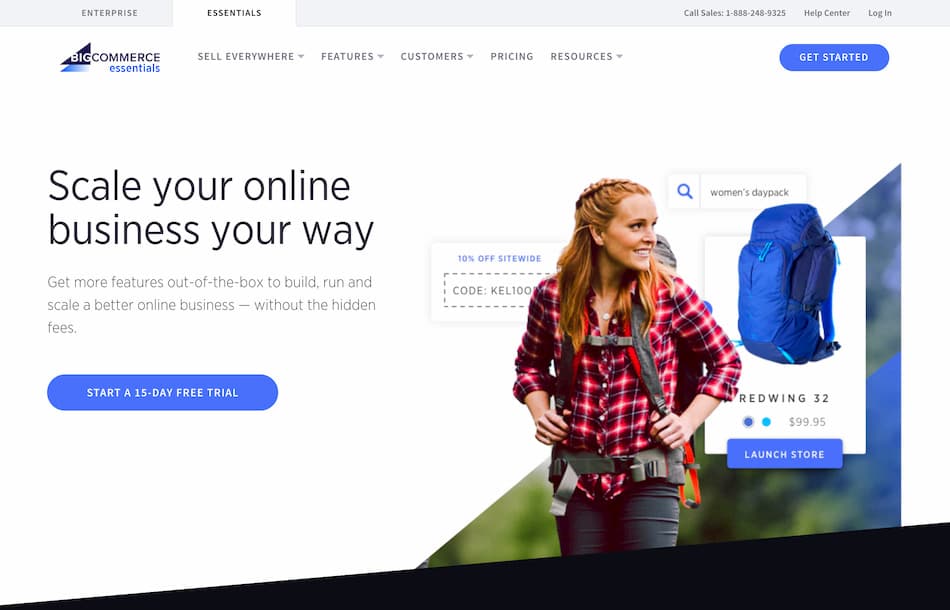 BigCommerce is a huge name in the all-in-one ecommerce store space. Started back in 2009, BigCommerce has customers all over the world, making it a solid choice for international selling.
As you probably know, BigCommerce's business model is software as a service (SaaS). This means for a single monthly subscription, you can use BigCommerce's platform to establish your very own ecommerce store and sell an unlimited number of products, either physical or digital, to your own customers.
If you choose to go with BigCommerce, you'll be in good company, as this platform powers some of the biggest ecommerce brands in the world, including Toyota, Payless, and Martha Stewart!
BigCommerce's biggest direct competitors are Shopify (see our full Shopify review) and Magento. BigCommerce feels like it's built for an audience with a little more experience working with the web, while Shopify is probably better for the marketing noobs among us. (As for Magento Commerce, it's owned by Adobe now and really only targets enterprise-level businesses, with the minimum fee clocking in at $22,000 per year!)
While you're thinking about different ecommerce options for your business, I definitely want to point out that all-in-one solutions aren't the only option...
Is an All-in-One Ecommerce Solution Best?
One valid discussion is whether you should pick BigCommerce vs Shopify for your ecommerce store, but before I dig into BigCommerce as a possible solution, it's worth looking at whether you want to go with an all-in-one platform at all!
If you have a WordPress website right now, you're halfway to having your own ecommerce store already. For example, you can easily pair a theme like Thrive Themes with an ecommerce plugin like WooCommerce – this is just one of many possible WordPress theme and plugin combinations that would help you build your own store.
Here are some questions to ask yourself:
Do I already have a website and hosting?
Am I comfortable getting my hands dirty with WordPress?
What kind of features do I really need?
The bottom line is, your business may already have the infrastructure it needs to start offering products for sale on your main website. It may not be worth duplicating that functionality with a self-hosted store on one of the ecommerce platforms like BigCommerce instead.
But if you're still starting out or just want to get a store going quickly, an all-in-one ecommerce platform might be just what you need. With that said, let's take a deep dive into BigCommerce!
BigCommerce Features
The idea that BigCommerce offers an "all-in-one" solution means there will be a LOT of features. Rather than go through every single one, I'm going to pick some of the most notable ones – the features that are most relevant for readers of Niche Pursuits.
With that said, here are some of the highlights you can expect with BigCommerce.
Versatile Store Builder
The store builder in BigCommerce is excellent. Like in WordPress, you'll start with a theme, and then you can swap out text, images, pages, and sections until your website is uniquely yours.
Below is how the default store looks, before you've made any changes or replaced it with a different theme.
The result is a fully featured website, but with an emphasis on ecommerce options. Keep in mind that BigCommerce also has full blog functionality built-in. This means you can make a full website right in BigCommerce, while also listing and selling products directly.
Professional Theme Store
Part of the appeal of a service like this is that it allows you to get going quickly. One reason for this is the availability of professionally designed BigCommerce themes, which save you a lot of time as you build your storefront.
If you want a new theme, you can easily get one with the BigCommerce Theme Store! Just expect to bring your wallet with you, as I only counted twelve free templates as of this writing – the rest of the themes are premium, with some costing as much as $250!
You only have to cover this expense one time, but it's still something to be aware of when you're thinking about how much it'll cost to get your store started.
No Transaction Fees
A huge benefit of BigCommerce is that it comes without transaction fees. Many other ecommerce platforms – including Shopify – can nickel and dime you with transaction and payment processing fees, which will take a big bite out of your profits.
The fact that BigCommerce doesn't is a big deal. On the other hand, BigCommerce imposes annual revenue limits for each of its Essentials plans, so you'll still have to pay as you become more successful on the ecommerce platform.
Multi-Channel Integration
When you create an online store, it's kind of an island out there in the big internet ocean. The benefit of being on other platforms is that other people are already there.
Fortunately, BigCommerce has built-in integration for a number of different sales channels, including:
eBay
Amazon
Facebook
Instagram
Pinterest
Google Shopping
Point of sale
What does this mean?
For one thing, these BigCommerce integrations mean that you get to enjoy the benefits that come with owning your own store – branding, detailed reporting, listing customization – plus the benefits of exposure that all of these other online platforms can provide.
It also means you can manage all of your product listings in one place, using BigCommerce's data reporting tools to see everything that's going on at a glance. This includes your overall store performance, your conversion rates, and total sales – all in a centralized dashboard!
BigCommerce Review: How to Use BigCommerce
There's no better way to get to know a software tool than to see it in action for yourself. So, let's see what BigCommerce is all about.
To get going with BigCommerce, let's go to their website!
Notice right off the bat that BigCommerce's site features two tabs at the top of the home page: Enterprise and Essentials.
Assuming you're a solopreneur or small business owner, you'll be choosing from among the three Essentials plans: BigCommerce Standard, Plus, or Pro.
If you want to follow along with the store setup, we have a link for you to sign up. Get your 15-Day Trial of any BigCommerce plan for FREE!
Try BigCommerce FREE for 15 Days
Once you do, you'll enter your own name and the name of your store, answer a few questions, and then you've landed on the main page of your account!
As you look at your BigCommerce account, you'll notice farther down the page a customizable dashboard with sections for store performance, store statistics, spotlight, and store orders. It's really handy to have all of this available in one convenient spot. You don't even have to dig into the menus to find out how you're doing with this easy to use platform!
We're here to see how BigCommerce works, so let's do what BigCommerce itself suggests. In order to get started accepting orders, we have to go through this four-step process:
Add Products
Get set to ship
Accepting Payments
Set up your tax rates
As you can tell, there's more to a proper ecommerce business than just these steps, including setting up your domain, customizing your theme, and setting up sales channels. In fact, I would start with thinking through the business model and defining my target audience – but for now, we'll just follow these steps and see how BigCommerce works!
Add Products
The first step is "Add Products." With pretty much everything you do in BigCommerce, you'll be relying on the BigCommerce sidebar on the left-hand side of the screen.
If we want to start accepting orders, the first thing we want to do is add some products. You can find this through the "Products" tab or hit "Add Products" on your main page.
When it comes to adding products, you can create your own with a name, SKU, product type, price, brand, weight, category, description, image/video, plus custom fields. BigCommerce pretty much takes care of the formatting and responsiveness of your listings.
Note that there are a ton of additional options for product information. The ability to include variations and customizations is a big time-saver as well!
Get Set to Ship
Your next step in the list is to set up shipping. This is a fairly straightforward process of putting in details on the address you ship products from.
Once you've entered the address, you'll see a few suggested shipping label services. One of them is BigCommerce Shipping, an option that's included in your BigCommerce subscription and gives you some special shipping discounts with USPS, FedEx, and DHL. This also lets you see real-time shipping rates in your customers' carts. It's possible to set this up now or do it later. Keep in mind that there's a whole range of shipping and fulfillment apps to choose from in BigCommerce's marketplace.
Accepting Payments
For this step, you're doing the work of determining how you'll accept payments. The two recommended options are PayPal by BrainTree and "Accept Credit Cards."
PayPal is a solid experience, but it does come with a transaction fee of 2.9% + $0.30 per sale.
The credit card option is powered by Stripe and allows you to accept credit cards without any monthly fees, setup fees, or merchant account needed.
It's possible to set up other less common electronic payment methods with these third party payment processor options:
Apple Pay
Google Pay
Amazon Pay
Or you can set up a handful of offline payment methods:
Bank deposit
Cash on delivery
Check
Money order
Pay in store
How you set it up depends on how you want your business to work, how much you're prepared to pay in additional transaction fees, and how much accounting you want to have to do.
Set up Your Tax Rates
Specific of accounting...
Taxes.
Yeah, BigCommerce doesn't let you forget about your tax obligations to Uncle Sam (or whoever your country's "uncle" happens to be).
I'm not an expert on this one, but basically, you need to decide whether your product listings will include or exclude sales tax, and how it gets calculated.
You can follow BigCommerce's instructions to help you navigate the complexities of tax classes, zones, and rates. It's possible to set up your own tax rules manually, or you can connect a third-party service for automatic tax.
Getting Started with BigCommerce
And with those four simple steps, you have a quick start guide for BigCommerce!
There's much more to succeeding on BigCommerce than just this, but hopefully it gave you a sense of how simple it is to get your business going on BigCommerce.
One of the nicest things about an all-in-one solution like BigCommerce is that it helps you avoid the "you don't know what you don't know" problem – whether it's tweaking your product listings, customizing your theme, or adjusting taxes, BigCommerce has the options you need in a logical order.
And if you ever get stuck, there's a great community, detailed educational resources, and quality 24/7 customer support to help you on your ecommerce journey!
Does that sound like something you'd want to use in your business? You can have 15 days free to test out BigCommerce for yourself!
Try BigCommerce for 15 Days – No Credit Card Needed
BigCommerce Review: BigCommerce Pricing
The pricing for BigCommerce is pretty straightforward. Remember what I mentioned at the beginning – the first three plans are all part of BigCommerce Essentials, which is in line with what most Niche Pursuits readers will be looking at for their small businesses. Then, there's the Enterprise option, which is only necessary if you have a thriving online business in e commerce with sales topping $400K annually.
Anyway, here are the monthly prices for BigCommerce plans!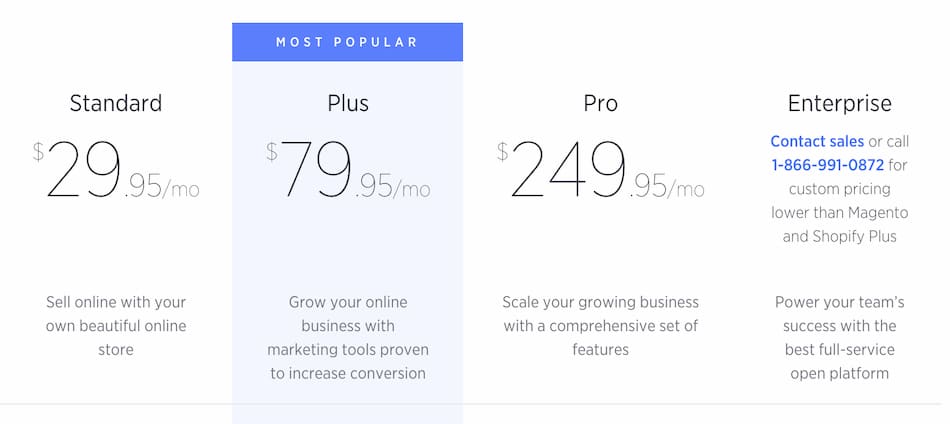 All four plans include your own branded online store and access to a range of additional sales channels, including eBay, Amazon, Facebook, Pinterest, and Google Shopping.
The big upgrade for the higher plans is customer groups and segmentation, the abandoned cart recovery, stored credit cards, and faceted search (product filtering). You also have a big bump in your annual sales limits, from $50K to $150K to $400K for the three Essentials plans.
BigCommerce Standard: $29.95/mo
This is the typical BigCommerce plan, on par with Shopify Basic at $29/mo. The BigCommerce Standard plan is your best entry point when you're first starting out, as it includes all of the core features you need to get going, including a self-hosted store, all sales channels, professional reporting, blog, SSL certificate, and 24/7 support from a live agent.
Honestly, you have plenty of features to work with on the BigCommerce Standard plan. The biggest omission is the abandoned cart saver – everything else is more of a nice-to-have. The other major point about BigCommerce Standard is the annual revenue limit of $50K (calculated as a rolling average over the past 12 months).
BigCommerce Plus: $79.95/mo
When you get into the Plus level, on par with the regular Shopify plan at $79/mo, ecommerce businesses get everything that comes with BigCommerce Standard... plus a slightly better discount on shipping rates, customer segmentation, the abandoned cart saver, stored credit cards, and a persistent cart that's the same for your customer accounts across devices.
If you need more robust features for your store or the higher annual revenue limit of $150K, BigCommerce Plus might be the right choice for you.
BigCommerce Pro: $249.95/mo
BigCommerce Pro is the top Essentials plan. It adds in a few niceties, including Google customer reviews, product filtering, and a custom SSL.
This plan also bumps your annual revenue limit to a substantial $400K. Keep in mind that if you do top that amount of revenue, you'll have to look at BigCommerce Enterprise, even if you're not interested in other features... And it's going to be a BIG jump.
This is one of the downsides of BigCommerce – they keep you moving up the chain to higher plans and more BigCommerce fees as you make more sales. It's just something to keep in mind.
BigCommerce Enterprise: Custom Pricing
The enterprise level is more than most of us will need, and has a custom pricing model, but if you're at that level, BigCommerce allows you to request a demo. In terms of features, BigCommerce Enterprise includes custom API support with unlimited API calls, priority customer support, product filtering, price lists, and strategic account management opportunities.
Your annual revenue limit is also custom, which means you should hopefully get a quote that works for your business needs.
Picking Your BigCommerce Plan
So, which of these BigCommerce plans is right for you?
Well, when you're still new to ecommerce, I think BigCommerce Standard makes perfect sense. You truly have all the fundamentals covered to start building your brand and getting sales. But if you need a higher revenue limit or more robust marketing features for your ecommerce websites, then the higher plans are obviously a better fit.
It might not hurt to use the revenue limits as a general guide. So, if your business is likely to do $50K or more in the next year, you might opt for the middle-tier BigCommerce Plus plan.
One nice bonus is that you'll be given a 10% discount if you pay upfront for an annual plan. Just note that this offer is only available for the Plus and Pro plans. After the discount is factored in, your Plus plan will cost $71.95/mo, and Pro will be $224.95/mo.
The thing is, if you're serious about your online store, you'll definitely want to have it up and running for the next year, so there's virtually no reason to skip out on this discount in favor of the more expensive month-to-month option.
Get your 15-Day Trial of any BigCommerce plan for FREE!
Try BigCommerce FREE for 15 Days
BigCommerce Customer Support
BigCommerce offers 24/7 customer support for every paid plan, even the entry-level BigCommerce Standard. With the Enterprise option, they upgrade you to "priority" status.
Make no mistake, you're absolutely paying for the privilege of 24/7 access to a live agent via email, live chat, or phone. With that said, this ecommerce business could very well be your livelihood, and time is of the essence when you have an issue.
This doesn't mean you'll get immediate answers via email, but the availability of customer support is invaluable.
BigCommerce Help Center includes a knowledge base, and also has a robust community with Q&A, groups, and more. The bottom line with support is that you should be able to get the help you need, whether it's a business question or something more technical.
BigCommerce vs Shopify
Before you decide to sign up with BigCommerce, I want to acknowledge that many buyers will be wanting to know how BigCommerce stacks up against Shopify.
Well, I put together an entire comparison between the two here on Niche Pursuits that you can check out. But the bottom line is, BigCommerce gives you built-in functionality that you would need a third party app for in Shopify. And unlike Shopify, BigCommerce also does away with transaction fees, gives you unlimited staff accounts, and includes gift cards on every plan.
Shopify has its own benefits, including no revenue limits, greater expandability, and a $9/mo plan called Shopify Lite that lets you sell on your own website or social account using a "buy button" without hosting a full ecommerce store.
The differences between the two ecommerce platforms start to fade once you get into those higher plans. The main distinction comes in how you want to pay as you become more successful, as Shopify makes money with transaction fees, and BigCommerce makes money by nudging into a more expensive plan using revenue limits. You'll have to think about your business model to determine which of the two best ecommerce platforms is more financially advantageous for you.
BigCommerce Review: Frequently Asked Questions
How can I switch from or to BigCommerce as my ecommerce solution?
That's a great question!
The good news is, you never have to feel "stuck" with BigCommerce, even if you've spent a lot of time building your store, because you can always migrate data to another of the ecommerce platforms.
For example, if you want to transfer your data from BigCommerce to Shopify or another ecommerce solution, it's actually pretty easy. The platform lets you export everything as a simple CSV file.
While it's true that migrating data to one of the BigCommerce alternatives isn't always seamless, it gets you most of the way there without having to start from scratch. And a cool thing about BigCommerce is that a lot of functionality is built right in, so you won't have as many apps to worry about when it comes time to gather data.
On the other hand, if you're starting from Shopify and want to make the switch over to BigCommerce, then you're in luck: BigCommerce actually has a built-in Shopify Catalog Transfer app to import your product catalog!
What happens to my store if I stop paying for BigCommerce?
Assuming you're choosing to cancel your BigCommerce account, your BigCommerce store will be deleted and impossible to recover. You can – and should – always back up your data as a CSV first.
Note that there may be a number of different subscriptions or transactions you may have to cancel besides your overall BigCommerce subscription, such as a domain purchased from BigCommerce, any third-party payment gateways, and so on. If you want to cancel a paid store, you'll have to call BigCommerce or submit a cancellation request from your dashboard.
Can I create or manage multiple stores in BigCommerce?
Absolutely! It's possible to do this with multiple separate accounts, obviously, but you can also manage multiple online stores from within a single BigCommerce account.
As a store owner, you can log in to the account, and on the overview page, go to "Your Stores." There will be a button called "Add New Store."
The coolest part is you'll get a 14-day free trial for the new store – and each store can have its own plan! Don't forget that you also get to use the same billing information across these multiple accounts.
How do they calculate my annual revenue for the plan limit?
As I mentioned earlier in this BigCommerce review, the Essentials plans have annual revenue limits of $50K, $150K, or $400K. But how is this calculated?
It's simple! The store automatically tracks your sales totals, averaging together the previous 12 months' order totals. These numbers are visible in the BigCommerce control panel under Purchase History. If you've been with BigCommerce for less than a year, it just averages all of those months you have so far – then after 12 months, it calculates based on a trailing 12-month average.
If you have integrations with other platforms – including social commerce transactions on Facebook or Pinterest, and marketplace transactions on Amazon and eBay – these also count toward your sales revenue total.
Am I able to sell my BigCommerce store to someone else?
This is perfectly doable. While you'll have to handle payment outside of BigCommerce, all you have to do as part of the sale is transfer ownership by adding a new user and designating them a "store owner." Then, you can update billing details and remove the previous owner (you) as a user.
BigCommerce Review Wrap-Up
How does a fully-featured plan right out of the box sound to you? Do you prefer the BigCommerce interface to other ecommerce store builders? If so, what BigCommerce offers might be the perfect choice for your online store!
From gift cards to professional reporting, BigCommerce truly packs a LOT of great features into its cheapest plan. In fact, lots of features come standard in BigCommerce that would require apps in many ecommerce platforms such as Shopify, but without any additional expense or time spent configuring everything.
The only noticeable missing feature in BigCommerce Standard is abandoned cart recovery – as soon as your online store is starting to get a decent amount of incoming traffic, you should seriously consider upgrading to BigCommerce Plus or finding a workaround to get that crucial functionality.
The BigCommerce platform is also a great option for anyone who's going to have a high-volume business due to no transaction fees.
Well, that's all I have for you on BigCommerce – I hope this BigCommerce review was super helpful for you. If you're interested in learning more about BigCommerce and seeing if this ecommerce platform is right for you, feel free to grab your free 15-day trial right now!
Try BigCommerce FREE for 15 Days With No Credit Card
Do you have any experience with BigCommerce to share? Feel free to share in the comments!
Best of luck on your ecommerce journey! Be sure to send me a postcard from your Costa Rican paradise.
Want to learn step-by-step how I built my Niche Site Empire up to a full-time income?
Yes! I Love to Learn
Learn How I Built My Niche Site Empire to a Full-time Income
How to Pick the Right Keywords at the START, and avoid the losers
How to Scale and Outsource 90% of the Work, Allowing Your Empire to GROW Without You
How to Build a Site That Gets REAL TRAFFIC FROM GOOGLE (every. single. day.)
Subscribe to the Niche Pursuits Newsletter delivered with value 3X per week