72 Magazines That Accept Freelance Submissions | Earn REAL Money Writing
When you buy something through one of the links on our site, we may earn an affiliate commission.
Are you looking for magazines that accept freelance submissions? Seeing your name in print is a special feeling. Whether it's your first or thousandth time, there's something about seeing your work in a public format where you know it will be read by others.
But finding those opportunities to make money online can be hard. Not every magazine is open to random submissions from hopeful authors, so that's why we put together this mega-list. Every magazine on this page accepts unsolicited manuscripts, and in most cases, pays (very) handsomely for them.
Check it out, and find a magazine you think would fit your style. Launch your writing career today!
72 Magazines that Accept Freelance Submissions
You don't have to be a professional writer to get published in Boulevard magazine. In fact, they specialize in new and unpublished writers that simply show promise. This is great news if you are just beginning to research magazines that accept freelance submissions. It'll cost you $3 to submit your fiction or nonfiction piece that is less than a thousand words, or poem.
Payment: $100-$300 for fiction and nonfiction, $25-$250 for poetry.
If your writing is more personal, The Sun is the right fit for you. These magazines that accept freelance submissions publish essays, fiction, poems, and even interviews, as long as it "evokes the splendor and heartache of being human." Word limit on any piece is 7,000 words.
Payment: $300-$2,000 for essays and fiction, $100-$250 for poetry
West Branch Magazine is published by Buck Noel University and specializes in poetry, fiction, and personal essays. Unsolicited manuscripts are their specialty, so if you're interested in getting published in a collegiate magazine without much experience, here's your chance.
Payment: $0.05 per word with a maximum of $100, and $50 per poem
AGNI specifically looks for writing that pushes the boundaries of accepted norms, while writing in a style that is all your own. They reject any kind of conventional ideas about what writing "should do," and prefer to focus on how the world actually is.
Payment: $20 per printed page for prose, $40 per printed page for poetry, both of which have a maximum of $300
There are very few requirements for what the Colorado Review is looking for, as long as it's classified as fiction, poetry, or personal essays. Poems have a maximum of 15 pages, whereas fiction and essays are considered if they're between 15 to 25 printed pages.
Payment: $10 per page for poetry, $200 for short stories and personal essays 
The Nashville Review only wants the best work that they can find that also can be accurately labelled as a "moving work of art." Fiction and poetry are considered, with short stories up to 8,000 words and poems less than 10 pages.
Payment: $100 per story, and $25 per poem
The Threepenny Review is a very well respected literary magazine that exclusively publishes fiction stories and poetry. For half the year (July through December), they're closed for submissions, so be sure you submit as part of your New Year's resolution.
Payment: $40 for poems and activities, and $175 for fiction and nonfiction stories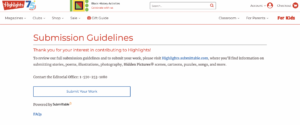 This magazine may be aimed at children between the ages of six and 12, but writers have to be older than 16. Short stories, activities, articles, and cartoons are their bread and butter, but non-rhyming and humorous poetry are also accepted. At the time of this writing, submissions are currently closed, so bookmark it and check back from time to time.
Payment: $200 per poem, and $400 per story
Another magazine that encourages emerging writers, VQR's only criteria is that they publish the best writing they can find. Any kind of fiction, nonfiction, and poetry are considered, except for genre fiction.
Payment: $200 per poem (limit of four poems per submission), $1,000 for short fiction, and online exclusive content is between $100-$200
The Georgia Review is associated with the University of Georgia, and regularly wins awards over more popular magazines such as the Atlantic, the New Yorker, and Vanity Fair. All genres of literature are considered.
Payment: $50 per printed page, and $4 per line for poetry
Berkeley is a subsidiary of Random House publishing and publishes most genre fiction, including full-length romance in women's fiction. On the darker side, they're also interested in mystery, suspense, horror, science fiction, and fantasy.
As the name implies, Elevator Stories is interested in flash fiction or personal essays that are less than 2,000 words. Ideally, these stories would play well in audio format, and have some variation of experimental or avant-garde writing.
Faces is a children's-oriented magazine (mainly for kids 9 to 14), and publishes flash fiction stories that are less than 800 words. Your works don't have to be completely original to be published either. Most of their published pieces are retold legends, folktales, and plays from around the world. Just make sure you pay attention to the theme for that specific month.
Mslexia is only open to women, but the types of writing that you can submit are as varied as they come. Bedtime stories and memoir performance pieces are two examples, all the way up to a 3,000-word feature article. Fiction, poetry, nonfiction — it doesn't matter. Submit your writing if you think you've got something original.
Specializing in weird, dark science fiction and cosmic horror, Cosmic Horror Monthly accepts originals as well as reprinted stories. 1,000-7,500 words is the range for consideration, but most published pieces are between 3,000 and 5,000.
Payment: $0.03 per word for originals, and $0.01 per word for reprints
Submissions for Paper Lanterns can be on any subject, but they have to be directed towards a younger audience. Fiction and poetry are two of their specialties. Nonfiction…not so much.
Payment: €50 for poetry and flash fiction, and €75 for longer "short" stories
Not only are prose and poetry a part of Qu, but visual art is considered as well. In addition to payment, all contributors will receive a copy of their magazine.
Payment: $100 per prose, $50 per poem or visual art
Ploughshares publishes almost exclusively nonfiction pieces, primarily about underappreciated and overlooked writers. Though submissions are currently closed (as of the time of this writing), if you know of somebody who has gone through a particular struggle while still producing great work, let Ploughshares know.
Payment: $45 per page, with a maximum of $450
Women Artists Datebook is also only open to women writers but accepts poetry and art. Specifically, they're looking for art that creates change — pieces that challenge powerful institutions, educate, and generate activism, all with the goal of peace and justice.
Payment: $200 for art, $70 for poetry
"Time-oriented" stories of the past, present, and future are considered for Devil's Party Press. Poems, short stories, and especially literary nonfiction up to 5,000 words are all considered.
Payment: $25 per prose or three poems
There is niche, and then there's the Otoroshi Journal. This subset of the horror genre pays for short stories, cover art, and poetry (including haikus). All graphic violence (including sexual violence) will be rejected, as are other hate-centric works.
Payment: Horrorku, Horror Tanka, and Horror Haibuns will receive a dollar each, and cover art is $10
All genres of fiction are considered in Dragon Soul Press, especially flash fiction (that can be included in anthologies), and micro fiction of less than 100 words. Details for each individual theme are on their website, which rotates regularly. Poetry is also accepted.
The Rumpus specializes in fiction and poetry but will also accept interviews and book reviews from time to time. According to their website, they "strive to be a platform for marginalized voices and writing that might not find a home elsewhere." If that describes you, submit your work during their open reading periods.
Payment: $300 divided between writers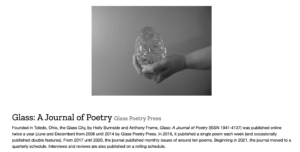 This poetry-only magazine considers all submissions that have to do with glass artwork. Any type of poetry is welcome, provided that it is high quality and on topic.
Midnight & Indigo strives to be a voice for black women writers. Their articles are usually from the first person point of view and previously unpublished nonfiction essays, but they also accept flash fiction.
Payment: $50 for nonfiction, and $50-$75 for fiction
Flash fiction, short stories, and poetry are the main pieces published in Split Lip magazine, provided they have a pop-culture twist. Some nonfiction, such as memoirs and interviews, are accepted, but either way, you'll have to submit by early January to avoid submission fees. 
Payment: $50 per author for online issues, $5 per printed page (minimum of $20)
This magazine claims not to be genre-specific, but in the same breath, Orchard advertises that they're after anything that is dark, intense, and terrifying. Their biannual literary magazine accepts short fiction up to 7,500 words and poetry of any style, as long as it "speaks to a deeper truth."
Long form fiction is encouraged for Raven Canticle Press; anything up to 80,000 words, with a minimum of 15,000 word novellas. The specific genres that they're looking for are fantasy, horror, thriller, and science fiction.
Payment: Advance against royalties
Angling to publish works that are "at the intersection of faith and culture," the Belmont Story Review publishes fiction and nonfiction, including poetry. "Faith" is also a key component, but your definition of the term must be broader than most.
Payment: $100 for pros, and $50 for poetry
A fantasy magazine that has won numerous awards in the science fiction and fantasy category, Clarkesworld publishes short stories and nonfiction along with audio. Dark science fiction and fantasy is okay, but no horror. Word limit is 22,000 words.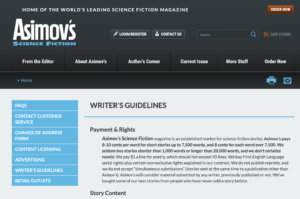 This magazine rarely buys flash fiction of a thousand words or less or short stories over 20,000 words, but anything between that is considered. Despite being a science fiction magazine, the main focus should be on the individual, and the science should be approachable by the average reader.
Payment: $0.08-$0.10 per word
Please See Me is a unique magazine that wants health-related stories of people that are in vulnerable positions, along with those who take care of them. Most of their stories encourage the reader to see health – or the healthcare environment — in a slightly different context.
Just about any style will work for this magazine, but the preference is for "the strange, the experimental, and the boundary pushing." Fiction and nonfiction up to 10,000 words are considered, as well as collections of up to eight poems.
The Century focuses on first-person narratives that are less than a thousand words. Each issue has its own theme, so remember to check the website before compiling your submission.
While flash fiction is considered in the Southampton Review, poetry, nonfiction, and art are the main categories they consider. There is a hard cap of five poems or 10 images (art), as well as 7,500 words in prose.
Payment: $75 per poem, $100 per illustrated page, $200 for 12 art images, and $100 for prose

Slice is currently closed for submissions, but this nonprofit literary magazine based in New York City publishes fiction, poetry, and personal essays. Flash fiction is also accepted.
Payment: $400 for longer stories, $150 for flash fiction, and $100 for poems
Simply put, Litmag wants work that "moves and amazes us." They are after poetry, fiction, and nonfiction — just about anything as long as it has concise writing and an enormous heart. The print magazine has a hard limit of 15,000 words, while online limit is 4,000 words.
Payment: $1,000 for fiction or nonfiction in print, $250 for poem, and any online works are $250
Like other magazines on this list, the Bennington Review allows for fiction, nonfiction and poetry. Additionally, they also publish film writing and cross genre work. As long as the writing is "simultaneously graceful and reckless," it has a good chance of being considered.
Payment: $100 for prose of less than six pages ($200 for pros over six pages), and $20 per poem
Lamplight is a dark literary magazine that specializes in anything creepy or unsettling. There is a limit to the madness, however. Any piece involving werewolves, abuse against women, cannibals, revenge fantasy, and vampires is usually rejected.
Payment: $0.03 per word up to $150
A quarterly literary journal that is all about poetry, Contemporary Verse 2 also publishes interviews and articles about poetry. The specific topic is irrelevant, as long as it encourages diversity inside of the social and cultural experience.
One Story will accept literary fiction on any subject and any style as long as the quality is exceptional. There's a limit of 3,000-8,000 words, and submission periods are open year-round, except for the summer.
One of the more prestigious literary journals on this list, The Gettysburg Review accepts poetry, fiction, nonfiction, and even art. Past contributors include Richard Wilbur, Donald Hall, and Joyce Carol Oates.
Payment: $25 per printed page of prose, and $2.50 per line for poetry
The official literary journal of Antioch College, The Antioch Review also claims to be the oldest continuously publishing literary magazine. You don't have to be a student to submit, but make sure that your nonfiction, fiction, and poetry is tailored to a more educated audience if you do.
Payment: $20 per printed page
Generally speaking, Escape Pod is interested in genres like science, technology, and alternate history. More specifically, it would prefer to receive submissions from marginalized groups or minorities, including writers from outside the United States. Short stories can be published with up to 7,500 words .
Payment: $0.08 per word for original works and $100 for reprints
Not only does Craft Literary publish works of fiction and nonfiction, but it highlights articles that discuss the craft of writing and how to develop a good story. Interviews, book annotations, and creative nonfiction are considered for their magazines that accept freelance submissions as well, up to 6,000 words.
Payment: $100 for flash fiction and $200 for short stories
As the name indicates, Introvert Dear publishes articles exclusively about introversion and highly sensitive people. Any articles on the science of psychology behind introversion or the Myers-Briggs personality test are encouraged, but anything connected to introversion is considered. Word limit is between 1,000 and 1,700 words.
Central Coast Journal is looking for nostalgic articles that have a dash of humor and entertainment but mostly just make you feel good. Articles are generally between 600 – 1,400 words, with the sweet spot being around 850 words.
Payment: $75 for articles under 850 words, $100 for articles over 850 words that also have accompanying artwork
The Advocate is a student newspaper for the City University of New York graduate department, and considers articles related to their professional interests. Other topics may include those that "explore revolution" in ecology, climatology, and scientific practices.
If you've ever made any money from your writing, Writers Weekly wants to hear about it. This magazine focuses on writing-based self-employment, such as self-publishing and ghostwriting. Word count is between 400 and 600 words.
Freelance Mom is all about actionable advice that readers can put into practice. Guides on specific processes, well-researched personal articles, or anything else that helps one start their own freelance business are considered. Average article length is from 900 to 1,500 words.
Payment: $75-$100 with a bonus of $150 if your article is the most shared of the month
The Barefoot Writer is one of the more popular writing-based magazines around, and has several different types of articles to inspire the reader base. Motivational and productivity articles are popular, as are mindset, gadget, and methodology pieces. Each one has their own word limit but most are less than a thousand words.
Listverse keeps it simple. Any topic, any length (of at least 10 items), as long as there's one or two paragraphs per item and you have reputable sources to back up your claims.
More technically-based articles – specifically those that have to do with human resources, employment, or labor — are welcome at iWorkWell. The more complex and longer the post is (within reason), the higher the pay. This is great news for those who have lengthy works and are searching for magazines that accept freelance submissions. 
Fiction, nonfiction, poetry, and criticism are the types of work that 3AM Magazine is interested in receiving. Their magazines that accept freelance submissions are open to regular poetry, but the Poem Brut series is one of their most unique sections. These are visual or sound-based poems that are not produced on the computer, but are scribbled, illustrated, handwritten, and even graffitied on a toilet stall.
Abby Review pays for short stories, poems, and screenplays of any genre, as long as the quality of the piece is superb. There's a 30-page maximum for short stories, 15 pages for screenplays, and 10 pages for poetry.
"Only by confronting the bare-bones of reality do we understand our place in the world." That sentence accurately describes the fiction, nonfiction, and artworks that The Antihumanist is actively seeking. They prefer their pieces to be shorter, usually less than 1,500 words.
Payment: $150 for art, and $0.05 per written word
Traditional fiction is always welcome at Archive of the Odd, but the weirder the pieces, the better. Anything from academic papers to medication warning sheets are considered, but editors prefer their pieces to be horror-based. There's a hard word limit of 5,000 words or less.
Payment: $15 for a single page, $20 for two pages, with a 50% wealthy split.
One of the few international literary journals on this list, the Alphabet Box features original poetry, flash fiction, and personal essays. It's a quarterly release and multiple submissions are considered, as long as the total length isn't greater than 900 words.
The horror genre is huge, but The Deadlands fixates purely on works that speculate about death. Fiction, poetry, and nonfiction are all published regularly, as writers (and readers) grapple with "the ends we face here, and the beginnings we find elsewhere." Word count of 5,000 words on average, but editors prefer submissions to be between 3,000 to 4,000.
Payment: $0.10 per word for fiction, $50 per poem, and $100 for nonfiction
Sepia Quarterly is another of the magazines that accept freelance submissions that are looking for writing that makes us feel "hazy, golden, and sepia-toned." Instead of provoking a single attitude, this magazine looks for works that evoke nostalgia, melancholy, and sentimentality. Works between 100-5,000 words are considered.
If you are new and unpublished in the world of science fiction, fantasy, horror, and surreal fiction, Synthetic Reality might be a good start for you. They have both a print and online magazine and run pieces up to 5,000 words of fiction, nonfiction, and poetry.
As you might've guessed, the magazine Family Fun is all about helping families have fun. It's an extremely popular magazine (especially among children) and has numerous articles related to crafts, home organization, food prep, and other parent-related household problems. Most articles are between 850 and 3,000 words.
Payment: Up to $1.25 per word
With over a million readers, Eating Well is all about the good life. Most columns relate to burgeoning trends, travel, and health. Don't expect to hear back anytime soon though; Eating Well has a lead time of up to six months.
If you fancy yourself a coffee connoisseur, you've most likely heard of Brew Your Own. All articles must be between 1,500 and 3,000 words and relevant to home coffee brewers. Gadgets, troubleshooting, tips and tricks — those are just a few of the possible topics to choose from.
For those who love American history – and those who love to write about it — Early American Life is right up your alley. Any topic is considered for publication, such as history, travel, architecture, and decorating trends, provided that the material dates from before the mid-1800s. Most articles are between 750–2,500 words.
Although it may sound professional, History Magazine is not one of the strictly academic magazines that accept freelance submissions. Instead, it strives to publish stories that the readers will find both interesting and accessible. Articles need to be less than 2,000 words in length.
Another of the historical magazines that accepts freelance submissions, True West runs articles primarily on the Old West (everyone's actual favorite time period). Instead of just a generalized article on the years between 1800 to 1912, writers are encouraged to write on a specific person or event. You must send a 300-word query letter first. Book reviews are also considered.
Balance, balance, and more balance. It doesn't matter if it's spiritual, physical, or mental health, Vibrant Life wants articles that talk about how to create a more harmonious existence. Articles are usually between 450-1,000 words, and cover topics like exercise, mental clarity, and family.
Not only is Healthy Living a diverse magazine, but it also accepts articles in a number of different formats: beauty picks and health bites, among others.  You should also expect to hear back from Healthy Living editors within a week or so, making them one of the more prompt magazines on this list. Word count for most articles is between 1,500-3,500 words.
An arts and culture magazine started by Drexel University, The Smart Set looks for non-fiction pieces only (no fiction or poetry). Past articles are book reviews, personal essays, political commentaries, and cultural critiques up to 3,500 words.
Atlas Obscura runs travel-based articles about destinations, experiences, food, and other unique stories, but they also have a food section as well entitled Gastro Obscura. Writers are encouraged to submit for both, and they will also consider topics on history, geography, and exploration. Most articles are between 800-1,500 words.
True to its name, Discover Magazine encourages their readers to learn more about the world around them. Among magazines that accept freelance submissions, their articles are unique. Articles cover anything regarding technology, health, environment, and psychology, and are usually research-heavy but very readable. Word limit is less than 1,000 words.
Have You Been Published in A Magazine?
Have you been published in one of these magazines that accept freelance submissions? Let us know which one in the comments!
Want to learn step-by-step how I built my Niche Site Empire up to a full-time income?
Yes! I Love to Learn
Learn How I Built My Niche Site Empire to a Full-time Income
How to Pick the Right Keywords at the START, and avoid the losers
How to Scale and Outsource 90% of the Work, Allowing Your Empire to GROW Without You
How to Build a Site That Gets REAL TRAFFIC FROM GOOGLE (every. single. day.)
Subscribe to the Niche Pursuits Newsletter delivered with value 3X per week