25 Best Freelance Writing Jobs for Beginners
When you buy something through one of the links on our site, we may earn an affiliate commission.
With the Great Resignation, more workers are turning to freelance writing jobs for beginners in droves. Many people are craving more freedom and independence in their job, and being a freelance writer can provide that.
From the potential to earn an unlimited amount of income to the opportunity to work remotely, set your hours, and other perks, millions of people quit their 9-to-5 jobs for the allure of the freelance world.
In this article, you'll learn how to get started with freelance writing including what you'll need and the 25 best websites to find freelance writing jobs for beginners. You'll also learn our recommendations for the best freelance writer website to start with.
Let's go!
How Do I Start Freelancing with No Experience?
It's not as difficult as you might think to become a freelance writer with no experience. Getting an online writing job is within reach. These 6 steps can help you start your freelance writing career:
Get equipment
Pick a writing niche
Improve your writing skills
Create a portfolio
Set your price
Find jobs
1. Get Equipment
Luckily, getting started as a freelance writer doesn't require investing in a lot of expensive equipment. All you really need is a computer. Some writers even use their cell phone or tablet to write. However, I think a computer is the best bet when you're first starting out.
2. Define Your Writing Niche
Pick your writing niche.
This will be the core topic you'll focus your writing around. Examples include:
Health and wellness
Fitness
Travel
Finance
Digital marketing
Writing in a specific niche will help you master your writing in that industry.
While there are plenty of generalist freelance writers that write on a variety of topics, it can be easier and less competitive to if you niche down and pick a topic to write about exclusively.
Plus, it can come with a higher paycheck, according to this source.
3. Strengthen Your Skills
Improve your writing skills by practicing.
Write in your blog, on social media, or guest post. The more you work on your craft, the quicker you can get better as a writer. This will help you to land your first online writing job.
How does blogging work?
You can start your own website and write about any topic like parenting, fashion, food, etc. This will give you practice writing. Blogging can help you connect with an audience and make money online too. Here are some examples of top money-making blogs.
How can you practice writing on social media?
This is about posting captions to social media, which can give you practice in searching for and using keywords and writing for an audience (see caption generators for more ideas). Social media writing is a writing job you might do in the future, so doing this now will give you exposure to this kind of work. It can help you learn valuable skills you can use alongside writing, like keyword research.
What is guest posting?
Guest posting means you'll write a blog post for a publisher for free. The benefits to you are:
Getting your writing published online
An opportunity to get a backlink to your website and increase your brand awareness for your personal brand
Additional practice writing and working with clients
Here's a list of 100 blogs that accept guest posts.
4. Create Your Portfolio
A portfolio is like your writing resume. It will show examples of your written work that prospective clients can review to get a feel for your style of writing and experience level.
Your portfolio can help you start picking up freelance writing gigs quickly.
Having examples of published work alongside written pieces in your portfolio is also helpful. If you find it difficult to get published online, turn to places like Medium or Linkedin where you can publish online for free.
Guest posting is another option for getting your work published.
5. Set Your Price
Figure out your rate for writing.
Freelance writers can get paid hourly, by the project, or by the word.
As a start, setting your per word rate would be good. This is probably the most common way you will make money from your writing job.
Most new writers start at $0.05 to $0.10 per word though you may see writers have rates lower than this as well as projects hiring for well below this rate.
To learn more, check out this helpful guide on how to set your freelance writing rate.
6. Find Jobs
In the final step, you'll start looking for freelance writing jobs. You can find jobs online in a variety of places from freelance job banks to classified sites, social media, and more.
Here are 25 websites you can get started with to find freelance writing jobs for beginners.
25 Websites to Find Freelance Writing Jobs for Beginners
When navigating this list, remember each website offers something different. You don't have to tackle them all. Start with your 3 favorite sites, register and/or apply for jobs that catch your eye, and go from there.
1. Upwork
Upwork is a freelance marketplace. People that need to hire for freelance work and freelance workers can come together on this platform to work on projects together.
There are jobs available in dozens of categories including freelance writing.
After joining Upwork for free as a freelancer, you'll need to build your profile. This is where you'll talk about your skills, background, education, and experience. Then, you can start hunting for remote freelance writing jobs for beginners.
When you search the platform, you can filter the jobs by experience level, so you are only shown entry-level jobs for beginners.
Applying for jobs on Upwork requires bidding, where you pitch a rate for the project and write a short cover letter to the client. Some jobs may ask additional questions when you apply, too.
You can read this article where Upwork shares their best cover letter writing tips and cover letter examples.
Join Upwork
2. Fiverr
Fiverr is a freelance marketplace where you can join for free and post gigs that prospective buyers can purchase from you.
For example, as a freelance writer, you might post gigs like these:
Writing a 100-word product description
Creating the copy for 10 Instagram captions
Writing a 1,000-word blog post
For the gigs you create, you can decide what writing services you want to offer, what timeline you can deliver, the price, and more.
Then buyers will purchase your gigs and provide the information you need to work the job so you can deliver your services and get paid.
Fiverr can be a lucrative opportunity for freelancers (find out how Fiverr works).
Top Fiverr sellers like Alex Fasulo make $350,000+ per year from Fiverr alone!
Fiverr is free to join with no fees to create gigs but they do take a percentage of your sales.
Join Fiverr
3. SolidGigs
SolidGigs is a freelance job board. They offer freelance job posts for many industries, not just writing. They operate a little differently than other job boards.
You can get job alerts right to your email inbox with curated job listings, handpicked by SolidGigs, so you don't have to waste time jumping from job site to job site.
They offer a $2 30-day trial to test their services and afterward, the pricing is $19/month.
Join SolidGigs
4. FlexJobs
FlexJobs is a remote job search website you can use to find freelance writing jobs for beginners. They don't just offer writing jobs. They also post jobs for various categories.
There are thousands of listings posted daily on FlexJobs and they're unique because they cater to the remote job market.
They are a subscription service serving you remote job listings with four pricing plans available:
Visit FlexJobs
5. Contena
Contena is a paid remote job search website like FlexJobs but exclusively for writing jobs!
It's an invite-only website so you apply to join. If approved, you'll get paid access to the site.
More than just offering writing jobs, Contena will help you start a location-independent writing career.
Your membership includes:
A training program that teaches you how to get started freelance writing
Access to the writing job finder
Full access to their database of companies hiring for remote jobs
More perks if you get the Platinum membership
You can join Contena for free but you'll only get all of the above benefits with a paid membership (and make sure to check out our full Contena review to learn more). Paid memberships start at $40/month.
Visit Contena
6. Problogger Job Board
Problogger Job Board is an online job board for freelance writing jobs. The job board is free to access as a jobseeker, and you don't need a membership to view the job listings.
These jobs are posted by publishers that need writers for projects in a variety of industries including:
Cryptocurrency
Home and garden
Food
Sports
When you visit the job board, you'll get full access and you can apply to an unlimited number of job listings.
7. All Freelance Writing
All Freelance Writing is a hub for freelance writers where you can apply for freelance writing jobs. You can also read their blog to get writing tips and access free resources like their word count tracker and rate calculator.
The Jobs section of the site displays listings that you can apply to for freelance writing jobs.
You can also subscribe to their newsletter to get job postings right to your email inbox.
Join All Freelance Writing
8. Freelance Writing Jobs
Freelance Writing Jobs is an online writing resource that gives you access to a job board, writing contests, information on building your portfolio, and more.
The job board is updated daily with fresh, new freelance writing jobs. You can search for writing jobs in your niche easily for free with no registration required.
Freelance Writing Gigs also offers guest posting opportunities where you can guest post for them to build your portfolio.
Visit Freelance Writing Gigs
9. We Work Remotely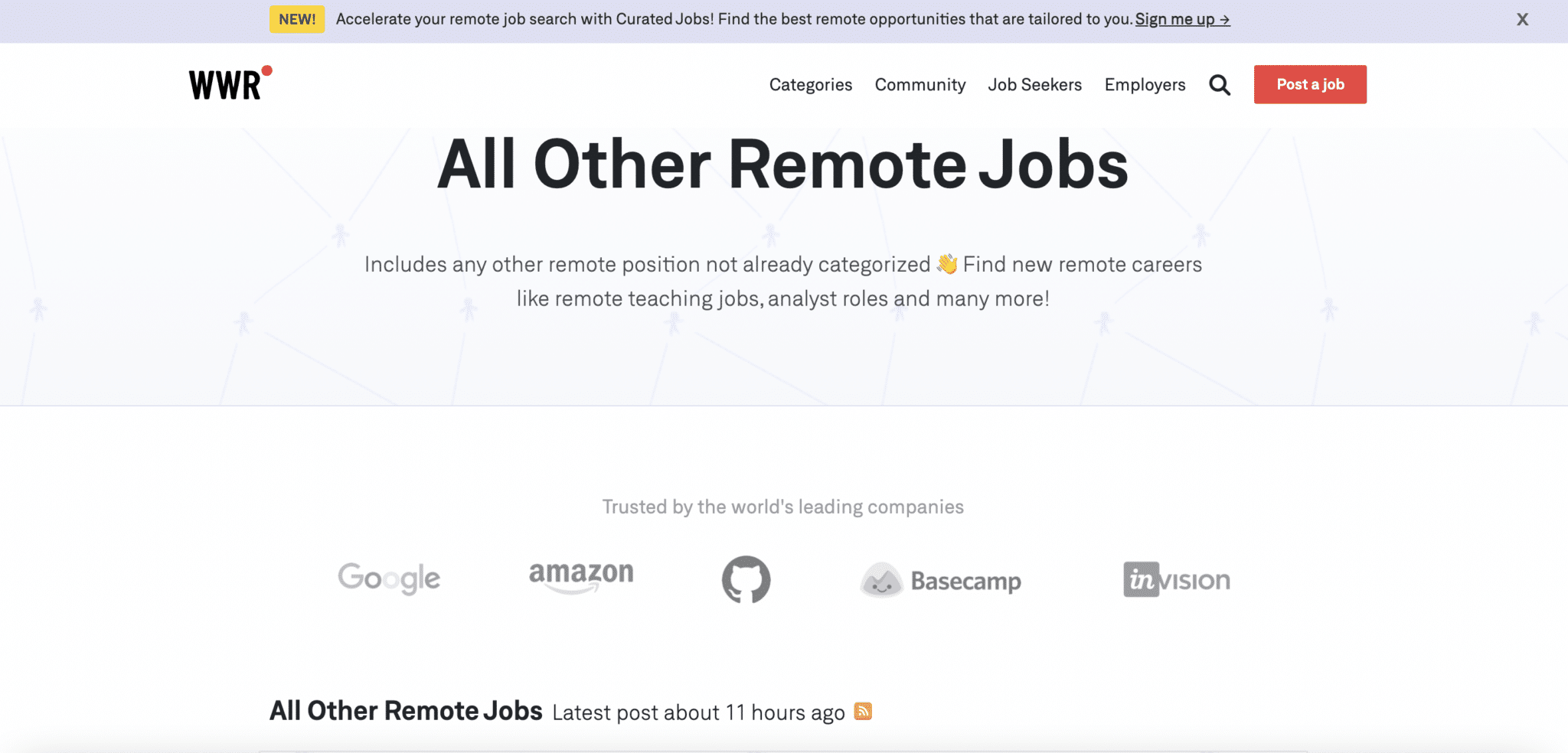 We Work Remotely calls itself the largest remote community in the world.
Right from the homepage, you'll have instant access to remote jobs in a variety of industries like writing, computer programming, marketing, etc.
You don't need a membership to access the job listings and you can apply for jobs of interest on the spot by clicking the Apply button.
Visit We Work Remotely
10. Linkedin Jobs
Linkedin is a social network for the career and workforce community. If you have a job or are looking for a job, whether freelance-based or not, you should be on Linkedin.
On Linkedin, you have excellent networking opportunities that you may not be exposed to elsewhere (make sure to check out our guide on what is InMail on LinkedIn).
It's a free social community you can join. From here, you can build your profile including listing your current and former job roles, educational background, and more. You can also post to the community, interact with your peers, and join groups.
Linkedin Jobs is the job search section of Linkedin.
When you navigate to Linkedin Jobs, you can search and apply to jobs of interest in freelance writing.
Check out Linkedin Jobs
11. Working Nomads
Working Nomads is a free remote job board that caters to the digital nomad community. It curates remote jobs across various sites like Study.com, Toptal and others and presents it to you in one spot.
You can click the writing category to check out the remote writing jobs (including remote jobs that pay well) available and apply to those of interest to you.
Visit Working Nomads
12. Journalism Jobs
Journalism Jobs is a free job board for writers and professionals working the media industry including:
Newspapers
TV jobs
Newsletters
Government
Academia
You can access the job search from the home page and search freelance writing jobs quickly and easily.
Membership to Journalism Jobs is not required, but if you want to take full advantage of the platform to do things like post your resume, you'll need to go through the free registration process to sign up to the site.
Visit Journalism Jobs
13. Vollna
Vollna helps you save time in your search for freelance writing jobs. You'll get specially curated freelance jobs that match your skill set emailed to you so that you can put more focus into the job application rather than the search.
Vollna offers a free 14-day trial and then paid plans start at $10/month.
Visit Vollna
14. Freelancer
Freelancer is a freelance marketplace where workers can bid on projects and get hired for a writing job. You can join Freelancer for free and start searching for writing jobs right away.
This site isn't just for writing jobs. They have other job categories that you'll see including:
IT
Admin work
Engineering
Software development
Internet marketing
Data entry
If you are monetizing other skills in addition to writing, Freelancer can be a one-stop shop for you.
There are a bunch of different things you can do on Freelancer in addition to searching for freelance writing jobs like participating in contests or finding local jobs.
Check out Freelancer
15. Media Bistro
Media Bistro is a free job search board where you can search for jobs in writing, editing, marketing, and other fields. It's free to use and free to join, but registration is not required to apply to jobs.
Visit Media Bistro
16. Freelance Writers Den
This writing community, Freelance Writers Den has a bunch of resources available for new and seasoned writers including coaching, bootcamps, freelance contract templates, and more. They also have a 24/7 community member forum where you can chat with your peers, ask questions, and share helpful info.
This is a membership-based site so paid members are able to access the above tools in addition to their job board. Membership is $40/month and not currently open but you can join the waitlist.
Visit Freelance Writers Den
17. Guru
Guru is a freelance job board where you can find jobs in writing, translation, admin, sales, finance, and other categories.
Search their job board for writing jobs and when you're ready to apply, you'll send a quote with your rate.
Guru is free to join but if you upgrade to a paid premium membership, you will get access to more benefits like:
Premium quotes
Receive up to 600 bids
Boost your ranking in search
Pay a lower job fee
Send direct messages
Premium memberships start at $11.95 per month with discounts if you pay annually.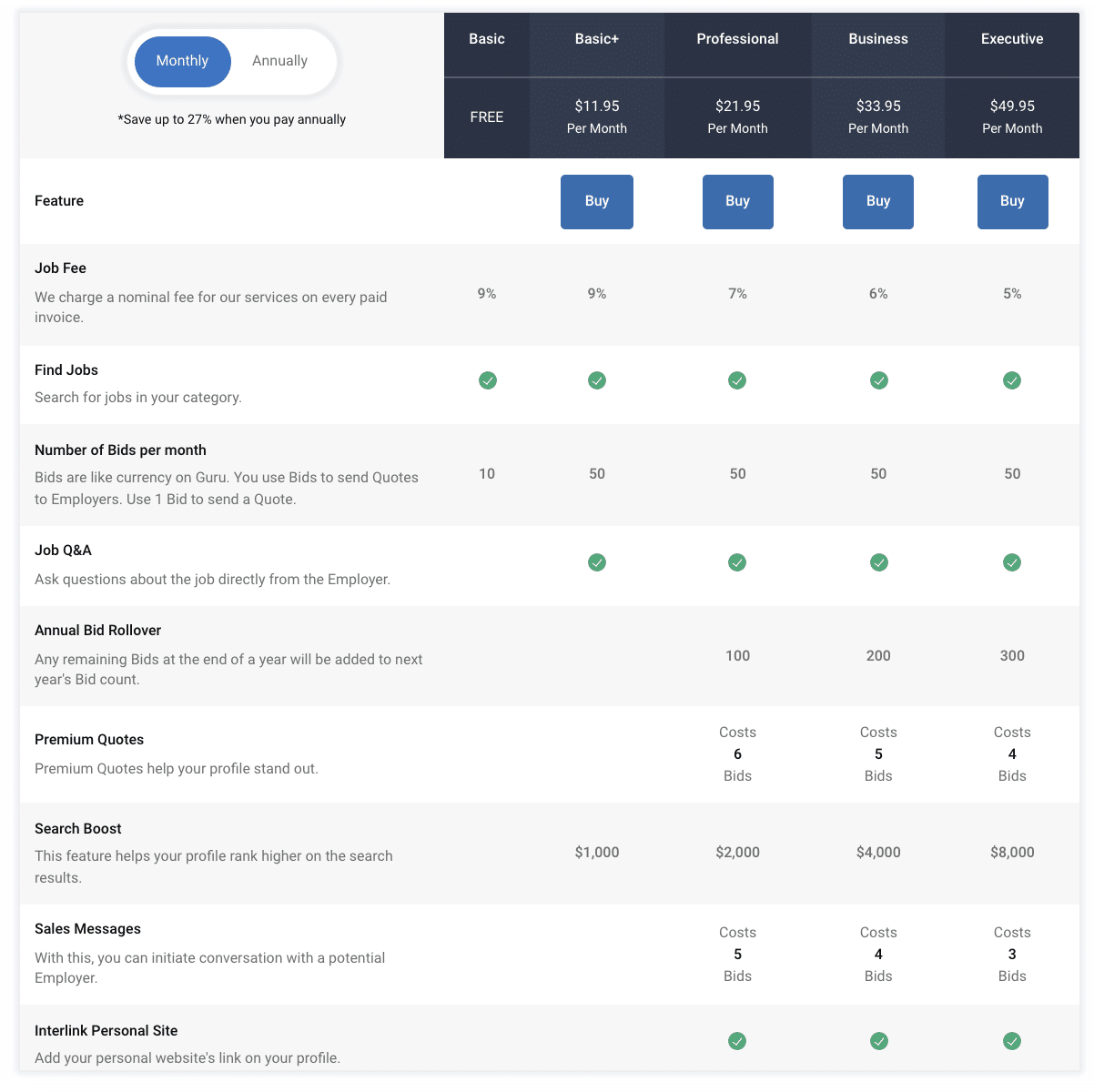 Visit Guru
18. Indeed
Indeed is a free job search engine where you can find work in nearly any industry.
To look for writing jobs, use their search tool to type in keywords related to the kind of work you want (like copywriter, ghostwriter, freelance writer, etc.) and location. Then, you can apply to jobs you want.
You can do this an unlimited number of times for free.
There is no cost to use Indeed to search jobs and a membership is not required.
Visit Indeed
19. Remote
Remote is a remote job search website. You can access it for free and start your job search for writing jobs right away. You can also sign up to their newsletter where they deliver fresh jobs to your email inbox.
Remote is very easy to navigate and is quite user-friendly. You'll be able to easily browse through the various job listings to apply for the postings you want.
Check out Remote
20. College Recruiter
College Recruiter helps students and recent graduates find entry-level jobs. Just use their search tool to find writing jobs and apply to the ones you're interested in.
College Recruiter is free to join and registration isn't needed to access the job search tool. However, if you register, you can make your profile visible to prospective employers for future work opportunities.
They also offer free resume critiques where you send in your resume and get their feedback.
Visit College Recruiter
21. ServiceScape
Servicescape connects clients and freelancers so they can work together. They cater to projects performed by writers, editors, translators and graphic designers.
To get a writing job on Servicescape, you'll need to apply to become a professional.
First, pick your job category.
Next, create your account with information like your name, username, address, and payment method. Then, agree to their terms of service and submit your application.
Once you are approved, your profile will be live on the site, visible to clients who can hire you. There's no job bidding and no contests you need to apply to. Clients are able to hire you on the spot for custom projects.
Visit Servicescape
22. BloggingPro
BloggingPro helps you find paid blogging jobs. It's free to use and a membership isn't required. Use the search tool to browse writing jobs in your niche. For example, you can look for topics related to health blogging.
On BloggingPro, you will also have access to resources like:
WordPress tips
List of books for bloggers
BlogginPro Starter Kit to teach you how to grow as a blogger
Visit BloggingPro
23. Iwriter
Iwriter is a content writing service that helps clients who have projects to get matched with writers. For new writers, Iwriter is a good place to get your feet wet.
You can do things like:
Strengthen your writing skills
Build a portfolio
Create your own clientbase
Write according to your schedule
Visit the writer application which includes a short writing test where you'll have to write 2 prompts and submit for approval.
Once approved, you'll be assigned a writing level. The higher the writing level, the more you'll earn per article:
Standard
Premium
Elite
Elite Plus
You can make it up the ranks in writing level based on your star rating and number of reviews, which you can learn more about here.
As a freelance writer you make 65% of the article price, varying based on your writing level.
Visit Iwriter
24. Facebook
Facebook Groups on social media are a community feature that anyone has access to. You can create groups and join groups on virtually any topic from freelancing to real estate to babysitting to stay-at-home moms.
For finding freelance writing jobs for beginners, join Facebook groups that cater to the writing community. Many groups will share helpful information for new writers including job postings.
Here are some freelance writing Facebook groups to check out:
25. Craigslist
Craigslist is an online classifieds website. In addition to finding jobs, you can also find housing, pets for sale, hire for services, and more.
You can access it for free to find writing jobs.
To search writing jobs, go to the Jobs column and search jobs under the Writing/Editing category. When you find a job of interest, follow the instructions in the job post to apply.
Be mindful to steer clear of scams on Craigslist and other websites. If you have to pay money or you're asked for sensitive information that's out of the norm, steer clear of those job posts.
Craigslist has gotten a bad rap in the past, but a lot of people are successful finding freelance writing jobs for beginners here. For example, this writer has used Craigslist consistently to book writing jobs. It helped her relocate across the country from her writing business alone!
Visit Craigslist
Can a Beginner Do Freelancing?
Yes, a beginner can be successful in freelancing. If you're just starting out, the whole process of searching for a writing job and interacting with clients might feel overwhelming, but it gets easier over time.
Not to mention, beginners might be able to land writing jobs easier than intermediate or seasoned writers. Some clients prefer working with beginners only.
From the dozens of websites available on this list, all of them are beginner-friendly. Take advantage of the tools and resources they provide to score a freelance writing gig.
Which Freelance Writing Jobs for Beginners are Best?
You just read about 25 websites that can help you find a writing job as a beginner, but which one is the best?
I really like freelance marketplace sites like Upwork and Freelancer for beginners.
They actually have job filters where you can search for entry-level jobs. This is perfect for beginners to be matched with clients that are also looking for entry-level writers.
You can really play the volume game with these sites, applying to dozens of opportunities each week. Some sites like Upwork have thousands of entry-level writing jobs they're hiring for daily!
Freelance writing is one of the best fields to segue into regardless of what your background or experience has been in. Specialized skills, education, and background are not required to get a freelance writing gig. It's one of the best paying industries for new freelancers.
Upwork calls writing one of the most popular freelance professions, with freelance writers averaging $30 to $40 per hour, or an annual salary of $42,000/year, roughly.
Not bad for a beginner.
Which website will you be checking out to help you get freelance writing jobs for beginners?
Want to learn step-by-step how I built my Niche Site Empire up to a full-time income?
Yes! I Love to Learn
Learn How I Built My Niche Site Empire to a Full-time Income
How to Pick the Right Keywords at the START, and avoid the losers
How to Scale and Outsource 90% of the Work, Allowing Your Empire to GROW Without You
How to Build a Site That Gets REAL TRAFFIC FROM GOOGLE (every. single. day.)
Subscribe to the Niche Pursuits Newsletter delivered with value 3X per week