Starting An Online Magazine In 8 Quick And Easy Steps!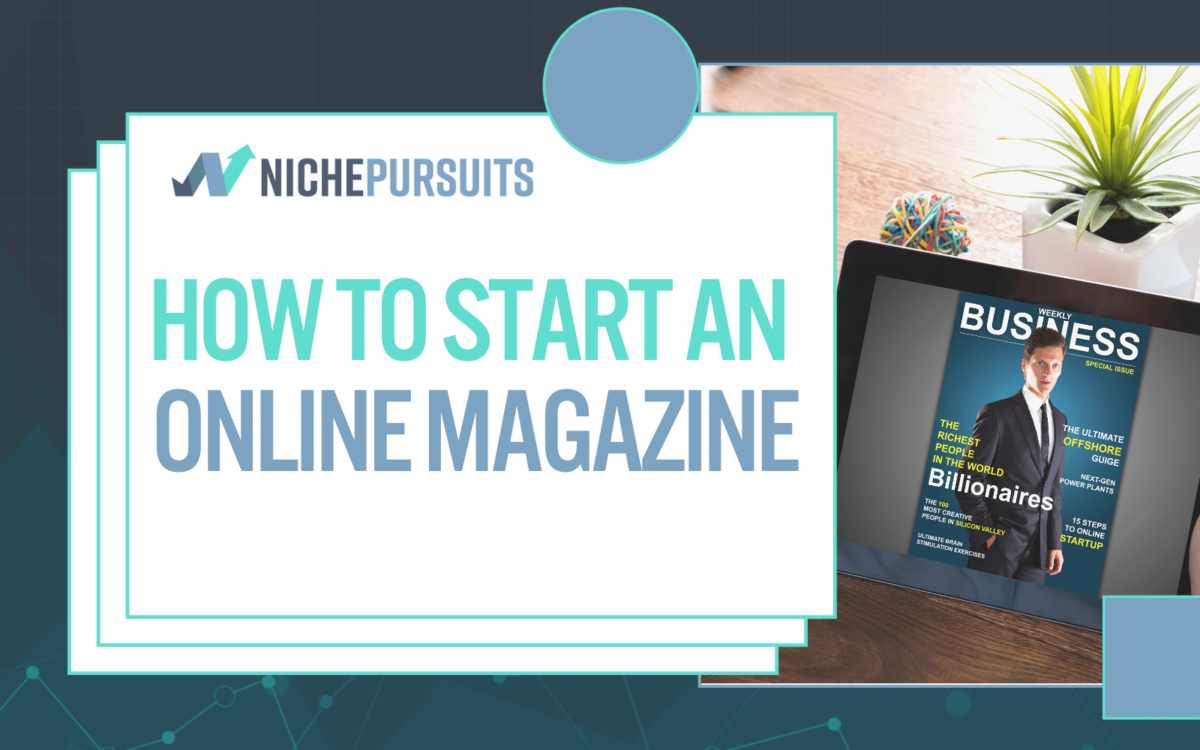 When you buy something through one of the links on our site, we may earn an affiliate commission.
Thanks to the internet, anyone can create an online magazine and share their ideas and experiences with the world.
Today I'm going to be sharing exactly how to start an online magazine. This will help you decide whether or not this is the right business venture for you.
The popularity of digital magazines is growing, with the digital publishing revenue growing to over 18 billion dollars in the U.S. alone. So if you think digital publishing is something you would like to get into, there's no better time to start.
Whether you already have an idea, or you're starting from zero, this in-depth guide to starting your own online magazine will help you get up and running.
How to Start an Online Magazine
There are two main ways of starting an online magazine.
Firstly there's a digital magazine, which has a similar design and layout to a traditional print magazine. You download it and read it digitally, in the same way as you would read a print magazine (page by page), usually on a tablet or e-reader device.
The second type of online magazine is a blog.
With a blog, the content is published on a website, and anyone can read it. With a blog-style online magazine, you have the option of charging readers a subscription fee if visitors want to read a certain amount of articles each month.
Online Magazine vs Blog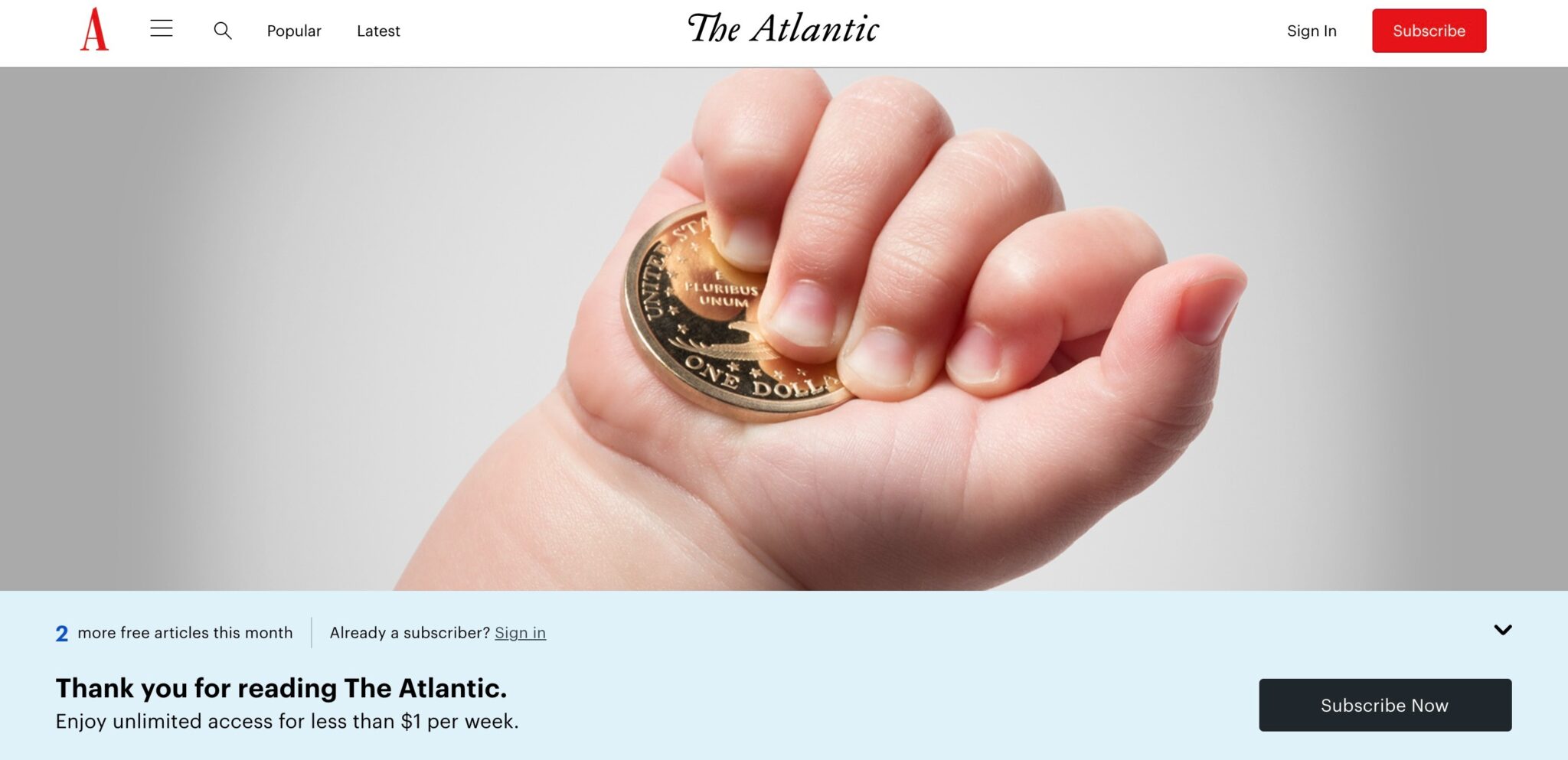 There are a few key differences between online magazines and blogs that set them apart from one another.
These are:
An online magazine is published periodically, such as weekly, monthly, or bi-yearly, whereas a blog is published more regularly, and you can read each piece as it is published.
With a blog, each article is hosted on the website and can be read online at any time, whereas an online magazine can be downloaded and read offline.
A blog is slightly more informal in tone, with the author usually speaking directly to the reader, whereas an online magazine has a slightly more professional journalistic tone.
The good news is, you can combine the two, creating a wide readership and endless advertising opportunities. The Atlantic is a great example of this.
Choose a Niche
Choosing a niche or concept for your online magazine is the first, and perhaps the most important, step.
Having a defined niche will benefit you in many ways, including helping you to find and advertise to your audience, and growing a regular readership who come back again and again to read your content.
You don't necessarily have to choose just one topic, you could also choose a few topics in the same area.
Some examples of broad Niches you could choose include:
Interior Design
Art
Boating
Gardening
Marketing
Working From Home
Camping
Fashion
Health
Beauty
Travel
Alternatively, you could choose a more narrow, defined niche.
Although having a narrower niche means there will be fewer people out there looking for the type of content you are sharing. However, it also means there will be less competition, so it may benefit you overall.
Some great examples of narrow niches include:
Bonsai trees
Bathroom Design
Watercolor Painting
Email Marketing for Ecommerce Businesses
Self Build Campervans
Eye Makeup
Hiking
As you can see, these niches are very specific. However, they have the added benefit that the people looking to learn about these topics will be likely to be very passionate about them, giving you a more devoted readership.
Market research
Before you get going with your online magazine you will need to do some market research to see if your magazine idea is viable.
You will need to know:
The size of your target audience
Their age
Their hobbies
What they are interested in
What they search for online
Who are your main competitors?
A great way to get started is with keyword research.
You can use a keyword research tool like Long Tail Pro, SEMRush, or Ahrefs. These tools reveal what your target audience is searching for and the most common keywords relating to your niche.
You can also use these tools to do competitor analysis and see which keywords your competitors are ranking for.
Choose a Great Name for Your Magazine
Choosing a great name for your digital magazine can be tricky. After all, once you have chosen a name and built a brand around it, it can be hard to change it.
It's a good idea to choose a name that contains your main keyword, or a keyword that holds some importance to your target audience.
For example, Foundr Magazine is aimed at entrepreneurs, and its name is Aspirational to the people who read it as they are, or want to become, 'Founders.'
Start by brainstorming all of the words you can think of relating to your niche. Write them all down, and see how different words work together. 
You will need to check that the name you choose isn't already being used by another similar business and that there are no trademarks on the name. Your next step is to check that the domain name is available for your chosen name, if it is, snap it up quickly!
You can browse and buy domains at Bluehost.com.
When you are ready to start your website, Bluehost also has a range of affordable and reliable hosting plans you can choose from too.
Check out our article on magazine name ideas if you need inspiration.
Build Your Website
Now that you have chosen a niche, and decided on a name for your digital magazine, you will need to build a website so your audience can find you easily online.
Our top recommendation for building a website is to use Bluehost hosting and build your website using WordPress.
This is an affordable way to get a great-looking website that will give you all the flexibility you need to grow as a brand as your audience and readership grows.
Once you have signed up for a hosting plan you can build your website. If you've never built a website or a blog before, check out our beginners' guide to starting a blog, for everything you need to know.
Once you have downloaded WordPress, you will want to add a theme.
GeneratePress and Astra are both great WordPress themes with hundreds of templates to choose from to create your perfect website.
Pages to Include on Your Website
There are a few key pages you will want to include on your website so that visitors can navigate easily and find all the information they need to know.
About Page – Tell your readers about your magazine, what your mission is, and what they can expect from you.
Magazine – This is where your readers will be able to subscribe and download your digital magazine. Here you can include prices for one issue, or various subscription periods, such as 6-monthly or yearly.
Blog – This is an important part of your online magazine website. It will give readers a taste of the kind of journalism you offer, and enable your target audience to find you online through SEO. This page can also include subcategories if you cover more than one subject.
You can of course include as many other pages as you like, but these three pages are key for your readers to find what they need when they are on your website.
If you are starting a podcast to run alongside your digital publication, you may also want to create a separate page on your website. Include all the information a reader needs to find and download your podcast.
Create an App
Creating an app for your digital magazine will allow your readers to easily flick through your magazine on their iPad or Phone when they are on the go. Having your own app can also help your magazine be found by more of your ideal customers through app distribution channels.
You can easily create your app using a service like Magcast which will enable you to easily create an app for your magazine and publish it to the iOS App Store and Google Play
The only real downside to having an app for your magazine is that building it can be a huge upfront cost. If you are bootstrapping your magazine business, you can still host your magazine online and go down the app route at a later date.
Creating Your Digital Magazine
Now that you have your online magazine website up and running, you will need to create a digital magazine that readers can download from your website and read.
There are a few different platforms you can use to create your online magazine.
Here are some of the best options:
Lucidpress – Lucidpress is a digital publishing platform that enables you to build a great-looking digital magazine for your subscribers. It's easy to use and comes with lots of free professionally designed magazine templates to choose from.
Madmagz – Madmagz allows you to create an online magazine for free. They offer one template included for free, and you can create as many magazines as you like. There are other templates to choose from too for an extra $10 each, making this a very affordable option.
Issuu – Issuu is an all-in-one publishing platform that allows you to easily design and create a beautiful downloadable online magazine. It offers both free and paid plans, and best of all it offers a service where your readers can easily pay to subscribe to your magazine, or simply buy a single issue.
Designing Your Magazine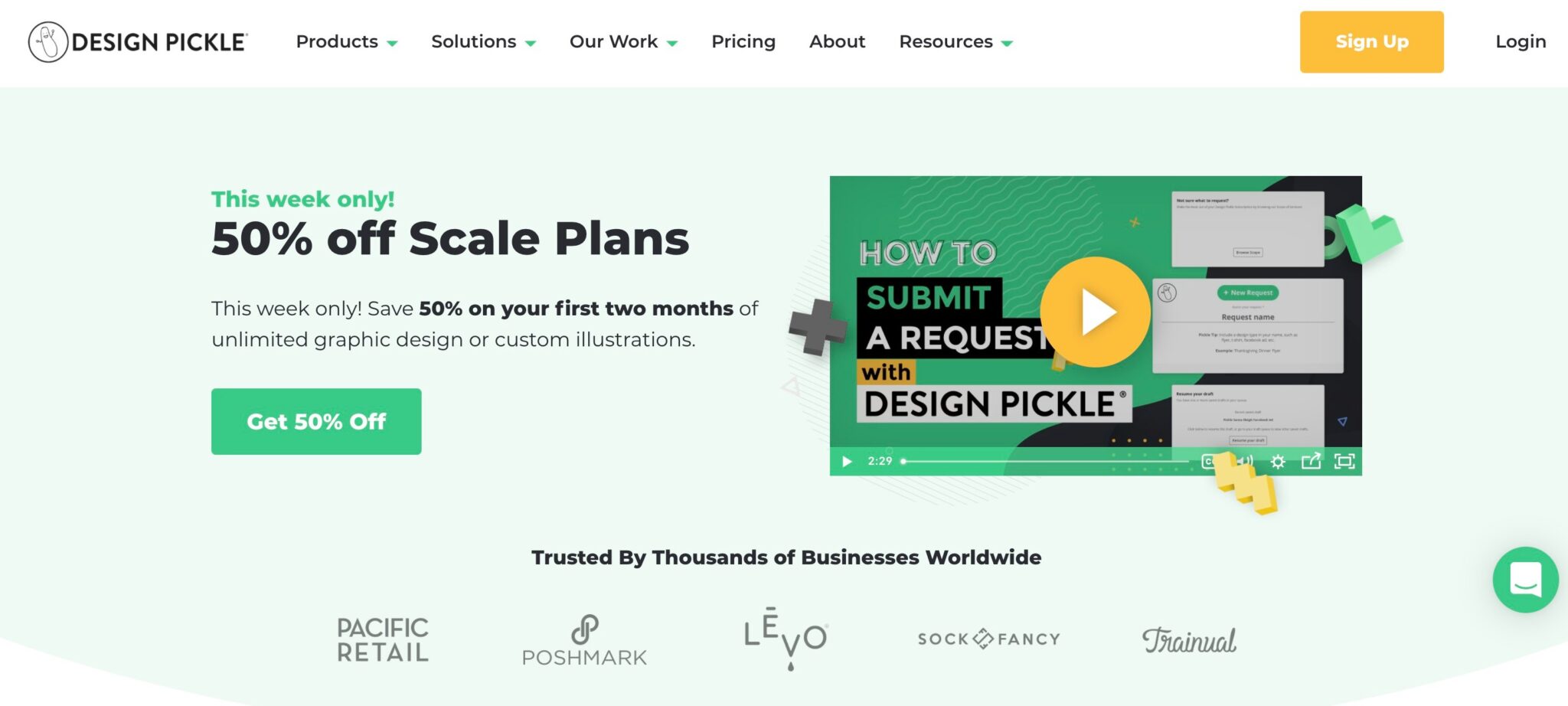 Thanks to the huge range of professionally designed templates available from the digital magazine publishing platforms above, you can create a beautiful-looking magazine without having to hire a graphic designer.
That being said, there may be certain elements of your magazine such as bespoke images or infographics where you could benefit from the help of a graphic designer.
If you need design work done on a regular basis, then using Design Pickle is a great option.
Design Pickle is your one-stop shop for all things graphic design (and if you're interested check out Design Pickle alternatives). It works on a subscription basis and has a fast turnaround time, so it's ideal for anyone building a digital magazine or blog.
If you want to go down the DIY route and do the graphic design yourself, then you can use a tool like Canva to get professional-looking results on a small budget.
Writing Your Content
The next step to creating your online magazine is filling it with awesome high-quality content that your readers will love.
You will need to think about how you are going to source your content. If you are bootstrapping your magazine, you might want to create a lot of the content yourself at first, but remember, this will take a lot of work.
If you are able to outsource your content writing and simply serve as the editor and curator of your magazine, you will find things much easier.
You may also want to hire a freelance writer for your blog, as this will become a key part of marketing your digital publication.
If you've never hired freelance writers before, check out this in-depth guide on how to hire writers for your blog. This will tell you everything you know about finding quality content writers that are the best for your blog or magazine.
Create an Email List
Creating an email list is one of the most important parts of marketing your online magazine.
Having an email list allows you to reach out directly to your subscribers each time you have something new to share. This helps to keep your page views and readership growing and build a base of loyal fans.
Other benefits of building an email list include:
You can create personalized content to engage with your readers
Easily analyze what is working and what isn't by analyzing clicks and engagement with your emails
Increase in sales – Marketers who used segmented campaigns see as much as a 760% increase in revenue (Hubspot)
It can drive traffic to your website
It's very cost-effective, with a high ROI of $42 for every dollar spent
As you can see, it's definitely worth starting an email list for your digital magazine from day one.
It's very easy to start your email list. You simply need to choose an email marketing platform and sign up for a plan.
Convert Kit is one of the best options out there and is suitable for beginners starting from zero, as well as seasoned professionals who already have thousands of subscribers.
SendinBlue is a great option too and is perfect for anyone working on a very small budget. Both these platforms will give you everything you need to grow and nurture your email list.
Create a Lead Magnet
If you want people to subscribe to your email list, you will need to give them a good reason. One of the best ways to quickly build your email list is to offer an enticing lead magnet in return for your reader's email address.
A lead magnet is anything that you offer in return for a subscribers email address, such as:
An E-Book or How-To Guide
Interactive quizzes or games
A free trial (maybe the first issue of your magazine)
Entry Into a Competition
Special Offer or Discount
The email marketing tool you use to build your email list will have a feature that allows you to create signup forms that you can embed on your website.
Marketing Your Online Magazine
Once you've got everything set up, and your online magazine is ready for the world to see, you will need to start marketing it.
There are lots of options when it comes to marketing an online publication, but these are the most important ways of marketing your magazine:
SEO – This is where your blog comes into its own. Your blog articles should target keywords that your target reader is searching for online. Spend some time and money building high-quality content that will attract the kind of readers you want for your magazine.
Social Media – Create social media pages for your magazine. Facebook, Instagram, and Twitter are great places to start, but if your target audience hangs out on a different platform, then you should create a social media presence there too.
PPC – Before your website has built up authority and you start ranking for your target keywords, you may want to consider PPC (Pay Per Click) advertising to get the word out about your digital magazine.
Before you launch, spend some time building excitement on social media and networking with your target audience. This is a great time to start collecting emails for your list in preparation for your launch.
Launch
It's time to launch your magazine!
This is a great opportunity to gain more interest and get the word out. Reach out to influencers in your niche and see if they would be interested in reading your first issue.
You can also reach out to anyone involved in your first issue (people you have interviewed or featured) to see if they will be willing to give you a shout-out on social media to build the hype.
How to Monetize Your Online Magazine
Once your subscribers and audience start to build, you will have the opportunity to start to monetize your digital magazine.
Here are some popular methods you could consider:
Subscription Service – Your subscribers pay a monthly fee to have access to all of your magazine and blog content.
Display Ads – If you are running a blog alongside your magazine, you can monetize this with display ads. Some great ad networks you can join are Ezoic (once you have over 10,000 page views per month) and MediaVine when you hit 50,000 sessions per month.
Native Ads – This is advertising within your magazine content (and there are some great native ad platforms out there). This includes promotional articles for brands, as well as advert pages within the magazine that a brand has paid for.
Pay Per Issue – Readers can simply pay for and download the issue they want to read.
Donations – Some online magazines ask for a donation rather than a fixed payment. This way a reader can pay what they can comfortably afford, and you aren't excluding anyone from reading your content.
Any of these monetization methods can be used alone or in combination with one another.
Bear in mind that if someone is paying for an issue of your magazine, they won't be pleased if it is too full of ads. Make sure you strike the right balance of high-quality content and useful ads that will appeal to your reader.
If you don't want to use advertising as your primary monetization method, you can use your online magazine to build a loyal audience. Once you have an audience who trusts you, you can create a digital product or course that would be valuable to them, and make money this way.
Online Magazine Pros And Cons
Becoming a digital magazine publisher can be hugely rewarding. But, as with everything, this business idea has its own pros and cons. Here are some things you might want to consider.
Pros:
No need to worry about creating and distributing a printed magazine
You get to work on something you are passionate about
Cheaper to start than a printed magazine
Digital magazines are easy to distribute
Your magazine can reach anyone in the world thanks to the internet and Apps
No technical experience is required due to the rise in magazine creating software
Eco-friendly
It's possible to bootstrap this business idea if you set your mind to it
Starting a successful magazine can be very profitable
Cons:
Start up costs can be high if you want to hire writers, editors, and designers
There is a lot of work involved. This is only something to do if you are in it for the long haul
As you can see, the Pros far outweigh the Cons here.
The main thing you need to think about is how passionate and committed you are!
How To Start an Online Magazine
That's how to start an online magazine!
There are many benefits to starting doing so. The main one is that your magazine will enable you to position yourself (or your brand) as an authority in your niche.
Thanks to the rise in magazine and app-creating technology, anyone can start their own online magazine. This is true even if you have absolutely no previous tech experience.
Starting a successful magazine takes a lot of work and commitment. Before you dive into this you need to think carefully about if you've got what it takes.
Starting your own blog can be a great option for anyone who wants to become an authority online, but isn't ready to create an online magazine. Blogging is very easy to get into and can be extremely lucrative (check out how much these bloggers are making!)
If you want to start your own blog, check out this guide on how to start a blog that makes money using WordPress.
Read the guide 
Want to learn step-by-step how I built my Niche Site Empire up to a full-time income?
Yes! I Love to Learn
Learn How I Built My Niche Site Empire to a Full-time Income
How to Pick the Right Keywords at the START, and avoid the losers
How to Scale and Outsource 90% of the Work, Allowing Your Empire to GROW Without You
How to Build a Site That Gets REAL TRAFFIC FROM GOOGLE (every. single. day.)
Subscribe to the Niche Pursuits Newsletter delivered with value 3X per week