Instagram Affiliate Marketing Guide: How to Make Money on Instagram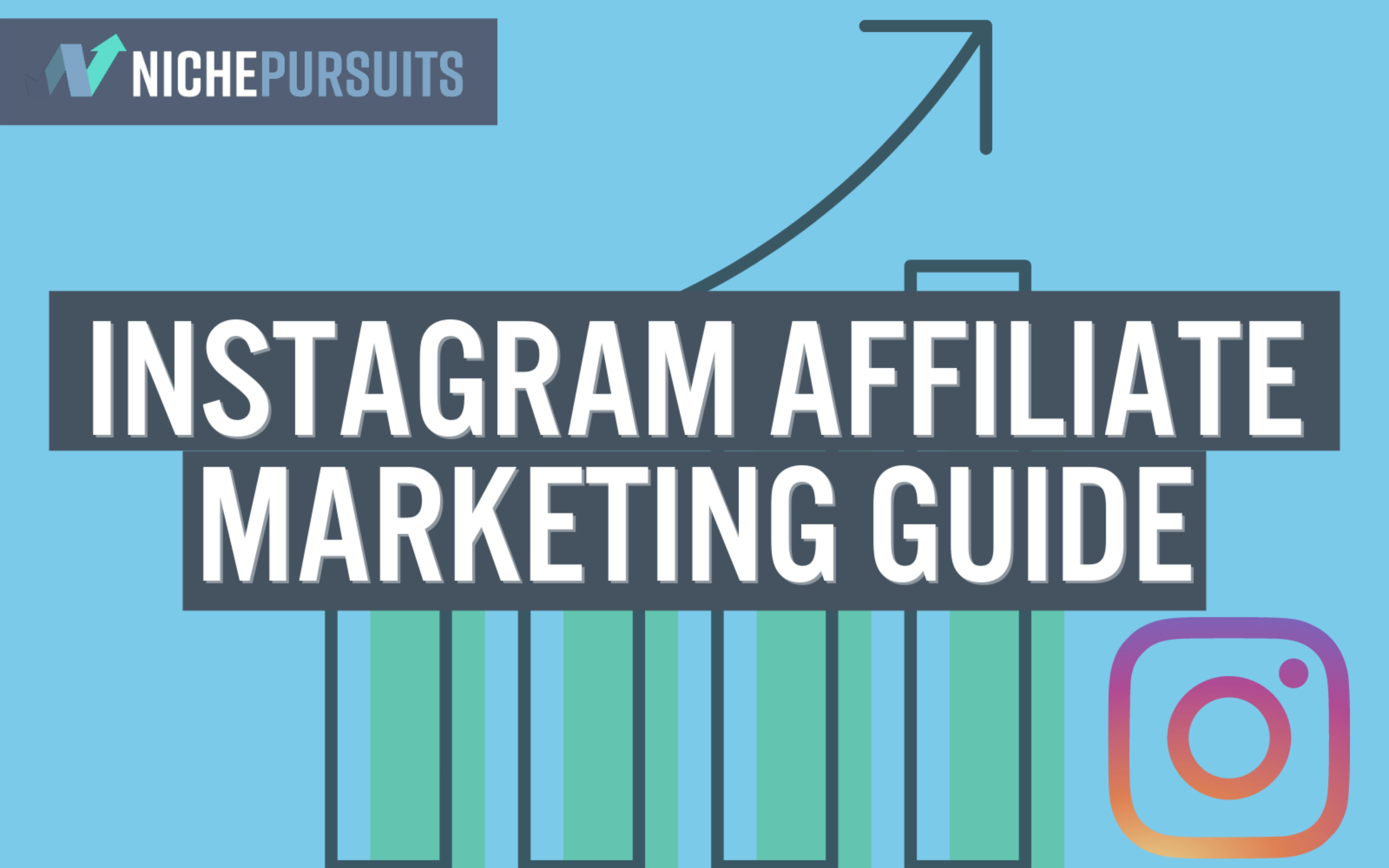 When you buy something through one of the links on our site, we may earn an affiliate commission.
Instagram affiliate marketing is an often overlooked method of promoting affiliate links. But, when done correctly, it can be incredibly effective. 
Instagram can be an integral part of your overall affiliate marketing strategy or it can be used as a stand-alone method. 
Not sure if IG affiliate marketing is right for you? In this article we take a closer look at affiliate marketing on the popular social media platform. 
We're diving into IG stats, different methods for promoting products, successful affiliates on Instagram, and more… Let's get into it!
Can You Use Instagram for Affiliate Marketing?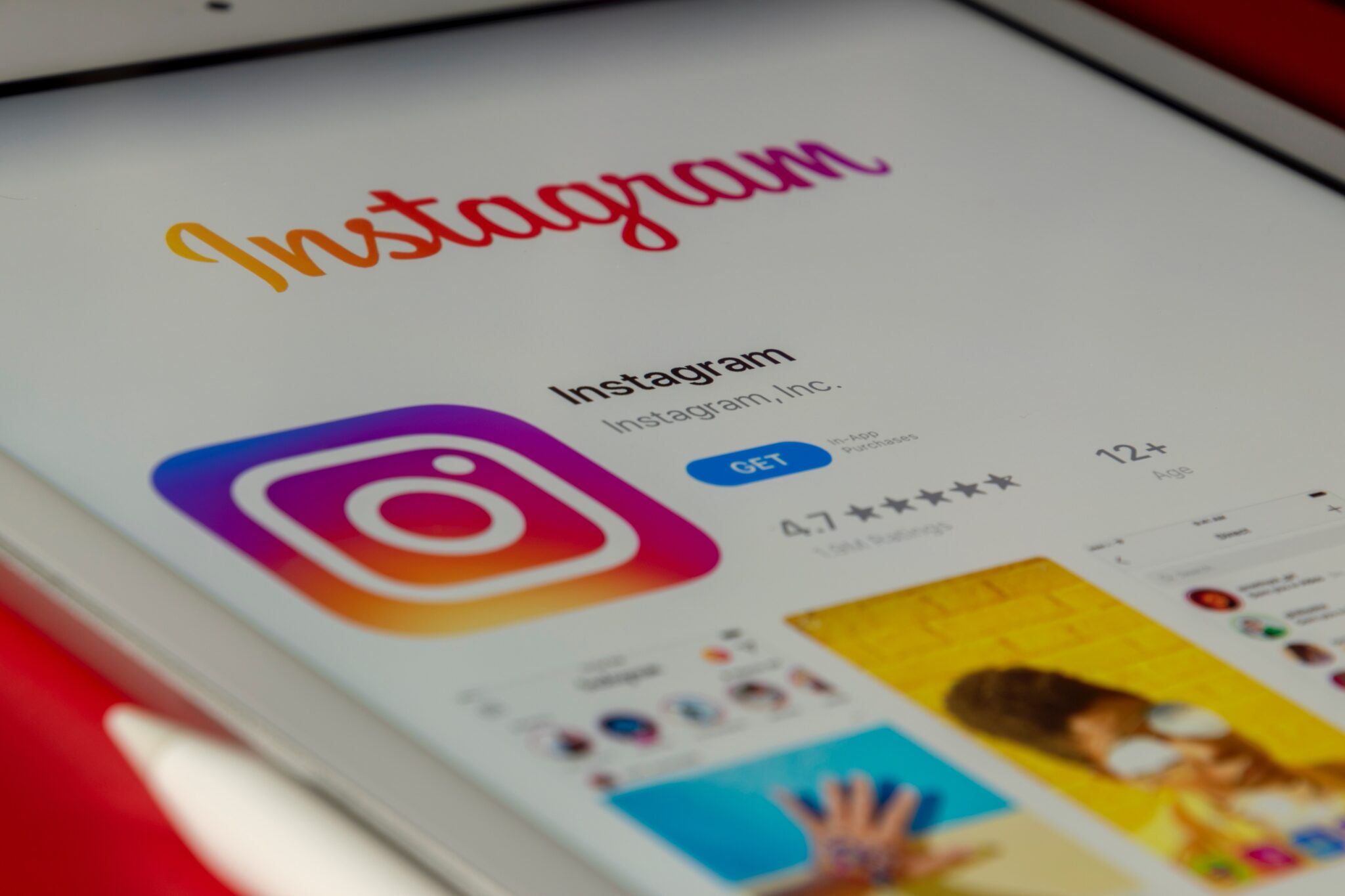 Yes, you can use Instagram for affiliate marketing. 
In fact, there are several ways to do affiliate marketing on the Instagram platform. 
This is a highly visual social media platform: photos and videos are the only form of content. 
Instagram has put a heavy focus on vertical video content in the form of Instagram Stories and Reels in recent years to compete with other social media giants like Snapchat and Tik Tok (and we've made a guide for how to add a link to your Instagram story). (Find out how to share a youtube video on instagram stories.)
How Does Affiliate Marketing on Instagram Work? 
There are a few different ways to make money with affiliate marketing on Instagram (and also be sure to check out our guide on how to make money on Instagram for other creative ideas). 
The 'old way' of Instagram affiliate marketing involves signing up for affiliate programs, growing a following in your niche, and promoting your links to your following. 
The 'new way' of Instagram affiliate marketing is a new program that the platform is slowly rolling out for influencers, called "Instagram Affiliate". 
With the new program, Instagram is making it easier than ever before to earn money on the platform with affiliate marketing in specific niches. 
The New 'Instagram Affiliate' Option for Influencers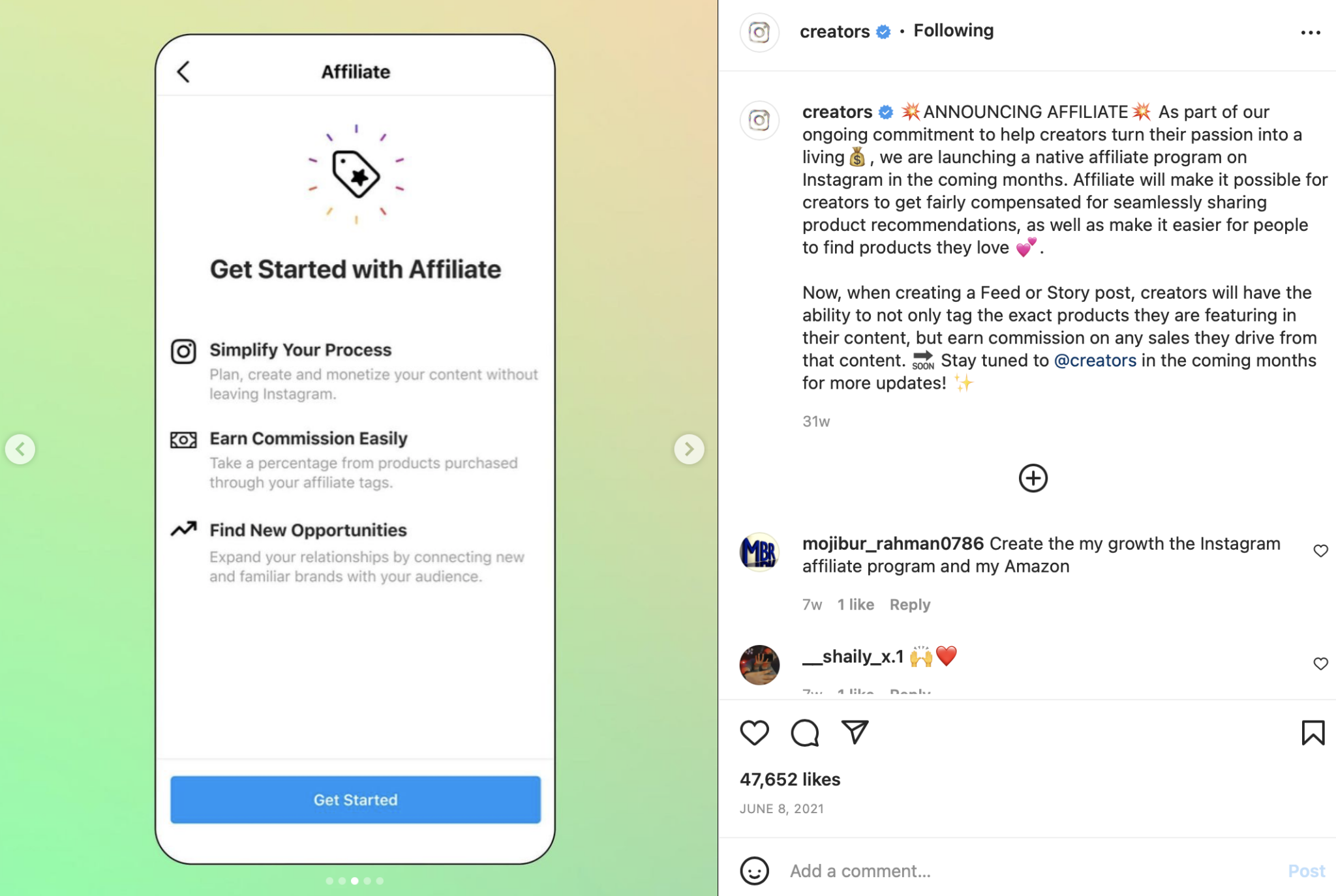 In June of 2021, Instagram announced a new native affiliate tool for creators. This tool exists to help Instagram influencers and creators make money more easily on the platform. It's aptly named 'Instagram Affiliate'. 
This new program allows you to recommend products and get paid for it seamlessly and easily on the Instagram platform. 
Instagram affiliate is currently in beta testing, so it's not yet available to all users but it will be soon. 
In the tool launch post on the @creators account, Instagram said:
As part of our ongoing commitment to help creators turn their passion into a living, we are launching a native affiliate program on Instagram… Affiliate will make it possible for creators to get fairly compensated for seamlessly sharing product recommendations, as well as make it easier for people to find products they love.
So how will it work, exactly?
According to Instagram, creators will have the ability to tag the exact products they feature in their content and track and earn commissions on sales that happen because of their post. 
As of the current moment, Instagram is testing Affiliate with makeup brands like MAC, Sephora, Benefit, and a few more. 
This program looks like it will be best for beauty influencers at first, and it will be interesting to see how it evolves in the coming months and years. 
Other Ways to do Affiliate Marketing on Instagram
The new Instagram Affiliate tool seems great but it also seems very limited. Even when it rolls out to all creators, it will be limited to certain brands.  
Luckily, there are other ways to do affiliate marketing on Instagram, even if you aren't an Instagram influencer, don't have a huge following, or aren't in the beauty niche. 
The 'old way' and best way to do Instagram affiliate marketing for any niche or profile type is growing a niche following and promoting relevant products and services. 
You can sign up for any affiliate program in any niche, place your links in your bio, and promote the products or services in posts, Stories, and Reels.
It sounds easy, but it's more nuanced than that. Here are some more in-depth explanations for each different way of affiliate marketing on Insta. 
Best Ways to Do Affiliate Marketing on Instagram
Direct Linking in Your Bio and Instagram Story
Promoting Your Affiliate Website
Grow an Affiliate Funnel Email List
Direct Linking
Although Instagram does not allow you to place clickable links in captions, each profile has one link spot in the profile bio. 
You don't have to have an Instagram business account to place a link in your bio, but if you want access to analytics and tracking, you should sign up for one anyway. 
There are a couple ways to include your affiliate link or links on Instagram. 
Place the link in your bio, or use a tool like LinkTr.ee to place multiple links in your bio
Place the link on your Instagram Story using the sticker link option
Direct linking can be a good Instagram affiliate marketing strategy in the beginning, but there are other ways to more effectively capture your Instagram traffic. 
Promote Your Affiliate Website
Another way to use Instagram for affiliate marketing is to use your profile to promote your affiliate website. 
Many affiliate marketers create a niche website to write content that reviews and promotes various affiliate products. 
If you have an affiliate website, brand your IG profile to match your website and use your bio link to promote recent articles, reviews, and more. 
Best Affiliate Marketing Strategy for Instagram: Grow an Affiliate Funnel Email List
Growing an email list is probably the best way to do affiliate marketing on Instagram. 
When you take advantage of your Instagram profile to capture email addresses and grow a subscriber list, you can market to those people again and again. 
When you just send traffic to an affiliate link or to your website, you miss out on the opportunity to re-market to that traffic. 
Here's how an email marketing funnel works for affiliate marketing on Instagram. 
Create a 'lead magnet' – a freebie that users will download after subscribing to your list
Attract potential leads with engaging and relevant Instagram content
Direct users to sign up with their email address to download your opt-in through your link
Send a sequence of emails to nurture, educate, and inspire subscribers
Direct subscribers to affiliate landing pages or affiliate products
Repeat 
When you grow an email list you have the ability to promote multiple affiliate products by creating new email sequences for each one. 
And you can also promote the same affiliate products later on down the road. Sometimes people are more likely to buy after already becoming familiar with the product. Remarketing can be a great strategy for your affiliate email list. 
How Many Followers Do You Need for Affiliate Marketing on Instagram? 
You might be surprised to learn that there is no real 'magic number' of followers for Instagram affiliate marketing. 
In reality, follower count matters much less than overall profile engagement. So, it's not how many followers you have but how engaged people are. 
The more likes, saves, and comments you get on your posts, the better!
You might also be surprised to learn that you don't have to have 100k+ followers to be considered an influencer, either. 
In fact, profiles with just 1,000 followers can be considered an influencer. 
Here are some common influencer definitions:
Nano influencer: 1,000 – 10k followers
Micro influencer: 10k – 50k followers
Mid-tier influencer: 50k – 500k followers
Macro influencer: 500k – 1m followers
Mega influencer: 1m+ followers
You don't even have to have 1,000 followers to start affiliate marketing on Instagram. You can place your link in your bio as soon as you sign up. 
However, the more followers and engagement you have, the more likely your chances of success.
Difference Between Influencer Marketing and Affiliate Marketing
What exactly is the difference between an influencer marketing and an affiliate marketer? Both types of marketers work with brands, but there are a few key differences. 
Influencers primarily make money by selling ad or link space, giving shoutouts, and partnering with brands via sponsorships to earn money. 
Influencers typically earn a set amount of money per post or per shoutout. 
This is much different from affiliate marketing. When an affiliate marketer signs up for an affiliate program, they only earn commission on products sold through their links. 
In short, Instagram influencers earn a set amount of money per post. Instagram affiliate marketers earn commissions on any products they sell through affiliate links on the Instagram platform. 
Successful Instagram Affiliate Marketing Examples
Here are some examples of successful Instagram affiliate marketers. 
Before you create your own Instagram profile for affiliate marketing, I highly recommend doing your own competitor research. Search Instagram for keywords and hashtags in your niche to find the top performing accounts. 
Pro tip: if you do competitor research on desktop, you can easily hover your mouse over posts on your competitors profile to see which ones received the most engagement. 
Julianna Claire
Julianna Claire is a successful Instagram affiliate marketer focused on promoting products through the Amazon Associates program.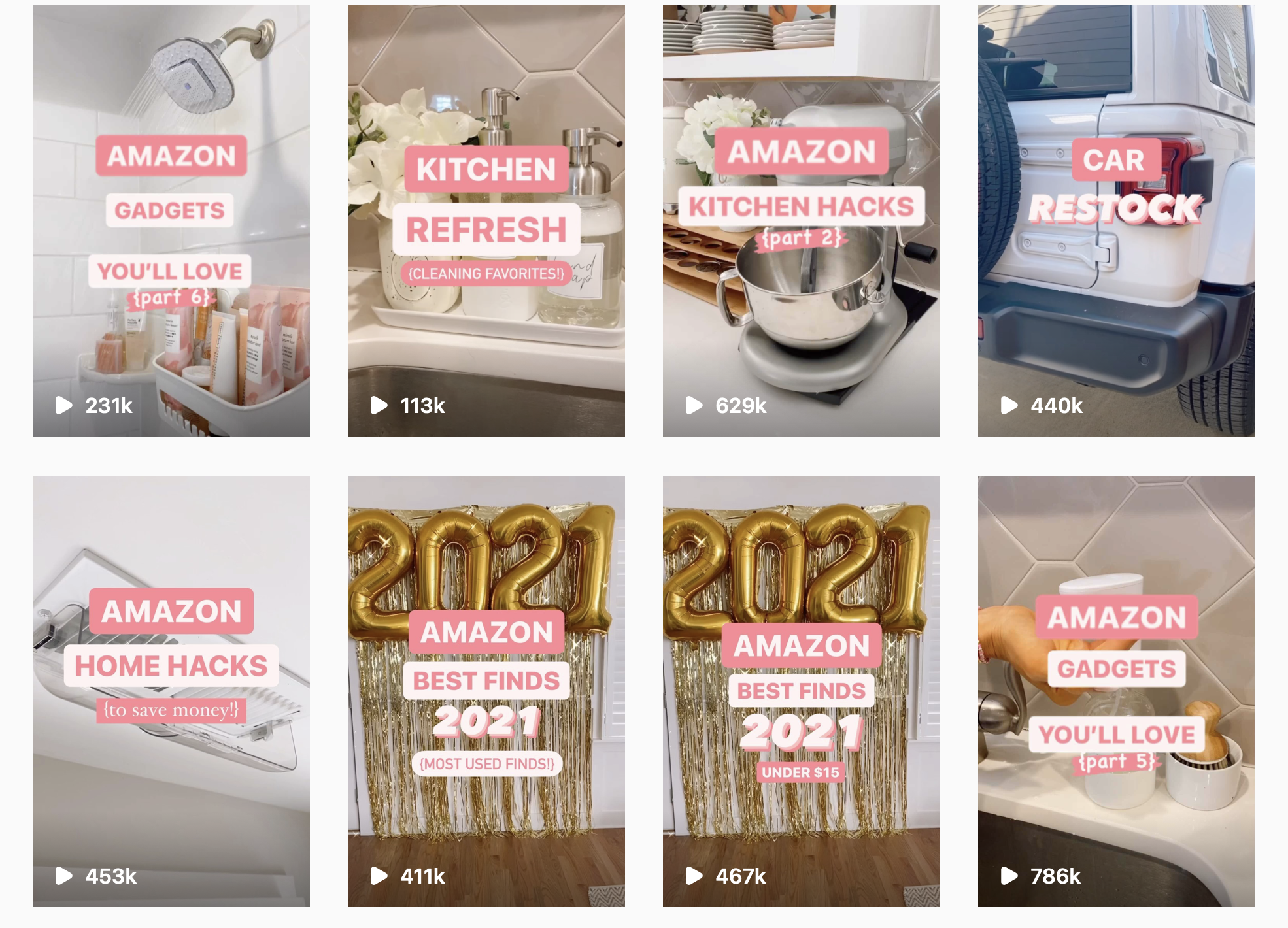 Through viral content, Julianna shares Amazon gadgets and accessories for the home, fashion, and more. This content creator makes great use of all different types of post formats, including Reels and photo posts. 
She clearly knows her audience and has harnessed the power of social media to promote her favorite Amazon products and earn money from it at the same time. 
The link in her Instagram bio leads to a page full of links promoting different products and her Amazon storefront (and you too can learn how to make an Amazon storefront here). 
Sharon Tseung
Sharon Tseung is a content creator focused on helping her audience earn more money through real estate, side hustles, and more. 
The link in Sharon's bio leads to a page promoting many things ranging from her own website and courses to affiliate links promoting her favorite softwares, freelancing platforms, investment platforms, and more. 
Sharon utilizes all Instagram post types to engage her audience. 
Emma Jacquelyn
Instagram is a great place for fashion influencers; just take a look at Emma Jacquelyn's profile. Emma favors the Instagram Reel feature, and it looks like it's working really well for her. 
There are many ways to monetize fashion as an affiliate, but this content creator does so through Amazon Associates and LikeItToKnowIt. Have a look at where the link in her bio leads: 
How to Do Instagram Affiliate Marketing
The key to being a successful Instagram affiliate marketer is committing to being consistent and continuously improving your content based on your audience. Here's how to get started. 
Choose a Niche and Start Your Profile
The first thing to do is choose a niche. What kind of profile do you want to create? What kind of followers do you want to attract? 
The best place to start when choosing a niche is to choose something you actually enjoy and/or know a lot about. It is much easier to create relevant content when you're familiar with a niche or subject. 
Once you've decided on a niche, create a new Instagram Business profile.
While it's not required to have a business profile, having analytics is incredibly helpful for growth purposes. 
Instagram analytics will show you which of your posts perform the best, what time of day your followers are most active, the best days of the week for posting, and more. 
Sign Up for Affiliate Networks
Once you decide on your niche, it's time to sign up for an affiliate network (or several) so you can start promoting products. 
There are many different affiliate programs and affiliate networks to choose from. For example, Amazon gives you access to millions of physical products to promote on Amazon. 
If you want to start a fashion account, you might want to just sign up for jewelry affiliate programs or clothing affiliate programs.
However, if you want to focus on softwares or digital products, a platform like JVZoo might suit you better. 
20 High Paying Free Affiliate Programs to Join
Creating Affiliate Content on Instagram
What does affiliate content look like on Instagram? 
Instagram users are smart, so they're not likely to convert if all you do is promote your affiliate links in an inauthentic way. 
If you promote physical products, showcase the items in a natural way. Lifestyle photos and videos are a great way to show off how great a product is without being overly salesy. 
If you promote digital products like courses, softwares, or services, you'll have to be more creative. 
Show results from the product in photo and video in the form of case studies, reviews, and testimonials. 
Give viewers a behind-the-scenes look at the course contents or how the software work. You can even create tutorials. 
Again, look to your competitors for ideas about how they are promoting products and model your content after what already works. 
How to Grow a Following as a New Profile
When you start a new Instagram profile, you want to start gaining followers as quickly as possible. 
This can be done organically or you can pay for ads or influencer marketing shout-outs to help speed up the process. 
Here's how to grow a following as a new profile. 
Create High-Quality, Relevant Content
The main way to attract and engage new followers is to consistently post high quality, relevant content. 
You don't even have to appear in the photos or videos yourself! There are many ways to create engaging content that don't require you actually being in the videos if you don't want to. 
You can create a meme account, repost viral content (with credit) and much more. 
If you're unsure of what kind of content to create, research successful Instagram accounts in the same niche. Look at what kind of content they post and which types of content have the most likes and comments. 
You should never directly steal someone else's content, but you don't have to recreate the wheel either. Model what is already successful for other accounts and you will also see results before too long. 
Use the Right Hashtags
Hashtags help your content get found on Instagram, but you can't use just any hashtags and expect it to work. 
Instead, you need to use the right hashtag strategy to help strategically get your content seen by people all over Instagram. 
You can use up to 30 hashtags per post on Instagram, although you should experiment with different amounts to see what works best for you (and you'll also want to know when is the best time to post on Instagram). 
The first place to look when coming up with hashtag ideas is to see what your competitors are doing. 
Next, search Instagram for different search terms related to your niche. Write down and save niche-related hashtags with between 10k-200k posts. These hashtags should make up the bulk of your tags. 
Hashtags with more posts update constantly so your content may get drowned out. Any less than 10k means that not as many people are searching for that tag, which will also be less effective. 
Network and Grow
Lastly, one of the best ways to grow on Instagram is to network with other users and profiles. 
Your "competition" on Instagram can also help you grow! 
You can interact with other users in their comments to attract followers. You can also network with your competitors themselves.
Additionally, you can buy shout-outs from niche-relevant influencers to get new followers on your profile. 
Consider Sponsored Posts
Sponsored posts are Instagram Ads. Since Instagram is owned by Facebook, you can create sponsored posts right through the Facebook ad manager.
Consider using sponsored posts to attract new followers, engagement, and awareness to your account.
Tips for Successful Instagram Affiliate Marketing
Growing a new Instagram profile can feel overwhelming, especially as a beginner. 
Instagram affiliate marketing is a long-term commitment, and you will learn and get better at it with experience. Here are some tips to be successful right out the gate. 
Learn How to Create Quality Content
First you need to learn how to create quality content. 
Look at what similar successful profiles are doing and model after them, but develop your own style and voice. 
Experiment with different types of content like photo posts, carousel posts, Stories, Reels, and short video. 
Take notice of what types of content performs well on your account and try to replicate it as often as you can. 
If you have a post or video go viral once, it's likely to go viral again. Try reposting older viral content for similar results. 
Be Consistently Active
You should be posting to your account and interacting with new accounts every single day. 
At the very least, you should post one time a day. Consistency is incredibly important to the Instagram algorithm and it will start to restrict your reach if you're less active on the platform (see for yourself with our guide on how to reset your instagram algorithm ). 
Also, you should like and respond to every comment on your photos to boost your engagement rate. 
Try to encourage repeat comments by asking a question in your captions and in response to comments on your posts. 
Track Your Analytics
Analytics are an invaluable tool when growing an Instagram profile. When you track your analytics, you'll be able to see: 
Best day for posting and engagement (still post every day)
Best times of day for posting
Which photos/videos received the most engagement
How many people found your content from hashtags, Explore page, or feed
Instagram affiliate marketers are able to create better and more engaging content by tracking analytics. 
Buy Shout Outs
If you want to grow fast, consider buying a shoutout from an influencer in your niche. 
A shout-out is a post or story on the profile of an influencer where they direct their followers to check out your profile or give you a follow. 
Prices vary depending on the size of the influencer, engagement rate, and type of post. 
Take an Instagram Marketing Course
If you want to fast-track your growth and Instagram affiliate marketing knowledge, I highly recommend taking an Instagram marketing course. 
In the Instagram Marketing Masterclass course, you get over 23 hours of video training on everything you need to know to create a successful Instagram profile in any niche. 
Instagram Mastery Course
Don't Rely on Instagram Alone
Instagram can be a powerful tool for affiliate marketing. However, a well-rounded affiliate marketing business shouldn't rely on Instagram alone. 
Consider creating a niche website or, at the very least, a landing page where you can capture email subscribers to re-market different products and services to. 
Repurpose your Instagram content in other places to increase your reach and brand growth. You can repurpose Instagram Reels on Tik Tok, YouTube, Facebook, and more.
How to Create a Niche Website for Affiliate Marketing
The Don'ts of Instagram Affiliate Marketing
To be successful with Instagram marketing, there are a few things you should never do. Here are the don'ts:
Don't Be Spammy
Instagram users are smart. Don't be spammy! 
At worst, spammy behavior can get you permanently banned from Instagram. At best, you just won't have any follower growth or product sales. 
Spammy behaviors can include follow/unfollow method, participating in comment groups or pods, DMing people, etc. 
Spammy content is useless content that is overly salesy. While it might be tempting to overload your profile with promotions, it will never convert into sales. 
Never Buy Followers
Although it may be tempting to buy followers, this is something you should never do. You might get DMs from people or companies offering to sell followers, but don't fall for it! 
When you buy followers, you will notice an influx in new followers. But most, if not all, of these "followers" are fake profiles or bots. While it may boost your follower count, it will cause your account engagement rate to fall. These new followers won't interact with your posts at all. 
When your engagement rate falls, Instagram will stop showing your account to new people. While the boost in numbers might seem great at first, it can be the downfall of your entire profile.
Don't Steal Content 
Reposting is popular on Instagram. Reposting viral images and videos can be a great way to get noticed and grow your account, but never repost content without credit. 
Many people say you should never repost without asking permission in the first place, but there are no official rules against this. 
When you repost another account's content, be sure to tag them in the image and in the caption. And if someone asks you to remove their post, do it immediately. 
Instagram Affiliate Marketing Wrap Up 
Instagram affiliate marketing can be used alone or as a part of your overall affiliate marketing strategy. 
Social media is an invaluable tool to grow your following and influence, no matter how you promote your affiliate links. 
You can use Instagram to promote affiliate products via direct linking, directing traffic to your website, or by promoting a lead magnet to get subscribers to an email list. 
Take an Instagram marketing course to level up your skills, study similar accounts in your niche, and be consistent! With consistent effort, you'll see results on Instagram in no time.
Want to learn step-by-step how I built my Niche Site Empire up to a full-time income?
Yes! I Love to Learn
Learn How I Built My Niche Site Empire to a Full-time Income
How to Pick the Right Keywords at the START, and avoid the losers
How to Scale and Outsource 90% of the Work, Allowing Your Empire to GROW Without You
How to Build a Site That Gets REAL TRAFFIC FROM GOOGLE (every. single. day.)
Subscribe to the Niche Pursuits Newsletter delivered with value 3X per week