17 Best Jewelry Affiliate Program for Making Money Online
When you buy something through one of the links on our site, we may earn an affiliate commission.
It's no shocker to find out that the jewelry niche is very profitable and jewelry affiliate programs can help you get in on the profits.
The global jewelry industry was valued at $323 million  in 2020. This amount is expected to increase to $480 billion by 2025.
However, the stat above is just for one aspect of the sector.
The entire accessories industry, which includes jewelry as well as items like bags and watches, is expected to reach almost $480.5 billion in revenue by 2025.
Do you already see the profitability in jewelry affiliate market niche? 
Let's take a look at the best 17+ jewelry affiliate programs and the affiliate commission they offer.
Here's what we'll be covering: 
Brilliant Earth
Brilliant Earth was founded in 2005 and it is one of the global leaders in ethically sourced fine jewelry.
Its diamonds are all Beyond Conflict Free. This means that they have been chosen based on their sustainable and environmentally responsible origins.
It also sells recycled and lab-created diamonds, which are likely better for the planet.
Their affiliate marketing program pays 5% commissions on new customer purchases, and 3% for returning customers.
All of this is within a 30-day cookie period. It's important to note that each order has a PS445 maximum commission. And commissions are paid out every month.
The company offers all the tools necessary to drive sales.
This includes newsletters about affiliate programs that feature upcoming promotions and brand initiatives. As well as a dashboard for their affiliate network.
Commission Rate: 5% for new clients and 3% for returning customers
Cookie Duration: 30 days
Join Brilliant Earth Affiliate Program Now
Amazon Associates
You know what Amazon is, so no need to go too deep.
The largest online retailer in the globe sells millions of products every day. And at this moment, around 70,000+ of these items are in jewelry. This includes everything from gold friendship bracelets and sterling silver jewelry.
Amazon is highly trusted, whether you love it or not. It's also a well-known brand. So affiliates can easily market their products without bothering about the trust factor.
Amazon's affiliate program, Amazon Associates offers a flat 4% commission for all online sales of watches, jewelry, and other such accessories.
Amazon Associates has one problem though: it only allows for a 24-hour cookie period. 
This the shortest cookie period for a jewelry affiliate program. So you have to ensure that the traffic you refer to them is highly qualified for immediate conversion.
Commission Rate: 4% for jewelry products
Cookie Duration: 24 hours
Join Amazon Associates Affiliate Program Now
Etsy
This is the leading platform to buy handmade jewelry online. There are tons of accessory products here, including fashion jewelry at a fraction of the cost and luxury jewelry at five-figure prices.
There are over 4,000,000 active sellers on the platform, so there is no limit to what you can recommend as an affiliate.
Like with such platforms, ensure that you verify the vendor's rating before directing your audience to them.
Etsy's Affiliate Program offers a flat 4% on every sale.
While it isn't the most impressive of commissions, the 30-day cookie window for affiliate marketers is still much better than Amazon's.
Commission Rate: 4%
Cookie Duration: 30 days
Join Etsy Affiliate Program Now
Kay
Kay was founded in 1916, and the brand could be the oldest company on this list.
In 1916, the Pennsylvania storefront sold jewelry, eyeglasses, and music items. It also sold silverware, razors, and other appliances.
Although its product line has been somewhat smaller, the company's business has grown significantly. It now has more than 1,000 jewelry stores in the US alone and is one of the largest jewelry retailers in the country.
Kay offers more than 5,000 products on its website. And your referrals purchase any of the items within 7 days, you will earn a 2% Commission on all jewelry products.
Kay provides a range of marketing tools to help you, including text affiliate links and display banners.
Commission Rate: 2%
Cookie Duration: 7 days
Join Kay Affiliate Program Now
 James Allen
Four entrepreneurs Dean Lederman, Oded Edelman, James Schultz, and Michele Sigler  joined forces in 2006 to create James Allen.
The company is now the largest privately-held online retailer of bridal and diamond jewelry.
Their website currently sells over 200,000 conflict-free diamonds. All of these can be viewed in high-quality 360-degree HD quality. This enables customers to know exactly what they are buying.
The brand also stocks diamonds and fine jewelry such as personalized necklaces, rings, and more. All their products come with a complete money-back guarantee.
James Allen's affiliate program for jewelry offers a great opportunity to make a lot of money. The average order value is $6,500.
According to calculations, this translates into an average commission of $325 with a commission rate of 5%.
Commission Rate 5%
Cookie Duration: 30 days
Join James Allen Affiliate Program Now
Blue Nile
The Blue Nile was launched in 1999 and is one of the first brands to invest heavily in online sales. This allowed customers to purchase the best cut diamonds for a fair price.
It sells over 150,000 high-quality loose diamonds.
Blue Nile's products are expensive so they offer free shipping and a 30-day returns policy. This takes the pressure off of buying online.
Their jewelry affiliate program offers 5% on all orders.
However, commissions are calculated based on the initial $7500 of each order. So you can only make $375 from one sale.
The brand's cookie tracking system allows jewelry affiliates to earn a commission for phone sales as well. And customers can quote a unique reference number when placing an order.
Commission Rate 5%
Cookie Duration: 30 days
Join the Blue Nile Affiliate Program Now
Clean Origin
Clean Origin is a 100% lab-created diamond company.
These diamonds can be "grown" in a laboratory using cutting-edge modern technology. They can be created in just a few weeks instead of over many years.
They are physically, chemically, and visually identical to natural diamonds. Amazing!
The site sells these loose lab-grown diamonds with exceptional quality and also offers a wide range of fine jewelry, wedding rings, and other accessories. All purchases come with a 100-day refund guarantee.
Clean Origin's jewelry affiliate program offers a 5% commission reward.
This is pretty average for jewelry affiliate programs. But the 90-day cookie window makes it the one with the longest tracking duration.
Commission Rate: 5%
Cookie Duration: 90 days
Join Clean Origin Affiliate Program Now
Zales
Zales is a well-respected brand offering timeless and high-end diamond jewelry. This reputation was built on nearly 100 years of experience in the jewelry industry.
In 1924, the company was founded in Wichita Falls. And it had one shop that sold cookware, cameras, and appliances.
It focuses primarily on the diamond niche today (so don't visit here to buy a gas oven, a new saucepan, or any other appliance) and has a network that includes over 1,700 shops.
The brand's success is due to exceptional customer support and a central buying policy that guarantees quality and affordable pricing.
You'll get a solid 6% commission on every sale when you join the Zales jewelry affiliate program.
The only problem is that the cookie window is limited to a week.
Commission Rate 6%
Cookie Duration: 7 days
Join Zales Affiliate Program Now
Stella & Dot
This is the referral king of the jewelry industry. Its business model relies on independent ambassadors selling their products.
They also offer boutique-style jewelry, accessories, and skincare products from Ever Skincare. These products are only available through Stella & Dot's website or via their ambassadors.
Stella & Dot is a different affiliate program then your typical jewelry program.
It pays a $100 bounty for referring independent ambassadors and a generous 12% commission for new customers as well as 5% for recurring clients.
This gives you many monetization options.
Stella & Dot has a lot of marketing collateral that can help you, no matter what angle you choose. This includes a monthly newsletter, which provides updates about contests, promotions, and sales opportunities.
Commission Rate: 5% to 12% on Sales and $100 for referring independent ambassadors
Cookie Duration: 30 days
Join Stella & Dot Affiliate Program Now
Kobelli
This is a family-owned business that has been manufacturing fine jewelry and importing diamonds since 1980. Its base is in downtown LA.
The company began by making products for brick and mortar retailers and then expanded into eCommerce a few years ago.
It has fully adopted the direct-to-consumer business model. And this allows it to sell a wide variety of jewelry products at affordable prices and eliminates the middleman.
All customers have access to free shipping and hassle-free returns for 30 days.
Promoting Kobelli products correctly can lead to real earnings potential, with 8% to 10% commissions per sale.
This prospect is very attractive, with an average order value exceeding $1,000.
Commission Rate: 8%- 10%
Cookie Duration: 30 days
Join Kobelli Affiliate Program Now
Yadav Jewelry
This jewel brand is a wholesaler jeweler and has been in the business for over 40 years. They specialize in both laboratory-grown and conflict-free natural diamonds.
The company also offers a bespoke design service for engagement rings and sells GIA plus IGI-certified diamonds.
Yadav's jewelry program affiliate program offers a 5% commission rate.
This is, as we've seen the average rate for the jewelry sector.
The cookie window is slightly longer than average and lasts for 45 days. This gives you more opportunities to monetize traffic.
They send commission payments monthly, subtracting all customer returns, taxes, shipping or handling fees, or duties.
Commission Rate 5%
Cookie Duration: 45 days
Join Yadav Jewelry Affiliate Program Now
Brian Gavin
Brian Gavin is one of the co-founders of WhiteFlash (also on this list).
He is a fifth-generation diamond cutter was raised at his family's factory.
Today, Brian Gavin owns his website and sells a variety of diamond jewelry including pendants, earrings, and bracelets. As well as, diamond engagement and marriage rings.
Post Affiliate Pro powers the company's jewelry affiliate program.
The brand pays up to 7% with a 30-day cookie period.
Payments are made by PayPal or bank wire. The minimum amount is $200 and goes out once a month. Payments are also sent 45 days after the close of the month.
Commission Rate: 7%
Cookie Duration: 30 days
Join Brian Gavin Affiliate Program Now
LilyFair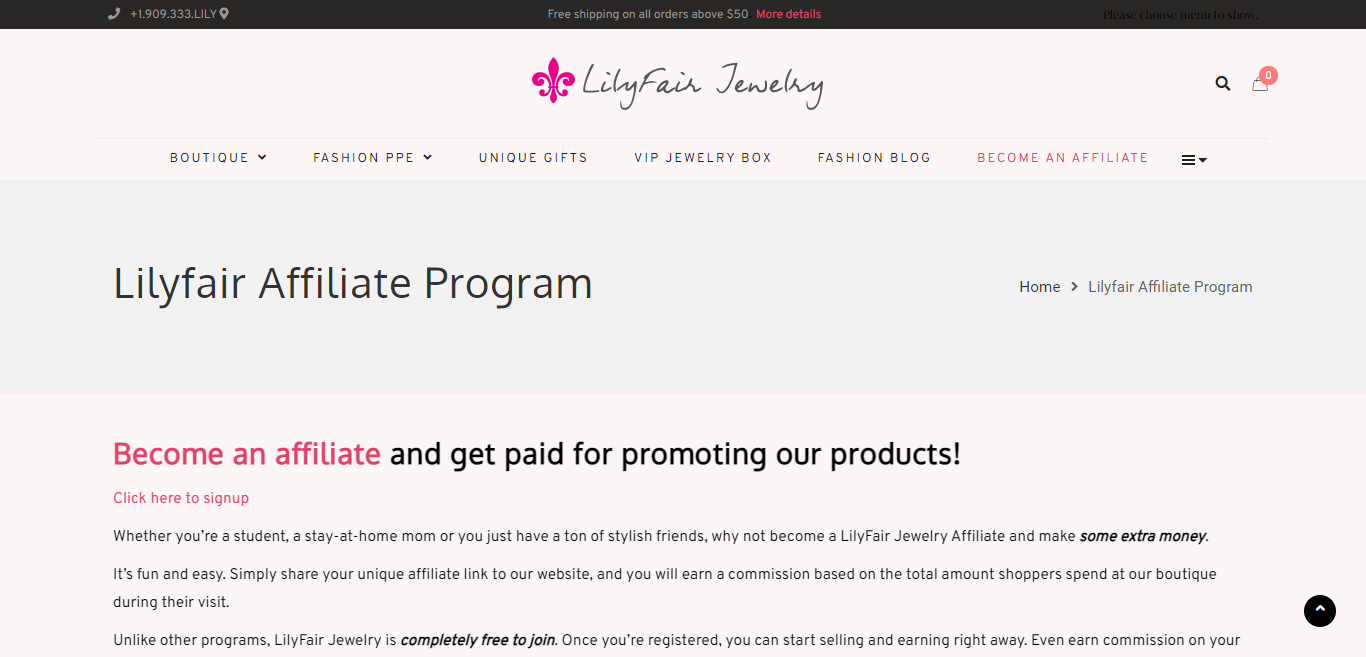 This brand been collaborating with China's top designers for over 20 years to create top-end jewelry inspired by luxury fashion principles.
According to its website, the brand won 146 industry awards and has served more than 5,000 customers.
The company sells direct to consumers and acts as a buyer to several well-known clients including celebrities, stores, and fashion labels.
LilyFair offers a generous 15% commission for every sale.
This makes it one of the top jewelry affiliate programs.
Every day the brand launches new products. So you have ample opportunity to refer your audience to LilyFair at any point.
Commission Rate: 15%
Cookie Duration: 30 days
Join LilyFiar Affiliate Program Now
Angara
This brand has more than 7000 jewelry products including necklaces, earrings, and engagement rings. Its specialty is precious gemstones like sapphires, diamonds, rubies, emeralds, and tanzanite.
Customers can shop from their extensive selection and create custom jewelry on the website.
The brand has impressive credentials. Angara received a top rating from the Better Business Bureau and has also been featured in many big-name publications like Newsweek, CNN, and Fox.
Angara's jewelry affiliate program pays up to 10% commission per sale with an average order amount of $1,100.
You can also earn more as an affiliate with regular bonuses and incentives.
Commission Rate: 10%
Cookie Duration: 30 days
Rockford Collection
This is the only brand on this list that focuses on wedding bands for men.
All Rockford Collection products are designed and developed by the jewelry brand at its New York studio. It ships to customers across the United States, Australia, Hong Kong, Dubai, Canada, and Europe.
Rockford's 80-piece collection includes rings made from 100% natural diamonds, platinum, and gold.
All purchases come standard with free shipping to the USA, complimentary gift packaging, and a lifetime warranty. There is also a 14-day cash return policy.
Rockford's affiliate program offers a 30-day cookie window, and a 10% commission rate, and holds its own against other jewelry affiliate programs.
Commission Rate: 10%
Cookie Duration: 30 days
Join Rockford Collection Affiliate Program Now
WhiteFlash
WhiteFlash claims to have the largest stock of AGS-ideal diamonds in the world. 
On their website, they sell diamonds of high quality, as well as designer jewelry from prestigious brands such as Verragio, Vatche, and Tacori.
The brand's jewelry affiliate program pays up to 5% for all purchases within a 30-day cookie period.
All payments are in US Dollars and are made once per month on the 15th.
Commission Rate: 5%
Cookie Duration: 30 days
Join WhiteFlash Affiliate Program Now
Jared
This brand claims that they offer 5 times the options of "ordinary jewelry shops".
They are connected to Signet Jewelers, one of the largest diamond retailers in the world. And have more than 200 stores throughout the United States, and sells on its website as well.
It's also home to over 5,000 jewelry products. And offers specialization in gifts, engagement rings, diamond watches, and bridal jewelry.
Jared's jewelry affiliate program offers a slightly stingy 2% rate and a 7-day cookie period.
Despite this, you can still make decent money here with an average order of $475 and regular money off voucher codes.
Commission Rate: 2%
Cookie Duration: 7 days
Join Jared Affiliate Program Now
Littman
Littman sells fine jewelry, from bridal jewelry and high-end engagement rings to watches from Seiko and Pulsar.
Their network includes more than 120 stores, which is a great feature to use in persuading customers to purchase.
Promoting Littman Jewelers will earn you a 7% commission for all sales within the 30-day cookie period.
This equates to a $25 average commission per sale based on the average order value.
The brand offers exclusive deals throughout the year including free shipping for orders above $139.
It also allows for advertisement via the Google Ad network and social media. You'll get a commission if someone views the ad and clicks on your affiliate link within 30 calendar days.
Commission Rate: 7%
Cookie Duration: 30 days
Join Littman Affiliate Program Now
PR JEWEL Affiliate Program
The PR Jewel affiliate program is a great option if you are looking for a high commission rate.
This company manufactures sterling silver jewelry. And they guarantee that all products they sell are 100% sterling silver.
You can visit their website to join the affiliate program. This program offers a 20% commission rate and a 30-day cookie period. A weekly newsletter will be sent to you that will assist with your promotions.
Commission Rate: 20%
Cookie Duration: 30 Days
Join PR Jewel Affiliate Program Now
Monica Vinader
This is an award-winning brand that offers a wide range of luxury jewelry, including stacking rings, friendship bracelets, and custom necklaces.
It is easy to see why Monica Vinader is so popular by the type of customers who patronize them, such as The Duchess Of Cambridge, Emma Watson, and Jennifer Lopez.
Affiliates will receive a 10% affiliate commission for sales that don't exceed 30 days since referral.
They will provide you with fantastic creatives, updated content, voucher codes, and newsletters. They also provide an HTML email that includes contact databases.
Commission Rate: 10%
Cookie Duration: 30 Days
Join Monica Vinader Affiliate Program Now
Takeaway
It's a wise move to think about the market and the demand before you sign up for a jewelry affiliate program.
For instance, you might consider promoting men's jewelry, since everyone else is going for female ornaments. As doing so will increase traffic to your site.
Don't forget about the popularity of the brand you intend to promote as well. This is because though you may not receive a lot of commission from a program, joining an affiliate program with a well-known brand can help you to make more sales through your affiliate marketing links.
Want to learn step-by-step how I built my Niche Site Empire up to a full-time income?
Yes! I Love to Learn
Learn How I Built My Niche Site Empire to a Full-time Income
How to Pick the Right Keywords at the START, and avoid the losers
How to Scale and Outsource 90% of the Work, Allowing Your Empire to GROW Without You
How to Build a Site That Gets REAL TRAFFIC FROM GOOGLE (every. single. day.)
Subscribe to the Niche Pursuits Newsletter delivered with value 3X per week