15 Best Clothing Affiliate Programs to Promote
When you buy something through one of the links on our site, we may earn an affiliate commission.
In search of the best clothing affiliate programs? We've got you covered.
Every affiliate marketer is in search of evergreen and recession-proof niches. And the clothing space provides just that.
Consumers are willing to spend cash on designer labels even during an economic crisis. This is one of Maslow's hierarchy of needs principles.
In the US clothing market, for example, while brick and mortar stores close down, online sales are predicted to rise from $481 billion to more than $600 billion by 2023.
Based on such numbers, now is a great time to look at the best clothing affiliate programs available to you from both affiliate networks and in-house offers.
Here is a list of the top clothing affiliate programs:
Goat Fashion
Goat Fashion is a brand for women who work hard and want to look stunning in the process. If you've ever watched a fashion show you'll notice a lot of the designs are impractical for real-life use.
This is the reason Jane Lewis launched Goat in 2001. To provide women the option of purchasing designer clothing that can be worn while having dinner or in the office.
Her items have made a huge impact in the market and are worn by literally everyone from female members of the British Royal family to busy working moms running their businesses. Even celebrities as well.
Her clothing range displays classic British fashion products taken up a notch. The brand is based in the United Kingdom. However, they ship to the United States so international affiliates won't have any problems.
Goat pays affiliate marketers 8% commission per affiliate sale sent through an affiliate link placed on a website or blog.
This is above the average affiliate commission rate in the fashion industry.
Cookie Duration: 30 days
Commission: 8%
Network: FlexOffers
Join Goat Fashion Affiliate Program
Hugo Boss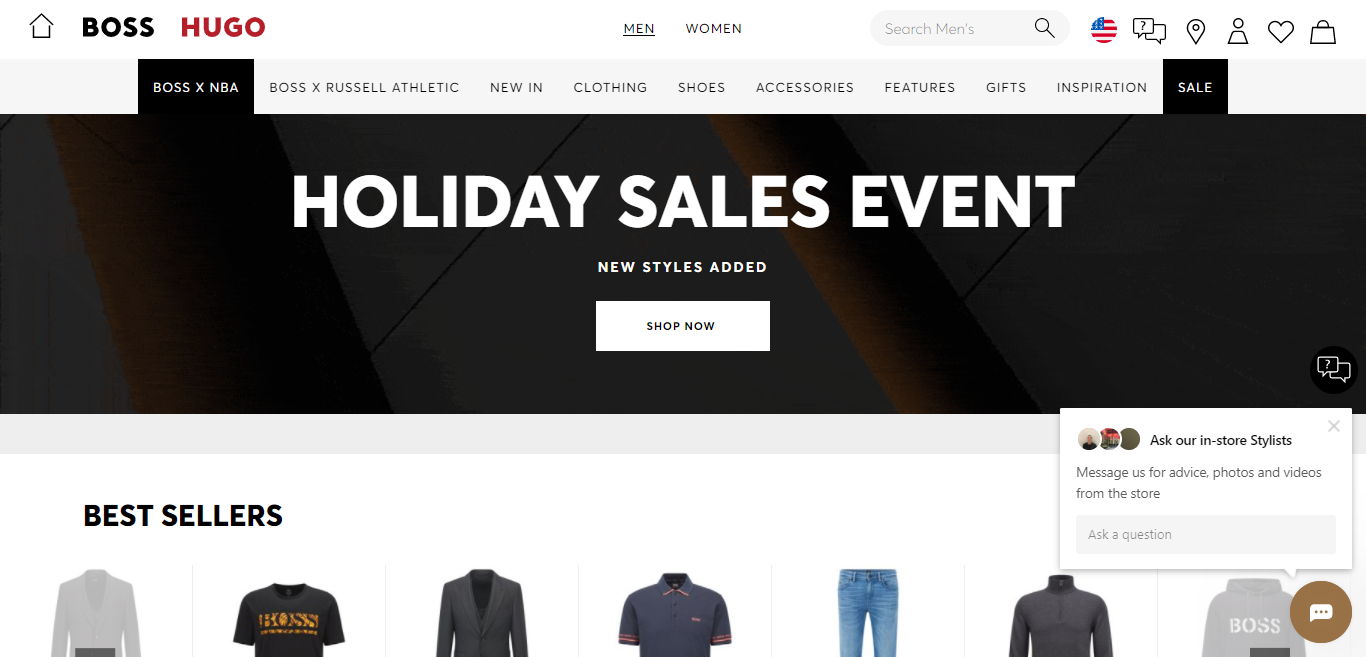 Hugo Boss is one of the leading brands in men's fashion since they launched their first standardized suits in 1960.
The company, however, has been in the business of cloth production since the 1920s. Since then, they've grown their product range to include everything from motorcycle helmets to basic menswear and watches.
They also have the Boss Womenswear clothing line. So they have an appeal to every gender.
The products appeal to a particular market – consumers who don't think twice about $100 for a T-shirt or $250 for a pair of track pants.
This makes their affiliate program great for a fashion blogger looking to generate huge income.
As an affiliate marketer with their program, your basic commission rate is 8% but they can push that up to 12% per referred sale if your blog sends a lot of traffic to their products.
This is one of the most profitable and best clothing affiliate programs in this roundup.
Cookie Duration: 30 days
Commission: 8 to 12%
Network: DCM 
Join Hugo Boss Affiliate Program
Jonas Studios
Jonas Studio has helped men establish their unique style since 1987. But differently.
They sell a range of handmade clothing accessories such as tie bars, wallets, chains, necklaces, bracelets, and pins manufactured in their New York studio.
Jonas studio understands their target audience and that can pay off for you as their affiliate.
Every one of their handmade pieces comes with an average price tag of about $250. And you receive a 2% commission rate for every referral you send to them.
This doesn't sound very compelling until you know that they have a 22% conversion rate for their products. So you can be sure of making more sales to cover up for the low commission.
Cookie Duration: 30 days
Commission: 2%
Network: AWIN
Join Jonas Studio Affiliate Program
RewardStyle
RewardStyle is unique with regard to affiliate marketing programs. Or spoken in their words:
They also give affiliates access to promote more than 5,000 retailers. But without the stress of applying to numerous clothing affiliate programs and dealing with multiple affiliate managers.
So you'll be able to work with brands like Kendra Scott, Saks Fifth Avenue, Macy's, Supergoop, eBay, Conair, etc.
With access to 5,000 brands, there is no easy way to break down how much you can earn from each one.
However, their top offers pay up to 20% commission for all sales generated by affiliate marketers.
So it's just a case of matching their premium offers with what your audience is likely to purchase. The only downside is that it's difficult to get approved if you don't have a large audience on social media.
Cookie Duration: Varies
Commission: Varies
Network: 
Join RewardStyle Affiliate Program
ShopStyle Collective
ShopStyle Collective is another brand just like RewardStyle. It is an affiliate program that targets influencers but operates a lot more like regular affiliate networks.
They represent thousands of brands offering everything from beauty products to baby clothes rather than just their products (and you may also want to check out our list of the best baby products affiliate programs).
They accept bloggers as long as you have an Instagram Creator account. With regards to the commission you get per sale, it varies.
Some of their products pay as small as 7% but the premium offers get up to 20%.
They also seem a lot less demanding than RewardStyle with regards to how much traffic you have currently.
Cookie Duration: Varies
Commission: 20%
Network: Private
Join ShopStyle Collective
NewChic
This brand came on the online shopping scene in 2015.
They have a goal of providing consumers with premium but affordable fashion wear. Each with a unique design.
NewChic also caters to plus-size customers. So everyone has something that suits them.
They also offer a broad range of accessories ranging from bags and shoes to hats and jewelry. As an affiliate marketer working with NewChic you'll be working with a tiered commission structure.
Your baseline is 18% commission for all sales referred via your affiliate links. That said, volume affiliates can go home with 50% in affiliate commissions instead.
This is the highest payout for any of the clothing affiliate programs listed in this roundup.
Cookie Length: 30 days
Commission: Up to 50%
Network: Private
Join NewChic Affiliate Program
Zappos
Zappos got popular selling shoes online and are one of the oldest and best examples of successful eCommerce businesses that took the right steps at the right time.
You don't have to explain who Zappos is as most online shoppers already know. Over the years, they've grown to sell a full range of clothing accessories and clothing, covering 1500 unique brands.
Their affiliate program offers a 7% commission per sale and has some powerful conversion metrics alongside that.
Plus, with the already-established popularity, it'll be a lot easier to sell more of their products.
Cookie Duration: 14 days
Commission: 7%
Network: Private
Join Zappos Affiliate Program
Worth Collection
This fashion brand has sold women's luxury clothing since 1991. The business comprises 2 primary brands: Worth New York and W by Worth.
Most other clothing lines are targeted at anyone with the cash to purchase but the Worth Collection targets the contemporary woman who wants to look effortlessly confident and stylish.
Basically, they target women that adore clothes manufactured with the finest fabrics.
Their affiliate program provides a commission rate of 25% per referred sale which is the second-highest of all the clothing affiliate programs featured on this list.
Plus, they offer lifetime cookies so you don't have to bother about a conversion within a specific time frame.
Cookie Duration: Lifetime Cookie
Commission: 25%
Network: Shareasale
Join Worth Affiliate Program
Browns Fashion
Browns Fashion's brand story goes way back to 1970. This is when the Burstein's purchased the company from Sir William Pigot Brown.
In subsequent years, they expanded the business to numerous locations within London. They are also one of the first fashion stores to sell Calvin Klein products in the United Kingdom.
Today, they offer numerous brands online such as Gucci, Saint Laurent, Versace, Moncler, and much more. These designer brands are also available in both the women's and men's collections.
As an affiliate marketer, with the brand, you will get a 7% commission for every product your visitors buy through your affiliate text link.
They also have a dedicated affiliate team that will help you get the best out of their affiliate marketing program.
Cookie Duration: 30 days
Commission: 7%
Network: Private
Join Browns Fashion Affiliate Program
Daem Watches
The clothing niche isn't just about the outfits that consumers wear but the accessories that go along with it. Daem Watches is a great example of this. Every Daem watch is built in Brooklyn, New York, using the cultural narratives around them for inspiration.
However, the actual crafting of their watches is done by a master in the craft located in Switzerland. Their watches aren't cheap, with prices starting at $300 and going up to $1200.
You receive a 20% commission for every watch you sell. And you can comfortably get $80 per sale.
Cookie Duration: 45 days
Commission: 20% per sale
Network: Shareasale
Join Daem Watches Affiliate Program
Heiress Beverly Hills
Heiress Beverly Hills was conceived and launched by Hailey Weiner, a 21-year-old entrepreneur. The brand is all about producing high-quality clothing that fits consumers perfectly.
They offer a smoking hot affiliate marketing program as their average order value sits at $200 with an EPC of $95 after a couple of months in the business.
As an affiliate, you'll earn a 10% commission for any of the items you sell.
Cookie Duration: 30 days
Commission: 10%
Network: Private
Join Heiress Beverly Hills Affiliate Program
Urban Outfitters
Urban Outfitters is an American institution. There's even an acronym for it – UO. You know your brand is successful when it has its acronym.
From starting as a small store in Pennsylvania, they've grown to 200 stores operating in Europe and North America. All of which sell a broad range of women's and men's clothing.
Their clothes are very affordable but not the kind of cheap knockoffs you'd see on certain eCommerce stores.
UO also provides AfterPay so your audience can buy now and pay later. Their affiliate program is available strictly through the Rakuten Affiliate Network, so you'll need to create an account there.
They offer a 2% commission, which is quite low but you can ride on their brand name to make more sales.
Cookie Duration: 30 days
Commission: 2%
Network: Rakuten
Join Urban Outfitters Affiliate Program
Pretty Little Thing
This is a UK-based clothing brand that was launched in 2012. They began by selling just accessories but by 2015 the brand launched a clothing line. They now have their products in the United States, France, and Australia.
Their clothing products are a mix of those that satisfy the current trends and those worn and inspired by social media influencers and celebrities.
As an affiliate with the brand, you'll get up to 10% commission for each first referred sale and a 5% commission per sale to existing customers.
So you can make recurring income with the brand.
Cookies Duration: 30 days
Commission: 10% for the first sale and 5% on recurring sales.
Network: Private
Join Pretty Little Thing Affiliate Program
TJMaxx
TJ Maxx has a simple brand ideology – sell the clothing brands consumers adore but at 60% off the typical retail cost.
They achieve this by purchasing manufacturer's closeouts, seasonal clearances, and overstocks.
If you choose to promote their products as an affiliate you'll receive a 4% commission on all sales generated from your traffic.
This is excluding gift cards as you get 0 commission per sale for them.
Cookie Duration: 30 days
Commission: 4% per sale
Network: FlexOffers
Join TJ Maxx Affiliate Program
Shein
Shein provides high-quality but affordable clothing to consumers in more than 220 countries (but is Shein legit?).
They offer a broad range of shoes, clothing, and clothing accessories for women, men, and children.
Their affiliate program pays marketers a 5% commission per referred sale.
Cookie Duration: 30 days
Commission: 5% per sale
Network: Private
Join Shein Affiliate Program
Get Started
As we wrap up this roundup of clothing affiliate programs, there are a couple of brands you probably expected to see but didn't. That's for good reason.
For example, Zara. It'd be great to promote their program but they don't have one. Also, H&M has a fashion affiliate program, however, their conversion metrics are terrible.
For these reasons, such brands didn't make the list. That said, all that's left is for you to pick a brand from this list that appeals to your audience and offers a good commission and tracking duration.
There are also MLM brands like LuLaRoe that you may consider making money promoting clothes. But before you do, make sure to check out our guide on how to make money with LuLaRoe.
Want to learn step-by-step how I built my Niche Site Empire up to a full-time income?
Yes! I Love to Learn
Learn How I Built My Niche Site Empire to a Full-time Income
How to Pick the Right Keywords at the START, and avoid the losers
How to Scale and Outsource 90% of the Work, Allowing Your Empire to GROW Without You
How to Build a Site That Gets REAL TRAFFIC FROM GOOGLE (every. single. day.)
Subscribe to the Niche Pursuits Newsletter delivered with value 3X per week