How To Make An Amazon Storefront For Your Business
When you buy something through one of the links on our site, we may earn an affiliate commission.
It's never been easier to start selling products than it is today. With the power of Amazon, anyone can set up a storefront and start selling products in no time at all. Having an Amazon Storefront will help your brand stand out from the competition and establish trust with potential customers. It allows you to bring in brand elements that will make an impression on shoppers and lead to more engagement.
This guide covers everything you need to know about opening an Amazon Store so that you can take your seller profile to the next level.
So let's get started!
What Exactly is an Amazon Storefront?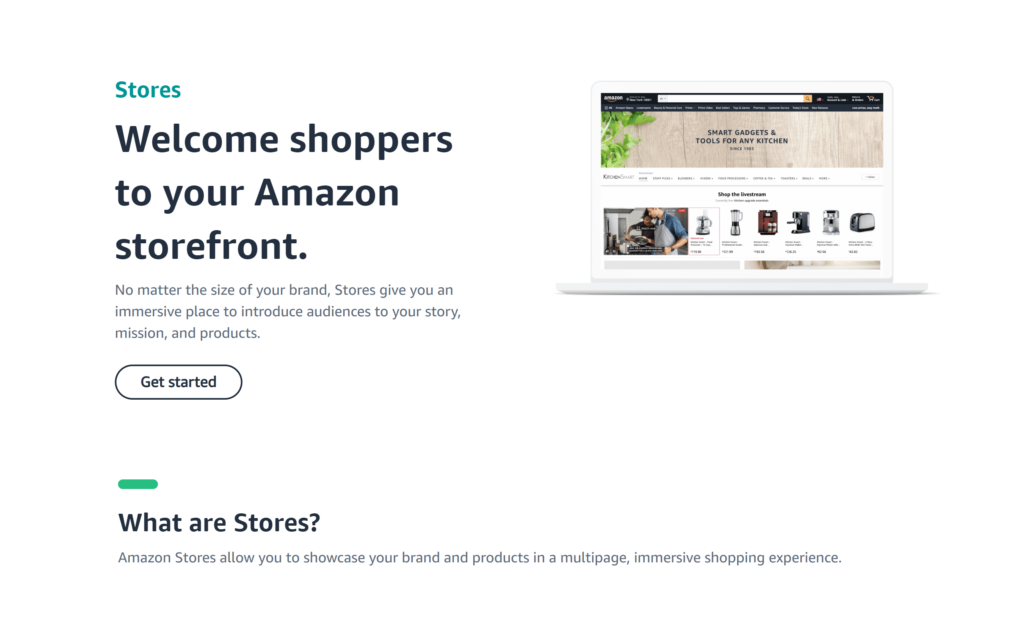 An Amazon Storefront is an online retail shop on the Amazon platform where you can showcase, promote and sell your products. It allows businesses to reach a wider audience and capitalize on Amazon's huge customer base.
Brand owners can choose and customize pre-designed templates to craft the look of their online store. You can also create multiple pages for all products that fall under your brand name and provide a worthwhile brand experience to customers with product-relevant photos, videos, and text.
Amazon equips sellers with complete guidance on how to sell products and create successful promotional campaigns. It provides access to store insights at zero cost to the sellers. The results can be used by brands to generate ideas and increase blog traffic to their store.
Do I Qualify for an Amazon Storefront?
Amazon gives everyone the equal opportunity to sell goods on its platform. However, if you want to gain access to the numerous benefits of Amazon Storefront you would need to enroll your brand in the Amazon Brand Registry.
Anyone with a registered trademark business can apply to register in the brand registry. So if your business isn't registered yet, it is a wise decision to register it with the Intellectual Property Office. The brand-registered sellers can reap the benefits of having their own Amazon store.
How To Make An Amazon Storefront in 9 Easy Steps
1. Set Up a Professional Seller Account By Joining the Amazon Brand Registry
As mentioned above, enrolling in the Amazon Brand Registry Program is a prerequisite for creating an Amazon store.
This program helps to protect your brand against any counterfeit products. It gives you access to tools to monitor any infringements against your brand and get access to "A+ content". Registered brand owners can use this feature to improve their product listings with formatted text, images, and infographics.
After the application is sent, Amazon will review whether your brand meets all the terms and conditions to qualify as a member of the Amazon brand registry program. This can take anywhere between 24 hours to a month.
To ensure a quick and positive response, ensure you have fulfilled all the requirements beforehand to avoid unnecessary setbacks. Once the application is accepted, Amazon will send you a verification code to enroll in the program.
2. Select Your Brand and Create the Store

Now that your Professional seller account is ready, let's begin to create your Amazon store.
First, log into your Amazon Seller Central Account. From the menu displayed on the home page, choose the 'Stores' tab and click on 'Manage Stores'.
As you have already enrolled in the brand registry program your brand will appear in the pop-up box.
Choose your brand and click on 'Edit Store'. This will open the store builder, where you can design and customize your store.
3. Add Your Brand's Logo to the Store Builder
Once your store is created you can begin to add personalized features to your Storefront.
In the 'Store Builder' main menu:
Type in a Brand Display name. This name should be a reflection of how consumers will remember the brand by. Do not use words like 'Registered' or 'Limited' here. Instead, choose a short, memorable name.
Next, input the Brand Description. This should be a straightforward statement that describes the brand and its mission in a few words.
Choose a Brand Logo. Amazon provides special guidelines on the size of images. For your logo upload an image that has a specification of 400x400 pixels. Ensure your logo is high-resolution and conveys your brand's message through its design elements.
When you're done, click on "next".
4. Choose a Storefront Layout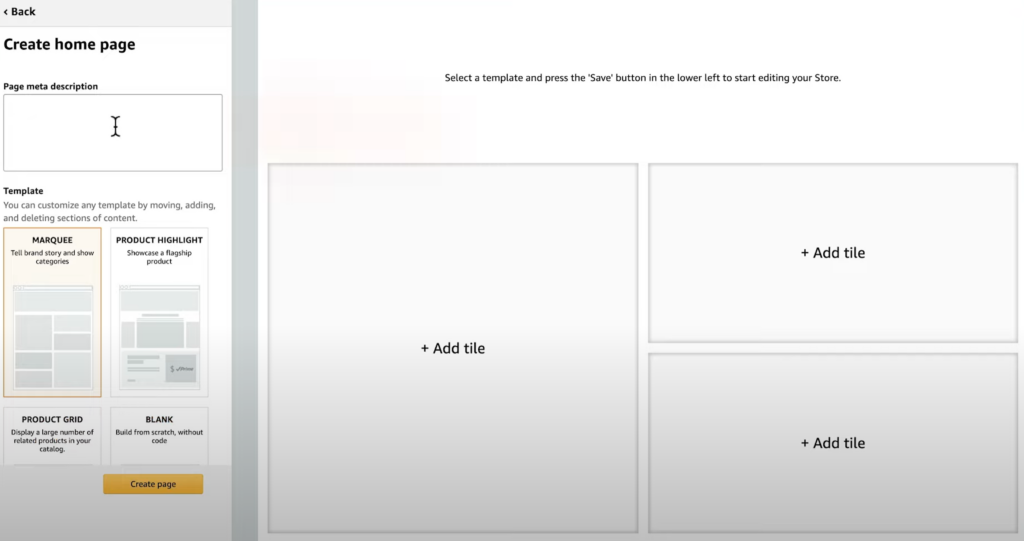 Amazon has made designing easy with the help of pre-designed templates.
First, write a meta description for your website. This is essential as Google algorithm picks websites with well-written, optimized text that accurately describes the product line. Pay special attention to spelling and grammar as Amazon will also review your application later.
Now choose the layout for your page from 4 options;
Marquee: Display multiple products with featured images. Typically useful as a home page template for your store.
Product highlight: A design template suited for category pages to highlight certain features of your product line.
Product grid: List multiple products of your product line in a grid format with respective prices and product images.
Blank: Craft a template that presents your products in an eye-catching way.
Click on 'Save' once you have selected your template.
5. Use the Drag and Drop Editor to Customize Your Store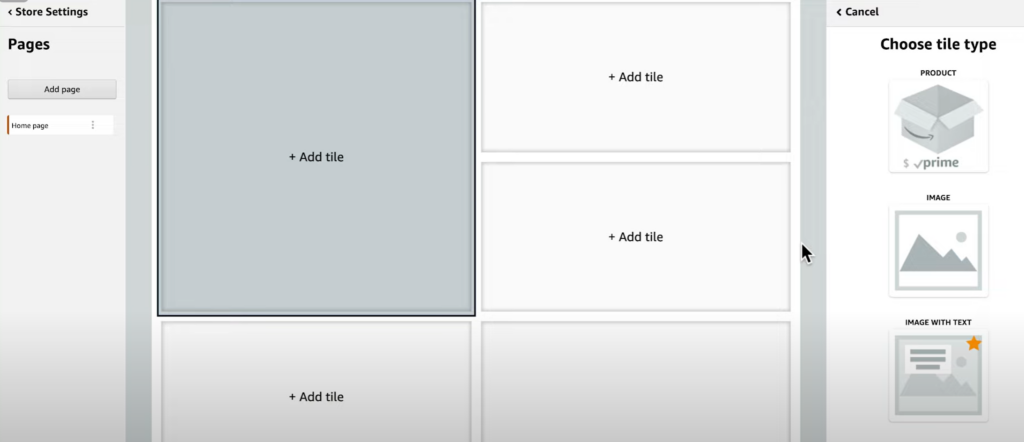 After you have chosen your desired template, you can move on to building your Amazon store.
In the store builder, you will see preset tiles according to your chosen layout. Amazon uses tiles as the building blocks for creating your store. You can drag and drop these to customize your page and theme that best suits your brand.
The tiles can hold text, images, videos, and links. You can use the feature of adding links to redirect your customers to your product listings or your social media accounts.
You can also add a hero image on the top of your store page. This is just like a cover photo and summarises what your brand represents. A hero image can give details on how the products are used in the real world or show an eye-catching visual of your logo.
If you don't know much about designing, you can hire a freelance Amazon Store builder to assist you with well-formatted and structured layouts. You can find someone on platforms such as Fiverr or Upwork who can help you design the perfect store.
6. Add Products from Your Amazon Seller Account
Your store won't really shine until you add the most important element, your product listings. To add products to your page tiles you must have them pre-added to your Amazon Seller Account.
Then click on the template tile and choose 'Product'. You can search for your product by keyword or ASIN. Add the chosen product and the tile will display the product image and price.
If at any time you feel the need to adjust the position of your product tiles, you can simply click on the tile and select 'Replace Product'.
7. Add Additional Pages to Your Amazon Store
Just like your real-life store can have floors or levels to categorize products, your Amazon store can have additional pages or subpages to provide a better navigation experience to your consumers.
To create an additional page, choose 'Add Page' from the left-hand menu. You need to add a meta description for this page and choose the desired store layout. Once done, click on 'Create Page'.
You can further sub-categorize your page by adding more pages under it. One way to do this is to create a page for 'New Releases' or 'Best Selling Items' under a product line. To create a subpage, go to the product page and choose 'Add Page' from the left-hand menu.
Return to and follow the steps in point 4 to complete creating your subpage.
8. Preview Your Store and Make Any Changes
You can preview your store at any point by clicking on the 'Preview' button on the screen's top right corner. This will give you a more realistic view of how it will look when published.
Before clicking on the publish button, make sure to thoroughly check your newly created store for any errors that will affect user experience. Look for any misaligned tiles, broken links, incorrect information, typos, or any other issues.
You want your customers to have a pleasurable and memorable experience so they visit your store again, whether on a desktop or mobile interface. To ensure this happens, review your online store and check that all the product listings and links are working. You can also get advice from your family and friends and apply any necessary changes.
9. Submit Your Store For Review and Go Live
When you are happy with the look and feel of your Amazon store, click on the 'Submit for Publishing' button in the right-hand corner of your Store Builder window.
Amazon usually takes around 72 hours to review your store. Make sure to check your emails for any updates from Amazon regularly. Once you receive confirmation that your store is live, you can go ahead and share it with the world.
Congratulations! You just created an amazing Amazon store that will help to increase product visibility and drive more sales to your business.
Benefits of Creating an Amazon Storefront For Your Business
Amazon values its sellers as they bring in a major part of its sales revenue. In 2021 alone, third-party sellers generated annual revenue of 103.4 billion dollars, an increase of 23 billion dollars from the previous year. In addition to having its online store, Amazon gives brand-registered sellers the following benefits to increase potential revenue:
A sleek and modern design: Similar to how brand owners can custom-design stores in the real world. Amazon Sellers can choose to decorate and personalize the outlook and theme of their online store to narrate their brand story. The use of drag and drop approach with tiles makes everything appear symmetrical and builds on the modern and minimalistic look.
Gain access to A+ content: Registered brands have the tools to set up their store using infographics, photos, and videos. This is a visually pleasing strategy to market your product listings and also showcase your unique selling points to gain more customers.
No competitor ads on your Amazon store: More than 6 million third-party sellers sell goods on Amazon. Buyers may choose to open your listing and redirect to a competitor product in search of better prices. This is a nightmare for sellers, especially when they are paying for advertising on the platform. Your Amazon store is a dedicated place for only your products. You can display your product listings without worrying about competitor ads popping up to prospective buyers.
Track traffic metrics right inside Amazon: You can use Amazon storefront analytics to understand the effectiveness of your store pages. The store insights give an overview of the daily number of visitors, views, and sales your pages are getting. You can also connect your external advertising sources to your Amazon store and measure how successfully they can divert traffic to your store.
You can add multiple pages and categories to your store: Customers prefer to browse through uncomplicated websites and will instantly leave if they can't find what they came to search for. To help with this Amazon allows brands to create a multi-page store. Customers can navigate through the different categories and learn more about your brand.
Benefits over a traditional store: Online stores help save extra rent and electricity costs, which you normally pay with a real store. Also, as Amazon stores function 24 hours a day, you can expect to receive an order anytime, day or night.
Rank in Google Search: Amazon allows sellers to reach millions of customers. It assigns every store with a unique website or storefront URL as "https://www.amazon.com/brandname/". When potential customers search for a product on Google, they can find your Amazon store listing in search results. A well-structured meta description will urge customers to click on the store's landing page and ultimately turn into actual customers as they browse through your store.
How to Sell the Most on Your Amazon Storefront
Creating an amazon storefront is the first step in establishing your foothold in this crowded market. Next, you have to use different tactics to increase your visibility and generate sales in your store. Here are some ways that you can make this happen and increase your reach and sales as an Amazon FBA associate:
1. Use Amazon Ads to Increase Views and Sales
You must have come across Sponsored Ads while searching for a product on Amazon. A study by Jungle Scout found that around 75% of Amazon sellers use some type of pay-per-click advertising for their businesses. Marketing campaigns will help drive traffic to your store as they are strategically positioned on the search results page.
You can either start your advertising campaign with the automatic keyword list provided by Amazon or track marketing promotions to find which keywords work best for you. The sponsored ads will produce more clicks and views for your store and help build a strong customer base.
2. Try Out Amazon or Jungle Scout's Brand Metrics Tool
Amazon provides sellers with a free Brand Metrics tool to analyze how effectively they are using the platform to reach their target audience. This analytics tool gives a keyword report on the search terms used by consumers and those used by your competitors. You can also see your top keywords that are materializing toward sales.
This marketing tool is essential for formulating a strategy that can differentiate you from your competitors. Understanding consumer behavior and how certain search terms will convert to sales will help devise a professional selling plan.
If you want to take your metrics a step deeper, you can also use Jungle Scout, a powerful Amazon intelligence and research tool. This software provides an array of features that will help you discover new product opportunities, optimize your listings for more views, monitor sales trends, and much more.
3. Offer Amazing Customer Service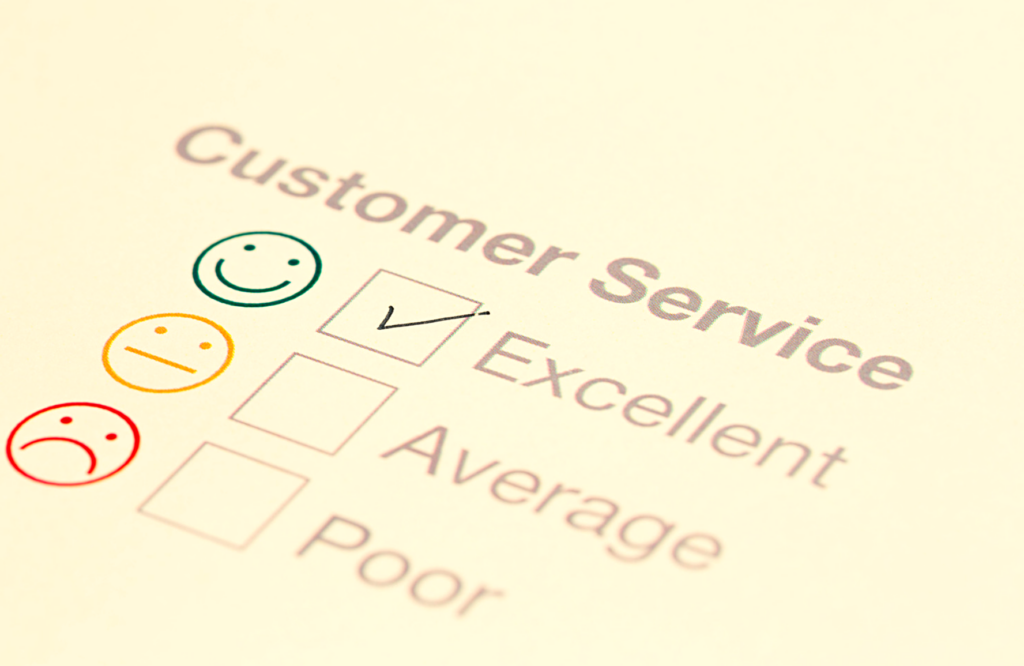 Positive customer feedback is the cornerstone of a thriving business. Maintaining healthy relations with customers can help generate a high rating for your products and drive more traffic to your store.
Customer reviews help increase the visibility of your e-commerce store. Sellers can send follow-up emails to customers to ask for their feedback. Positive customer reviews will undoubtedly add to the credentials of your store and any negative reviews should be accepted as constructive criticism.
Sellers can also offer dissatisfied customers a quick refund and replacement product to maintain a healthy customer relationship. All these communications should be followed in line with Amazon guidelines to avoid any policy violations.
Providing complete and detailed answers to customer questions is another way to boost sales. Customers feel valued when business owners take time out of their busy routines to answer their queries. This solidifies their trust, can induce positive word of mouth, and ultimately generate revenue.
4. Promote Your Amazon Store On and Off the Site
Amazon forbids reviews in return for free and discounted products, but sellers can take advantage of site-wide promotional campaigns. Black Friday, Boxing day, Christmas, Prime Day, and other Amazon events are all ways to promote your store on-site.
A higher number of customers are willing to try new products when offered special discounts and promotions. These customers if left satisfied can leave a positive review and return to your store to order again.
Your social media channels are also reliable for driving traffic toward your store. Use channels that you are comfortable handling and create interactive posts that let consumers know about your Amazon storefront. You can also offer special coupons to consumers who land on your store via social media, as your main goal is to have higher sales.
You can also choose to collaborate with influencers. Influencers have the voice and power to divert the public to your Amazon store and in exchange, receive commission via affiliate marketing. Every product sold through the affiliate's link will give them a set percentage share of revenue and help your business to gain popularity.
5. Craft a Compelling Brand Story
Customers value brands that connect with them on an emotional level. They are interested to know whether the product shares the same ideology, values, and mindset and if it is honest towards the brand mission.
A brand story is the overall experience customers get at the store and something by which they can remember the store. Amazon sellers should use this opportunity to craft content by placing themselves in the position of their customers.
Your store should perfectly emanate the core brand values on which the brand stands to win over customers. Supporting a charitable organization, going green by using recyclable products, or backing other world issues are all ways to gain consumer trust.
The Bottom Line: How To Make An Amazon Storefront For Your Business
As an online seller, it can take a lot of time and money to build out an eCommerce store on other, more costly website builders. An Amazon Storefront helps you to create an Amazon store that looks like a professional account that buyers can trust.
Learning to make an Amazon storefront for your business may not be perfect on the first try. But by taking time to tweak and optimize the Amazon store over time, you'll better understand the platform and see results in no time.
Want to learn step-by-step how I built my Niche Site Empire up to a full-time income?
Yes! I Love to Learn
Learn How I Built My Niche Site Empire to a Full-time Income
How to Pick the Right Keywords at the START, and avoid the losers
How to Scale and Outsource 90% of the Work, Allowing Your Empire to GROW Without You
How to Build a Site That Gets REAL TRAFFIC FROM GOOGLE (every. single. day.)
Subscribe to the Niche Pursuits Newsletter delivered with value 3X per week