How to Sell Art Online and Make Money on Autopilot
When you buy something through one of the links on our site, we may earn an affiliate commission.
If you're an independent artist, you've probably grown up hearing stories of struggling artists. That might have been true in the days before the internet, but the truth is that it has never been easier for artists to make a living than it is today.
You just need to know how.
There are so many different options when it comes to making a living with your art, and many of them are either passive or semi-passive. This means that you can create a digital product once, and continue to earn an income every month from the same item.
Keep reading to find out how to sell art online and make money.
How to Sell Art Online and Make Money
If you want to know how to sell art online and make money, there are lots of great options on this list! You can try one of these ideas or choose several (or all!) of them to develop multiple income streams.
Sell Your Art on Fine Art America
One of the simplest ways to sell your artwork online is to have someone else do it for you. Fine Art America claims to be the largest art website in the world, with the fastest-growing community of creators.
Fine Art America is a print-on-demand service, which means that you can upload your artwork, choose what products you would like your art to feature on, and then it will be added to the marketplace.
Each time a customer buys one of your products, Fine Art America will print it and ship it to the customer. This means you make money without needing to do anything after uploading.
You can sell:
…And more! You can even license your artwork for TV through the platform!
There are multiple ways of selling art online through the platform, too. These include using their API or Shopify to sell on your own website.
In addition to this, Fine Art America offers a selection of marketing tools to help you promote your artwork. This includes auto-promote on social media and email creation.
Membership is free and gives you most of the tools you will need to start selling art online. If you want to sell on your own website as well as access some of their marketing tools, you will need to pay a small fee of $30 per year.
You're free to set your own pricing, and Fine Art America will add a 30% commission on top, rather than taking it out of your revenue.
Make Money Selling NFTs
There's no doubt that NFTs are the hot new thing at the moment. Even famous auction house Christie's has held an NFT auction recently!
NFTs are an excellent way for artists to make money, even if you have no knowledge of cryptocurrency to start with.
NFTs are a great option if you already have a large online following that you can promote them to. However, if not, you can build this over time.
You need to be willing to learn and create artwork that people love and want to buy. You can get an idea of what will sell by researching the kinds of NFTs and topics that are popular at the moment.
However, it's important to make sure your artwork is still unique.
Once you've created your piece, you will need to mint it. You'll need a payment wallet; then, you need to choose the NFT platform you want to sell on.
After that, just follow the steps to create your NFT and set up an auction to sell your art. Be warned, though; this isn't a cheap option.
You'll need to pay a fee to create the listing and another fee to mint your NFT. After that, you will need to pay the commission if it sells, plus transaction and transfer fees.
NFTs have made people a lot of money, but you can also spend a lot of money along the way.
If you do your research, you're happy to pay the fees to create your NFT, and you're happy to spend time marketing your artwork; this could be a great way of making money selling art online (but also, don't miss our guide on how to make and sell art prints). It just won't happen overnight.
For more inspiration, check out our list of 9 options for how to make money with an NFT.
Create Digital Art and Sell it on Creative Market
If you enjoy graphic design, then Creative Market is a great place for you to sell your work. Creative Market is an online marketplace for design graphics created by members of the community.
With Creative Market, you can sell almost any digital product. This can include WordPress themes, vector graphics, backgrounds, textures, fonts, or even icons. There are so many different options for what you could sell.
If you specialize in creative assets, then signing up to a really niche marketplace like this is a great option for selling art online.
Not anyone can just open a shop on Creative Market, though. There is a strict vetting process that ensures that all designers are high-quality and sell their own designs. This might mean that it takes you a few attempts to be approved.
However, once you are, you will be part of an active community that is there specifically to buy your niche of products.
Reviews of Creative Market are excellent, both from the side of the seller and the buyer. While buyers are able to shop quality-checked designers, sellers are treated to an easy-to-use interface that makes it easy to set up and sell your products with very little experience.
Most sellers don't spend any money on marketing but still see sales.
The only downside of Creative Market is that they take a huge 40% cut of your sale when you sell your art. This means if you sold $100 worth of product, you would only get to keep $60.
If you were able to sell in your own shop, you would make more on each item. However, Creative Market is worth the expense because they come with a built-in customer base.
Sell Original Art Online on Saatchi Art
Saatchi Art is an online art marketplace. The difference with Saatchi compared to other online art marketplaces is that it's not a print-on-demand website.
Saatchi is one of the only websites where you are able to sell your original artwork (and prints) direct to buyers and art collectors.
Saatchi Art has over 1.6 million monthly visits and over a million social media followers. They represent artists in over 100 countries and have sold art to collectors in more than 80 countries.
To get started selling on Saatchi, you need to create an account and then provide photos and descriptions of your work. After that, you sit back and wait until someone comes across your art piece on the site and wants to buy it.
Saatchi pays for your shipping, but you will need to pay for the packing materials. There are no fees for listing your artwork, and Saatchi Art has a non-exclusive policy.
This means you can upload the same artwork to multiple outlets, giving you the opportunity to reach a wider audience.
The only drawback with Saatchi Art is the huge fee they take on every sale–a shocking 35%!
In addition to selling artwork you've previously created, you can work on commission projects. So, if a customer likes your artwork, you could end up being paid to create something bespoke.
You can sell digital or physical artworks on the Saatchi Art website (but don't miss our full curated list of places to sell digital art commissions). Despite the high fees, the "set it and forget it" nature of being able to upload your artwork and leave it until you get an email that you've sold something makes it worth adding your work to the website.
Remember, this method of selling art online can still be done alongside other passive income streams, such as print-on-demand sites.
Sell art on Society6 and Redbubble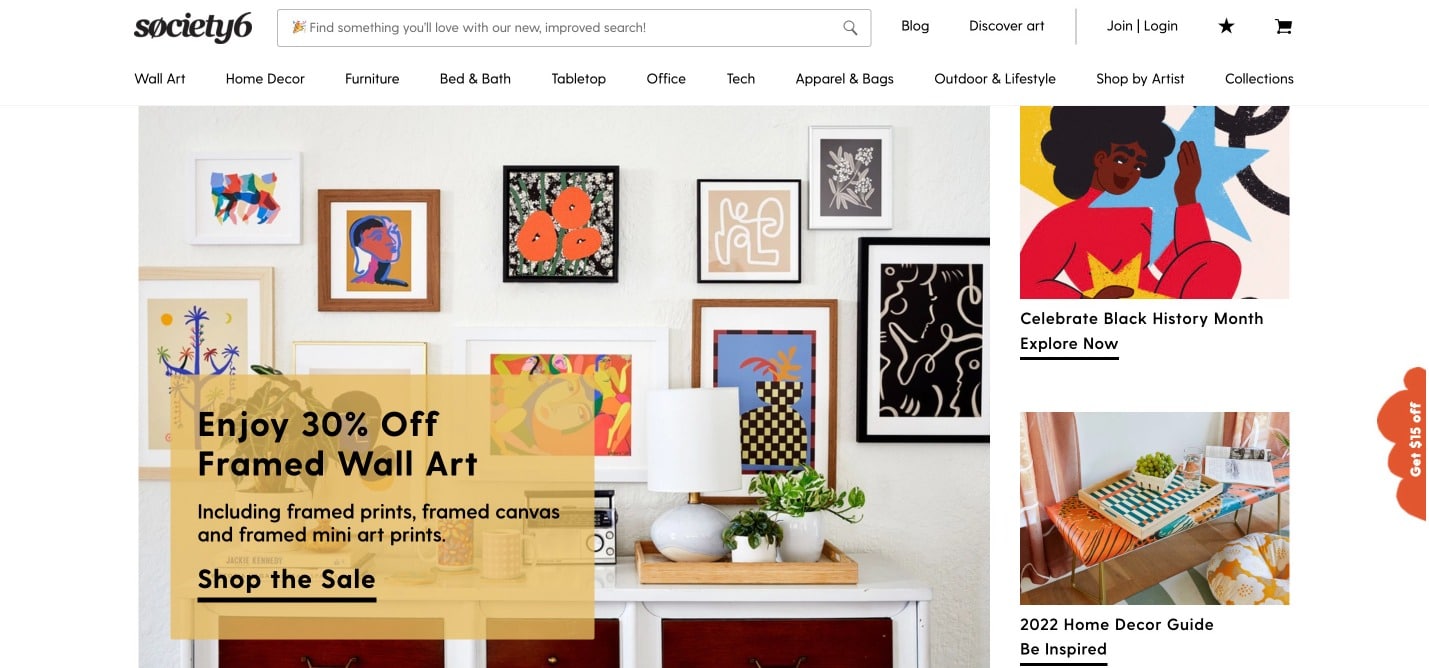 Society6 and Redbubble are two incredibly popular print-on-demand websites. Both sites give you the opportunity to sell your artwork on just about any product that you could think of.
They are both very well known and have millions of customers too, giving you access to a ready-made audience for selling art online.
It's worth listing your designs on both websites to maximize exposure, as each website has its own area of expertise.
Society6 is a print-on-demand lifestyle shop that specializes in home decor.
This means that you can sell your artwork as:
Art prints
Phone cases
Blankets
Pillows
Shower curtains
Wall murals
…Just to name a few items!
Society6 is more about elegant designs, so you won't usually find the meme culture artwork that's popular on Redbubble.
There is no monthly fee to sell on Society6. It's completely free to use, and it's super easy to set up.
Society6 will pay you a minimum of 10% of the retail price of any items you sell, but you can set this higher by adjusting the default markup.
Redbubble is one of the most popular print-on-demand websites in the world, and if you're up to date on internet culture you have the potential to make a huge amount of money from the platform.
Redbubble is known as the internet meme culture website (and there are other great websites for memes as well).
You'll often see designs popping up that relate to news or memes, and they sell very well.
You can upload any design as long as it isn't hateful to protected groups or contains copyrighted content. You can automatically sell one design on all products, which means you can upload once and have over 60 items on sale.
The difference with Redbubble is that they guide the price of items and pay you a commission for using your design (and we made a breakdown to see just how legit Redbubble is). You can get anywhere from 10% to 30% commission, depending on what you set your markup as.
Start a Print-on-Demand Business with Amazon
There are two ways of creating a print-on-demand business to sell your artwork on Amazon.
The first method is dropshipping, and it's this workaround that inspired Amazon to create their own print-on-demand product store. Check out our guide on how to start dropshipping on Amazon for more details on that process.
For this method, you need to create an account on a print-on-demand website and create your products there.
You then need to create a mockup (you can do this on Canva), which you can use to sell your product on Amazon.
When someone buys your product on Amazon, you can either set up automatic software or order the product yourself to the customer's address.
In response, Amazon launched Merch by Amazon, which is their print-on-demand website. You can upload your artwork to Amazon Merch and check the placement of the products.
Once your design is approved, it will be available on the Amazon marketplace, and Amazon will handle all of the printing and shipping.
There are two issues with this method. The first is that products are currently very limited—you are only able to sell t-shirts, hoodies, and pop sockets currently.
Secondly, it's difficult to get into the program. Sellers have to request an invitation and then wait to be approved. Once you're in, the commission is around the same as other print-on-demand websites (minimum 10%).
The benefit, though, is that you have instant access to Amazon's huge customer base.
Sell Your Art Online with Etsy
Etsy is one of the original marketplaces for small businesses. Even today, it's the place that most people start with when setting up a side hustle.
Most people think that you need to have a physical product to sell on Etsy, and while that's an option, you're not limited to this.
One of the easiest ways to create a passive income on Etsy, selling art online, is to sell digital files.
This could include:
Planners
Stock photos
Art prints
Pre-made Logos
Printable invitations
Ebooks
Zoom backgrounds
And much more! We also have a helpful guide on how to sell digital downloads on Etsy.
Lots of people shop for artwork to download and print at home as a more affordable alternative to wall art.
Printing at home and buying your own frame makes it much more cost-effective compared to buying physical prints, and people receive the product instantly.
Selling digital downloads of your artwork is a great option because it's almost entirely passive. Once you've set up your online store, your artwork will be available for anyone around the world to buy.
Once a buyer makes a purchase, you don't need to do anything. The file will be sent to the buyer automatically.
There is no approval process that you need to go through to sell on Etsy. As long as your designs meet their community standards, then you can sell anything.
There is a bit of a learning curve when writing descriptions on Etsy. This is because you have to include keywords to show up in search as well as make the description engaging to read for a potential buyer.
This is why using an Etsy tag generator is helpful.
However, you can continually edit your listings to improve them as you go. Etsy takes one of the lowest cuts on the market, so it's a great option to make money selling art online. Just 6.5% from each sale, and you can set your own pricing.
There are some listing fees, but if you ask a seller for a referral link, you get 25 listings free.
Check Out Etsy Here
Create Your Own Shopify Store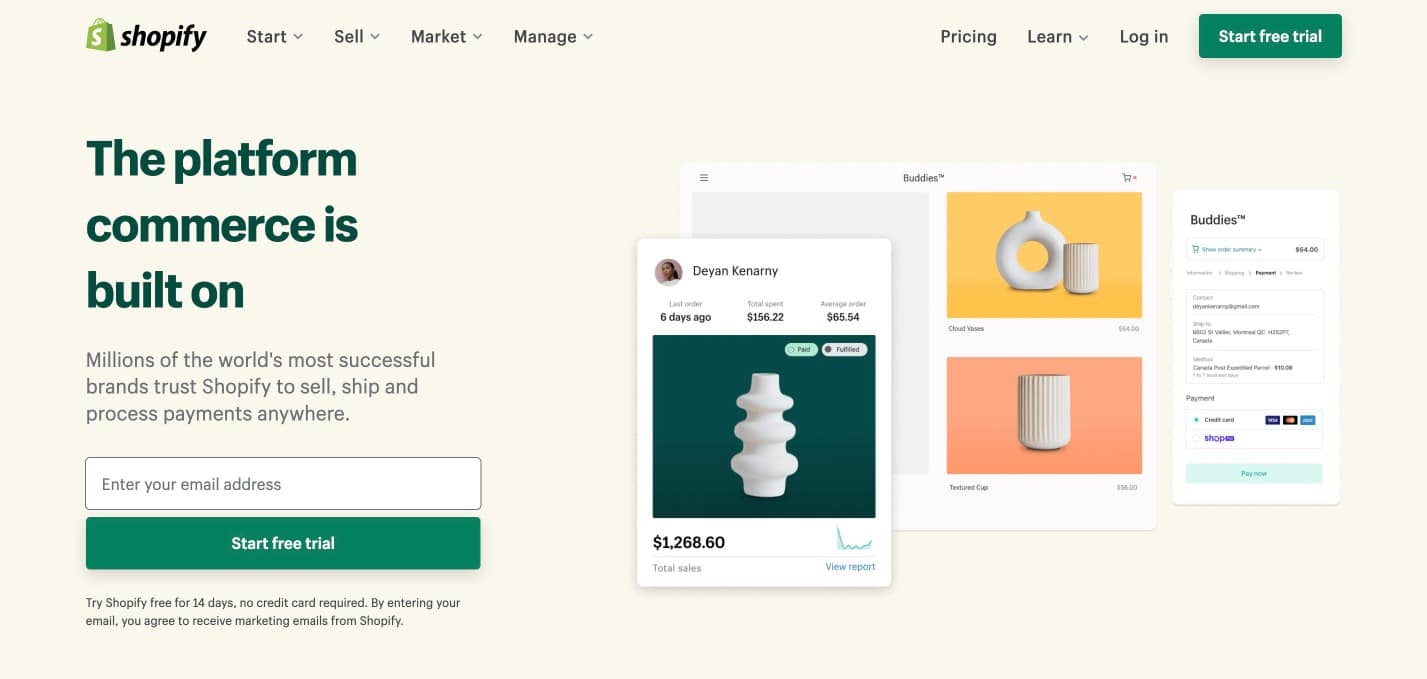 One of the best ways to sell your products is through your own online store. This way, you aren't at the mercy of an online marketplace that could decide to stop selling your designs or shut down your store if they think you've violated their terms of service.
The most important thing to know is that Shopify is a service that allows you to create your own store, not a marketplace in itself. This means that you own (and are responsible for) your shop and can sell anything as long as it's legal.
However, this also means you don't have a ready-made customer base to sell your art to. You will need to do all of your own marketing to get customers to your store.
If you're debating whether to use Shopify or Etsy, check out our Shopify vs Etsy comparison and our Shopify review.
You can sell both physical and digital products on your Shopify online art store. This makes it great for independent artists. You can sell your original artwork, prints of your artwork, or digital downloads.
You can also connect your art business store to a print-on-demand website to create products using your designs, although you will then be back to having to follow the print-on-demand website's rules.
We have a complete step-by-step guide on how to make money on Shopify.
Shopify doesn't take any commission when you sell a product. However, they do take transaction fees, and you have to pay for a monthly subscription.
Shopify plans start at $9 per month up to $300 per month, depending on your needs. Each tier has different benefits and different transaction fees. The membership you need will depend on how much you're selling.
Check out our list of art business name ideas for naming suggestions for your new creative venture.
Start an Art Blog
Starting a blog is a great option for artists who want to set up their own shop and drive traffic to it.
It's also a good option for artists who don't want to sell their artwork but would like to share their skills and knowledge instead.
An art blog is less passive than some of the other methods on this list, but you can make money from it 24/7. The earning potential is huge, too.
First, you will need to think of a niche for your art blog. This could be:
Product reviews
Tutorials
Tips for aspiring artists
How to choose art for your home
Artist profiles
You could also use your art blog to show people any work in process and get them excited to see the finished product. This could help you to sell prints or products when you're done.
You can also integrate Shopify into your website so you can drive sales through your blog.
Wondering, "How do bloggers make money?" In addition to using your art blog to promote your online shop, there are lots of other ways to make money blogging.
These include:
Display ads using Ezoic or Mediavine
Affiliate marketing (you'll get a commission when someone buys a product you recommend through your link)
Sponsorships and brand collaborations
An art blog is more work than selling on sites like Redbubble. However, the earning potential is unlimited, and you have complete control.
Create an Online Art Course
Creating an online course is an excellent way to make a passive income. If you're an artist, then you already have lots to share with your audience. With so many people spending more time at home, it's a great opportunity to share your skills and make money from them along the way.
There are multiple ways to go about creating an online course. The first option is Skillshare. This is a platform full of video tutorials on just about everything. When you upload a class (video), you will get paid depending on how many members watch it. This is a great way to teach a certain technique.
The other option is to create your own online course using online course platforms. You would need to create all of the content yourself and promote the course on your website or social media platforms.
However, when you sell your own course you get to keep much of the revenue.
How to Sell Art Online and Make Money: Final Thoughts
Now that you know how to sell art online and make money, it's time to get started. As you have seen, there are a lot of different options out there for graphic designers and independent artists to earn money online. (And ways to diversify your income with print-on-demand companies!)
These ideas can take some time to set up, but once you have everything up and running, you can either sit back and relax as the money comes in on autopilot or start working on your next revenue stream. We would recommend the latter!
Want to learn step-by-step how I built my Niche Site Empire up to a full-time income?
Yes! I Love to Learn
Learn How I Built My Niche Site Empire to a Full-time Income
How to Pick the Right Keywords at the START, and avoid the losers
How to Scale and Outsource 90% of the Work, Allowing Your Empire to GROW Without You
How to Build a Site That Gets REAL TRAFFIC FROM GOOGLE (every. single. day.)
Subscribe to the Niche Pursuits Newsletter delivered with value 3X per week