How to Make and Sell Art Prints: The Best Ways to Make Money with Original Art
When you buy something through one of the links on our site, we may earn an affiliate commission.
Artists often feel like they are limited by what they can do to earn money with their original artwork. The internet makes it easier than ever for artists to transition to selling art online, mainly through prints. Have you ever wondered how to make and sell art prints that your audience would love to hang in their home and office?
The good news is that it is easier than ever to sell prints of your work and make a lucrative income -- with a little hard work invested.
Let's take a closer look at how you can get into the art business with this key strategy.
Digital Art vs. Fine Art Prints
Art collectors often want the original artwork that was made specifically by an artist's hands. However, many people are willing to settle for prints of your art instead. You can sell both fine art prints as well as digital art prints, depending on the nature of your design work (and there are actually lots of places to sell digital art commissions ).
Fine art prints are those that are made with a traditional medium and then digitized to make a series of limited edition prints. You can scan or photograph paintings, charcoal drawings, and more to make more money from a single piece of art.
The process of digitizing fine art is a lot more complex. In many cases, you will need to invest in or borrow technology like a great camera, a scanner, and a quality printer.
On the other hand, many artists are now making good use of design programs like Adobe Illustrator and Photoshop to create digital art. These designs make it easier than ever for you to sell prints of your art because they are already in a digital format.
The leap to getting digital art prints into the hands of your customers is much simpler, requires less initial overhead, and can even segue into other types of art like t-shirts, tote bags, and more with print-on-demand services.
Benefits of Selling Art Prints
You might be wondering why anyone would want to make and sell art prints over original pieces that are completely one-of-a-kind. Getting your art printed is a great way to earn a little extra revenue, and it comes with great benefits for you as the artist.
Maximize Profit from One-Time Design Work
In the art world, there are very few ways that you can make more money from original artwork other than simply raising prices. If you commit to selling art online to make money via prints, you set yourself up to earn another stream of revenue without doing any additional work.
All you have to do is design a top-notch piece of art.
Getting prints made allows you to sell your work more than once, stacking up profits without doing any additional heavy lifting or design work.
Price Accessibility
Many people wish they could afford high-quality original artwork for their home or office, but the steep price tag makes this impossible. Because prints are made in larger batches, they are often much cheaper than their original counterparts.
This makes them more accessible to those who want art in their lives but can't afford it.
If you really want to grow your audience, selling art prints is a great way to get your work into the hands of people who love your designs.
Flexibility of Selling Art Prints Online
Art buyers come from all over to purchase pieces in a gallery showing, but it can be hard work to set up a show. On the other hand, you can open an online art store available to people whenever and wherever they want to shop.
It offers a degree of flexibility that allows you to sell, even when you are preoccupied with other things (like making more art).
You get to control the website, the orders, and the quality of the prints on your own website or via print on demand companies.
If you want to experience what it's like to sell art in your sleep, selling prints is definitely one way to do it.
How to Make Fine Art Prints
When it comes to fine art, America and other developed countries have lofty ideas of what constitutes real art. Almost everyone can agree that a piece made on canvas paper with your own two hands qualifies as a form of fine art.
But how do you transition from original artwork to print?
Here is what you need to know to start making prints of your own art so that you can expand your art business.
Digitizing Your Artwork by Scanning or Photographing
The first thing you need to do is transition your physical artwork into something digital. You won't be able to get your art printed unless you have a digital format. Most artists will move their work from physical copy to the computer via a scanner or a photograph.
Keep in mind that you will need to invest in high-quality technology to do so. This can be an expensive upfront investment, but it's necessary if you're serious about selling art prints.
Alternatively, you can hire a local company specializing in fine art prints and scanning. They can help you to make the digital corrections necessary to stay true to your original vision of the piece, such as color corrections.
Change the Resolution
Sometimes, artists want to take their original piece, which may be on the smaller side, and blow it up onto a bigger canvas for their prints. If this is the case, then you will need to make a few adjustments to the resolution of the image.
Resolution should typically be between 600 and 1200 DPI (dots per inch). This can be easily adjusted in many programs like Photoshop.
Printing
Chances are that you won't want to invest the money into the equipment necessary to get a high-quality print of your piece. A printing company is your best bet if you want to sell art online.
Look for a company with the capacity to get the desired quality for prints of your art.
Artists who have never done this before can benefit from the experience of a printing company when it comes to making color adjustments, choosing the right fine art paper, and generally making sure that the prints are high-quality before you ship them to customers.
How to Make and Sell Art Prints Digitally
Many artists who are selling prints are doing so without ever picking up a paintbrush. Digital art is leading the way, and it can be even easier to start selling art online. Here's what you can expect from the process with digital art.
Design the Art Print (or Hire a Freelance Designer)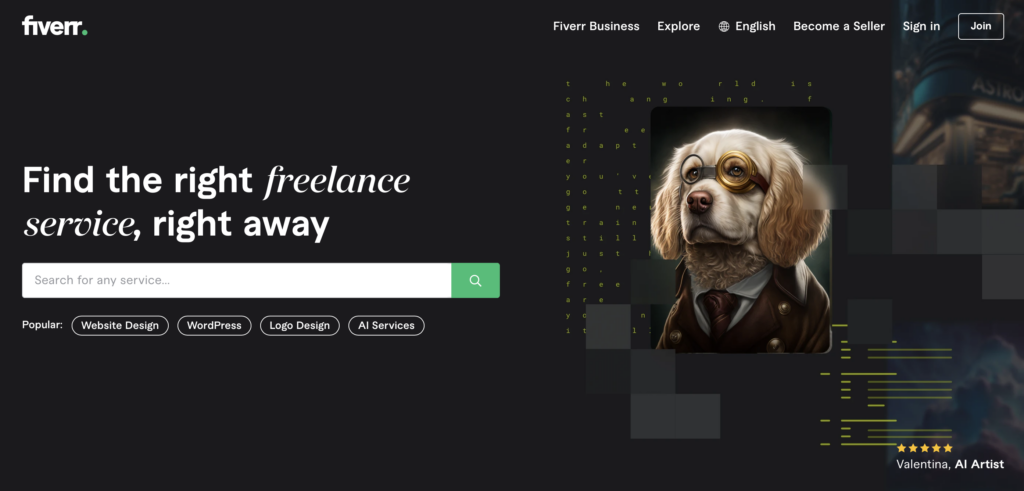 Creating digital art through programs like Adobe Illustrator and Photoshop requires a special set of skills. However, the benefit is that your entire piece is already digitized, making it a breeze to set up your own website for selling art.
All you have to do is design the print and get to work.
Alternatively, you can hire a freelance designer from sites like Upwork or Fiverr. Give them the idea of what you want to create and let them go to work. You'll get the digital files at the conclusion of your work together and can use them to start selling art online.
List for Sale on Your Website
It's easier than ever to sell online. All you need is a WordPress website outfitted to accept payments securely and create listings for each of your pieces. To do this, you can use an integration with print-on-demand services.
It works a little something like this:
You upload the piece to the print-on-demand services.
The piece gets hosted on your website.
Someone orders your art prints, and the order goes directly to the printing company.
The print company ships it to the customer on your behalf.
It's easier than ever, and it's a totally hands-off process for you. Spend more time making prints and less time managing your website with some of these services (we'll talk more about the best ones in a minute).
Check out our list of art business name ideas for naming inspiration for your creative new venture.
Use a Third-Party Site to Sell Art Online & Reach a Wider Audience
Artists who are just starting out may not have a huge following for their own website or social media platforms just yet. If this is the case, you might benefit from using a third-party site to sell your art online and reach a wider audience.
Perhaps the most well-known third-party site to sell prints is Etsy. Much like your own online store hosted on a WordPress site, you can connect Etsy storefronts with print on demand companies for management.
Keep in mind the demographics of Etsy when deciding if this is the right fit for you: over 86 percent of Etsy shoppers identify as female, and most are under the age of 40. This means that you may want to tailor your art prints to an audience that meets these descriptions.
Print on Demand Services & Expanding Beyond Art Prints
Print on demand allows you to print just the items that you need without buying inventory and storing it. With the right setup, it can be entirely hands-off for you, which makes earning money from your art career more passive.
Here are three of the top print-on-demand companies that you can use to sell your prints (and other items).
Printify
Printify is a great option for selling art online in a variety of forms. Home decor items like canvas prints and posters are some of their most popular items. However, they also allow artists to expand Ito other items like t-shirts, journals, tote bags, wall clocks, and even phone cases.
If you have ever wanted to print art on any surface, chances are that Printify offers it.
Printful
Artists who want a streamlined process to start selling prints of their art online won't want to underestimate the power and quality found on Printful. They can print on many of the same surfaces as Printify, but they also offer advanced services like embroidery and branding.
For those trying to decide between them, be sure to see our head-to-head comparison of Printify vs. Printful here.
Sellfy
Selling prints of your art has never been easier with Sellfy. They boast an easy setup that takes less than five minutes, start to finish. Just like you would with your own eCommerce store on a platform like WordPress, your Sellfy store allows you to upload designs and start marketing them right away.
They handle all printing and shipping, which means no headaches for you.
How to Price an Art Print
When it comes time to make and sell art prints online, you need to know how to price them the right way. Unfortunately, there isn't an exact science to setting the price that the market will bear. There are a few things that you'll want to keep in mind before you start to sell art online:
Cost of printing
Maintenance of your website
Marketing efforts
Any other expenses (like art supplies)
Figure out how much each of these categories costs you and add a small markup to it for your profit. This is how you should price your print, making sure that your markup isn't outrageous. Keep in mind that prints are supposed to be less expensive than the original piece.
Final Thoughts: How to Make and Sell Art Prints Professionally
Are you ready to get started with selling art prints but want to do it in the most cost-effective and lucrative way? Setting up your own website to make and sell art prints is one way to get started, especially when integrated with print-on-demand services (but make sure to check out our full list of websites to sell art prints here).
You can start earning passive income from your at with minimal effort on your part today. Break out those paintbrushes or hire a digital artist to jumpstart your career and start to sell art online!
Want to learn step-by-step how I built my Niche Site Empire up to a full-time income?
Yes! I Love to Learn
Learn How I Built My Niche Site Empire to a Full-time Income
How to Pick the Right Keywords at the START, and avoid the losers
How to Scale and Outsource 90% of the Work, Allowing Your Empire to GROW Without You
How to Build a Site That Gets REAL TRAFFIC FROM GOOGLE (every. single. day.)
Subscribe to the Niche Pursuits Newsletter delivered with value 3X per week