Your Easy Guide to Selling Digital Downloads on Etsy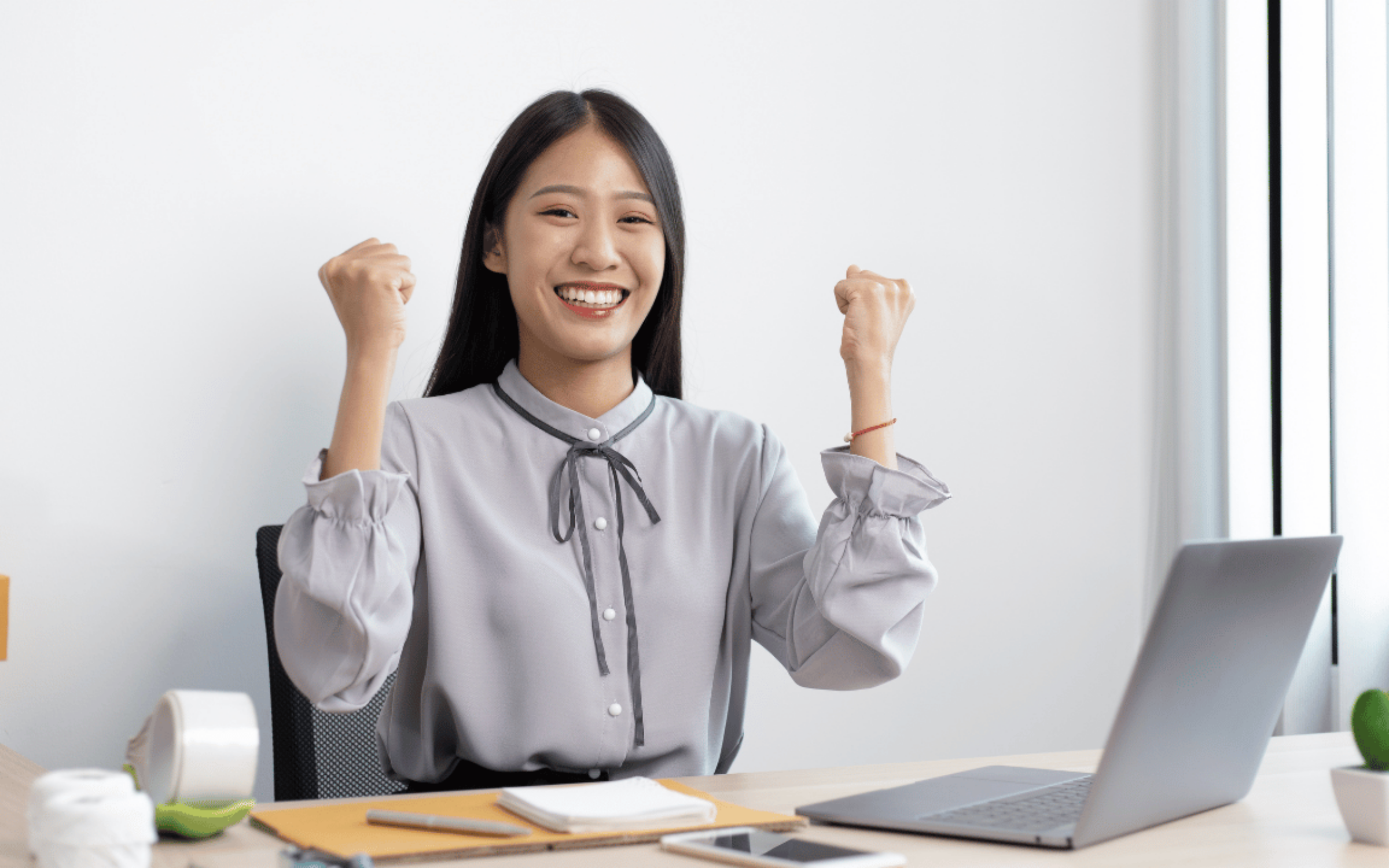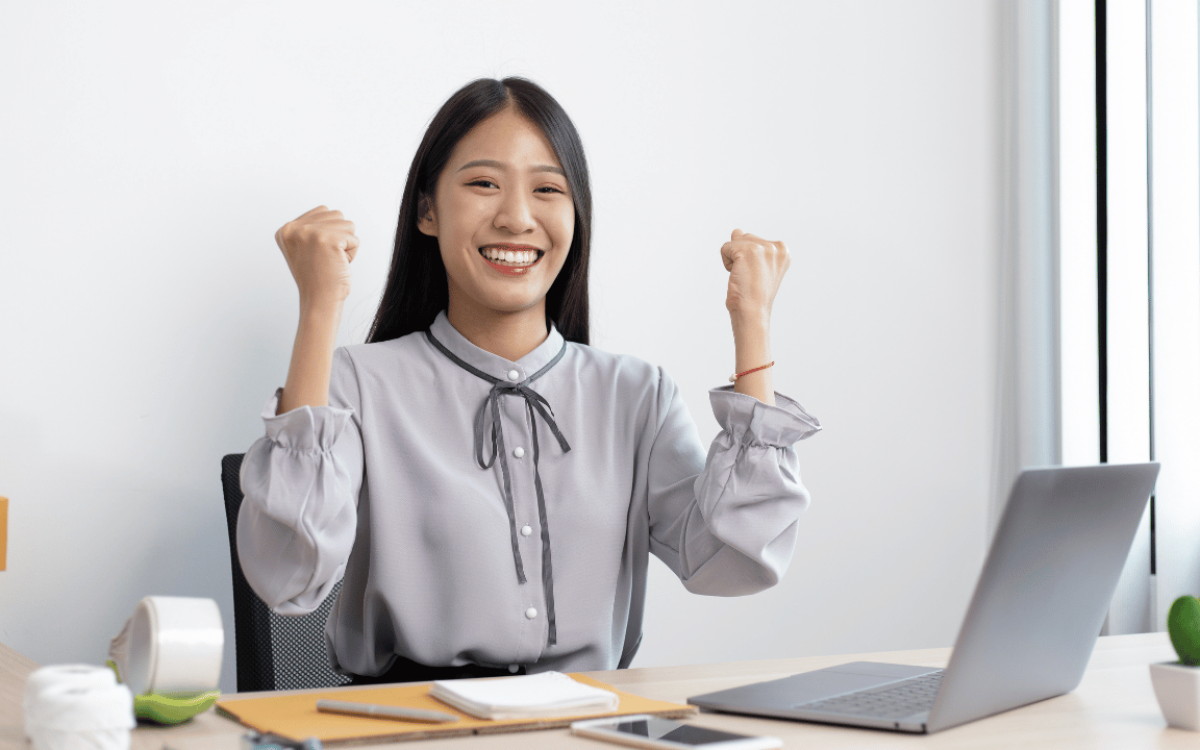 When you buy something through one of the links on our site, we may earn an affiliate commission.
Did you know you can sell digital products on Etsy? People worldwide make thousands of dollars by selling digital products on the popular creator platform. So if you want to learn how to sell digital downloads on Etsy, too, you're in the right place.
Digital downloads are wildly popular, easy to create, and automatically sent to the customer upon purchase. All you have to do is make the product, create your Etsy listing, and you're good to go.
Let's take a closer look at selling digital products on Etsy.
We'll answer common questions, give some profitable niche ideas and actionable tips to help you get started today.
In a rush?
Just make sure to sign up for Canva.
You can start creating an amazing portfolio of digital downloads for Etsy in just a few clicks - no eye design required. And it's free! You can always join the Pro later but definitely check it out and start playing around. Your customers will thank you!
Get Canva for Free
Why Sell Digital Downloads on Etsy?
Selling digital downloads is a profitable and somewhat passive way of generating income on Etsy. You only have to create digital products one time, yet you can sell them hundreds (if not thousands) of times over in your own Etsy shop.
You don't have to worry about product storage, fulfillment, shipping, or returns, either.
Etsy is an established and trusted online marketplace with a pre-existing audience, primed and ready to buy.
You can try doing this on your own website, but when you sell digital downloads on Etsy, you access the platform's massive audience: Etsy had over 80 million customers in 2020 alone! 
On top of having a huge customer base, Etsy makes it incredibly easy to set up a shop and start selling digital downloads immediately, even if you're a beginner.
Start Selling on Etsy Here!
What Kind of Digital Downloads Can You Sell on Etsy?
With digital downloads, the sky is the limit. While many people think of selling printables when thinking about "digital downloads," you can actually sell so much more.
Types of digital downloads you can sell on Etsy include digital planners, custom website themes, fonts, logos, graphics and PNGs, spreadsheet templates, digital art, social media templates, ebooks, stock photography, and so much more.
Best Selling Digital Products on Etsy
If you head to Etsy and type "digital download," you'll see everything from logos to fonts to calendars, art, and more. Here are some of the most popular types of digital downloads on Etsy right now.
Printable Artwork
Coloring Pages
Graphics
Worksheets
Planners
Journals
Logos
Business Cards
Social Media Templates
Ebooks
Spreadsheet Templates
Checklists
Custom WordPress Themes
Fonts
Craft Patterns
Lightroom Presets
Of course, printables are always popular. Printable coloring pages, planner template printables, and printable artwork are profitable Etsy digital download ideas to consider.
How Much Can You Make Selling Digital Downloads on Etsy?
How much you can make selling digital products on Etsy depends on your niche, product, and pricing.
Digital products sell well on Etsy, but a lot goes into it. A quick search online turns up various search results of people making hundreds to thousands per month.
The more time you spend in the beginning picking out a profitable niche and product idea, the more success you'll have in the long run.
In the video below, Alissa Rose shares how she created a brand new Etsy store to sell digital downloads and scaled it to $1,000 per month in just four months. She did this without an existing audience or leveraging her current social media.
In the video, Alissa talks about the importance of Etsy SEO, choosing the best main product listing photo, creating a fantastic offer, and getting started selling digital downloads.
How to Create Digital Downloads to Sell on Etsy
There are many ways to make digital downloads to sell on Etsy, depending on which niche you choose and what type of product you want to create (and if you have a site, you can also learn how to sell digital downloads on WordPress here).
Anyone can make digital products to sell on Etsy, whether or not you're a designer. If you have a digital download idea that you want to sell on Etsy but lack the skills to create it yourself, use a platform like UpWork or Fiverr to hire someone to make it for you!
Here are some popular methods for creating digital downloads to sell on Etsy.
Design Your Downloads Using Canva
Canva is online graphic design software that makes it easy for anyone to create incredible digital art and designs, and it also helps make selling Etsy digital downloads easier than ever. From graphics to planner templates, ebooks, and more, Canva has a vast selection of templates to work with.
Canva has a free and paid version. For access to premium graphics and certain types of files (like PNG), you'll need a Canva pro account.
To get started, head to the Canva website — you can select what size of product you want to design from the homepage.
In this example, we'll look at existing Canva planner templates. On the homepage, type in "planner."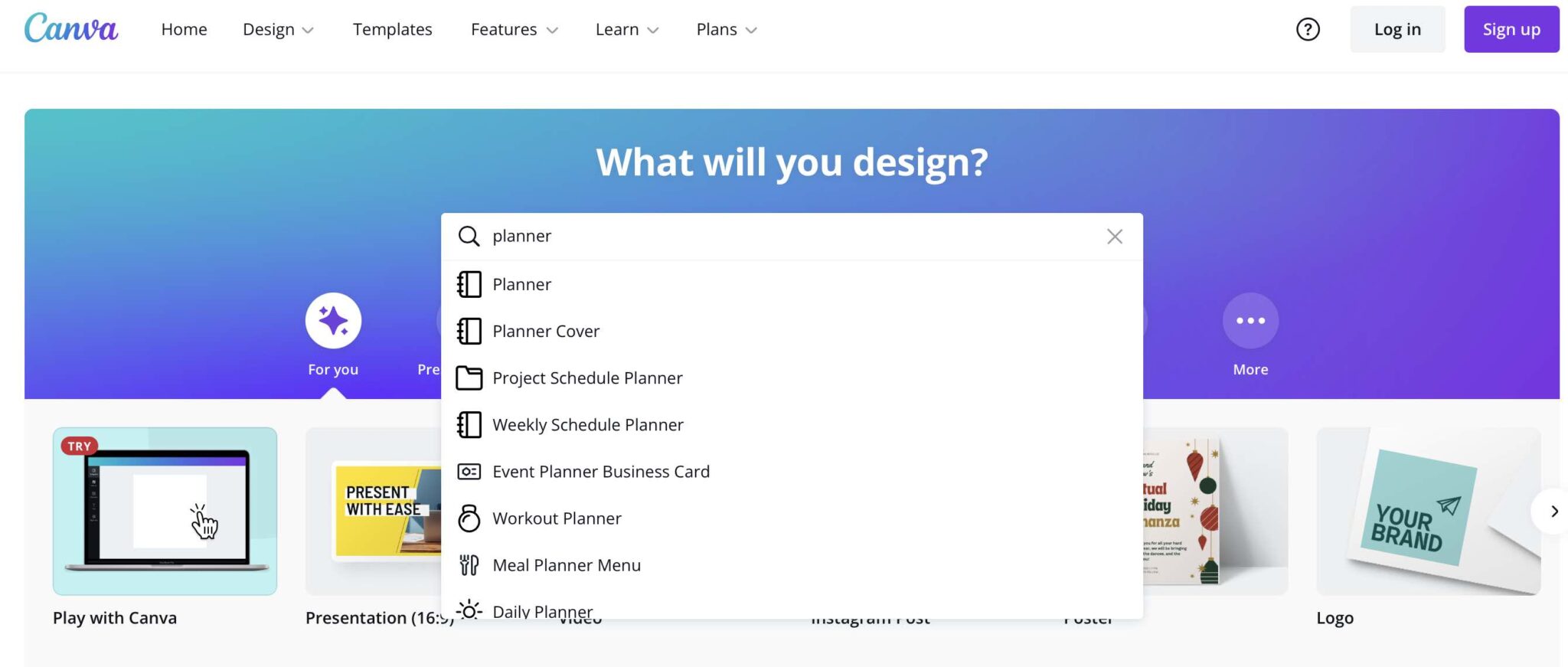 This will give you a dropdown of options related to "planner." Select the first option, and you'll see a page with tons of editable templates on the left. To create digital planners, all you have to do is click a template to import it, and then you can edit every element.
Click text to change font, drag words or elements into different places, and edit element colors. This is an easy and free way to create your custom designs to sell on Etsy, and the templates give you a good idea of how to lay things out.
Canva is an intuitive design tool made specifically for non-designers. This is a great tool to make your first digital products to sell on Etsy.
Try Canva for Free Here
Hire a Designer on Fiverr or UpWork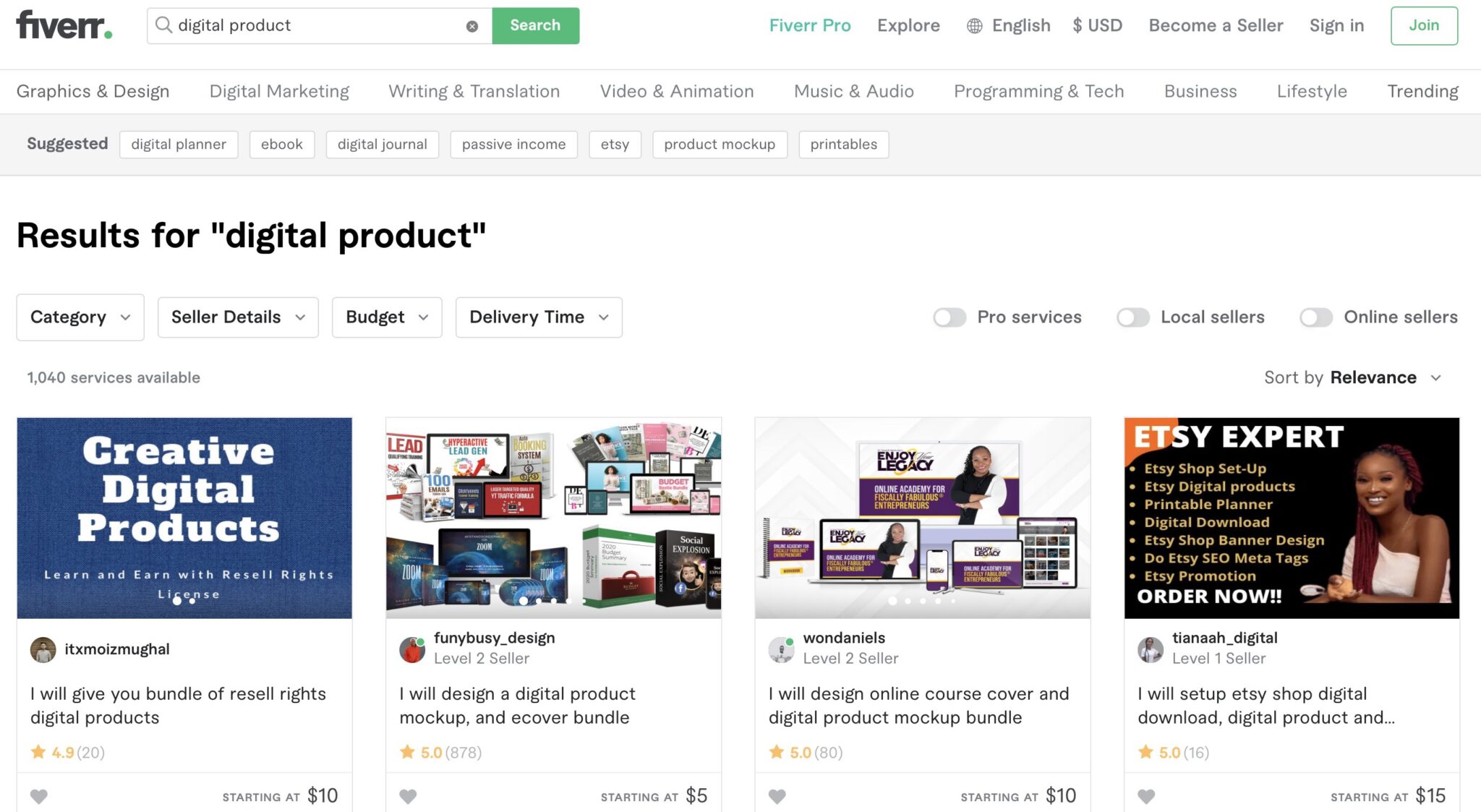 If you don't have a design bone in your body, you can still get awesome designs to sell on Etsy.
Canva is great, but it has a learning curve. Of course, you could use other design software online or Adobe Illustrator, but all of them require learning, too.
If you don't have the time or patience to design something yourself, you can always outsource it. If you're not a designer, outsourcing might be the best idea if you want a great-looking product.
Head over to Fiverr or UpWork and find yourself a designer!
You can hire a designer to create custom editable logo packs to sell on Etsy, planner templates, stock photo or stock graphic packs, social media templates, business card templates, and so much more.
Or, if you want to sell Canva templates but don't want to make them, you can hire a designer for that, too.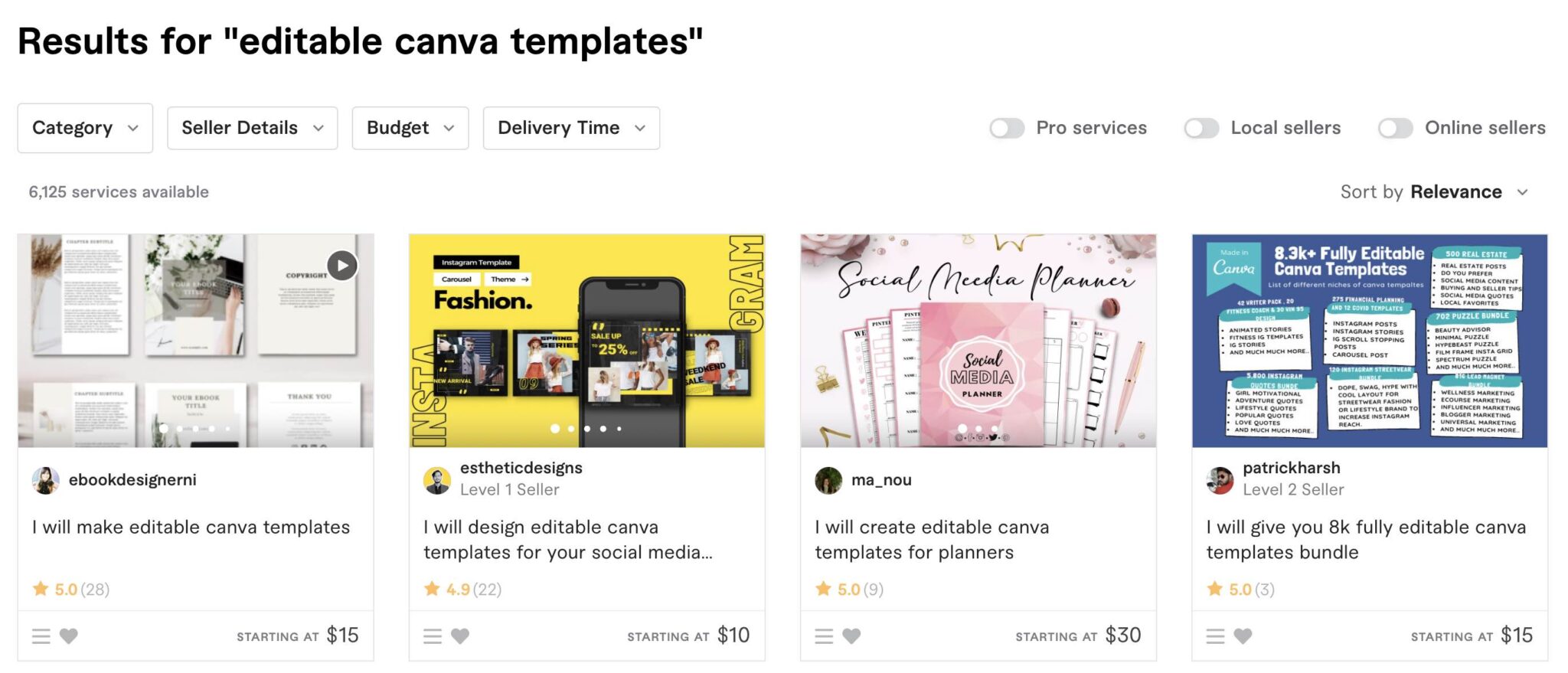 How to Sell Digital Downloads on Etsy
By now, you should have a pretty good idea of what kind of digital products you can sell on Etsy. You might even have a few picked out already!
Here's how to get started making money on Etsy with digital products.
Choose a Niche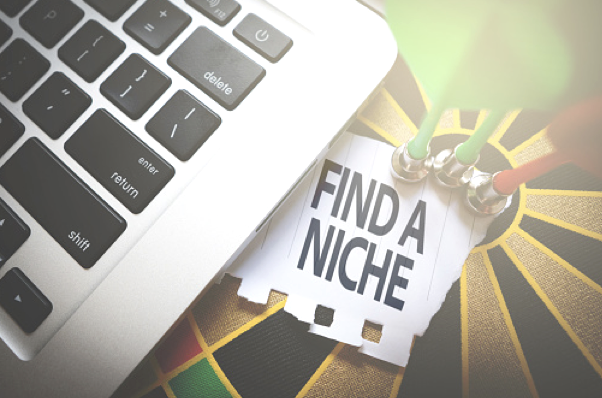 First things first, you need a niche. You likely already have some ideas, so start doing some market research on Etsy.
Remember: competition is a good thing.
Use the search bar on Etsy, type in some of your ideas, and see what auto-populates. This will give you some digital product ideas of what people are already searching for on Etsy.
Hit enter on a product that piques your interest. Next, scroll through the listings and look at the total number of sales, total number of reviews, and overall ratings of each shop.
You can also use some of the Etsy keyword research tools mentioned here.
Set Up an Etsy Shop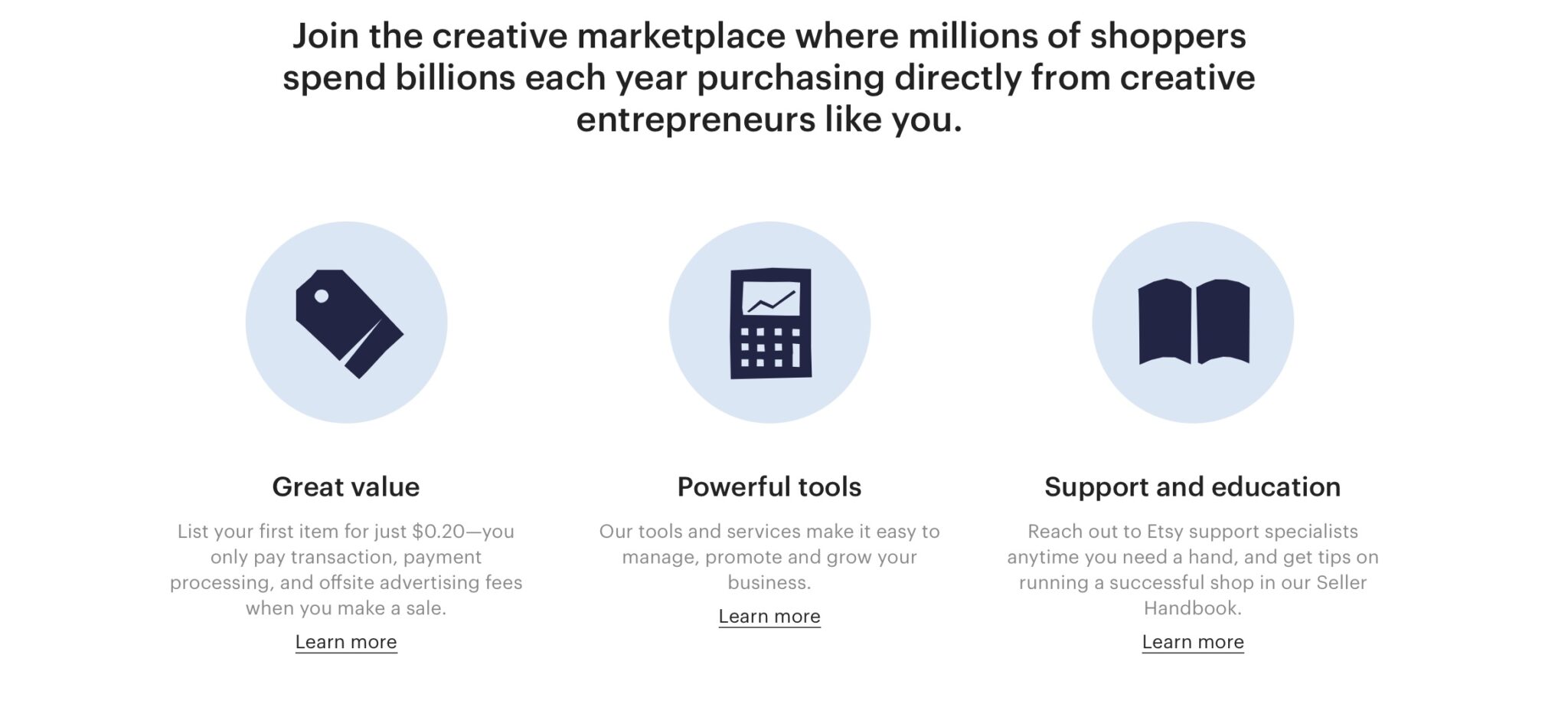 Setting up an Etsy store is pretty intuitive and straightforward. Create an Etsy shopper account or sign into an existing one to get started.
Click on your profile picture and scroll down to "Sell on Etsy." Then follow the prompts to set up your Etsy shop!
You'll enter basic information, name your Etsy store, and set up your payment information.
Be sure to fill out your "About" section and fully flesh out your Etsy seller profile.
The idea here is to create a brand around your products. A cohesive brand makes you look more professional, so don't skimp on filling out your seller profile.
Create Your Listings
Once you have your shop set up, you're ready to create product listings.
Keep in mind that Etsy not only charges fees for selling, they also charge 0.20 cents per listing.
Selling fees are 5% of the sale price per transaction.
Once you start selling digital products and making passive income on Etsy, these fees really won't matter. It's just important to keep in mind in the beginning because each listing will cost you 0.20 cents.
Keyword your product listing titles and write a complete product description that naturally includes keywords throughout.
Etsy SEO is a real thing, so choosing the proper keywords for your product titles and descriptions is very important.
When creating your Etsy shop product listing, also be mindful of your product photos.
Provide plenty of photos for your customer to see and understand what they are purchasing entirely, and if necessary, include video walkthroughs.
High-quality photos and descriptions can help boost your Etsy conversion rates.
Market Your Etsy Digital Downloads
Once you set up your shop and list your products, you might think your work is done. And it can be if you don't want to start making sales immediately!
Once your listings are live, it's time to promote them elsewhere. For example, you can run ads on Etsy, promote your products on Facebook, make a Pinterest account, promote on Instagram, YouTube, TikTok, and more.
If you want to take it one step further, you can create a lead magnet and start growing an email list of subscribers to market your products continually.
Tips for Selling Digital Downloads on Etsy
As much as I want to say that selling digital products on Etsy is a passive income that you can "set and forget," I can't. There is nothing on the planet that's this easy.
Here are some tips to help you have the most success and hit the ground running with digital product sales on Etsy.
Choose a Popular and Profitable Niche Through Market Research
Spend plenty of time in the beginning on market research. Then, as mentioned in the section about choosing your niche, search Etsy to see what's already selling well in your niche.
Use the Etsy search bar to do free Etsy keyword research by typing in your idea and seeing what populates. Then, try a paid tool like Sale Samurai if you want to take your Etsy keyword research to the next level.
Take an Etsy Online Course
We highly recommend taking an Etsy course if you want to hit the ground running but know next to nothing about selling on Etsy. Here are a few courses we recommend from successful Etsy sellers.
Keyword Your Title and Descriptions
SEO is crucial for selling your products organically on Etsy.
Use an Etsy keyword research tool and free keyword research methods to compile a list of keywords to use in your product title and descriptions.
If you're not already familiar with SEO, there are plenty of ways to learn how to find Etsy keywords. However, the first, fastest, and free way to find great keywords for your Etsy products is on Etsy itself.
Type in your product or product idea and make a note of all the additional titles that auto-populate in the search bar.
Or, you can use software like Sale Samurai to help find the most popular and profitable keywords.
Market Your Product
You should market your product away from Etsy, too.
Focus on social media platforms like Facebook, Instagram, Pinterest, and TikTok to market your Etsy digital downloads.
In addition to marketing on social media, consider starting an email list.
You can offer one of your downloads (or a part of one) as a freebie to entice people to sign up and nurture them with regular email newsletters. Then, encourage your subscribers to buy by educating them on your products, offering special subscriber-only coupon codes, holiday sales, etc.
Ideas for Marketing Your Etsy Digital Downloads
Creating a brand around your Etsy shop helps you look more professional and can also help you make more sales by attracting traffic from around the web.
Here are some ideas for marketing your Etsy downloads.
Create a niche website around your chosen niche. Write SEO content for your Etsy digital products with links from own website to your Etsy shop to increase brand awareness and get more sales.
Set up a branded Facebook page for your digital downloads on Etsy and share your products. In addition to sharing your Etsy shop products, share relevant content to help grow your page and engage your followers. For example, share your blog content here if you set up a blog.
Start a Pinterest Business Account to promote your Etsy products. A Pinterest account can also be used to promote the blog that also promotes your Etsy products. (By now, you should understand that this all ties together in a type of "promotional web.")
Start a branded Instagram account. Share photos of your Etsy products, stellar customer reviews, and show your products in use.
Start a TikTok account in your niche. Create niche-relevant videos and product walkthroughs to drive traffic to your Etsy shop.
Grow an email list of subscribers through your social media accounts or website. With an email list, you can encourage repeat buyers by offering unique customer coupons, alert interested leads and customers about sales and new products, and more. You don't even have to create a separate lead magnet; you can offer one of your digital products as a freebie.
Marketing your product through social media and other platforms doesn't sound very passive, but it's also not required.
You don't have to market elsewhere... but it will significantly increase your chances of making more sales on Etsy, which will help you (and your Etsy rankings) in the long run.
Creating a niche website around your Etsy store can help you grow your brand, boost your Etsy sales, and increase your income overall.
How to Start a Niche Website
Maintain High-Quality Customer Service for Great Reviews
If you want your products to skyrocket in Etsy search result rankings, you need reviews.
And not just any review — your products need great reviews. Good reviews will not only boost your rankings; it's also social proof, which is an incredibly powerful tool that will help you make more sales.
So how do you get reviews as a new shop? Here are a few ideas:
Be quick to respond to customer inquiries.
Go above and beyond to fix mistakes.
Over-deliver on your product, like including a related freebie with their download.
Follow up after a customer purchases and ask them if you can help them with anything. You can also ask them to leave you a review in your follow-up message.
Discount Your Products or Provide Coupon Codes
Most people are bargain shoppers. If you want to make more sales, put your products on sale!
Run sales on your Etsy shop often. Create special coupon codes for your email subscribers and social media followers.
Another tactic to encourage repeat customers is to create unique coupon codes for customers who have already purchased from you.
Here's how to set up Etsy sales and coupons for your shop.
Create Product Bundles
Selling digital downloads on Etsy gives you many advantages over physical product sellers (and you may also want to check out our guide for how to sell digital downloads on Amazon). First, there's the obvious advantage of mostly passive income. You can also re-use the same templates to create multiple digital downloads.
But if you want a quick way to boost Etsy digital download sales, consider creating bundles of related items.
Sell your bundles at a discount compared to purchasing each individually to encourage more sales.
Promote Your Products with Etsy Ads
Promoting your products with Etsy ads is optional, but it's a significant next step to start helping you make sales or scale your existing sales.
I wouldn't recommend diving head-first into Etsy ads for selling your Etsy digital downloads without first learning how to run them profitably; otherwise, you'll lose quite a bit of money.
If you want to run ads on Etsy, first consider taking an Etsy ad online course to achieve the best ROI.
Is Selling Digital Downloads on Etsy Actually Worth It?
Setting up a digital download Etsy shop can be a form of passive income, but it won't be passive in the beginning.
So, is it worth it?
That's for you to decide! In my opinion, digital product sales are one of the best ways to make money online.
Selling digital products requires work up front, but once your products are created, all you have to do is promote them. So if you're looking for a side hustle idea that requires minimal money up-front, you can't go wrong with learning how to sell digital downloads on Etsy.
Get Started Selling Digital Downloads on Etsy!
Want to learn step-by-step how I built my Niche Site Empire up to a full-time income?
Yes! I Love to Learn
Learn How I Built My Niche Site Empire to a Full-time Income
How to Pick the Right Keywords at the START, and avoid the losers
How to Scale and Outsource 90% of the Work, Allowing Your Empire to GROW Without You
How to Build a Site That Gets REAL TRAFFIC FROM GOOGLE (every. single. day.)
Subscribe to the Niche Pursuits Newsletter delivered with value 3X per week