1,023 Creative Art Business Name Ideas To Stand Out from the Crowd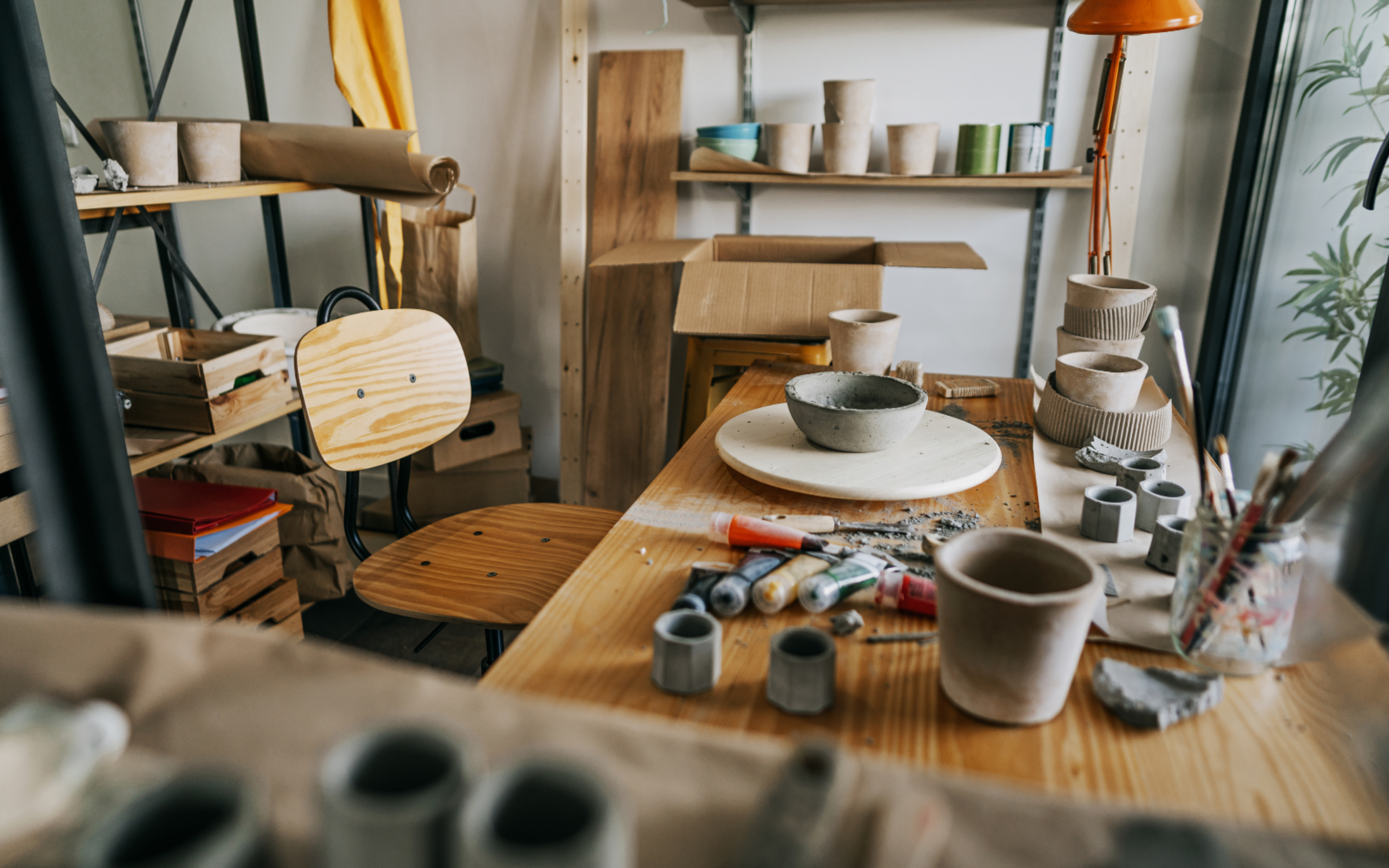 When you buy something through one of the links on our site, we may earn an affiliate commission.
Are you an aspiring artist, ready to unleash your creativity and set up your own art business? We know that finding the ideal name can be as daunting as creating your masterpieces. But fear not! We've conjured up an enchanting list of captivating art business name ideas, each a stroke of genius designed to leave a lasting impression.
We'll also unveil essential naming tips that'll have your imagination running wild with possibilities. From reflecting your artistic vision to checking for domain availability, these expert insights will set your business name apart from the rest.
Join us on this artistic adventure and unveil the perfect name that encapsulates your artistry. Dive into our magical list and discover the alchemy of an enchanting art business name. Let's paint your way to success together!
Art Business Names Using Alliteration and Puns
Paints & Puns
Artful Antics
Whimsical Wonders
Pencil & Play
Colorful Capers
Crafty Canvases
Brushes & Banter
Creative Cruisers
Sketchy Shenanigans
Palette Playmates
Ink & Jest
Artistic Adventures
Doodle Delights
Curious Canvas Co.
Splashy Shenanigans
Playful Portraits
The Artful Allure
Punny Paintings
Crafty Comedy
Colossal Chuckles Art
Masterpiece Merriment
Artistic Amusements
Quirky Quills
Whimsy & Watercolors
Fun Art Factory
Marvelous Mischief
Playful Picasso
Laughing Brushes
Joyful Jokes Gallery
Artistic Antics
Cheeky Creatives
Art Consultancy Service Name Ideas
Artful Insights
Canvas Connect
Palette Perspectives
Masterstroke Mentors
Curated Creatives
Artistry Advisors
Brush & Vision
Gallery Guidance
Museful Mentors
Art Alchemy
Aesthetic Allies
Crafted Counsel
Artfolio Advisors
Expressive Expertise
Visionary Vanguards
ArtSage Solutions
Insightful Impressions
ArtWise Consult
Artspark Mentors
The Art Curator's Eye
Cultured Consultancy
ArtScope Strategies
Palette Professors
Easel Endeavors
Vision Vault
ArtSelect Advisors
The Art Decoder
Canvas Catalysts
Crafted Clarity
Brushstroke Beacon
The Art Navigator
Art Gallery Business Name Ideas
Renaissance Revival
Serene Vistas Gallery
Chromatic Hues
Opulent Origins
Modern Museumscape
Timeless Treasures Gallery
Aurora Artworks
Everlasting Canvases
The Art Nouveau Nest
Eclectic Enclave
Luminary Art Loft
Epoch Expressions
Fusion Fine Arts
Stellar Strokes Gallery
Equinox Exhibitions
Vivid Visions Gallery
Artisan Abode
Zenith Art House
Constellation Creations
Beyond Boundaries Gallery
Mosaic Medley
Enchanted Easel
Celestial Artifacts
Artisan Avenue Gallery
Radiant Realms
Prime Perspective Gallery
Aesthetica Alcove
Prism Portraits
Imaginarium Gallery
Art Synchrony
Harmonia Halls
Check out this article for even more art gallery name ideas.
Art Restoration company Names
Art Revivalists
Timeless Touches
RestoMaster
Art Rejuvenators
Heritage Healers
Brush & Revive
Renewed Canvases
ArteFinesse
Artisan Renewal
Strokes of Restoration
Fine Art Rehab
Art Resurgence
Renaissance Restorations
ReviveArt Solutions
Classic Canvas Care
Legacy Restorations
RenewArt Conservators
The Artful Revive
Vintage Varnish
Reborn Masterpieces
ArteResto Experts
The Restoration Palette
Canvas Renewal Pros
ArtAlchemy Revival
RestoCraft Gallery
Rekindled Artistry
RefineArt Restorations
TimeWorn Treasures
Brush & Revive Conservators
Art Rebirth Studio
RestoreArt Atelier
Art Studio Business Name Ideas
Artistry Haven
Studio Serendipity
Palette Prodigy
ArtVerse Atelier
Brushwork Bonanza
Creative Conclave
Artful Assemblage
Canvas & Co.
Masterpiece Manor
Visual Vortex Studio
Whimsy Workshop
Palette Perfection
Crafted Creations
Artisan Alchemy
Studio Synergy
Imagination Inkling
ChromaCraft Studios
Easel Enigma
Visionary Vanguard
ArtHub Atelier
The Studio Sanctuary
Crafty Chromatics
Curated Canvas
Art Fusion Forge
Mindful Masterpieces
Studio Solstice
ArtAxis Studio
InspirARTion Space
The Creation Cove
Brush Ballet
Infinite Imagination Studio
Art Supplies Company Name Ideas
Creative Cache
Artisan Depot
Canvas Corner
Palette Provisions
Crafters' Cove
Artful Emporium
The Brush Boutique
Artistic Essentials
The Pigment Pitstop
Crafty Cartel
ChromaCraft Supplies
Artistry Outpost
Sketchbook Empower
Crafters' Cache
The Artisan Attic
Palette Parlor
Imagine Ink
Canvas Carousel
Artland Emporium
Easel Empowerment
Craftsmen's Corner
Artistry Alcove
Creative Capers
Hue Haven
The Crafters' Cavern
Brush & Beyond
Art Materials Mart
Sketchy Solutions
Craft Central Station
Painters' Paradise
Artistry Avenue
Check out our list of stationery shop name ideas for more suggestions.
Art Tuition Business Name Ideas
Artful Mentors
Brushstroke Academy
Creativity Classroom
Palette Prodigies
Canvas Coaches
Crafty Tutors
InspireArt Studio
Skillful Strokes
ArtWise Academy
Masterpiece Mentors
Artistic Advancers
Imagination Institute
Easel Excellence
Colorful Guidance
Creative Crafters
Visionary Vanguards
Artistic Ascents
Paint & Progress
ArtSpark Tutors
SkillSmith Studio
The Art Forge
Crafty Connections
Canvas Crafting Co.
Inspired Impressionists
Visual Virtuosos
The Artistic Edge
Creative Catalysts
Artistry Ascendancy
TalentTrek Studio
Pencil & Progress
SkillSet Scholars
Best Art Business Name Ideas
Artful Expressions
Masterpiece Maven
Brush & Beyond
Palette Perfection
Crafty Creations Co.
Creative Visions Gallery
Artistic Auras
Chromatic Charm
Artisan Enclave
The Imagination Station
Vivid Ventures
Crafted Canvas Studio
InspireArt Hub
Whimsical Wanderers
Easel Elevation
Artistic Alchemy
The Art Odyssey
Craftsmen's Corner
Visionary Vault
Ink & Essence
Artfully Yours
Captivating Canvases
DreamDoodle Studios
The Artistry Atelier
ChromaCraft Collective
Artistic Endeavors
Pencil & Pixel
Creative Caravan
Hue & Harmony
Canvas Cadence
Artful Aspirations
Caricature Business Name Ideas
Cartoon Couture
Caricature Craftsmen
Sketchy Smiles
Whimsical Portraits
Caricature Creations
Funhouse Faces
Charmed Caricatures
Giggle Graphics
Playful Portrayals
Cartoon Chronicles
Smile Sketchers
Quirky Caricaturists
Expressive Drawings
Caricature Capers
Laugh Lines Studio
Amusing Artistry
Charicatureland
Cartoon Finesse
Comical Canvas
Chuckle Charms
Witty Likenesses
Lighthearted Line Art
Caricature Caboodle
Jovial Jesters
Cartoon Carousel
Grin & Graphics
Caricature Whimsy
Cheeky Portraits
Cartoon Merriment
Caricature Avenue
QuirkQuest Studio
Cartoon Business Name Ideas
CartoonCraft Studios
WhimsyToons
ComicVerse
SketchyLaughs
DoodleWorks Studio
FunCartoons Co.
QuirkyInk Comics
GiggleGraphics
PlayfulPanels
WhimsicalWorld
CartoonCove Studio
CharmedComics
ToonTales
ExpressiveInk
WittyWhimsy
ChuckleChroma
CartoonCaboodle
JovialJunction
AmusingArtistry
GrinQuest
ComicalChapters
SmilingStrokes
JoyfulLines Studio
WhimsyWonders
HappySketches
Tooniverse
LaughterLines Studio
CheekyChroma
CartoonCapers
WhimsyWinks
ChuckleCharm Studio
Catchy Art Business Name Ideas
Artistic Avenue
Creative Fusion
Imagination Galore
Crafty Charmers
Inspired Easel
Visionary Vibes
Whimsy Wonderland
Artistic Flair
Craftopia Studio
Pictorial Palate
Palette Paradise
ArtSpark Emporium
Curated Canvas
Vivid Ventures
Artful Escapades
Crafty Creations Co.
Expressive Euphoria
Canvas Carnival
Imaginative Impulses
ChromaCraft Collective
The Artistry Atelier
Masterstroke Manor
Creative Caravan
Artistic Oasis
The Crafty Nexus
Ink & Essence
DreamDoodle Studios
Artistry Archipelago
Easel Enchanters
Crafty Chromatics
Sparkling Strokes
Classic and Fine Art Company Names
Artisan Atelier
Elegant Expressions
Timeless Creations
The Fine Art Gallery
Classical Canvas
Masterful Elegance
Refined Artistry
Classic Heritage Art
Gallery of Grace
Opulent Origins
The Art Legacy
Time-Honored Tones
Fine Art Journeys
Classical Visions
Legacy of Light
The Art Conservatoire
Timeless Traditions
Classic Artifacts
Regal Realms Gallery
The Fine Art Salon
Classical Masterpieces
Sublime Strokes
Artful Eternity
Classical Portraits
The Fine Art Collection
Majestic Brushstrokes
Classic Impressions
Grandeur Gallery
Fine Art Emporium
Noble Craftsmen
Classic Epoch Art
Clever Art Business Name Ideas
Artful Antics
Crafty Concoctions
Curious Canvas Co.
Whimsy & Wander
The Doodle Factory
Pencil Pushers
Ink-credible Creations
Painted Paradox
Brush & Bazaar
Quirky Qrafts
Easel Enigma
ImaginART
Colorful Curiosities
Masterpiece Mystique
ArtLab Adventures
Studio Smarty Pants
Crafty Chemists
The Witty Workroom
Clever Craftsmen
Doodle Dexterity
Art Abacus
Brainy Brushstrokes
Punny Paint Pots
The Artful Puzzle
Crafty Contrivance
Stroke of Genius
Imagination Inkwell
Artistic Riddles
Witty Watercolors
Ink & Iota
Puzzling Pigments
Color Consultant Business Name Ideas
ChromaCraft Consultants
Hue Harmony Experts
Palette Professors
ColorWhiz Advisors
The Color Alchemist
Chromatic Visionaries
Tint & Tones Studio
ColorSense Consultation
HueScape Solutions
ChromaWise Experts
Palette Perfectionists
ColorCrafted Consultancy
Vibrant Visions Studio
The Color Connoisseurs
ChromaCrafted Solutions
Hue & Harmony Consultants
ColorVerse Advisors
The Chroma Clinic
Pigment Pro Consultants
ChromaSense Studio
ColorMasters Consulting
The Hue Hub
ChromaBlend Advisors
Spectrum Solutions Studio
ColorSavvy Consultants
The Chromatic Coach
Tint & Tones Advisory
ColorWise Studio
HueScape Specialists
ChromaArt Consultation
The Color Emporium
Coloring Books Business Name Ideas
Colorful Escapades
WhimsyColor Books
ArtisticHues Studio
Palette Adventures
ChromaCraft Coloring
ImaginART Books
CraftyColor Tales
VividVoyage Coloring
Doodle Delights
ChromaBlend Books
Creative Canvas Coloring
Hue & Harmony Books
Artistic Journeys
ColoringRealm Studio
ChromaTales Books
ColorScape Explorations
CraftyColor Gallery
The Artistic Palette
ColorCrafted Books
WhimsyWonder Coloring
ColorVerse Adventures
VibrantVisions Books
ChromaQuest Studio
ArtfulEscapes Coloring
CraftyColor Chronicles
The Coloring Alcove
Doodle Dexterity Books
ChromaWonders Studio
CraftyCanvas Coloring
PictorialColor Books
VividVisions Studio
Cool Art Business Name Ideas
ArtVibe Studio
InkBliss Gallery
CraftFusion Creations
ChromaWave Art
The Artful Nexus
ColorSpectrum Studio
CreativeCraze Gallery
Craftopia Creators
ArtRush Studios
VisionaryVault
ArtSleek Studio
CraftVerse Gallery
CoolCanvas Creations
ChromaFusion Artworks
The Artistic Edge
WhimsyWhirl Gallery
CraftVortex Creations
ArtXplore Studio
ColorDash Creations
The CoolCraft Forge
CreativeEclipse Art
Craftified Studios
ArtRhythm Gallery
ChromaWave Creations
The Artful Sphere
CoolPalette Studio
Craftopia Artistry
VisionaryVortex
ChromaScape Studio
ArtXcite Gallery
CoolCanvas Artworks
Creative Art Business Name Ideas
Artistic Finesse
Craftopia Creations
ImaginART Studios
ChromaCraft Gallery
WhimsyWaves Art
The Creative Nexus
ColorfulCanvas Co.
Crafted Visions
ArtAlchemy Studio
VisionaryVault
Doodle Delights
Craftopia Expressions
ChromaCharm Artworks
The Artful Whirl
InkBliss Creations
Craftiverse Gallery
ColorSplash Studios
The Creative Forge
ArtScape Gallery
WhimsyWhirl Creations
Crafters' Canvas
ChromaWaves Artistry
The Creative Sphere
ArtisticAmplify Studio
VisionaryCraft Co.
Craftopia Inspirations
ColorSpree Gallery
The Artistic Vortex
DoodleCraft Creations
ChromaSense Studio
Craftopia Imaginations
Cute Art Business Name Ideas
Artful Paws
Whimsy Wonders
Colorful Critters Studio
Crafty Cupcakes
Sweet Sketches
Ink-credible Cuties
Doodle Darlings
Charming Canvases
The Crafty Kittens
Playful Pigments
Pint-sized Picassos
Dainty Designs
Crafty Cuddles
Little Brushstrokes
Sparkle Sprouts Studio
ImaginART Minis
Petite Palette
Tiny Tots' Creations
Kawaii Crafters
Doodle Daisies
Cute Canvas Kids
ChibiCraft Studios
Adorable Artworks
Whimsical Whiskers
Precious Pencils
Petite Paint Pals
Crafty Cuties Club
Darling Doodles
Colorful Cutie Pies
Miniature Masterpieces
Sweet Strokes Studio
Exclusive Art Business Name Ideas
ArtisanElite Studio
PrestigePalette
SignatureCrafts Co.
PrimeArtistry
The Privilege Gallery
EminentExpressions
PremierCraft Creations
EliteCanvas Studio
ArtAffluence Gallery
ExquisiteCrafts
Fine Art Connoisseurs
The Aristocratic Atelier
RegalRealm Art
Upper Crest Studios
NobleCraft Gallery
LuxePalette Studio
GrandeurCrafts Co.
The Exclusive Artisans
Privileged Pencil
OpulentOrigins Art
The Affluent Crafters
Prestigious Portraits
LuxuriousLines Studio
NobleMasterpieces
Fine Art Regalia
ElegantEdge Gallery
HautePalette
SupremeCrafts Co.
Artistic Privilege
PremiumCanvas Studio
Exclusivity Inks
Fun Art Business Name Ideas
Artful Antics
WhimsyWorks Studio
Colorful Creations Co.
Crafty Carnival
Doodle Delights
ChromaFest Fun
Playful Palettes
The Funky Art Hut
WackyBrush Studio
ImaginART Party
Craftopia Carnival
ColorSplash Fiesta
Creative Capers Co.
ArtVenture Funhouse
Whimsical Whirlpool
Pint-sized Picassos
Funky Canvas Party
Playful Pigments
The Artful Playground
Crafty Chatterbox
Funhouse Expressions
WackyArt Workshop
ChromaCraft Carnival
The Doodle Depot
Artful Adventureland
Creative Playpen
Crafty Carnival Fun
FunkyFiesta Studio
Pint-sized Pencils
The Whimsy Factory
Colorful Capers Co.
Foreign-Language Inspired Art Business Names
Arte Belleza Studio (Spanish for Art Beauty)
L'Art Magnifique (French for The Magnificent Art)
KunstKreationen (German for Art Creations)
Arte del Cuore (Italian for Art of the Heart)
ArteVentura (Spanish for Art Adventure)
Créations d'Art (French for Art Creations)
La Belle Peinture (French for The Beautiful Painting)
Arti Creativi (Italian for Creative Art)
Arte Épico (Spanish for Epic Art)
Bellezza Colorata (Italian for Colorful Beauty)
L'Atelier Magique (French for The Magical Workshop)
Künstlerische Visionen (German for Artistic Visions)
Arte Fantástica (Spanish for Fantastic Art)
L'Arte Incantevole (Italian for Enchanting Art)
Artesanía Creativa (Spanish for Creative Craftsmanship)
Schöne Malerei (German for Beautiful Painting)
Arte Curioso (Spanish for Curious Art)
L'Artisanat Créatif (French for Creative Craftsmanship)
Arte Meraviglioso (Italian for Wonderful Art)
Kunstvolle Meisterwerke (German for Artful Masterpieces)
La Peinture Joyeuse (French for The Joyful Painting)
Arte Brillante (Spanish for Brilliant Art)
Bellissima Arte (Italian for Beautiful Art)
Farbenfrohe Kreativität (German for Colorful Creativity)
La Créativité Magique (French for Magical Creativity)
Arte Incantevole (Italian for Enchanting Art)
Freudevolle Kunst (German for Joyful Art)
L'Art de l'Aventure (French for The Art of Adventure)
Arte Vivaz (Spanish for Vivid Art)
Kreative Schätze (German for Creative Treasures)
L'Arte dell'Ispirazione (Italian for The Art of Inspiration)
Good Art Business Name Ideas
Artistic Visions Studio
Creative Canvas Co.
Colorful Expressions
Crafted Creations Gallery
WhimsyWorks Studio
The Artful Palette
ChromaCraft Gallery
Craftopia Creations
ImaginART Studio
Masterpiece Makers
InspireArt Studio
Artistic Endeavors Co.
VisionaryVault Gallery
Doodle Delights Studio
Crafty Creations Hub
The Colorful Canvas
WhimsyWaves Artworks
Pencil & Paintbrush Studio
Artistry Emporium
CraftedVisions Gallery
The Creative Hub
ChromaCharm Artistry
Craftopia Studios
InkBliss Creations
Artistic Impressions Co.
CraftScape Gallery
The Artful Forge
WhimsyWhirl Studio
Crafters' Canvas Co.
ChromaCraft Studios
The Creative Haven
Graphic Design Business Names
PixelCraft Studio
DesignGenius Co.
ImaginativeInk Studios
ArtisticPixel Creations
ChromaCraft Design
CreativeCanvas Studio
VisionaryVectors Co.
WhimsyWaves Graphics
The Design Lab
CraftedVisions Studio
InkBliss Designs
ArtfulAvenues Co.
ChromaCharm Graphics
Doodle Delights Studio
Craftopia Design Hub
The Graphic Forge
WhimsyWhirl Creations
ColorfulCanvas Design
Crafters' Canvas Co.
ImaginART Studios
PixelPalette Design
DesignCraft Studio
Artistry Emporium
WhimsicalGraphics Co.
Craftopia Studios
ChromaCraft Designers
InkBliss Graphics
Artistic Impressions Co.
CraftScape Design
The Design Vault
The Creative Pixel
Take a look at our full article on graphic design company name ideas for even more suggestions.
Great Art Business Name Ideas
Artful Creations Studio
ColorPalette Co.
Crafted Visions Gallery
The Creative Canvas
ChromaCraft Creations
WhimsyWaves Studio
Masterpiece Makers
InspireArt Gallery
VisionaryVault Studio
Craftopia Creations
The Artistic Forge
Artistry Emporium
ColorfulCanvas Co.
Doodle Delights Studio
CraftScape Gallery
Imaginative Ink Co.
ChromaCharm Studio
WhimsyWhirl Creations
PixelCraft Studios
DesignGenius Gallery
The Design Lab
InkBliss Creations
Artistic Impressions Co.
Craftopia Design Hub
CreativeCanvas Co.
VisionaryVectors Studio
WhimsicalGraphics Co.
The Graphic Forge
ImaginART Studios
PixelPalette Gallery
Artistic Visions Co.
Illustration Business Name Ideas
Artful Illustrations Studio
Creative Inkscape Co.
WhimsyWaves Illustrations
Masterful Sketches
InspireArt Studio
VisionaryVectors Co.
ChromaCraft Illustrations
CraftedCanvases Studio
Doodle Delights Co.
ImaginART Illustrations
The Artistic Inkwell
Artistry Emporium
ColorfulCanvases Co.
CraftScape Illustrations
DesignGenius Studio
PixelCraft Illustrations
WhimsicalGraphics Co.
The Graphic Inkpot
Craftopia Sketches
InkBliss Illustrations
Artistic Impressions Co.
Illustrative Visions Studio
Imaginative Inkers
ChromaCharm Co.
WhimsyWhirl Illustrations
CreativeCanvas Studio
InspireLine Co.
Artful Stroke Studio
Craftopia Illustrators
PixelPalette Co.
Visionary Vectors Studio
Kids Art Business Name Ideas
Artful Kiddos Studio
Colorful Canvas Kids
WhimsyWaves Creations
Crafty Kids Co.
Masterpiece Minis
Kidtastic Artworks
Doodle Delights Studio
LittlePicassos Co.
ImaginART Kids
Craftopia Kids Studio
The Artful Playground
KidCreativity Hub
ColorfulCanvases Kids
CraftyKids Creations
Creative Kiddie Art
WhimsyWhirl Studios
Artful Adventurers
TinyBrushstrokes Co.
The Little Crafters
ImaginativeInk Kids
Kidtropolis Artworks
CraftyKids Club
Mini Masterpieces Studio
Kidtastic Crafters
ColorfulCreatives Co.
Kidtropolis Creations
WhimsyKids Studio
LittlePicassos Co.
Crafty Kiddos Club
ArtfulTots Studio
The Little Artistic Minds
Mural Painting Business Name Ideas
Artful Murals Studio
Masterpiece Murals Co.
Colorful Canvases Murals
WhimsyWaves Mural Art
Imaginative Inkscape Murals
Crafted Visions Muralists
Doodle Delights Murals
The Mural Forge
ChromaCraft Murals
Whimsical Walls Studio
Visionary Vectors Murals
Artistic Impressions Murals
ColorScape Creations Mural Art
CraftScape Muralists
Mural Magic Studio
PixelCraft Murals
The Mural Gallery
InkBliss Murals
WhimsyWall Murals
Craftopia Muralists
The Mural Odyssey
Brush & Beyond Murals
CraftedCanvases Studio
Mural Marvels Co.
Artful Enchantment Murals
Crafted Realms Murals
WhimsyWonders Mural Art
Masterpiece Murals Studio
Crafted Horizons Murals
MuralTales Studio
ImaginART Murals
Photographic Art Business Names
Artful Lens Studio
Captured Creations Co.
ChromaCraft Photography
Whimsical Frames Studio
Visionary Vistas Co.
Crafted Moments Gallery
Snapshot Dreams Studio
Picture Perfect Artistry
Imaginative Captures
Frame & Focus Studio
ChromaScapes Photography
Crafted Portraits Co.
The Artistic Shutter
WhimsyWaves Art Gallery
PictureThis Studio
Colorful Snapshots Co.
CraftyClicks Photography
Artful Exposures Studio
Frame & Freeze Co.
ChromaCraft Captures
The Snapshot Forge
ImaginART Photog Studio
Crafted Landscapes Co.
WhimsicalFrames Gallery
Frame & Freeze Studio
PicturePaints Co.
ArtfulFocus Photography
Crafted Memories Studio
ChromaShots Co.
The Artistic Lens
Imaginative Vistas Studio
For more inspiration, read our article about photography business name ideas and tips. Then, find the perfect tagline for your new venture from our list of ideas for photography business slogans.
Pottery Business Name Ideas
Artful Clay Studio
Crafted Pots Co.
WhimsyWaves Pottery
Masterpiece Ceramics
Imaginative Clayworks
The Pottery Forge
ChromaCraft Pottery
Whimsical Wheels Studio
Crafted Vessels Co.
Doodle Delights Pottery
Earthy Creations Studio
Artistic Impressions Pottery
ColorfulClay Co.
CraftScape Pottery
Clay Canvas Studio
Potters' Palette Co.
Pottery Paradise Studio
ImaginART Pottery
CraftyCrafts Co.
ClayDreams Studio
WhimsyWonders Pottery
ArtfulWheel Works
CraftedClay Creations
Masterpiece Pottery Co.
Pottery Artistry Studio
ChromaClay Co.
Earth & Fire Studio
Crafted Vases Gallery
ClayCreations Co.
The Potters' Haven
ArtfulArtifacts Pottery
For even more pottery business names, check out our list of 2051 ideas!
Specialty Art Business Name Ideas
Artful Oddities
Crafted Curiosities
Whimsical Wonders
Masterpiece Magic
Imaginative Artifacts
The Artistic Enigma
ChromaCraft Curios
WhimsyWaves Specialties
Crafted Treasures Co.
Doodle Delights Studio
Extraordinary Expressions
Artful Inventions
ColorfulCollectibles
CraftScape Specials
The Artisan's Niche
Unique Creations Co.
Potent Portraits Studio
Artful Assemblage
CraftyCrafts Gallery
Signature Styles Studio
ChromaCraft Curations
Remarkable Rarities
Artful Artistry
ImaginART Niche
Crafted Curations Co.
WhimsyWonders Studio
Exceptional Expressions
Crafted Creations Co.
The Artistic Nook
Spectacular Showcases
ChromaCraft Specialties
Sustainable /Eco Art Business Names
GreenArt Innovations
EcoCraft Studio
EarthyExpressions
SustainablePalette
ReArtful Creations
Nature'sCanvas Co.
EcoChroma Artworks
WhimsyWaves Eco Art
Crafted with Care Studio
EcoBrushStrokes
GreenVibes Gallery
Art from Nature Studio
EcoSculpture Co.
ReclaimedRustic Art
CraftedNature Creations
EcoInspired Designs
EarthyElegance Art
SustainableSculptors
GreenArtistry Studio
EcoPalette Creations
WhimsyWoodworks
CraftedGreen Gallery
RenewedExpressions
EcoFriendlyCrafts
NaturalWonders Studio
EcoChic Artworks
ReimaginedCanvas
EarthyArtisans
EcoSustainable Studio
WhimsyWaves Eco Creations
Crafted from Nature Co.
Tattoo Business Name Ideas
Artful Ink Studio
Crafted Tattoos Co.
WhimsyWaves Tattoo Parlour
Masterpiece Markers
Imaginative Inkworks
The Tattoo Forge
ChromaCraft Tattoos
Whimsical Tattoos Studio
Crafted Visions Ink
Doodle Delights Tattoos
Inked Expressionists
Artistic Impressions Ink
ColorfulCanvases Tattoos
CraftScape Tattoo Studio
Skin Canvas Creations
WhimsyWonders Ink
Signature Styles Studio
ChromaCharm Tattoos
Inked Euphoria
Artful Skinworks
Crafted Ink Gallery
InkFusion Studio
The Artisan's Tattoo
ImaginART Tattoos
Crafted Lineage Ink
WhimsyWaves Tattoo Art
ChromaCraft Inked
Mystic Markers Studio
The Tattoo Atelier
ArtfulSkins Co.
Crafted Markings Studio
Unique Art Business Name Ideas
WhimsyWorks Gallery
Craftopia Creations
The Artful Nook
ChromaCraft Studio
Visionary Vistas Co.
Imaginative Inkblots
Earthy Easel Studio
Kaleidoscope Creations
Whimsical Wonders Co.
Crafted Canvases Studio
Pictorial Potpourri
ArtfulAlchemy Co.
Sculpted Serendipity
ChromaScape Studio
Radiant Realms Gallery
Crafted Curiosities
Doodle Delights Co.
The Brushed Canvas
Artistry Auras Studio
WhimsyWave Artworks
ImaginART Studio
Embellished Expressions
ChromaCraft Creators
Kinetic Kanvas Co.
Crafted Euphoria
Surrealistic Strokes
VisionaryVerse Gallery
Dreamy Doodles Studio
The Artistic Odyssey
Curated Canvases Co.
ChromaCrafted Masterpieces
Check out our list of art business slogan ideas for inspiration with the next step of your branding.
Do's and Don'ts
Choosing a name for your art business is an exciting and crucial step in establishing your brand identity. Here are some key do's and don'ts to consider when selecting the perfect name:
Do's:
Reflect Your Artistic Vision: Choose a name that aligns with your artistic style, creativity, and the essence of your work. It should evoke the right emotions and connect with your target audience.
Make It Memorable: Opt for a name that is easy to remember and pronounce. A catchy and memorable name will help potential customers recall your business more easily.
Check for Domain Availability on Namecheap: Before finalizing a name, conduct a thorough search to ensure the domain is available for your website.
Emphasize Your Specialty: If your art business focuses on a specific niche or style, consider incorporating that into your name. This will attract customers seeking that particular expertise.
Consider Online Presence: Ensure the name has an available domain name and social media handles. Consistent branding across platforms is essential for building a strong online presence.
Ask for Feedback: Share potential names with friends, family, or fellow artists to gather feedback. Getting different perspectives can lead to fresh ideas and insights.
Be Timeless: Avoid trendy names that might become outdated quickly. Aim for a name that will stand the test of time and remain relevant in the long run.
Don'ts:
Don't Overcomplicate: Avoid lengthy or complicated names that might confuse potential customers or be challenging to remember.
Avoid Unrelated Terms: Ensure the name you choose relates to your art business. Steer clear of generic terms that don't reflect your artistic offerings.
No Trademark Infringement: Never use a name that is already trademarked or copyrighted by another business. It could lead to legal issues and damage your reputation.
Don't Limit Growth: While focusing on your niche is important, avoid choosing a name that is too narrow and might restrict your future business expansion.
Don't Copy Others: Originality is key. Avoid copying names of existing art businesses, even if they seem successful. Stand out with your unique identity.
Avoid Abbreviations and Acronyms: Abbreviations or acronyms might not convey your art business's essence or could be easily misunderstood.
Steer Clear of Negative Connotations: Be cautious of names that may have negative connotations or be offensive in any language or culture.
Final Thoughts
By following these do's and don'ts, you'll be on the right track to choosing a compelling and impactful name that embodies your art business. Embrace the creative process, and remember that a great name can make a lasting impression on your customers and set the tone for your artistic journey.
Good luck, and may your art business thrive!
Want to learn step-by-step how I built my Niche Site Empire up to a full-time income?
Yes! I Love to Learn
Learn How I Built My Niche Site Empire to a Full-time Income
How to Pick the Right Keywords at the START, and avoid the losers
How to Scale and Outsource 90% of the Work, Allowing Your Empire to GROW Without You
How to Build a Site That Gets REAL TRAFFIC FROM GOOGLE (every. single. day.)
Subscribe to the Niche Pursuits Newsletter delivered with value 3X per week