12 Best NFT Marketplaces to Mint, Buy, and Sell Tokens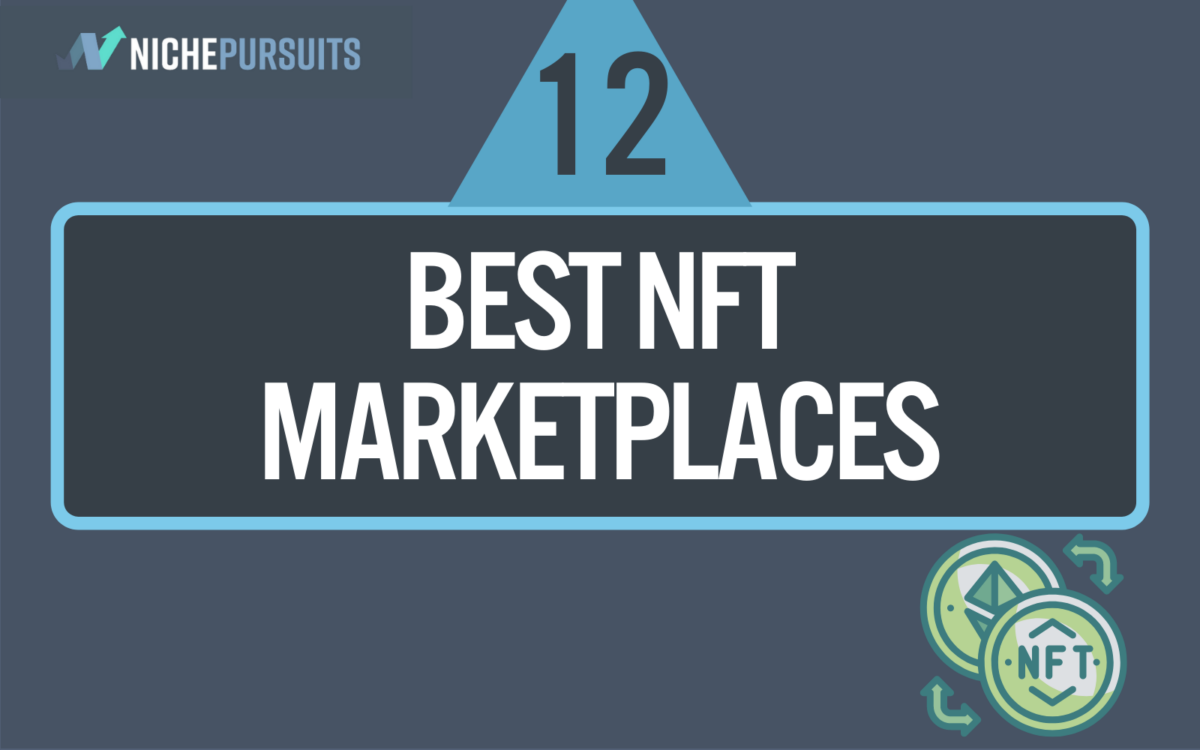 When you buy something through one of the links on our site, we may earn an affiliate commission.
If you want to get in on the NFT hype, you need to sign up with an NFT marketplace. 
NFT marketplaces are platforms where you can buy, sell, trade, display, and mint NFTs. 
Each marketplace has pros and cons depending on the types of NFTs you're interested in – whether you want to buy or create. 
In this article, we're covering the 13 best NFT marketplaces to get started with. We'll also cover what each platform is best for.
Let's get into it. 
What Are The Best NFT Marketplaces? 
The marketplaces we've listed here are a combination of both large and niche platforms. 
1. OpenSea
NFT Types: Art, collectibles, NFT domain names, music, photography, trading cards, virtual worlds, and more
Blockchain: Ethereum, Polygon, Klatyn
OpenSea is currently the largest NFT marketplace, and this might be the best place to start if you're a total beginner. 
OpenSea supports over 150 cryptocurrencies and has every kind of NFT, including the coveted Bored Ape Yacht Club NFTs. 
This platform is intuitive and easy to use, and it's also free to sign up and start minting, selling, and browsing immediately. 
Visit OpenSea
2. Axie Marketplace

NFT Types: Axies: a Pokemon-like digital pet used in the Axie Infinity video game
Blockchain: Ethereum
Axie Infinity is an NFT-powered video game. The Axie Marketplace is a niche marketplace exclusively for Axies. Axies are Pokemon-like digital pets that users can play with in the Axie Infinity game. 
Although it's the second-largest NFT marketplace, this platform has been described as difficult for beginners to get started with.
But it's great for advanced NFT enthusiasts for playing Axie Infinity, battling monsters, breeding new creatures, and more. 
Visit Axie Marketplace
3. Rarible
NFT Types: Art, collectibles, music and video, NFT domain names, metaverse lands and wearables, and more
Blockchain: Ethereum, Flow, Tezos
Rarible is one of the leading NFT marketplaces that has a wide range of digital art and collectibles. 
Users can even buy metaverse lands, music, video, and more.
This platform is really similar to OpenSea and has a really intuitive and beginner-friendly interface. This platform is growing every day and it's a great place for beginners to start. 
Visit Rarible
4. SuperRare
NFT Types: Digital art
Blockchain: Ethereum
SuperRare is an NFT marketplace with a high-end art gallery vibe. 
This marketplace has an upscale, minimalistic feel and features high-quality, curated digital art. 
SuperRare bills themselves as "the future of art collecting", and they don't let just anyone create and sell on the platform. Some reports suggest that SuperRare only accepts 1% of artists that apply to the platform.
This NFT marketplace places a heavy emphasis on high-quality art from skilled artists. As a result, NFTs on SuperRare will set you back more than art on other platforms.
This NFT marketplace is perfect for serious artists and art lovers.
Visit SuperRare
5. Decentraland
NFT Types: Virtual world assets
Blockchain: Ethereum
Decentraland is much more than just an NFT marketplace: it's an entire virtual world. 
This is an open world where users can buy assets, avatars, lands, wearables, and more. 
Decentraland is described as one of the most popular metaverse games where you can make money playing games, buying and selling property, and interact with people from around the world.
Visit Decentraland
6. NBA Top Shot
NFT Types: Digital trading cards
Blockchain: Flow
As you might have guessed by the name, the NBA Top Shot marketplace is an NFT marketplace specifically for digital training cards containing NBA video highlight clips. 
This platform is so popular because it's super easy for anyone to get set up and start out.
If you're a sports or NBA lover and looking for a great place to get started, check out the NBA Top Shot marketplace. 
Visit NBA Top Shot
7. Foundation
NFT Type: Fine art, digital art, photography
Blockchain: Ethereum
Foundation describes itself as a "creative playground" for artists. This NFT marketplace places a heavy emphasis on digital art. 
Foundation has been home to many famous digital art sales, like the Nyan Cat and Edward Snowden's first NFT. 
This NFT marketplace is a community-curated platform run by a select number of artists. The result is an NFT marketplace with high-quality digital art.
Visit Foundation
8. Nifty Gateway 
NFT Type: Digital Art
Blockchain: Ethereum
Nifty Gateway is a big name in NFT marketplaces. This marketplace is home to some of the biggest NFT sales ever.
CROSSROAD by beeple sold for $6.6m in February 2021. Then, in December of the same year, Pak's The Merge sold for $91.8m!
Nifty Gateway can be a great place for beginners to start, as far as NFT marketplaces go. This platform enables collectors to buy NFTs using Fiat currency – aka your government-issued currency – so you can buy NFTs without having any cryptocurrencies. 
Visit Nifty Gateway
9. Binance NFT
NFT Type: Any
Blockchain: Binance, Ethereum
Binance is one of the largest cryptocurrency exchanges in the world. As a result, the Binance NFT marketplace is quickly becoming one of the biggest NFT marketplaces, too.
You'll find literally all types of NFTs on the Binance marketplace, and it's easy and intuitive to navigate.
Due to its ease of use, Binance NFT Marketplace is a great place for beginners. 
Visit Binance NFT
10. Mintable
NFT Type: Art, animation, games, music, and video
Blockchain: Ethereum, ImmutableX
Mintable is a newer NFT marketplace backed by Mark Cuban. On this platform, you can buy and sell art, animation, games, virtual worlds and assets, NFT domains, and more. 
This platform is best for those who want to mint their own NFTs.
Mintable has a mission to make the production of NFTs simple and accessible for everyone.
Newbies can start minting their own NFTs right away on Mintable. If this is what you want to do, this marketplace is a great place to start.
Visit Mintable
11. MakersPlace
NFT Type: Fine art
Blockchain: Ethereum
MakersPlace is an NFT marketplace that's perfect for finding rare, authentic, and curated digital NFT artwork. 
Artists on MakersPlace digitally sign their art, and the signature is recorded on the blockchain. This makes owning a piece of artwork from MakersPlace even more rare and valuable. 
Only a limited number of authentic editions are created. That also makes art on MakersPlace even more valuable. 
This NFT marketplace is best for serious artists and fine art collectors.
Visit Makers Place
12. KnownOrigin
NFT Type: Rare and fine art, photography
Blockchain: Ethereum
KnownOrigin is a smaller NFT marketplace with an emphasis on rare digital art. 
This is one of the oldest NFT marketplaces and it offers rare and collectible art in the form of drops, which are time-released events. 
Drops create scarcity which increases the value of the art.
The art on KnownOrigin is curated, and each artist has to go through a vetting process which makes it all the more exclusive.
KnownOrigin is another platform best for serious artists and art collectors. 
Visit KnownOrigin
What to Consider When Selecting an NFT Marketplace
Here are the top factors to consider when selecting an NFT marketplace.
Gas Fees
A "gas fee" is a charge you pay to perform a transaction on the Ethereum blockchain. 
Most commonly, creators have to pay gas fees when minting (creating) an NFT.
These prices fluctuate depending on how heavy the demand is. 
Some platforms offer gas-free minting, but it's not truly gas-free. All it does is take the gas price off of the creator and place it on the buyer. OpenSea and Rarible offer gas-free minting. 
Before you decide to mint or buy an NFT, be sure you're aware of the gas fees and which blockchain they use.
Considering the growing number of transactions on Ethereum's blockchain you may even want to consider learning how to mine Ethereum.
Marketplace Security
In the crypto world, security is of utmost importance. 
In the past, there have been hacks and frauds resulting in NFTs being stolen and millions of dollars being lost. 
NFTs can be hacked and stolen just like anything else on the internet. And, even with the best security, things like this can still happen from time to time.
When selecting a marketplace, look into the lengths the marketplace goes to to keep its users and their digital assets safe. 
Just like with crypto tokens, the best way to keep your NFTs safe from hacking and theft is with cold storage.
If you're unfamiliar, cold storage is a physical device that keeps your crypto assets completely offline. Think of it as a flash drive with a password that only you have access to. 
Supported Tokens
Another thing to look at when selecting an NFT marketplace is what types of tokens they support. 
Find out whether or not you have the right tokens for the platform. In some cases, you will have to convert your existing currency. However, with other platforms, you can start right away.
Some marketplaces, like Nifty Gateway, even allow you to purchase using regular government-issued currency. 
Overall Ease of Use
Some NFT marketplaces are easier to use than others, especially if you're a beginner. 
If you're a total newbie trying to learn and get the hang of the whole NFT thing, start with a platform like OpenSea or Rarible. Both of these marketplaces are great for beginners and easy to navigate and understand.
NFT Marketplace Wrap Up
The world of NFTs is fast-paced, exciting, and for some, extremely confusing. 
Luckily, there are a ton of articles, videos, and educational material all over the internet. 
If you want to get in on the NFT wave, you still can… and should!
Whether you're a newbie or a serious digital art collector, there's a perfect marketplace out there for you.
And if you'd like another way to cash in on the craze check out our list of the best NFT stocks.
Want to learn step-by-step how I built my Niche Site Empire up to a full-time income?
Yes! I Love to Learn
Learn How I Built My Niche Site Empire to a Full-time Income
How to Pick the Right Keywords at the START, and avoid the losers
How to Scale and Outsource 90% of the Work, Allowing Your Empire to GROW Without You
How to Build a Site That Gets REAL TRAFFIC FROM GOOGLE (every. single. day.)
Subscribe to the Niche Pursuits Newsletter delivered with value 3X per week