Shopify vs Etsy: Which Platform is Better for Your Online Business?
When you buy something through one of the links on our site, we may earn an affiliate commission.
So, you want to make money online selling products, and you've narrowed down your ecommerce options to Shopify vs Etsy. The question now is, which platform would be the better choice for your business?
Fortunately, you're in the right place! I'm here to help you dig through the features, pricing, and nuances of each platform to make an informed decision about where to sell your products online.
But first things first: What exactly are Shopify and Etsy?
Well, Shopify is an all-in-one ecommerce solution that allows you to establish your online store. We have a full review of Shopify here, as well as a guide to making money on Shopify here. And of course, if you're interested in giving Shopify a try, definitely click this link to grab a free 14-day trial!
Try Shopify FREE for 14 days!
As for Etsy, this is a popular online marketplace where you can list your handmade products on a platform with other sellers. It's primarily intended for selling physical handmade goods, such as arts and crafts.
If you want to learn more about Etsy, check out our full post on how you can make money on Etsy. For a comprehensive guide to selling on Etsy, we highly recommend you check out the Etsy Complete Masterclass course from Sergey Kasimov.
Get the Etsy Complete Masterclass
---
The Differences Between Shopify and Etsy
If you've been involved in online marketing for any length of time, you've no doubt heard about both Shopify and Etsy by now. These ecommerce tools are both widely known options for selling products online.
The first thing to understand about the two is that Shopify is a self-hosted solution – in other words, you're building your very own ecommerce website to sell your products. Etsy allows you to build an online store as well, but you're listing your products on a shared marketplace with thousands of other sellers.
So, what's the difference between having your own store or selling on a marketplace in practice?
Well, the advantage of building your own online store is that you get a lot more control over different aspects of the business, including how it's presented to customers on the front-end. With a Shopify store, you are able to build your own brand, source your own products, have your own domain, and sell with an online store (while they handle the more technical logistics of this process).
An Etsy shop gives you less customization over the business model, but it provides a lot of hand-holding if you're new to ecommerce – and most importantly, it attracts an audience of millions ready to buy!
Keep in mind, Etsy does offer its own version of a website builder, "Pattern by Etsy," at a rate of $15/mo. I'll go into that option later in this post.
Shopify vs Etsy: Target Audience
When comparing Shopify vs Etsy, it's worth considering the target audience for these two platforms.
Yes, Shopify is very popular in the ecommerce space, but more so among online marketers than the general public. Shopify is definitely more geared toward small business owners trying to build a brand, as opposed to individual sellers with creative goods to sell.
Etsy, on the other hand, is the online marketplace that your girlfriend, female cousin, and friend's mom all gush about. There's a reason for this: the Etsy marketplace is predominantly targeting female buyers and sellers.
In fact, I've experienced this firsthand. In a former relationship, my then-girlfriend had a close female friend with an Etsy business creating custom jewelry like necklaces, selling anywhere from $50 to $100 each. Long story short, I may have been nudged to buy Etsy jewelry from her friend to give to her as a holiday gift…
As for Shopify, it's more gender-neutral. Because there are so many free and premium themes available, if your goal is to target a female audience, then it's not hard to customize your online stores with that in mind. When you're trying to decide which platform to list your products on, be thinking about who your buyers actually are.
Shopify vs Etsy: Online Presence
One important distinction between Shopify and Etsy marketplace is where and how people will actually view your products online.
Shopify starts out by giving you a temporary URL formatted like this: thrashers-store.myshopify.com. From there, Shopify intends for you to connect a custom domain for your store, which allows it to be a unique URL that represents your brand.
With Etsy, it looks like this: www.etsy.com/shop/ThrasherStore. On Etsy, your presence will always be part of Etsy – even if you opt for the Pattern by Etsy plan to get a custom domain and website, you'll still have your own Etsy store.
Design and branding is another big distinction. Shopify lets you customize your entire website and store, with hundreds of flexible themes to choose from, plus the ability to add CSS for further design changes. On the other hand, a visitor will always know when they're seeing your Etsy store, because your store shares the same layout as any other store on Etsy. This is a double-edged sword – people already know and trust Etsy as a marketplace, so they're more predisposed to trust you as a merchant. However, you can't stand out nearly as much through layout and branding.
If you do opt for Pattern by Etsy, you can have your own dedicated website and brand, though the website builder isn't as versatile as what you can expect with Shopify.
Shopify vs Etsy: Type of Products to Sell
On Shopify, you can honestly sell almost anything, as long as it's legal. Because Shopify is just there to power your brand, there areit's totally up to you whether you're selling physical products, digital products, services, or some combination of the above. However, Shopify is probably most commonly associated with drop shipping and physical products.
With a range of third-party apps, you can easily source products or offer your own print-on-demand merchandise. Thanks to the wonders of Chinese manufacturing, you can wholesale Chinese goods with an app like Oberlo and mark them up in your own store. Ultimately, Shopify is less about the type of products you can offer, and more about the type of brand you want to build.
It's a little different with Etsy, because most people who are shopping on Etsy expect a more narrow selection of niche items to buy, focused around handmade goods and craft supplies. This isn't an accident, as Etsy actually has pretty strict guidelines on what qualifies as "handmade" and "vintage" – if your products don't count, then you can't list them on Etsy. You also cannot resell homemade goods that you didn't make yourself.
Here's a brief list of the kinds of products that you're likely to see on Etsy:
Jewelry
Clothing
Crafting tools or craft supplies
Candy
Art
Decorations
Home decor
Unique or vintage items
It's also worth noting that Etsy items can often be personalized, which is a huge selling point. A lot of Etsy buyers will purchase these items for sentimental reasons, like as a gift for a loved one, which means they may be less concerned about the cheapest price.
Personalization of items is less common on Shopify, but still doable with the right vendor or supplier.
Shopify vs Etsy: Fee Structure
Pricing and payment is probably one of the most important differences between Shopify and Etsy. In both cases, you'll have to pay some money upfront to get started – then, there will also be some additional potential transaction fees on top of that.
Shopify Fees
With Shopify, prices start at $29/mo for building your own ecommerce website. This includes a self-hosted store, 24/7 support, and a number of other great features, including a blog option, unlimited product listings, access to additional sales channels, abandoned cart recovery, and discount codes. The higher level plans also include professional reporting, gift cards, and more robust point of sale options.
Here's how the five Shopify plans break down in terms of cost:
Shopify Lite: $9/mo
Basic Shopify: $29/mo
Shopify: $79/mo
Advanced Shopify: $299/mo
Shopify Plus: $????/mo
Now, keep in mind that Shopify Lite isn't a full store builder. Instead, it allows you to create product listings and embed a "Buy Button" on your website or social media. This makes Shopify Lite one of the most affordable ways to legitimately get started selling products online.
On the other end of the Shopify spectrum, Shopify Plus is intended for enterprise customers, so you'll probably want to stick with the Basic, standard, or Advanced Shopify plans.
Beyond the monthly subscription fee, Shopify will charge you transaction fees when a credit card is used, between 2.9% + 30 cents on the Basic plan and 2.4% + 30 cents on the Advanced plan. An additional fee is added if you use a payment provider other than Shopify Payments, ranging from 2% to 0.5%.
Crucially, Shopify lets you list as many products as you want, for as long you want.
Etsy Fees
Etsy fees are even more straightforward. You basically get your own storefront and account for free, but every product listing costs $0.20, which can add up over time, especially if you intend to offer many variations of your products. In addition to this cost, Etsy charges a 3.5% transaction fee per sale, which is on top of your standard credit card transaction fees!
With Etsy, you'll definitely end up paying more if you're trying to make money on volume – and it forces you to think through whether it's worth listing products on your store, because of the upfront fee per listing.
I also have to point out that Etsy offers a premium solution called "Pattern by Etsy" that does allow you to build a customized website for $15/mo. The reason I bring this up is because, if you want more control over your brand with a dedicated website, you can pay for Pattern by Etsy, but you still need to pay the same $0.20 listing fee per product in your Etsy inventory. It also requires you to pay the transaction fees. Combined, these expenses can cut into your profit margins.
Shopify vs Etsy: Which is a Better Value?
I think pricing is important enough to delve into it a little more. The best way to look at value for the money is with an example month of sales.
Let's say you sell something that would be found on either platform, such as a necklace. With Shopify, your expense would be the cost of a monthly subscription, say the $29 basic plan. Assuming all of your sales go through Shopify Payments, you'll still have some credit card payment processing fees. There are also potential hidden expenses, such as the cost of a theme, or paying designers or SEO experts to help you, that aren't as necessary on a marketplace that takes care of that stuff for you. But setting those aside for now, your Shopify expenses boil down to the $29 monthly fee.
With Etsy, you pay $0.20 for every listing upfront, but you can amortize this over four months at a cost of just $0.05 per month. With 10 listings, your monthly cost is $0.50. Then, you have to figure in the additional 3.5% transaction fee on every sale. To surpass the $29 fee you pay on Shopify with Etsy, you'd need online sales of at least $830 per month (3.5% of $830 is $29-ish).
In other words, strictly from a financial standpoint, Etsy is cheaper until you start getting significant sales. After that, Etsy becomes way more expensive – though as your success grows on Shopify, you may very well find yourself needing the features found in a higher subscription, which changes the equation again.
The bottom line? You'll be paying one way or another, so your best bet is to figure out how you're going to get the most sales and focus on that. You can always start with Etsy and shift to Shopify once you've grown, or start with Shopify and make Etsy just another marketing channel for your brand.
Pros and Cons of Shopify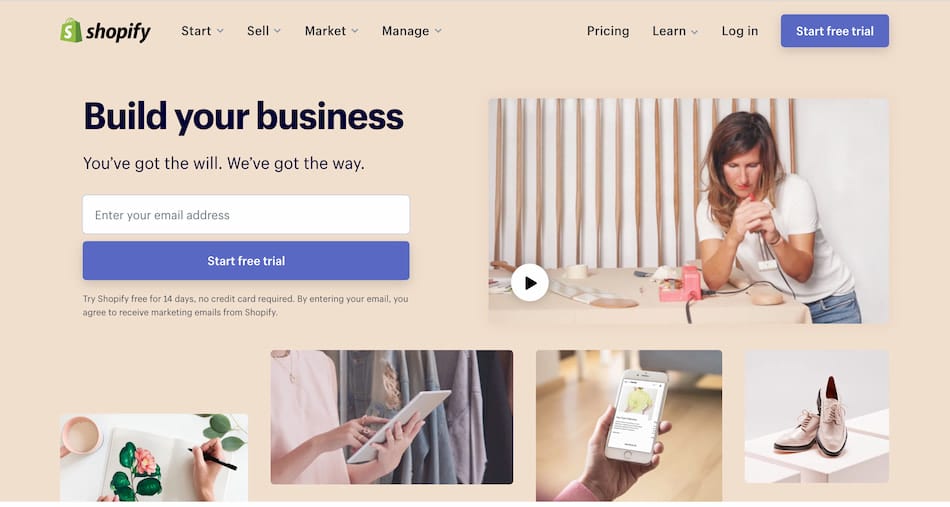 Shopify is a great option for a small business owner who wants to build a brand, especially if that brand falls outside the homemade craft space. You can easily build a business around selling many different products or services using Shopify's flexible site builder, marketplace of apps, and sophisticated set of customizable tools.
Shopify offers a great deal of flexibility in how you source and present your products.
Shopify Pros
Brand recognition is stronger on your own store
Additional customization and functionality thanks to third-party apps and premium themes
No transaction fees with Shopify Payments
Unlimited product listings in Shopify, with no expirations
Staff accounts allow multiple people to work on your store
Offers more marketing options, including a blog, SEO, and professional reporting
Affordable Shopify Basic plan starts is just $29/mo
Point of sale support extends to offline transactions
Shopify Cons
More substantial upfront cost
Steeper learning curve than Etsy
Top features require more expensive plans
Does have fees on credit card processing
Pros and Cons of Etsy
Etsy is a fantastic marketplace for anyone looking to sell homemade crafts and unique vintage items. With Etsy, you have a ready-made audience of millions with brand loyalty to Etsy, so depending on your niche, you may be able to tap into that great source of traffic for your own products.
However, you're pretty limited in how you set up your listings, with customization just for pictures and text.
Etsy Pros
An online marketplace with roughly 40 million buyers in 2018
Fantastic way to get exposure for your online brand
Easy to get started selling with intuitive store
Great learning resources
Optional "Pattern by Etsy" store builder allows you to have your own Etsy shop website at $15/mo
Etsy Cons
Each product listing costs $0.20 and expires after four months
Has 3.5% transaction fees, plus additional 3% + $0.25 fees for payment processing
Requires a separate solution for building your own website
Limited customization options
Additional Ecommerce Options
Sell on Etsy with Shopify
Do you want the best of both worlds? It's entirely possible to have a successful Shopify store of your own and also sell on Etsy with an account there!
As far as I could find, Etsy isn't available as an official sales channel on the Shopify app store, which means you'll need to use a third-party app to integrate the products from your Shopify store with your Etsy stores.
Here are a few of the most popular options on the Shopify app store to do this:
Etsy Marketplace Integration
Etsify
ExportFeed
Keep in mind, these aren't cheap, ranging from $20 to $30 per month (on top of what you're paying for Shopify and the listing fees on Etsy) – but they streamline the process of listing the same products on two or more storefronts.
Even better, this integration includes a syncing of inventory and orders, not just listings. This allows you to see all of your sales across multiple channels right in Shopify!
ExportFeed is an example of a Shopify app that helps you list your products on a number of different marketplaces and channels in one simple process, including Etsy, Amazon, Shareasale, Facebook, eBay, and Walmart.
The best thing about this option is that you can create feeds and list products in these different merchant accounts quickly and accurately, without having to take the time to create manual listings for each one.
Sell on "Pattern by Etsy"
Are you all-in on the Etsy ecosystem as a seller of crafts and vintage items? If you feel like Shopify might be overkill for your needs, then "Pattern by Etsy" may be a good compromise that alleviates some of the downsides of just selling directly on Etsy's marketplace.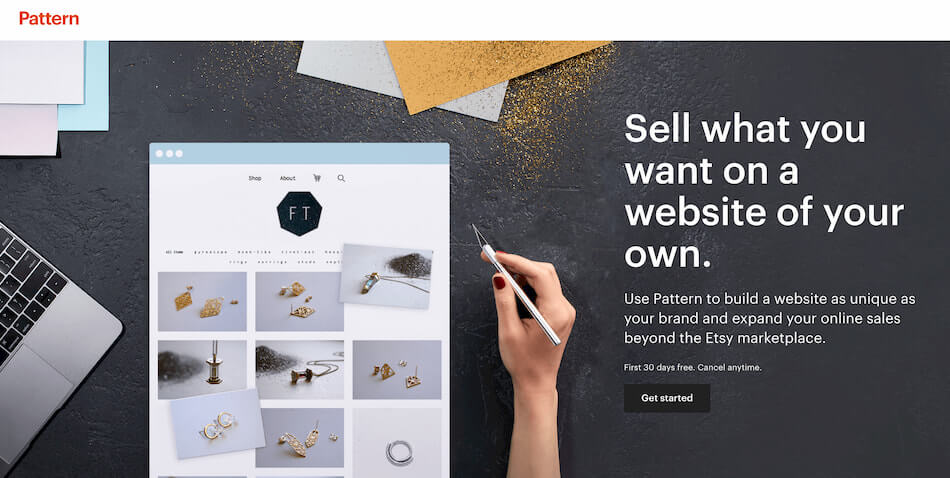 Pattern by Etsy costs $15/mo for your own online store, including hosting, customizable themes, the ability to add your own URL, and easy integration with your Etsy account. Pattern makes it possible to change colors, typography, and logos, although not to the extent you can with Shopify.
The biggest advantage of selling with Pattern is that it's designed to work with Etsy, so there's less difficulty in setting up your catalog of products and maintaining them on a dedicated storefront. You continue to have access to Etsy's fulfillment and payment processing services, rather than having to set up your own.
It's also possible to sell other items that wouldn't be allowed on Etsy based on its guidelines – and these are exempt from Etsy's transaction and listing fees. It's also easy to use, although that's partly because the configuration options are pretty limited.
On the other hand, you may have products you want to sell that wouldn't be a good fit for Etsy. While it's possible to do this with Pattern, a tool like Shopify is more flexible, with the availability of third-party apps to integrate with additional sales channels and ecommerce platforms. Pattern by Etsy also lacks sophisticated tracking and reporting, and there's no plugins or add-ons to extend functionality like you see with Shopify. It's even difficult to add custom CSS to further tweak your Pattern store's layout and design.
Keep in mind that having Pattern is essentially doubling down on Etsy for your business. This is important to be aware of, as any changes to Etsy's pricing or terms of service will affect you in two places.
With all that said, Pattern solves the biggest problem of selling on Etsy: not having your own website and brand. For a reasonable monthly price, Pattern gives you a quick and dirty way to get a custom storefront for your brand. If you're interested in Pattern, you can get a free 30 day trial to see if it's right for your Etsy business.
Sell on Your Own Website
It's always worth pointing out that you may have the tools to sell on your own website. We recommend a WordPress theme like Thrive Themes and an ecommerce plugin like WooCommerce, but there are many different combinations out there that can work. You can even use Shopify Lite ($9/mo) to add a "buy button" to your existing website.
It's all a matter of tradeoffs in price, ease of use, customization, and functionality. Etsy is on the low end of customization and features, but it's easy to use and easier to get traffic. Shopify is a good mid-tier compromise that's affordable, intuitive, and packed with features you can tweak to your heart's content. With your own website, you can do virtually anything you want, but it's not easy and may end up costing a lot of money.
You have to weigh these factors to decide which platform would serve your business needs best, both now and in the future.
Shopify vs Etsy Wrap-up
Shopify and Etsy may seem similar at first, but they're actually pretty different eCommerce platforms.
With Etsy, most of your money is going to pay them for the privilege of being visible to their truly impressive volume of monthly visitors, while with Shopify, you're primarily paying for the tools you need to build your own presence. Shopify powers your dedicated online store, but doesn't automatically provide you with any potential buyers, so you'll need to devote substantially more of your time and money to attracting traffic.
I would say, depending on the kinds of products you sell and the people you're targeting, Etsy may be a better fit as a specialized online marketplace for handmade goods. If what you're selling makes sense in the Etsy ecosystem, I'd strongly consider starting with Etsy. For every other type of product, it makes more sense to look at Shopify.
If you're on the fence, it's not a bad thing to diversify. For instance, check out our list of the best Shopify alternatives.
Putting all of your eggs in either basket leaves your entire business vulnerable, so utilizing a combination of platforms can help alleviate the potential risk. I recognize that it costs more to list on both platforms, but you can always plan to expand to a second one later.
One common path is this:
List some products on Etsy to test their marketability.
Once you have enough sales to justify the cost, start your Shopify store.
Keep your Etsy inventory and maintain Etsy as a marketing channel for your Shopify store.
Of course, this is just one option. Whatever you decide, just make sure you're focused on growth, not just today's expenses. Your business will do better over time with that approach.
The Final Verdict
So, what's the final verdict?
I don't usually like to come down too hard on one option versus another, but I think anyone serious about the ecommerce business should get comfortable with Shopify.
Remember, Shopify makes it pretty easy to add other sales channels (even Etsy!), and it gives you a LOT more control over everything. As long as you're willing to put in the work to market your business, you'll probably be more successful in the long run with Shopify.
But Etsy is also a great place to start for anyone new to ecommerce and looking to dip their toe in the water before going all-in with a $29/mo Shopify plan.
If you're interested in checking out Shopify, you can enjoy a free 14-day trial here!
Try Shopify FREE for 14 days!
For more about Etsy, click here to check it out. And to learn more about how to sell on Etsy, don't forget to look at Sergey Kasimov's Etsy Complete Masterclass course on Udemy!
Get the Etsy Complete Masterclass
So, what do you think about Shopify vs Etsy? Do you have experience with either platform to share? Any other questions we can answer? Let us know in the comments!
standard building-niche-sites
Want to learn step-by-step how I built my Niche Site Empire up to a full-time income?
Yes! I Love to Learn
Learn How I Built My Niche Site Empire to a Full-time Income
How to Pick the Right Keywords at the START, and avoid the losers
How to Scale and Outsource 90% of the Work, Allowing Your Empire to GROW Without You
How to Build a Site That Gets REAL TRAFFIC FROM GOOGLE (every. single. day.)
Subscribe to the Niche Pursuits Newsletter delivered with value 3X per week