What's The Best ClickFunnels Alternative? (Free and Paid!)
When you buy something through one of the links on our site, we may earn an affiliate commission.
Whether you are a solopreneur or you manage an entire team of marketing pros, choosing the right combination of software for your marketing stack can be a challenge.
I think the toughest part about it is that different marketing tools have overlapping features. So you're never quite comparing apples to apples. Some software is totally free with just a few simple features.
Other software options cost a pretty penny and comes with a ton of features you may not even use!
So, how can you know for sure where the best value is?
Well, that's exactly why I want to talk about the best free and paid alternative to ClickFunnels. As valuable as this popular all-in-one marketing platform is, there are definitely MUCH more affordable and accessible options to consider.
Especially when you're just starting out with an online business trying to generate leads.
If you're reading this, then you probably have at least SOME knowledge of ClickFunnels – if not, definitely check out our full ClickFunnels review.
As you'll see in that post, Niche Pursuits has used ClickFunnels for many of our own products in the past, and it's been a fantastic resource.
I'll be sharing some excellent free and paid ClickFunnels alternatives in this post, but first, let's take a brief look at what ClickFunnels actually has to offer.
All ClickFunnels Alternatives
If you are in a hurry, we put together a handy chart (and a comparison of ClickFunnels vs Unbounce) that lists out all the clickfunnel alternatives that you can try.
What is Clickfunnels?
In a nutshell, ClickFunnels is an all-in-one marketing solution focused on building. Founded in 2014 by renowned marketing guru Russell Brunson as the solution to his own challenges as a marketer, ClickFunnels is a popular tool to help you execute what Brunson teaches in books like Dotcom Secrets.

Without needing technical coding experience.
ClickFunnels is routinely considered a top tier tool for selling products online (although you may want to check out ClickFunnels vs GrooveFunnels). Here's a breakdown of what a subscription to ClickFunnels provides:
Hosting
Form building
Landing page building
Upselling/downselling
Payment processing
Email automation
A / B testing
It's a pretty impressive list, and it applies to almost anything you might be trying to do online: lead capture, create membership sites, product launches, automated webinars, ebooks, and more!
As an online marketer and niche site owner, you'll probably need every single one of these functions at some point. Which is why ClickFunnels is so useful.
It's super convenient to pay for a single tool that can do all of these things in ONE fluid system.
Plus, ClickFunnels offers all kinds of landing page templates for different funnels, so you never have to reinvent the wheel!
On the other hand, you're paying either $97 or $297 per month for this software, so you need to be pretty far along in your online business to justify that expense.
In fact, I'd argue that you should already have AT LEAST two or three digital products for sale (either your own or some affiliate products) that you've seen PROVEN success with.
Why?
It's kind of like going from assembling your own product by hand to manufacturing it on an assembly line – you should ONLY scale up after you know you've got something that truly works.
If you're interested in finding out more about ClickFunnels, we'll go into more detail about the pros and cons of ClickFunnels later in this post.
For now, I'd like to share both my top free and paid ClickFunnels alternative, plus a complete list of individual offerings you might consider as replacements for ClickFunnel's main features.
Best Free ClickFunnels Alternative: Cartflows Plugin on WordPress
Remember, in order to sell something online, you need a minimum of web hosting, a landing page builder, a shopping cart, and an email service provider.
I understand the temptation to find a free option for your sales funnels and online marketing, trust me!
But here's the thing: it's basically impossible to find anything out there that does everything ClickFunnels can do for FREE!
In fact, even if you were to code your own sales pages by hand, you still can't cut your costs down to zero. Because you need to pay for your own hosting.
My point?
When it comes to building an online business where you want to sell something using funnels, expect to invest at least a nominal amount of money in things like a premium WordPress theme, quality hosting, and plugins.
So you might not be able to find a free alternative to Clickfunnels. But among the Clickfunnels alternatives out there, the Cartflows plugin is the best low cost option.
If your goal is to keep costs down, the free version of the Cartflows WordPress plugin is about the best deal out there!
Assuming you've already built your own WordPress website and you don't need the fanciest sales funnel software, Cartflows offers a solid free option that can more than get the job done.
It's somewhat stripped down, but you don't necessarily need all the bells and whistles anyway.
Introduction to Cartflows
So, what is Cartflows?
It's a downloadable plugin that lets you set up your own store, funnel, and checkout process directly on your WordPress website. For a full summary of Cartflows, feel free to check out our full Cartflows review.
Now, keep in mind Cartflows relies on other plugins for some of its functions. For example, it has you build sales pages with other page builders. Cartflows uses Woocommerce for a lot of its e-commerce nuts and bolts. So you'll have to install the free version of the Woocommerce plugin, as well.
This is where you add products that you'll plug into your Cartflows funnels.
But the most important thing about Cartflows is, even the basic version helps you do what you need to do.
Unlike with other builders like Leadpages, this one combines both checkout and funnel functionality.
So you don't need to bounce back and forth between multiple tools to build your sales process.
Cartflows is a fantastic starting point if you don't need a lot of functionality yet. The free version gives you access to several landing page templates for funnel, checkout, and thank you pages.
What About Cartflows Pro?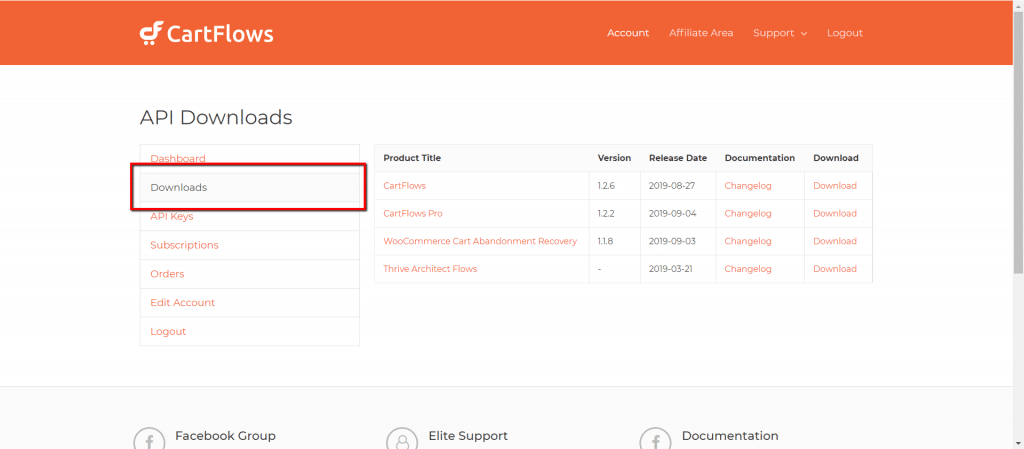 There are two separate Cartflows plugins to download. The second one is Cartflows Pro and adds some excellent premium features.
If you want to step it up without breaking the bank, the paid version of Cartflows brings you more in line with the sales funnel builder capabilities of ClickFunnels.
Paid features include:
Premium templates
One-click upsells and downsells
Cart abandonment tools
Checkout offers
I can't stress enough the importance of these "extra" features, however!
There's a reason why ClickFunnels is so popular – it streamlines a proven process for selling and wrings every ounce of selling potential out of every lead. Any online marketer serious about selling a product should seriously consider springing for Cartflows Pro, because it comes with all the features you need to maximize your conversions.
One of the most attractive things about Cartflows Pro is the price: for just $299 per year, you get all the features that you'd pay the same price for per month with ClickFunnels.
Cartflows' conversion-focused templates play nice with other free or inexpensive page builders, including Divi, Thrive Architect, and Elementor.
This is great for anyone whose website already has one of these popular themes installed or is accustomed to working with them.
The downside to Cartflows, at least as of this writing, is that some premium features like A / B testing and countdown timers aren't yet available. But there's still a lot of value in both the free and paid versions – this is PLENTY to get you going for a sales funnel builder!
Check out Cartflows right here!
See a Demo of Cart Flows Here
Another Free ClickFunnels Alternative
There are other low cost ClickFunnel alternatives available for the business owner who needs a more basic plan starting out to watch that budget.
Below are other options whether you are looking for a sales funnel builder or other marketing tools that can give you many of the benefits of Clickfunnels without the premium pricing plan.
Elementor Page Builder

WordPress has a LOT of themes and plugins with both free and paid versions.
If you're looking for a ClickFunnels alternative for building landing pages, I highly recommend you look into Elementor page builder (also free).
You can see our full Elementor review here.
Elementor is designed to work seamlessly with any WordPress theme, making it easy to build forms, popups, and full pages with a visual builder. No coding required, this is a true website builder!
The free version is an incredible value, with unlimited usage/traffic, 30 included widgets and templates, and an efficient way to save your OWN templates. There are also different subscriptions that let you use the premium version of Elementor on one or more of your own sites.
Honestly, the paid version is a pretty fantastic value – for use on one website, you pay just $49 per year.
But if you want to stick with paying zero, combining the free versions of Cartflows and Elementor will allow you to make effective funnels without paying an extra penny.
Get Elementor Page Builder for Free!
NOTE: If you're interested in an affordable paid WordPress theme that packs a ton of value, I would look at Thrive Themes, which is featured later in this post.
Best Paid ClickFunnels Alternative: BuilderAll
The closest direct competitor to ClickFunnels is a tool called BuilderAll. Unlike a lot of the other options in this post, BuilderAll is a complete substitute for ClickFunnels and provides its own all-in-one solution for funnel building and online marketing (learn more in our complete Builderall vs ClickFunnels head-to-head).
So, why go with BuilderAll instead of ClickFunnels?
Well, price, for one thing!
The premium version of BuilderAll is just $70 per month, which is 30% cheaper than the entry-level ClickFunnels plan. And the Essential plan is $30 per month!
But I'm getting ahead of myself. Here's what the BuilderAll platform is all about.
BuilderAll vs ClickFunnels
Started in 2011, BuilderAll was designed from the beginning to help companies get results online. It's billed as a complete digital marketing platform, which means you don't have to piece together a bunch of different tools to get all of the functionality you need for your marketing.
All told, BuilderAll comes with more than 20 tools that can help you with digital marketing. Think of it like a "swiss army knife" for building your online business.
This single digital marketing platform includes:
A blueprint builder
A website builder
Split A / B testing
Pop-ups
Checkouts
Webinars
CRM
Ability to run email marketing campaigns
And more…
BuilderAll also does a good job of providing you with a drag and drop builder, so you can skip WordPress altogether and use BuilderAll as a host and landing page builder.
You can actually build your own website, collect and manage email subscribers, create a sales page, and even make videos in BuilderAll.
Of course, like with ClickFunnels, BuilderAll's bread and butter is its sales funnel builder.
However, you have to opt for the premium version of BuilderAll to gain access to its exclusive Canvas Funnel Builder, which is pretty much essential if you're looking for a tool for building funnels.
The Canvas Funnel Builder
You can create a funnel – including the layout of your individual pages – directly in the Canvas Funnel Builder. This is powerful stuff.
First, you click "Add Funnel" to create a new funnel. You can designate what type of funnel this is for, such as selling a product or generating leads.
Then, you can either start from scratch building your own funnel or choose an existing funnel template. The templates help give you a great starting point for the type of funnel you want to build. But it's easy to customize it further for your marketing campaign.
After picking a template funnel, the Canvas Funnel Builder also comes with different themes you can pick from.
This helps you customize the visual aesthetic of your funnel in general.
Once you've gone through these options, you have a funnel you can start messing with. If you've ever used a mind mapping or prototyping program like Adobe XD, then you'll be right at home with these controls.
It's easy to move things around, edit layouts for each page, create new popups, add download pages. Anything you need should be in there.
After you've got your funnel where you want it, you can just hit "generate website" to actually see all of the sales pages based on your custom funnel.
On each page, you can change the layout, swap out images and text, and more.
All in all, Canvas Funnel Builder is a slick and intuitive way to build a completely unique funnel that fits your particular goal. I think this approach offers more flexibility than other funnel building offerings out there.
And it does so at a pretty reasonable price.
Is BuilderAll Worth It?
BuilderAll isn't as well-known as ClickFunnels, but it's a powerful option if you're in the market for an all in one marketing platform with solid tools for building sales funnels. There's a reason they're seen as one of the most well-known ClickFunnels competitors.
BuilderAll is a ClickFunnels alternative that has a much more friendly price point for one-man shops and small businesses.
And it definitely has some pretty cool features. BuilderAll has fostered a community of BuilderAll users, allowing you to share your unique funnels or email marketing campaigns with others – or sell them to your marketing clients!
In addition, BuilderAll makes it easy to share a limited version of your dashboard with others, which allows virtual assistants or employees to help you with just the functions you want them to access.
BuilderAll isn't perfect, however.
Users have found some BuilderAll offerings to display incorrectly on mobile – and as with any all in one marketing tool, BuilderAll may feel like a jack-of-all-trades, master-of-none (especially with its drag and drop builder).
With that said, if you want a great sales funnel builder, the Canvas Funnel Builder alone is worth the price of entry.
But here's an overall look at the pros and cons for BuilderAll.
Pros of BuilderAll
A seamless suite of marketing tools that integrate well
Powerful Canvas Funnel Builder simplifies building custom funnels
More than 20 professional funnel templates and blueprints included
Includes everything you need for selling online (more than 25 tools!)
Impressive ease of use
Designed with niche website owners in mind
A lot of value for your money with both BuilderAll Essentials and Premium
Cons of BuilderAll
Drag-and-drop website builder can be rough around the edges
Mobile responsiveness may not be 100% where it needs to be
Blog function isn't as versatile as alternatives like WordPress
Canvas Funnel Builder only included in Premium
Can be glitchy and buggy at times
If you're interested in trying BuilderAll, they offer a 7 day trial or a one-on-one demo here. Be sure to check it out!
Try BuilderAll Here!
Other Great Paid ClickFunnels Alternatives:
When you're looking for the best marketing funnel, sometimes you can't afford the premium plan from the premium name in the space. That's fine.
There are many good options out there for the beginner blogger, small business owner, or anyone who needs a one-off setup for a sales funnel.
Kartra
Like ClickFunnels and BuilderAll, Kartra is an all-in-one marketing platform.
Kartra was created by two successful online marketers, Mike Filsaime and Andy Jenkins. It's a collection of many different marketing tools that help you sell online.
Just like with ClickFunnels, Kartra includes a visual landing page builder that you can use for building high converting landing pages.  You can read our full Kartra review right here.
Beyond that, Kartra comes with a host of other valuable business and marketing tools:
Funnels & Campaigns
Leads
Mail
Checkouts
Helpdesks
Videos
Forms
Kartra is great for creating custom sales funnels and automated marketing campaigns (see a comparison of Kartra vs Kajabi for more info).
In some ways, Kartra is a better fit for a more advanced marketer who isn't interested in a lot of hand-holding.
With Kartra, there's plenty of room for customization and advanced features like split a / b testing and automation as it guides you to focus on the goal your funnel is trying to achieve.
Kartra also has some excellent built-in training, courtesy of a direct response advertising expert named Frank Kern. It's 100% included, which is a great value add!
So, is Kartra a good ClickFunnels alternative? (Check out our Kartra vs ClickFunnels comparison article) Well, in terms of pricing, the starter plan is right in line with ClickFunnels, so you don't get a lot of savings there. But some of its most expensive plans crack several hundred dollars per month, so this is clearly designed for enterprise-level usage.
There's definitely a Kartra plan for where you're at. If you're interested in learning more about Kartra, they have a product demo, or you can get started now.
Check it out below!
Try Kartra Today!
Thrive Themes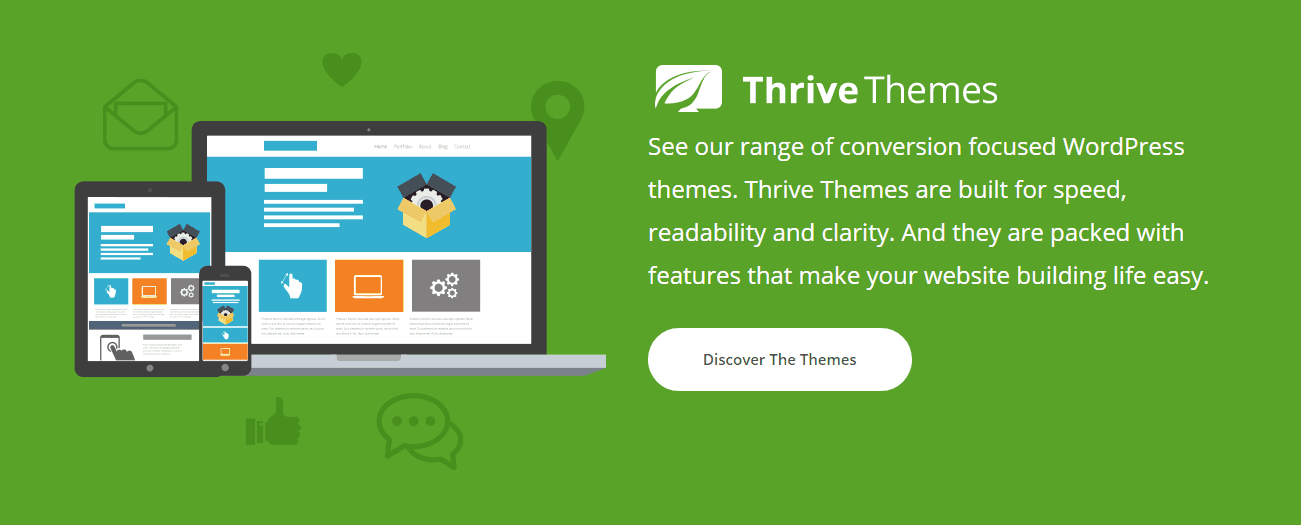 Unlike some of the other WordPress options I mention in this post, Thrive Themes isn't free.
However, if you build your own WordPress website using Thrive Themes, you can easily duplicate the functionality of ClickFunnels at no additional expense, thanks to Thrive's suite of versatile premium WordPress plugins.
What's more, a full year of Thrive Themes is still cheaper than a single month of ClickFunnels Platinum.
So, why Thrive Themes in particular?
Aside from price, it comes down to three things:
You own your high converting landing pages and maintain total control over your funnel's hosting, design, content, and traffic – even if you end your Thrive membership.
Your Thrive Themes subscription includes a suite of 10+ premium WordPress plugins that give you similar functionality to ClickFunnels with a LOT of customization options.
Because Thrive is built into WordPress, your funnels can integrate seamlessly with the rest of your WordPress website.
For certain online businesses, ClickFunnels makes more sense because it negates the need for any of that setup work. They handle all the hosting, they take care of the integrations between each stage of the funnel, they facilitate payment processing, etc.
But most of us in the Niche Pursuits community are focused on building organic traffic through value-based content on a website we own.
If you're ALREADY doing that with your own WordPress website, you can opt for a theme like Thrive for a much better price and not duplicate a lot of the same features with an expensive ClickFunnels subscription.
Even better, Thrive Themes now includes a visual builder called Thrive Architect, which allows you to build custom-looking designs and layouts with ease (check out our Thrive Themes review). And it arguably has a broader selection of functions through the inclusion of an expanding library of premium plugins, including specific marketing tools like its scarcity plugin, Thrive Ultimatum.
Thrive Themes does a great job of combining all of the different functions you would need into one affordable monthly payment of $19 per month.
Check out Thrive Themes right here.
Starting Selling With Thrive Themes!
Other Landing Page Builders
Don't overlook these inexpensive solutions to create your own high converting landing page without paying an arm and a leg to do it. If you want good conversion rates, you need a good landing page.
These are alternatives to ClickFunnels that can get the job done.
LeadPages
LeadPages is a leader in the landing page builder space, and its entry-level plan is quite affordable for startups and smaller businesses at just $25/mo.
This tool is packed with more than a hundred templates. Of course, a lot of the real perks come from a more pricey subscription of $48 per month, particularly A / B testing, payment, its LeadLinks signup link feature, etc.
Leadpages can integrate with not only WordPress, but many other popular CMSs, including Joomla and Squarespace.
Definitely check out our LeadPages Review if you're looking for a top landing page builder!
Try Out LeadPages Free for 14 Days!
Instapage
Instapage is another great landing page builder, especially for those who don't want to ever write a line of code!
I've used Instapage before to build landing pages for a paid ads campaign and a webinar signup page, and it's definitely one of the most intuitive builders out there (check out our Instapage review here). I find that a big benefit of marketing tools like Instapage is that they come with some handy analytics tools and reporting built-in.
So with very little configuration, you'll be able to see conversions, conduct split tests, and even see heatmaps to optimize your landing page better while having the page appear natively on your WordPress site.
You can also quickly copy over templates to create a brand-new page ridiculously fast – dare I say, instantly?
The big downside with Instapage is the price: $99 per month just for the basic plan. I would argue that this is pretty expensive for what you get, especially if you're focusing on funnel building.
But if you just want an intuitive landing page builder, it's hard to go wrong with Instapage.
Try Out Instapage Free for 14 Days!
Have a read of our comprehensive comparison article Clickfunnels vs Instapage.
Hubspot's Free Landing Page Builder
Another great alternative is Hubspot's free landing page builder.  You can test and build landing pages that generate leads and look great on any device — no designers or IT help required.
With an easy to use drag and drop builder, you can quickly design what's needed without messing with code.  It's unclear how long the page builder is free for or how many landing pages are allowed.
But it does appear to be a great alternative to get started.
Other Shopping Carts
If you're going to be making that direct sale at the end of your sales page, you're going to need a good online shopping cart. This is a software marketing tool that sellers need to make the most of their sales funnels.
This function can be provided by any of the following options.
SamCart
Among online checkout platforms, SamCart is one of the most fully featured, rivaling the functionality of ClickFunnels. Its big claim to fame is reducing the rate of cart abandonment.
SamCart is a popular choice for anyone who's selling physical products or information products like online courses and ebooks. The tool allows you to create checkout pages, funnels, upsells, and drip email campaigns – and it includes payment processing and reporting and analytics tools as well.
This is a high-end checkout platform, which means the monthly subscription isn't cheap: $99 for Pro and $199 for Premium. This puts it squarely in the same price range as ClickFunnels, with all the features you'd expect.
SamCart doesn't quite have the same flexibility in page creation, but it's a standout checkout page creator worth looking at as a ClickFunnels alternative (see our full ClickFunnels vs SamCart comparison).
Try SamCart Free for 14 Day!
ThriveCart
ThriveCart is another excellent tool that includes some advanced features, including coupons, auto-followups, and two-step carts. One of its claims to fame is its emphasis on high converting checkout pages.
Another intriguing thing about ThriveCart is that, in a world of subscriptions, this tool is available for a one-time payment of $595.
This lifetime deal is pretty steep if you're not making some consistent money, but it's actually a fantastic deal compared to an ongoing expense with something like ClickFunnels!
Right now, ThriveCart is only available by private (ie affiliate) invitation, but you can check them out and get on their mailing list to be informed when the product goes live!
Check Out ThriveCart Today!
Other ClickFunnels Alternatives
Look, there are more options and combinations of tools than I can possibly cover in one post. The ones I've listed here are all great choices, but there are PLENTY of other ones to consider. Here just a few alternative tools for funnels, carts, and more:
10 Minute Funnels
Convertri
PipeDrive
Ontraport
Copper CRM
Optimizepress
Getresponse
There are also countless WordPress plugins for super specific functions, like  One click Upsell for WooCommerce.
I say this because all-in-one solutions aren't the ONLY way to go, and the tools I've covered in this post aren't the only options out there. Everyone's situation is different, and you know your own preferences and goals better than I do.
Most importantly, there's always another tool or plugin for virtually ANYTHING you need to do, no matter how specific, so don't ever feel boxed in with something expensive like ClickFunnels.
Should You Choose a ClickFunnels Alternative?
Now that we've looked at several great funnel builder options, I think it's time to tackle the most important question: is it worth going with an alternative to ClickFunnels?
I've used ClickFunnels myself, and what I like about it is that you can get up and running very quickly. It's a robust tool for what it's designed for, which is building sales funnels.
However, it can be pretty temperamental – I've had to change my workflow to avoid losing hours of copywriting work after realizing that the sales funnel software didn't automatically save my work.
It also might be a little too cookie-cutter for some people. One of the main goals of digital marketing is to differentiate yourself from the competition.
But if you're using the same kind of template as everyone else, then how? Doing the same thing for your sales process may mean you have a challenge breaking out of the mold.
Luckily, it's not too difficult to make tweaks to your funnel with the landing page builder. It even comes with templates to keep you on the right track.
Another downside is that ClickFunnels is completely separate from your website. If you ever stop paying for ClickFunnels, your funnels disappear!
There is some integration with your WordPress site through a ClickFunnels plugin. But it's definitely not as seamless as a native WordPress plugin like Cartflows or Thrive Themes.
With all that said, here are the main pros and cons of ClickFunnels. These should help you decide if the right solution for you.
Pros of ClickFunnels
Convenient, all-in-one online selling tool
Easy to include upsells and downsells
An industry standard that other marketers will recognize
Versatile for use with many types of funnels
A wide array of battle-tested templates to get you started
Easy to edit or reuse existing funnels
Intuitive landing page builder
World-class marketing training
Customer support is incredibly high
Cons of ClickFunnels
Can be buggy at times
You don't own the sales pages you build with ClickFunnels
A cookie-cutter approach for building sales funnels
Only works while your subscription is active
ClickFunnels pricing is very expensive – you pay a premium for convenience
Conclusion
So, what should you do if you're in the market for a funnel builder?
In my opinion, ClickFunnels is a great all-in-one software marketing tool to use when your business is bringing in enough income to justify the expense.
Think about it this way. If you're selling a premium course, coaching, or physical product worth $100 or more, ClickFunnels pays for ITSELF with just a single sale.
Assuming you're using the basic plan. If you use the platinum plan then it's three sales to make up your money.
But even if that's true, there's no reason to pay for more functionality than you absolutely NEED!
That's why you need to ask yourself: What am I trying to accomplish with ClickFunnels? Is there a better option for my goals? Do I already use software that gives me the same basic features at a better price?
You can break it down into four categories:
ClickFunnels
A free ClickFunnels alternative
A direct ClickFunnels replacement
A WordPress option
Here's what I recommend to break the tie.
Are you on the fence about ClickFunnels? 
Why not give it a try, then? With this link, you grab a 14 day trial of ClickFunnels to see if it's a tool that's worth the money. You can decide how you feel about ClickFunnels before you even test out a ClickFunnels alternative.
Give ClickFunnels a try for FREE!
Do you want a free option?
If the price is your biggest concern, Go with Cartflows for your sales funnel/shopping cart and Elementor for your page builder. You can get a perfectly functional funnel out of these tools for now. You can always upgrade to the paid version on one or both of them later.
Do you want a direct replacement?
If ClickFunnels is too pricey or has some features you don't love, and you want a direct replacement that serves as an all-in-one platform instead of ClickFunnels, I recommend BuilderAll as an affordable option. Feel free to give it a try for seven days!
Get a 7 Day Trial of BuilderAll
Do you want to stick with a WordPress site?
If you want funnels and other sales tools right in your WordPress theme, you can't go wrong with Thrive Themes. It comes with most of the same stuff, like a membership site, checkout, high converting landing pages, A / B testing, and professional online courses.
Get Thrive Themes Here!
Want to learn step-by-step how I built my Niche Site Empire up to a full-time income?
Yes! I Love to Learn
Learn How I Built My Niche Site Empire to a Full-time Income
How to Pick the Right Keywords at the START, and avoid the losers
How to Scale and Outsource 90% of the Work, Allowing Your Empire to GROW Without You
How to Build a Site That Gets REAL TRAFFIC FROM GOOGLE (every. single. day.)
Subscribe to the Niche Pursuits Newsletter delivered with value 3X per week