Thrivecart Review: Will This Shopping Cart Tool Result in More Sales?
If you're running an eCommerce website or digital product site, you know the importance of being able to accept payments. One popular solution is Thrivecart. To help you understand if the shopping cart platform is right for you, we'll go through a full Thrivecart review covering all the features and pros and cons of the platform.
Note: The web design and marketing company I co-own uses Thrivecart for managing payments for website care plans. The following Thrivecart review is based on my experiences with the payment solution.
---
Thrivecart Review
Ease of Use -

90

Stability -

95

Customer Service -

95

Price -

95
Summary
Thrivecart is a custom shopping cart solution that makes it easy to create customized and on-brand checkout pages. The cart solution offers users an easy and intuitive way to handle everything from your checkout process to affiliate marketing efforts and recurring payments. One of the great things about Thrivecart is that you can purchase it as a lifetime license instead of needing to pay monthly or annually. Overall, Thrivecart provides a solid solution if you want a simple checkout solution. Try Thrivecart for yourself!
Pros
Easy to create custom shopping pages
Drag-and-drop cart page builder
Built-in dunning system
Manage affiliate marketing efforts
Cons
It may be expensive for some
Limited support options
Thrivecart Review Overview
The Thrivecart platform is a multi-purpose shopping cart platform that can help with everything from managing user checkout to setting up affiliate programs. It offers a wide range of solutions for businesses such as course providers, eCommerce platforms, those selling digital products, brick-and-mortar businesses, and others.
Some of the core features of Thrivecart include integration with over forty commonly-used apps and tools, automatic sales tax calculation, intelligent business projections, advanced user management, and many more features.
Another major benefit is that, unlike many alternatives, Thrivecart can be purchased as a lifetime license during specials that the company regularly runs. This means one less plugin you need to pay for monthly or yearly.
Ability to purchase a lifetime license
Integration with 40+ major apps and plugins
Affiliate program management capabilities
GDPR compliant
Template selection is limited
Limited support options
ThriveCart Pricing
As noted in the pros section, one of the greatest benefits of Thrivecart is the ability to purchase it as a one-time license.
While this does mean that you will be paying more upfront, after the first year, you are saving substantial amounts when compared to competitors that require a monthly license.
Of note is that you have a 30-day money-back guarantee. So, even though you are paying more upfront, you do have assurance in the event you aren't satisfied with the cart. Plus, it helps that it has multiple pricing options.
One more thing to consider is that you will need to pay extra for Thrivecart Pro. However, it is also a one-time extra fee. In total, you will pay $495 for the Thrivecart Standard license + $195 for the Thrivecart Pro upgrade for a total of $690.
Thrivecart Review: Standard Vs. Pro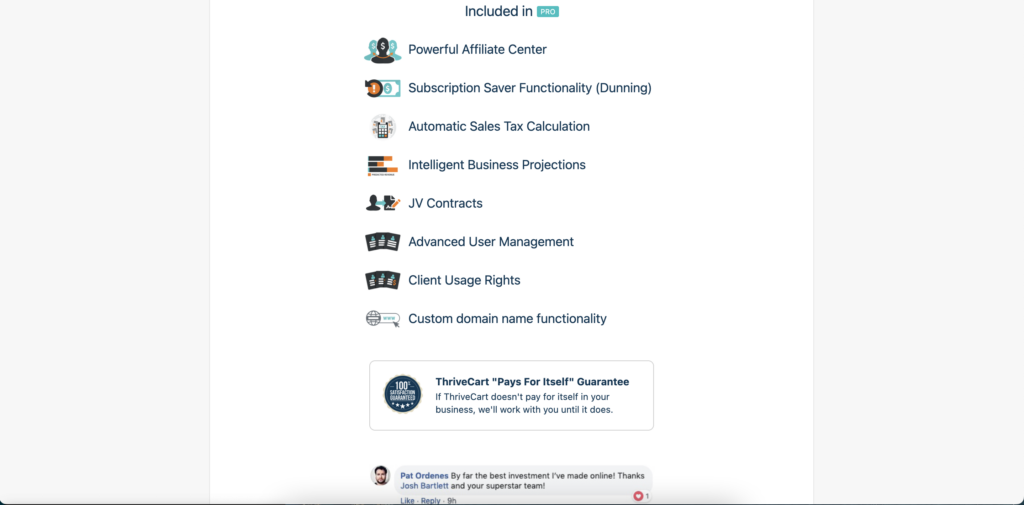 As noted above, there is a standard and pro version of Thrivecart, and it's essential to understand the difference to know if you need the upgrade.
The standard version of Thrivecart is what you purchase with the single-site license. Some of the features included in the Thrivecart Standard version are:
Tailored business insights dashboard
Customer behavior rules
High-converting carts & funnels
Unlimited checkout pages
Awesome checkout templates
For the pro add-on, you will be required to purchase it extra when buying the Thrivecart standard edition license. However, the pro add-on does provide solid features, including:
Affiliate management center
Subscription saver functionality
Automatic sales tax calculator
Intelligent business projections
JV contracts
Advanced user management
Client usage rights
Custom domain name functionality
Overall, the standard edition is a good option for the most basic of websites. If you really want to grow your website, the pro add-on can help you get there.
What Does Thrivecart Do?
Thrivecart allows you to accept payment from clients for everything from services to products, both physical (with dedicated checkout links) and digital. You can easily manage payments and track how well your website is performing using their intuitive dashboards. 
Recurring Payments
For service providers especially, setting up recurring payments can be incredibly helpful and time-saving. At eXcelebrate Web Solutions, we regularly set up recurring payments for clients that we have on yearly maintenance plans and for some types of SEO work we perform for clients.
Having the option of setting up recurring payments saves me from having to go in regularly and create a new invoice each month, quarter, or year. On the whole, I would say that this feature saves close to two or three hours of my time each month.
For a membership site, this also allows you to manage monthly and yearly subscriptions for your customers. From my experience, we've not had any troubles so far with recurring payments not sending or payment issues.
Two-Step Shopping Carts
While it may seem counterintuitive, multi-step shopping carts can serve as a massive improvement for your website's bottom line.
One problem that has plagued the eCommerce industry for decades is abandoned shopping carts. While the numbers vary, many industry experts peg the average abandoned shopping cart pages rate at somewhere between 60% and 70%.
Two-step shopping cart solutions provide an ingenious for this. The first step allows you to collect potential customers' information such as their email, phone number, address, etc. The second step allows them to checkout.
In the event they abandon their purchase on the second step, you have their information to contact them about continuing with their purchase. Various studies have pointed toward a conversion rate on abandoned shopping cart emails as high as 18%.
High-Converting Checkout Pages
The best way to avoid abandoned shopping carts mentioned above is to make sure people convert the first time. Thrivecart makes this easier with tested and proven checkout page templates.
Using one of the many templates allows you a solid starting place with a proven design. From there, you can utilize Thrivecart's built-in A/B testing feature to further optimize your checkout pages.
While it may not seem like a big deal, even a one percent improvement in conversions can mean thousands of dollars or more in extra revenue over time. Likely much more for established websites with solid offers and consistent traffic.
Bump Offers And Upsells
Bump offers and upsells provide you with a way to increase revenue without needing to increase traffic. If you don't already know, bump offers describe alternative products that you can advertise to customers who are ready for your checkout page.
Examples of bump offers might be jewelry cleaning formula advertised to someone buying a necklace or mouthwash advertised to someone buying toothpaste. The combinations are almost endless, and pushing bump offers can greatly increase your average order value.
Likewise, upsells allow you to offer a higher value product or package to customers or clients. One of the most common examples of this is airlines that attempt to promote Premium Economy or business class upgrades.
Using the bump offer and upsell features can massively increase your monthly revenue and make it easier to promote your other products, courses, or services.
Embeddable Cart Pages And Pop-ups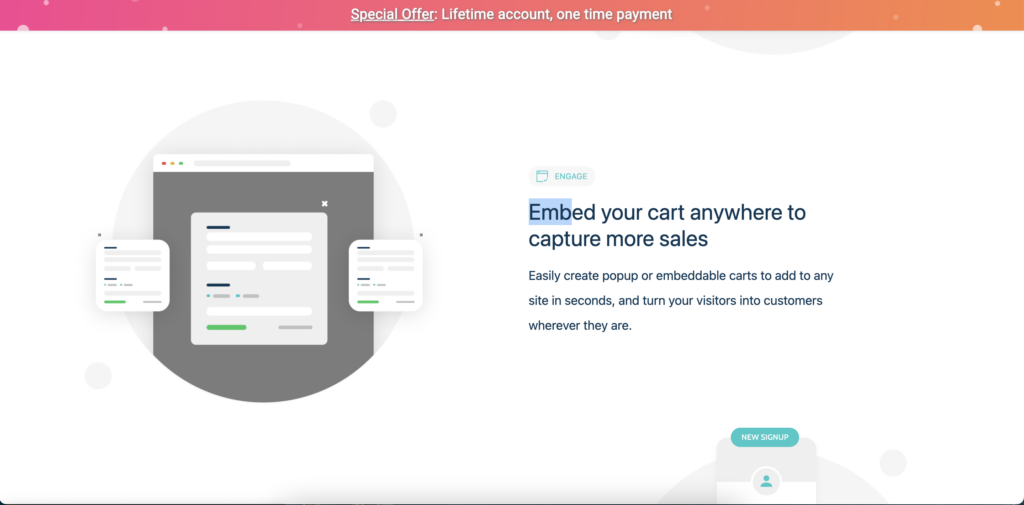 Another fantastic reason to use Thrivecart is its embeddable cart pages and pop-up checkout forms that make it easy for your customers to purchase your products and services.
Thrivecart makes it extremely easy to customize your checkout pages and then embed them on the pages you need. You can even save these as links for use on social media or to share with clients easily.
An example of a styled cart page is the maintenance plan checkout page on eXcelebrate.co. Thrivecart has enabled us to create an intuitive and easy-to-fill-out cart checkout page that is in line with our branding and instills trust in users.
For our services that we don't offer on-page checkout for, such as booking time for consultation, it's been easy to set up links to checkout pages that we can send to clients.
Overall, Thrivecart offers an awesome solution if you want to create embeddable checkout pages for your website that your customers will find easy to use and trustworthy.
Thrivecart Review: Who Is Thrivecart For?
Now that we've covered what Thrivecart can do, it's important to understand the different types of businesses and website owners that can benefit from using the plugin.
I've covered a few already in terms of eCommerce websites and service providers such as myself. However, let's delve a bit deeper into what benefits each type of website can get from Thrivecart.
Course Sellers
If you are selling courses or sell digital products, especially if those courses involve monthly or annual payments, Thrivecart is a great solution for any online course platform. With Thrivecart, you can set up different pages for each of your courses so you can better segment and collect information for further marketing.
As noted above, you can also more easily create upsells to get your customers into higher-paying programs on your online course platform. Even a slight increase in upsells could lead to a dramatic increase in your revenue. 
Combined with other features such as in-depth analytics and smart business projections, you have everything you need to manage your cart pages.
eCommerce Sites
The most obvious usage for Thrivecart is for eCommerce site owners. It's critical that your checkout pages match your brand to inspire trust. You also need to consider upsells, bump offers, and conversion rate optimization, especially if you have a high-volume product.
Ecommerce website owners also have the benefit of being able to launch affiliate programs through Thrivecart. Depending on your margins and the types of products you sell, running an affiliate program can be an excellent way to improve your revenue.
Service Providers
Service providers, such as agency owners, consultants, coaches, etc., can all benefit from the tools that Thrivecart provides. Some of the most important tools for these types of website owners include joint venture contracts to improve lead generation capabilities, intelligent business calculations, custom domain functionality, and more.
This is the area I've had the most experience with in terms of working with Thrivecart. It's helped us better manage our marketing agency and easily accept payments from clients. It's helped us create cart pages that are on brand, which has helped create more trustworthy checkout pages.
Thrivecart Review: Why Use Thrivecart?
Now that you have a better idea of whether or not Thrivecart is right for your needs let's take a look at some of the benefits of using the platform.
There are tons of features that can make Thrivecart a powerful solution. At the top of the list is the high degree of customization you are afforded through the platform. However, numerous other benefits exist that are important to be aware of.
Checkout Pages
One of the things that Thrivecart does exceptionally well is allowing users to create checkout pages that are high-converting and retain the website's branding. This is particularly important both for maximizing revenue and instilling trust with clients.
There are plenty of optimized templates that make creating your checkout page easy, including access to tons of checkout templates. You can even edit these pages without the need for code, making this a solid choice for beginner and advanced users alike. 
What makes Thrivecart's checkout pages especially powerful are the A/B testing capabilities, which will be discussed more below. Each checkout page can be split-tested to maximize conversions, ensuring you get the most out of your checkout pages.
Drag-And-Drop Template Builder
As noted above, you don't need to be an advanced coding professional to use Thrivecart. It's extremely easy to style the pages using an intuitive drag-and-drop template builder that equalizes the playing field for new and experienced website builders.
The builder works similarly to other drag-and-drop builders like Elementor and Divi, allowing you to drag elements into place and giving you more control over the look and feel of your pages without the need for code.
One of the great things about this feature, aside from making Thrivecart easier to use, is that you can get checkout pages in line with your brand.
Having checkout pages that look like the rest of your website can improve trust as you aren't bouncing people to some third-party checkout page that looks totally different than the rest of your site.
Modal And Embeddable Carts
Another powerful feature of Thrivecart is the two different types of shopping carts that website owners can create: modal shopping carts and embeddable shopping carts. These allow you to customize your checkout process based on your specific website and needs.
Embeddable shopping carts offer a more traditional solution allowing website owners to embed checkout pages directly on their website. This allows you to sell directly on your website and can make it easy to add checkout buttons directly to specific pages.
The modal cart, on the other hand, offers a more novel and unique shopping cart solution. This allows users to add items while still shopping by creating a clickable hover button that follows users around the website.
Affiliate Tracking
For eCommerce website owners and service providers, one of the truly beneficial aspects of Thrivecart is that you can set up and manage your own affiliate programs and offers. This makes it incredibly easy to set up affiliate programs that can generate revenue without tons of extra work or the need for other third-party plugins.
Thrivecart makes it easy for your affiliates to create unique tracking IDs and to measure their performance and how much traffic each affiliate brings to your website. This allows you to optimize your affiliate program by only working with top affiliates.
You can also manage payouts through PayPal. Thrivecart will manage and track conversions and sales numbers so you can easily payout to your affiliates either manually or automatically.
Built-In Dunning System
If you are managing a membership site or any type of recurring service, you already know one of the biggest challenges is handling payments that fail to go through for whatever reason. 
In the old days, before eCommerce and online payments, this could mean getting on the phone and chasing down customers to figure out the issue. However, Thrivecart offers a powerful Dunning system to manage this process instead.
The Dunning system automatically notifies customers when payments are due and lets them know when their credit or debit cards are about to expire. The system also works to reprocess failed payments and notifies customers when payments are overdue, helping you to reduce churn and better understand your recurring payments.
A/B Testing
One of the most powerful features that Thrivecart provides website owners is the ability to A/B test checkout pages which can lead to a significant increase in conversions.
While most website owners know that you need to constantly split test your sales pages and other parts of your website to increase conversions, most people don't think about checkout pages. However, think about the fact that the average checkout abandonment is between 60% and 80%, with bad checkout pages as high as 90% or more.
Imagine putting tons of work into your sales pages to drive as much traffic and conversions as possible, only to lose people on your checkout pages. With Thrivecart, you can split test your checkout pages to get that cart abandonment rate as low as possible, greatly increasing your bottom line.
Sales Tax Calculation
Another feature that can save business owners time and potentially significant amounts of money is the sales tax calculation feature. Thrivecart makes it easy to calculate sales taxes based on price point and location.
While this may not seem like it, the Thrivecart sales tax calculator may be one of the most beneficial features in terms of saving website owners money, at least in the United States. In many areas, failure to report and pay sales taxes can lead to your business accounts being frozen until taxes are remitted.
Over the long term, Thrivecart's sales tax calculator can save businesses tons of time and money and make running an eCommerce website much easier.
1-Click Upsells And Bump Offers
Another incredibly powerful feature that Thrivecart offers is their bump offers, and 1-click upsell feature. These can greatly increase your revenue by offering complimentary products to customers as they checkout.
There is no better time to encourage customers to buy other products than when they are already buying something from you.
This is even more so if you can offer products that complement what they are already buying, such as coffee filters when someone buys a new coffee maker or a screen protector when they buy a phone case.
This is what bump offers allow you to do. Thrivecart will show your customers complimentary products or upsells, allowing them to add the product to their cart right there at the checkout screen rather than going to the product page.
Depending on what you sell and what your bump offers and upsells are, this could contribute to a massive increase in revenue derived per customer and greatly increase your monthly earnings.
Automation
Along with more money, ask any business owner and the number one thing they will tell you they want is more time. As a website owner, this is where Thrivecart can help you by automating many of the tasks that you regularly perform manually.
These workflows make it easier to do things like manage affiliate relationships, customer payments, and subscriptions without you needing to check in on things every day. Some examples of this are automated payment reminders, automated affiliate payouts, automated affiliate bonuses, and much more.
Supports Multiple Payment Types
Thrivecart doesn't limit you to only setting up single payment types such as one-off purchases. Instead, you can set up multiple types of payments that provide you greater flexibility in terms of what types of products and services you can offer and how you accept payments for them.
Some of the multiple payment options you have include free trials, tripwire funnels for low-cost introductory offers that turn into upsells, split payments for creating payment plans, recurring sales and subscriptions, pay-what-you-want options, discounts, and flexible subscriptions that trigger on preset timeframes. 
All of this provides you with more flexibility so that you can set up payment options that work best for your products and services and don't complicate your offerings. This can also help to increase conversions and make it easier to collect payments in the case of flexible subscriptions and recurring payments.
ThriveCart Integrations
Another helpful aspect of using Thrivecart is the many different integrations offered.
You can choose from dozens of different Thrivecart integration options that can make managing your website and other aspects of marketing much easier and makes accepting payments much more convenient.
Fulfillment Services
Fulfillment services refer to companies and websites set up to bridge the gap between your product and the end user. These can be dropshipping companies that handle everything from shipping to sourcing to shipping services that serve as last-mile support.
Some of the fulfillment services that Thirvecart integration includes are:
Kunaki
Lulu
Pabbly
Vervante
Webinar Platforms
Webinar platforms can provide a powerful medium for connecting with your customers or potential clients and customers. These allow you to connect more closely with people and provide value that couldn't be offered through other types of content.
As of now, Thrivecart integrates with Demio, which is a popular platform offering intuitive and hassle-free webinar software targeted toward marketers.
It is possible to integrate with other webinar platforms, however, through the use of Zapier. So, if you are currently using an alternative platform, check if you can set up your own connection.
Email Marketing and Autoresponder Providers
Email marketing is another powerful way that you can connect with current and potential clients and customers.
The medium offers a great way to stay connected with people, ensuring that you can retain an interest in your brand or company and gradually move people to spend money with you if they haven't already.
To help with that, Thrivecart makes it easy to integrate with email marketing providers as well as autoresponders to better communicate with your customers. Some of the platforms that Thrivecart integrates with include:
Drip
Infusionsoft
MailChimp
Moosend
Ontraport
Sendy
Again, using Zapier, you can integrate many popular email marketing providers and autoresponder platforms based on your needs. However, the above list of integrations covers the vast majority of platforms in use.
Notifications and Sync
Thrivecart offers various behavior rules that allow you to set up notifications on Slack. This can make it easy to set up notifications in different channels for teams to track payments.
There is even a helpful tutorial and help doc from Thrivecart about how to set up these different channels so that you can more easily configure these notifications and sync settings to fit your specific needs.
Payment Gateways
Super critical to all shopping cart platforms is the ability to integrate with various payment gateways and payment processors. 
This will allow you to more easily accept money through different methods and can even help to improve conversions as offering a wider number of payment processors means you can cater to a larger number of people's preferences. 
To this end, Thrivecart offers a range of options when it comes to payment gateway integrations. These payment processors include:
Stripe
PayPal
Authorize.net
Apple Pay
Google Pay
These cover almost any combination of payment processors you could want to offer.
Membership Platforms
One final integration type that Thrivecart is well known for is the ability to work with various membership platforms. This can be huge if you are a website that offers things like monthly subscriptions or sell digital products.
Fortunately, Thrivecart works with a number of well-known membership platforms. This make it easier for website owners to accept payments and set up recurring subscriptions. Some of these membership platforms include:
Lifter LMS
MemberMouse
MemberPress
OptimizeMember
Whitelist Member
Thrive Apprentice
PaidMemberships Pro
Kajabi
Thrivecart Review: Support
One of the most important things when deciding to use any platform is how quickly you can get support. With that in mind, Thrivecart offers a few different ways to get your questions answered.
As with most software solutions and platforms, Thrivecart offers users a helpdesk solution with articles, frequently asked question pages, and other types of support that help you diagnose and solve problems on your own.
For more extensive issues, you can contact Thrivecart through a contact form. Having contacted them previously for various reasons, I've found the support team is quite responsive.
Overall, their support team has always been able to quickly resolve any issues I've experienced. There have never been any problems getting help when needed.
---
Alternatives to Thrivecart
Personally, I've been quite satisfied with Thrivecart and plan to continue using it since it's surely one of the best shopping cart solutions. The multiple pricing options are great, and the fact you can pay one time rather than needing to continually pay for a subscription each month or year is a major benefit.
That said, there are plenty of other solutions that you can try if you want an alternative to Thrivecart.
SamCart
SamCart is the closest alternative in terms of features and functionality to Thrivecart. If you are looking for a direct alternative, this is the best option. The major downside is that you will need to pay for a plan versus buying a lifetime license with Thrivecart.
One area where SamCart really shines when compared with ThriveCart is the integration offerings (and click here to see how SamCart compares with ClickFunnels). SamCart offers users twenty-nine different integrations and counting. This includes options you can't get with Thirvecart, such as Shipstation, Klaviyo, Keap, and others.
If you're interested in trying SamCart, you can try the platform free for seven days.
---
ClickFunnels
ClickFunnels has directly helped many online businesses create highly profitable sites through the use of conversion-focused marketing funnels. The platform helps website owners to create funnels for selling digital products and physical products.
As an alternative to ThriveCart, it isn't a one-for-one substitute. However, ClickFunnels offers many of the same features and is a powerful solution.
One downside to using ClickFunnels is that you will need to pay for the platform either monthly or annually. However, you can get started with a 14-day free trial to try things out.
---
Shopify
Shopify is one of the largest eCommerce platforms on the internet, with over two billion active users as of 2021. The platform is extremely popular with new website owners who may not feel comfortable using Woocommerce.
Using Shopify, you can sell physical and digital products such as ebooks and courses. What makes Shopify especially appealing are the countless integrations that make running an eCommerce website easier.
The major downside to Shopify is that it is a subscription service. You will need to set up either a monthly or yearly plan in order to use the platform. Many of the integrations and add-on services, especially those from third parties, will also cost extra money.
Our full Shopify review has everything you need before making a decision.
---
WooCommerce
WooCommerce is one of the most popular alternatives to Shopify. It allows you to easily convert your WordPress website into a powerful eCommerce website. 
The core WooCommerce plugin is free but typically requires third-party and native add-ons to expand functionality. One of the greatest benefits of WooCommerce is that you have greater control over your website.
WooCommerce also has an incredibly robust number of add-ons that can provide the exact solution you're looking for. You can use WooCommerce for everything from courses to digital and physical products.
---
Kajabi
Kajabi isn't a perfect alternative to Thrivecart, but if you are trying to sell digital products, it can be a good choice.
The platform is a learning management system that offers incredibly powerful features for managing your content. You can do everything from host content to accept payments and collect analytics to improve performance.
One thing to note is that the platform can be expensive, depending on what level you are at. There are alternative LMS platforms that are cheaper, but Kajabi is one of the best LMS solutions around.
---
Thrivecart Review Final Thoughts: Is The Cart Solution Right For You?
If you are looking for some other shopping cart solutions than what you have, then Thrivecart can be an incredibly effective choice. I like how easy it is to use and set up and the high degree of customization afforded to users.
The extensive number of features, from affiliate management to highly customizable shopping cart software options, make this a powerful tool. It also helps that you can purchase Thrivecart as a lifetime license versus paying monthly or annually for a subscription.
Overall, if you need a solution for your eCommerce digital products website, Thrivecart is something to check out. I've been using the shopping cart software for over a year and highly recommend it to website owners that want something straightforward.
Want to learn step-by-step how I built my Niche Site Empire up to a full-time income?
Yes! I Love to Learn
Learn How I Built My Niche Site Empire to a Full-time Income
How to Pick the Right Keywords at the START, and avoid the losers
How to Scale and Outsource 90% of the Work, Allowing Your Empire to GROW Without You
How to Build a Site That Gets REAL TRAFFIC FROM GOOGLE (every. single. day.)
Subscribe to the Niche Pursuits Newsletter delivered with value 3X per week