Cartflows Review: Can You Control Checkout, Master Funnels, and Boost Your Income?
When you buy something through one of the links on our site, we may earn an affiliate commission.
In this Cartflows review, we're going to take a look at the software that claims to make stores and funnels easy for selling both digital and physical products through WordPress websites.
The most powerful way to make an income isn't by peddling the products of others in affiliate marketing. And it's not selling ad space on your site for pennies per click. It's selling your own products.
But setting up a store has always been a hassle. And now in the modern world, building a sales funnel is something extra you'll need to worry about. But what if it could all be easy?
You can click here to get started with Cartflows sales funnel builder today.
Make stores and funnels easy with Cartflows
---
Cartflows Review
Ease of Use -

100

Features -

90

Price -

100
Pros
Super easy to use
All your checkout, landing page, and funnel software in one place
Works with page builders
Unlimited upsells and downsells boosts your income
Global checkout allows you to maximize your revenue with every sale
Cart abandonment helps you recover lost sales
Cons
No split testing (yet)
Knowledge base doesn't have in-depth tutorials (yet)
Cartflows Review
Let's take a look at some pros and cons of using Cartflows to build your sales pages.
Pros of Cartflows
There are a lot of things that Cartflows sales funnel builder does well. Here are a few of my favorites:
Super Easy To Use
Cartflows ranks very well on the user-friendly score. You don't have to learn special software and there's no learning curve. It works with your page-builder of choice, even if that's just Gutenberg.
I also like that you don't have to manage your sales funnels and checkout elsewhere. You can do everything inside of Wordpress.
Works With Page Builders
I love Elementor and it works like a charm with Cartflows. Cartflows has templates that you can use (and I recommend that you do) for all the major page builders. Templates for Gutenberg are coming soon.
Unlimited Upsells & Downsells
Cartflows lets you add bumps, upsells, and downsells with a few clicks. Then it allows you to choose where users go when they click yes or no. For example: a yes click might lead to an upsell, a no click might lead to a downsell.
Global Checkout
Cartflows doesn't just work as a funnel; it's an entire shopping cart software. If you have a variety of products to sell on your site, Cartflows can run your checkout process for all of it.
That's a pretty cool feature since it allows you to turn every checkout into a funnel.
Cart Recovery
What if a visitor is on your site, gives you a bunch of their info, but never completes checkout? They're lost forever. With nearly 70% of site visitors abandoning their cart, this can be a real problem.
Or you can use cart recovery. Cartflows allows you to use the email address that an abandoned customer has given you. You can send that customer some emails reminding him or her about the purchase, offering a discount, or place that email with your regular list.
Cartflows Cons
Cartflows sales funnel builder is cool, but there are a few things that it could do better.
No Split Testing (Yet)
Cartflows doesn't allow you to split-test your checkout or sales funnels to see which ones are the best. This is a pretty crucial feature. It's planned for release, but not out yet.
Knowledge Base Doesn't Have In-Depth Tutorials (Yet)
This is still in the works too. For now, Cartflows has a 30-minute video on all of the stuff you can do with it. I don't feel like the lack of knowledge base is a huge deal, but some may be put off by it.
I think Cartflows is pretty intuitive by itself.
Click here to try out Cartflows on your site
Increase your revenue with Cartflows
Cartflows Tutorial
Now that we've taken a peek at the pros and cons, let's look at how Cartflows works.
Getting Started
Getting started with Cartflows is pretty easy. There are two plugins with Cartflows: Cartflows and then Cartflows Pro. You can download both of these plugins from the Downloads section of your dashboard after you purchase Cartflows:
After you download Cartflows sales funnel builder, you get a neat little startup wizard in the WordPress dashboard. The wizard helps you to set up Cartflows so that you're ready from day 1. You'll be prompted to download Woocommerce (check out our Woocommerce review) and you'll need it for Cartflows to work.
No worries, it's free ;)
And then it's just a matter of housekeeping before you're ready to sell.
You can go into the WordPress dashboard, click on Woocommerce --> Settings to get your store straightened out. You'll need to do things like set your store location, choose how coupons are handled, set up your shipping, and a few other things.
Now it's time to create your product.
Creating Products
Before you can start using Cartflows for building sales funnels, you'll need to have a product ready. Some of you might already have products listed in Woocommerce, so I won't spend much time on this section. You can skip to the next section titled "Setting Up Your Flow" if your products are ready.
To create a product, you'll go from the Wordpress dashboard to Products --> Add New. Add your product name and scroll down to a section that looks like this: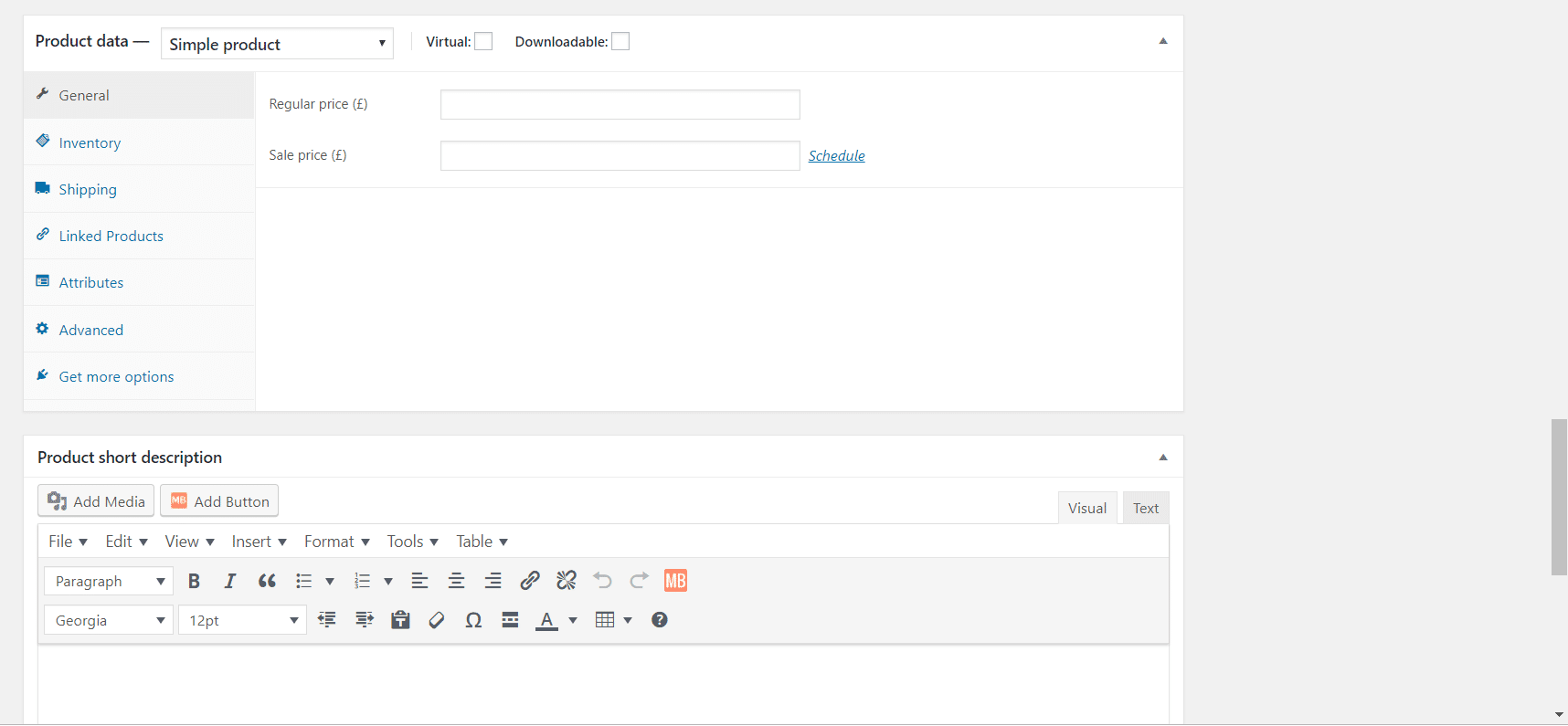 Here you'll put some info on your product like pricing, shipping info, and you can add files if your product is downloadable.
Below that you add a short product description.
And you're all set. Time to start using Cartflows for building sales funnels.
Setting Up Your Flow
Go to the Wordpress dashboard and click Cartflows --> Flows. From there you click an option to the top of the screen titled Add New. When you click it, you get a list of templates that you can choose from:
We also have the option to create our own, but I recommend using a template. It gives a nice starting place and most of these are modeled off of sales funnels that work, so you give your work a strong footing from the get go.
After you select your template or create your own, you come to a screen showing the steps in your funnel. I added a few steps to mine before taking this screenshot:
One thing I love here is that this is super easy. I think it's even easier than Clickfunnels (check out our Clickfunnels review or our suggestion for ClickFunnels alternatives.) Adding upsells and/or downsells involves you clicking a button and selecting a template.
Easy as it gets.
I also like how all of this takes place from inside of Wordpress. You don't have to use a separate platform and integrate it in like with Leadpages (Leadpages review) or Clickfunnels. You can go from managing your sales funnel to changing your product to writing a new post with a single click.
Now that we have our sales funnel in place, it's time to start customizing it. This will involve building your pages either from the ground up or from the templates provided.
The cool thing here is that Cartflows works with your current WordPress page builder. You don't have to learn new software or pay for a different page builder. At the time of writing, Cartflows sales funnel templates work with Elementor, Divi, Beaver Builder, and Thrive Architect WordPress page builders. Gutenberg templates are coming down the line, but you can use other page builders for free:
Elementor, Beaver Builder, and Divi are all free and give you superpowers when it comes to page design. I don't think there's any reason not to use them (Elementor is my favorite WordPress page builder and the one I use).
Either way, let's take a peek at designing our sales funnel.
Customizing Your Funnel
Your sales funnel works by setting up individual pages for each item. So you have a page for your checkout, another for your upsell, and so on.
You can edit these checkout pages within the Wordpress editor.
You know what that means?
We get to use our favorite WordPress website page builders.
I'm a big fan of Elementor (it's free) and you can read my Elementor review here. Cartflows and Elementor work very well together. At the Cartflows setup, you can choose what page builder you use. Elementor is one of the options and the templates are made to work with Elementor.
When you want to customize a page in your sales funnel, you click Edit, and you're taken to the standard WordPress page editor.
From there, you can click Edit with Elementor. Since this is just a regular page, Elementor's free version will work fine. You will get more mileage out of the paid version though.
Once you choose to edit with Elementor, it's a standard drag-and-drop from here on out: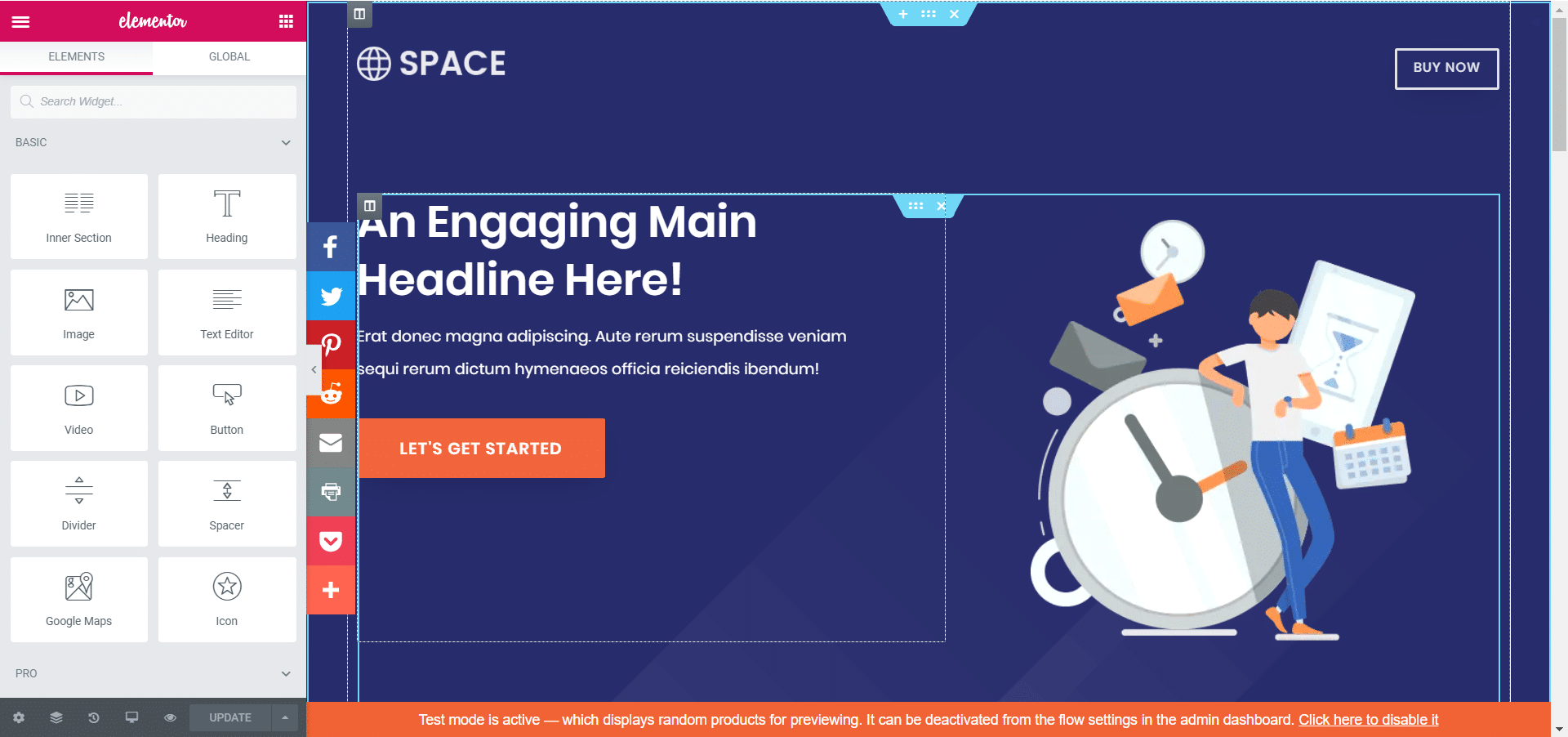 So Cartflows offers you as much customization as your page builder allows. At the time of writing, the Cartflows plugin works with all WordPress website page builders. Cartflows integrates with Elementor, Divi, Beaver Builder, and Thrive Architect page builder options. Gutenberg-ready Cartflows templates are on their way :)
And even though there aren't any funnel templates that work with Gutenberg, you can still build your sales funnels from scratch with Gutenberg page builder.
Cartflows Also Packs...
Now let's talk about some other, more minor features of Cartflows sales funnel software.
Global Checkout
One thing I love is that you can use Cartflows as your own funnel or as a regular checkout experience. If you have a variety of products that you offer on your site, Cartflows can work with all of them.
Go from the Wordpress dashboard to Cartflows --> Settings to find Global Checkout. You can then specify what funnel you want your visitors going to at checkout.
One thing I like about this is that you can turn every checkout into its own sales funnel experience with upsells and downsells. This will help you to maximize your revenue for each visitor you're getting.
Shopping Cart Recovery
Another thing I like about Cartflow funnel builder is that it offers checkout recovery. You have to download this plugin, but it's 100% free so there's nothing to lose.
Let's say someone is shopping and buying a pillow from you. They get half way through, give you their name and address and email, but never put in their credit card info.
Checkout recovery technology allows you to use that person's email address and help them finish checkout. You could send them a reminder, add a small discount to their order, or touch base to see what they need.
You can add this email to your regular list to get emails from you.
It's a pretty essential technology and goes a long way to boosting your earnings.
Dynamic Linking
This is super cool. You order your sales funnel steps how you like and then Cartflows does the linking between the pages for you. So if someone clicks no on your upsell, Cartflows knows to send that user to your downsell. And whatever they click on your downsell, they get sent to the thank you page.
Or however your funnel wants it to work. I played around a bit and make a convoluted funnel. But Cartflows knew how to do the linking with minimal tweaking on my part:
I changed my downsell a bit. I said that if users clicked No, they'd be redirected to my thank you page. If you want to change your sales funnel's linking, it's super easy. Click Edit and scroll down the page. You'll find a section called Offer Page Settings. Click on Conditional Redirect. You can choose where users go depending on what they click:
Easy as that.
Cartflows Price
Cartflows has 2 plans: free and Pro. Let's take a look at each of them.
Cartflows Free
Cartflows's free plan offers quite a bit. You can have access to templates for funnel pages, check out pages, and "Thank you" pages. This is all you'll need if you just want users to have a clean checkout.
This plan is a good fit if your funnel isn't very complex.
Cartflows Pro
Pro steps up the game. It costs $299 per year. That sounds like a lot, but it's a literal fraction of what competitors charge. Clickfunnels will run you at least $99 per month, but one plan is $297 per month. Leadpages costs about the same as Cartflows, but doesn't include any checkout page features.
:|
So Cartflows has super competitive pricing. They cost a fraction of what you'd pay to get the same full functionality elsewhere.
The Pro plan allows you to get access to premium templates, one-click upsells and downsells, cart abandonment, and checkout offers. This plan allows you to really create a funnel instead of just having a checkout pages. Upsells and downsells don't sound like a lot, but they make an enormous difference.
Is Pro Worth It?
The difference between the free and pro plan is simple:
Free allows you to have a checkout page (a huge value in itself).
Pro allows you to have a more customized checkout page along with funnels.
The free plan is a good fit if you just want to allow users to check out while Pro is a good pick if you want to maximize your earnings. The ability to have upsells and downsells is enormous, plus you get access to templates that you can already trust are working.
I would recommend the Pro plan if you want to replace your expensive software like Clickfunnels. This plan helps you to get more money out of your visitors by offering them related products that they might want.
If you want to give Cartflows a go, you can click here to get started
Make checkout and funnels easier with Cartflows
Who Is Cartflows Best For?
Now let's run through a few situations you might find yourself in and I'll explain whether I think Cartflows would benefit you.
Someone With No Need For Checkout Or Funnels
Maybe you're just an affiliate or you run some ads on the sidebar of your posts. Whatever the case, you don't sell your own stuff.
Cartflows isn't a great program for you because it won't help you out very much. You don't need checkouts, you don't need funnels.
Don't get distracted by shiny object syndrome. Just let it go.
Someone Who Sells Stuff
It's your own info product, or a membership course, or an actual physical item. Not important.
The important thing is that Cartflows funnel builder could be a big help for your business in a couple of ways.
First, it's all your tools in one. This is nice because you don't have to go from Leadpages to your checkout software back to WordPress for the "Thank you" page. You won't be needing any link spaghetti, thank you.
Second, Cartflows is a lot less expensive than the competition. Like, a lot. If you're running Leadpages + checkout software, you might be going into the near-triple digits per month. Clickfunnels works as a full service software, but it runs at least $99 per month.
Cartflows is a literal fraction of the price of most sales funnel builders and other tools.
Third, Cartflows works as a checkout software and as a funnel software. This means that you can maximize the revenue from each checkout and create sales funnels offering upsells and downsells that your customers want.
I think if you're already selling, Cartflows is a no-brainer. It's less expensive than other tools while still being super powerful.
Someone Who Sells A Lot of Stuff
The one weakness that Cartflows has is in its unreleased software: It doesn't allow for split testing yet.
This is coming out soon, and I'll update the review when it shows up. But if you're someone who sells a lot of stuff, has disposable income, and runs active split tests, then Cartflows isn't for you yet.
I know that just a 1% change can make an enormous difference in your income. Just stick to where you are if you're in this camp. I'll let you know when Cartflows is safe for you.
I do think it's worth saying that once split testing is released, Cartflows will be an excellent solution for heavy-duty sellers.
Is Cartflows Best For Me?
Now let's answer the most important question: is Cartflows the best software for you to build sales funnels?
If you sell stuff, I don't think you can go wrong with Cartflows. It's a lot less expensive than competitors, it's got all your tools in one place, it works just straight from Wordpress, and it gives you control over the checkout process.
If you sell a lot of stuff and could experience big benefits from split testing, I'd say you might want to avoid Cartflows for now. Split testing is on its way out, but this is a big enough issue that I'd say stick to your current software for now.
Overall, I think it's easier to describe those who won't benefit from Cartflows. This audience falls in the bell curve of users: those who don't sell at all, and those who sell monster levels of stuff.
For 90% of sellers, I think that Cartflow has something pretty cool, different, and inexpensive to offer you.
If you want to give Cartflows a go, you can click here to get started
Make checkout pages and sales funnels easier with Cartflows
Frequently Asked Questions
Now let's look at some stuff that you might be asking.
Who Is Cartflows Best For?
It's not good for people who don't sell and for people who need a lot of split testing. 90% of sellers will be able to make faster, easier, and less expensive sales funnels or checkouts with Cartflows.
What Can I Sell With Cartflows?
Anything! You can sell info products, digital downloads, memberships, coaching, or physical products with your sales funnels. If you can dream it, you can sell it.
What Is Needed To Run Cartflows?
WordPress and Woocommerce.
Does Cartflows Work With Shopify?
Not yet, but it's planned at some point down the line.
What Payment Gateway Does Cartflows Accept?
Cartflows accepts any payment gateway that works with Woocommerce. Right now, the one-click-upsells work with Stripe, Paypal, and cash on delivery.
Does Cartflows Work With Subscription Payments?
Yes :)
Cartflows Review: Upgrading Your Store
Cartflows is a cool sales funnel software that allows you to control the checkout process and start using funnels on your website. As sales funnel builders go, it's a fraction of the cost of the competition and allows you to keep everything inside of your WordPress site.
I recommend it for 90% of sellers. You'll get more control and save money.
Thanks for reading! What's your biggest problem with checkout? Let me know! :)
Want to learn step-by-step how I built my Niche Site Empire up to a full-time income?
Yes! I Love to Learn
Learn How I Built My Niche Site Empire to a Full-time Income
How to Pick the Right Keywords at the START, and avoid the losers
How to Scale and Outsource 90% of the Work, Allowing Your Empire to GROW Without You
How to Build a Site That Gets REAL TRAFFIC FROM GOOGLE (every. single. day.)
Subscribe to the Niche Pursuits Newsletter delivered with value 3X per week