10 High-Performing Leadpages Alternatives To Help Meet All Of Your Needs
When you buy something through one of the links on our site, we may earn an affiliate commission.
Creating high-converting landing pages is essential for any business looking to increase its online presence. While Leadpages is a popular choice, there are several other impressive Leadpages alternatives to try.
These 10 professional and effective options are affordable, easy to use, and offer advanced marketing features that can optimize your funnels.
So keep reading to discover the best option for you, which could lead to increased traffic, leads, and a smooth user experience that's tailored to your business needs.
10 Leadpages Alternatives to Check Out
Let's dive into 10 top-tier Leadpages alternatives and see which one might be right for your business:
1. Instapage: Best for A/B Testing
Instapage is your ally in creating high-performing landing pages. As a business owner, you'll appreciate its focus on SEO-friendly pages and its robust A/B testing capabilities to optimize performance. Time-pressed? Utilize the 500+ customizable templates and Instablocks for quick page builds.
Key features of this sales funnel builder include:
SEO-focused landing page builder
A/B testing capabilities
500+ customizable templates
Instablocks for rapid creation
Collaborative tools for team projects
This landing page builder encourages teamwork, with built-in collaboration tools to engage multiple team members. It's slightly pricier than some competitors, but the benefits could be worth the investment, especially if you're aiming for the best landing page builder to create beautiful, responsive landing pages.
Check out our Instapage review to learn even more about this alternative to Leadpages.
Pricing: Plans start at $199 a month when purchased annually.
---
2. Unbounce: Most User-Friendly Tool
Unbounce, a notable landing page builder, simplifies the process of creating beautiful landing pages. This tool is ideal for beginners and those looking for a streamlined experience.
This powerful drag-and-drop builder offers:
User-friendly interface
Drag and drop editor
Mobile-focused landing pages
Click Intelligence for better conversions
CRM and E-commerce integrations
With Unbounce, you can easily drag and drop elements to craft your site, eliminating the need for a developer or coding skills. The builder offers a collection of attractive templates, making it swift to create professional-looking pages. However, customizing mobile templates could be tricky for new users.
Unbounce's unique feature, Click Intelligence, helps you maximize conversions from your traffic. Although its free version is limited, and pricing depends on your website's conversions, the potential business boost might justify the cost.
This comprehensive Unbounce review can help you decide if this is the best Leadpages alternative option for you.
Pricing: After a 14-day free trial, plans start at $65 a month when paid annually.
---
3. ClickFunnels: Best All-in-One Solution
ClickFunnels is more than just another landing page builder - it's a comprehensive solution for your marketing funnel needs. It's designed to boost your traffic and conversions by helping you create effective lead magnet pages.
You can create landing pages with:
Comprehensive marketing tool suite
User-friendly interface
Integrated payment options and automatic follow-up emails
CRM, payment, and email marketing integrations
With ClickFunnels, you can not only build high-converting landing pages but also an entire website complete with a content management system, web hosting, shopping cart, detailed analytics, and more.
The platform simplifies the process of landing page creation, guiding you through each step and making it easy to integrate payment options. It also includes automatic follow-up emails to help increase sales.
Pricing: After a 14-day free trial, plans start at $80.84 monthly, when billed annually, or $97/month for a monthly subscription.
---
4. Landingi: Best for Customization
Landingi, a dedicated landing page builder, offers you full control over the aesthetics of your landing pages. It's a smart builder for non-programmers who want high customization in a page builder. Landingi offers over 300+ customizable templates to help you create beautiful landing pages.
This is one of the most popular sales funnel builders offering:
Over 300+ customizable templates
Pop-up builder
Detailed page insights
A/B testing
Affordability
With Landingi, you're not restricted to using their templates; you can import your own or build from scratch. The platform's affordability and ease of use make it one of the best landing page builder options for beginners and advanced marketers alike.
It's one of the best Leadpages alternatives for its advanced features, such as A/B testing, to enhance your marketing efforts by improving conversions.
Pricing: There's a 14-day free trial with plans starting at $29/month or $290/annually.
---
5. OptimizePress: Best WordPress Integration
OptimizePress is a compelling landing page builder that integrates seamlessly with WordPress. It's ideal for building landing pages, sales funnels, and more for your online business.
Key Features:
Seamless WordPress integration
Affordable plans in comparison to other alternatives to Leadpages
Customizable landing page templates
With OptimizePress, you can create a complete sales funnel using their customizable templates designed for various purposes. The drag-and-drop interface simplifies the process, making it a great Leadpages alternative.
However, it's worth noting that this tool is only for WordPress users and doesn't offer a free plan.
Pricing: Plans start at $129 a year and come with a 30-day money-back guarantee
---
6. HubSpot: Best for CRM Integration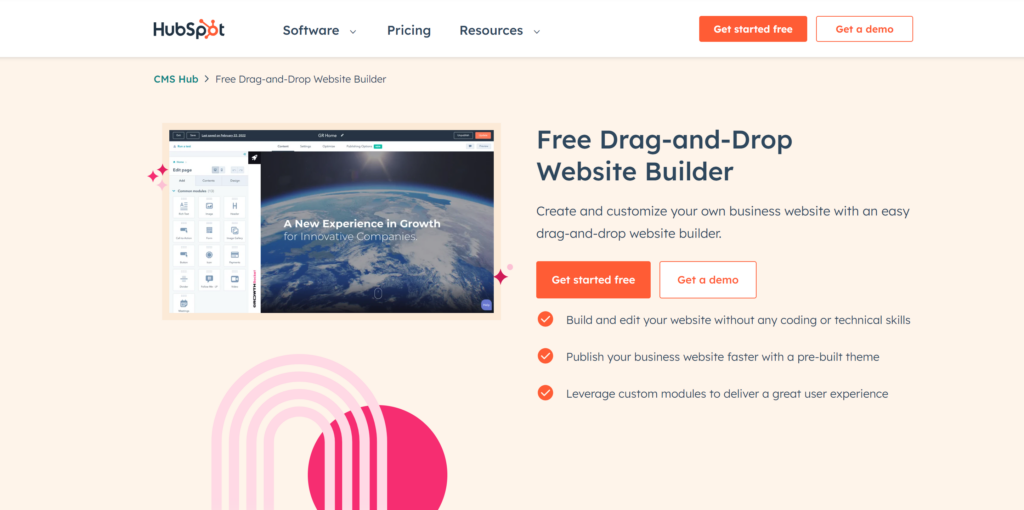 HubSpot is a comprehensive marketing platform, including a landing page builder for designing landing pages that integrate seamlessly with its customer relationship management software.
It's designed for businesses looking to streamline their digital marketing efforts all in one place.
The HubSpot landing page builder offers:
Customizable landing page templates
A/B testing and SEO marketing tools
Scalable plans
Free basic tools: forms, ticketing, email integrations
With HubSpot, you can create custom landing pages using their templates and drag-and-drop software. It offers free tools to manage your landing pages post-launch. Additionally, it provides advanced features like omnichannel marketing automation and revenue attribution reports in paid plans. However, the free version only offers limited features.
Pricing: You can build your page for free and connect it to your domain name. Premium features start at $25 each month.
---
7. ActiveCampaign: Best for Email Marketing Integration
ActiveCampaign is a comprehensive email marketing platform that combines CRM and a drag-and-drop landing page builder. It's an ideal solution for businesses focusing on email campaigns.
Here are a few of the features you can expect from ActiveCampaign landing pages:
Drag-and-drop landing page builder
Well-designed sales pages and templates
Email marketing automation
CRM integration
Advanced reporting and goals tracking
With ActiveCampaign, you can streamline your digital marketing efforts by building landing pages with customizable templates and creating sales funnels in the same software. The platform also offers automated segmentation, predictive sending, and advanced reporting.
Ideal for small businesses, eCommerce ventures, and bloggers, ActiveCampaign's robust automation features save time and improve your business.
Pricing: ActiveCampaign plans start at $29 per month when billed annually.
---
8. GetResponse: Best for Automation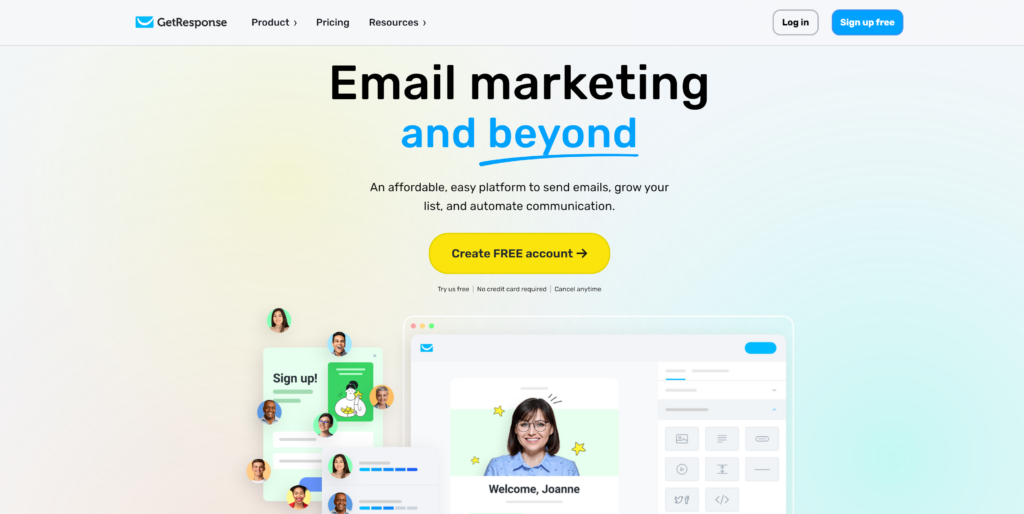 GetResponse is a comprehensive email marketing tool with an intuitive landing page builder, making it an excellent choice for businesses aiming to automate their marketing campaigns. Marketing automation makes it easy for you to track your results and optimize your landing pages for even more engagement.
This is one of the best Leadpages alternatives for:
Advanced automation options that simplify marketing campaigns
Over 200 templates to create landing pages with
Mobile-first drag-and-drop editor
SMS marketing and web push notifications
With GetResponse, creating landing pages becomes a breeze due to its drag-and-drop interface and vast template library. It also offers A/B testing, allowing you to optimize your pages for the best results.
This marketing hub ensures your landing pages look perfect on mobile devices too. Its diverse features, including SMS marketing and web push notifications, make it more than just an email marketing tool. If you're seeking a single platform for all your marketing needs, GetResponse is a good bet.
Pricing: GetResponse plans start at $15.60 a month when billed annually.
---
9. Systeme.io: Best Free Plan
Systeme.io is a comprehensive business tool offering an array of features, most of which are free. It's designed for businesses wanting to streamline their operations while keeping costs low.
Key features include:
Drag-and-drop landing page builder
A sales funnel builder that supports up to 3 landing pages
Marketing tools for email marketing and affiliate programs
Unlimited email and file storage
Systeme.io allows you to create high-converting landing pages using proven templates and offers A/B testing for optimization. The landing page builder is intuitive and modern, making it easy to drag and drop elements as well as modify colors and styles.
Beyond creating landing pages, it provides tools for sales funnel building, email marketing, and running affiliate programs.
While the free version limits you to one membership site, the range of capabilities offered makes Systeme.io a value-packed choice for your business.
Take a look at our Systeme.io review for more details on how this awesome landing page builder performs.
Pricing: Systeme.io is a great landing page builder because it offers a free plan. Paid plans start at $19 each month when billed annually.
---
10. Mailchimp: Best for Small Businesses
Mailchimp, a renowned email marketing tool, also offers a landing page builder ideal for small businesses or startups.
This drag-and-drop editor has many features, including:
Unlimited landing pages across all plans
Responsive template designs
E-commerce capabilities through Mailchimp/Square partnership
Multiple tracking options
With Mailchimp, creating compelling landing pages is simple and effective. Even the Free Forever plan allows you to build unlimited opt-in pages, making it an awesome alternative to Leadpages.
You can sell items directly from your landing pages due to the Mailchimp/Square partnership, although Square charges processing fees. Despite limited templates and a less user-friendly automation editor, its responsive design ensures your landing pages look great on any device.
For those seeking free alternatives to other landing page builders, Mailchimp could be a viable option.
Pricing: The free Mailchimp account allows you to build and publish landing pages. Paid plans start at $10 a month.
---
The Bottom Line: 10 High-Performing Leadpages Alternatives
Choosing the right landing page builder can significantly impact your business's online success. Each of these Leadpages alternatives offers unique strengths, so consider your specific needs and goals when making your decision.
With a bit of experimentation and an open mind, you'll find a sales funnel builder that helps you achieve your business objectives with ease.
Want to learn step-by-step how I built my Niche Site Empire up to a full-time income?
Yes! I Love to Learn
Learn How I Built My Niche Site Empire to a Full-time Income
How to Pick the Right Keywords at the START, and avoid the losers
How to Scale and Outsource 90% of the Work, Allowing Your Empire to GROW Without You
How to Build a Site That Gets REAL TRAFFIC FROM GOOGLE (every. single. day.)
Subscribe to the Niche Pursuits Newsletter delivered with value 3X per week