Kajabi vs Kartra: Which Is Better For Your Business?
When you buy something through one of the links on our site, we may earn an affiliate commission.
In this article, we will compare Kartra vs Kajabi side by side to help you see where the differences lie and shed some light on which tool best suits you and your business.
Kartra and Kajabi are both popular all-in-one solutions for those who want to sell digital products and courses. Many of the features they offer are similar, so when it comes to choosing between the two, it can be tricky to decide which one is right for you.
To help make it a little clearer, we're going to be looking at all of the features they offer, the customer service, the pros and cons, and of course, the pricing. By the end of the article, you will have all the information you need to decide which of these tools is the best option for your business.
Kajabi vs Kartra: The Main Differences
Although both Kartra and Kajabi offer all-in-one solutions for course development and digital product selling, they have a few key differences. This means one might suit you better than the other, depending on your business type.
Here's what you need to know:
Kartra allows users to sell both digital and physical products, whereas Kajabi is only suitable for selling digital products.
Kartra includes lead scoring features, particularly useful for proactive sales-driven online businesses.
Kajabi has a dedicated mobile app. This is a fantastic feature to help keep members and course students engaged and allow them to consume content on the go. Kartra does not currently offer a mobile app.
Kartra includes advanced A/B testing and analytics for your funnels, pages, and email marketing campaigns. Kajabi doesn't include this as a native feature, so you would need to do this manually.
There is no denying that both platforms have a great range of similar features, too, so let's look at what they offer side by side to see who comes out on top in each area.
KAJABI vs Kartra: Introduction and Key Features
Both platforms have a range of features and benefits, which means that whatever you're looking for, there should be a solution to suit you. This section gives you a quick overview of each brand and a look at the main features on offer.
Kartra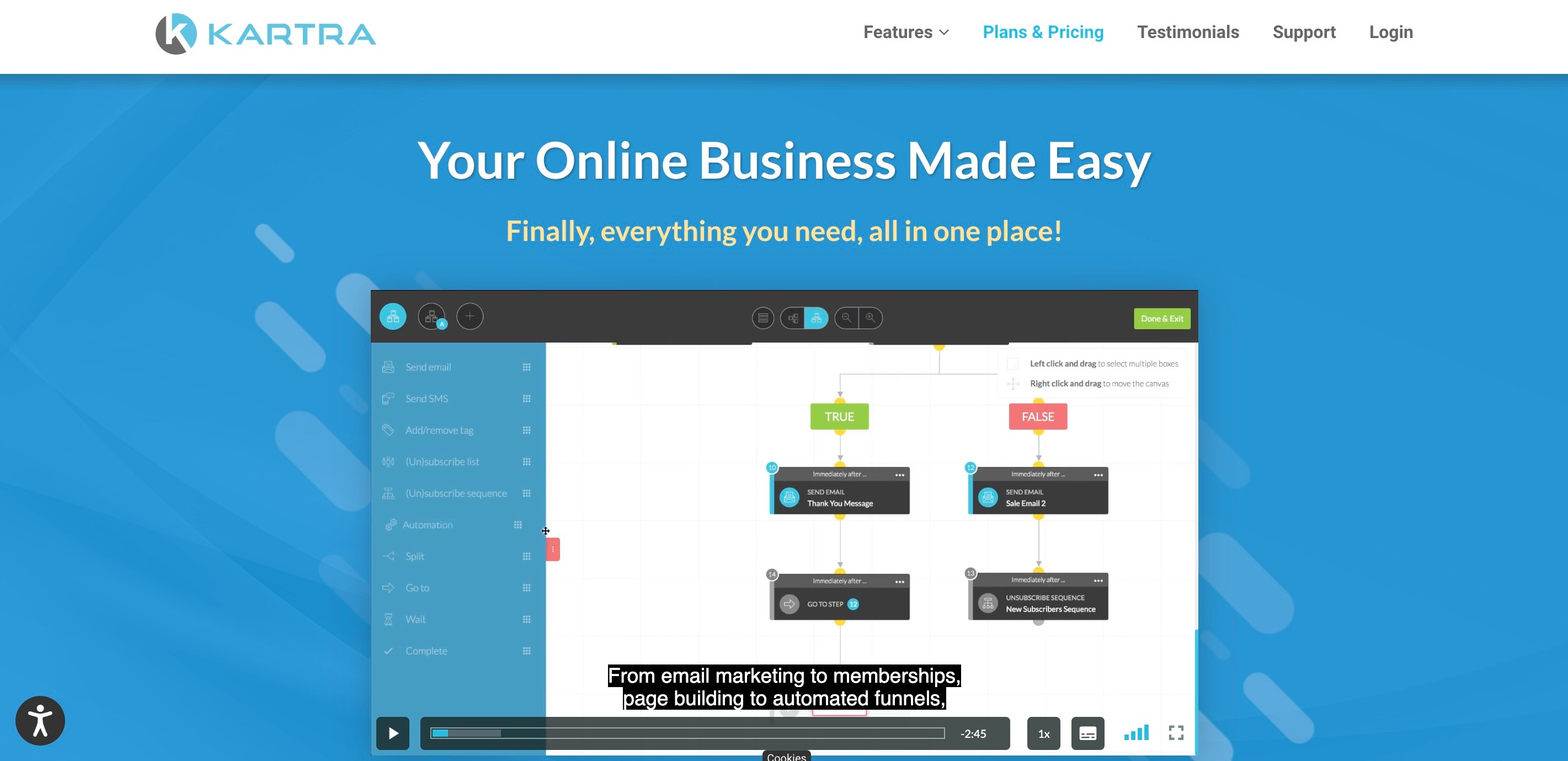 Kartra has been around for a few years now, and it's proven popular with beginners and professionals alike thanks to its easy-to-use interface, affordable pricing (especially compared to other platforms), and wide range of tools.
As an online business platform, Kartra is an all-in-one solution. It has plenty of advanced features and everything you need in one place. This means you won't have to constantly add plugins to get what you need from the software.
Because everything is already included, all the different elements work seamlessly together. This relieves the stress of running an online course website or digital product business.
Here are the main features included with Kartra:
Drag and Drop Page Builder - Easily create pages that match your branding and entice your customers into signing up for the digital products you offer.
Check Out Pages - Make your customer journey as smooth as possible by ensuring that the checkout process is quick and easy.
Sales Funnel Building - Create a sales funnel in just a few minutes, allowing your website to run on autopilot and generate sales 24/7.
Membership Sites - Create exclusive membership sites for your audience. Drip content on specific dates, give access to structured lessons, and even offer multiple-tier membership pricing.
Video hosting - Upload videos, design your own video skins, and even have interactive video features and a share button on offer to encourage users to share.
Customer Support - Create an extensive ticket system so your customers can contact you when they have questions.
Email Marketing - Set up a sequence of emails that can be triggered by certain actions or sent to your customers on specific days.
Integrations - Integrate with various third-party plug-ins to ensure you get the absolute most out of the software.
Check out our full Kartra review here.
Kajabi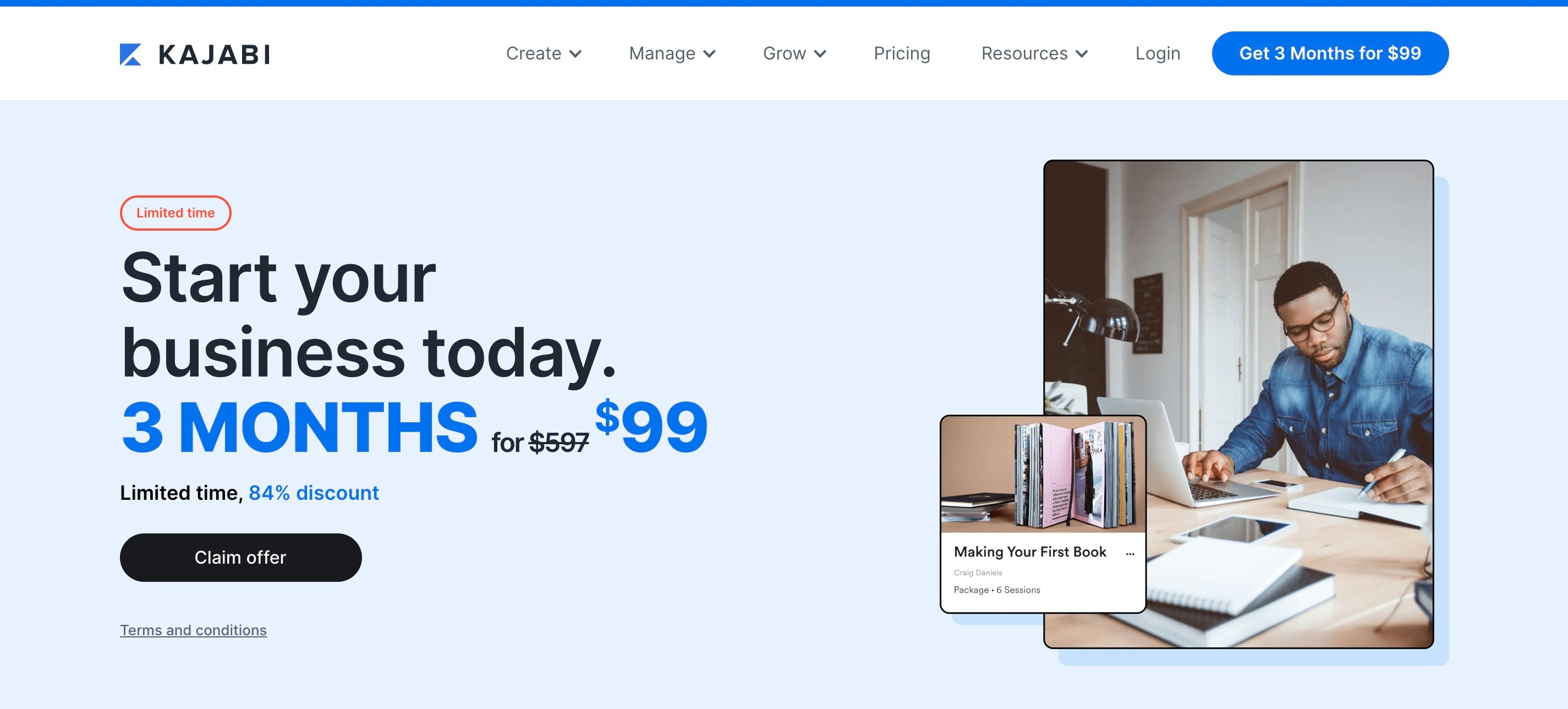 Kajabi is another all-in-one online course platform that enables you to create online courses, sell digital products, build landing pages, and manage all aspects of your online business from one place.
One of the reasons Kajabi is so popular is because it makes it so easy to build and market courses and membership sites.
It includes all of the sales funnel and email marketing tools you need, so you won't need to constantly switch between different software: everything you need is already included.
These are Kajabi's main features:
Website Page Builder - Kajabi uses a click-and-edit philosophy to make it as quick and easy as possible to make website changes.
Themes - Kajabi offers a range of themes, layouts, and design ideas so that you can design a website that suits your needs. It's also possible to use different themes and layouts on different pages of your website if required.
Blog Creation - One thing Kajabi offers that Kartra doesn't is the option to create and edit blog posts. This also includes scheduling them to be published on a future date and optimizing them for SEO
Unlimited Hosting - Kajabi isn't messing around when they say an all-in-one marketing platform! It includes unlimited web storage and bandwidth.
Membership Areas - Create a membership site with exclusive areas for your members. Create as many as you need and have different offers and prices for each.
SEO - Optimize your website pages to ensure that they get the attention of search engines and help drive traffic to your website.
Email Marketing - Range of automation features - send them just once or set up triggers so they're sent when certain milestones are reached.
Successful Marketing Campaigns and Sales Funnels
Kartra vs Kajabi: Which is Easier to Use
Much like any other software, you'll have people on both sides of the fence regarding which platform is the easiest to use. Both have options for click and edit/drag and drop features, so they are both straightforward to use.
Even those that don't have extensive experience in this type of content creation and selling will find both platforms easy to use. There is no need for coding experience or knowledge, as both Kartra and Kajabi take care of this side of things for you.
Kajabi includes everything you need within the platform, and there is no need for any 3rd party tools. However, there are some integrations available if you wish to use them.
Kartra also allows you to team up with a range of 3rd-party tools via their integration options. This enables you to add on any missing features and is relatively easy to set up and get going with.
Realistically if you haven't used software like this before, then you'll need to set aside some time to ensure that you can learn it and get to grips with all of the advanced features that they offer.
However, that doesn't mean the process must be complicated or lengthy. Most people will agree that both Kartra and Kajabi are easy to use and, therefore, easy to learn, even for beginners.
The verdict: It's a tie! Both Kartra and Kajabi are equally easy to use.
Kartra vs Kajabi: Integrations
Integrations are a great way to allow users to get the maximum benefit out of any software that they are signed up to.
Both Kartra and Kajabi offer various third-party integrations to allow you to work seamlessly and do everything you can to ensure your business grows.
Both Kartra and Kajabi offer integrations with payment gateways to give your customers options of how to pay and help you process this efficiently. Karta allows you to integrate with:
Kajabi also integrates with Stripe and PayPal
Both also allow you to integrate with email marketing software to help manage your inbox and ensure that emails are as easy as possible to deal with.
Kajabi integrates with mail clients such as:
Kartra integrates with:
SendGrid
MailGun
Elastic Mail
Postmark
This means there's a massive range of email options across these two platforms.
In general, Kartra has more integration options, though.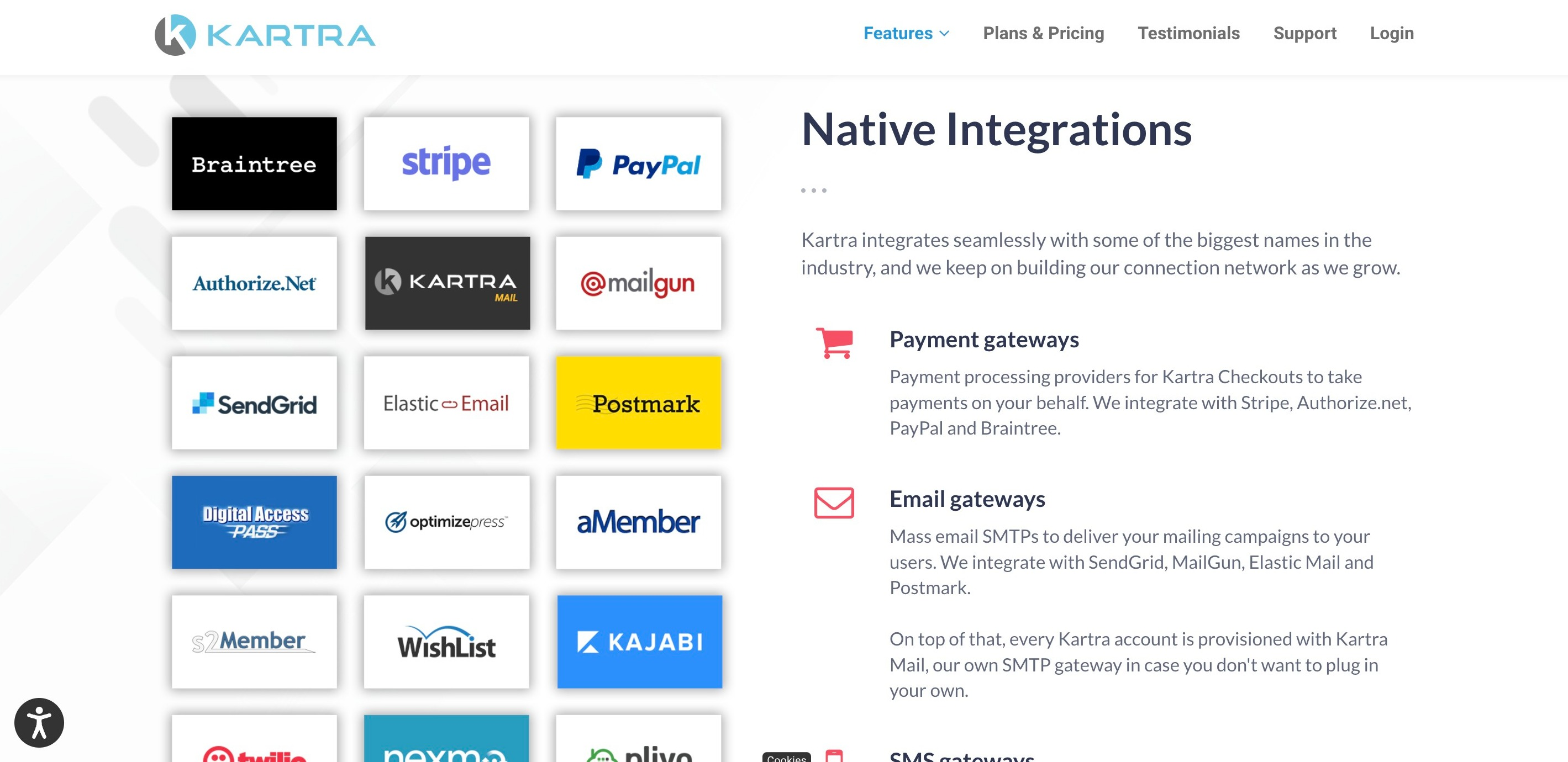 Kartra API offers integration for things like SMS gateways (Twilio, Plivo and Nexmo) and membership platforms (aMember, Digital Access Pass, and Wishlist). It even integrates with Kajabi if needed!
Kajabi also offers integration options for features such as analytics (Segment, Google Analytics, and Facebook Pixel) and integrates with ClickFunnels for lead capture.
The verdict: Overall, Kartra has more integration options.
Kartra vs Kajabi: Page Building
With your goal being sales, high-quality pages with high conversion rates are imperative for eCommerce websites.
Kartra's Page Building Features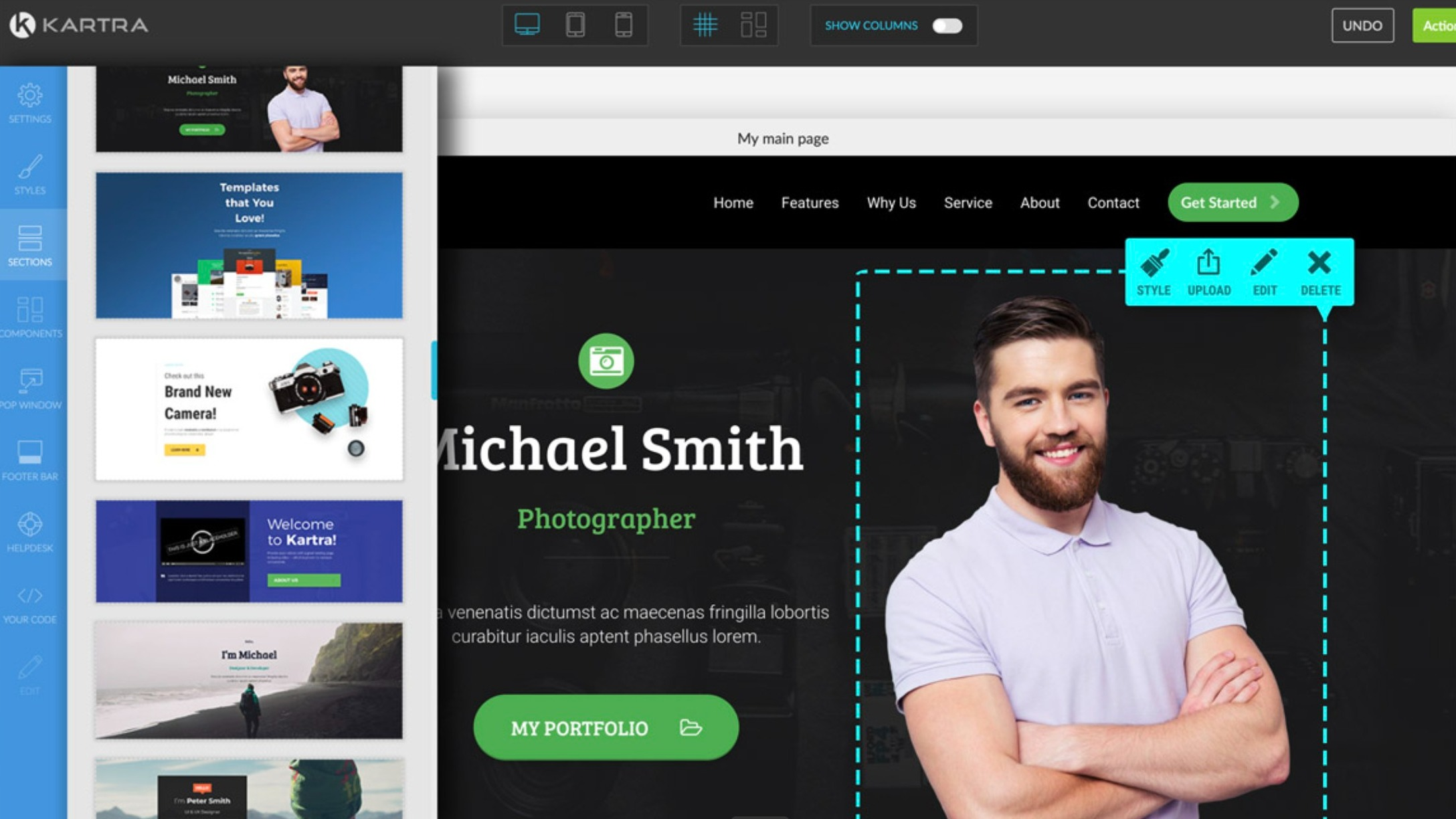 Kartra offers a drag-and-drop page builder with over 500 templates for complete pages and individual sections. Customization is possible for all on-page elements. It's possible to swap the locations of page elements, resize images and alter the page layout to suit your needs.
Kartra also offers simple integration to their ecosystem. This generally means you can achieve tasks like placing a button to link to a Kartra membership website with just one click.
Pages created by Kartra are fully optimized for desktop, mobile, and tablet views. Previews of pages are available so you can check visually that the page displays correctly and all is to your liking.
The webpage builder that Kartra supplies require no coding experience, and no drafts are required to be created. The whole process is achieved through drag and drop so that when you are happy, a simple click places the feature, image, or link button.
You can choose from one of the many page templates or decide to start from a fresh blank page. This enables you to create pages that work efficiently and have all the key elements that make for a simple to use, effective sales website that can generate high sales conversion figures.
For those that want a page to look unique and individual to their site, a blank page can be the best place to start with Kartra.
Existing company branding is easy to incorporate within your new site too. These features can include custom logos, colors, and, of course, fonts. Once completed, Kartra offers true instant one-click publishing to get your site up and running quickly and efficiently.
Kajabi's Page Building Features
Kajabi offers a drag-and-drop page builder that utilizes the Kajabi templates. The templates are pre-built web pages that you can alter and customize to provide for your website's needs.
The templates are centered on varying requirements depending on the pages' intended use. This is useful as it enables you to choose a template that includes your required features.
The templates are comprehensive, making the selection of an appropriate one to suit your needs a simple task. They can be customized further to include your specific branding and visual layout.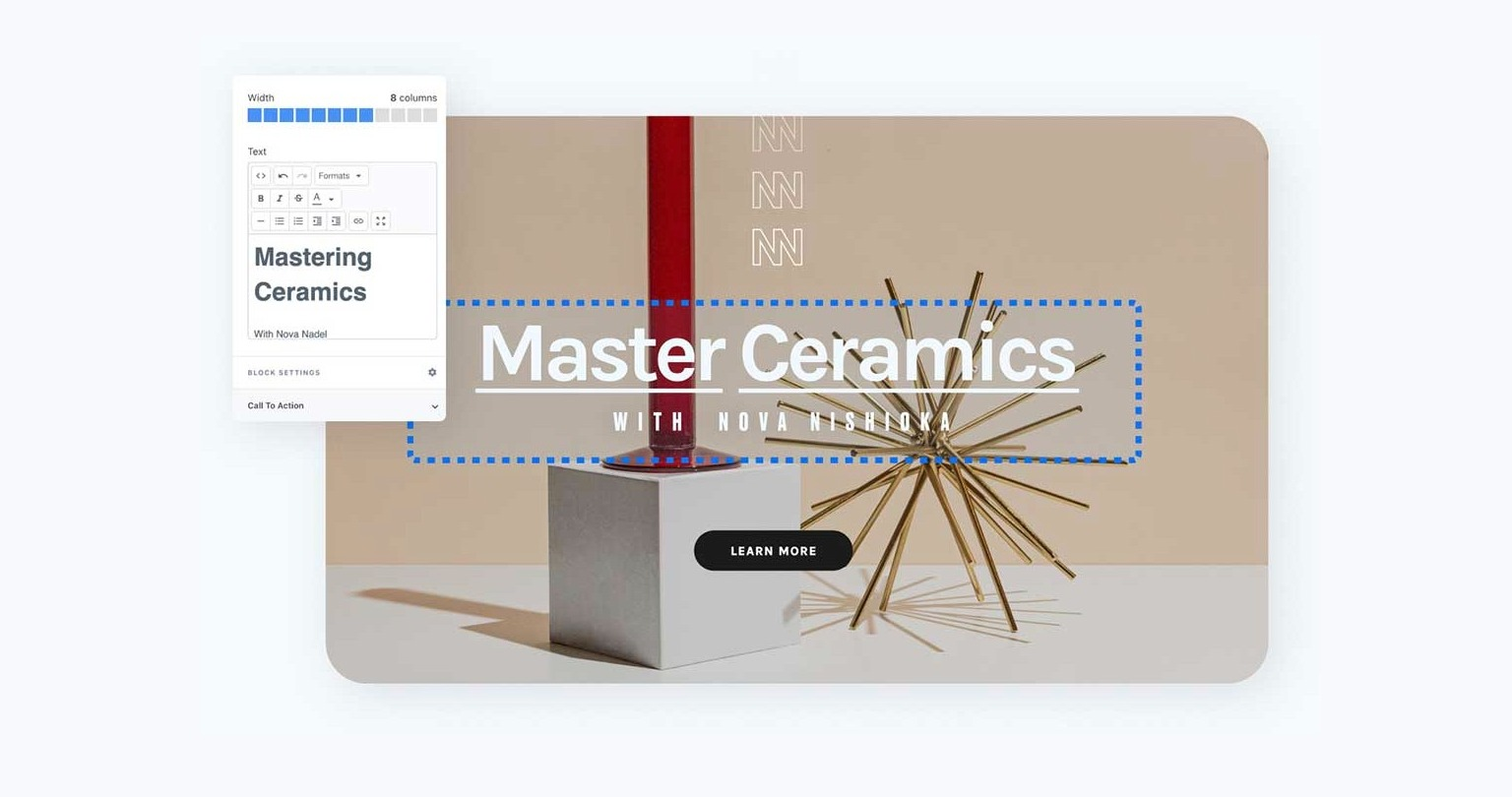 No coding experience is required to work with the page builder. This approach keeps the need for technical knowledge to a minimum and enables you to produce effective fit-for-purpose pages quickly and efficiently.
Kajabi's templates favor a modular approach that makes it easy to include features you need and remove those you don't. The layout can be altered with the simple drag and drop editor.
Kajabi makes it easy to get up and running with a few pages. More pages can be added easily, but the initial ability to quickly publish a functional sales site is one eCommerce operators will appreciate. This enables vital marketing and sales generation to commence in the quickest time.
Kajabi's templates are available from the theme store and included in your subscription. Each named theme provides different features.
Of course, if you prefer, you can start with a blank page and add the required page elements from the website builder before turning your attention to customizing the look and feel of the page to your specific needs.
The verdict: Both Kartra and Kajabi offer similar features when it comes to building pages for your business. They both utilize a drag-and-drop style builder, which is easy to use, even for beginners.
Kartra vs Kajabi: Sales Funnels
While the quality of the product you are putting out there is important in terms of customer satisfaction and making sales, the journey they take to get there is just as important.
Sales funnels allow you to track and guide the customer's journey to the sale. You can put in automated steps to encourage them to progress through your website as you prefer to reach the end goal of making a purchase.
Both Kartra and Kajabi have several marketing tools within their platform that help you set this up, analyze it, and tweak it along the way if needed.
Kartra's Sales Funnel Features

Kartra includes over 26 pre-built funnel and campaign templates. These are sales-driven and, once in place, automated.
Within the Kartra software, you can use plug-and-play campaign options to perfect things such as landing pages and even setting up videos to encourage customer engagement.
The idea behind creating a successful campaign is to ensure that all of your platforms drive customers towards making a purchase.
This means that Kartra can help with things like creating landing pages, email sequences, sales pages, and even things like upselling products and creating easy checkout pages for your customers.
They have a range of pre-written emails and a landing page builder that you can use and customize to better suit your needs, or you can use their drag-and-drop sequence builder to build your sales funnel from scratch.
It enables you to keep up with lead capture and automated emails. This means you're in touch with your customers more often, which helps increase customer satisfaction and drive sales.
Kajabi's Sales Funnel Features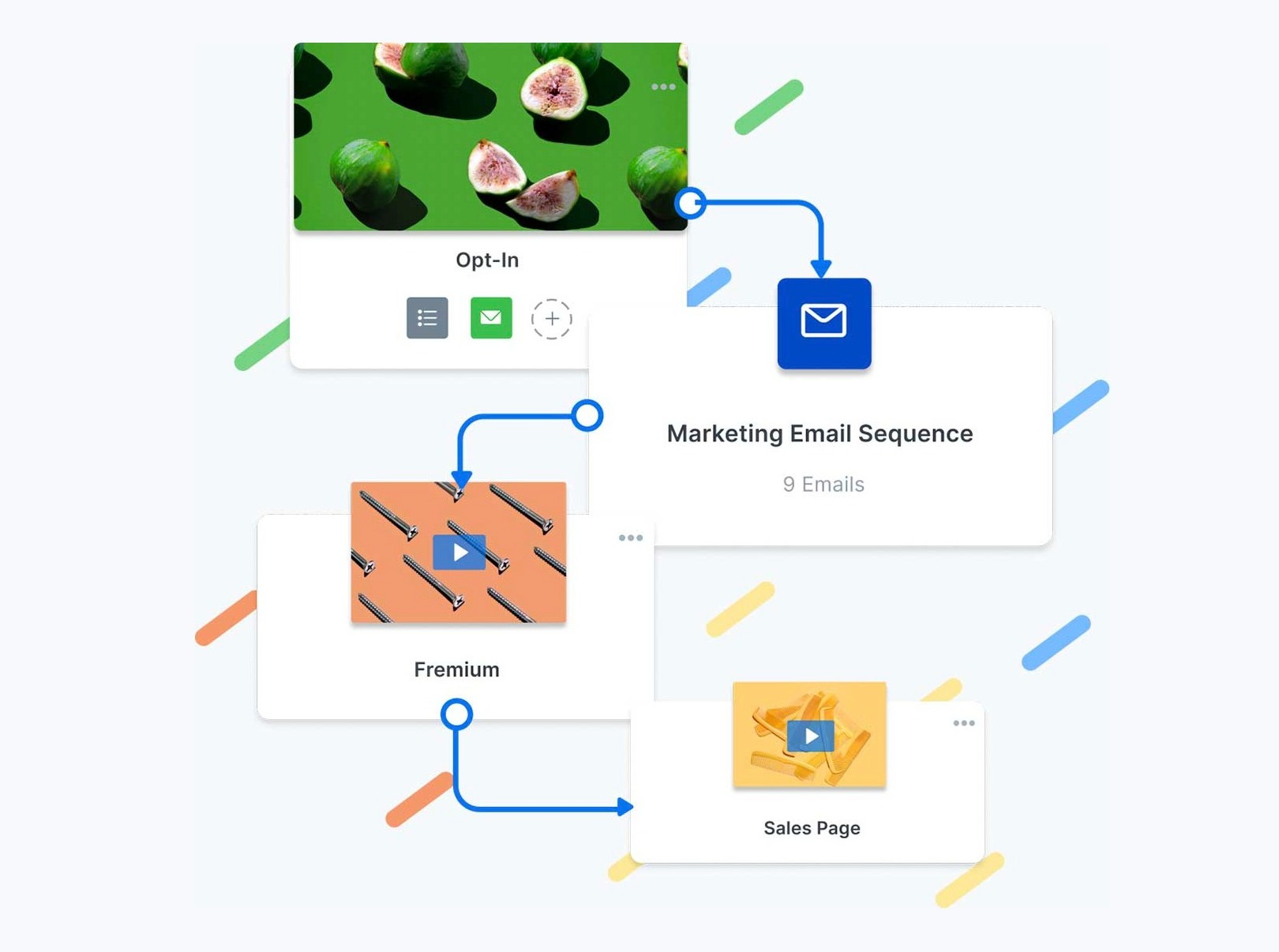 Kajabi offers the chance to set up automated pipelines. This combines things like landing pages, emails, and automated triggers; so your company can get in touch with customers when they have undertaken specific actions.
This is the best way to keep in touch with customers and generate more sales.
Much like Kartra, Kajabi's Pipelines include a range of pre-written copy for you to be able to take advantage of. This includes lead generation content and even creating things like webinar funnels.
Kajabi also has a range of templates that you can use to build the right pages and customize as needed.
The verdict: Both platforms offer similar sales funnel features. They both give you the options to choose from 'done for you' funnel templates, and no plugins or integrations are required.
Kartra vs Kajabi: Email marketing and automation Features
Being in touch with customers and potential customers at the right time is a great way to help drive sales. However, that doesn't mean you need to be ready at your laptop to send an email whenever it is needed.
Instead, both Kartra and Kajabi offer ways to create marketing emails and send advanced automation sequences that appeal to your audience and help encourage sales.
Kartra's Email Marketing Features
Kartra has several marketing tools that can with email campaigns. Things like creating a mailing list, importing your contacts, and even managing this list when it is set up are all taken care of.
It even has a selection of email templates to help you create the right type of email and make sure that looks great too. The idea is that the marketing platform can help you create an email marketing campaign that works.
You can even split-test your emails to see which ones get the best feedback and interaction. This helps you to perfect the emails you choose to send in the future.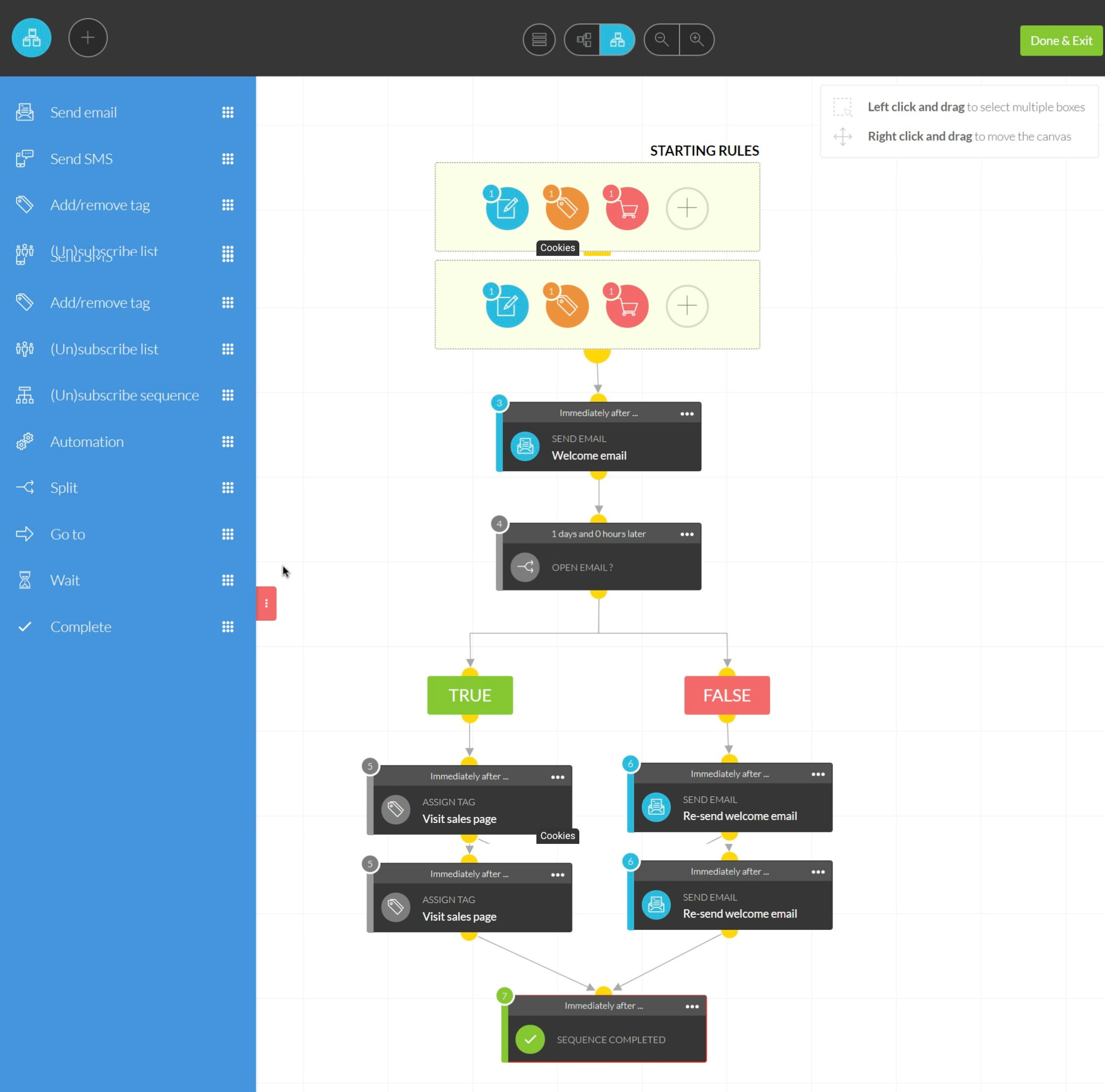 It also has several scheduling options for sending out these emails. These include an "if" and "then" rule - so that you can contact customers when they hit a specific trigger point within their order journey.
Kajabi's Email Marketing Features
As you may expect, Kajabi also has several resources that can help with email automation features and marketing.
These include templates that help create emails to promote events and set up newsletters. It can even help you write creative subject lines to help get your customer's attention.
As well as creating mailing lists of people to get in touch with you, you can even segment your list into groups and then choose to broadcast different emails to certain types of subscribers.
The verdict: Overall, although both have handy tools to help with email creation. The email builder in Kajabi is reviewed by many as a little more clunky to use, which does leave some people favoring Kartra and its ability to send split test emails for their email marketing and automation needs.
Kartra vs Kajabi: Customer Chat Support
It's important to be able to get in touch with customer help and chat support if you have any questions about the software you are using. Let's see how Kartra measures up against Kajabi in this area.
Kartra
Kartra offers a range of ways to get in touch. However, this can vary depending on the time of day you want to reach them.
They have an email support system that is always open, but reviews say that it can sometimes take a day to hear back from them.
They also have a live chat option open at various times throughout the day. Their handy FAQ section answers many common queries that people have, which can help get an answer much quicker than waiting for the Kartra customer service team.
Kartra has its own Kartranaut learning center, where you can find courses and documentation on every aspect of using Kartra. This is a great way for beginners to get to grips with the software at their own pace.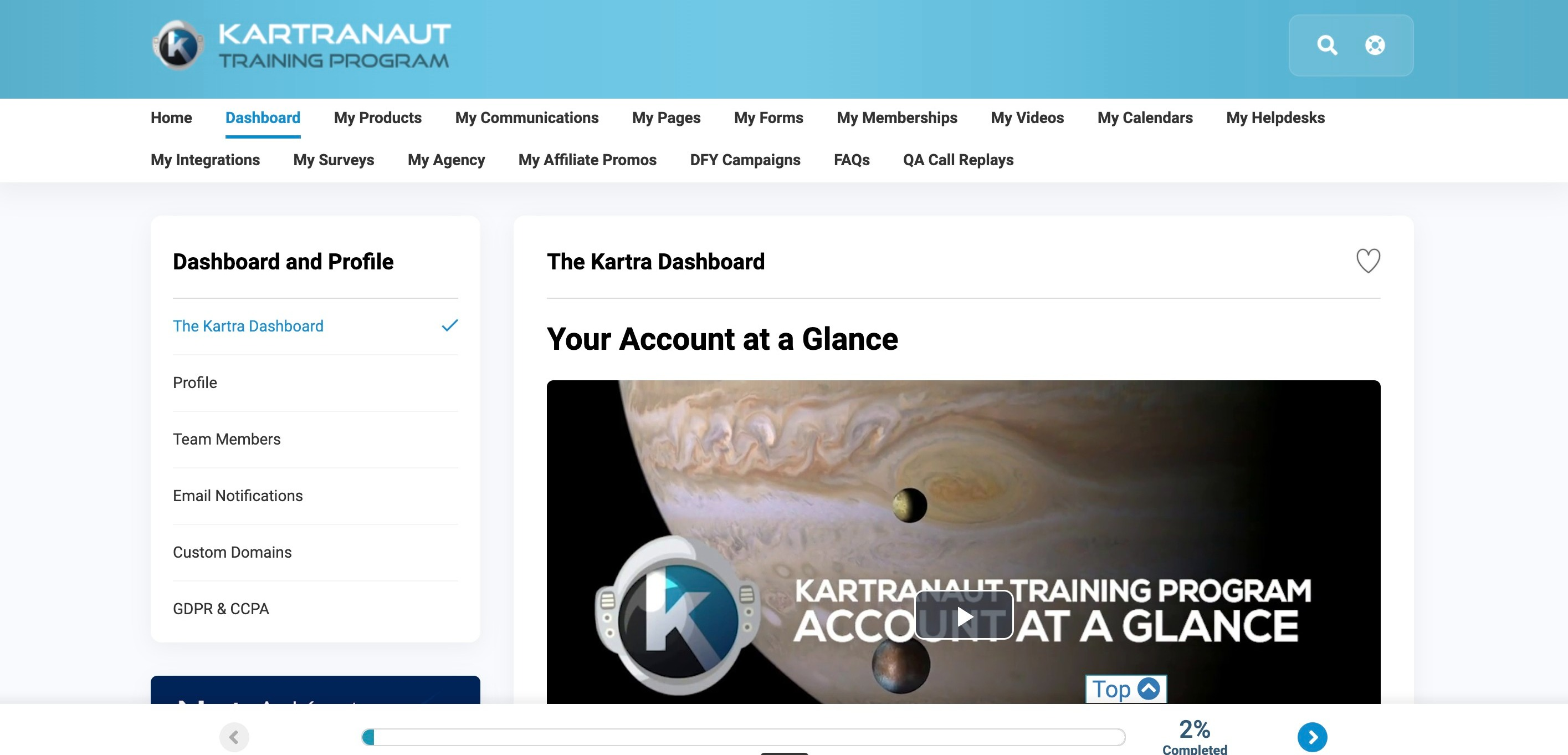 Kajabi
Kajabi makes it super easy to get in touch. There is a handy Help tab that appears at the bottom of most pages on the website. They offer a 24/7 live chat option to all subscribers except those on the basic plan, who can only access live chat at set times.
It allows you to submit a request online and has Facebook community features to ask other users questions and get replies. They also have detailed guides and FAQ sections to answer the most common queries.
As a bonus, Kajabi offers Kajabi university to its users. Here you will find over 350 training videos to help you get the best out of Kajabi and grow your business as quickly as possible.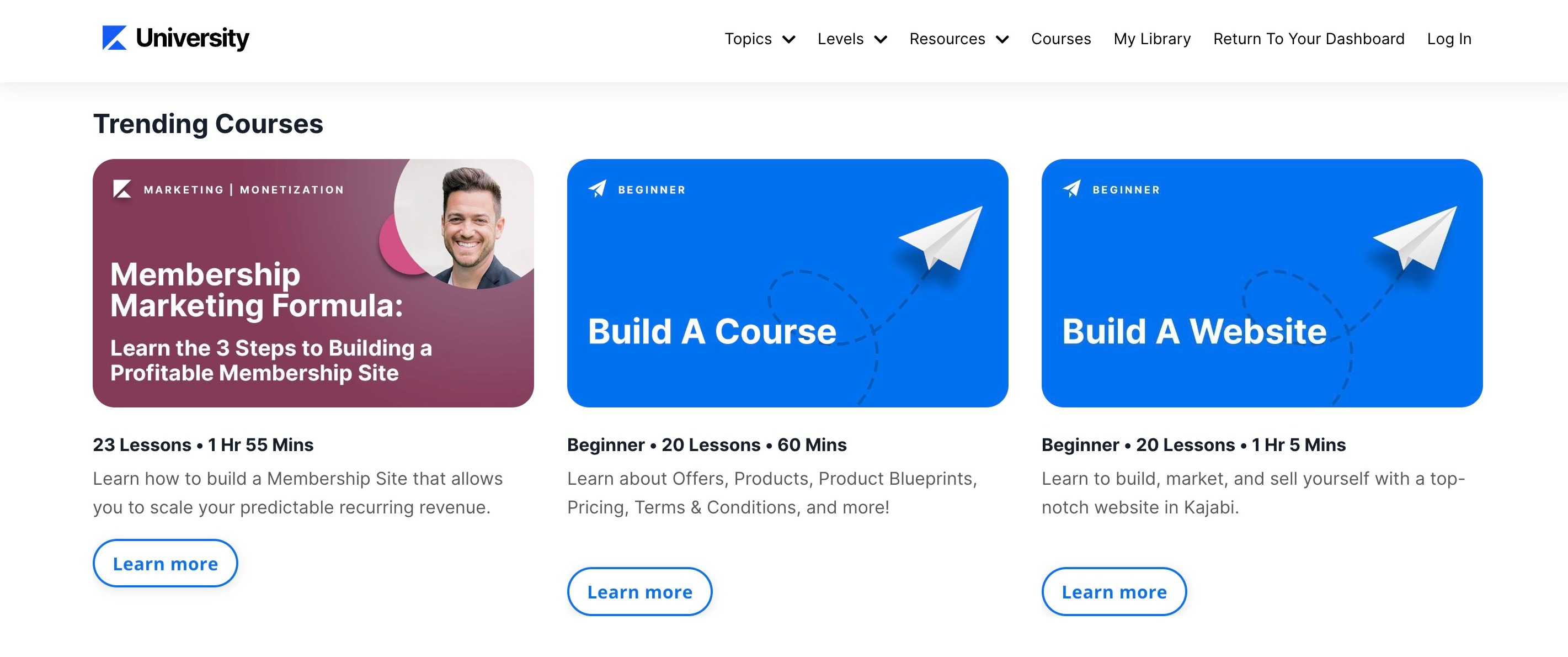 The verdict: Kajabi wins! Overall, Kajabi offers slightly better support, thanks to their 24/7 chat support.
Online Courses and Memberships
Both Kartra and Kajabi are geared up toward helping you create, manage and deliver online courses and memberships. Let's see how they compare.
Kartra's Online Course Platform and Memberships Features
Kartra allows you to set up membership sites and manage and track membership subscriptions. From here, you can also deliver online course content to your students.
The membership area is versatile, with many different features and options to choose from, depending on your course or membership needs.
These include:
Drip content
Structured lessons
Beautiful templates
Drag-and-drop interface
Deliver your content via text, audio, or video
Offer multiple membership tiers
Student progress tracking
Automatically revoke access if a member hasn't paid
You can also interact with your students and members in this area.
There is a comments section where students can post questions and comments—you can approve these before they are published. If you don't want to deal with the comments board yourself, you also have the option to assign moderation duties to a member of your team.
You can use the email automation feature within Kartra to email your members or students when various content is available. You can even set up different priced sections and levels of membership depending on what is on offer.
Kartra provides a detailed analytics board for your members' area. This makes it easy to keep track of how your business is growing. It also gives you access to important information like your member retention rate and the average time to completion.
Kajabi's Online Course Platform and Memberships Features
Kajabi works in a very similar way to Kartra and also allows you to create things like mini-courses and even drip course content. This means students only have access to the next section of the content when they have successfully completed the section before.
Kajabi's online course features include:
Kajabi mobile app
Customizable templates
Integrated CRM
Powerful analytics
Membership management
Quick and easy payments
No transaction fees when using Kajabi payments
The verdict: Overall, Kajabi has more robust features if you're looking to sell online courses or memberships. It also has a mobile app which is a great way to keep students and members engaged wherever they are. However, without a doubt, they both have some great options when it comes to membership sections and how to manage the people that have opted to sign up for these.
Kartra vs Kajabi: The Pros and Cons
Although both Kartra and Kajabi effectively do the same thing, they do have different features and benefits on offer. This means that one of them will suit someone more than the other. However, there isn't really a blanket rule on what that will be.
If you're looking for software that can help with course creation and marketing, then the important thing is that you do your own research and work out which of these marketing platform options will be better suited to the needs of you and your digital business.
Kartra Pros and Cons
Cost Effective with beginner-friendly pricing options
Access to all the tools across every package option
Help with building a range of content – landing pages, check-out pages, your website etc.
Built-in scheduling tools
Lots of advanced marketing features
Lead capture features included
Add a custom domain
Various analytics and data are available
Create your own affiliate program
Sell both physical and digital products
No free trial
No mobile app
Kajabi Pros and Cons
A variety of course creation and marketing features are available
Content builder to help with creating online courses, blogs and membership sites
Advanced email marketing and automation features
Host video content
Add a custom domain
Set up assessments, surveys, and quizzes to encourage student engagement
Known for having great customer service
Includes a mobile app
Create your own affiliate program
Excellent analytics options to track sales and course completion data
No free plan
Not suitable for selling physical products
Automatic A/B testing is not included
No lead scoring feature
Kartra vs Kajabi: Pricing
Kartra Pricing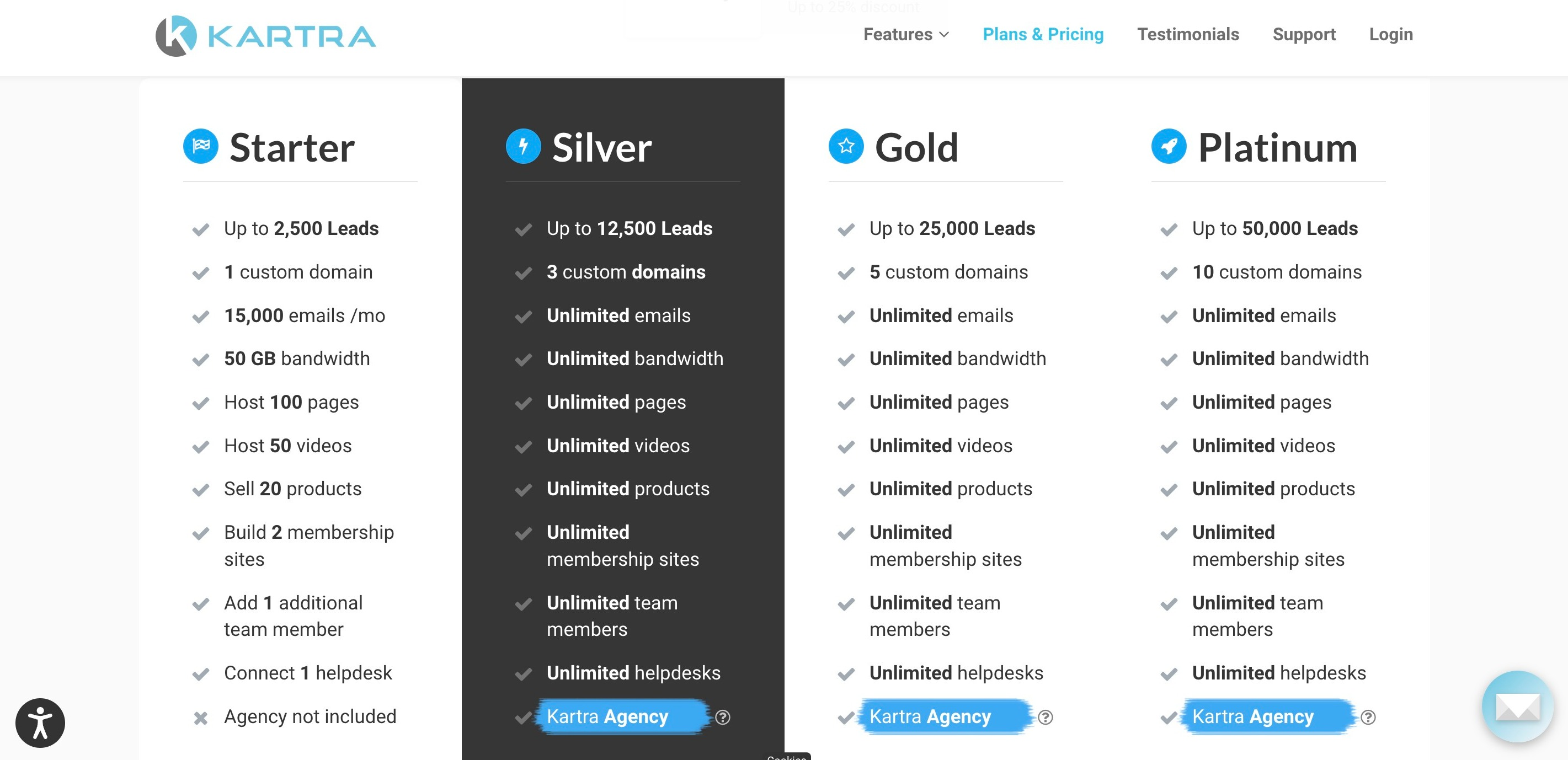 Kartra currently offers 4 subscription plans and, at the moment, does not offer a free trial option. The 4 package options offer a variety of plans to choose from. This means you can choose the pricing plan depending on your needs - and upgrade through the packages as your business grows and your needs change.
Starter Plan - $99/month. Deal with 2,500 leads, send up to 15,000 emails a month, host 100 pages, sell 20 products and have up to 2 membership sites.
Silver Plan - $199/month. Deal with 12,500 leads, send unlimited emails a month, host unlimited landing pages, sell unlimited products and create unlimited membership sites.
Gold Plan - $299/month. This allows you to do everything available on the silver plan but works across 5 custom domains and deals with up to 25,000 leads.
Platinum Plan - $499/month. This allows you to do everything available on the silver plan but works across 10 custom domains and deals with up to 50,000 leads.
Kajabi Pricing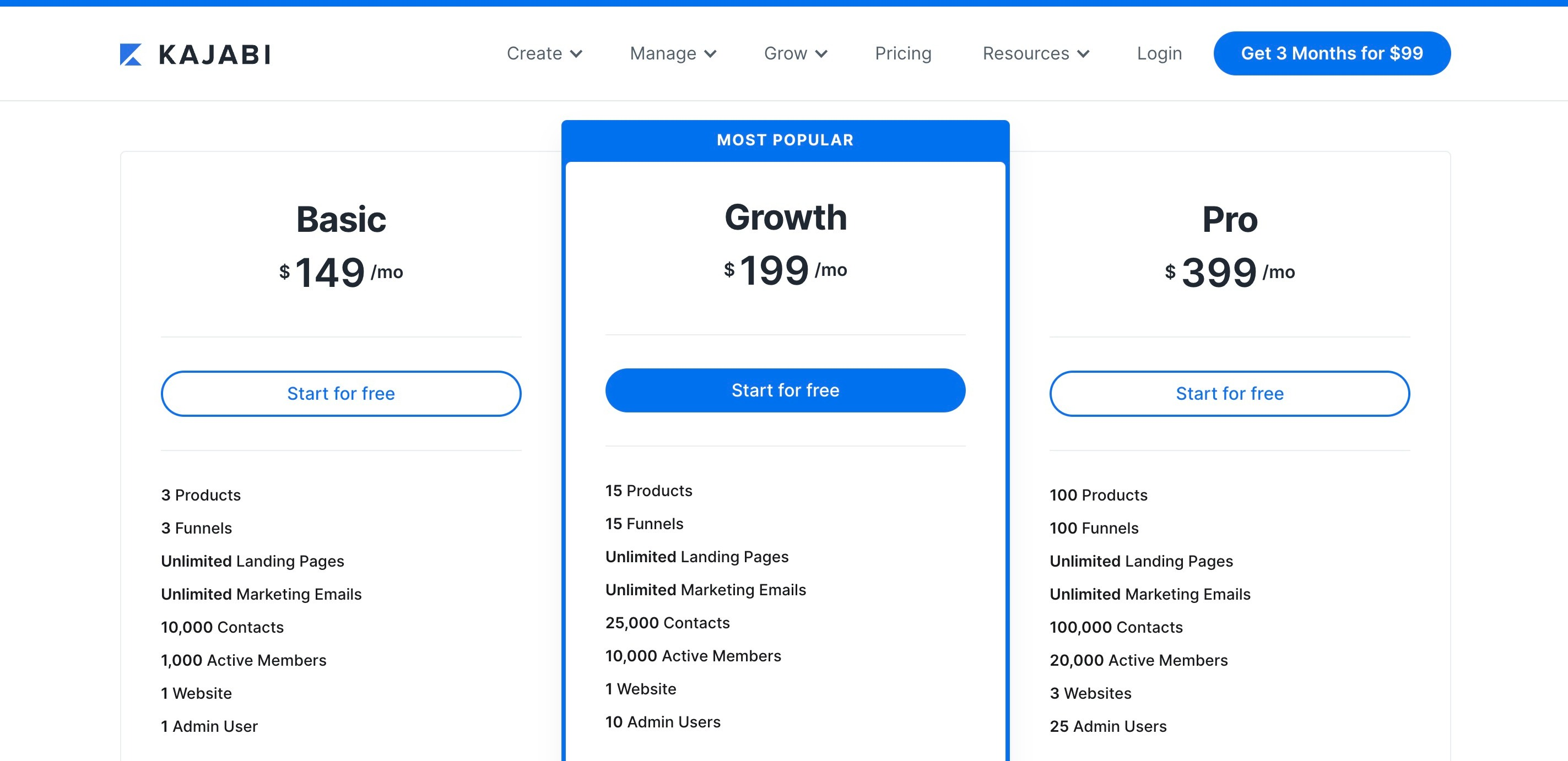 Kajabi also offers a variety of plans for users to choose from. However, they all offer unlimited landing pages and the facility to send unlimited emails.
To get started with Kajabi, you can also sign up for a free 14-day trial to ensure that the software meets your needs before you commit to signing up.
Basic Plan - $149/month. The basic plan lets you create up to 3 digital products and manage 3 pipelines. Allows you to have up to 1000 students and 10,000 contacts.
Growth Plan - $199/month. Create up to 15 digital products and manage 15 pipelines. Allows you to have up to 10,000 members and 25,000 contacts.
PRO Plan - $399/month - Create up to 100 products and manage 100 pipelines. Allows you to have up to 20,000 members and up to 100,000 contacts.
Kartra and Kajabi give you a discount if you pay annually rather than monthly. This makes them more affordable once you're sure it is the marketing tool option you wish to commit to.
The verdict: Overall, Kartra is the cheaper option, offering excellent value for money across all packages. Kajabi is a little more expensive, but it does include several features that Kartra doesn't have, like the mobile app. This should be taken into consideration when looking at the pricing.
The Verdict: Kajabi vs Kartra - Which is Better Overall?
Both Kartra and Kajabi offer an all-in-one solution for creating online content and effortlessly managing elements of your digital business from their own dashboard.
With options to create things like sales pages, landing pages, and even email marketing campaigns, they both have effective options to help anyone launch and grow a business online.
which is better overall?
If you want to create a business solely around online courses and memberships, then Kajabi will undoubtedly be the best option for you. It has many great course features, including a dedicated mobile app that your students will love.
Kartra, on the other hand, is suitable for a wide variety of different business types. It includes advanced marketing features which give everything you need to create solid marketing campaigns and high-converting funnels.
You can do split testing almost every aspect of your online business using Kartra, from the landing pages to email subject lines. This gives you a deep insight into what's working for your business and what isn't.
Aside from digital products, Kartra can also be used to sell physical products and even services. And the lead scoring feature makes Kartra an excellent choice for high-ticket services, such as online or in-person coaching.
To sum it up, if you sell physical or digital products, or you're a coach or consultant, Kartra is the tool for you. It offers excellent value, with absolutely everything you need to run your business in one package.
Check out our Kartra vs ClickFunnels comparison to see how it stacks up against another competitor.
And if you're a course creator with a high-ticket course, then you will love the features included with Kajabi.
Want to learn step-by-step how I built my Niche Site Empire up to a full-time income?
Yes! I Love to Learn
Learn How I Built My Niche Site Empire to a Full-time Income
How to Pick the Right Keywords at the START, and avoid the losers
How to Scale and Outsource 90% of the Work, Allowing Your Empire to GROW Without You
How to Build a Site That Gets REAL TRAFFIC FROM GOOGLE (every. single. day.)
Subscribe to the Niche Pursuits Newsletter delivered with value 3X per week