Builderall vs Clickfunnels: Which Is Best For Your Marketing Needs?
When you buy something through one of the links on our site, we may earn an affiliate commission.
Digital marketing is how your business will reach more customers to grow. And no matter what industry you are in or how big your company is, it's important to have marketing techniques that separate you from the competition. The problem is, piecing together all the skills and tools yourself is time-consuming and unrealistic. But with our comparison of Builderall vs ClickFunnels, you'll learn about two of the most popular digital marketing tools.
We will break down the features of Builderall and Clickfunnels, discuss the pricing, and help you decide which tool is better suited for your business.
What Is Builderall?
Builderall is a complete all-in-one marketing platform that gives entrepreneurs access to several marketing tools. Subscribers get access to helpful resources like:
Email marketing
Automation
Sales funnels
Membership sites
Blogs
Integrations
A web page builder
The affordable budget and extensive tools make Builderall an attractive choice for entrepreneurs. The online marketing platform even has templates that make it easy to have beautiful web pages without any design experience.
The company was created in 2011 by Erick Salgado. He wanted to create a platform that would be helpful for small businesses that couldn't afford the high price tags of other tools. Builderall has grown into a global company with over one million users in 130 countries.
---
What Is Clickfunnels?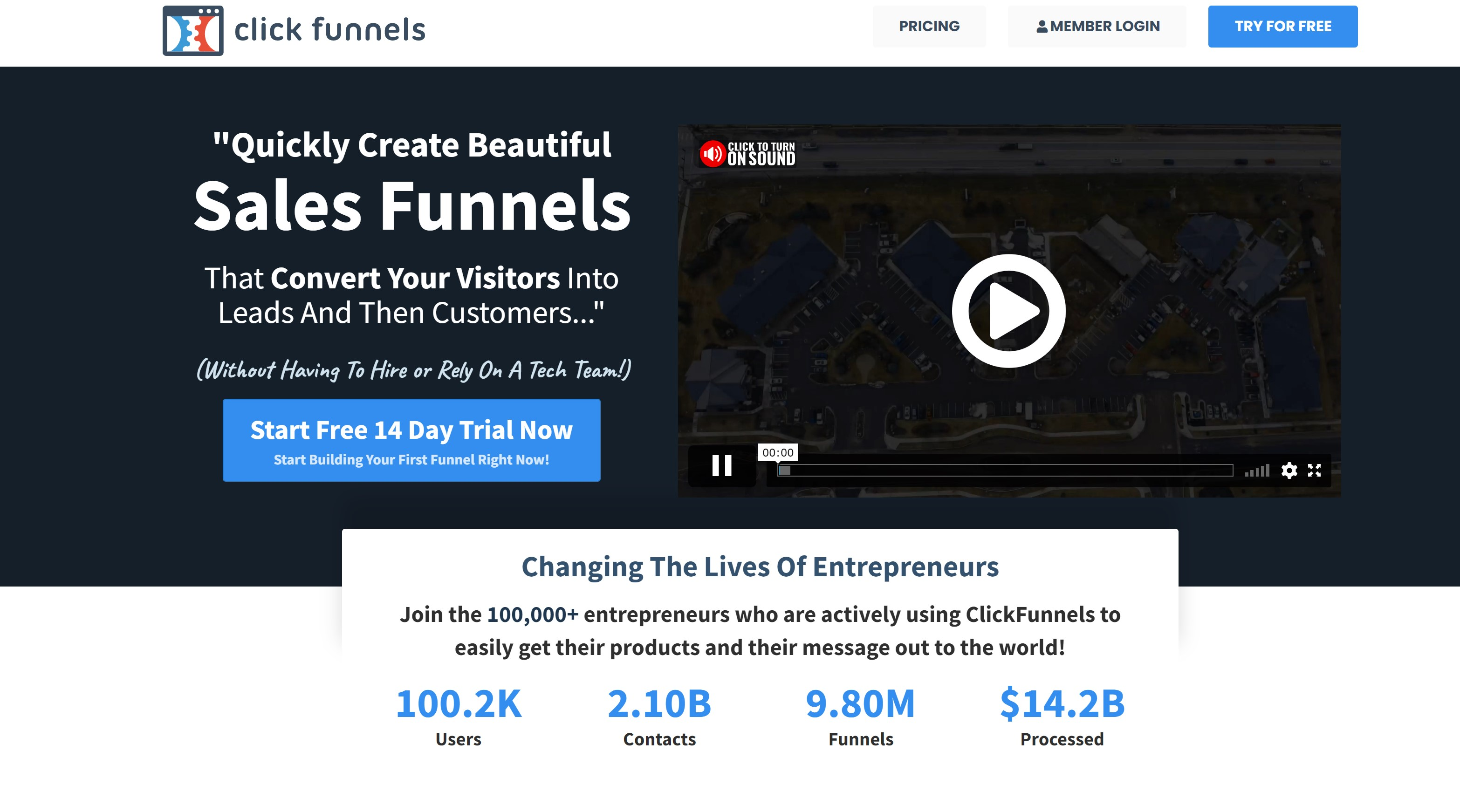 ClickFunnels is another popular sales funnel builder and email marketing tool for entrepreneurs, created by Russell Brunson in 2014. He saw many businesses struggling to create effective sales funnels, so he created a platform to make it easy for entrepreneurs to build and launch their own sales funnels.
Clickfunnels comes with several features, including:
Drag-and-drop sales funnel builder
Templates
Landing pages
Email autoresponders
Order forms
Checkout pages
The platform is designed to be user-friendly and easy to use. Even if you have no experience with marketing automation for your online business, you should be able to create an effective sales funnel with Clickfunnels in a day or two.
We have a full ClickFunnels review if you'd like to learn more, or you can simply...
---
The Differences Between Builderall vs Clickfunnels
Although both Builderall and Clickfunnels provide a good amount of features, only one will fit your business goals best. Here are the differences between the features of each platform and the winner for each category.
Sales Funnels
Using multiple digital marketing tools together is how you create high-converting sales funnels (and you may also be interested in checking out our marketing funnel template). These sales funnel systems allow an online business to guide customers through a journey that leads them to purchase a product or service.
Below are the Builderall vs Clickfunnels differences and how much experience you need to work with each funnel builder.
Builderall Sales Funnels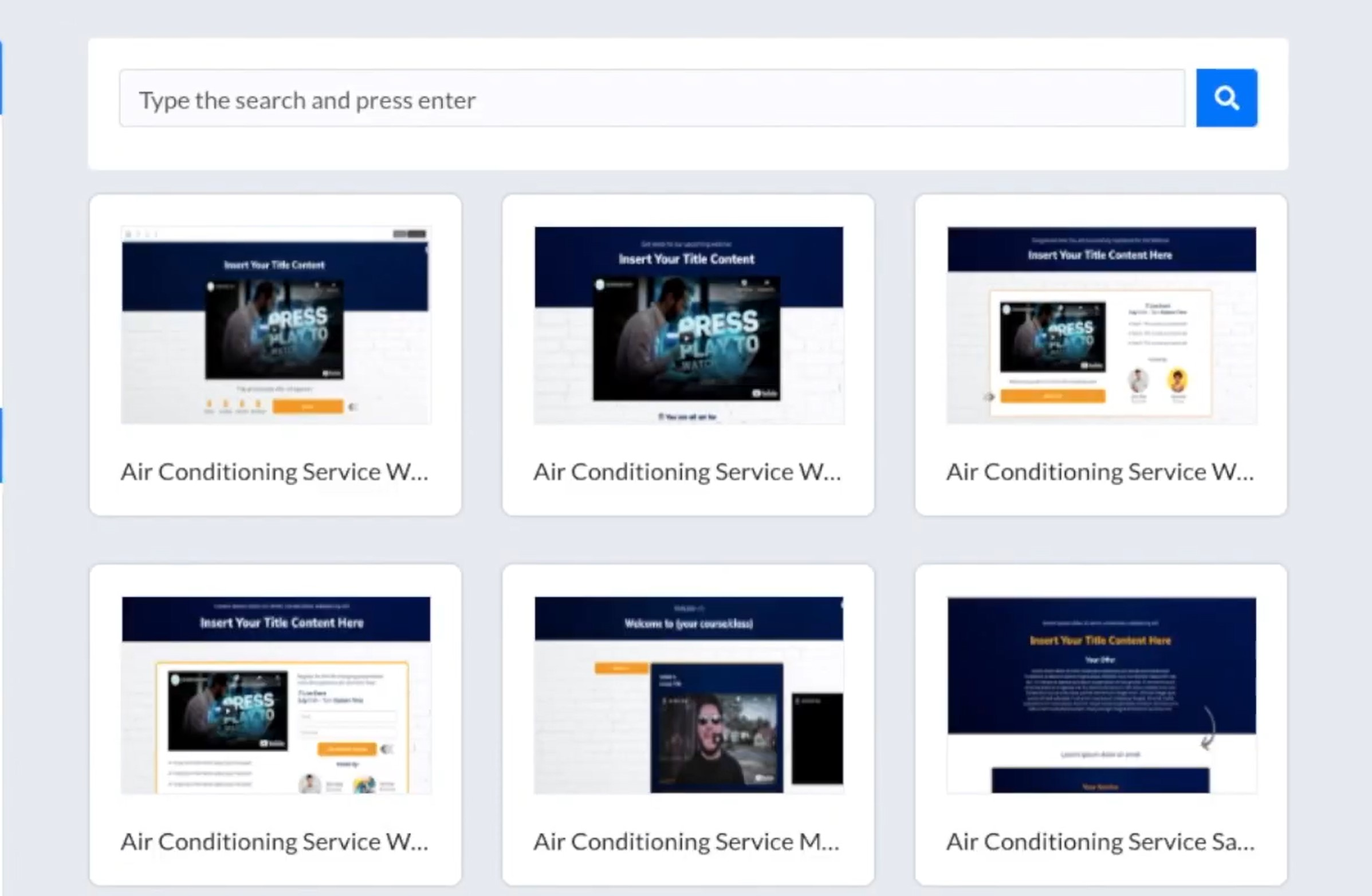 Builderall offers its own sales funnel builder with an impressive 20-plus sales funnel templates that can help various businesses in different industries with their marketing funnels.
You'll find helpful templates of high-converting sales funnels like:
E-book magnet funnel
Membership funnel
Webinar funnel
Survey funnel
Product launch funnel
Each sales funnel is custom designed to convert leads into customers for that specific type of business. But don't worry, you'll still be able to customize all the funnel-building templates to match your brand theme.
You'll also get a helpful tutorial from Builderall showing you how to create the sales funnel and customize the funnel settings.
Clickfunnels Sales Funnel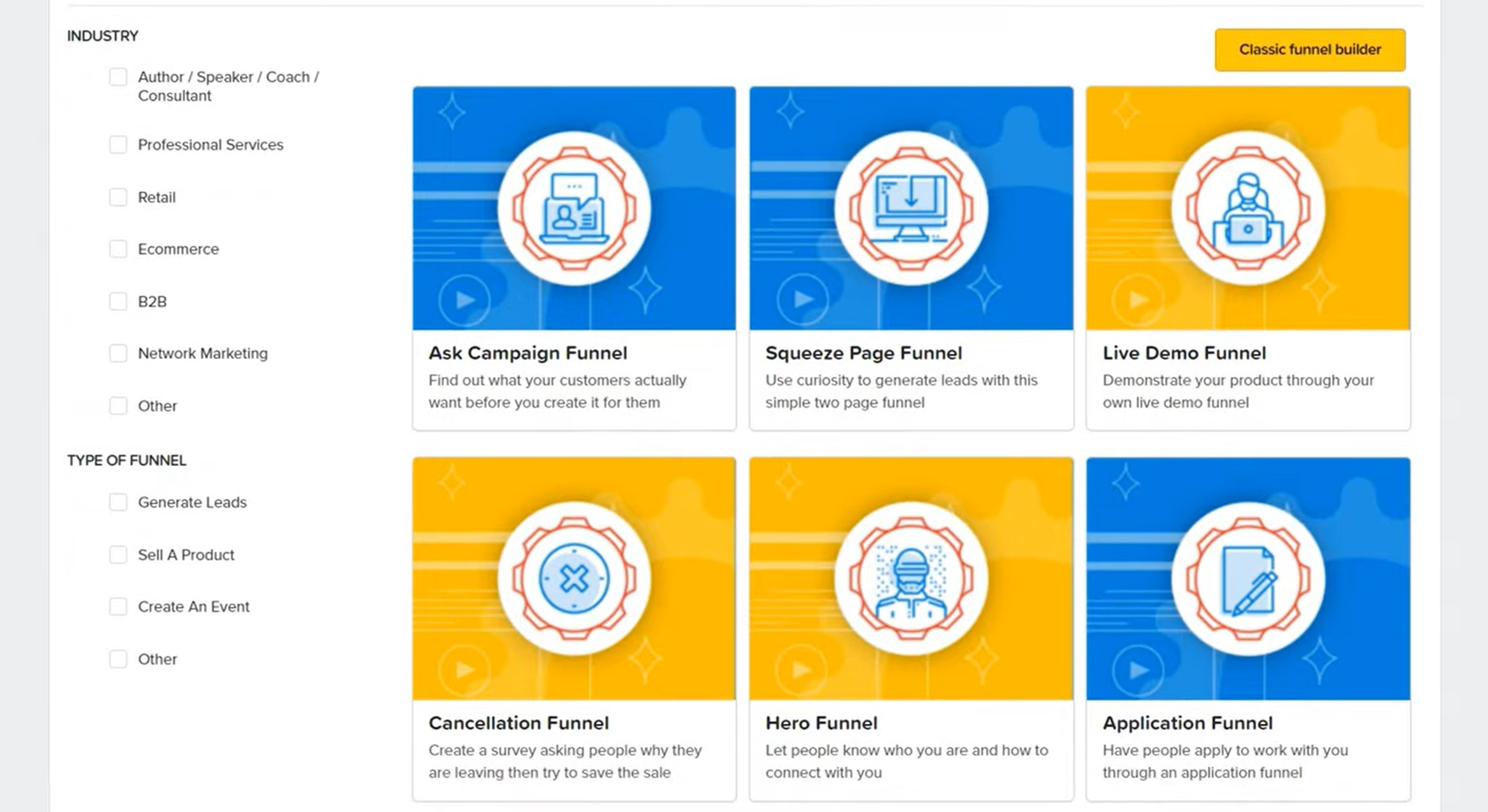 Clickfunnels was created to give its founder an easier way to build high-converting sales funnels for his business.
So, it's no surprise that you have a load of available options that handle every stage of the sales funnel cycle.
You can use one of the pre-built sales funnel templates inside Clickfunnels or create your own sales funnel from scratch.
The templates are designed for different types of businesses in various industries, so you should be able to find one that's a good fit for yours.
There are also sales funnels for events, promotions, products, and services. Whatever you want to build a funnel for, Clickfunnels has a template for it.
You'll also get great conversion tools that compliment your funnel building, like:
Upsell pages
Downsell pages
Popups
Follow-up automations
Countdown timers
Combining your conversation tools with all the templates will help you get the most out of your site's visitors. And as mentioned, although copy and design are practically done for you, you can still customize every element on your site to match the brand of your online business.
VERDICT:
Clickfunnels is the clear winner for building funnels for your website. The platform was built specifically for funnels and has a suite of tools aimed at conversions.
Email Marketing Services
An email list is one of the few things in the business world you fully own. You can import and export it to any platform and continue to market to your list for years.
According to Salescycle, 50% of people on email marketing lists will buy from a marketing email at least once per month.
Builderall vs Clickfunnels both have email automation services but what you can do with each funnel builder changes significantly.
Builderall Email Services
All of Builderall's tools have different names, and Mailingboss is what controls the email marketing service. You are able to import your leads into Builderall's email marketing system and then use tags to segment them into different lists.
For example, if someone doesn't open one of your emails, you can set up a rule that will automatically send them a different email with new content.
Pro Tip: Set up automation rules inside Builderall that will send different emails to your list based on their interactions with your brand to increase engagement and sales.
You can also set up an auto-responder sequence that will send emails over time to your leads as soon as they sign up to your lead magnet.
This is great for onboarding new customers or nurturing leads that aren't quite ready to purchase yet.
With Builderall's email marketing system, you can send unlimited amounts of emails to up to a maximum of 10,000 clients. The editor is very easy to use and makes it simple to customize the layout to fit your brand's theme.
Builderall offers email marketing software that lets you integrate your emails with a number of apps, including:
Zapier
Facebook
WordPress
Gmail
MailChimp
Shopify
Once you set up the integration, you can have contacts opt into your email list from Builderall, and they'll automatically be added to your other email services.
Clickfunnels Email Services
Clickfunnels uses Actionetics for its email marketing service. Although it might not have all the email tools as Builderall for your email campaigns, it's built specifically for funnels. That means you'll get plenty of tools that help you market to your leads.
Clickfunnels uses automation just as well as any company regarding email marketing.
When your visitors take a specific action in your funnel, you can almost always set up email automation that will go out to them.
For example, if someone visits your pricing page but doesn't purchase, you can set up an email that sends them a special offer for the product they were looking at.
Pro Tip: Import your leads from other platforms into Actionetics and then segment them into different lists based on their interactions with your brand for increased personalization.
This allows your brand to quickly create marketing materials targeted to a specific group within your email list. The more targeted content you give leads, the more likely they will convert.
There is also key analytics that can help you track your progress. You'll be able to create tests within your audience to see what they respond to best.
VERDICT:
Clickfunnels takes the slight edge in the email marketing department. The tools allow you to get more out of your email campaigns using automations and follow ups.
Building Webpages
Building beautiful sales funnels means creating separate landing pages for each stage in the buyer's journey. The difference between Builderall vs Clickfunnels is the amount of customization you have with each funnel builder.
Builderall Webpages
Builderall makes it incredibly simple to create and customize your own landing pages with its page builder. The website builder drag-and-drop editor is easy to use, and you don't need coding skills. You can switch out copy on different pages, change all visual elements, and even add video.
With the drag and drop page builder, creating your specific vision for a webpage is easy to make from scratch. If you need more help, you can use one of the thousands of templates built by Builderall for web pages.
First-time users can watch a tutorial video on using the page builder, so it doesn't take all day to figure out.
Builderall's landing page builder differs from Clickfunnels because it offers four different types of drag-and-drop builders.
Drag and drop pixel-perfect builder
Drag and drop responsive builder
Mobile-first drag and drop builder
App creator
The drag and drop pixel-perfect builder is a great choice for fully responsive sites that look good on all platforms. The only issue is that you'll need to build your site three times.
Once for desktop, once for tablet, and once for mobile. It can take time to build all three, but they'll look exactly how you want when you're done.
Pro Tip: If you don't want to go through all the trouble of designing three sites, the responsible builder works best.
Once you create a site once, Builderall automatically adjusts the design for you to fit any device with the responsive builder. The other two options are specific to mobile sites or apps that you want to create.
Clickfunnels Webpages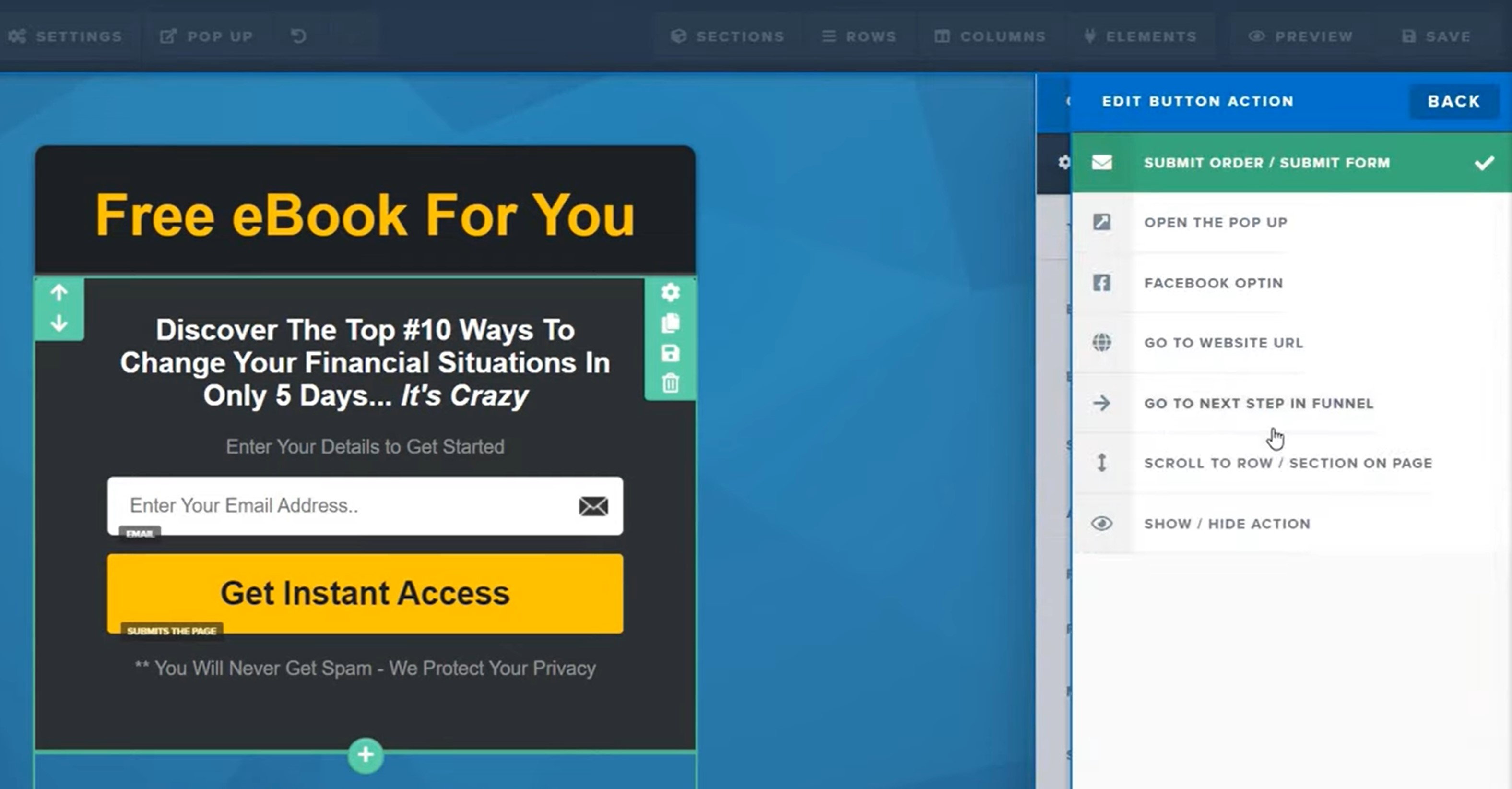 The large number of landing pages Clickfunnels offers are fully customizable using the drag-and-drop editor. There is only one editor to use instead of the four that Builderall offers.
You'll see a different sales funnel dashboard that gives you various options with the Clickfunnels account.
A menu of pre-built design elements lets you visually display your brand's theme to any page. The editor makes it very easy to:
Resize
Crop
Position
Change colors
Change items
Adding different images to your web pages is also simple and quick to do. You don't have to leave the website builder site either; Unsplash, Pixabay, and IconFinder are all built into Clickfunnels.
If you want more engaging media, use Vimeo, YouTube, or Wistia to embed videos that will help conversions on your sales pages.
VERDICT:
Builderall takes the win for building webpages for its customization options and ease of use. Both platforms allow you to make webpages quickly, but Builderall allows you to change more details to each page and brand them accordingly.
Ease of Use
It doesn't matter how many features come with Builderall or Clickfunnels. If you can't use the platform, they aren't worth it.
Both options make it easy to use but in ways that make it ideal for specific types of entrepreneurs.
Builderall User Friendliness

Builderall provides easy use in a straightforward way you would think of when working with a funnel builder. You're given a set of easy tools at your disposal to set up and get started.
The website builder and email marketing platform are drag-and-drop models, so you can click on the design element you want and drag it to the position you like.
Other tools are just as simple, but the templates take it a step further.
You get funnel templates that can be used for a range of businesses. These templates will have all the pages you need and are waiting to be customized to fit your successful online business.
For first-time users, Builderall offers an extensive knowledge base that covers every tool in detail. You can also find video tutorials showing exactly how to use each tool.
Clickfunnels User Friendliness
Clickfunnels has the same drag-and-drop editors that Builderall does, but they're designed to be used for one specific thing: creating funnels.
You don't need to know anything about digital marketing to use Clickfunnels, which is ideal if you're just getting started. All you need is the type of template that matches your business to start selling.
The editor makes it easy to add new pages and design elements to your funnel with just a few clicks.
You can also easily add new steps to your funnel, which is ideal if you want to split test or change the order of your pages.
The editor is very intuitive and easy to use, even for first-time users. You don't need much experience with a website builder. You'll have a site setup within the day, no matter your skill level.
Pro Tip: If you're having trouble understanding how Clickfunnels works, there's an extensive knowledge base that covers every aspect of the platform.
You can also find video tutorials that show you exactly how to use each tool on YouTube. The community of Clickfunnel users is rather large, and many tutorials have been created about the platform.
VERDICT:
Builderall takes another slight edge win over Clickfunnels for ease of use. Although both platforms make it simple enough to create what you want, Builderall organizes the information in a more user-friendly way whereas Clickfunnels is confusing trying to navigate from one area to another.
Analytics & Tracking
The only way your business will make informed decisions for your marketing is by tracking your progress and understanding your analytics.
Companies focused on data as a way to make future decisions are 58% more likely to beat revenue goals than those that do not.
Both Builderall and Clickfunnels have built-in analytics to track your pages' performance. Here's a look into the different platforms and how they compare.
Builderall Analytics
Builderall doesn't come with a range of analytics for your team to pull from. The platform focuses instead on the conversion rates of your pages.
While useful, you'll need more data to understand how to make changes to your website.
Pro Tip: Hook up your Builderall with Google Analytics to have a better data source that can track in-depth customer behavior
Google Analytics has an extensive data set that can help you understand metrics like what pages customers visit, how long they stay on your site, and more.
Builderall may not have a comprehensive dataset, but it strongly focuses on conversion rates. You'll have conversion percentage rates on every part of your online funnel.
Builderall comes with split-testing capabilities to track how different changes to your page impact conversion rates.
Clickfunnels Analytics
Clickfunnels offers 'Sales Funnel Analytics' software that collects, visualizes, and analyzes your data. Using the tool, you can track:
Traffic
Conversion rates
Sales
Revenue
Profit
Data illuminate insights into the weakest parts of your funnel. You can understand the issues and take appropriate action to create solutions.
Clickfunnels is better for collecting data for your online business than other funnel builder alternatives. Use the information you get from the platform to increase conversion rates for your funnels and produce more revenue.
VERDICT:
Clickfunnels is the clear winner for analytics and tracking. The platform includes a wealth of website and conversion metrics that can help you make better decisions for optimizing.
Integrations
Integrations give your online business the power to automate tasks and connect different software platforms. Check to see if Clickfunnels and Builderall can connect to your existing systems for a seamless transition.
Builderall Integrations
Builderall separates itself from the competition by creating many of the features you need in-house. Although not always the best quality, these tools are often good enough to get the job done instead of integrating with multiple platforms.
Builderall's native tools make it perfect for businesses that are starting out and don't need integration with external SaaS tools.
Because of Builderall's large amount of in-house tools, it does not include many outside integrations to its platform. You can, however, integrate Zapier with your email marketing campaigns. This allows you more powerful automation and customizations when sending emails.
If you're already using lots of different SaaS tools for your business, it's best not to go with Builderall. You won't have the functionality you need, and you will need to build workarounds constantly.
Clickfunnels Integrations
Since Clickfunnels is focused on sales funnels, it's not surprising that the integrations center around moving your leads through the funnel.
You can connect Clickfunnels with:
Email platforms
SMS platforms
Payment processors
Webinar platforms
The integrations are designed to help you automate your sales process and connect with your leads at every stage. Businesses that want a platform with the flexibility to grow with your company will prefer Clickfunnels.
VERDICT:
Clickfunnels allows more integrations to your existing platforms and systems than Builderall. However, Builderall does include more features in-house. If you already have a lot of tools, use Clickfunnels. Otherwise, start with Builderall.
Affiliate Programs
If Clickfunnels or Builderall works well for you, there's a chance you can make some money back from the arrangement. Both platforms include an affiliate program that allows you to make money by referring customers.
Here's how Builderall vs Clickfunnels compares in their affiliate programs.
Builderall Affiliate Program
The clear winner for the best affiliate program is Builderall. Builderall takes its relationships seriously and offers an impressive 100% commission on the initial sale.
You'll get 30% recurring commission for every month the customer continues for the rest of their subscription.
If you promote the Builderall affiliate program to other entrepreneurs and sign up, you get a commission for the entire time they pay for Builderall.
Clickfunnels Affiliate Program
Clickfunnels has a more straightforward affiliate program.
You'll get a flat 40% recurring commission for each sale.
That means the first sale you make for Clickfunnels is 40%, and every subsequent monthly payment is another 40%.
You don't have to sign up for the program either. Once you become a Clickfunnels member, you are automatically enrolled in the program.
You get a unique link from Clickfunnels that you'll share with others to promote the product and receive commissions.
VERDICT:
Builderall is the clear winner as the platform offers more affiliate commissions on the first sale and still includes recurring commissions for monthly charges.
Customer Support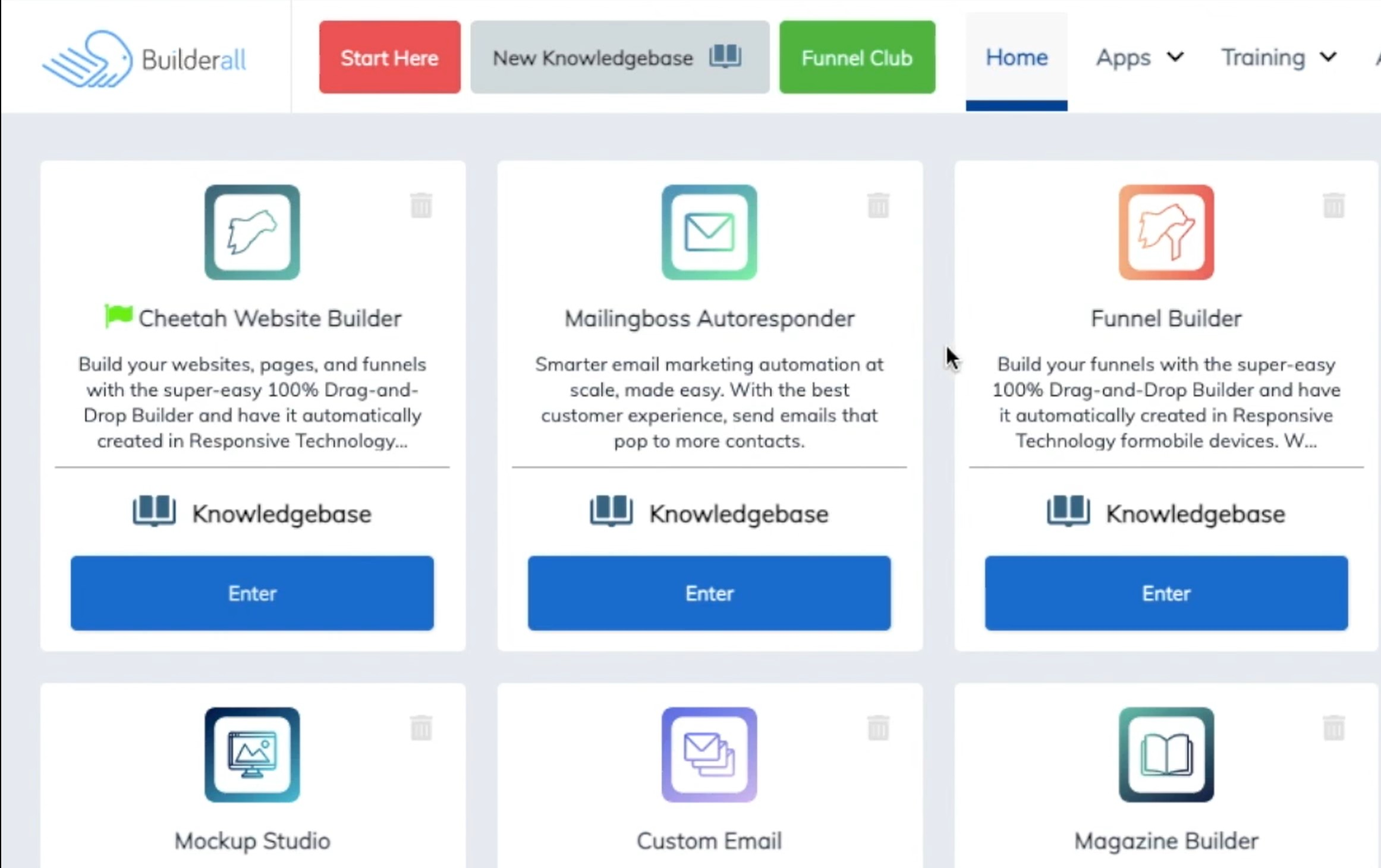 There will come a time when you have questions or need help using either Builderall or Clickfunnels. When that happens, you'll need to know what support you can expect from the platforms and how far they'll go to help you.
Here's a look at how each company handles customer service and technical support.
Builderall Customer Support
Builderall has a separate area of their site dedicated to customer support. The ticket-based help system offers support 24/7 and live chat support is available during normal business hours.
Once inside the help area, you'll find lots of helpful articles and resources. The search function works well and allows you to find specific topics quickly.
Pro Tip: Use the two different tools that allow you to attach images or short videos with your ticket to receive better help.
The additional info helps the support team determine the exact issue you're having and determine a solution.
In addition to the website resources, you can also find help on Facebook and YouTube. Groups and content creators have established a large knowledge base for using Builderall.
Clickfunnels Customer Support
Clickfunnels has worked on improving its customer support after receiving critical reviews. The improved team has included more members to provide more availability. There's also a strict training process to ensure each support member is helpful and knowledgeable.
Live chat has become available and is available 24 hours a day from Monday through Friday.
The company also has an entire area of its website dedicated to a searchable knowledge base. The articles are well-written and provide step-by-step instructions for most issues you might have.
Anyone is allowed to submit a ticket to Clickfunnels, but some features are only available to members.
The popularity of Clickfunnels has led to plenty of helpful material on YouTube and Facebook.
VERDICT:
The Clickfunnels team may not be able to provide all the support you need but the popularity of the platform has caused content creators to produce lots of supportive articles and videos. Clickfunnels is the winner in the customer support arena thanks to the fans who use the platform.
Pricing Plans
The combination of features we've mentioned above and the pricing of each tool is how you'll ultimately decide which platform is best for your online business.
Here is the price breakdown of Builderall vs Clickfunnels.
Builderall Pricing Plans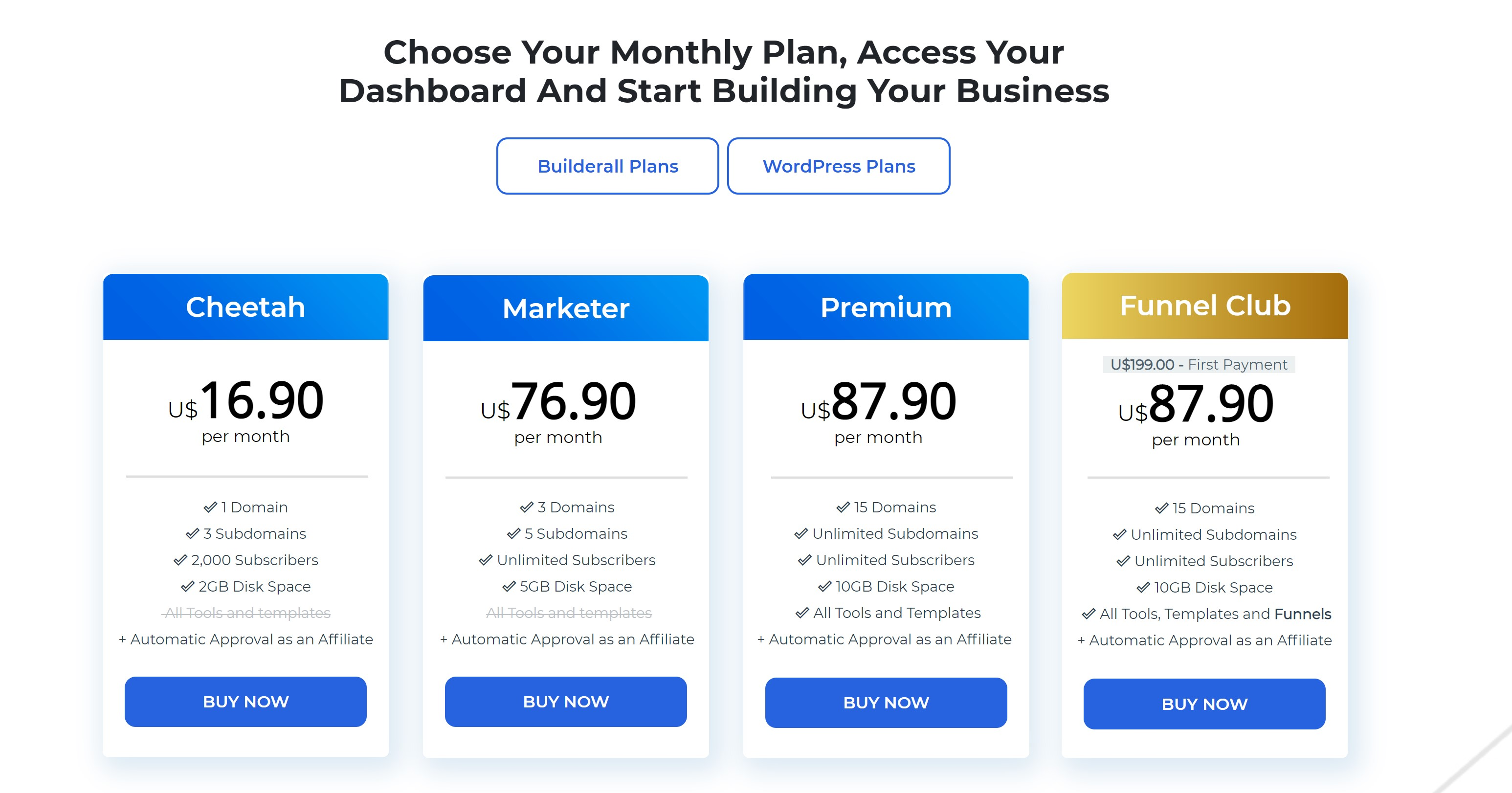 Builderall has a total of four different pricing plans, and none of them come with a discount for paying yearly.
Cheetah - $16.90/month
Marketer - $76.90/month
Premium - $87.90/month
Funnel Club - $199 First Payment, $87.90/month thereafter
The low price plan and abundant in-house features make Builderall a premium website builder for businesses with a smaller budget. The platform offers the most bang for your buck and has almost everything in one place.
Clickfunnels Pricing Plans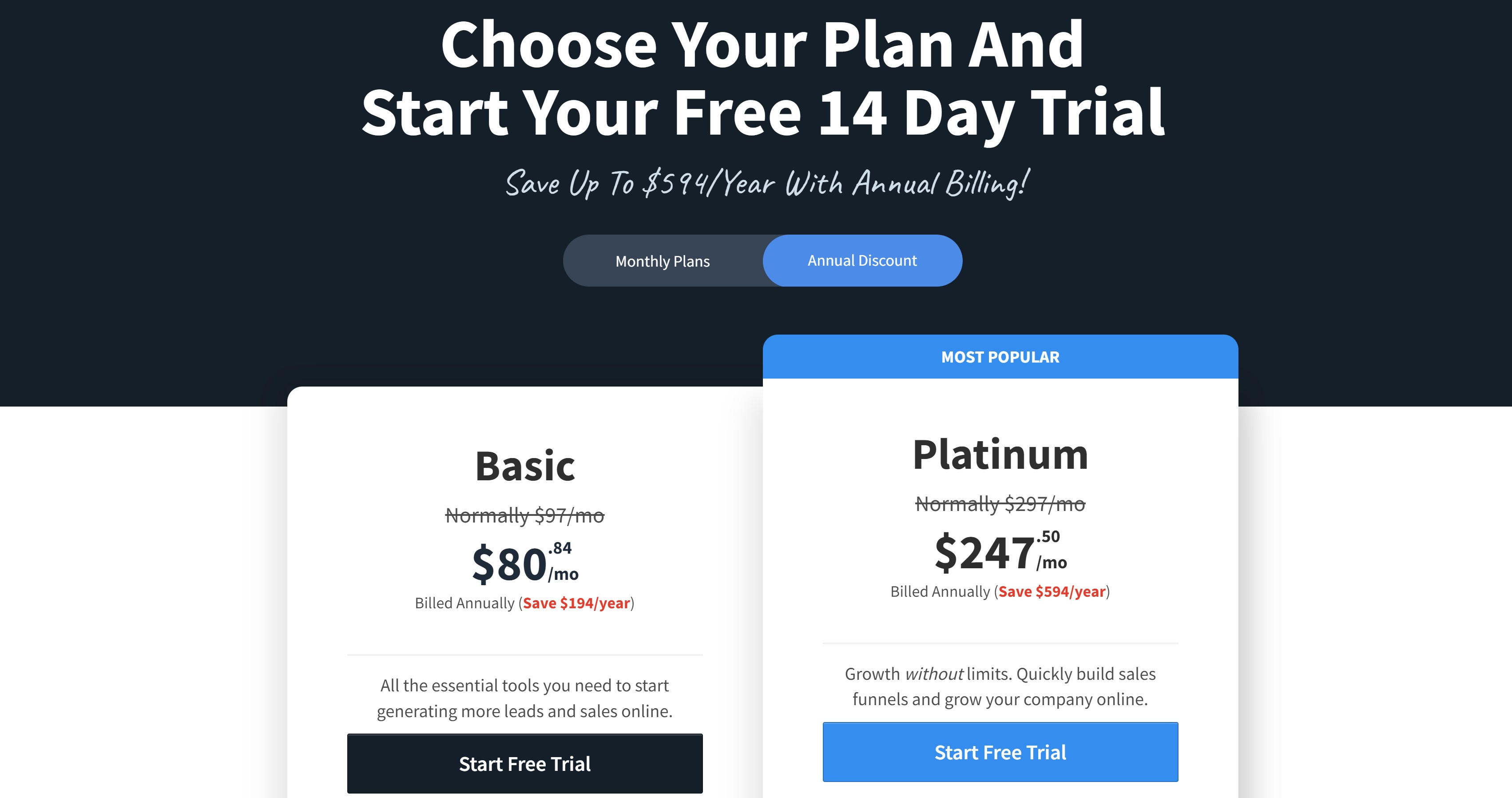 Clickfunnels only has two pricing plans to choose from with additional discounts for paying yearly.
Basic - $97/month, $80.84/monthly paid yearly
Platinum - $297/month, $247.50/monthly paid yearly
The Basic plan from Clickfunnels only has a limited set of features. Companies looking for more functionality will need to upgrade to the higher plan.
VERDICT:
Builderall is by far the winner when it comes to pricing. The platforms offers more plan options for different budgets and is a more affordable price than Clickfunnels pricing.
Builderall vs Clickfunnels: The Best Choice For You
So who is our winner in the Builderall vs Clickfunnels battle? Both Builderall and Clickfunnels give entrepreneurs great options for building and optimizing professional sales funnels.
Companies with a lower budget who are just starting with marketing should choose Builderall.
Digital marketing agencies and those businesses that have a handle on marketing but are looking to take it to the next level should choose Clickfunnels.
Just make sure that whichever you choose, you are getting the most out of what they offer.
Want to learn step-by-step how I built my Niche Site Empire up to a full-time income?
Yes! I Love to Learn
Learn How I Built My Niche Site Empire to a Full-time Income
How to Pick the Right Keywords at the START, and avoid the losers
How to Scale and Outsource 90% of the Work, Allowing Your Empire to GROW Without You
How to Build a Site That Gets REAL TRAFFIC FROM GOOGLE (every. single. day.)
Subscribe to the Niche Pursuits Newsletter delivered with value 3X per week