Is Affiliate Marketing Legit? The Truth About Affiliate Marketing
When you buy something through one of the links on our site, we may earn an affiliate commission.
Is affiliate marketing legit?
If you're here, you've found yourself wondering this very question. You may have even landed here after typing it into Google.
No matter how you got here, you're in luck.
In this article, we are not only answering the question about whether affiliate marketing is legit. You'll also learn how it works, find examples of 6- and 7-figure affiliate marketing earners, and learn how you can get started yourself.
What Is Affiliate Marketing?
Affiliate marketing is a method of making money online by recommending existing companies products for sale. Anytime a customer makes a purchase via your recommendation, the company pays you a commission. 
Commission rates for each affiliate program vary by company. For most affiliate programs, you can expect to see commission rates as low as 1% for some physical products, and as much as 70 – 100% of front-end sales for digital products, softwares, and online services.
According to this Forrester report, 81% of advertisers use affiliate marketing to help their businesses make sales.
Affiliate marketing is done in many ways, with niche websites and product reviews being a popular method of generating affiliate commissions.
And, according to this Kenshoo research paper, 85% of online shoppers use Google to research a product before making a purchase. This means writing product reviews that rank in Google is an excellent strategy for an affiliate marketer.
How Does Affiliate Marketing Work?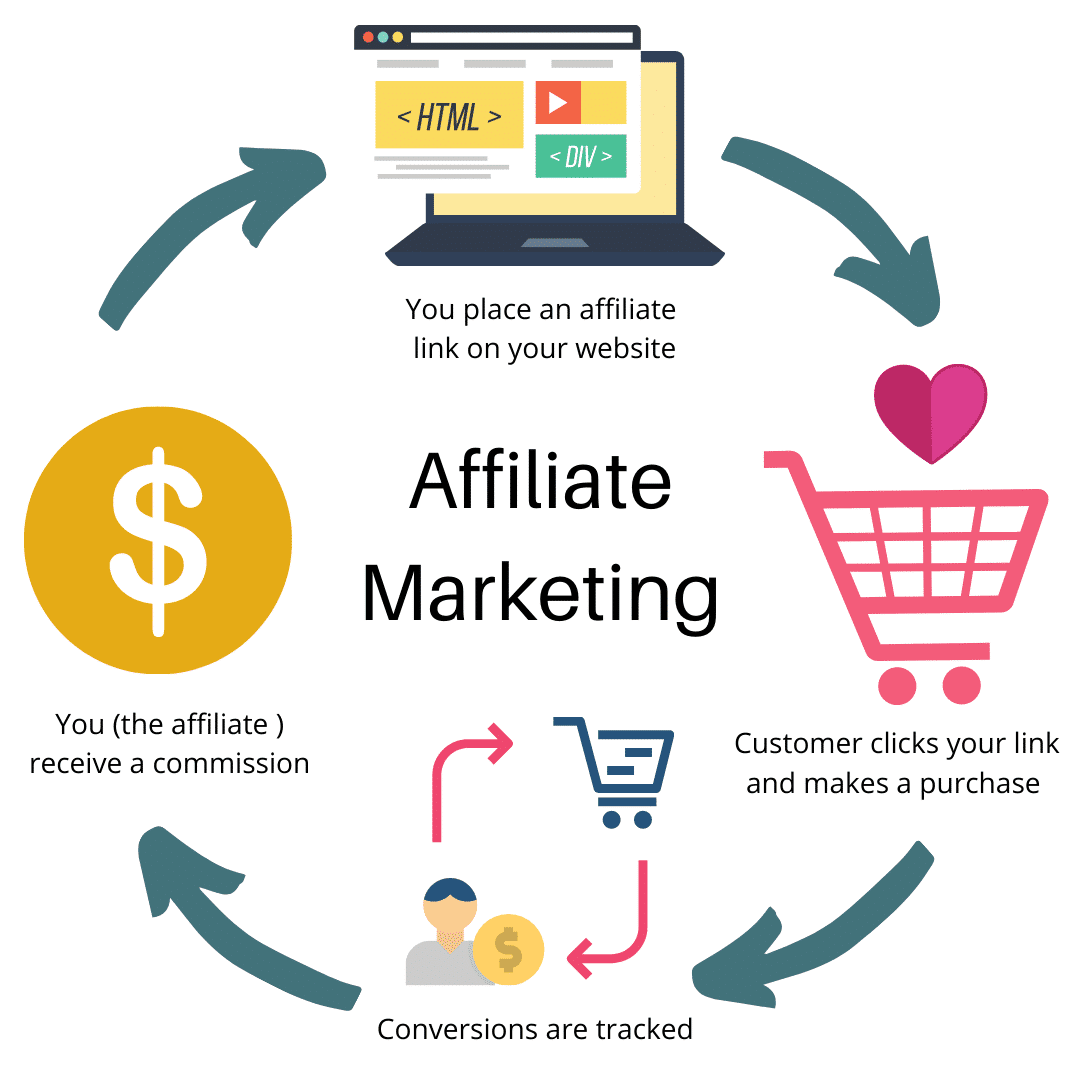 So how exactly does affiliate marketing work? Here's how it works in a nutshell.
You (the affiliate marketer) sign up for an affiliate program via a brand or affiliate network with hundreds of brands.
After signing up for the affiliate program, you get your special product affiliate link, or several if you will be promoting different products for your affiliate partner.
Then, you place your product affiliate link where potential customers can find it alongside your product recommendation.
Ideally, once your links are placed, people can find your recommendation, click your affiliate link, and purchase the product.
Once a purchase is approved, the company will send you a commission based on their commission rate structure and pay schedule for any sales generated via your link.
Is Affiliate Marketing Legit?
If you're new to this, you might be wondering: is affiliate marketing legit? And yes: Affiliate marketing is 100% legit. This article serves to answer that question, and this entire website is a testament to that truth.
The affiliate marketing industry is a great way to make money online, and anyone who is willing to learn can grow a successful affiliate marketing business.
As mentioned above, 81% of advertisers use some form of affiliate marketing to help drive additional sales to their businesses. And, from that same report, 84% of publishers (content creators, bloggers, etc) rely on it as a form of income for themselves.
It's estimated that 16% of global ecommerce sales are generated through affiliate marketing. That might not sound like a lot, but when you break it down, that means that 1.6 out of every 10 sales online comes from affiliate marketers.
And to reiterate what an important role niche blogging plays in this ecosystem, an estimated 64.48% of affiliate marketers rely on blogging to generate traffic and sales.
I share all these statistics to help paint a bigger picture and to help you understand that it's 100% legit. And with the examples of successful affiliate marketing business gurus below, I hope to help you understand how possible it is to make a substantial income.
Can You Really Make Money From Affiliate Marketing?
Yes, you can absolutely make money from affiliate marketing. Some affiliates earn 6 to 7 figures from affiliate marketing alone!
The next section highlights some wildly successful affiliate marketing business owners who earn that much (or more).
Although it sounds simple from a high-level overview (and it is), it can take some time learning how to put together all the moving parts.
The main components to being able to make money with affiliate marketing are learning marketing skills, choosing great products, and getting your product recommendations in front of people who are ready to buy. Once you learn how to do that, you can repeat it and scale it as much as you want.
Examples of Legit & Successful Affiliate Marketers
There are many success stories on the internet openly sharing their affiliate marketing earnings to inspire you to get started with promoting products for an affiliate partner.
There are many ways to earn with affiliate marketing, and how much you make will be entirely up to you. Here are some wildly successful affiliate marketers you should be following!
Pat Flynn from Smart Passive Income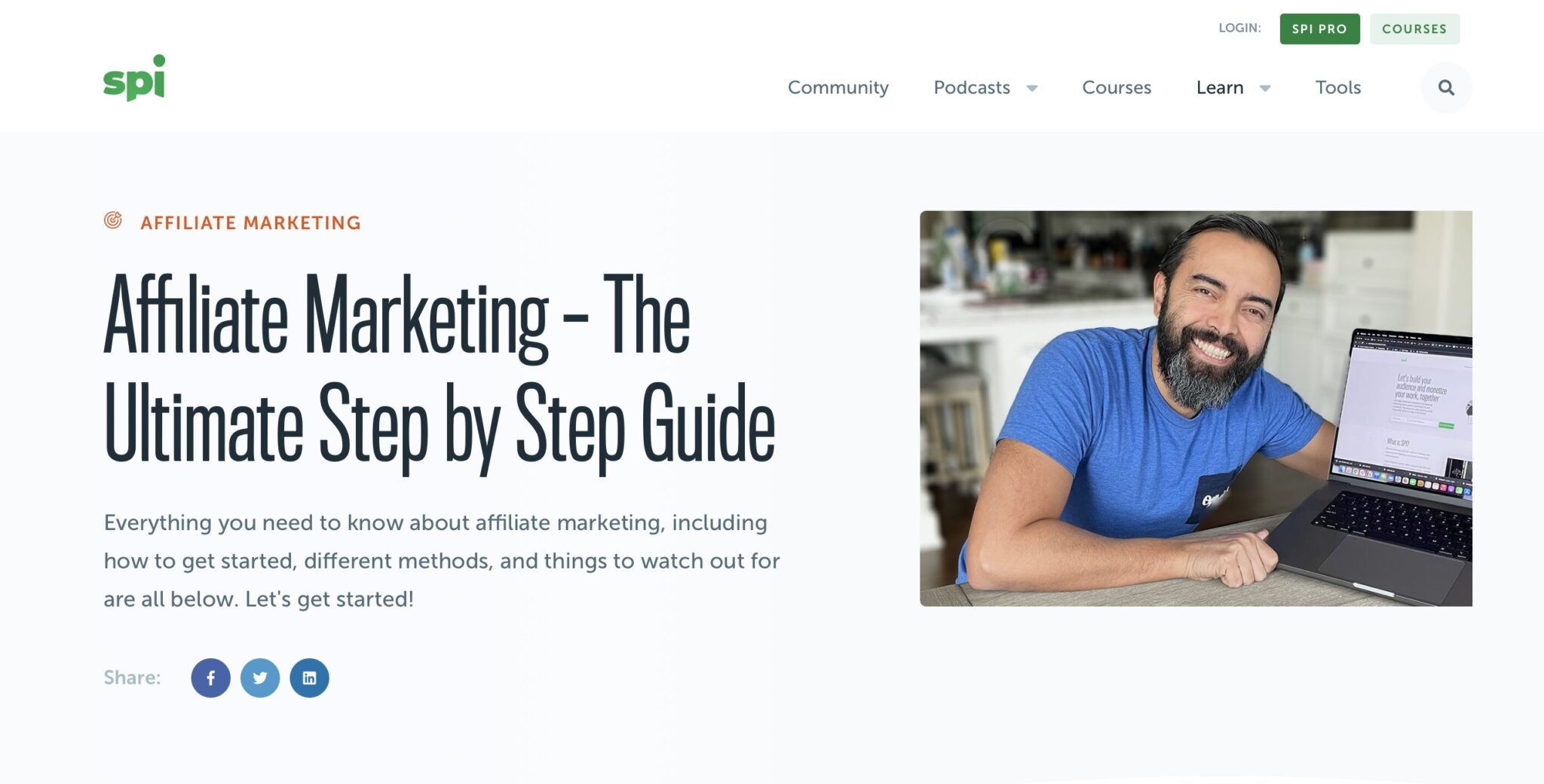 Pat Flynn founded the Smart Passive Income blog, an affiliate marketing website all about (you guessed it) how to earn passive income.
Pat shares various ways of earning money online, most notably through affiliate marketing. You can find various YouTube videos, podcast episodes, and articles documenting his income reports.
His income report from December 2017 shows a total of $105,619 in affiliate marketing revenue alone!
Pat also created a course called 1-2-3 Affiliate Marketing to teach his best AM strategies.
Check Out 1-2-3 Affiliate Marketing
Michelle Schroeder-Gardner of Making Sense of Cents
Michelle started her blog, Making Sense of Cents, as a way to document her own personal finance journey.
Over the course of a few years, her blog turned into a money-making machine, thanks in large part to affiliate marketing.
Here's one of her income reports showing a total of $57,946 in affiliate program revenue generated in just one month.
Michelle also went on to create an affiliate marketing course called Making Sense of Affiliate Marketing.
Check Out Making Sense of Affiliate Marketing
Spencer Haws of NichePursuits
Of course, we can't forget Spencer – the founder of this website and several others! Spencer shares a ton about his forays into making money online through this website, including chronicling niche website projects like Niche Site Project 4.
In this affiliate website case study, Spencer shares how this niche site project earned over $5,800 in revenue during the month of May 2021 from affiliate program income and display ads.
If you want to see more NichePursuits-specific examples, just search this website for "niche site project income".
Alex and Lauren of Create and Go
Affiliate Marketing is Not a Scam, But…
Affiliate marketing is not a scam, but there are definitely people out there who make it seem like it is. Scammy affiliate marketers do exist, but in far less supply than legit affiliate marketers.
Scammy affiliate marketers may employ tactics like writing fake customer reviews to encourage sales. They might promote scammy products like "get rich quick" schemes or promote fake products or services.
Generally, if a page or product looks spammy, there's a good chance it might be. There are far fewer spammy affiliate marketers than there are legit ones, but it's good to know what to look for.
White Hat vs Black Hat Affiliate Marketing
"White hat" marketing is the act of using approved marketing tactics to market a legitimate product. Most affiliate marketers use white hat affiliate marketing to drive sales and affiliate traffic.
"Black hat" marketing, on the other hand, is fraudulent (or sometimes illegal) marketing techniques used to try to drive sales. These methods can include keyword stuffing, plagiarising, creating fake reviews, etc.
Black hat affiliate marketing is affiliate fraud. And just like it sounds, affiliate fraud is serious and sometimes illegal.
Generally, black hat is any marketing tactic that isn't approved by the brand or company that you are promoting. Dishonest affiliates use black hat affiliate fraud techniques. Affiliate marketing fraud is a quick way to get yourself banned from promoting a product and even banned from Google entirely.
How to Get Started as a Beginner
By now, we've covered: "Is affiliate marketing legit?" (yes), and you should also have a good understanding of how it works.
If you're still here, chances are you might want to learn how to get started in the affiliate marketing world. We've got you covered! Here's how to get started with affiliate marketing as a beginner.
Choose a niche
Sign up for a legitimate affiliate program
Decide how you will promote your affiliate products (social media, YouTube, affiliate website, etc)
Set up your promotion channels
Start producing content with your affiliate links
Market your content
Repeat!
Of course, affiliate marketing is much more nuanced than this short seven-step list. Here's a complete affiliate marketing guide for beginners if you want to take a deep dive.
How to Choose Affiliate Marketing Programs
As a beginner affiliate marketer, it's best to start with well-known and trusted brands and products to promote. As you learn and gain experience, you can start to promote more obscure or lesser-known products. In the beginning, it's much easier to sell products that people already know about.
49 Best Affiliate Marketing Programs and Networks
Does it Cost Money to Start?
Does it cost money to start affiliate marketing? No. You can start affiliate marketing with no money at all. Will investing a little bit of money upfront help you have quicker success? It depends!
If you already have a large and engaged social media following, chances are you can start making money promoting affiliate products immediately.
But if you don't have a large social media following, an engaged YouTube channel, or an email list, it's going to take a bit of time before you start seeing affiliate marketing income.
The good news is that starting your own niche website to promote affiliate products will only cost you around $15 up front and then $5-10 per month to maintain.
Learn more about the costs of niche websites here. 
Affiliate Marketing Scams to Avoid
Since you're wondering if affiliate marketing is legit, we wanted to share a quick word about how to avoid falling prey to an affiliate marketing scam.
If you've got a trained eye, common affiliate marketing scams are easy to spot. But if not, stay away from these types of affiliate programs when you're signing up as a beginner.
Pay to join programs
Anything that looks spammy or scammy
Get-rich-quick schemes
Low-quality online courses
In the beginning, to avoid affiliate marketing scams, stick with well-known brands and well-known, credible affiliate programs. Not only is it easier to sell products from well-known brands, it also ensures that you're safe from affiliate program scams.
Is Affiliate Marketing Worth It?
If you have the motivation to put in the effort to make money with affiliate marketing, it will be more than worth your time.
Whilst it's not easy money, as you can see from the examples in this article, some people earn over $1m per year with affiliate marketing as a legitimate business! Although that's not a typical case for new affiliate marketers with an online business, it shows how possible it is to earn a full-time income with this business model, promoting affiliate partners.
If affiliate marketing sounds like something you want to do to earn money online, scour this website for affiliate marketing tips and case studies. Also, join the Niche Pursuits newsletter for niche website tips, side hustle ideas, and more.
Want to learn step-by-step how I built my Niche Site Empire up to a full-time income?
Yes! I Love to Learn
Learn How I Built My Niche Site Empire to a Full-time Income
How to Pick the Right Keywords at the START, and avoid the losers
How to Scale and Outsource 90% of the Work, Allowing Your Empire to GROW Without You
How to Build a Site That Gets REAL TRAFFIC FROM GOOGLE (every. single. day.)
Subscribe to the Niche Pursuits Newsletter delivered with value 3X per week