eBay Dropshipping: Making Money Through The Auction Platform
When you buy something through one of the links on our site, we may earn an affiliate commission.
Creating an eBay dropshipping store can be a good option for getting started in dropshipping or diversifying your income away from your main store.
However, you need to understand some critical things about eBay's dropshipping policy to avoid having your account suspended and losing money.
What Is ?
Dropshipping is a business model whereby the dropshipper lists products for sale. When orders come in for those products, the dropshipper sends the money to the supplier or manufacturer of the product. Products are then mailed directly from the manufacturer to the customer.
Dropshipping cuts out the need for a person to carry inventory and thus the associated costs. For suppliers and manufacturers, it's an easy way to get extra sales. The process looks like this:
Customer visits eCommerce website and places order

Dropshipper pays the
for the order and provides shipping details
Supplier ships
to the customer
Dropshipper handles any returns or exchanges
Is Still A Thing?
There are still many sellers with eBay dropshipping stores and more signing up every month. What has changed is the number of sellers trying to list products from other eCommerce sites like Amazon, Walmart, or Home Depot, otherwise known as retail arbitrage.
Retail arbitrage involves buying cheap or discounted items from a retailer, then marking them up and selling them on another platform. This differs from dropshipping in that the dropshipper usually deals with a wholesaler or the manufacturer directly.
Dropshipping is perfectly fine on eBay and still incredibly popular. While still a thing on eBay, retail arbitrage has become less common.
What Is

The

For
eBay has no problem with dropshippers who work with wholesalers and manufacturers to dropship products. When you dropship with Amazon, you must follow the eBay rules on dropshipping.
Buying From Wholesalers
The eBay dropshipping policy explicitly states that you cannot list items from a platform like Amazon and have the other seller handle order fulfillment. If you want to dropship on the eBay platform, you need to work directly with a wholesale supplier or manufacturer. 
Technically, this would include AliExpress and Alibaba, but there is a gray area since the two platforms have many manufacturers and wholesalers set up to dropship.
Guaranteed Delivery Time
Another stipulation of the eBay dropshipping policy is that you are entirely responsible for shipping times and safe delivery. As you don't have any control over this, it's always best to understate shipping and turnaround for your customers.
If eBay begins to receive reports that customers are getting deliveries later than the given delivery date, they can take measures against you.
Acceptance Of All Consequences
Order quality not as advertised, items being delivered late, and orders shipping out late: you are responsible for all of these, even though you have no control over this. It's one reason you should only work with reliable dropshipping suppliers.
Measures that eBay can take against you include decreasing viewership to your products, canceling your listings, lowering your seller rating, and even closing your account.
How Much Does It Cost To Dropship

On

?
While eBay does present an extra opportunity to make revenue from dropshipping, it isn't without costs. Some of the typical fees you will pay on eBay include the following:
eBay listing fees are the charge you pay to add your product to the platform. Not everyone will pay eBay listing fees. The first 250 items you list on the platform are free for most sellers. If you exceed 250 product listings, you will be charged $0.35 per listing.
Final Value Fees
Final value fees are calculated based on the total amount of the sale of each product. The final value fee will vary based on the product category. 
An example of some final value fees:
Guitars & Basses – 5.85% up to $7500 + $2.35% on amount over $7500 + $0.30 per order

Womens Bags & Handbags – 15% on amounts $2000 or less or 9% for amounts over $2000 + $0.30 per order

Most Item Categories – 12.55% on items up to $7500 and 2.35% on any portion over $7500 + 0.30 per order
Fees For Upgrading Your Listings
Aside from the general listing, eBay presents many opportunities for upgrading your listing to make it more attractive to buyers. These are optional and may help sell more products but are not guaranteed for your listing. 
Some optional upgrade examples include:
Bold Listing – $2 to $3

Listing Designer – $0.10 to $0.20

Subtitle – $1.00 to $3.00

International Visibility – $0.10 to $0.40
What Are The Benefits Of An ?
As one of the larger eCommerce platforms around, there are many benefits that sellers can receive by listing their products on the platform. Some of the benefits include:
Large Pool Of Potential Buyers
It's estimated that eBay has over 180 million users globally. This means your products will be seen by a diverse audience with varying wants and needs. 
More people on the platform also means a higher likelihood of selling your products and potentially building up a regular eBay customer base.
Easy To Use System 
Over the past few decades, eBay has made the system easier to use for sellers listing products and buyers looking for products. 
The obvious benefit is that you don't need to mess with a complicated system to get your products up and sold. Instead, you can focus more on the areas that will sell, including high-quality product photos and better product listing copy.
No Warehouse Costs
A general benefit of dropshipping, whether on eBay or through your own store on a platform like Shopify, is that you don't have to carry bulk inventory. 
For eCommerce business owners, inventory can become expensive, especially at scale, as you need to pay warehousing costs. eBay dropshipping allows you to avoid carrying inventory and helps you save money where it counts.
Low Risk
No business is without its own unique set of risks. However, dropshipping removes many of the dangers inherent in eCommerce businesses. For one, not having to carry inventory means you don't risk getting stuck with unsold products or having to sell them at a loss.
Using a platform like eBay also decreases the risks associated with buying and selling online. You have more protection as a seller and a larger pool of potential buyers.
Minimal Investment To Get Started
Another benefit is that you don't need to pay money to start with eBay dropshipping, aside from your computer and internet connection.
There are some things you can pay for that will increase your chances of making sales, including a good camera for product photos or your own eCommerce store on Shopify. But, these are not required to get started. 
What Are The Downsides Of

On

?
While there are certainly a great many upsides to eBay dropshipping, there are a few downsides that you should be aware of and do your best to mitigate.
High Level Of Competition
As with anything easy to start, there is a lot of competition from regular sellers and other dropshippers on eBay.
The best way to stand out is to have better quality photos and tighter product sales copy. You should also try to source products from local manufacturers as these will be of higher quality and fewer people will be selling them.
Building For
The reality of eBay dropshipping is that you are building eBay's business and not your own. The company can shut off your eBay store at any time, and you will be without a business.
One solution is to build your own store on a platform like Shopify or WooCommerce. This will let you build up your own customer base and make money on the side from eBay dropshipping or Amazon dropshipping.
High Fees Compared To Other Platforms
One of the downsides to an eBay store specifically is that there are many different fees. Depending on the product category that you choose to sell in, you may have to pay up to 15% of the total sale price in fees.
This doesn't include any extra listing fees or the $0.30 flat fee for every product you sell. Over time, these fees add up and can represent a significant chunk of lost revenue.
Low-Profit Margins
In general, one downside to dropshipping is the sometimes incredibly low-profit margin. Add shipping costs and eBay seller fees to this, and you may not have much left over after you've sold each product.
The way around this is to source local products directly from manufacturers. The more people between you and the manufacturer, the lower your potential profit margin.
Also, consider setting up your own online store to avoid having to pay fees for eBay or other platforms. You will still owe payment processing fees, but these are generally less than what eBay charges.
How To Dropship

On
Now that you understand what dropshipping is and how it applies to eBay let's look at the actionable steps you need to take to get started.
Set Up An

Account
Before you do anything, you will need to set up a seller's account on eBay. Go to the eBay main website and click on the sell button in the upper right of the screen.
You will be taken to a screen giving you two options: to sell items or create a business account. For our purposes, we picked to set up a business account.
You will be taken to a sign-up screen where you can begin to fill in your information to set up your eBay account.
To set up your business account, you will need your employer identification number (EIN) and your business checking information. 
Check out our eBay store name ideas for naming inspiration for your new shopfront.
Set Up Your Policies
Properly setting up your eBay business policies will ensure your commitment to customers is clearly defined. This will help buyers understand things like better shipping times and return policies.
You will need to opt-in to set up the business policies as they are not automatically enabled on your new store. The easiest way to do this is by using one of the below links relevant to the country your store is set up in:
I've used the United States for the below demonstration on setting up your necessary business policies.
Click "Get Started" to opt-in and begin setting up your policies.
The three basic policies you want to start with for new stores are shipping, returns, and payment.
Click on the "Create Policy" dropdown button and select the policy you want to create. We'll use the Shipping Policy, but each follows the same process.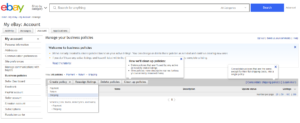 The policy creation screen will look like this: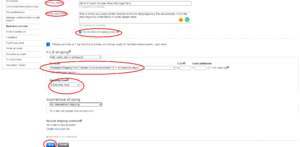 Fill out the policy name, policy description, U.S. shipping policy (set to standard shipping from greater China to worldwide, and at least a three-day handling time. Then click "Save."
Make sure to set the policy for your specific store and repeat the process for the payment and returns policy.
Choose Your Products For
Most people will choose products one of two ways when dropshipping on eBay, either being a general seller and following trends or by focusing on a niche.
General sellers typically use product research tactics that are selling well and then find suppliers where they can source those products cheaper. The downside to this is that the competition is fierce and the time commitment much greater.
A better way may be to pick a specific niche to focus on a target audience. This allows you to tailor your process to sourcing products within a single niche and focus your ad copy and efforts on reaching those people.
If you are already a dropshipping store owner on a platform like WooCommerce or Shopify, stick to the niche you selected there. If, however, you are just getting started dropshipping, consider products that are smaller and easy to ship that won't break easily.
Products with a high defect rate, such as electronics, or products that may break, such as glass, are not suitable for dropshipping. Minimizing the potential for products to break during or shortly after delivery can help lessen the chance of customers seeking a return.
List Items On Marketplace
Once you've settled on a product to list, go back to eBay and click on the sell button if you are still logged in. Find the create listing button and, for this demonstration, select a single listing.
You will need to create a descriptive product name and select a product listing. For our purposes, select "start with this title."
You will now be taken to the listing page. 
Make sure that your title is descriptive and has correct formatting and spelling. Ensure that you have an appropriate category selected and select the condition as new.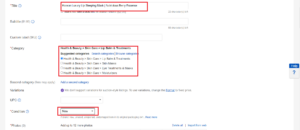 Set Up Product Photos and Details
Now, you will need to load up pictures. Many dropshipping suppliers will have photos you can use.
Even better, you will have ordered a sample of a product before listing it and have your customized photos to set you apart from everyone else.
Select your photos, up to twelve, and arrange them in the order you would like them to appear when people view your listing.
Next, select the brand and scroll to the bottom of the dropdown to add your own. Then select the type, doing the same thing to add your own if needed.
Add any extra descriptors that apply to your listing. Don't lie to make your product look better as you increase the chance a customer will leave a negative review.
After you've gone through all of the product's specific features, it's time to add the product description. Make sure to be as descriptive as possible. Use the appropriate keywords and try and make them about 5 – 7% of the total description. However, don't keyword stuff.
Set Up Product Shipping Details
Finally, you need to set up the selling and shipping details. Select "start my listings when I submit them" unless you want it scheduled for later. Make sure to change the listing to a fixed price from an auction style. Add the price that you want to charge for the product. Change the quantity to the appropriate number, and add the sales tax information for your location.
For shipping details, add all of the policies you set up in the earlier step. Add the package type and weight according to the dropshipping supplier, and set up the item location for your business. 
Finally, check everything to ensure your listing is correct and spelling and grammar are on point. Then click the big blue "List Item" button at the bottom, and you are good to go.
Pass On Details When A Sale Is Made
Now that you have everything set up, you will need a process for managing orders regularly. The best thing to do is to set up a time every day to check for and confirm new orders.
Remember that the number one aspect of a dropshipping business that you have control over is the customer service side. Try and stay on top of messaging customers with updates when orders are received and when they ship.
Also, ensure that you have everything clearly set up in your policies covering how long turnaround for orders is and expected shipping times.
Tips For Successfully

On
While the above advice will help you start dropshipping, the below tips should help you separate yourself from the competition.
Carefully Select

Items

And Suppliers 
Before you even sell your first product, the number one thing you can do to set yourself up for success is work only with a reliable supplier.
Always make sure you are ordering sample products when possible. This will allow you to assess the quality of products and give you an idea of the supplier's turnaround and shipping times.
Also, do your best to avoid cheap-looking or low-quality products. It may seem like a good idea and profit margins may seem better, but the damage to your reputation as a seller may not be worth it. Instead, focus on higher quality products that you've tested yourself when possible. 
Use High-Quality Photos
If you've followed the above advice and ordered a sample of any product you plan to sell, then you should also be able to take good photos. This will immediately set you apart from all sellers with the same product using pictures from the supplier's website.
Another tip is to try and differentiate your store through photo backgrounds and branding. Over time, this will help you build brand recognition and potentially pave the way to offering private label products.
Higher quality photos are also a staple of improved sales. When people can better see the product from numerous angles, they are more likely to trust it.
Write Custom Descriptions
Good product descriptions are fundamental to eCommerce. The key here is to write product descriptions from a copywriting perspective. This means focusing on the benefits of each product you sell rather than just listing the features.
Before you begin writing your product descriptions, take some time to think about your target customer for each product. List every possible problem they face that the product solves, even if it doesn't seem like a big deal.
People buy things to solve issues, even if that issue is simply boredom. By letting them know exactly how the product will solve that issue, you can address their actual wants and increase the odds they buy from you.
Example:
Instead of selling a TV on the fact that it has 4k and a higher refresh rate with improved color, you could say that gamers will benefit from the faster response and greater detail. Or that movie enthusiasts will enjoy the enhanced picture quality, even with older movies.
Is Right For You
If you are looking for an extra stream of income for your dropshipping store, or if you want to test the waters, eBay dropshipping may be a good choice.
The nice thing is you don't have to pay listing fees for your first 250 products, unlike Amazon, which charges a monthly fee to sellers. For this reason, you can get up and running with a much lower overhead. 
As long as you focus on sourcing high-quality products from reliable suppliers (check out our SaleHoo review) and take the time to take quality photos and good descriptions, you have a chance to do well . Remember to focus on why they are buying your products to make sure each listing resonates with your potential customers.
Want to learn step-by-step how I built my Niche Site Empire up to a full-time income?
Yes! I Love to Learn
Learn How I Built My Niche Site Empire to a Full-time Income
How to Pick the Right Keywords at the START, and avoid the losers
How to Scale and Outsource 90% of the Work, Allowing Your Empire to GROW Without You
How to Build a Site That Gets REAL TRAFFIC FROM GOOGLE (every. single. day.)
Subscribe to the Niche Pursuits Newsletter delivered with value 3X per week