Dropship Lifestyle Review: Can You Build A Dropshipping Empire?
When you buy something through one of the links on our site, we may earn an affiliate commission.
If you've ever heard anything about making money online, I'd bet you've heard about some version of dropshipping.
It goes like this: you set up a website for a niche audience, create an online store, sell your product, and it goes straight from the manufacturer to the customer. You don't have to fill your garage with standing paddle boards or lawn furniture. You buy traffic, it converts, you win.
Step 1: dropship
Step 2: profit
…right?
If it were that easy, everyone would do it. Everyone would make a killing online, work from a Mexican beach, and never have another boss. Dropshipping requires time, effort, and skill. But when it pays off, it can pay off big.
In this Dropship Lifestyle (DSL) review, we're going to be asking whether this course can give you the short cut. What if you could bypass years of failure and thousands of dollars in flopped business?
Let's see if you can.
You can click here to get access to Dropship Lifestyle and start your dropshipping store
Skip the rookie mistakes and huge learning curve with Dropship Lifestyle
Dropship Lifestyle Review
Course Structure -

80

Breadth of Information -

100

Templates -

100

Price -

90
Pros
Great for beginners
Helpful for pros
Enormous amount of content
Several interesting bonuses
Cons
The course could be laid out a bit better
Dropship Lifestyle: The Good Stuff
I've been through the whole Dropship Lifestyle course, and it's pretty awesome. Here are some of the things it does very well:
Great for Beginners
DSL was designed with the dropshipping beginner in mind. You will learn about the basics of online business and dropshipping, how to select a niche, finding different products, market research, and more.
I like how DSL is made of over-the-shoulder videos. Going through this course is like watching someone do this right in front of you. You won't have to struggle through technical details or deal with a faulty landing page without someone to guide you.
And while the course is designed for beginners, it's packed with some pretty sweet nuggets. Which means it's not too bad for pros, either…
Helpful For Professional Dropshippers
DSL was made for beginners, but Anton (the owner and instructor) is an excellent dropshipper. He runs several of his own dropshipping businesses and gives some great tips throughout the course.
Someone making $20,000 per month dropshipping won't benefit as much from this course as someone who only read the 4 Hour Work Week. But Anton's tips on conversion, followup, buying ads, and retargeting are super helpful.
He has sage advice on where to buy your ads to profit (hint: it's not Facebook) and then includes great tips for automation.
If you aren't running a 100% automated, very profitable store with email marketing and followups, then you can benefit from Dropship Lifestyle.
A Ton of Content
My favorite part of the Dropship Lifestyle dropshipping course is that it is packed with content. It includes over 200 video lessons that go deep into dropshipping.
A bunch of this content comes from "bonuses" to the DSL course material. The bonuses are free and included with every purchase. DSL itself has about 90 videos. These bonuses offer a more in-depth look at several aspects of the course and are great material for improving an already-successful store.
If we assume that each video is about 10 minutes long (that's a low estimate – some are shorter, but tons are quite a bit longer), then that gives us about 2,000 minutes' worth of content in Dropship Lifestyle. If you want to do the math, that's over 33 hours of content.
When you count the time you spend implementing these things, you're looking at a course that you could learn from for well over a year.
I'm blown away by the level of (good) content.
Dropship Lifestyle: The Not So Good
Dropship Lifestyle is a cool course, but it's not perfect. Here is the one thing I don't love about it:
Course Could Be Structured Better
One downside to DSL is that it seems to be laid out strange. For example, modules 1 and 2 are both about niche research (shouldn't this be a single module?)
Module 3 is about designing your website, module 4 is about finding suppliers, and then module 5 is about designing your site again.
The bonuses are awesome, but are just extensions of what's already presented in the course. I don't think they should be "bonuses", but included where they fit in the modules.
It's not a big gripe, and the course layout won't hurt you in the long run. It just seems like it could be designed a bit better.
Overall, I think that Dropship Lifestyle is a pretty amazing course. It's jam-packed with quality info taught by someone who has been hugely successful in dropshipping. For the vast majority, it will help you to avoid rookie mistakes, skip years of failure, and teach you just what it takes to be a profitable dropshipper.
You can click here to get access to Dropship Lifestyle and start your dropshipping store
Skip the rookie mistakes and huge learning curve with Dropship Lifestyle
Dropship Lifestyle Review
Dropship Lifestyle (DSL) is a video course designed to help you figure out dropshipping. It has 90 video lessons that take you from zero to hero in dropshipping. It's designed to help you save time, save money, build out a dropshipping site, create relationships with manufacturers, drive traffic to your site, and convert visitors to buyers.
Here is what you'll learn inside of DSL:
Basics of dropshipping
Selecting your niche
Selecting your product
How to do market research and beat your competitors
Planning your site from day 1 to several years in the future
Creating your site and branding
Building relationships with suppliers, getting sample products, diversifying risk, and how to outreach to manufacturers
Setting up your store with conversions in mind
Building social proof before you get traffic
Driving traffic to your site and maximizing your income per visitor
Automating your store
How to sell your store when you're ready for an exit
There's a lot of information here and literal hours of video available. I've reviewed some awesome products with amazing amounts of content (The Authority Site System, Authority Hacker Pro), but I think that Dropship Lifestyle gives them a run for their money as far as sheer volume of content.
This course was made for the beginner dropshipper, but there's a lot here for someone who just wants to improve an already-successful store as well.
DSL is divided into 7 modules and then includes some bonuses. Let's take a look at what this course has to offer.
Dropship Lifestyle & Module Overview
When you first get access to your login for DSL, you'll see a screen that looks like this: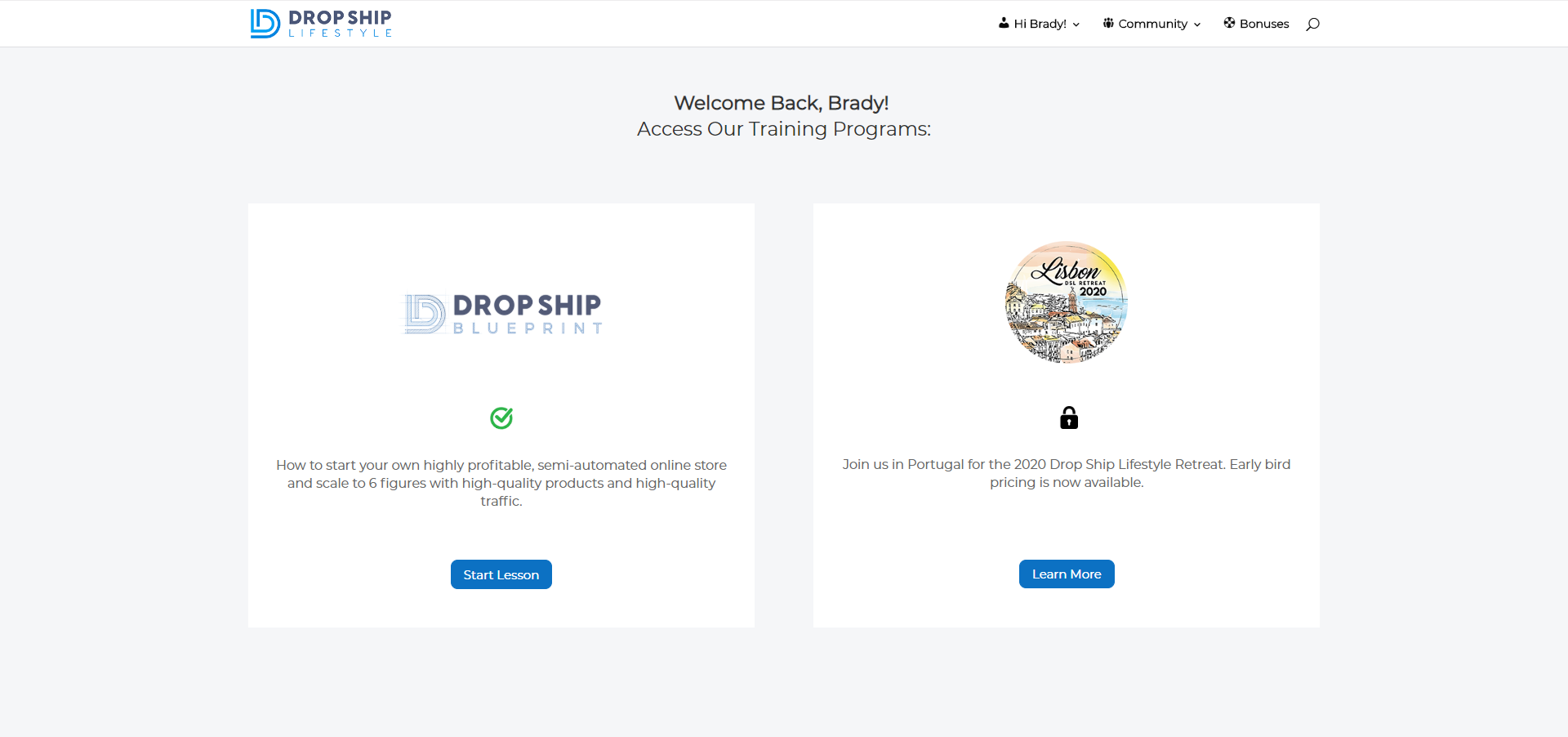 You can get into the course by clicking Start Lesson near the bottom left of the screen. It looks like this is also an area where they give general announcements. Right now, they're broadcasting a retreat to Portugal.
When you start the course, you'll get a list of modules with some announcements off to the right of the screen: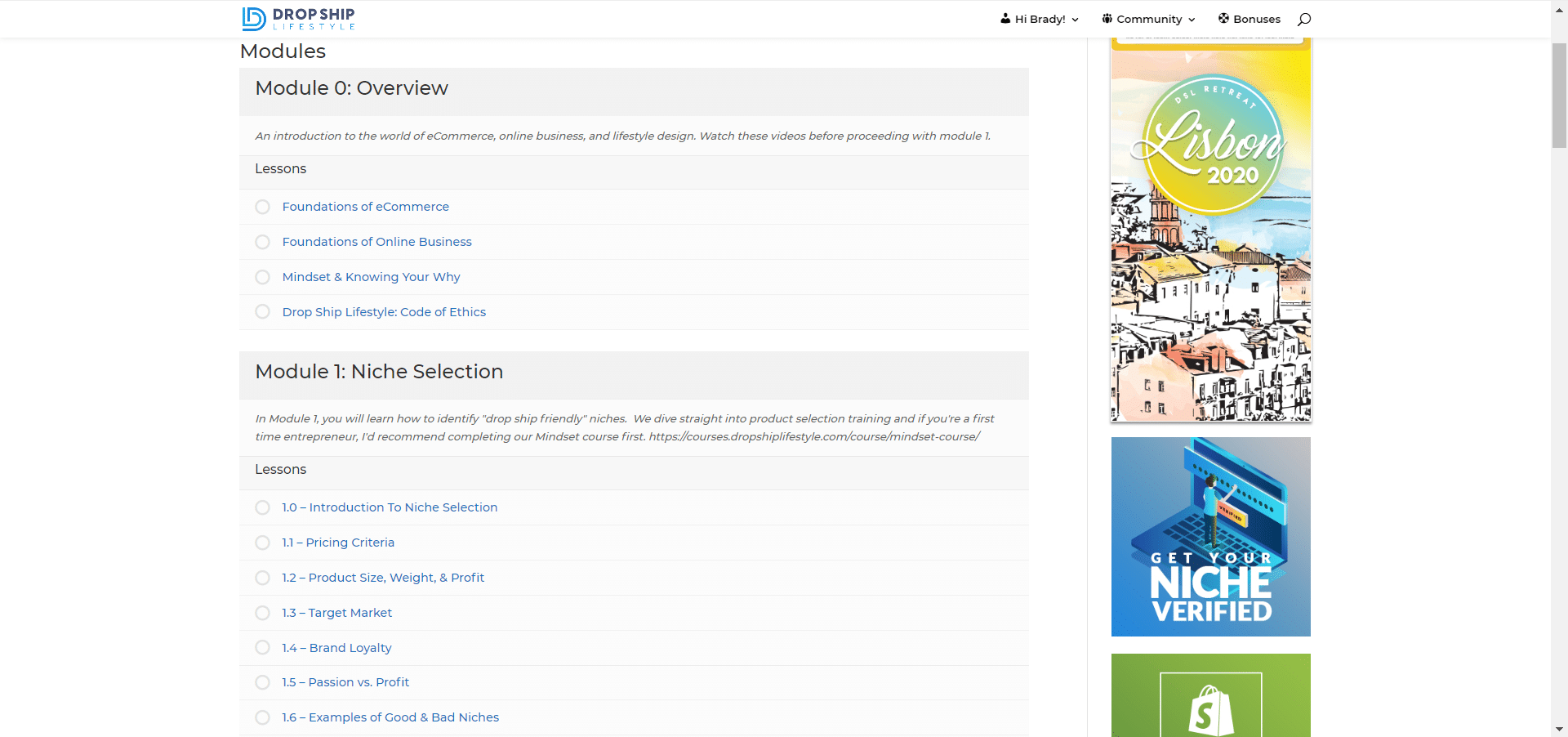 Each module is composed of video lessons. You can see each video lesson highlighted in blue. And see the scroll bar to the right side of my screen?
There are a lot of these video lessons. The course says that there are 90 videos in the modules. There are more in the bonus content. In total, there are well over 100 video lessons included with DSL.
Towards the right sidebar, we get more announcements. 2, in particular, are pretty interesting:
Every DSL course includes a niche verification process. This is where you can send the DSL creators your niche idea and niche research sheets that we'll be creating in modules 1 and 2. The DSL creators then get back to you and say that you've got a winner or that you should keep looking.
It's pretty awesome for a tool that's included in the course. My first website projects failed because I was horrible at niche selection. And in spite of what you might hear from affiliate marketing hype trains, not every niche can be profitable for you.
I wish I could have had someone to guide me in the niche selection process.
The second thing here is a 14-day free trial to Shopify. The DSL crew recommends that you use Shopify for your dropshipping course, and I agree that it's easy to use for beginners.
Each module is composed of video lessons. Each video lesson has show notes below and an option to mark the lesson as complete: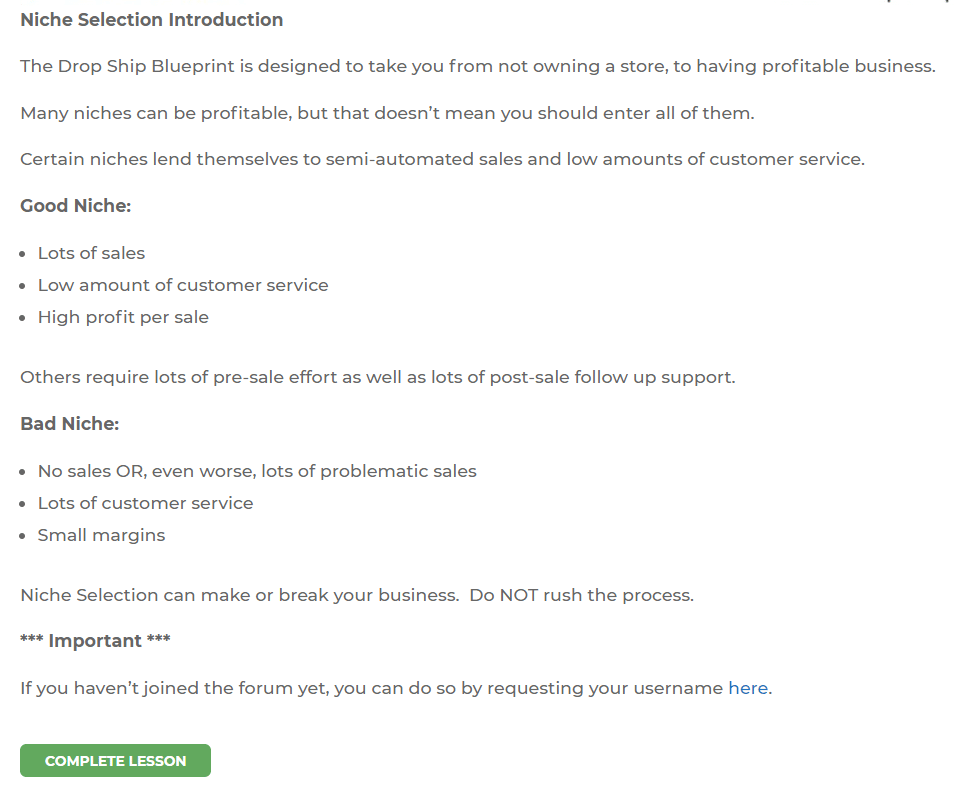 I suggest watching each lesson when possible, but the show notes are nice when you need a refresher or can't watch the video right now.
If a video ever mentions a resource, there is always a link to the list of resources at the bottom of the page.
Module 0: Overview
This module covers the basics of dropshipping. Anton (the founder of DSL) helps you lay the groundwork for everything to come: mindset and expectations, what you need to run your online business, accounting for your future dropshipping business, etc.
There won't be much here for experienced dropshippers, but it's a great launch pad for anyone new to online income.
Here is a list of the lessons in this "Module 0":
Module 1: Niche Selection
Of all the modules, this one might be the most important. Your niche holds the foundation to your business and if you get it wrong, you're in for a world of hurt.
As I said above, my poor niche selection was the main reason that I spent several years failing online. If your niche is too competitive, it will be very hard to do anything online.
So DSL runs us through the process of choosing a niche, and there's a lot of value packed in here. You'll learn why a passion-based business might not be a great idea, how to find your target market, build brand loyalty, and so on.
Once you've got the basics, you'll learn about picking a product for your niche. Everything matters here: you have to differentiate from your competition while still pulling a profit. That means looking at product price, size, weight, and potential profit for each sale.
After all this, Anton will give you examples of good and bad niches, some brainstorming tips, and answers some common questions.
I don't think I could ask or expect any more out of a niche selection module. Very strong content here.
Here is a list of all of the lessons you'll get in Module 1: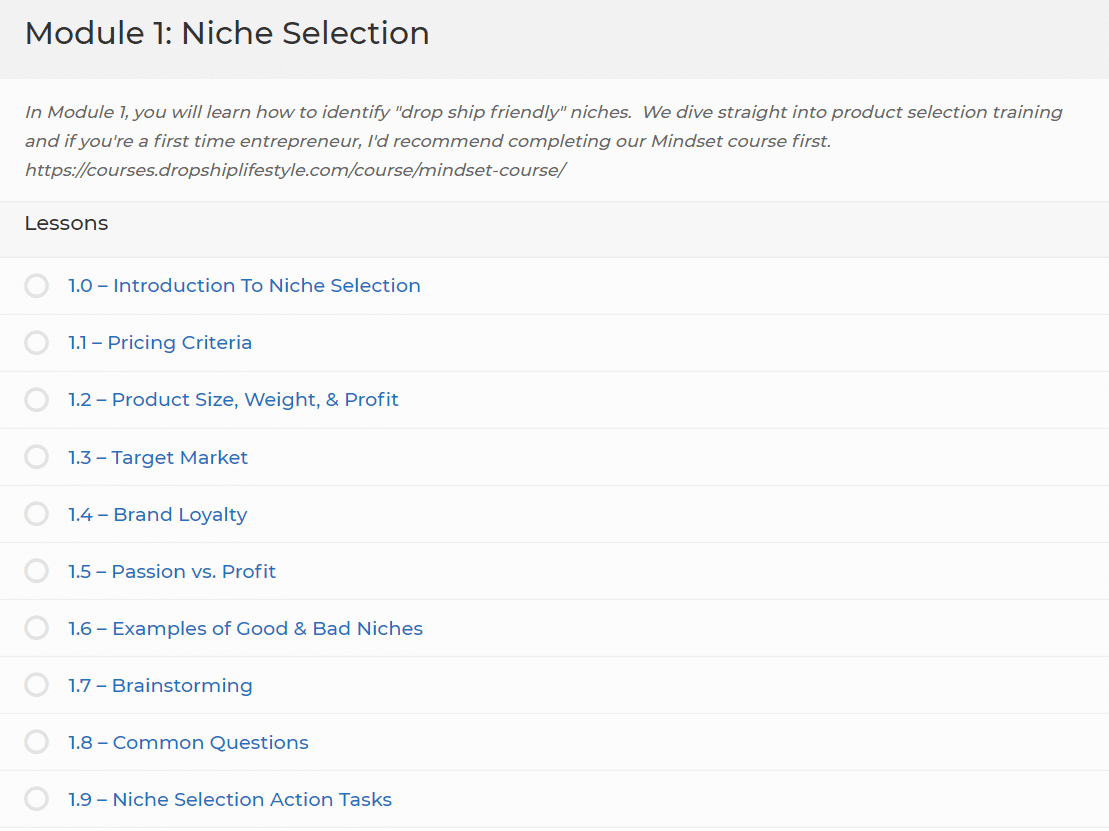 Module 2: Market Research
In Module 1, we create a list of niches that we might could go into. Now it's time to narrow our list down and make our final choice.
This is the point in the course where we get into deep market research. We'll look at price points for products. We'll track demand for the product over time and make sure we aren't getting a hot dud. We make sure that the product sells year round (this is called an evergreen product). And then we make sure that our niche is "dropship friendly".
This sounds like a lot, and it is, but this is a very important step.
Once you've got your niche selected, you'll make a list of the competition. You can refer to this in the future to give you product ideas, conversion tips, and to see how much work you're going to have to do to be successful in dropshipping.
This is a lot more in-depth than Module 1, but I still feel that the modules could be ordered a bit better. It seems to me like Module 1 is about picking a niche, and Module 2 is about… picking a niche.
It's not a serious problem. I don't mind it. But I think the user experience could be a bit better here.
Even so, there's a lot of very cool content in this module. I'll be referring back to it when starting my own dropshipping business 😉
Here's a list of the lessons in Module 2: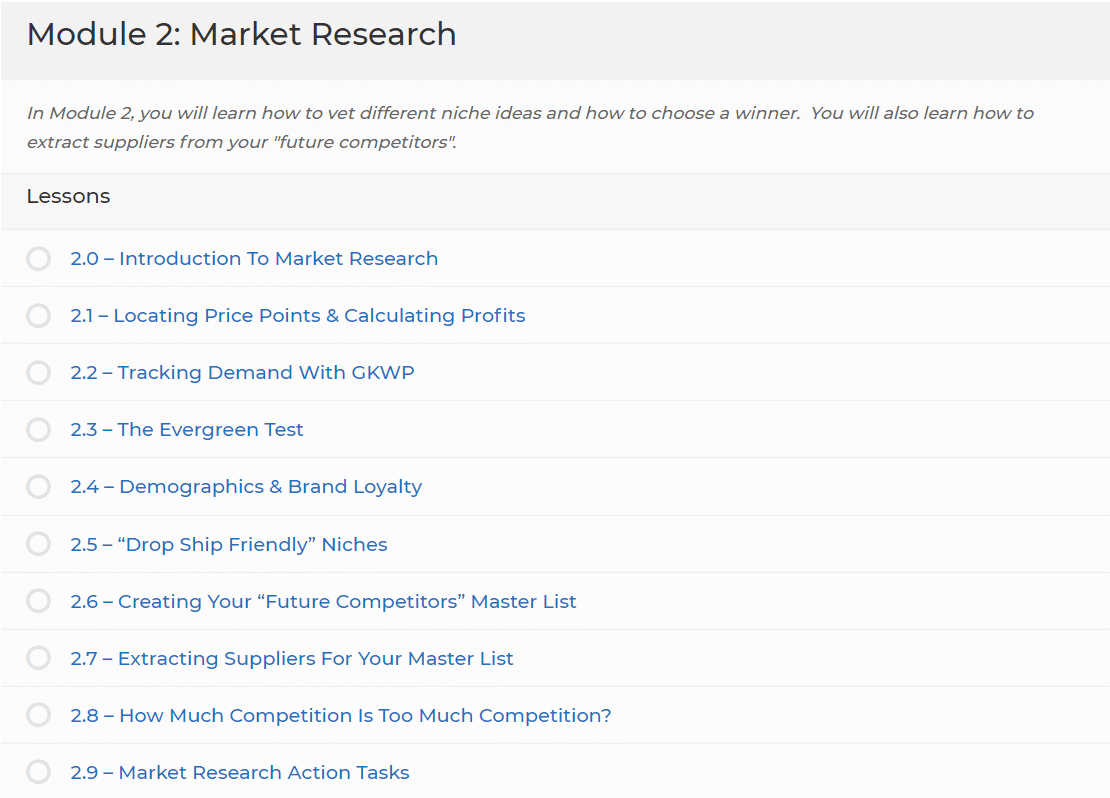 Module 3: Creating Your Website
We've got our niche selected. Now it's time to start building out our website.
Niche research is mind-numbing work and gets old pretty quickly. Building is where you can "see" progress being made.
Anton and DSL use Shopify to craft all of their dropshipping stores. If you're new to dropshipping, I think that Shopify is a great solution. You might use WooCommerce with Cartflows (check out my Cartflows review) if you want something more hands-on, but more powerful.
This module builds an online store using Shopify. If you want to use something like WooCommerce, the principles still apply. You'll just have to figure out the designs and technical doodads on your own.
You'll start by learning about domain names and how to choose a good one. From there, you'll move on to the technical side of creating your site. Anton uses over-the-shoulder videos, so all you need to do is follow along. Color inside the lines, and you'll turn out just fine.
You'll create menus for your site, set up action sequences for your users, customize themes, learn about discount codes, and more. One thing that is interesting about DSL's version of dropshipping is that Anton and DSL don't recommend Facebook ads to get traffic.
We'll learn more about this later, but DSL spends quite a bit of time running you through Google – Adwords, Analytics, Search Console, etc. They recommend that you use Google Adwords to bring traffic to your dropshipping business. Retargeting is an afterthought here. Adwords is king.
Now all that's left are to find your suppliers and find your audience. Here's a list of all the lessons in Module 3:
Module 4: Getting Suppliers
This module is all about finding your dropshipping suppliers. These aren't the same as regular manufacturers; you don't want to buy a thousand widgets and store them in your warehouse. You want the supplier to make the product and send it to your customer without you having to deal with any of it.
All you do is send the traffic and convert.
This module is technical in part, but you can expect to hold some phone conversations as well. No need to fear, all you phone haters: Anton and DSL have extensive scripts and templates for calls and emails. They recommend starting with a call and emailing after, but the system works even if you just stick to email.
I know that Anton has done this hundreds of times, and his scripts look great. It's pretty easy to tell that he has experience here.
You'll also get a list of the questions that most suppliers will ask you. It's nice to have so you can be ready beforehand.
And then it's just a matter of picking your supplier(s). Anton and DSL have a way of ranking their suppliers in order from awesome to not-so-awesome. One important note here is that you do want multiple suppliers in case one of them ends up not working out.
Multiple suppliers is just a good way to manage your risk in the dropshipping world.
Once you've selected your suppliers, reached out, and been approved, it's time to flesh out the relationship. DSL has a great video lesson on building the relationship with your suppliers. This won't be a step that you can apply from day 1, but they will help your site 3 months, 6 months, a year, and further down the road.
You can negotiate things like exclusivity, various terms, and the all-important pricing.
Relationships are the name of the game, and Anton has some great tips for improving them.
Here is a list of the lessons in this Module:
Module 5: Optimize For Conversions
This module is important, but I feel again that it's out of order. I think this module should be combined with the "Creating Your Website" module because it's all about dealing with your website.
The goal here is to prep your website for visitors. You're going to be creating urgency, getting real reviews for your products, and setting up social media accounts. You want everything to look authentic for your visitors and help you convert them better.
After making urgency and social proof, we dive into more advanced conversion tactics. These include bonus offers, taking advantage of abandoned carts, and making sure that visitors can get around without any trouble.
I appreciate that Anton shoots it straight here: you shouldn't spend years working on your site design. As long as your site doesn't many anyone's eyes bleed, the design doesn't move the needle that much. Usability is much more important.
And Anton helps you see how your visitors are interacting with your site through heatmaps. He shows you how to set up tracking software that helps you learn when visitors are leaving and where they're clicking.
It's a very helpful module, but I feel that it should have been bundled into the "Creating Your Website" module. It seems like we're paying for the same ground twice here.
Here is a list of all of the lessons in Module 5:
Module 6: Getting Traffic
I love Anton's idea here. The theory behind this module is that you don't need tons of traffic. You just need the best traffic. You want buyers who have credit card in hand, ready and waiting to buy.
In this module, you learn how to get that kind of traffic. It saves you time, money, and you will earn more.
Anton believes that Facebook users often don't have credit card in hand. Google traffic does. Anton teaches you how to spy on Google's traffic, pick the best keywords, and guarantee profit from day 1. You learn how to make sure that every visitor goes through your funnel.
Once you're done with that, then you can go into paid social traffic. This is where you get into what Anton calls "omnipresence". Facebook retargeting allows you to reach out to the same visitors who left your site to offer them another chance. This represents a well-rounded strategy on Anton's part: get the bulk of income from Google and cover your bases with Facebook.
And then, to close this module out, you learn a bit about email marketing. It's not an extensive email marketing course, but you'll get the basics of touching base with your subscribers.
Overall, I'm most impressed with this module out of everything I've seen inside of DSL.
Here is a list of the lessons you'll get:
Module 7: Automation
At this point, you have your store, your traffic, and you're profitable. If you'd like, it's time to start reducing your workload. You'll sacrifice a little bit of profit in the short run, but outsourcing and automation will allow you to focus on new businesses and enjoy life more in the long run.
I appreciate that Anton makes a little disclosure at the beginning of this section:
A lot of online marketing courses out right now will spout buzzwords like "passive income" or "lifestyle design". Those might not be bad things, but everyone should understand that recurring revenue and designing your life are preceded by hard work.
I think that Anton and Dropship Lifestyle distinguish themselves here. They say, "Hey, don't try the automation thing until you know that you're making money." And I respect that.
When you are making income, Anton will run you through the wringer on automation. You'll automate abandoned cart orders, Google Sheets, tracking and analytics, sales, and content distribution. Anton gives you his own templates for outsourcing when you need to hire someone.
He tells you the best places to hire (Upwork or FreeeUp.com) and shows you how to hire talented, inexpensive individuals. This module closes with some standard operating procedures (SOPs) for yourself and for your automation.
Here is a list of the lessons in this module:
Dropship Lifestyle Bonuses
The modules listed above are pretty extensive. Newbie or pro, I'd bet you can find something to help you.
But that's not all that DSL offers.
Dropship Lifestyle also includes several bonus lessons. These won't be necessary for everyone, but these bonuses each function more as a standalone module. For example, in the Goal Setting & Mindset bonus, you'll get these lessons:
Here are the bonus lessons available to you:
Doing business abroad
Easy wins
Expectations and mindset
Shopify video course
Social ads
Google ads
Dropship Lifestyle retreat's recordings
Selling your online store
Outsourcing guides and SOPs
Each of these functions as its own module, so there's a ton of content here.
You also get access to the niche verification tool that I mentioned earlier (a huge deal!) and access to a private Facebook community. DSL also gives you the opportunity to get one-on-one coaching with the instructors.
I didn't look into the coaching, but I'd bet it's kinda pricey.
Now that we've been through the whole course, my verdict:
I think that DSL could be laid out a bit better. Some modules should be combined, and some of the bonuses could be put into the modules instead of offered as "bonuses".
But the level of content here is top-notch. If you're wanting to get into dropshipping, I think that Dropship Lifestyle sets the bar high and helps you exceed your own expectations of yourself. I doubt that there are better dropshipping courses out there (but if I find one, I'll update this post) 🙂
For now, I'm not afraid of recommending Dropship Lifestyle.
If you'd like to start dropshipping and want to skip years of failure and wait, you can sign up for Dropship Lifestyle here.
Avoid the rookie mistakes and become a better dropshipper with Dropship Lifestyle
Who Is Dropship Lifestyle Best For?
Dropship Lifestyle (DSL) is a course that was designed for someone who doesn't have a successful dropshipping business.
That being said, it includes all of Anton's previous dropshipping courses in the bonus section. So if you are an experienced dropshipper, there's still a lot of value you can get from the 30+ lessons on mastering Google Adsense or maximizing conversions.
I think the person who will get the most mileage out of the Dropship Lifestyle course is the person who hasn't had a successful dropshipping business. You could be a newbie inspired by internet marketing blogs or Tim Ferris. You could be someone who has tried and just never succeeded.
Dropship Lifestyle was made for you.
I think this is also a good course for someone who wants to scale. Let's say you're making $1,000 per month – a hefty chunk, but nothing to retire on. DSL will help you to take that 4 figures per month to a sweet 5 figures or more per month. This could be through starting new stores in better niches, improving your follow-up sequence, converting better, or mastering email marketing.
I think the Dropship Lifestyle course would be helpful but not life-changing to someone who already has a very successful dropshipping store. A significant chunk of the course is showing beginners how to get started, find suppliers, and get traffic.
There are helpful bonuses: modules on buying ads through Adwords and social media, doing business in other countries, and selling your online store. You could learn some, but I doubt that you'll find the course as powerful as someone who's just starting out.
You can click here to get access to Dropship Lifestyle and start your dropshipping store
Skip the rookie mistakes and huge learning curve with Dropship Lifestyle
Frequently Asked Questions
Now let's get into some things that you might be asking yourself about Dropship Lifestyle.
I'm a Complete Beginner. Is This Course For Me?
Yes! The Dropship Lifestyle course was created with the beginner in mind. You start with the basics of online business and the dropshipping module. There are bonus sections on setting expectations and getting your mindset right.
Once you've finished there, you get over-the-shoulder videos showing you how to set up your store, convert better, get approved by suppliers, and drive traffic to your site. Anton and the DSL team include their own templates to help you out here.
And then there are plenty of resources to help you improve: the bonus modules, in particular, are packed with very in-depth knowledge to up your game.
If you're a beginner, you'll be right at home with the Dropship Lifestyle course. Due to the advanced tactics and modules, you can continue to use DSL as your dropship site grows.
I Have Some Success Dropshipping. Is This Course For Me?
I would say that it depends on how successful you are with dropshipping. Have you had some meager success in the past with your drop shipping business? A few sales here, a small profitable store there, or even a few thousand dollars per month?
The Drop Ship Lifestyle course will help you to scale your moderate success. You already have the basics, now it's time to grow. This could be through new stores with better niches, improving conversions, finding less expensive suppliers, or buying better ads and selling more.
If you aren't at a level where dropshipping can replace your job income, I think that Dropship Lifestyle has a lot to offer you.
If you have monster success dropshipping (several thousand dollars per month, and you can dropship full time), then you'll get less out of the Drop Ship Lifestyle course. But the advanced bonus modules may help you decrease ad spend, outsource the work load, or convert more visitors into buyers.
Worst case scenario you can try the Drop Ship Lifestyle course and get a refund.
Will I Need to Spend Money or Pay for Other Tools?
Anton does a great job of helping you figure out great niches, products, and suppliers without paying for extra tools. You will need to pay for a Shopify subscription, and there are several optional items to improve conversions.
But at the heart of it, your tools might just come out to less than $30/month for Shopify.
Will This Course Be Updated? If so, Do I Have to Pay?
Dropship Lifestyle gets updates that are pretty regular. Whenever the game changes, Anton is good about updating the course so you aren't left with outdated information. He's also been good about including videos from different Dropship Lifestyle retreats.
All updates are free to members but can increase the price for anyone who hasn't bought.
How Much Time Should I Dedicate to be Successful?
I recommend that you spend at least an hour each weekday in order to see results. Dropshipping isn't like building authority sites: you don't have to wait a year just to see your first dollar. If you get your site set up and find a supplier, you can go ahead and start buying ads.
I don't think it would take more than a month for you to get rolling.
How Much Does DropShip Lifestyle Cost?
Depending on the plan you choose, the program is priced at either $2997 or $4997 USD.
Your Dropshipping Empire
As our Drop Ship Lifestyle review comes to a conclusion, I think that it has a lot to offer the dropshipping beginner. It may not be life-changing for someone who has already gone full-time with a dropshipping store. But the Dropship Lifestyle online course is a great resource to get a dropshipping site going or scale your existing drop shipping business operation.
You can click here to get access to Dropship Lifestyle and start your dropshipping store
Skip the rookie mistakes and huge learning curve with Dropship Lifestyle
Want to learn step-by-step how I built my Niche Site Empire up to a full-time income?
Yes! I Love to Learn
Learn How I Built My Niche Site Empire to a Full-time Income
How to Pick the Right Keywords at the START, and avoid the losers
How to Scale and Outsource 90% of the Work, Allowing Your Empire to GROW Without You
How to Build a Site That Gets REAL TRAFFIC FROM GOOGLE (every. single. day.)
Subscribe to the Niche Pursuits Newsletter delivered with value 3X per week