The Best Amazon Affiliate Linking Tools Showdown: My Final 4 Picks!
When you buy something through one of the links on our site, we may earn an affiliate commission.
March Madness is in the air and after watching some sweet 16 games last night, I thought I'd join in on the action.  My dominant basketball days are over, so I'll just stick with recommending software tools to help your business…
Over the years, I've written about different tools you can use to quickly and easily monetize your site using the Amazon Associates program.
Sure, you can just use the site stripe while on Amazon.com to grab your raw Amazon Associates link, but who wants to do that?  In all reality, there are many circumstances where you want to do more than just add a link.
So, in my quick review of what I consider the best Amazon affiliate tools, I'll share the different ways you can create buttons, insert images, show comparison charts, and much more.  
Overall, these are the tools I'm using right now to monetize my site with Amazon Associates.
AAWP WordPress Plugin
The AAWP WordPress Plugin is a slick little tool that makes it EXTREMELY easy to create product feature boxes (which is what I primarily use the tool for).
Here's an example of a product box with AAWP ( Amazon Affiliate for WordPress)
I love how simple and clean these product boxes look and I use this on all my buying guides and review articles for my Niche Site Project 4 site.
You can also do several other things, including creating product comparison tables.   I personally haven't used the tables feature since I use my own tool – Table Labs – for that.  But here is an example.
Overall, AAWP has a ton of options so that you can customize lots of things.  In addition, there are lots of features that I did not highlight above, but you can read my full review here.  It's a solid tool that I use on my sites.
Get AAWP Here
AMZ Image WordPress Plugin
I'm including the AMZ image WordPress Plugin as one of my "final 4" picks for two reasons: first, I created it…of course I'm going to include it.  Second, it's extremely simple that fits a very specific need that the other tools don't meet.
The AMZ image plugin is very narrow in focus and does just 1 thing: It allows you to insert a plain image ( with no price, description, ratings, or anything) into a regular blog post.  That's it!
The beauty of this is that there are not many other tools that allow inserting JUST the image.  Most of the other tools I mention pull in prices, ratings, or more.  What if you just want a nice image of a computer, a water bottle, some ear muffs, or whatever it is you are reviewing?
For example, the above image was just inserted using the AMZ image plugin.  (For the record I just searched for something random and I found this…I have no idea what it is. Although, I bet my daughter would love this!). 
This took me 5 seconds to search and insert this picture and it has my affiliate link attached.  So, if you click the image and buy this beautiful unicorn package (or anything else in 24 hours) I make some money.
This is a plugin that I created to meet a very specific need for some of my sites and many others have found it quite useful.  Again, I'm unaware of any other plugin that allows you to insert just raw images (at least the others on this page do not).
Also, there is a 15% discount if you buy AMZ image in the next few days.
Get 15% Off AMZ Image Right Here
AMAlinks Pro WordPress Plugin
The AMAlinks Pro WordPress Plugin is a new player on the block and is making a splash for good reason.  The creator, Matthew Allen, is focused on making AMAlinks Pro the "All-in-one" tools for Amazon affiliates.
I don't think it's quite there yet, but it's getting closer.
The reason I use AMAlinks Pro on my sites is for the custom button creation.  You can create any design, color, font, text, etc that you want on a button that is an Amazon affiliate link.  
So, I might review 5 different products in a review post and after each item, I'll have a call to action button that was created by AMAlinks Pro.  
For example, here is a screenshot of a button I created using AMAlinks pro:
Just because I don't use every single feature of AMAlinks Pro doesn't mean they aren't there.  Here's a few of the other features of the tool.
Showcase Product boxes
You can customize the colors and look and feel of each of the boxes.
Coming Soon!  Product Comparison Tables
Matt Allen just let me know that they will be launching the table creation feature in a few days, so I thought I'd mention it here.  I'm not super excited about it since this will make it compete with Table Labs, but what can I say it's a smart feature to add (so I can't blame him for doing it).
Overall, AMAlinks Pro has a lot of features that I haven't fully tried, but appears to offer just about everything you would need as an Amazon affiliate.
Get AMAlinks Pro Here
Table Labs for Product Comparison Tables
Table Labs is another tool that I created for the very specific purpose of creating beautiful looking shopping comparison tables in just a few minutes.
I've written about Table Labs extensively that you can read here.
Here's several examples of Tables created using Table Labs.
And here's what the backend looks like where you can edit the look and feel of each table: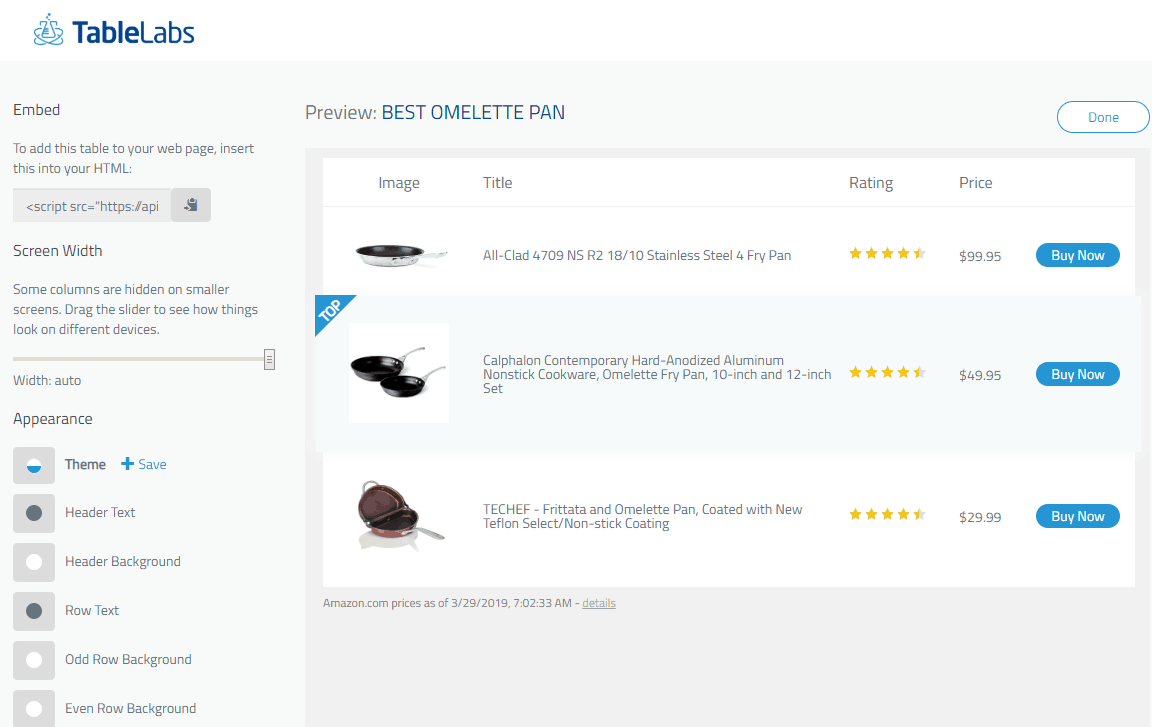 If you are looking to create great looking product comparison tables quickly, I highly recommend Table Labs.  You can customize each table and even add affiliate links outside of Amazon!  In addition, each click is tracked so you can test the conversion rate of each item in the Table…plus lots of other features.
Try Table Labs Right Here
A Couple of Runner Ups
Now that I've outlined my "Final 4" Amazon affiliate link creation tools, I should mention a couple of others with honorable mention.
First is Genius Links.  
This is a great tool for localizing the links for your visitors from other countries.  This is a solid piece of software and if you want to make more money from your affiliate links when you get traffic from various countries, I would check out Genius Links right here.
Second is EasyAzon.
I really like EasyAzon; however, there have been a few new features in the works that just never seem to get finished.  I keep expecting these updates to come out any day now, but that has been about a year now.
If EasyAzon comes with their much-anticipated updates, I may add it back to my final 4; however, for now it's just an honorable mention.
You can check out EasyAzon here.
Overall, I hope you enjoyed my final 4 picks for the best Amazon affiliate linking tools.  These are all tools that I've used and tested on my own sites.
Have additional thoughts?  I'd love to hear them below.
Want to learn step-by-step how I built my Niche Site Empire up to a full-time income?
Yes! I Love to Learn
Learn How I Built My Niche Site Empire to a Full-time Income
How to Pick the Right Keywords at the START, and avoid the losers
How to Scale and Outsource 90% of the Work, Allowing Your Empire to GROW Without You
How to Build a Site That Gets REAL TRAFFIC FROM GOOGLE (every. single. day.)
Subscribe to the Niche Pursuits Newsletter delivered with value 3X per week