For the past several months, I have been sharing the income for my authority site project, and this month is no different!
You will have a chance to see the income from the website that Perrin and I have been working on for while now.  However, I will also share the income of the Amazon physical business that I recently started.
I have several points that I want to compare and contrast between the two businesses.  In particular, I want to point out how quickly one of them has taken off.
This has led to a few decisions that I will discuss further below.  However, for now, let's jump right into this month's income report.
Authority Site Income for April
As always, I've prepared a nice little spreadsheet for your stat viewing pleasure.  Below is a breakdown of all the traffic and income from our authority site over the past several months:
Total Earnings for April: $912.75
The total earnings for April was still relatively stable at about $900.  As you can see, the majority of that income has come from the Kindle sales.
The Adsense revenue has continued to be small for the simple reason that we are not trying to monetize onsite very much.  The primary purpose of the site is to build an email list.
So, the site could be earning quite a bit more via Adsense if we didn't have so many opt-ins on our site.  However, because we have been focusing on opt-ins, we've seen a nice increase over the past month.
Opt-ins
We've gone from about 625 email subscribers at the end of March to about 1,300 by the end of April.  The primary reason for the increased subscribers is simply from the fact that we added more opt in forms via Thrive Leads.
Just about every type of opt in form, we now have it on the site: pop up, headline bar, sidebar, content upgrades, etc.  All of these are powered by Thrive leads.
Here's a screenshot from the Kindle sales:
As you can see, we had a couple of nice spikes.  We had a couple of promotions (including one on Amazon Brazil) that really shot up the downloads for a few days.
Here's a quick look at the actual traffic to the site:
The traffic for the month of April stayed relatively stable.
Why Stagnant Sales?
Overall, the sales have remained stable, rather than taking that hockey stick turn upward that Perrin and I keep hoping for.  The conclusion that we've come to is simply that getting more traffic to our site and selling more books on the Kindle platform is just really really hard.
I've been selling products on Amazon since 2014.
Want to know the research tool I've been using since I've started (and still use today)? Get my latest tips and how to guide for using this tool.
See the Full Jungle Scout Review
With Kindle, we often see the spikes in sales at least once or twice a month with special promotions that we are able to do.  We've tried BuckBooks.com a couple of times now, and it works amazingly well to generate a sudden spike in sales.
However, these spikes are short lived.  The sales will do great (from just about any promotion) for a few days or a couple weeks.  But eventually they always seem to trail off.
As a result, rather than seeing the income climb month after month, we are simply seeing peaks and valleys.  We'd like to figure out a way to sustain the sales long term, but have yet to crack that code.
The traffic to the website is a bit more frustrating.  We've tried targeting low competition keywords, we've tried Google News, we've tried really long articles, we've tried daily content, and we've tried lots of outreach.
The only conclusion we can come to is that something about our market is simply not conducive to the tactics we are using.  We may have just bitten off more than we can chew with this market.
After working on this site for nearly 10 months, we are left with a difficult decision: Do we buckle down and keep trying?  Or do we move on to greener pastures?
As I make a direct comparison to the early results I've seen with my physical product business, this answer seems to be staring me in the face.
Income from Amazon FBA
I recently decided to venture into selling a physical product on Amazon.  You can see the full timeline of my involvement in this business right here.
After doing some brainstorming, researching, and getting a product manufactured…I listed my product for the very first time on Amazon on March 28th.
After just 30 days, I had already sold nearly $4,400 worth of product!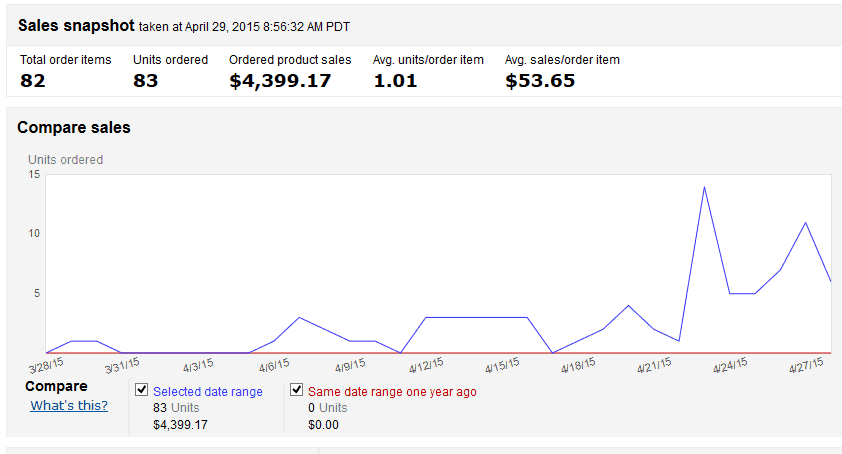 If you want to learn more how I got these sales, you can read this blog post and listen to this podcast and this one.
However, the sales didn't stop there.  In fact, despite the fact that I increased the price to try and slow down sales (so that I wouldn't run out of inventory so quickly), I actually did run out of inventory just a few days later.
After just 40 days of listing my product, I had sold out of my first batch of 105 units and had revenue of just over $6,000.
Check out this sales screenshot:
Get 15% Off Link Building or 15% Bonus Content - This Week Only!
15% Off Shotgun Skyscraper Link Building
Includes skyscraper article
Campaign planning and Management
Guest posts (if needed)
Outreach and negotiation
 
15% Bonus Content
Includes keyword research
Article creation
Affiliate link / article structure optimization
Uploaded to WordPress
Get the Niche Website Builders Exclusive Deal!
I've discussed this already in previous posts and podcasts, but I have been blown away by the almost immediate success of this business.  The only reason the sales trended downward at the end of April is because I tried to slow them down by raising prices.  If I hadn't run out of inventory, I have no doubt I would still be selling 5 to 10 units a day.
My manufacturer is taking a little bit longer than I had hoped to get my next batch of units ready…but honestly I'm not overly concerned about it.  My first batch of 105 units truly was a test to see if this business had an potential.
My results over just 40 days are good enough for me to move forward in a big way with this business.  So, my sales for May might not be great (because of lack of inventory)…but I'm developing a more solid plan moving forward to grow the business.
Physical Product vs. Authority Site
I'd like to compare the two businesses that I've been involved with lately.  Like everyone, I have limited time and resources.  I can't pursue every single opportunity that comes my way…so I have to make decisions what to work on and what not to work on.
Here's how I'm currently comparing my two businesses:
Time spent on Authority Site: about 10 months
Time spent on physical product business: about 40 days
Revenue of Authority site in past 10 months: $6,942
Revenue of physical product business in past 40 days: $6,040
Revenue of Authority site in past 60 days: $1,868.35
Revenue of physical product business in past 60 days: $6,040
Whoa.
After spending nearly 10 months building our authority site and writing 5 kindle books, we've only made about $7,000.  In addition, we've put in TONS of man hours and hired an author to write articles on our site on a consistent basis.
On the other hand, I've put in very few hours into the Amazon FBA business…and it's made in the past 40 days almost as much as our authority site has in the past 10 months.
If you were to hold both of these business opportunities in your hand and you had to choose one that you think is going to generate the most revenue over the next year, which one do you think you would choose?
Yep, me too.
As tough as it is to look back at the past 10 months and all the work we've put into our authority site…it's pretty clear to me that the more immediate success is likely to come from focusing on the Amazon FBA business.
Not only does it likely present a more immediate return, there is also a very strong possibility that it presents a MUCH larger opportunity long term.
For example, let's say I explode this business and started making $100k per month.  The reality is that making $100k per month is still not even close to one of the bigger successes on Amazon.  Don't believe me?  Here's just a few small examples of people making over $100k/mth selling products on Amazon:
In general, there are SO many ways to make money, so it's important for everyone to weighs the pros and cons of each opportunity for themselves.
For me, I've at least come to the conclusion that this authority site is going to take much more time and effort than I had hoped to make $10k a month or more.  I don't want to keep throwing time and effort into a project that isn't seeing good returns.
On the other hand, I think it's pretty obvious that my product business is showing some very strong signs of success early on.  I think I would be making a poor decision if I didn't pursue the opportunity that is clearly showing greater returns, has required less time, and has way more upside potential.
Plans Moving Forward
As a result of this comparison, I am definitely going to be putting more time into the physical product business opportunities and less time into the authority site and Kindle book opportunities.
Say what you will, but I think it's a smart decision for me going forward.
As a result, Perrin and I will be winding down our efforts on the authority site.  We are in the middle of one more Kindle book…but that very well could be our last book.
As for the site itself, we do have a few more articles that will be published that we had previously committed to; after that, we likely won't be adding much new content.  We will continue to collect email address from the natural traffic that comes from the site and can continue to promote the books that we've already written.  Or we may just optimize the site for Adsense clicks…we'll see what happens.
However, in general, we will be spending significantly less time on that site.
I still don't know how many more income reports I will do on the Authority site since we are not focusing on it as much anymore, but it may only be one or two more.
My 10 Year Old Notebook
As for the Amazon physical product business, I couldn't be more excited.  I used to be someone that would write down my unique products ideas all the time…well over 10 years ago! (Long before I built my first website).
I was dreaming over a decade ago about little product improvements that I could make.  However, none of those ideas seemed feasible until I realized very recently what was possible with Alibaba.com, Amazon FBA, and the ability to truly treat it like an online business.
I've always been an idea guy.  Now that I potentially have an outlet for all these ideas AND I've developed the online marketing skills that can help over the past several years; well, I'm enthusiastic about the prospects.
I'm not gonna lie, I'm also in a strong financial position where I can invest real capital into my ideas now; whereas, I simply couldn't do that before.
Perhaps I should dust off my 10 year old notebook with all my old product ideas and see if I can breath some life into them.
To be clear, I'm not giving up on websites and online marketing at all!  I'm simply looking forward to combining physical products and the online world in a way that I've never ventured into before.
I hope you'll tag along for the journey.
---