LandingCube Review: An Amazon Landing Page Builder for Increasing Sales with Coupon Codes
When you buy something through one of the links on our site, we may earn an affiliate commission.
Welcome to our LandingCube review.
Profiting from an e-commerce site is never as easy as it seems. The average conversion rate for the top 500 online retailers is 3.32%. This is according to an article from Digital Commerce 360.
Compare that to Amazon's conversion rate of 13% and you'll understand why entrepreneurs prefer building their businesses around the tech giant. The same study states that the conversion rates are even higher for Amazon Prime subscribers at 74%.
Clearly, Amazon is the ideal platform for selling products online!
There are plenty of ways to succeed on Amazon. And it's important to note that using Amazon does not leave you at their mercy. You can proactively drive traffic to your Amazon product pages using external links.
You can create landing pages through third-party products to attract the right audience and generate high conversion rates. One such tool is LandingCube.
In this post, we'll discuss what this landing page builder has to offer and how it can increase traffic to and drive sales of your Amazon product listing.
Try LandingCube for 30 Days Right Here!
Get a 30 Day Free Trial of LandingCube Here
---
LandingCube Review
Ease of Use -

95

Stability -

90

Customer Service -

85

Price -

85
Summary
LandingCube is a simple but affordable landing page builder for beginners who want to maximize profit from their Amazon listings. It might leave you wanting for more but it's sufficient enough to help you get the job done. Try LandingCube for 30 Days Right Here!
Pros
Perfect for newbies without any design experience
Pricing is ideal for people starting out with their Amazon business
Integrates with your email provider of choice. Also works well with Google ads and Facebook Pixel tracking
Cons
The incentive to build email is limited to promo codes. Does not offer enough variety to help you capture emails
May not have enough features to help make it a staple in your Amazon business
Sell on Amazon or eBay?
Before we discuss LandingCube in detail, it's best to talk about two of the biggest online marketplaces in the world.
As mentioned, you must sell your products on Amazon if you want to maximize your conversion rates and profits. However, it is not the only game in town. There's also eBay, a similarly popular online store where you can buy and sell items.
But what is the difference between the two? Why should I invest time in one versus the other?
Both brands are well-known and have garnered a good reputation as proven online marketplaces. But there is a primary distinction between the two:
Amazon is a better platform for selling new products. eBay is more like a garage sale, offering more used items than brand-new ones.
If you're selling one-off items, eBay will do just fine. But Amazon will be a more fitting choice for those who are in it for the long haul. You can even go from $0 to $4,399 in 30 days if you play your cards right.
Choosing Amazon over eBay is beneficial for your customers as well. For one thing, eBay uses an auction model. Meaning customers have to bid on items they want to buy. It is possible to set a fixed price on eBay, but their customer base tends to search for bargains anyway. Setting a standard price might not be as effective there.
Amazon, on the other hand, does not have that problem. You set a price, and you're off to the races. And customers are willing to pay at prices you set because they expect quality products in return.
Here's a quote from The Balance SMB pointing out another reason why Amazon takes the cake.
"Comparison shopping on Amazon is much easier because it has a much cleaner, easier-to-use interface than eBay. This makes brand-vs-brand or product-vs-related-product comparison shopping on Amazon much simpler. Throw in Amazon.com reviews, and if you're shopping in product areas where the price differences are minimal, Amazon is a no-brainer."
And finally, Amazon customers can shop safely because of the company's fraud protection policy. Under the policy, customers will not be charged for fraudulent chargebacks provided the transaction meets all the requirements under their policy.
Having this security check in place inspires confidence among Amazon when shopping. Yet another reason to trust Amazon.
How much inventory should you buy at one time for your Amazon business?
There's one important question you should ask yourself before climbing aboard the Amazon train:
How much inventory should you have on hand?
It's simple, really – in order to make more money, you will have to buy items in bulk.
Buying products in bulk lower the cost and give you more room for profit. But this strategy is a double-edged sword.
You don't want to be stuck with inventory that's not selling though. If you're selling unique products on Amazon, you might fare better and sell out in no time. But that is not always the case.
But there are ways to resolve inventory concerns. One of which is Amazon FBA.
Simply put, Amazon can pick, pack, and ship all your orders. Users must register their business with Amazon to qualify. The program offers tons of perks for online sellers. They have built-in monitoring tools that track your inventory. When you run low, you can have your supplier ship products directly to Amazon.
This allows you to buy in bulk and replenish your inventory with ease. As an added bonus, you won't have to handle products directly.
Of course, this only works if you're sourcing the production of your products. If you're manufacturing your products, you will have to learn how to calculate the ideal number of products to buy. Seth Kniep has a simple formula you can try.
LandingCube Review
Now that we have the basics out of the way let's talk about LandingCube.
What is LandingCube?
LandingCube, at its core, lets you create external landing pages based on your Amazon product page. But it can do more than that. It can capture emails using email capture landing pages, offer discounts, and improve your rankings on Amazon.
What are landing pages?
So why do you need landing pages? Won't Amazon product pages be enough?
You can sell products on Amazon and rely on it entirely. Their algorithm does a good job of directing customers to relevant sellers in their category.
But you can always do more.
Having landing pages means you can drive external traffic through other channels. You can do Google Adwords campaigns, for example. You can even advertise through Facebook conversion tracking pixels and target the right people to your page.
Unlike a website, landing pages are focused on selling one product, making this method far more effective.
If designed correctly, your landing page will convert lots of your visitors into customers. On average, you can turn 2.35% of visitors into buyers. Therefore, if you can direct a thousand visitors to your landing page, you can expect at least 23 new buyers to your site. Not bad!
Another benefit of creating landing pages is to help you generate leads for your business. You can set up opt-in forms on your pages so they can enter their emails in exchange for coupon codes, for instance. Doing so allows you to compile a database of potential customers.
The great thing about this approach is you incentivize them to join your list. It increases the chances of getting their personally identifiable information (PII). Also, by voluntarily signing up with them, they give you consent to send them emails in the future. Sending them promos of your latest products, for example, is a great way to bring them down your sales funnel.
How does LandingCube work?
LandingCube can be used by anyone. You can easily create a beautiful landing page design without any coding experience.
First, users have to sign up for a LandingCube account. You can sign up for a 30-day free trial if you just want to check it out. Once you're all set up, you can start a new campaign. Come up with a campaign name and add the URL of the Amazon product page you want to promote.

After providing the necessary information, you'll be given a chance to set additional options. These include pricing, promo price, and the start and end date of the campaign. Save your changes once you're done.
You'll be redirected to an online landing page builder. Here, you're able to make changes to the landing page title and other elements. Images are imported directly from Amazon. You can also add videos to your landing pages. You can't do that on Amazon.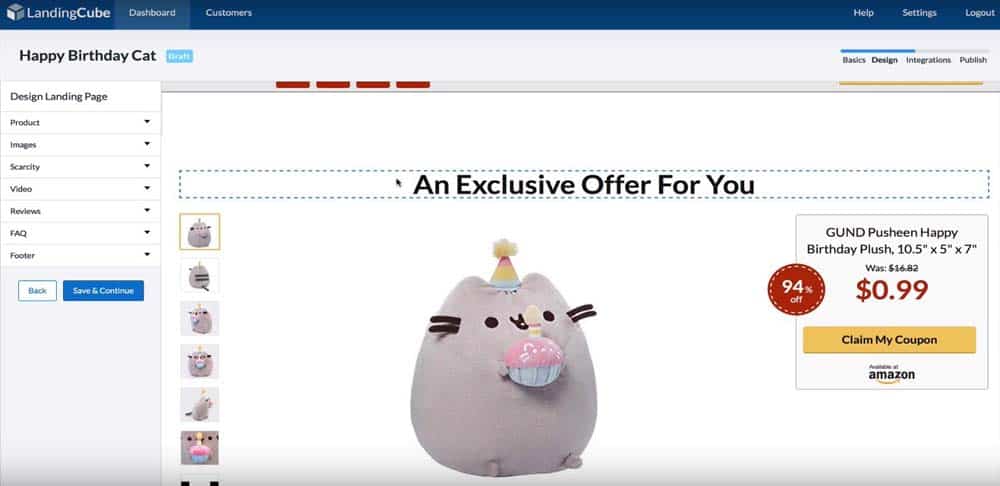 LandingCube will also import reviews, product information, and testimonials. However, these can be edited to fit your needs. The coupon code button is auto-generated. Configure your page and save the changes when finished.
Next, you'll have to configure your email settings. You can require users to provide their name and email. You can also link the landing page to your email provider. You can also just export the email list as a spreadsheet at a later time. Your campaign will log all the captured addresses whether you activate this option or not.
These are the email providers that LandingCube supports as of this writing:
MailChimp
ConvertKit
AWeber
Zapier
ActiveCampaign
Drip
GetResponse
Scroll down, and you will find the conversion tracking section. Here, you can add Google Analytics and Facebook Pixel ID tracking details.
Finally, you will need to provide an Amazon promo code.
To create an Amazon promo code, you need to be logged in to SellerCentral. From there, go to Advertising > Promotions. In the Create a Promotion tab, go to Percentage Off and click Create.
You will need to set your conditions, scheduling, and additional options to continue.
Review your promotion before you submit it. Both Amazon and LandingCube provide step-by-step instructions on how to claim your promo code.
Once you're done, you will be able to download your claim code group. This is the file you'll have to upload to LandingCube when it asks for your Amazon promo code.
You can also edit the URL to keep it clean and manageable. All landing pages are hosted on LandingCube. The landing pages made using the tool are all mobile responsive. They will adjust to the screen of the device used by the visitor to optimize UI for higher conversions.
LandingCube lets you launch CPC campaigns using the created landing pages. You can also deploy these landing pages to your own website or integrate them with Facebook Pixel.
Landing Cube Price
As previously mentioned, LandingCube has a 30-day free trial for new users. But eventually, you're going to have to subscribe to one of three plans. They are called FBA Beginner, Full-time Seller, and Large Business.
FBA Beginner
FBA Beginner is suited for sellers doing business for the first time. The plan limits you to two active landing pages. The landing pages you create under this plan will have LandingCube branding, which can be annoying for some subscribers. The beginner plan costs $15/month.
This plan isn't available to be paid monthly. You can only pay it on an annual basis.
Full-Time Seller
The Full-Time Seller costs $30/month. For $15 more, you can remove the LandingCube branding. You can create a maximum of 10 active landing pages under this plan.
If you want to pay this plan monthly, it costs $49/month.
Large Business
At twice the Full-Time Seller plan cost, the Large Business plan gives unlimited active campaigns and priority support. If you have tons of Amazon products to sell, then spending $60/month may be worth the price.
If you want to pay this plan monthly, it costs $99/month.
LandingCube Features
LandingCube offers several features so you can create high-converting landing pages for your Amazon products. These range from their landing page builder to page monitoring and tracking.
Let's take a closer look at some of LandingCube's features.
Here they are in a nutshell:
Landing page builder
Lead gen/email capture
Product blasts/single use promo codes
Email integration
Tracking & retargeting
Integration with WordPress
Anti-abuse settings
Countdown timers
Landing page builder
The landing page builder is a delight to use. It allows anyone to create a landing page in minutes. It pulls all the product information straight from Amazon. All you need to do is make small edits as you see fit.
The step-by-step process makes it easy for you to create a landing page from scratch. LandingCube's landing pages have different elements:
Branding options
Product images
Product description
5-star reviews
Videos
FAQs
If you prefer hosting the landing page on your own website, LandingCube can generate an embed code for you once you've completed designing the page. This allows for seamless integration while maintaining full control over your website's content.
A glaring feature that lacks in LandingCube is the absence of templates. Most landing page builders offer pre-made designs, so you don't have to start from scratch. Unfortunately, LandingCube isn't one of the tools. You can begin your landing page design journey from the start every time.
As of April of 2019, LandingCube finally offers landing page templates to help users create beautiful landing pages out of the box.
You can choose from four different layouts:
Classic – The OG of LandingCube's page builder.
Bold – Features blue and gold colors to help make your offer more prominent on the page
Modern – Uses orange and red colors over a white background in the hopes of increasing conversions
Elegant – Takes a futuristic route with tones of purple across the page
Email Capture
LandingCube will help you capture email addresses.
Having an email list of veritable leads makes it easier for you to sell your products. The fact that they signed up for your list means they're already interested in your business. It also means that they're a few steps away from being a customer of your online store.
This reason is why email marketing has an ROI of 3,800%. To put things into perspective, for every dollar you spend on email marketing, you get $38 in return!
You can announce product launches if you want. Or better yet, send customers newsletters that highlight your brand. Keep that connection alive to drive sales in the future.
Single-use promo codes
Generating single-use promo codes can be a burden, and keeping track of them is important. LandingCube automates the single-use promo code process.
Sending out promo codes improves your Amazon Best Sellers Rank (BSR). BSR is a good indicator of your status as an online retailer on Amazon.
Email integration
You can direct any email lead you collect to your email marketing tool of choice. This makes email collection a seamless process. As mentioned earlier, LandingCube stores all emails collected whether you activate this feature or not.
Tracking and retargeting
Integrate Google Analytics and Facebook Pixel in one click. Once you've set it up, LandingCube will record all your conversions. You'll be able to assess and track your performance. You can also use this information for retargeting audiences.
If you're not using Google Analytics or Facebook Pixel, you can use the custom scripts feature to include all necessary codes for tracking.
Anti-abuse settings
Should you find your inventory dwindling down due to aggressive promo code abusers, LandingCube can protect you. There are settings you can activate to prevent a similar scenario. You can require users to click a confirmation link in their inbox. They also allow you to limit promos to one per email or IP address.
There is also a feature that lets you block certain addresses. You can set a daily coupon limit per campaign.
Hosting included
No need to purchase a separate domain. All your landing pages will be hosted on LandingCube. They claim to be able to load pages ultra fast.
WordPress Integration
WordPress users can add their landing pages to their site. That way landing pages can live on outside your PPC campaigns. You can promote deals on your own site for your loyal customers.
Countdown timers
Having a countdown timer on your landing page creates a sense of urgency. It gives customers that extra nudge to make a purchase.
Automated Facebook Messenger bots
Almost everybody is on Facebook. That's why featuring automated Facebook Messenger bots on your website makes sense.
Visitors can easily message you with questions about your Amazon products for sale, and your automated Facebook Messenger bots can reply instantly.
LandingCube is aware of this, which is why they just recently launched the automated Facebook Messenger bot.
There are three ways you can integrate LandingCube's automated Facebook Messenger bots on your site:
Send-to-Messenger Landing Page – Create a product page using the platform and include a CTA Messenger button. When people click on it, they either become part of your email list or receive coupon codes that they can use to purchase the product at a discount.
Click-to-Messenger Ads – This feature lets you create a Facebook Ad that foregoes the landing page. Instead, people who click on the ad go straight to the Messenger bot.
Chatbot Follow-up Sequences – Create a series of follow-up sequences to engage and connect with your subscribers via Messenger bots. Use this opportunity to convert them into buyers.
Pros and cons of LandingCube
LandingCube is a simple platform for creating landing pages. But it does have its share of drawbacks. Our LandingCube review would be amiss if we failed to mention some of the site's strengths and shortcomings.
Pros
Built for newbies — Simple to use and operate. No need for coding experience. Gets the job done in minutes.
Affordable — Create two active landing pages for just $15/month. Perfect for small-time online sellers.
Integration — Connect to your email provider of choice. Add Google Analytics and Facebook Pixel tracking.
Cons
Limited to promo codes — There's no doubt that promotional codes are an effective way to hike up sales and drum up interest in your Amazon listing. But you may want other ways to acquire leads from your landing pages.
Could use more features — LandingCube can use more features to help it stand out from its competitors.
LandingCube review: Verdict
LandingCube is a simple tool for Amazon sellers to create landing pages for their listings in the hopes of attracting more traffic and increasing conversion rates. But while the tool may be sufficient for students or part-time sellers, seasoned Amazon sellers might find themselves wanting more.
All landing pages look the same. Sure, you can make changes to the appearance of your landing pages. But there's only so much you can change from the platform. The truth of the matter is that the appearance of your landing page affects how users interact with your promotion. And having limited design options might be cause for concern.
At roughly $15/month (paid annually), there are similar sites that can offer more than two active campaigns. Some products also offer added features like Facebook Messenger and social media integration.
Click here to get started with LandingCube
Get a 30 Day Free Trial of LandingCube Here
It's important to note that LandingCube works with Amazon.com, Amazon.ca, and all European markets. If you create landing pages for Amazon.de, Amazon.it, or Amazon.es, the landing pages would be served to people in the country's native language. That puts LandingCube users at an advantage.
The site also offers online resources to help you get started. The videos in their library are actually useful and go beyond LandingCube. Topics include how to get reviews on Amazon and drive traffic to your Amazon product listing. They're definitely worth a look.
Overall, LandingCube offers a quick and easy way to generate mobile responsive landing pages from scratch. It's also an effective way of gathering email leads for your business. These features will help you become a successful Amazon seller.
If your goal is to simply create a page and get email leads then this tool should be enough to meet your needs.
Want to learn step-by-step how I built my Niche Site Empire up to a full-time income?
Yes! I Love to Learn
Learn How I Built My Niche Site Empire to a Full-time Income
How to Pick the Right Keywords at the START, and avoid the losers
How to Scale and Outsource 90% of the Work, Allowing Your Empire to GROW Without You
How to Build a Site That Gets REAL TRAFFIC FROM GOOGLE (every. single. day.)
Subscribe to the Niche Pursuits Newsletter delivered with value 3X per week